One of the most difficult decisions that we face is choosing what will be the wedding theme chosen for ours.
Surely you have heard of bohemian, rural, modern, vintage weddings … but you may also not be completely clear on the differences between all of them. Well, in this article we tell you a lot of themes so that you can choose which one best suits your style!
Get inspired by this article and after reading it you will surely have a clearer idea of ​​what you want your wedding to look like, it is a very important first step before starting to organize the wedding!
And then, once the theme has been chosen, all suppliers must be notified so that they can adapt their creations to the theme of the wedding, and that it does not clash with your style!
Bohemian wedding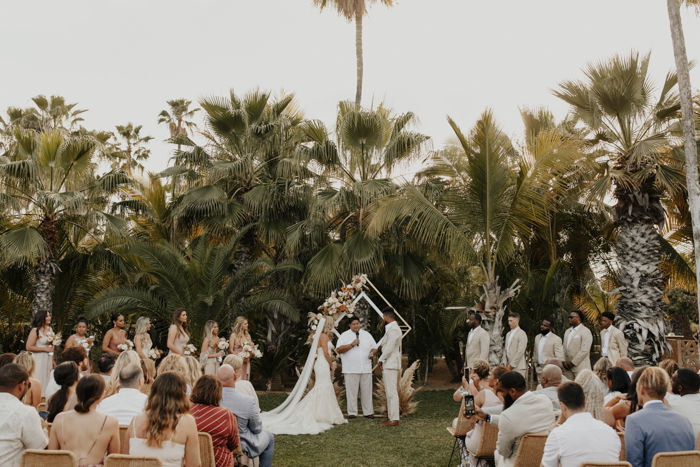 This is one of the most fashionable styles in recent times, since it looks elegant, but at the same time it is very relaxed, calm and informal. It has a simple and humble decoration and a very harmonious color palette reminiscent of nature, outdoors and green and floral gardens.
The key to adapt this theme to your wedding is to have bouquets, flowers, rebellious hairstyles, wild decoration … all combined with each other so that it is very cozy and at the same time little organized, with elements such as forges, metals, straws, tipis …
The ideal place will be a garden, such as the Jardines de Alfabia, Sirenis Seaview Country Club or the Sallés Hotel & Spa Mas Tapiolas.
Nautical wedding
There is nothing better for lovers of the sea, the beach and the cliffs than a nautical wedding, because you will move between anchors and sailboats, linen fabrics, lighthouses, sailor knots, sea shells and lots of seafood.
Of course, the decoration must always follow the color range that a space like this requires, such as blues, whites, browns … you will feel like real sailors!
And what better than a sea view to celebrate your nautical wedding? Like the restaurante Nacarum, Hotel Santa Marta, Sa Cala Rotja or the barco de 65 plazas en Barcelona.
Rustic wedding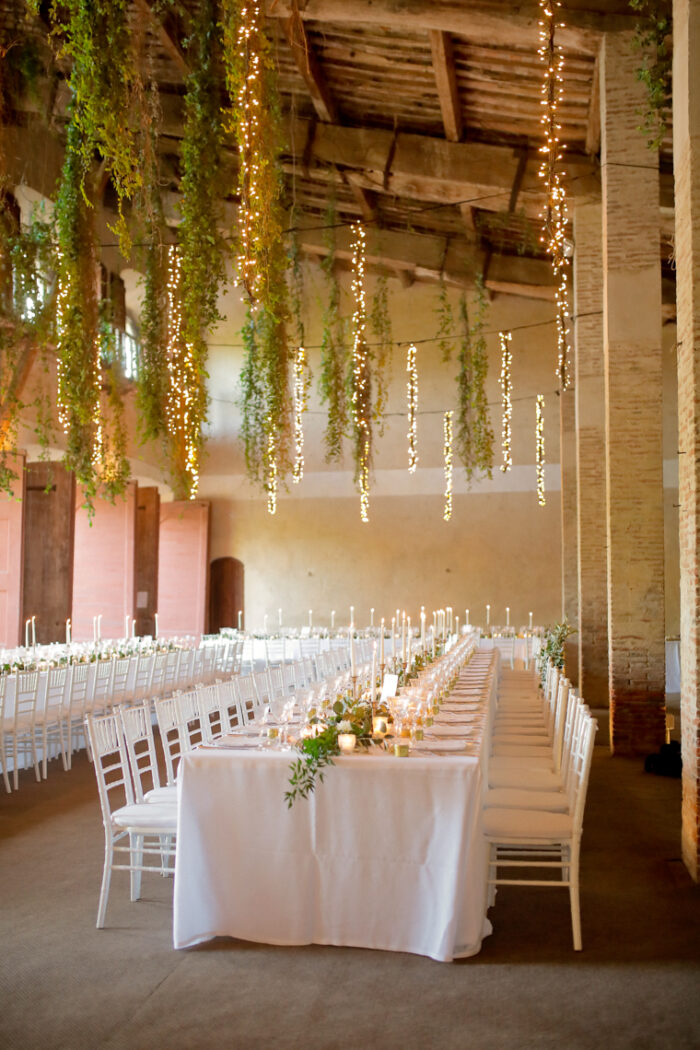 For the most rural, a rustic wedding will be a success, since a wedding of this theme with a touch of elegance and charm is not incompatible. And it is that the elements of the decoration will come to life, such as stones, woods, straws, tree trunks, fresh flowers … it will seem like everything is brought from the countryside to your wedding!
A rustic decoration admits a lot of combinations the sea of ​​charming such as: white fabrics, candles, jars, blackboards, pallets and old boxes.
So, if you are thinking about what may be the ideal space for your rustic wedding, think about Soto de Gracia, Finca del Monte de Cutamilla or the La Fábrica del Canal
Classic or traditional wedding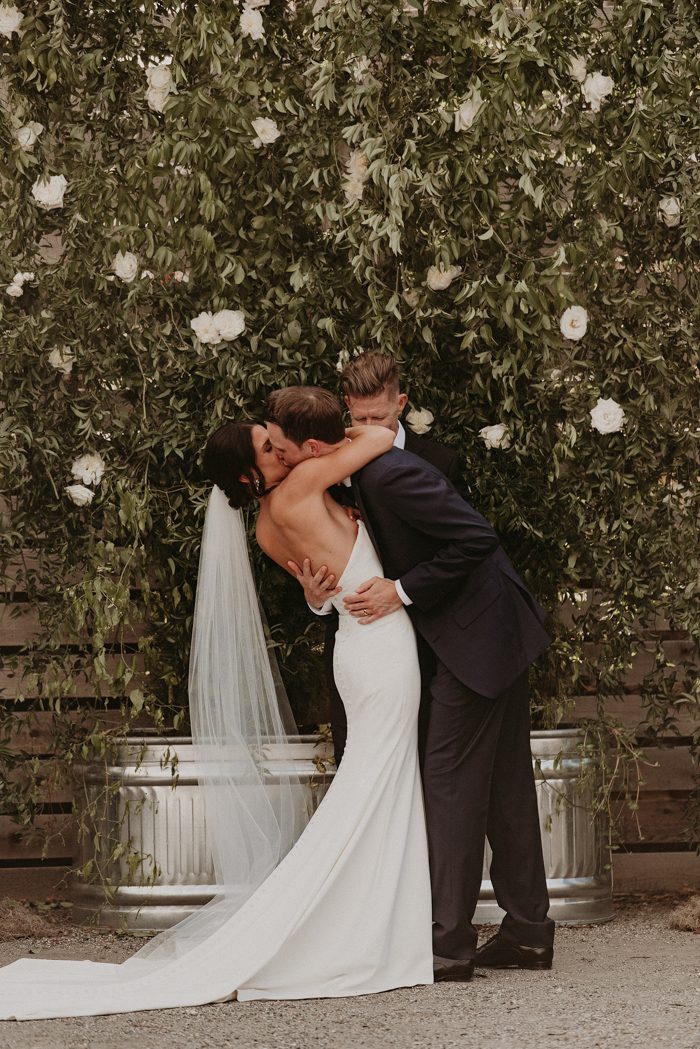 For a wedding, fairy tale like the ones in the movies, with a beautiful rose arch, golden dishes and large vases of flowers, it will be enough to create a magical and unforgettable atmosphere and create a classic wedding, like the ones of a lifetime, but with a modern and modern touch.
As protagonists we will find the color white, combined with pastel roses, champagne, and many bow ties, gloves, craft cocktails, traditional dishes and delicious food, like a royal wedding!
There is nothing better to celebrate a classic wedding than in an elegant hall such as that of the Palacio Aldovea or the Palacio de los Duques.
Country wedding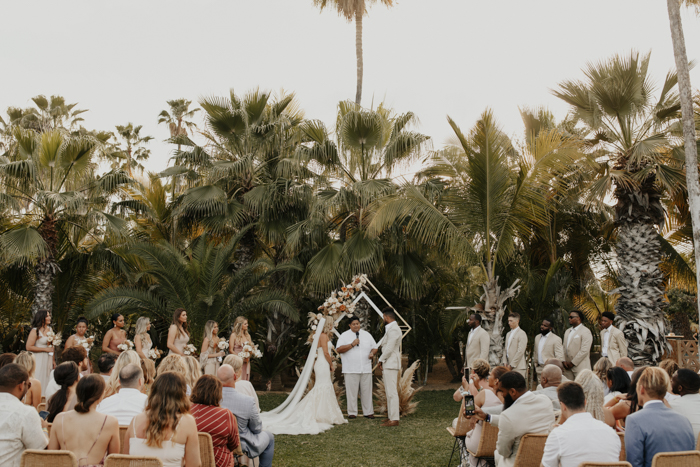 A country wedding is a magical atmosphere fused with the nature of the place, where textures and organic colors are combined with comfortable clothing, natural hairstyles and decoration that abounds in every corner.
This type of wedding is reminiscent of the American West, so it will not be unusual if you have cowboy boots, vintage cars, cages, tin vases, glass bottles, and even blocks of straws as seats. Nothing reminiscent of the city!
A very rustic space for your wedding can be Mas de Sant Lleí, the Sallés Hotel & Spa Mas Tapiolas or the Cortijo Sabila.
DIY weddings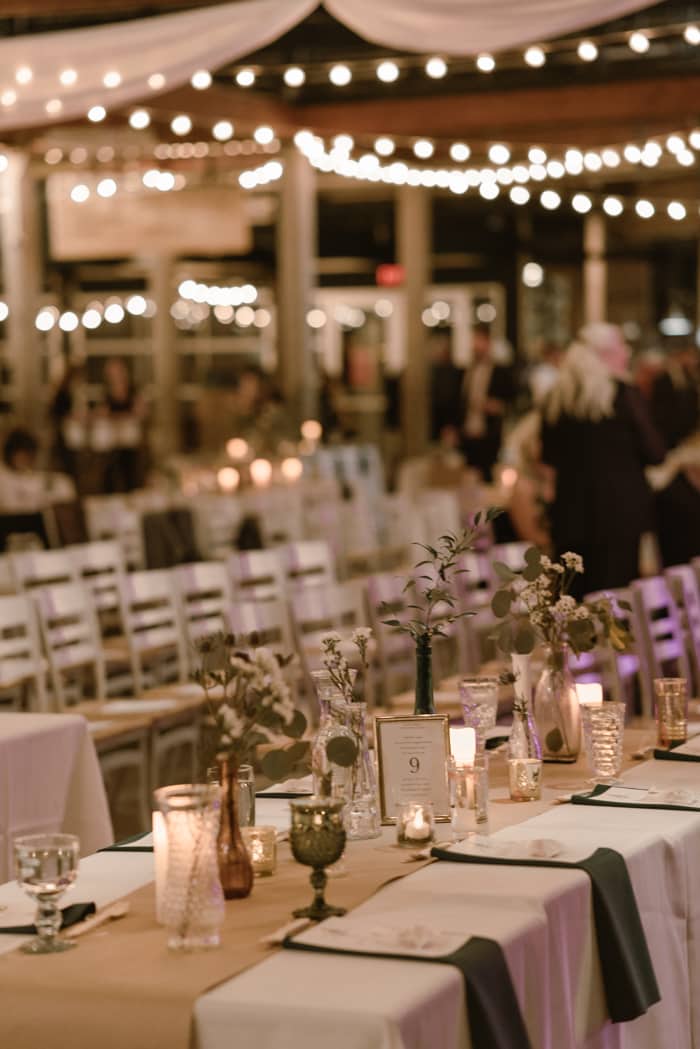 These types of weddings are also very fashionable, since in each place you can see authentic DIY works, with handmade decoration and personalized sea, such as handmade invitations, hand-sewn pennants and even paper flowers.
The bride and groom can wear DIY accessories, such as headdresses or belts, and the guests will not leave without their handmade gift! Round paper lamps can also flood the space, yes, painted and decorated by hand too. And what about those giant letters with the couple's initials? Of course they can also be made by yourself!
Such a wedding requires a space that is reminiscent of home, family and domestic, that's why … the Casa Benigalip or the Olivar Santa Teresa!
Fantastic wedding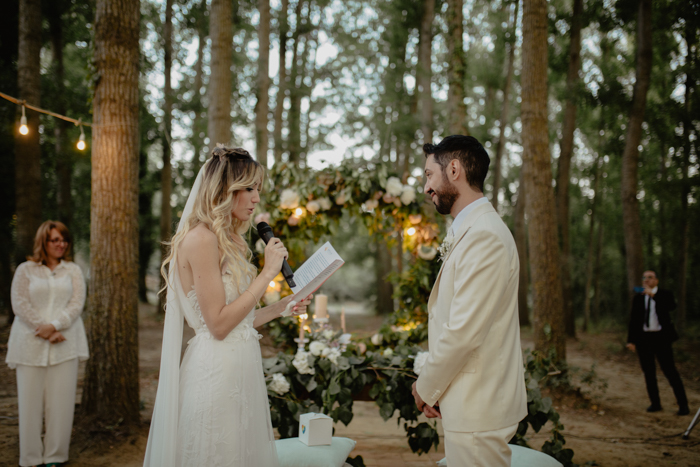 When the fantasy surpasses the reality in our life, a wedding of this theme, without a doubt, will be ours, which seems like just out of a storybook!, And more if we have lighting that recreates that magical effect, water sources…
The garden party will transport you to Alice in Wonderland, Batman, The Little Mermaid, or Shrek and Fiona. And you can even count on a performance of that movie that you love so much to surprise your guests! You will make your wedding unique.
And for a fantasy wedding we need bucolic landscapes, such as the castillo de Belmonte,  castillo Buen Amor or the Villa Lucía.
Retro wedding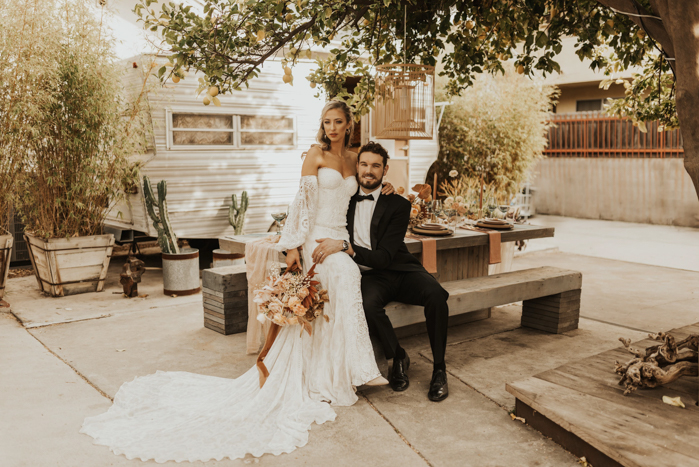 We can't imagine a retro wedding without a dixie or rockabilly band and a couple who dance to the beat between tight suits and short skirts with a lot of flight. In the decoration, your allies will be the illustrations of the 50s, the pin up style and the vinyls, all in the colors according to the 50s.
Which are? Bright red, mint green, gold, yellow and pastel blue. And don't hesitate to rent a classic car from the 50's and put the "Just Married" sign and lots of empty cans on the rear bumper!
The ideal place for your most retro wedding will be the spaces of the Palacio Cibeles or the hotel Villa Retiro.
Vintage wedding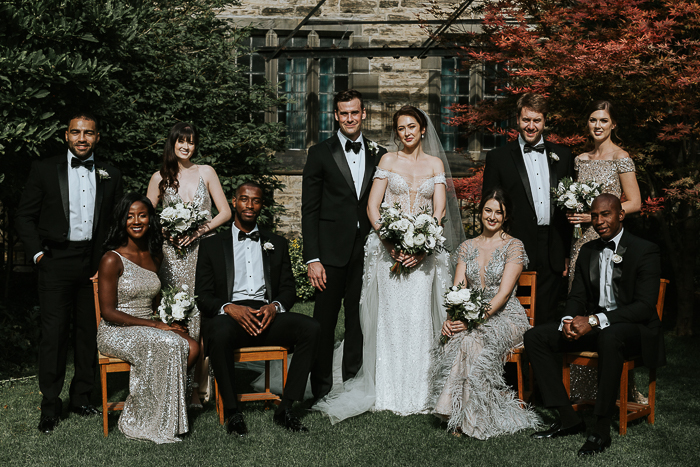 These weddings reminiscent of other times are often confused with retro ones, but nothing to see! because vintage is dominated by antiques and aged elements reminiscent of our grandparents' houses.
In the color palette, leave out the striking colors and opt for earth tones such as beige, mint green, coffee brown … Your space will be full of old furniture, armchairs, lace, suitcases, old books, photo cameras, bikes and woods!
The perfect place for a wedding with this theme can be the spaces of the Hacienda Faín Viejo or the Cavaller de Vidrá.
Modern wedding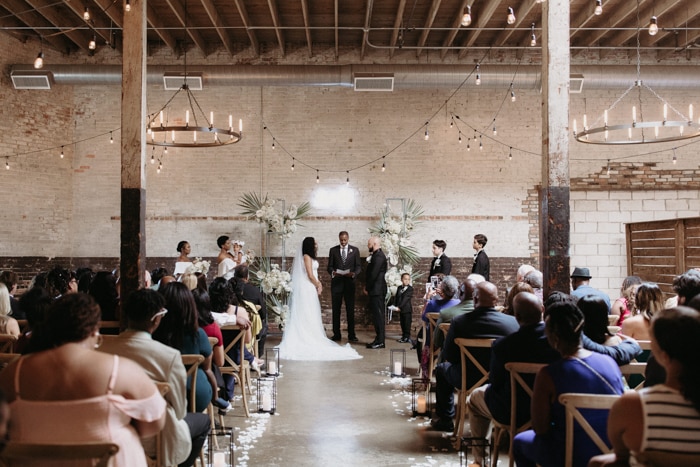 A modern wedding is all about exquisite simplicity. City lovers, urbanites and design lovers will opt for this wedding theme, a formal and contemporary touch as well as sophisticated!
The decoration of a modern wedding is related to minimalism, so the color range of white, black and silver will be a safe bet, as well as having space with glass, blocks, geometric shapes …
Nothing like the spaces of the Hotel Meliá Princesa or the Palacio Tondón for your most modern wedding!
Art Deco Wedding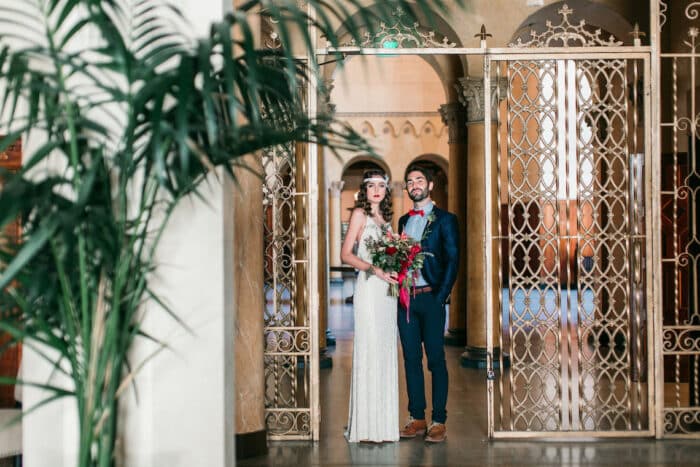 The Art Deco style is very opulent and inspired by planes and skyscrapers, zigzag and geometric lines, just like in the crazy twenties! With such a wedding you will be transported back to the 20s themselves and their luxury and elegance.
A gramophone, metals and gold tones as decoration will bring the setting to the time you want along with the dress of your bridesmaids, a wave hairstyle or a side dress. When it comes to music, jazz can't be missed at the party, so a dose of live music!
Nothing cooler than the San Roque Club or the Casa de la Seda for a wedding of this nature.
Romantic wedding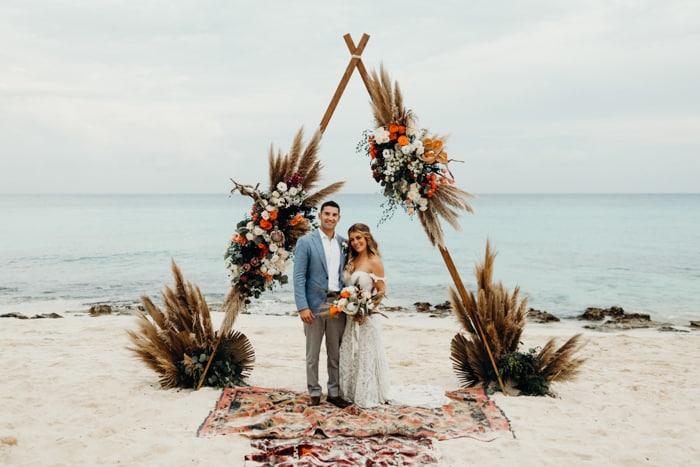 Romantic weddings have to do with celebrating the wedding in a few colors, soft lighting, a careful decoration based on hearts and white flowers, a princess wedding dress, romantic music and an inspiring place.
A perfect decoration will be the nudes tones, with roses and peonies combined with wildflowers for the centerpieces. A flower arch in shades of white and pink that frames the altar is also very romantic for the ceremony.
For such a wedding, we cannot go without mentioning the Hotel Relais & Chateaux Valdepalacios or the Masía la Baronia.
Eco wedding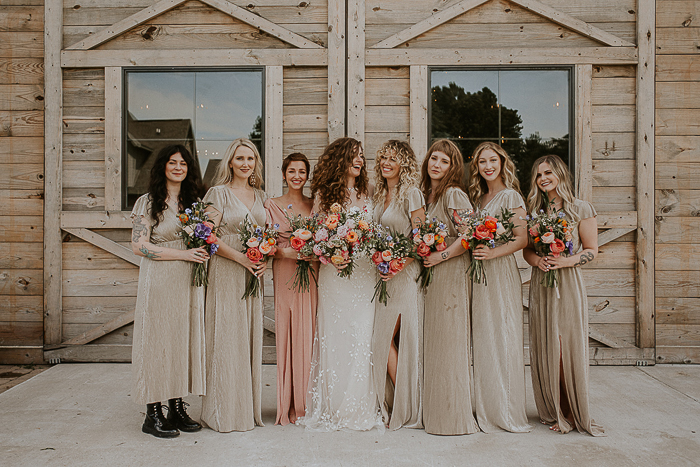 Ecology is in fashion, but it should always be so! Because what better than to celebrate our wedding while taking care of the environment? A practice that should be customary.
In an ecological wedding, opt for recycled paper invitations, flowers planted by the bride and groom, with suits that are committed to sustainable fashion and with transport that does not harm the environment, such as bicycles, horses, boats … ecology it is also present in food! With products from km 0 and then donating the leftovers.
Our preferred choice of space for an ecological wedding is an outdoor patio, such as that of hotel Can Pico or the exteriors of the Finca Santa Eufemia.
Glam wedding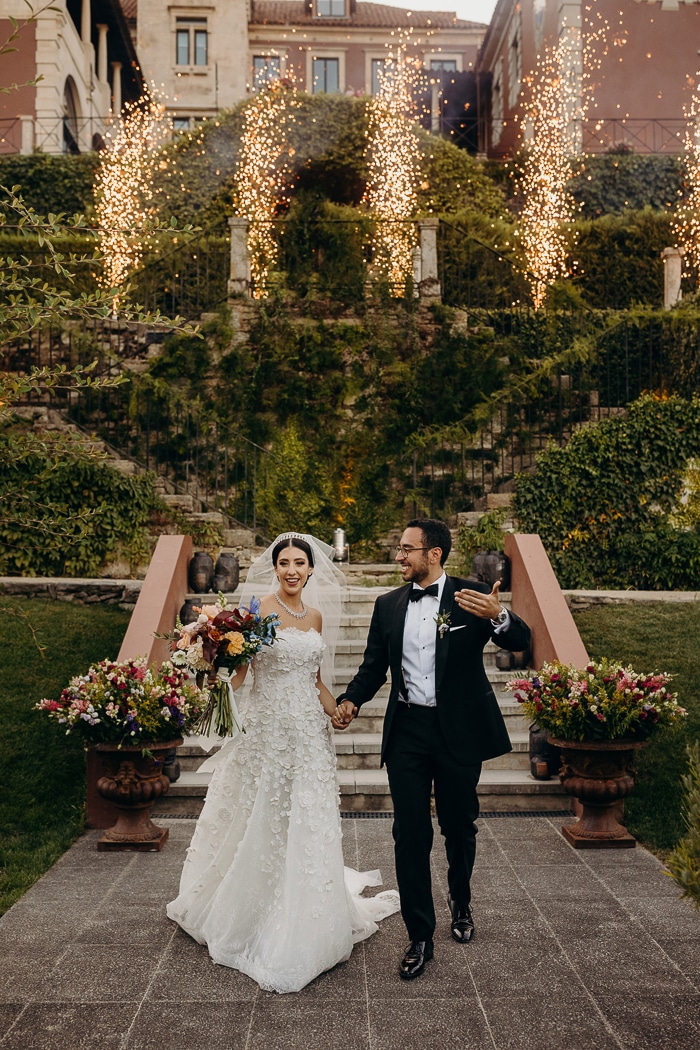 Surely you've already noticed those Instagram weddings that are full of sophistication and glamor, among red carpets, furniture with gold sparkles, silk cushions, chandeliers and mirrors.
A wedding like a true Hollywood star! Where glitter, dazzling and exaggerated dresses, jewelry and rhinestones are a must. And no, an spectacular fireworks show cannot be missed, because in these weddings more is more!
The Real Fábrica de Tapices or the Castillo de Viñuelas will be two of your most successful options when it comes to celebrating your glam wedding
With any of these weddings, you are sure to surprise your guests, now you are one step closer to definitely deciding on the theme of your wedding! And at Perfect Venue we can guide you and advise you! Shall we get the details already?