After learning about the 2021 ceremony ideas, we have not been indifferent to one of the trends: that of broadcasting your wedding live. Could the coronavirus have had anything to do with this now thinking about having a virtual wedding?
It may be, but also the bride and groom have a lot to do, because many now prefer to celebrate those intimate weddings and destination weddings so special and romantic that there are only the two of them, as a kind of elopement, but with the difference that the guests they are present from a distance.
It is an alternative so that the bride and groom have the intimacy they are looking for and the guests feel that they are present on the big day. You will participate in all those who want, plus your budget will be happy!
But it is not all about arriving and giving it to record, and it is that before you have to take into account a few requirements so that the virtual wedding stays engraved on everyone's retina forever. So make yourself comfortable because …
This is how to prepare this type of wedding: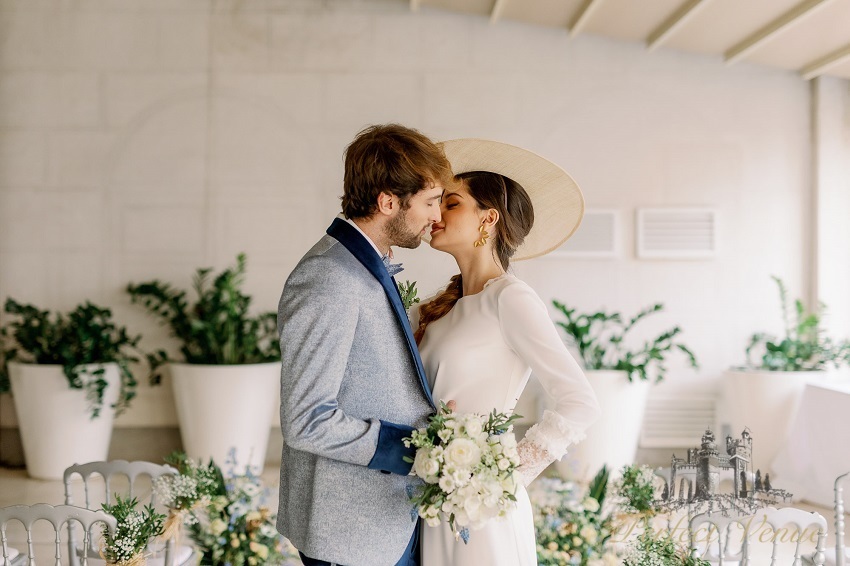 It has a good team
But not just any team, but one of quality that is in charge of capturing the most special moments of the big day, that has a good, well-updated camera and that the video is broadcast in the best definition.
There are mobiles, tablets, computers … but without a doubt the best is a professional camera that adjusts to different angles and heights and has optimal sound.
Remember to also do before hand, a little test or test in order to verify that everything works as planned and that you hear and listen perfectly, and be careful! do not forget to charge the battery to the maximum. We don't want any panic!
And so your guests will not miss the arrival of the bride in her 2021 dress, nor the excited eyes of the groom dressed in his 2021 suit, nor the exchange of rings, nor the kisses!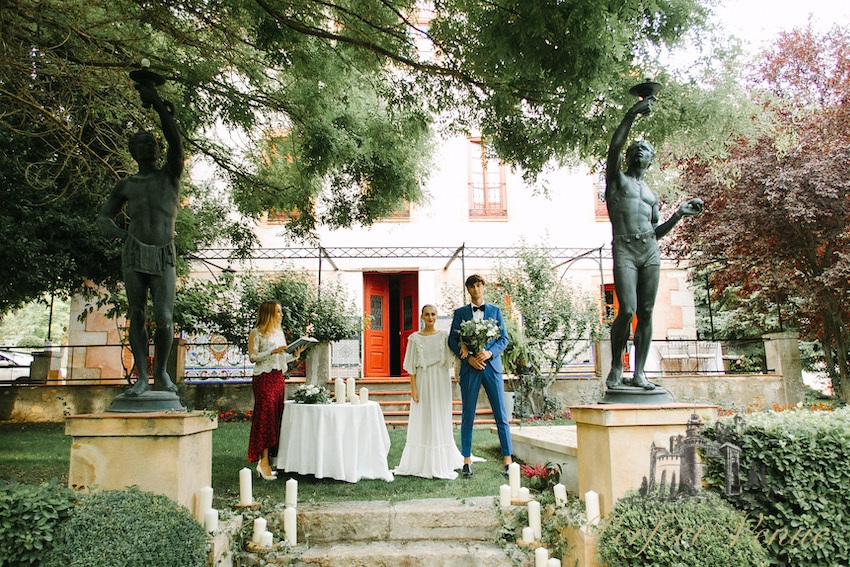 Make sure there is a good internet connection
Because we do not want our guests to stay in the middle of seeing our wedding, seeing pixelated images or choppy audio, so for this we need a strong internet connection as possible.
It is as simple as checking the speed and the network connection in the space where we want to get married! For your virtual wedding, it will be essential to consult this aspect before choosing the venue.
If not, another alternative is to have a cable internet connection, so we will make sure that our wedding will not be "frozen" at the most important moment. Because there is no virtual wedding offline!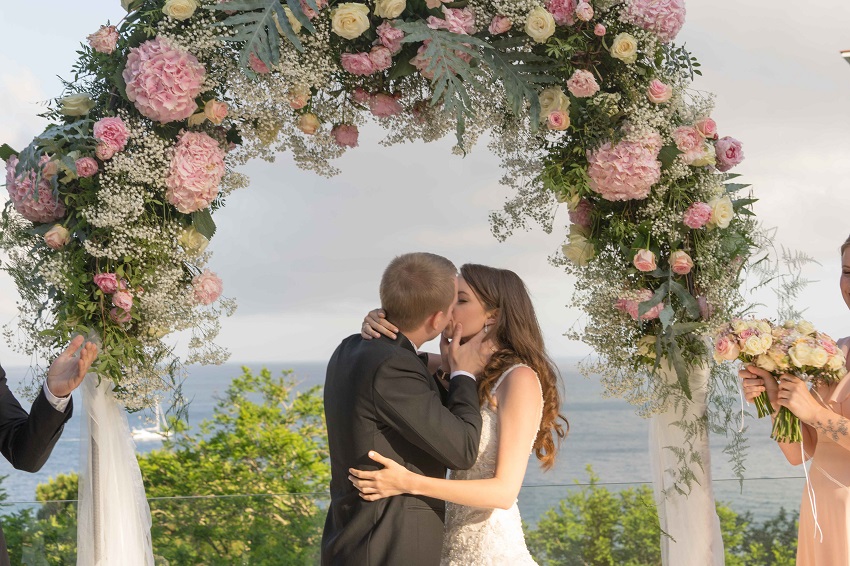 Lighting also matters
That is why we must make sure that the virtual wedding is held in a well-lit space, since it will make it much easier for everyone to appreciate the ceremony, and usually the live streaming platforms, (such as Zoom or Hangouts) usually distort the video and audio quality.
That's why you have to think about lighting, natural lighting will always be better than artificial lighting, so placing the camera near a window or outdoors will be the best bet. And be careful to put it against the light! Because if not your guests will only see two black silhouettes, and it is not what we want!
If, on the contrary, the wedding is at night, get a few lamps and light sources, such as those large rings that are placed behind the cameras to get the best effect.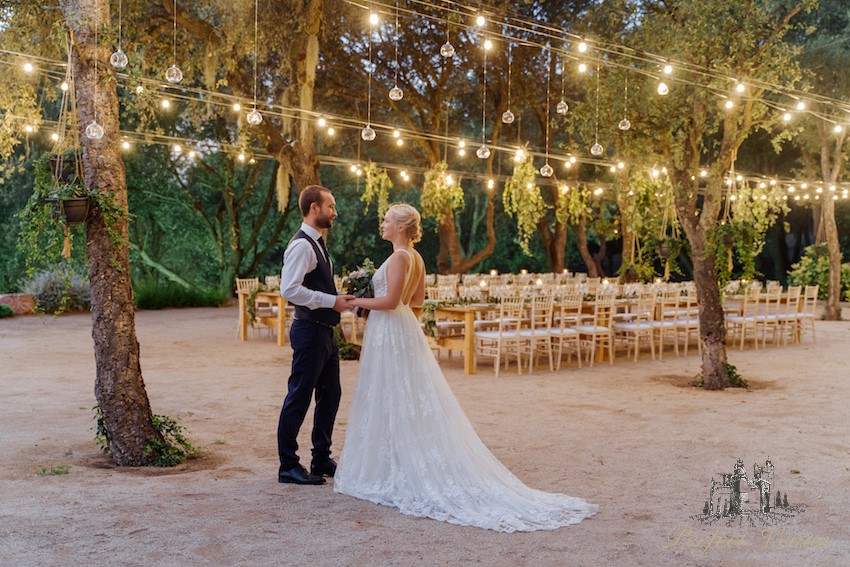 Attention to time differences!
Because surely your guests and you are not in the same geographical location, so the time must be clearly expressed when your loved ones have to connect for your "yes I want", both the time of the country of your guests like the one in the country where you are!
One tip is to include this information on your wedding website, as well as in your invitations for 2021. So there is no confusion!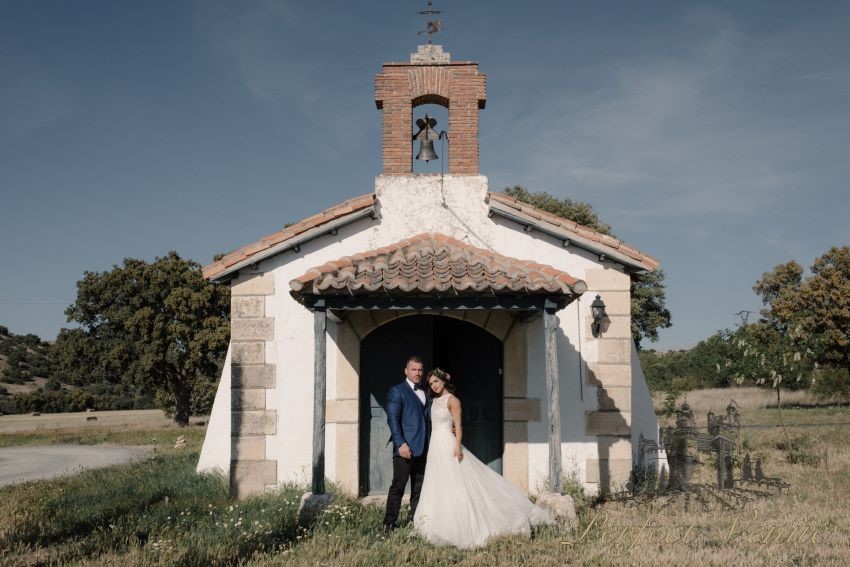 Dictate instructions to guests about your virtual wedding
And it is that many people are not living the digital age, such as older guests, grandparents and parents, who do not master new technologies as well as young people.
Therefore, giving a series of instructions to these people will help them a lot to know how to connect on the big day, you just have to explain how to enter Zoom or Hangouts, how to join the video call, how to activate cameras and microphones, etc. You can even make a test call with them! They will thank you and feel more confident.
Choose the most beautiful backdrop
Did you think that we had forgotten one of the most important requirements? Of course not! And it is that with a good choice of space you already have a large part of the guaranteed success.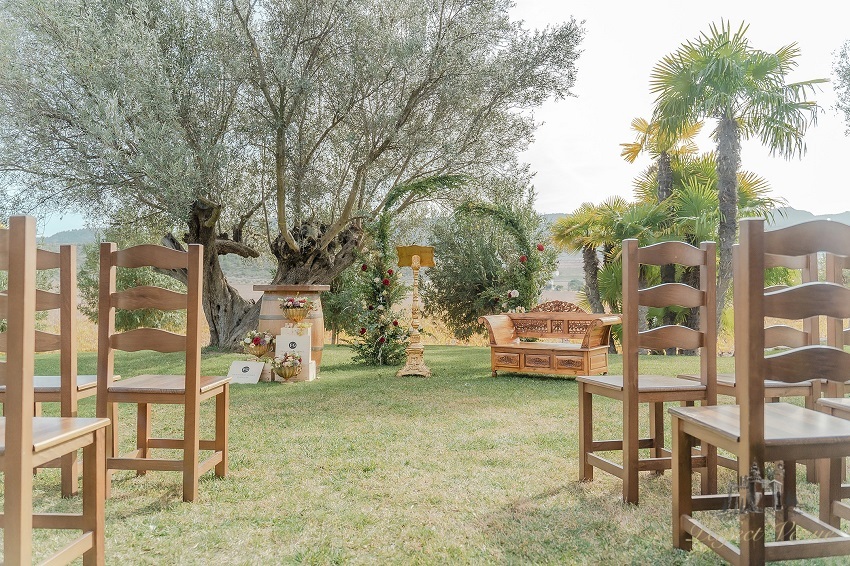 Not only is an idyllic and dreamy space enough, but it must also be clean, tidy and well organized, with small details that make it even more special, such as decorative elements, do you already know what the trends are in wedding decoration from 2021?
Your guests will be able to see palaces, hotels, castles from a distance … that's why in Perfect Venue, where we have the most exclusive spaces, we have recapitulated a list with …
… the best spaces for your intimate wedding that will impress your guests through the screen.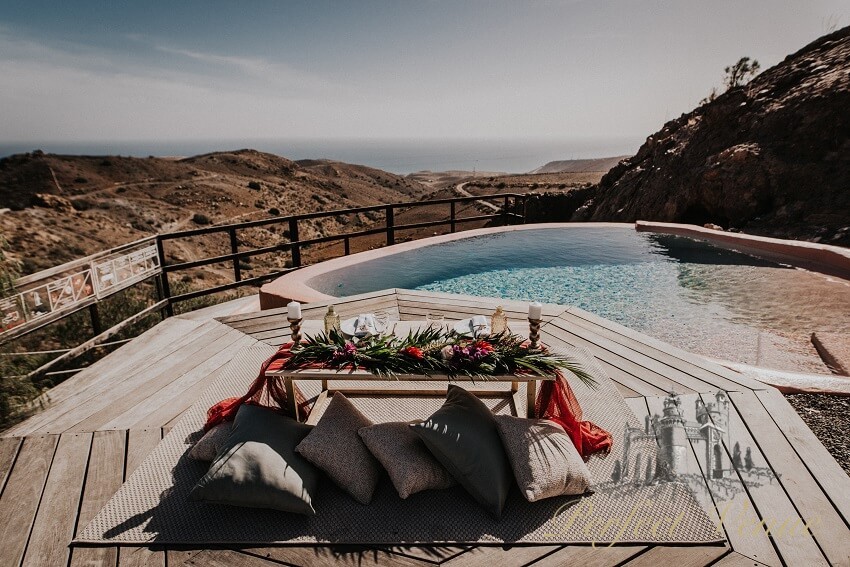 Located in the countryside in the south of Gran Canaria, it is a unique 5-star resort with views of the mountains and the sea, as well as a golf course and several swimming pools with different levels. A most luxurious backdrop!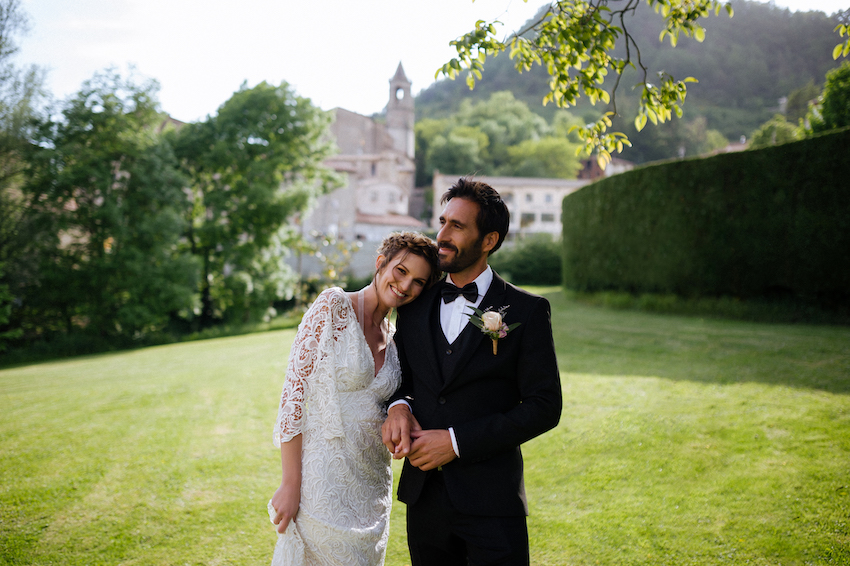 This farmhouse is located very close to the cities of Girona and Barcelona. This historic building dating from 1787 is considered one of the most important in Catalonia, which makes it a perfect space for your virtual wedding thanks to its background full of nature and its garden areas.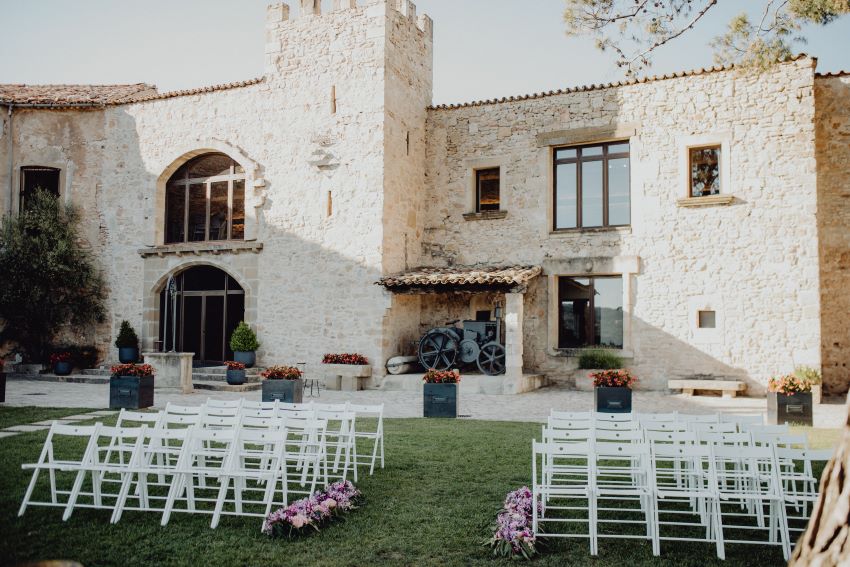 Castillo de Tous with more than 1,000 years of history, great jewels and relics that are preserved from that time, this castle is one of the best preserved, where, in addition, in the stately stone house, it stands out is its impressive square tower. It will look great on screen!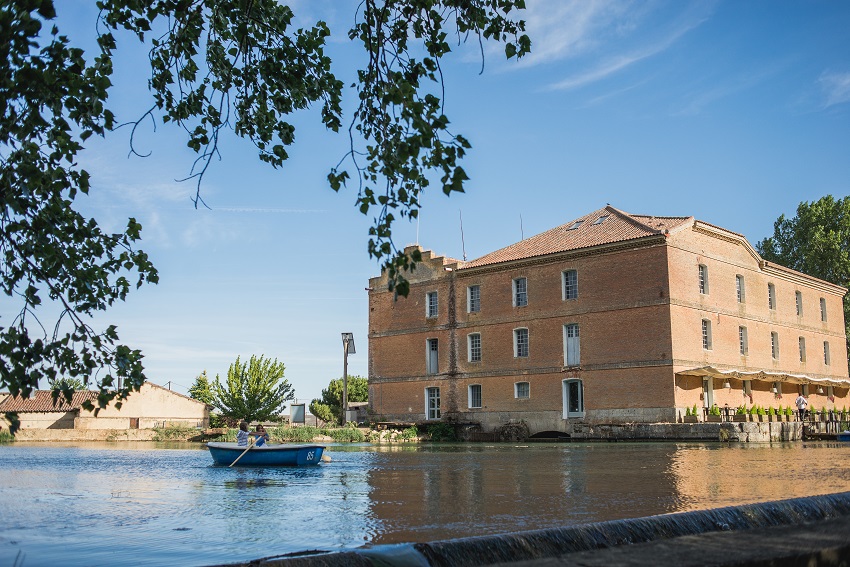 La Fábrica del Canalin Abarca de Campos, Palencia, this former flour factory has been declared of Cultural Interest as well as becoming one of the most exclusive barn wedding venues. They still have their machinery and the originality of the building, so you can show off in front of the camera!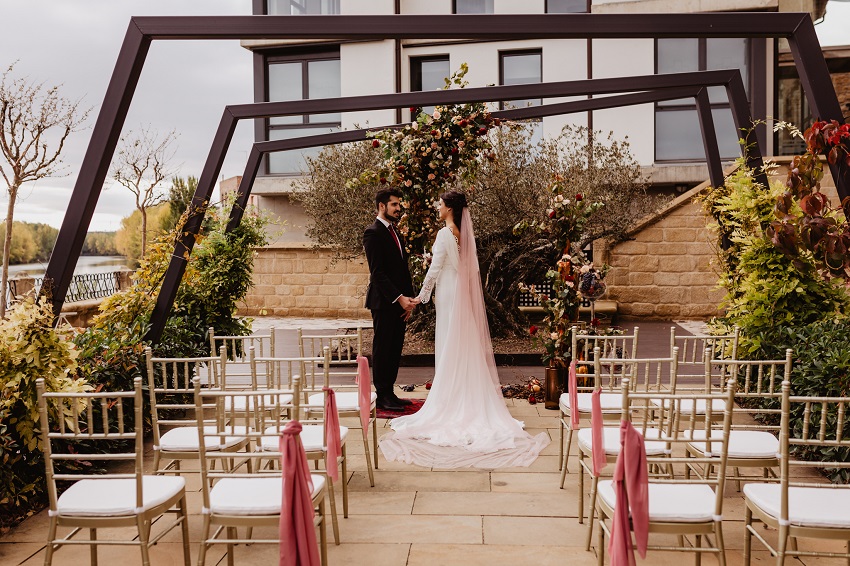 El Palacio Tondón located in the municipality of Briñas (La Rioja), this palace is surrounded by vineyards and mountains. It mixes tradition and history with innovation, to be able to enjoy the world of wine in addition to celebrating your virtual wedding.
And finally, save the recording!
Why? For many factors, such as for remembrance, and so that you can see your wedding whenever you want, so that later you can put it on those guests who could not connect or so that the guests to whom the connection left can see it.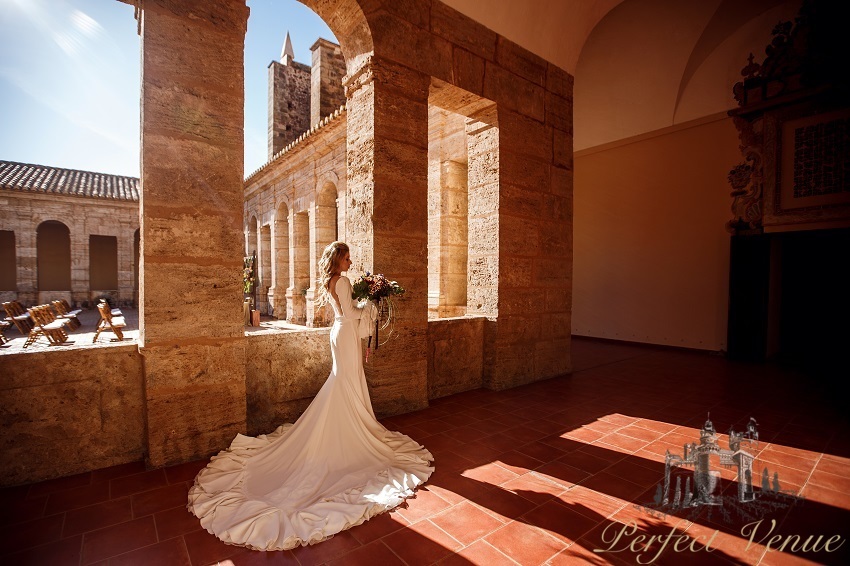 Holding a virtual wedding promises to become a trend that will last a long time. What do you think? Would you marry this way? If your answer is yes, we are waiting for you at Perfect Venue! And if not, also!
_______________________________________________________________________________________
Cover photo: More Karra Leigh photography