Attention future brides! If you have reached this article, you are probably looking for the wedding dress trends for 2021 … And that's because you are getting married next year! And the good news is… we have them all!
With different sleeves, light fabrics, handcrafted decorations, modernity and tradition, next year's brides will stand out. But watch out! because more than ever, brides will be choosing more daring, different and extravagant styles.
So, before we start telling you what all the trends will be, it's time to get out your notebook and let your dream dress take shape. The brides of 2021 are in luck!
Let's get to it!
There will be no shortage of frills
In 2021, frills will once again flood castles, palaces and gardens, worn by the most original brides. We will see them as gathers, asymmetrical, with folds, overlapping…
Flyers can enhance or disguise certain parts of the body that we are insecure about, and they also give a lot of volume!
Volume and more volume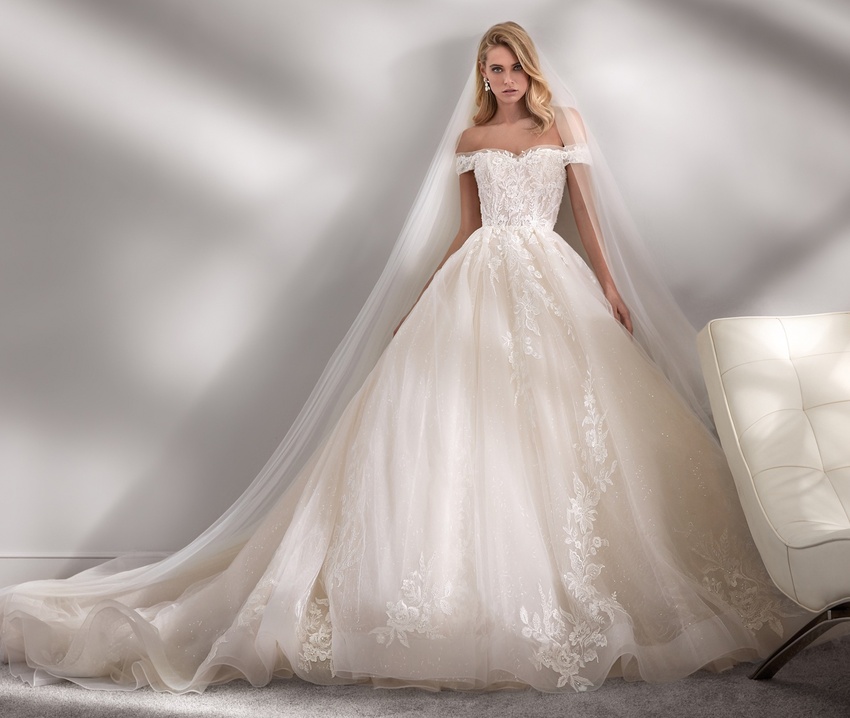 If there's a trend we have to mention, it's going to be volume. Whilst we have seen it before, mainly on top of the base of the dress… now the roles have been reversed!
Because there will be volume at the base of the dress, in the form of shoulder pads, necklines, exaggerated and puffed out sleeves, and with this, we have just revealed the next trend:
Sleeves with personality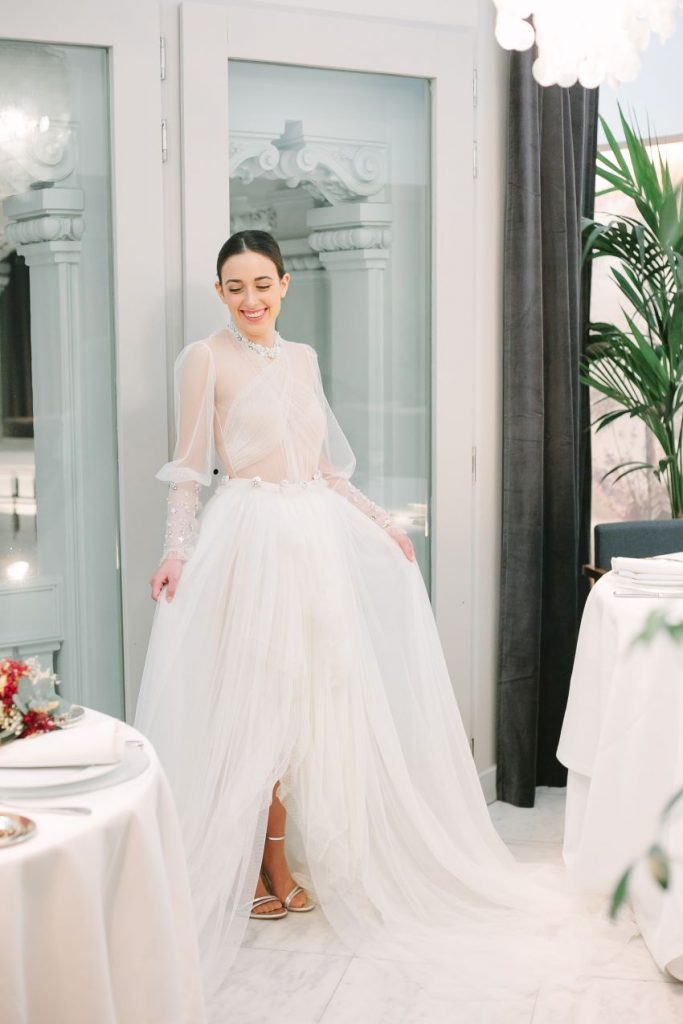 You'll be the queen of style! It's time for the puffed sleeve or the ruffled sleeve to make their mark. It's an element of the dress that will enable you to reflect personality, elegance and charisma.
But long sleeves will also triumph, another must for 2021, whether for the cooler summer days or during the winter, and they are incredibly flattering!
Satin, one of the stars of the show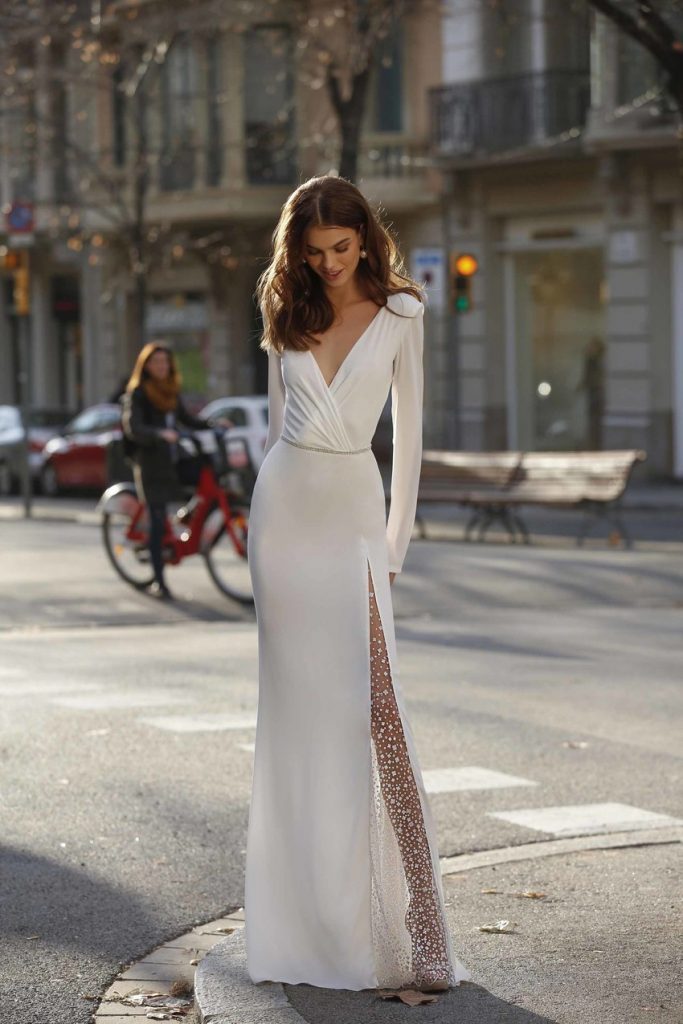 This type of fabric will be one of the main fabrics in the making of next year's wedding designs.
This type of fabric is perfect for all those brides who are looking for simplicity, but do not want to stop being daring. A plain dress with straps made of this material will be a safe bet!
The importance of a beautiful back
Anna Campbell lumiere
Because they give that touch of seduction and a different air to any dress, there will be a greater emphasis on designs that feature different backs or even completely open backs – something that almost every bride loves!
Mesh pieces never fail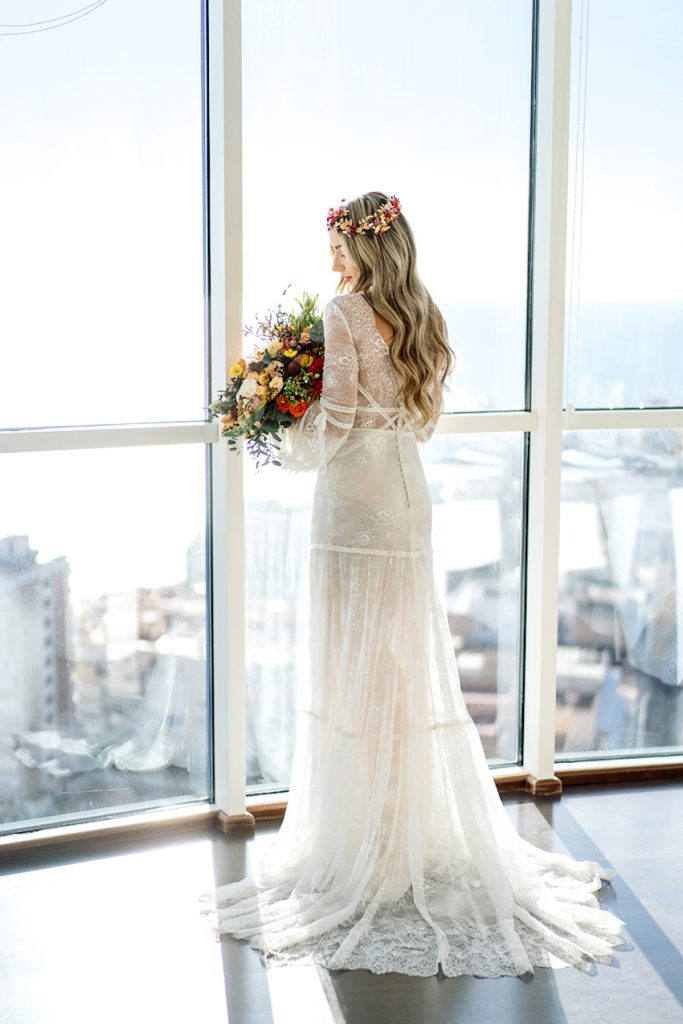 If there is a trend that repeats itself year after year, it's mesh, and it never disappoints! In each and every design they give that romantic and special touch that makes the bride look unique.
And this coming year they are determined to stay on trend!
More fluidity and movement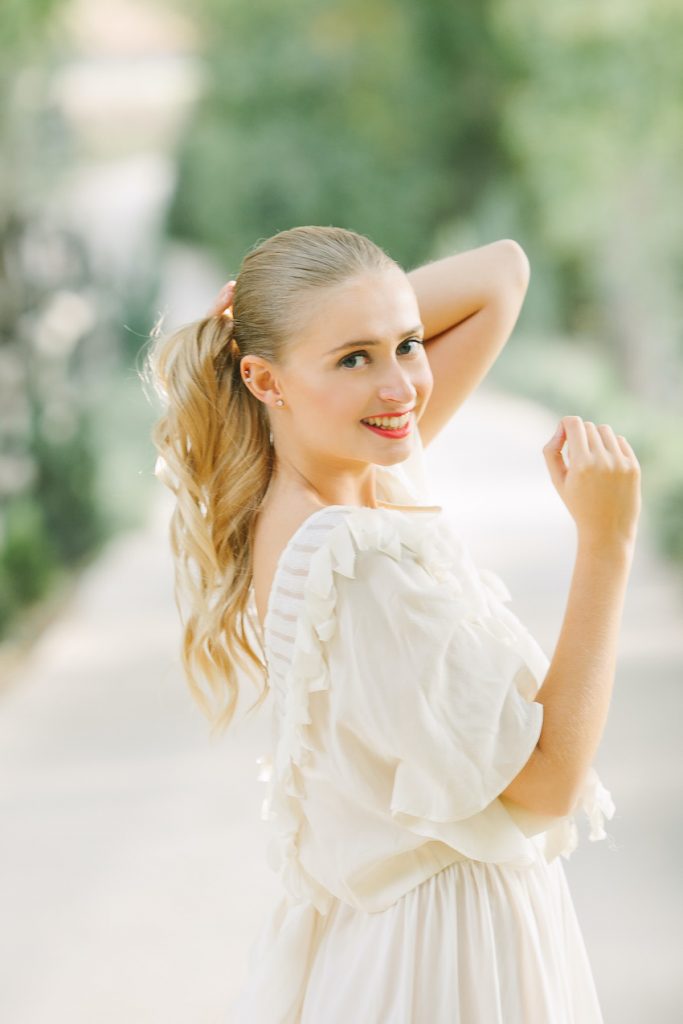 Yes, this year the materials will be lighter, such as soft tulle or taffeta, as they will give the bride greater freedom of movement, comfort and fluidity, mainly in the skirts.
The hand-made will prevail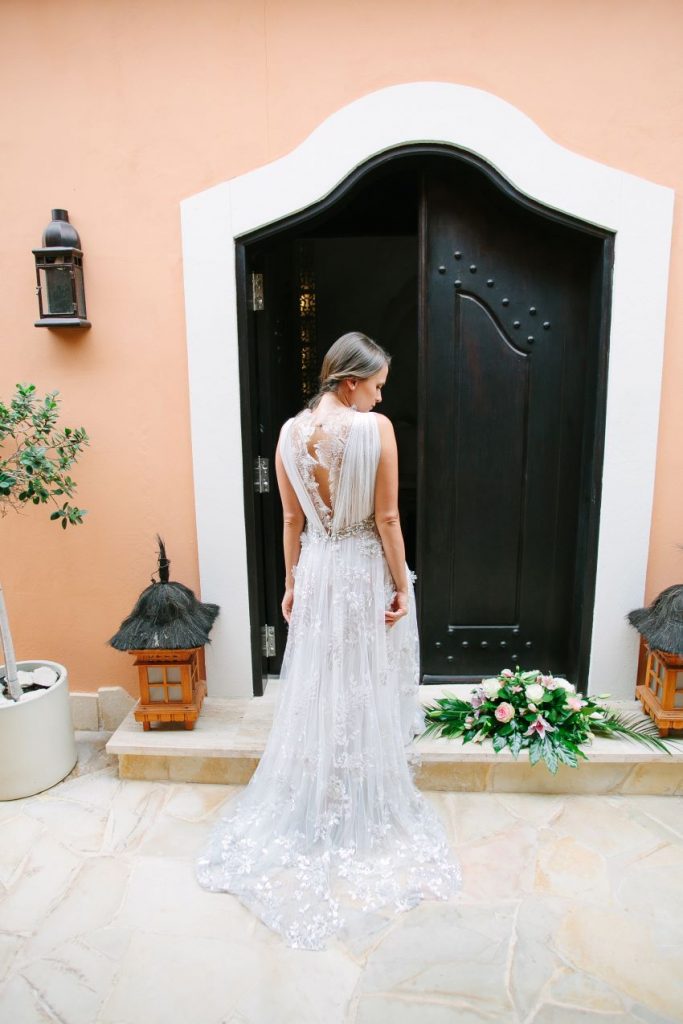 The art of the traditional and the hand-made will be most popular when it comes to making the wedding dress, with the oldest and most classic techniques becoming a trend.
Hand-made designs will feature in the embroidery, trimmings, decoration with jewels, shaped crystals, interlaced bodices, rhinestones… everything handmade to create the most exclusive design.
The art of feathers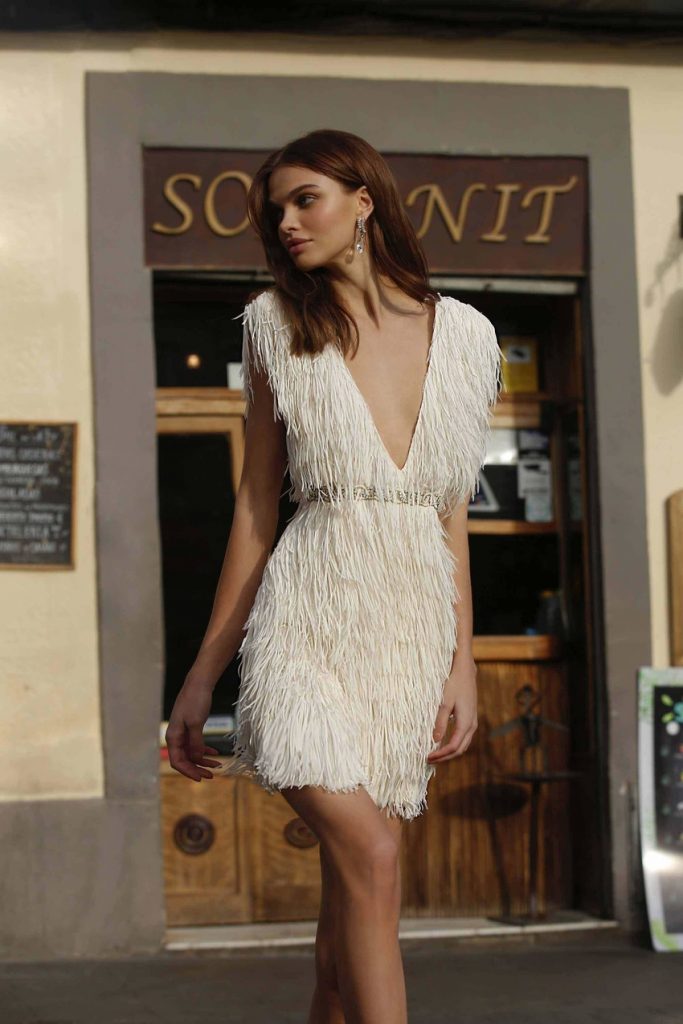 Surely one of the least expected trends is this: feathers. They are here to stay, because, besides giving a touch of movement to the dress, jumpsuit or suit, you will be able to add a unique element without saying goodbye to good taste, style and delicacy.
Two pieces and jumpsuits will feature heavily
Anna Campbell lumiere
The perfect choice for the most daring brides! One way to avoid an ordinary wedding dress will be to walk down the aisle wearing an elegant jumpsuit or a soft two-piece outfit.
And you can always add extra flair to the outfit with accessories. 2021 will be the year of the trousers!
Removable dresses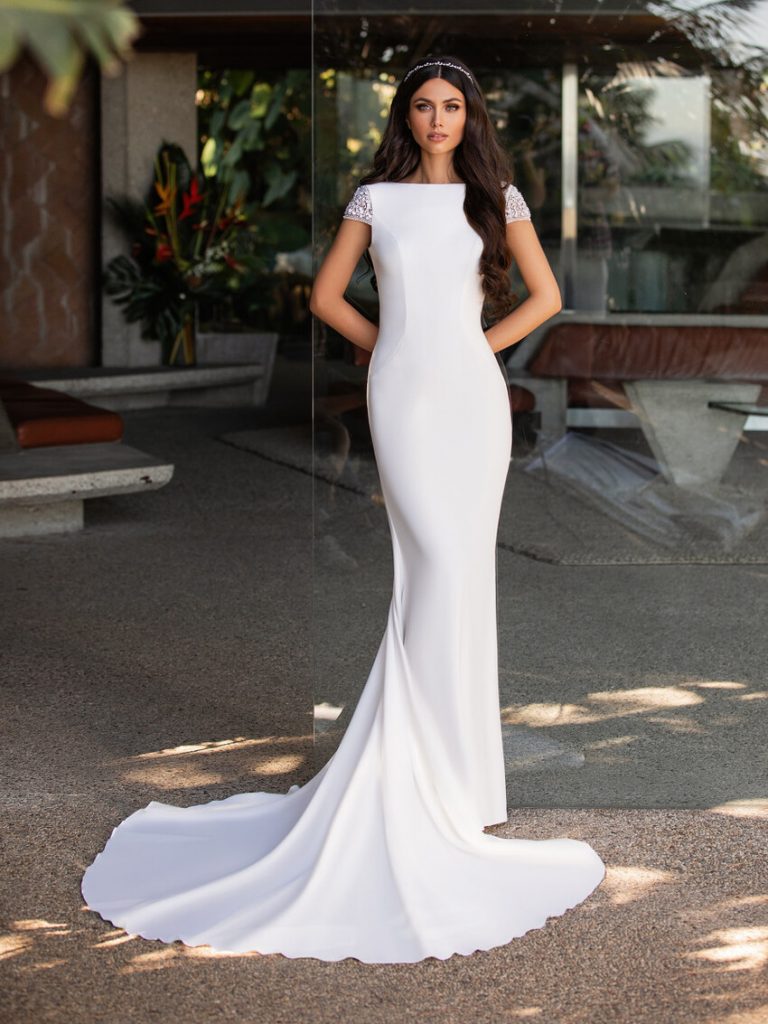 We have seen this style of dress in past seasons, but in a very subtle way. And it won't be until 2021 that they gain more ground than ever. 
Detachable trains, sleeves and overskirts, as well as belts, overlapping layers and jackets, will allow the bride to wear two dresses on her big day… in one piece!
We have completely fallen in love, and I'm sure you have too, with all the wedding dress trends that will feature in 2021.
Don't be last-minute with choosing yours, the fittings and the finishing touches!
We are waiting for you at Perfect Venue to walk with you hand in hand on this very special quest.