If you are still under the impression that all rural farms for weddings are the same, it's because you haven't heard of Aldeallana. This rustic Finca (a Spanish country house) is situated in an idyllic enclave, between two of the most touristic cities in our country, Madrid and Segovia, it offers us an exceptional and unique environment to celebrate the happiest day of our lives, through the harmony of the surrounding nature and the exclusivity of its services. 
We come to you now, personally, this special place to let you know everything Aldeallana has to offer to those couples looking for a distinct and magical wedding. 
Walking along a beautiful rural road, among fields of wheat, surrounded by the scents and colors of fragrant plants and flowers and under the warmth of the sun, we arrive at Aldeallana, a beautiful rustic house with the charm of its wooden doors, gabled roof and vines that decorate and give a fresh feel to its whitewashed walls.
Around the house, a well-kept lawn, oaks and pine trees with a peaceful chill-out zone in which to lie down to enjoy the wonderful views of the countryside and one of the best sunsets anyone can imagine. Sitting on a bench on one of its wooden porches, the manager of Aldeallana, awaits us.
Good Morning. Thank you for having us, we would love it if you could talk to us about Aldeallana and tell us a little more about this unique place.
Good morning. Yes, it is such a different and unique place, I'd be happy to tell you about anything you'd like to ask me. 
Perfect, thanks. Finca Aldeallana is located in an exceptional location, in the middle of the countryside, we would like to know what facilities or spaces do you have for the celebration of a wedding?
Aldeallana has a large area of almost 300 hectares to make each wedding an unforgettable day where the couple can make all their dreams come true.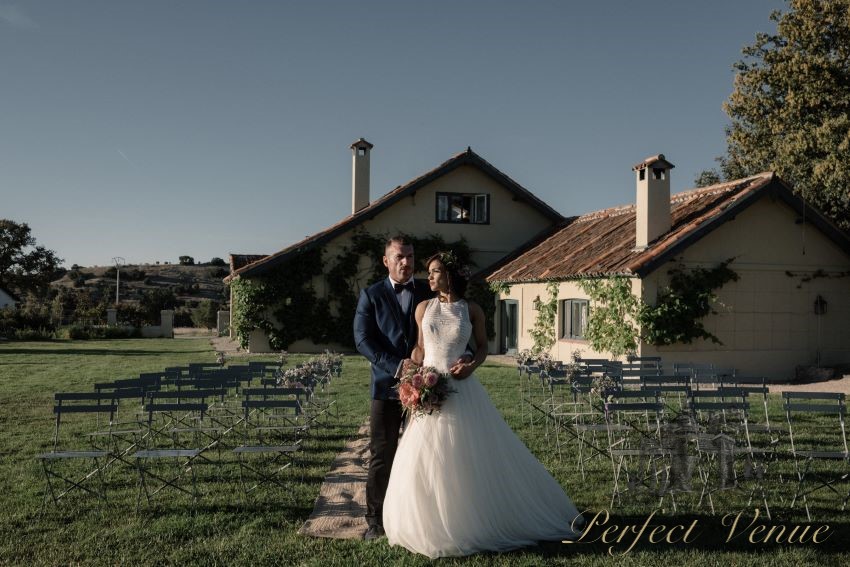 For weddings we have different rooms and spaces, each of them decorated down to the last detail. The slate floors, the rustic tiles, the furniture made of wood and wrought iron, the purely rustic decoration, make every corner of Aldeallana a magical and cozy space. I will tell you a little about which spaces we have:
On the one hand, in the Aldeallana House, with a carefully designed interior and decorated with an elegant style, we will find an exclusive and luminous suite for the couple. Around the house, we have its gardens, as you already know.
We also have a glass pavilion for lunch or dinner, for up to 380 people. On the other hand, we also have a small hotel with five double rooms on site that we installed this autumn. In it our guests can enjoy a delicious breakfast and an exclusive room service. As you can see when you come in, all areas are connected by pleasant walks in the garden. Similarly, we have parking spaces for cars and buses, to receive all guests.

How is your catering service … And what services do you offer the couple to make their big day unforgettable?
Like I said, we have prepared a beautiful and comfortable wedding suite for them, overlooking the garden. Furthermore, we have a cleaning service, in the common spaces to assist our clients in Casa Aldeallana.
The decoration and the services offered during the event will always be according to the couple's tastes and wishes. We have many specialised suppliers that will make your dreams a reality at Aldeallana.
In order for our guests to feel comfortable and enjoy this beautiful day with the bride and groom, we offer a cloakroom service, a delicate selection of bathroom accessories, a car surveillance service and the staff remains available from the beginning to the end of the day.
Someone from the Aldeallana team will welcome the guests and will be attentive until the beginning of the appetizer to make sure everything is perfect. Moreover, another member of staff will stay until the end of the celebration to answer any particular need.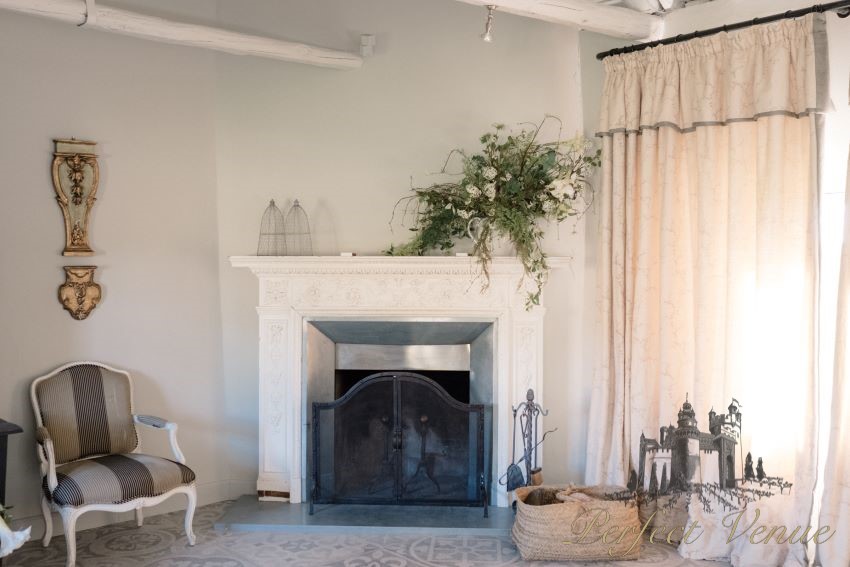 These are very comprehensive services and, in my opinion, done in a very personal way. In terms of catering, what can you offer for an event as important as a wedding?
At Aldeallana, we work exclusively with the catering company Ciboulette for weddings of more than 100 guests in high season. For weddings of less than 100 guests and in low season, we also work with the caterers La Trebede de Segovia.
The two types of catering are adapted to the needs and preferences of every client. We offer a variety of propositions in both cases, from barbecue/grill or cocktail style meal to food stands and lunch / diner. Always with quality products and exquisite service.
And tell me, what meal or menu is the most popular?
When they work with the catering company Ciboulette, our clients generally choose a cocktail with snacks outside, followed by a longer lunch or diner. After the cocktail in the garden, the guests go to a beautiful pavilion where you will be able to choose a starter, a first and a second course and then dessert of your choice. The most popular dessert is Ciboulette's famous arab cake, you should try it! Then, the guests generally choose 3 or 4 hours of open bar.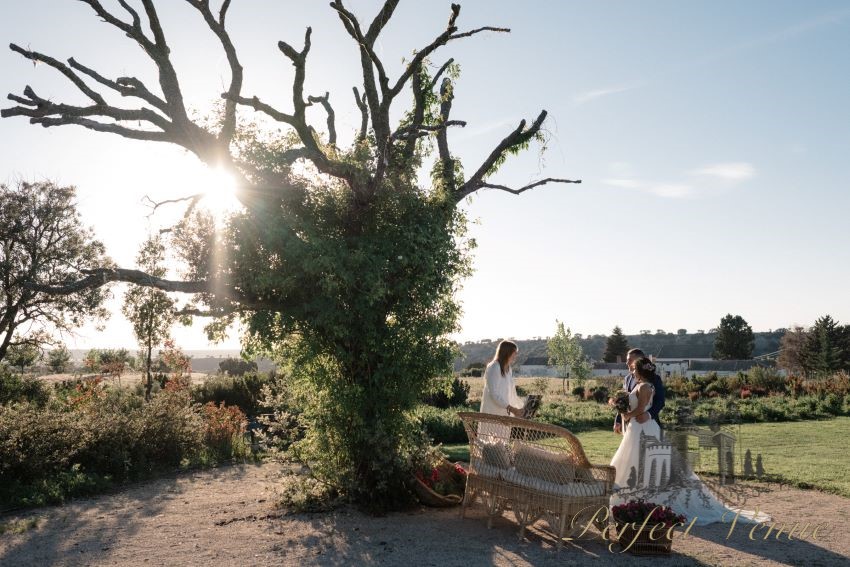 We would love to try this cake… One question which I think is interesting for our partners: do you manage every wedding, whether it be civil or religious ?
Of course, in our gardens, we prepare beautiful civil ceremonies with unbelievable colorful sunsets. If you prefer a religious wedding, only 3 km from Aldeallana, through a beautiful country road, you will find the elegant stone church of Eulalia de Mérida. Its steeple and its storks will make your "yes, I do" a romantic and irreplaceable moment.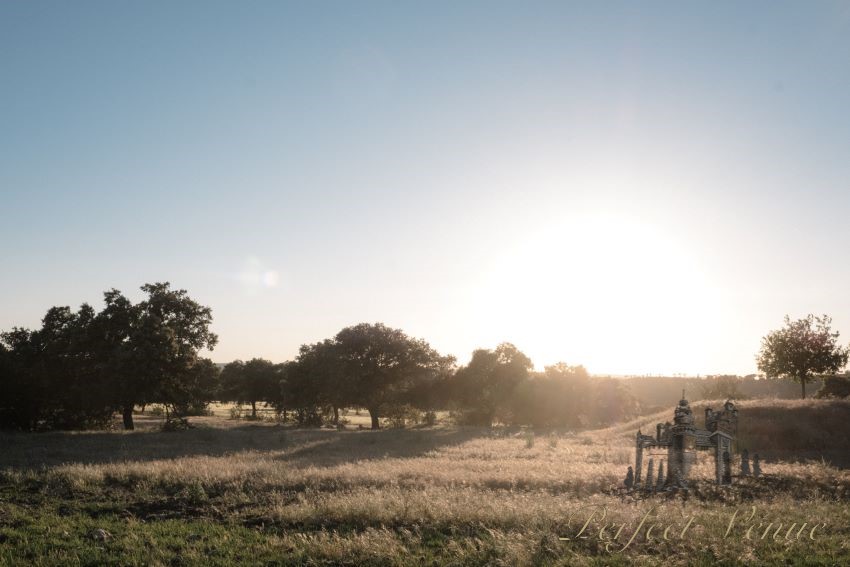 In this unique environment, do you plan an activity for the guests? What would you recommend to go and see around her?
Any walk through the fields, oaks, pines and wheat fields, is spectacular. A few kilometers away from the farm, we have two of the most interesting architectural, cultural and gastronomic cores of the province of Segovia and of Spain in general: the capital of Segovia, with its charming streets, its aqueduct, its Alcazar and the typical gastronomy of roasts and of Granja. San Idelfonso is a small but beautiful city where you can enjoy its palace and magnificent gardens.
If what they love is nature, we can not forget the river road Moros that they will love. However, if they want to relax and not have to leave the farm, Aldeallana offers its clients a variety of outdoor activities in the comfort of their own gardens, especially designed for groups, which will make the guests have the best day without having to leave the venue. Among our range of activities, we have different sports, with for example archery, babyfoot and many other proposals that will make your event different and unique.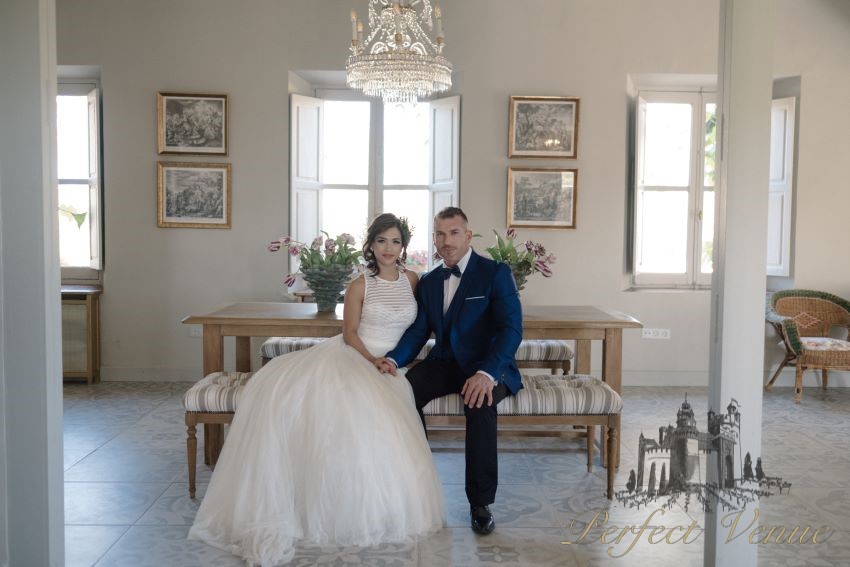 According to your experience, is there a difference between organising a wedding with fiances from here and ones from abroad.
Normally, no because our team speaks perfect english and french, so we are very prepared to welcome clients with any nationality. Regarding culinary or decorative customs, we always adapt to our customers' preferences.
Finally, what is, according to you, the best time to get married in Spain and particularly at La Finca Aldeallana?
It's always a good time, but we do love a lot the months of October and November. The countryside and the sun are very pleasant at this time and there is a very bucolic atmosphere at the Aldeallana.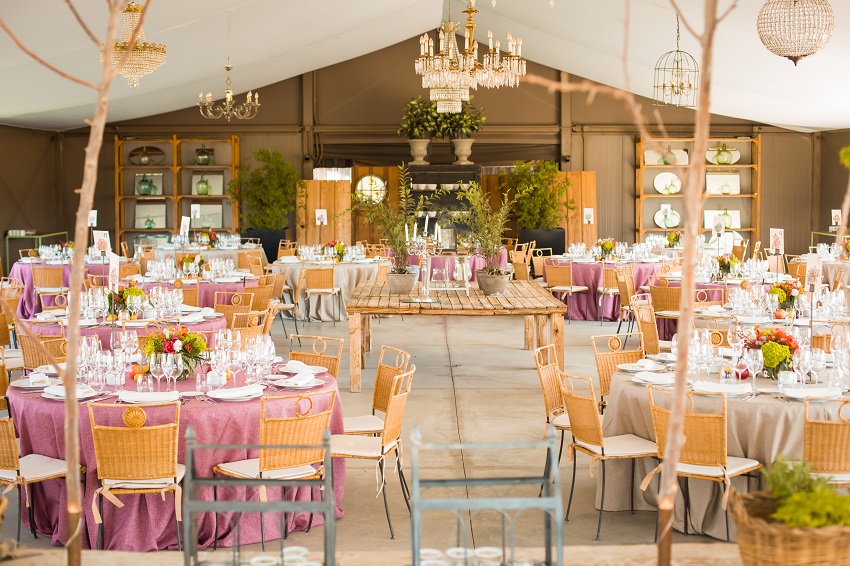 Thank you so much for telling us about this unique place in the countryside of Segovia. If you're okay with it, we will stay for the sunset.
Thank you for coming. Of course, stay, it's definitely worth it! Here the sunsets are unbelievably beautiful. Enjoy!
_______________________________________________________________________________________
Photo1,3,8: via finca Aldeallana, Photo2,4,5,6,7: Kaleidos wedding.