There is nothing we want more than to see the final result of our invitation and put them all towards their recipients, and if we can see the reactions in opening them in the first person even better! Because it is very good news that will surely please everyone.
But, that this desired moment arrives is not a too fast or simple process, since you will have to take into account a lot of details before hitting the print button, for example, all the trends that have emerged for invitations from 2021.
And, as at Perfect Venue we know that you want to know them all, we have started searching for all the new features that will be included in the wedding invitations for this year: accessories, prints, stamps, calligraphies… so keep an eye on this article!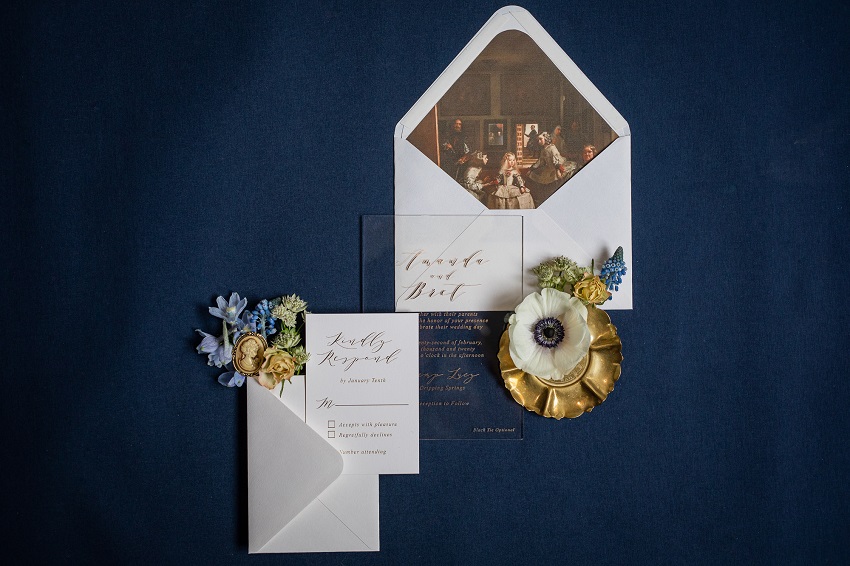 The envelopes are now painted
And it is that this element is almost as important as the invitation itself, so we will need to perfectly tune the envelopes with the card, style, and colors of it.
Have you been thinking about a hand-painted drawing on the envelope? Whether it be by means of an illustration, a map of the wedding space, or in such a beautiful detail as it is the very place where you will celebrate the great day: a castle, beach, farmhouse … a very special invitation!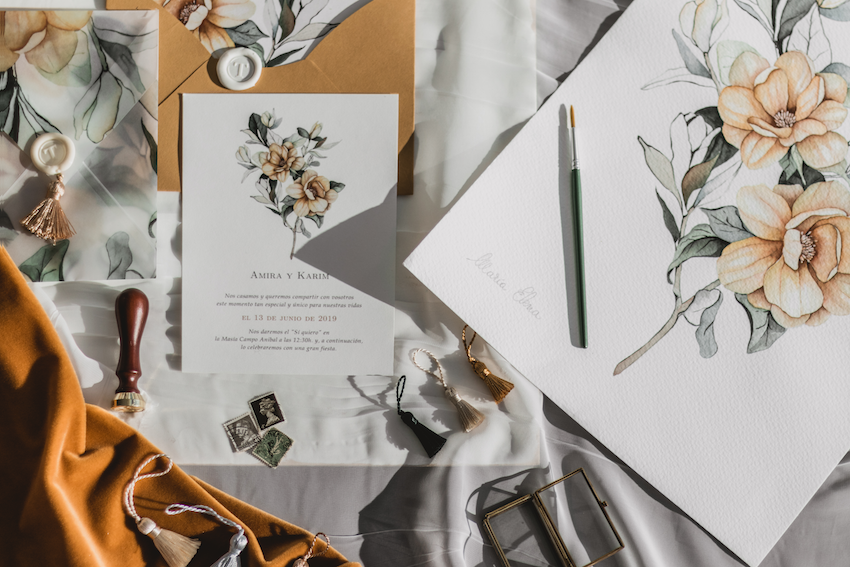 Open envelopes too
The openwork is back in fashion, because, although they have been in the shadows in recent times, now they are stomping again more than ever.
The openwork designs give that lace look that combines perfectly with a rustic, country, and vintage wedding style, which gives a touch of romanticism and delicacy.
Plus, this envelope technique exposes some of your cards, making it a perfect opportunity to contrast colors and textures!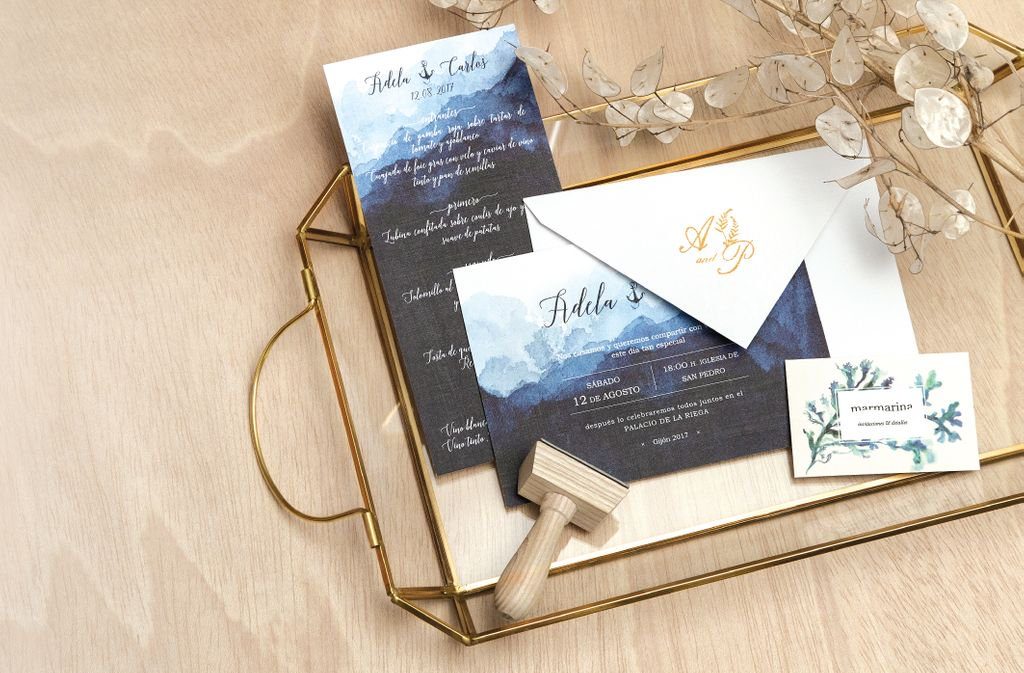 Reliefs on cards and envelopes
Yes, the relief technique will also have a leading role in the invitations of 2021, whether it be highlighting the names of the bride and groom, some drawings, or even a wedding logo. Your invitations will stand out much more! As if it had a 3D effect, your invitations will have volume thanks to these engravings.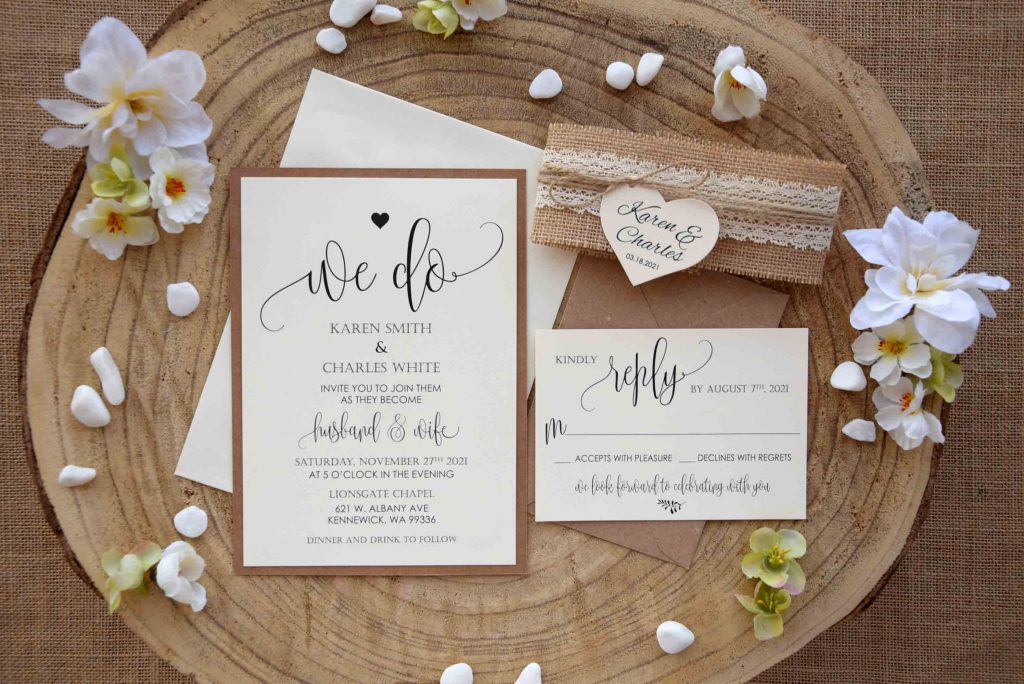 Cuños? Yes, I do!
One of the quintessential novelties will be to use stamps on wedding invitations, either with sealing wax to close the envelope, with the wedding logo, with an illustration, with the date of the link or with the initials of the bride and groom.
This 2021 nothing to write the same many times! Because in a matter of seconds you will have your text on paper. And there are a lot of printers and internet pages that can tailor it for you. Easier to get than impossible!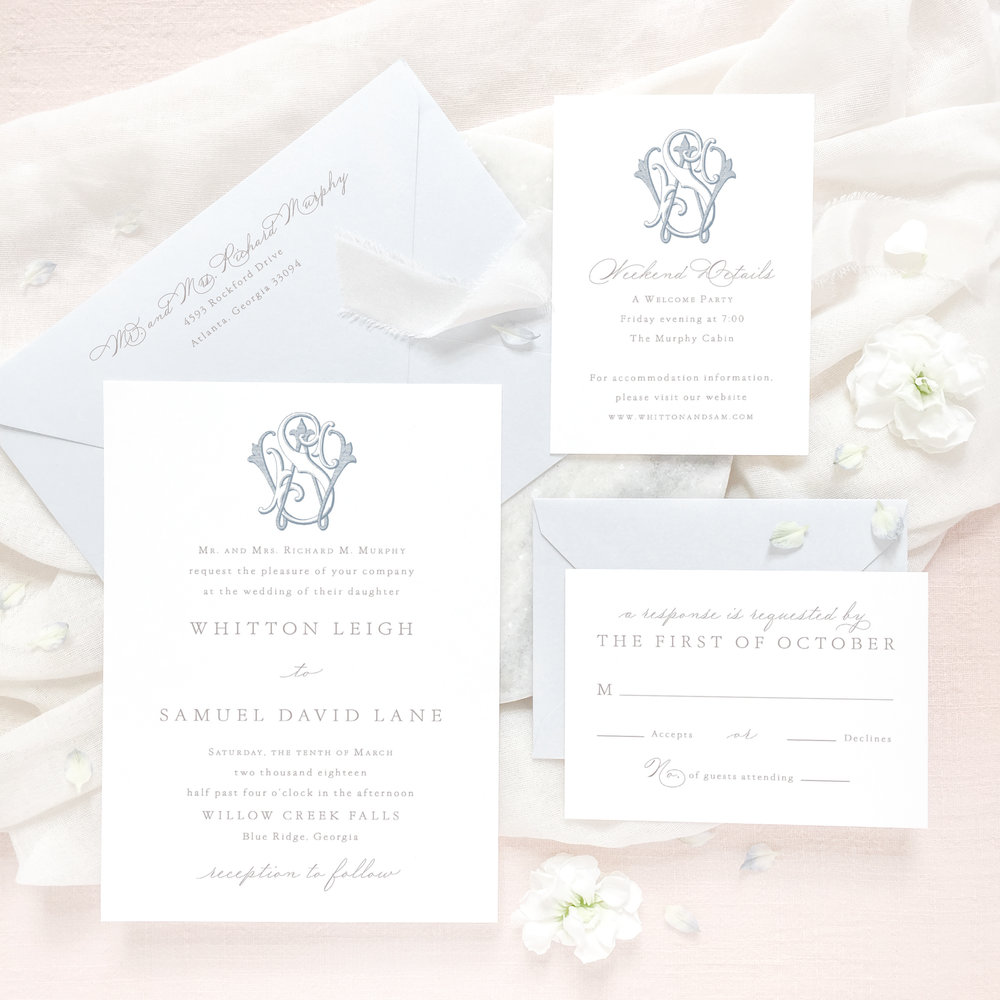 Different fonts in the same invitation
The fonts of your invitation must be clear and legible, and must also show the style and personality of your wedding. But the good thing about this year is that there will be no exclusions, they are all valid!
Now you can mix irregular lines with more rounded letters, italics with bold letters, vintage letters with the most modern ones, youthful with classic, simple with ornamentals… Don't stop making combinations until you find yours!
Of course, remember that there is always a space between the different typologies to facilitate reading.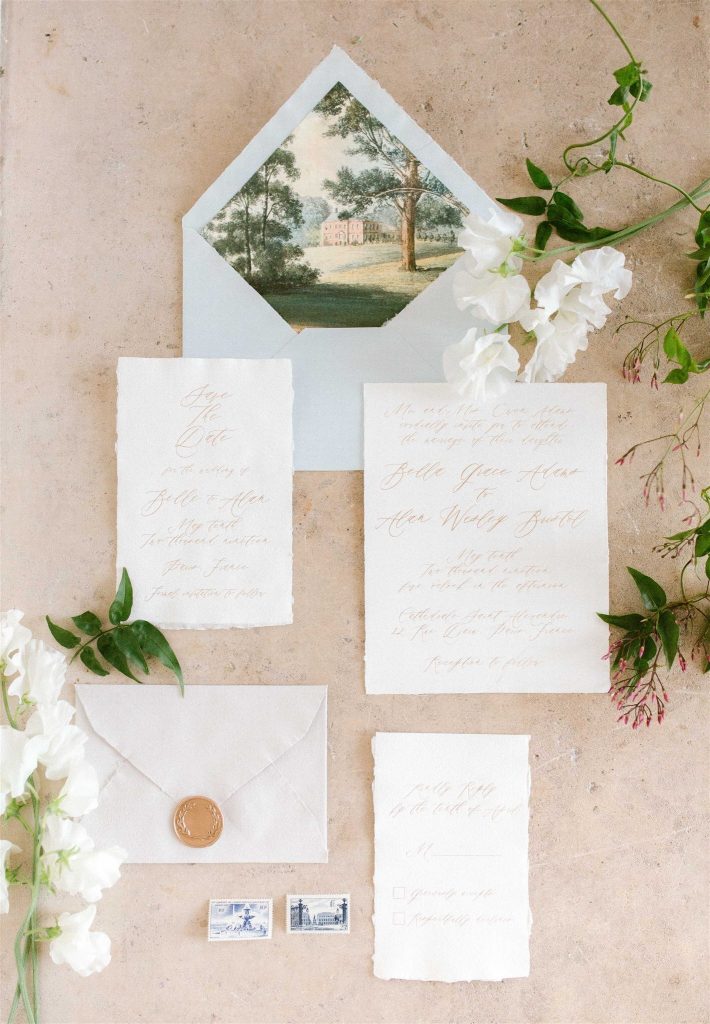 Did someone say plugins?
The CASI invitations are already finished because before sending them we cannot ignore that this year the cards and envelopes come with accessories.
Tassels that close the envelope, cords that cross the entire invitation, flowers, or small corsages that accompany the card, satin bows, fabrics or jute bags, any accessory that resembles the style of your ceremony in 2021!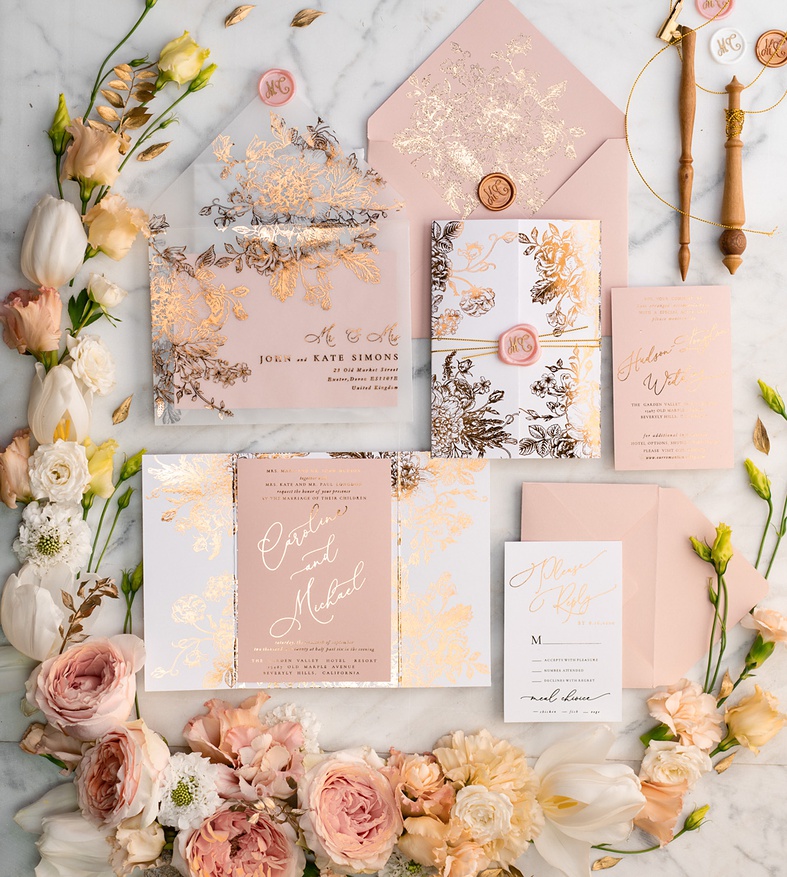 DIY invitations, almost a must
Because of the decoration of this year and the weddings of 2021 point to ecology, in the invitations, it would not be any less.
One way to help the environment and contribute to sustainability is through invitations made by the bride and groom themselves, such as recycled paper, cut-out dies, collected flowers, scrapbooking, eco-ink lettering, and even seed paper, as you read it. ! A flower that will be born from an invitation.
Do not miss this exclusive article of DIY invitations, and learn how to make an invitation of the most artisan and ecological! Matching with your ecological wedding.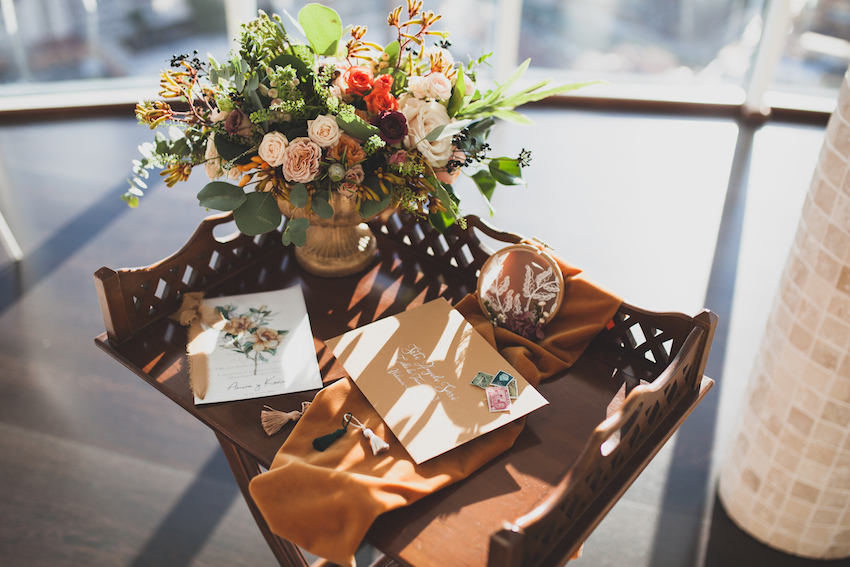 Virtual invitations make their way
Speaking of sustainability and the environment, there is nothing that contributes more and better than a virtual invitation. They are also a lot of fun! Because the couple, although they can send a digital image, they can also appear on the screen to give the great news themselves in a very original way.
Then you will only have to spread them among your guests through email or social networks. Your invitations will arrive in tenths of a second to any part of the globe!
A very economic and responsible option that comes to stay.
And remember…!
 

The invitations are the first contact that your loved ones have with your wedding, so you have to take care of them to the maximum so that the guests have a very

good impression from the first moment

.

 

Think about the color range

, since it is not the same to make invitations with the colors of summer and spring, such as turquoise, coral and pastel, then with the colors of autumn or winter, more orange, reddish and brown.

 

Also take into account the

style of your wedding

, so that your invitations reflect it: you will have a rustic, classic, country, art deco invitations… there are countless

wedding themes

!
At Perfect Venue we love to start preparing wedding invitations, so don't hesitate to contact us because we have the best invitation providers!