There is nowhere more perfect to say 'I do' than Bodegas Francisco Gómez. Wine cellars with tradition and soul in an unbeatable environment between the mountains, blue skies and the colours of the vineyards and the olive trees that cover this dreamland in Alicante.
The Bodegas Francisco Gómez are iconic in Alicante for its level of agricultural production and innovation. With a tradition dating back to the last millennium, these wineries combine cultural tradition with the most advanced technology, in order to produce ecological high-quality wine and incomparable extra virgin oil.
Its 200 hectares of vineyards and more than 350 hectares of olive trees are located 8km from Villena, between the Sierra de las Salinas and the Sierra de Enmedio. This privileged rural environment, in the middle of the Mediterranean mountains, offers us a large variety of wildlife that makes this venue an idyllic place to hold your dream wedding.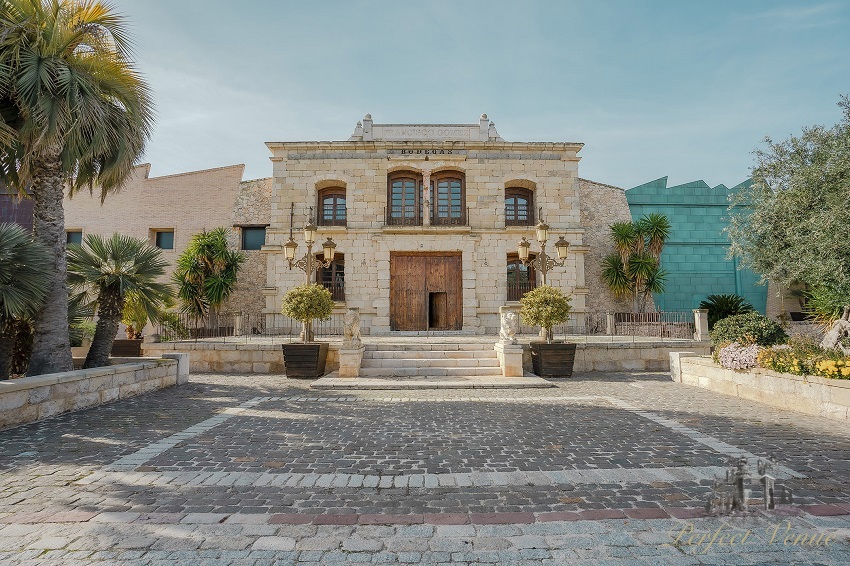 We couldn't resist learning about these Mediterranean wineries with such prestige that offer incredible venues for your big day. We visited this genuine country home with 3500 hectares of land in the middle of the Alicante region to be able to enjoy, first hand, the variety of fruits, aromas, flavours and sensations on their own turf, as well as experience the cultural legacy that they offer us in order to have an unbeatable wedding.
If you would like to know more about such an exclusive venue, follow us through this magical path among vineyards, olive trees, barrels and memories. You will decide that Bodegas Francisco Gómez is the perfect place to hold your wedding in Alicante.
We cross the green sown fields that are perfectly structured in rows of grapevines full of grapes and olive trees with large trunks that cover the enormous countryside space. In the background, there are some beautiful mountains with real eagles flying overhead. The environment is truly beautiful and incomparable.
We arrive at a beautiful outside courtyard with a cobble-stoned floor, palm trees and an old wooden cart that gives a very special and authentic feel to the entrance of the winery. The façade, also made of stone, has some beautiful balconies and a wooden gate, behind which we find the owner of these wineries, ready to tell us in great detail about the magic that fills this place and everything that it can offer us for our wedding day.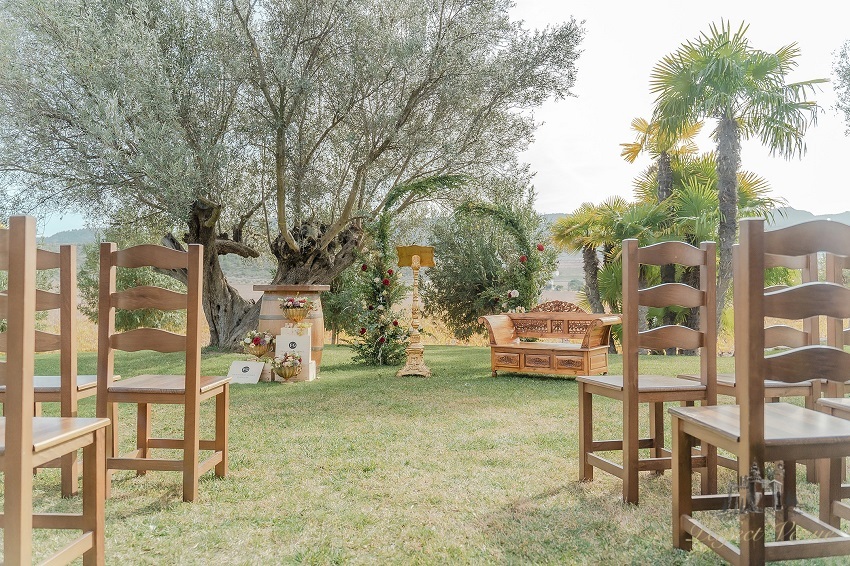 –       Good morning. It is clear that you truly spoil and care for this incredible venue and these fantastic lands.
–       Good morning. Yes, it is true that if there is something that makes us stand out from the crowd it would have to be our dedication and determination to make high quality products, along with our sustainable and eco-friendly principles. Please, come in. I will show you the facilities that we will be talking about. You are going to love them, just like your bride and groom.
–       Tell us, where does the wine production tradition come from at these wineries? What is its history?
–       This is, without a doubt, the magic of the Bodegas Francisco Gómez.
   Like many people, he spent a part of his youth abroad working in sectors such as construction and grape picking, from which he developed a great passion for this trade.
As time went by, the dream to have his own winery continued to grow, until he arrived at La Serrata, the name of the farmhouse that you find yourself standing in front of now, and where he opened the winery. So, in these lands, he saw everything that he had dreamed of as a child: the perfect spot to build some modern wineries in which they prioritize sustainability, quality and respect for the environment.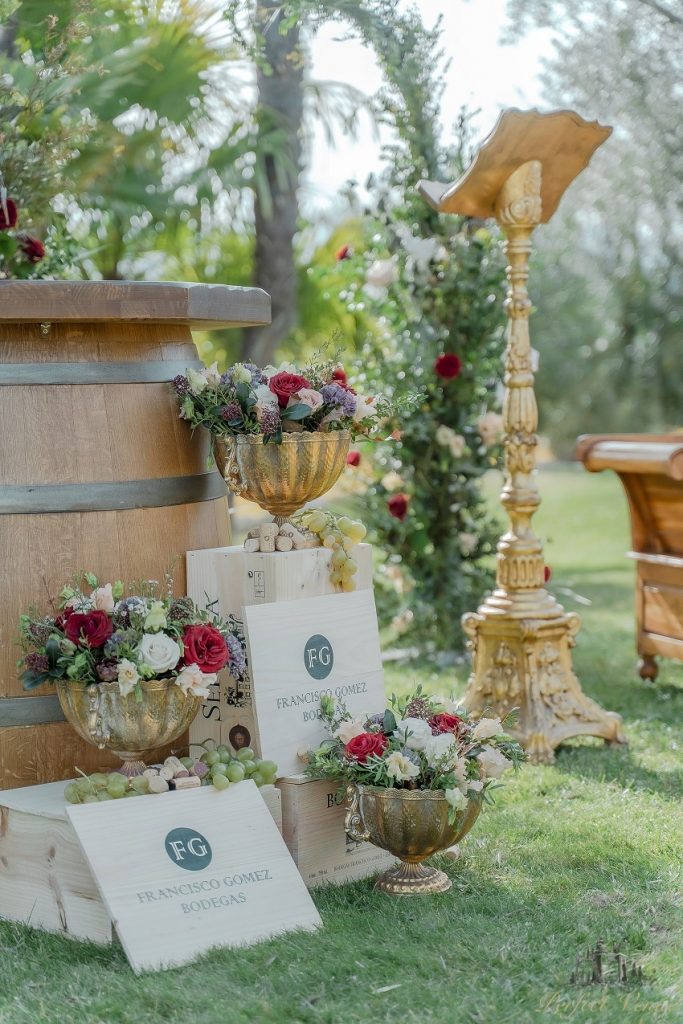 –       What a moving history. We would like you to tell us a little more about your facilities. What venues does Bodegas Francisco Gómez have and what does each one offer for an unforgettable wedding?
–       Let me explain. We have different venues, both indoors and outdoors.
     

A large central plaza surrounded by gardens and vineyards, perfectly decorated with   flowers, palm trees, olive trees… Here, night-time weddings in the summer are our more requested events and they always look absolutely spectacular! Furthermore, a large grassy area surrounds this plaza, and around this there are bunches of grapes in rustic bronze tones swaying in the breeze. At this venue you can host cocktail parties as well as banquets, parties, concerts…

    

We also have smaller halls with reduced capacity (for 80-100 people), ideal for more intimate events, meetings or business conferences and presentations.

   

Our latest venue, opened in 2018, is a large hall with two floors and capacity for 400 people. Decorated with wood and gold tones, it is situated behind a large Jerez-style façade, bought and rebuilt on our land.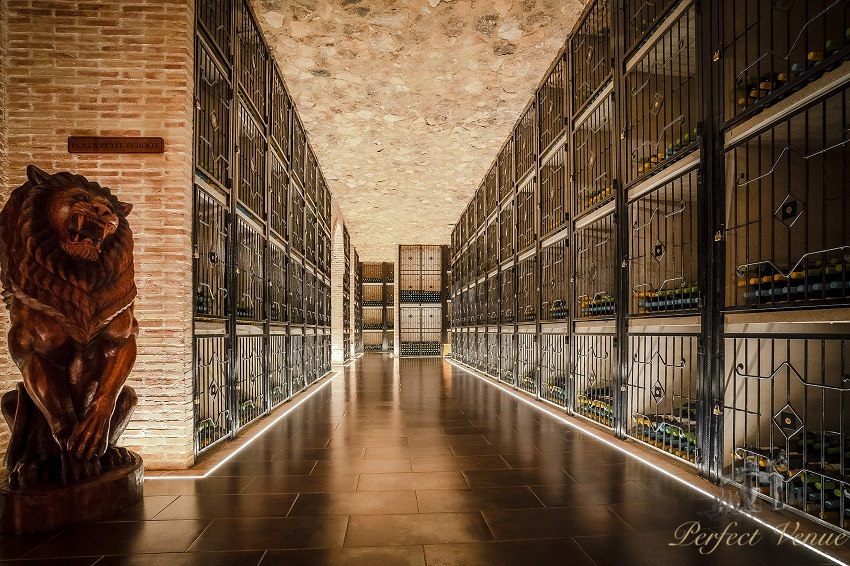 –       I wouldn't know which venue to choose, all of them are spectacular. Regarding the ceremony, I see that you have a chapel. Could you hold religious weddings in this chapel? And what about civil services, where would they be held?
–       Yes, we have a chapel with a capacity for 200 people. It was built using mounds and enormous blocks of sand, creating a real cave. We are awaiting authorisation, but soon we will be able to hold religious ceremonies in our farmhouse and winery.
     In terms of the civil ceremonies, they can take place anywhere: In our gardens, in the central plaza of the winery, in the two-story hall, on the lawns…
     I would now like to show you our wine cellars, come with me.
We walk down to the wine cellars, where, under brick arches and beams, stone roofs and a dim, warm light, we find the barrels, perfectly laid out. The scent that surrounds us is exquisite.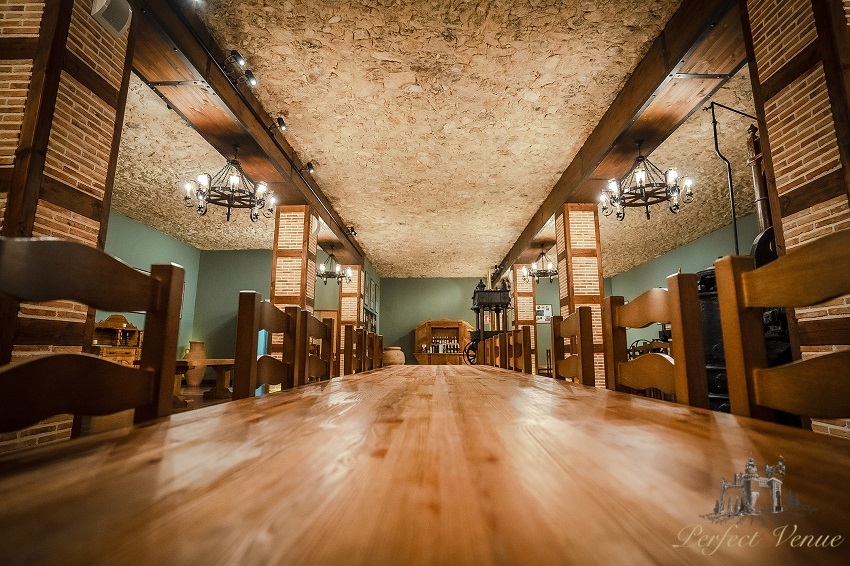 –       It smells amazing. What types of wine can we find in your wineries?
–       We work with a variety of foreign suppliers, such as the French Sauvignon Blanc, Cabernets, Merlot, Syrah… Wines that have adapted very well to our climate and terrain. But, above all, we promote our native varieties: Monastrell and Moscatel.
     

Monastrell is a red wine, used to produce famous wines such as Fondillón de Alicante (with a minimum of 10 years in the barrel to mature) and more well-known brands such as Boca Negra or Francisco Gómez Serrata.

Moscatel is a popular white wine from our region, and is used to make sweet wines and also, in our case, Boca Negra Moscatel Seco: It is aromatic like a good moscatel and has a very floral flavour!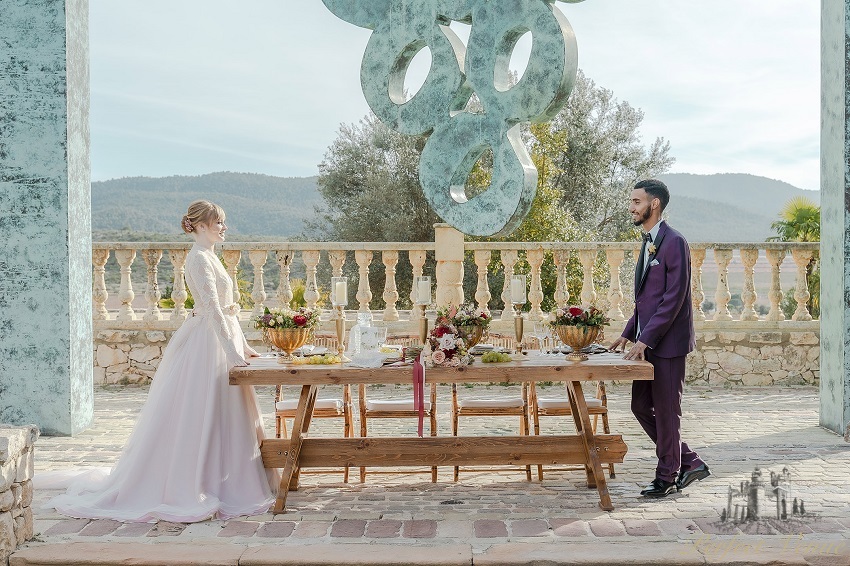 –       I am dying to try them! What is the production process from the grape to the table?
–       It is a long and complex process. According to the type of wine, there are different production methods.
We produce young wines, oak wines, mature wines, sparkling wines, fondillón wines… Some are lighter, easier to drink, sweeter, whereas some are heavier… We have a wide range that allows you to choose the perfect wine according to the wedding or the moment in which you are going to drink it.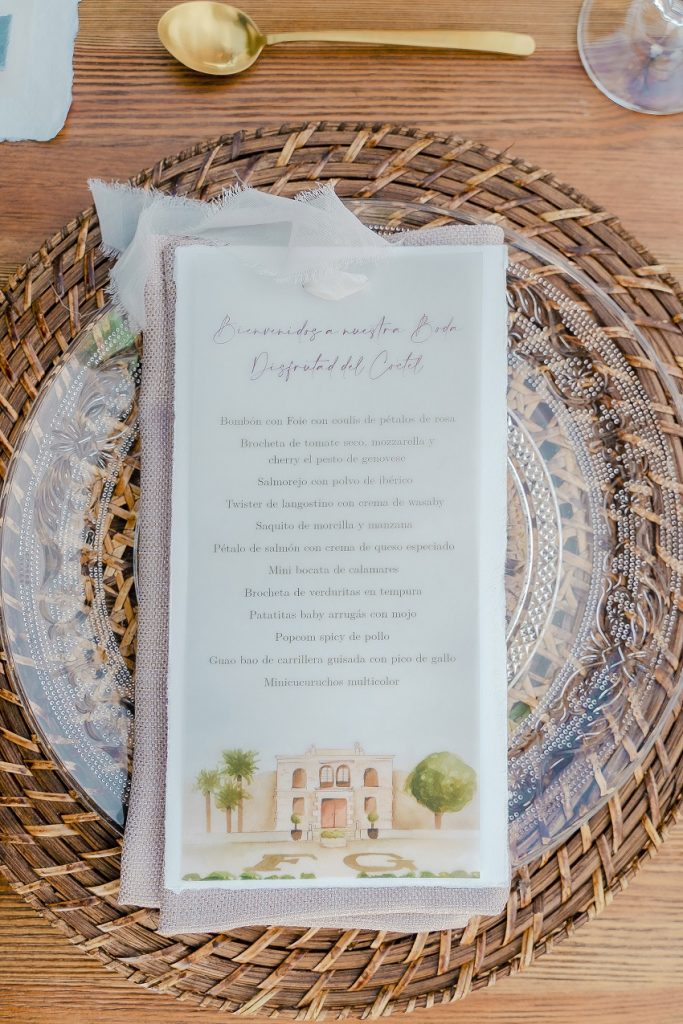 –       Of course, we can see that you offer a full and high-quality range of wine. But what can you tell us about the food that you offer for a wedding? What are the dishes composed off and which ones are the most popular?
–       As you can see, all of the wines and oils that we serve here at any event are produced here at the winery; you can choose from a large variety of options. We run private tasting sessions so that you can select in person the best wine for your wedding.
Furthermore, we have a quality catering service that offers Mediterranean, traditional and Avant-Guard dishes. We adapt to the needs of each of our clients (Always meeting our high-quality standards) with excellent products.
 Let's go outside, I want to show you the olive trees where our magnificent eco-friendly oils come from.
We go over to the olive trees, where the strong smell of the oil and green leaves fills our senses. We walk across plain, sandy land…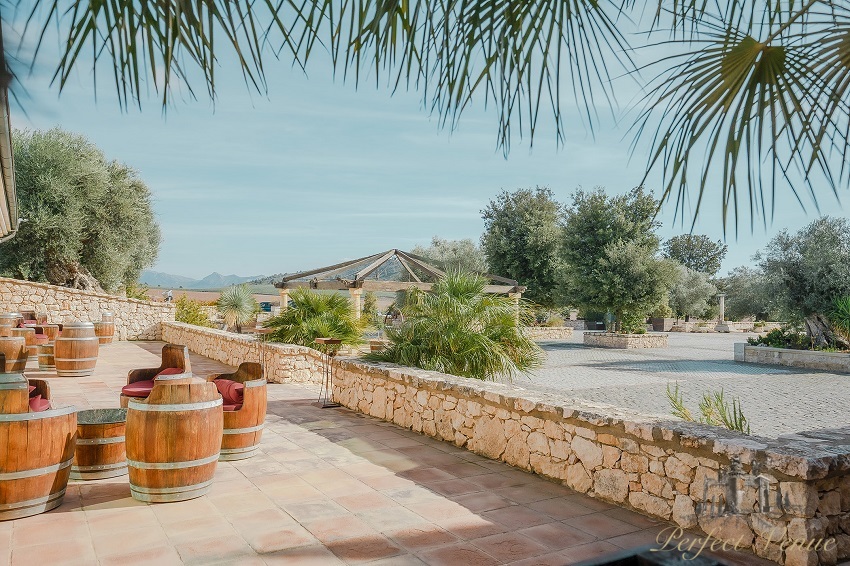 –       These olive trees are impressive. What type of oil do you produce here? Why did you decide to start producing this product?
–       Oil is just pure olive juice, nothing else. We collect the olives that are practically green in order to obtain the extra virgin oil with a powerful scent and flavour. The olives are pressed just once, in a cold environment, and in this way we obtain this precious gold liquid that is so beneficial to us. Like with our wines, the oil is also certified as ecological, Demter, vegan and Kosher.
Our most popular varieties are the 'arbequia', 'picual', 'grosal' and 'hojiblanca'. With these, we make single-variety oils or a coupage between them.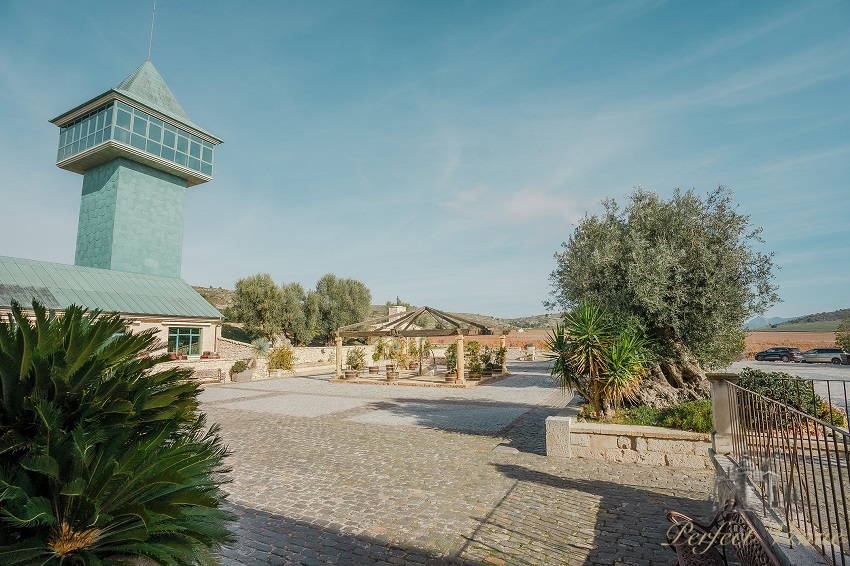 –       The environment in which the farmhouse is situated is beautiful. Do you offer a complementary activity to the bride, groom or guests, whether it takes place in your surroundings or actually on your site, to make their day a truly unforgettable experience?
–       We are one of the most visited wineries in the region of Alicante. We have a wide and powerful wine tourist offer. It is a special type of tourism, perfect for enjoying with family, your partner or of course with your friends.
Our visits include a guided tour of the facilities at the winery as well as a tasting of 4 wines and 2 oils, together with a selection of cold Iberian meats.
Don't forget that pre-booking is essential, and we are also open every Saturday and Sunday ?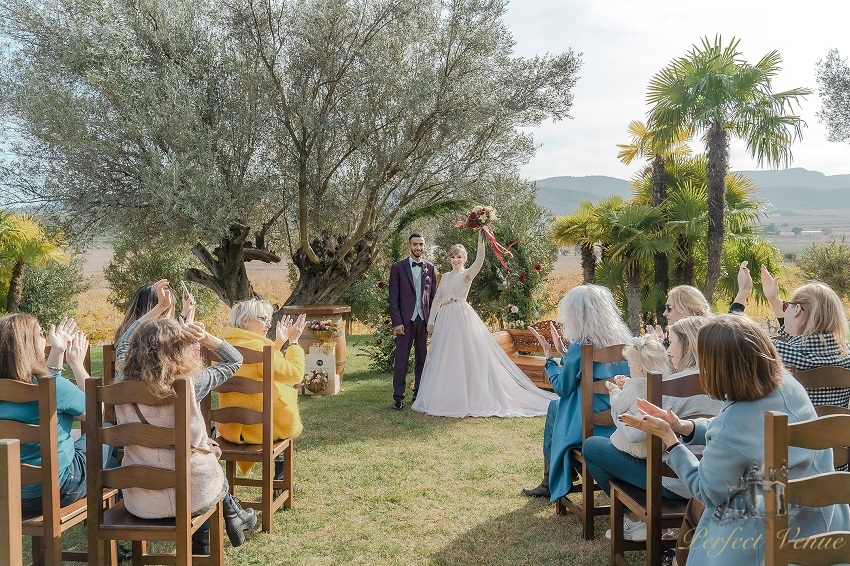 –       We will bear that in mind…
–       And, regarding the wedding, how much time in advance should the bride and groom that choose Bodegas Francisco Gómez for their big day contact you? What organisation and preparations take place from the initial contact to the day of the wedding here at the wineries?
–       Choosing the venue for the banquet and the entire wedding is essential. For this, we recommend that they contact us as early as possible.   We can plan with the couple, whether they want total freedom and rent of the space, or, if they prefer, we can provide all of the necessary services for them so that their wedding day is amazing, right down to the tiniest details.
–       Can I ask, what is the best time of year to get married at Bodegas Francisco Gómez?
–       We are real enthusiasts for outdoor weddings in the summer… during the harvesting season.
–       That sounds wonderful… just one more question. What makes Bodegas Francisco Gómez different and why should our couples choose this venue for their wedding day?
–       It is a unique, charming, unconventional venue. To get married surrounded by vineyards and nature is something really special, it's a tranquil place yet it is also full of life.
–       We have come to the end of our interview. Thank you so much for this tour and for everything that you have told us about your wineries and how they are run, as well as the unforgettable weddings held here at your venue.
–       Thank you for your visit. Don't leave without tasting our wines. They are exceptional.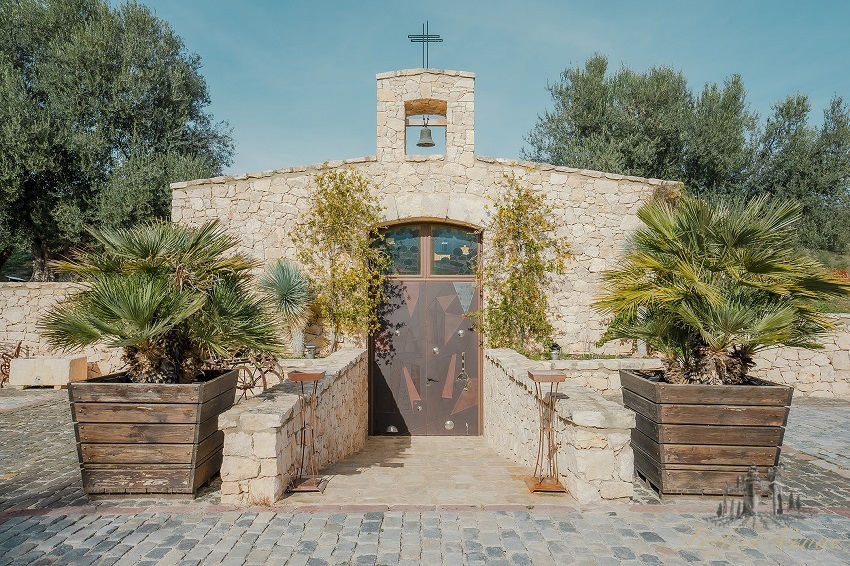 –       Thank you very much, we will definitely try them.
We said goodbye to these wineries with its delightful smells and flavours that stayed with us for the rest of the journey, along with the memories of the beautiful place where they are made.
If you have enjoyed this wine cellar tour as much as us and would like to get married in Alicante with its unique and special soul, Bodegas Francisco Gómez, without a doubt, is the place for you.
_______________________________________________________________________________________
Photo credit
Venue: Bodegas Francisco Gómez // Wedding Planner :@nataliaortizwed , @perfectvenue// Photographer: @sergey.shilenok// Bride dress : @yolanda_novias// Groom suit : @garridoceremonia// MakeUp : @nataliafuentesmakeupartist// Hairstyle : @biondaestilistas// Flowers : @arlettartesaniafloral// Invitations and complements : @tuinvi.creativa