Each person, each event, each company, each product … all are different from each other and unique in their own way, that is why each one must be treated in a special way and displayed in a unique and exclusive way.
Tuinvi is a creative studio that knows the importance of taking care of every detail, a well done job which is done with care and in a personalized way, in order to satisfy the tastes and desires of each client. Therefore, María Elena Llorens, manager of this business, emphasizes on finding the best materials, elaborating with the most original designs and, of course, using the most natural and handmade techniques to create the most beautiful invitations, accessories, cards visit, or corporate images.
In Tuinvi, we work together with the client to define the essence that characterizes him to later on translate his ideas on paper. Furthermore, handmade creations give a beautiful touch of distinction on your special day, your project or your product.
Whether it's your wedding day or you need a particular event, in Tuinvi you will find everything you need for a unique and unforgettable celebration or to give an image that defines your style or personality.
Our objective to meet this lover of art and good taste and to show us her work and designs and, thus, to be able to show you a little more closely the infinity possibilities that Tuinvi offers you for your event, ceremony or company.
We would like to invite you to join us throughout this interview and travel to the delicate and distinguished world of creative graphic design …. a pure art!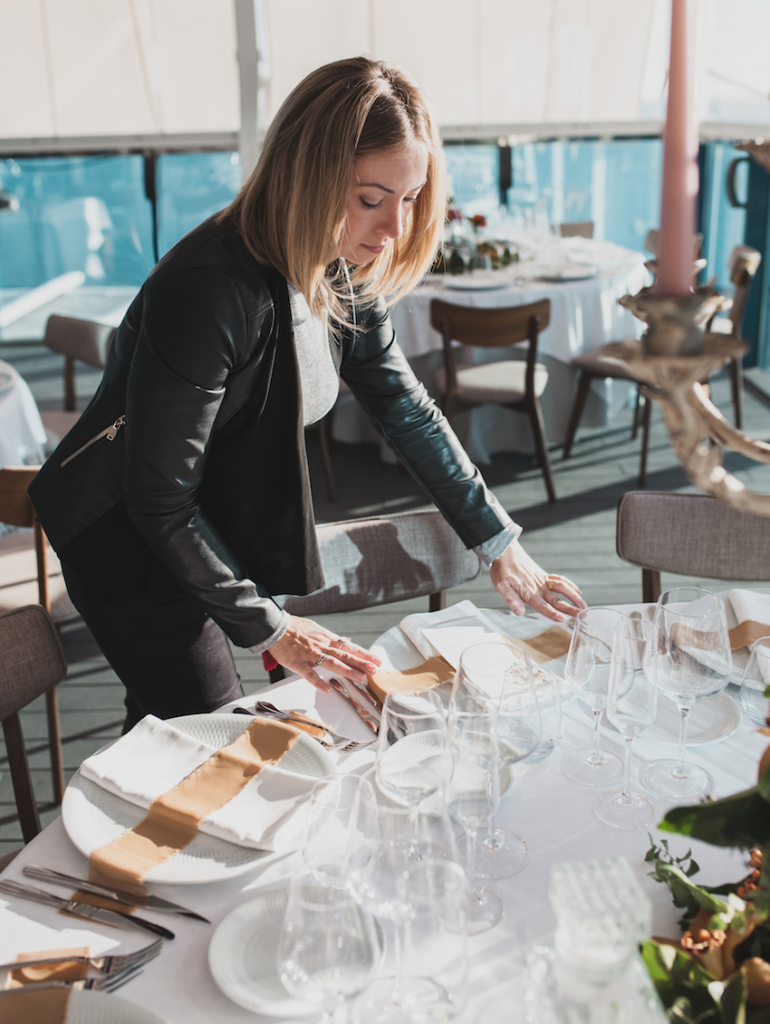 Good morning, what original designs you have!

Good morning thank you very much. Let's sit down and I will show you all our current collection, where each one is unique and different.

It's beautiful … Tell us, where does this passion for graphic design and craft work come from?

I like this question because part of my roots, my childhood, something I never want to forget. I come from a family of artisans who have managed to transmit the importance and value of making unique pieces. Since childhood I have seen the care, patience and cleanliness that results in a good finish. I have been able to experiment playing, touching and feeling different textures, colors and materials. This is something very enriching having that since childhood, as it helps to foster creativity. This fact created in me an interest in crafts and art. It was the boost I needed to receive training in Fine Arts, Art History and Cultural Heritage and this same interest led me to also acquire knowledge of photography, graphic design, scientific illustration, organization and design of cultural events, as well as different artistic techniques.

What an emotional story, I can see that you really love your work, and that is reflected in the designs, which is a real wonder …! What inspires you when making them?

Thank you.
My main source of inspiration is nature. I especially love watching the flowers. I am fascinated by its shapes and the amount of colors that can house in just one petal. It is something you can see reflected in my illustrations. Therefore, the designs that I elaborate start from the union between natural freedom and artistic freedom, always taking into account the harmony of colors and the balance in the composition.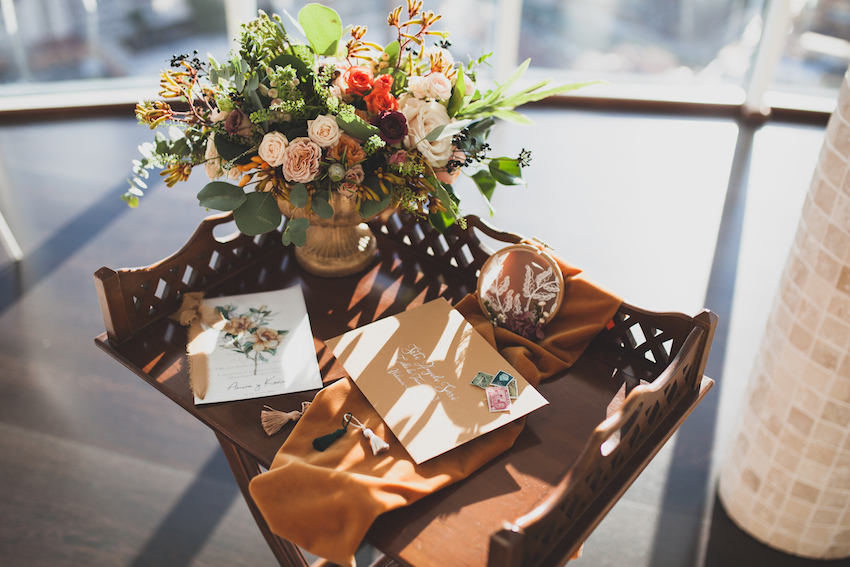 Do you have any kind of catalog where the customer can see your designs? How can they access it? Do you also make custom designs?

Currently, my clients can choose between custom made invitation designs or pre-designed invitations. For exclusive designs, I work by appointment in person or online, and for the pre-designs we have recently opened on our website www.tuinvi.com, an online store. In it you can find and, if you like, buy your own designs of botanical-inspired invitations that make up the Tuinvi catalog, as well as very special and handmade accessories.

In the case of custom designs, what would the process look like with the client?

I tell you, my first job is to meet the couple, the style that defines them, their tastes and ideas, so I can get an idea of ​​the design that represents them the most. I love to listen to them, it is a precious moment where I am able to be a part of their joy.
Once I gather the necessary information, we plan the elaboration and delivery times and make the first sketches that we will adjust until we get the design that best defines them. They are usually accompanied by an inspirational moodboard, it is more comfortable, it helps them visualize the event itself.
I have to say that I am very perfectionist and thorough, I like a job well done, and the first samples are usually very defined. I usually present them taking into account accessories that are trending. I like to convey the good work and the necessary security so that you feel calm that the design of your invitations will cover all your expectations.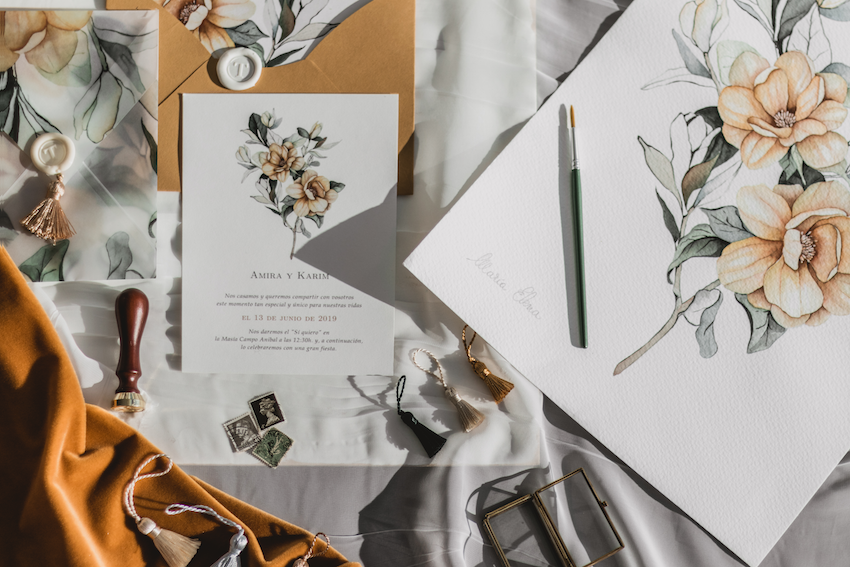 We are sure that they comply … What kind of customers do you work with and for what kind of services?

I usually make custom designs for invitations, as well as full branding for the day of the event. And, as I said, we have just opened the

online store

 that has pre-designed invitations that start with our own illustrations, so they are designs that enjoy a certain exclusivity. In addition to this, I receive very special orders of botanical illustration and, from time to time, I make scientific illustrations. I have already told you that I have a lot of patience and that I am very thorough in detail, right?

Yes, you have told us … and every job looks detailed … Regarding weddings and events, what kind of materials and jobs can you offer to the bride and groom to make their special day unique and memorable?

Both for invitations and envelopes and for the stationery of the work event and I offer papers of different textures, colors and weight. All of them adapt to the essence that each couple wants to communicate, which makes the difference.
In addition, I elaborate handmade accessories that give a very special touch to the design: silk ribbons; and, if the design allows it, I incorporate elements that help to achieve balance in the design as a whole.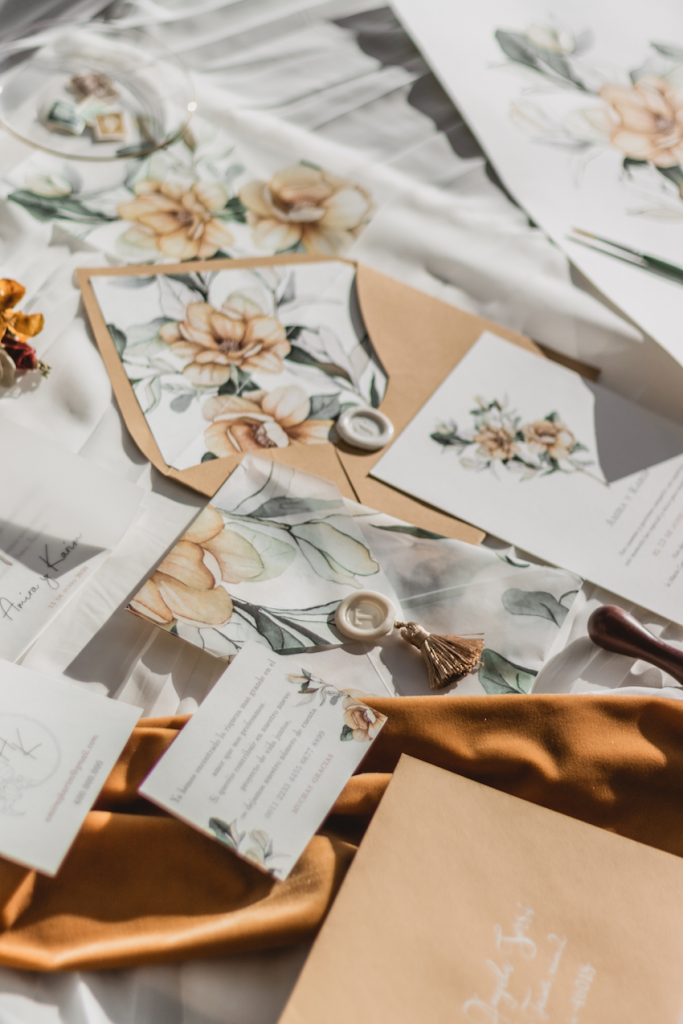 And, tell us, how far in advance should the bride and groom contact you? Do you advise them when choosing materials, designs, etc.?

Of course, my intention is to guide the client throughout the process so that he feels confident that my work will cover all his needs.
A good organization is necessary for everything to flow and the bride and groom can enjoy the preparations for their wedding. I recommend ordering them in advance as their preparation and delivery depends on factors such as the availability of the designer and the date on which the bride and groom want to deliver them. That is why I always say that the invitations do not expire and, the sooner you order them, the quieter they will be. The order can be made between 2 and 3 months before shipping, it is the optimal time.
We take note. A curiosity, is there any material, product or design that is more booming in recent times?
Currently, the celebrations are very particular and enjoy much more freedom. This makes the designs creations everytime more original and exclusive and incorporates materials in line with the trends of the moment.
Right now, a single invitation model can combine different papers and textures, translucent and cotton papers, handmade ribbons, sealing seals and something I love, silk tassels. The essence lies in using those that make the design a balanced composition without abandoning the essence that defines our brand.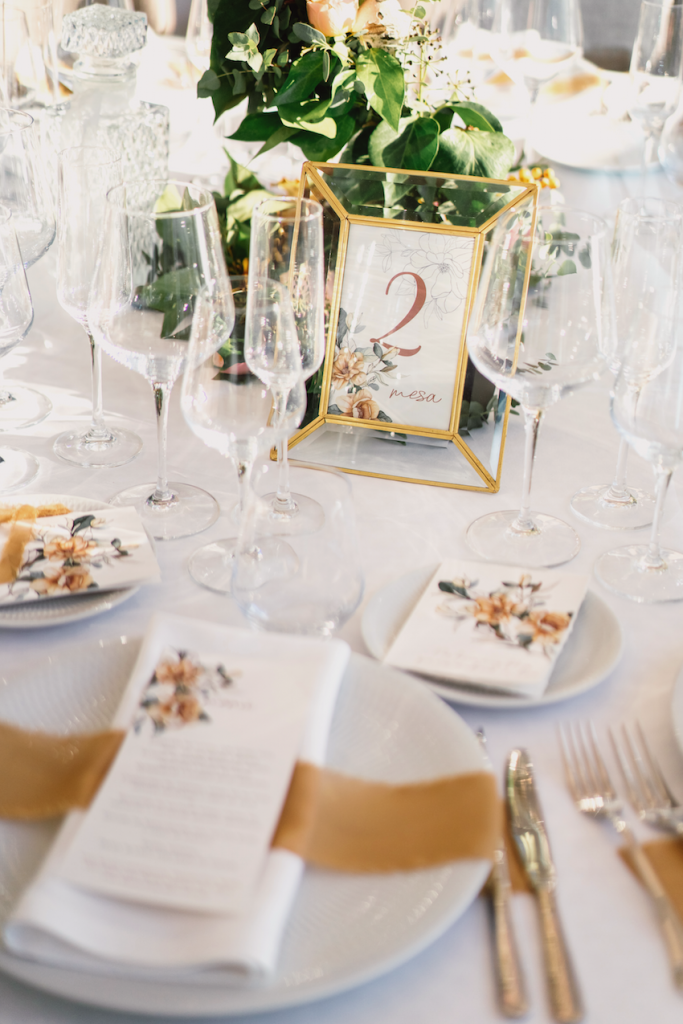 We like them all but … What has been the work you are most proud of or for which you particularly love?

I feel immense affection for my wedding invitations. From the moment my husband proposed to me, I knew that I would paint each invitation by hand and devote the necessary time to it. Every detail had to show how important that day was for us and the LOVE that held us together.
Very recently, my father was diagnosed with cancer that would not let him live much longer and for us it was very important to celebrate something like this with people you have today and those you love with all your soul. That is why the presence of each guest was special and essential.
Wow, Elena, you've really reached our hearts. Tell you that we were delighted to talk to you, and for you to teach us and to tell us how you do this fantastic work and that our readers can get an idea of ​​everything Tuinvi can offer them, both for their wedding day and for any other time where they want to stand out and look special. Thank you.

Thank you for your visit. I'm glad you liked my creations, they are really made with love and detail.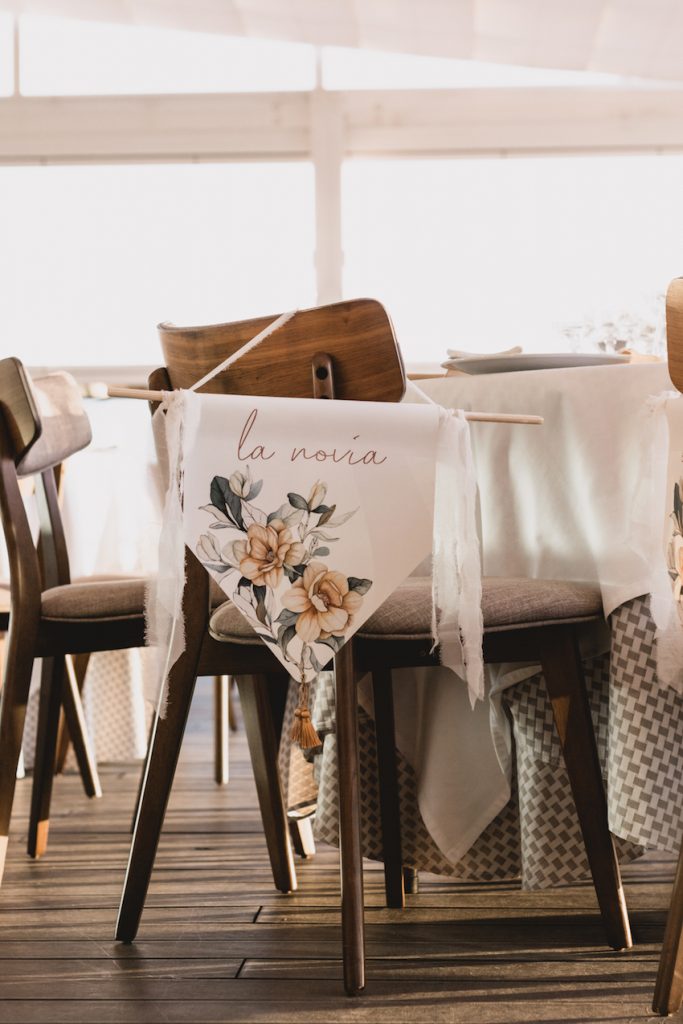 We leave Tuinvi's workshop in love with each texture, each design, each illustration … We do not doubt that this company can do everything so that your event or company does not go unnoticed and its memory is as beautiful as it is indelible.
We invite you to know first hand this company and its work in www.tuinvi.com. Likewise, we remain at your disposal for any questions or further information at info@perferctvenue.es
_______________________________________________________________________________________
Photos via Tuinti