If your baby has already arrived and you are still indecisive about choosing the clothing for your baby for their christening, you have come to the right place!
Since the christening is one of many special celebrations that you will celebrate with your child, we want to help you by making it easy to choose what best suits your style.
Choosing your baby's christening clothes is extremely important, since they will be the one that will turn heads, and we want everything to be perfect!
In this post we will provide you with some ideas, whether you are more traditional or more modern. Baby grows, long christening baby gowns, nappy-covers, dresses, outfits…don't panic! Because it is much easier than it seems.
We can assure you that you will be able to find the right clothes that your baby will wear on one of the most beautiful days that you will celebrate with them in their first months of life.
For the more traditional people…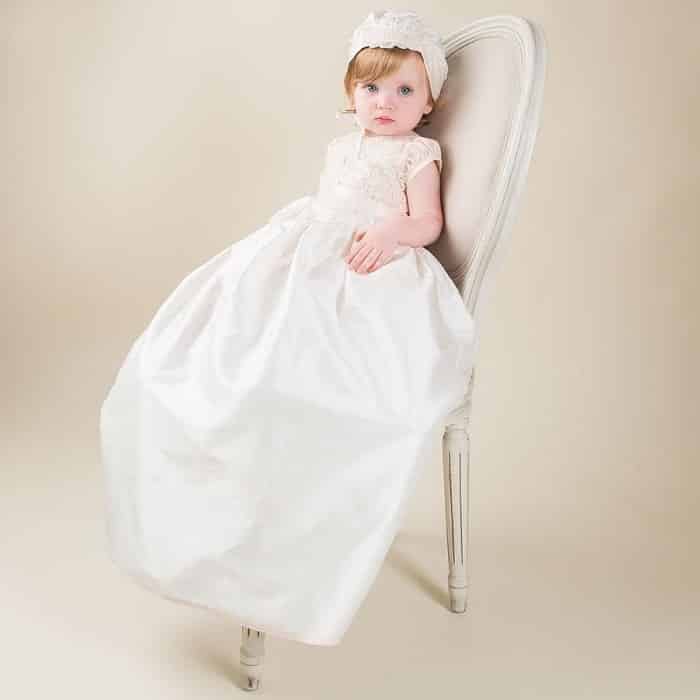 Long christening gowns
This garment is one of the most used by tradition, and more so if the baby is less than eight months old, since it is a very comfortable outfit for them thanks to the fact that it has a great width to enable them to move their legs freely.
The gowns, which can be short-sleeved or long-sleeved, are made up of a type of long dress that covers the entire lower part of the body, to which any accessory can be added: hat, tights, shoes, little jacket….
In addition, being a classic, it is a garment that always brings elegance and distinction regardless of the gender of the baby and maintains the most traditional elements such as embroidery, lace edging, bows, lace…
Baby grows
This type of garment is also a classic that never goes out of fashion in christening clothing. It is a full-body garment, that can either expose the child's legs or not.
Baby grows are usually put on babies that range from a few days old up to eighteen months old.
These are garments that always sweeten the baby in addition to providing them with a lot of comfort regarding the little one's freedom of movement and when changing the nappy or holding them in your arms.
For the more modern people…
Streetwear
If your style is more modern and you run from tradition, your baby will look just as charming with any garment: shirt and trousers, dress, t-shirt with nappy covers, braces, bow tie…everything will depend on the baby's age!
Streetwear is an option that is increasingly becoming more fashionable at christenings, since these garments can be used on other occasions, such as at another event or even on a day-to-day basis.
Take the opportunity to reuse the christening outfit and give it a second life!
Get the colour right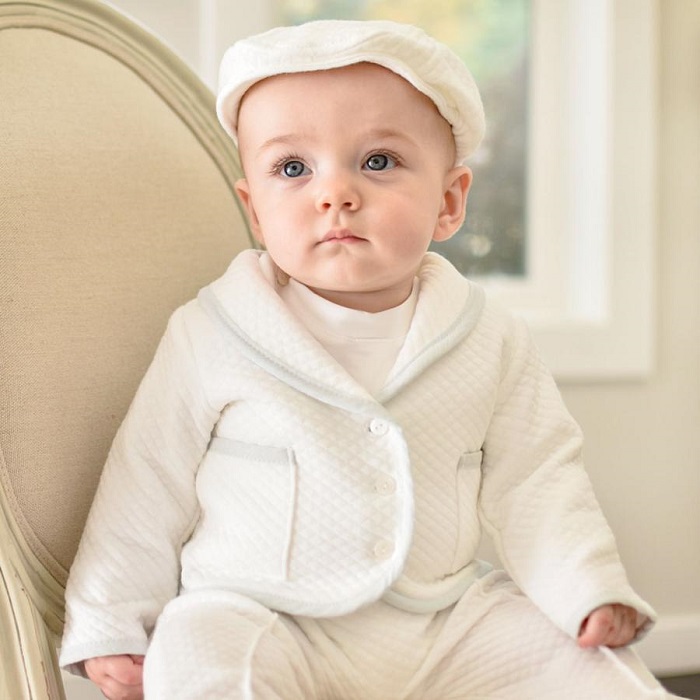 Who said that pink is for girls, blue is for boys and that a baby has to wear white to its christening? Rules are changing!
Now you can choose any shade of beige, cream, off-white and add any detail in other shades of yellow, green, orange…There's taste in the variety!
However, without a doubt we recommend as far as possible to avoid patterns like stripes, geometrical designs, etc and bright colours, since in an event such as a pure Christian  ceremony these colours would look quite out of place.
Get the best materials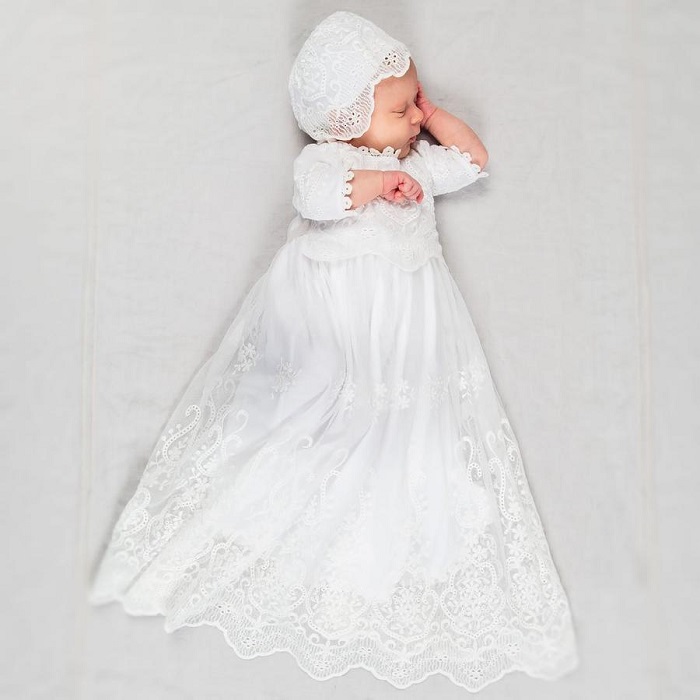 This is because, being a baby, their skin is more delicate, so we recommend that the garments are always made entirely of cotton, whatever time of year it is, it is the best material for babies!
Baby clothes can be elegant and very pretty, but you always must take into account what the little one will feel when wearing it. Comfort is the most important thing!
So the best option is to go to the shops where the garments are made in artisan workshops, since they only work with quality fabrics.
As a tip, we also recommend that you do not buy clothes for your baby's christening far in advance, because babies grow from one day to the next by leaps and bounds, so their clothes could quickly become too small!
Leave it in the hands of Perfect Venue and you just dedicate yourselves to enjoying the preparations for the christening! We will take care of finding the best venue, catering, decoration…
Meanwhile, take a look at our website and be inspired by the number of unique ideas to celebrate an unforgettable christening, the best venues for christenings in the different directions around Madrid and the best venues for christenings in Barcelona.
______________________________________________________________________________
Photos via Christeninggowns.com