As lovers of nature and all things fresh and informal, we can't help liking boho weddings, in which the entire venue, the guests and the bride and groom are full of natural elements, colours, different textures and even aromas!
So, as you can see, celebrating a boho chic wedding is like an adventure for all of your senses!
This wedding theme is defined by being fresh, casual and without any protocol to follow, but instead it gives a free rein to romance in an informal and simple way without flashiness.
In this article we will tell you how to have the best time ever!
We will tell you about the most appropriate decorations, the best fabrics for a bohemian wedding dress, the groom's style, the guests' dress code and we will even tell you about the best venues for you to celebrate yourboho chic wedding in complete harmony! 
So no, you can't stop reading until you reach the last word. Shall we begin?
What are the decorations like for a boho chic wedding?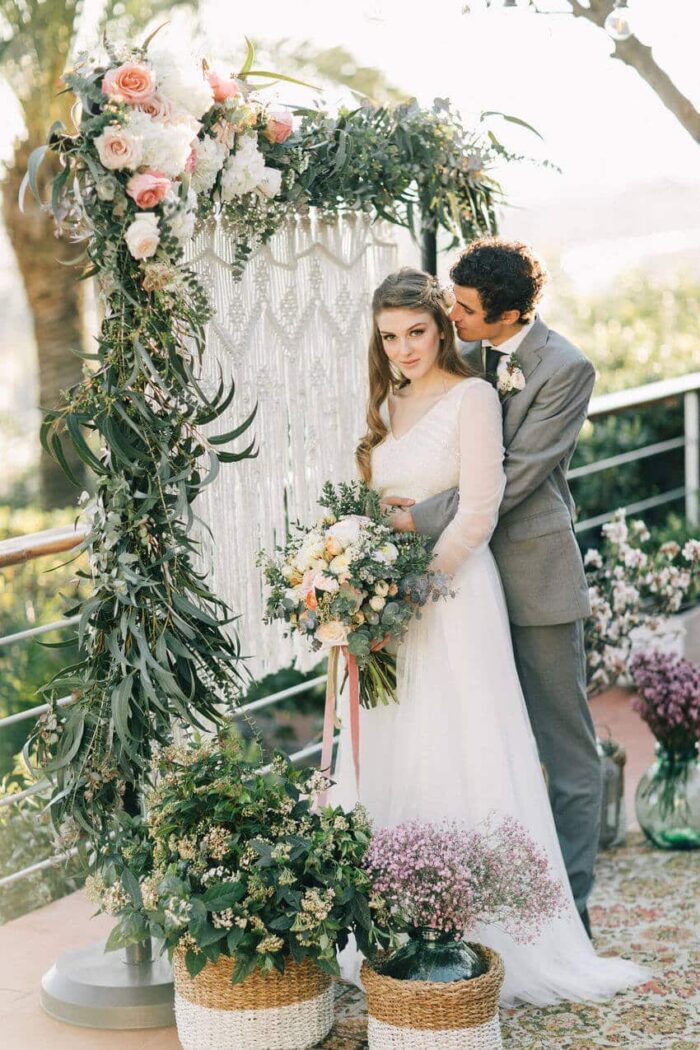 To have a wedding of this nature, it is essential to take into account every detail of the decoration, given that this will be the main component in charge of giving off the character of the wedding, through natural and fresh elements, and even ones made by yourself!
Leave behind all of the luxurious decorations, full of accessories and a lot of grandeur and opt for simple and delicate, following in line with the theme.
For example: wooden tables, corners with pallets and cushions, stools, plants, candles and candelabras, antique elements such as vases, cars o caravans and lots of warm and soft lights that make the environment much more welcoming.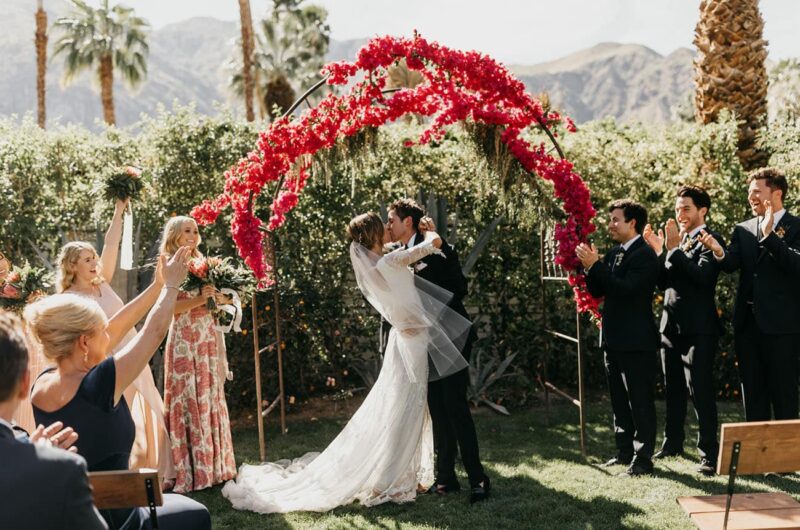 The altar will also give everyone a lot to talk about if we have one with a base of flowers, leaves or even fabrics or macramé.
Another element to take into account are the tables, the seats and the furniture in general, given that in a boho chic wedding you will be able to combine different textures, types and sizes and you will get a spectacular most casual result!
And now since we are talking about tables…you should also see the bohemian essence in them, such as centrepieces of natural and wildflowers, without any type of table linen, with wooden or wicker placemats.
Surely, you're already imagining it!
A boho chic bride: this is what the dress is like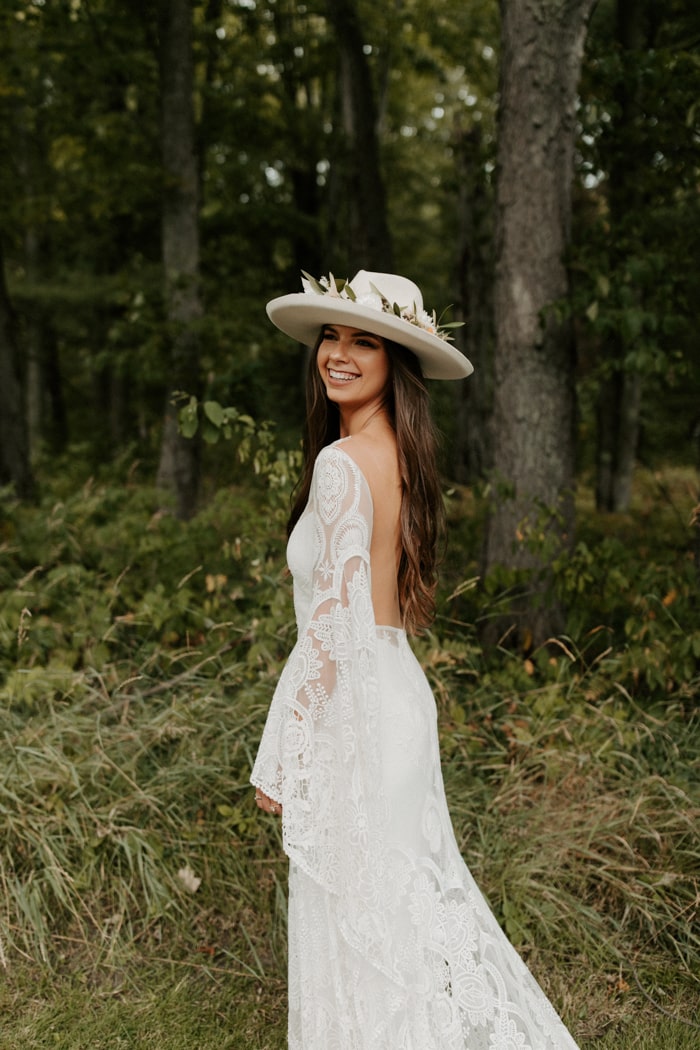 One of the main protagonists in any wedding is the wedding dress, and whoever says it's not is lying!
In a bohemian wedding, the bride will be dressed perfectly and will be radiant in a draped dress, with lace, illusion lace and even feathers, fabrics that will give that casual and fresh touch that we are looking for.
Try on a few dresses and you will see that wearing a sheer one will be the one that will make you feel the most comfortable in a boho chic environment. Boho or vintage style wedding dresses are very sensual and attractive!
What about the boho chic bride's hairstyle?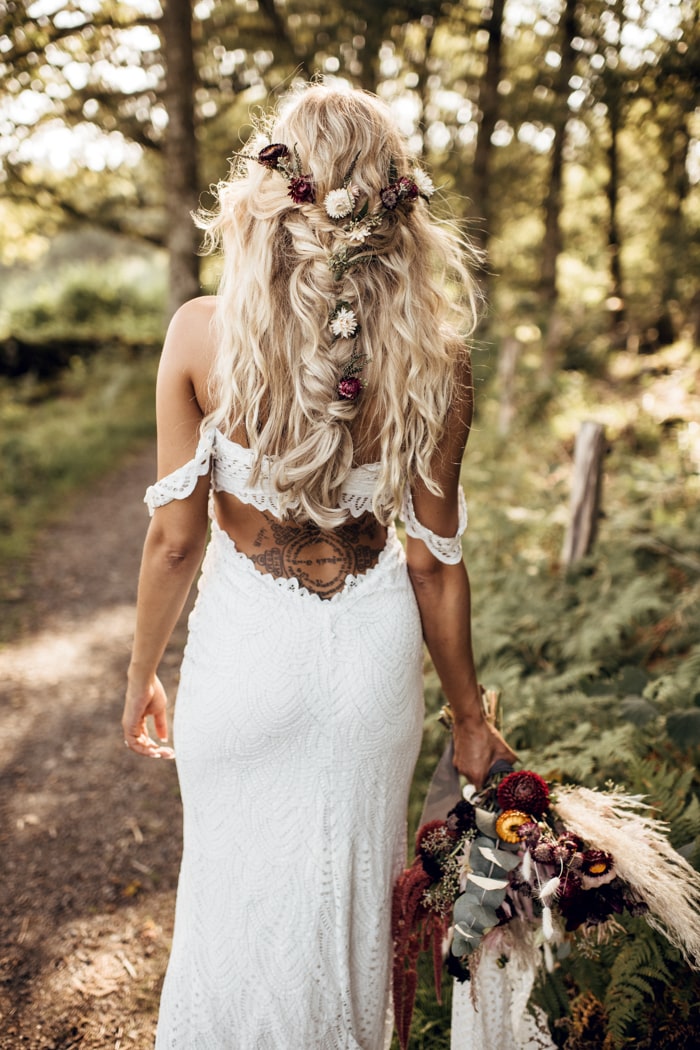 The bride will not only turn heads thanks to the dress, but also due to her hair, so don't forget to find the perfect hairstyle!
Boho wedding hairstyles are characterised by not being at all traditional, nor recombed, neither fine nor elegant, but instead they stand out for their ease and carefree being somewhat undone.
Some of the most successful options will be braids, open waves leaving hair down, or some hair up or half-up, to get that bohemian look as well as being incredibly flattering and, most importantly, comfortable.
The hairstyle can also be combined with a light headdress that gives it that vintage and natural touch, such as a simple headband, flower crowns or hairpins with the wildflower bouquet.
This is what a boho chic groom dresses like: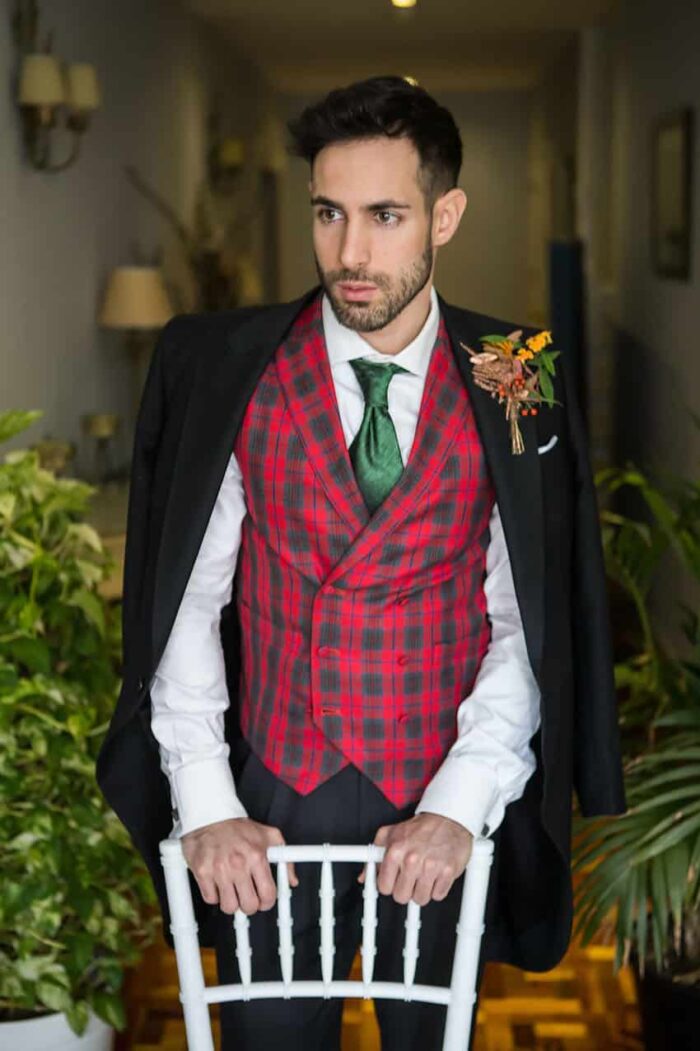 How could we forget about the groom? He's the other main protagonist!
The look should be in tune with all the characteristics of a boho wedding…so leave that black or navy-blue suit behind!
A bohemian groom has to dress as informal as the bride, the decorations or the venue, so a shirt without a tie, chinos, pleated trousers, a mandarin collar shirt, leaving the braces exposed or even wearing a waistcoat without a jacket will be the safest bet!
Almost anything will go with the wedding!
Is there a dress code for the guests to your bohemian wedding? Yes!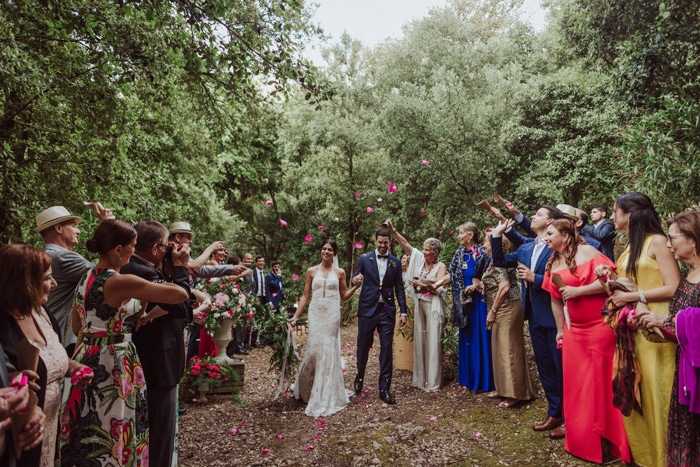 How guests love a wedding with a particular style! However, let them know in advance that your wedding will be a bohemian wedding and that they should also dress accordingly before they begin to buy their outfits for your big day.
Just like the bride and groom who will look simple, fresh and relaxed, the guests will have to do the same, fleeing from conventional dresses and giant hats.
In the case of girls, they can look beautiful with sheer and chiffon dresses, with floral, geometric or ethnic prints.
For the boys, they also need to avoid the typical traditional outfits and unleash their creativity to find a casual look: bow ties, open and rolled up shirts, slim trousers in shades of brown, beige and blue, etc.
What are the best venues for a boho chic wedding?
Whatever venue that is in contact with nature and the outdoors! Gardens, stables, forests, on the beach or in the middle of a field, anything will work! You just have to find a casual and wild place that is also distinguished and unique.
For this reason, below, we mention some of the most perfect venues for your boho chic wedding that we have at Perfect Venue. What is your favourite?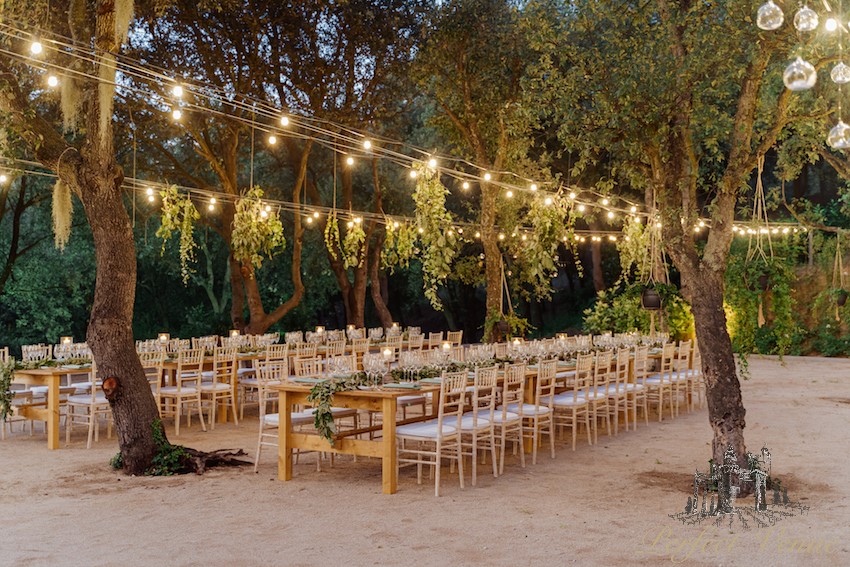 This spectacular wedding country estate, consisting of more than 40 hectares and 30,000m2 of beautiful gardens cared for down to the smallest of details, is located in Barcelona, just 15 minutes from the city centre.
The estate is a large manor house built in the 12th century in the middle of a protected natural park with spectacular views of a privileged natural environment. 
Its team of professional, the wide gastronomic variety and the dedication customising each wedding make this estate a perfect place to celebrate your boho chic wedding.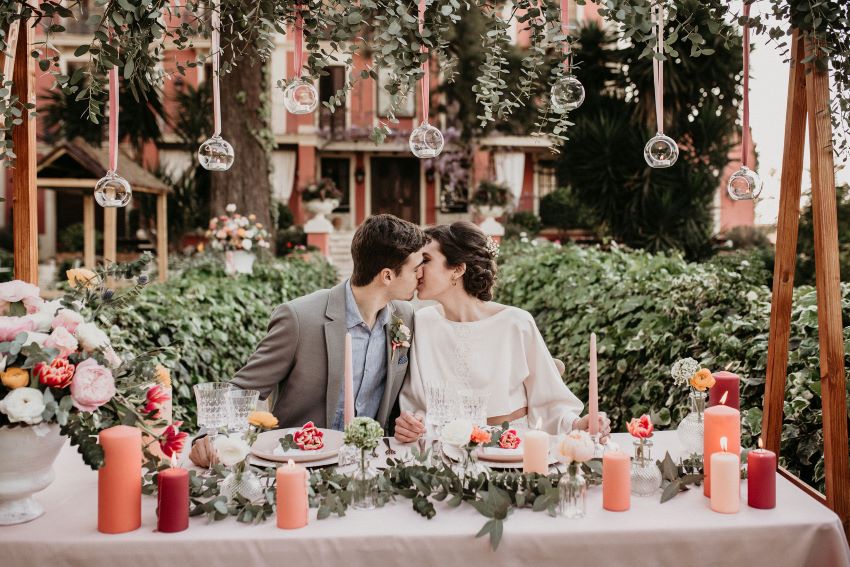 This is a beautiful estate located in the municipality of Picanya, just six kilometres from the centre of Valencia, that has English gardens, ponds and it even has a cave and forests with different types of vegetation.
Villa Delia has both a chapel inside to be able to carry out religious links and several connected patios and wineries to be able to celebrate civil weddings.
But one of its most requested spaces is its immense garden, with spectacular vegetation, which is ideal for aperitifs or welcome cocktails outdoors.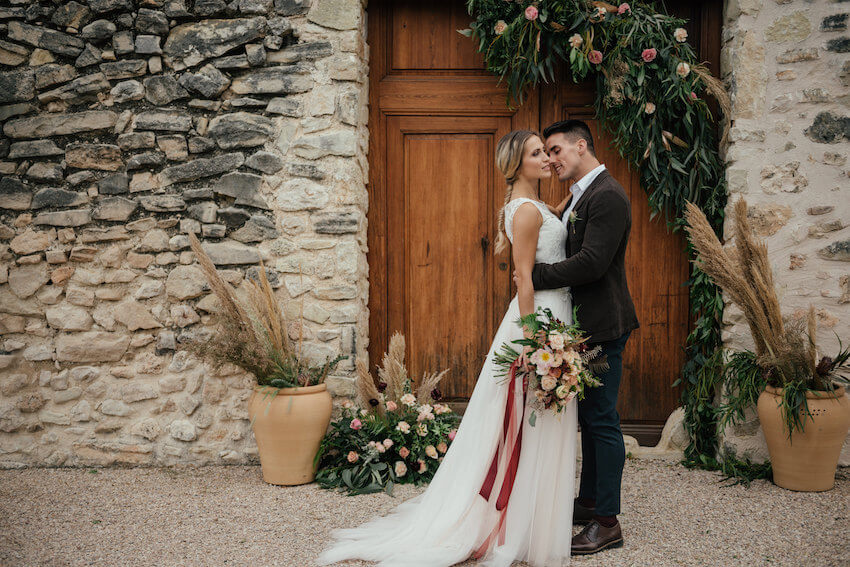 This old 18th century country house is located in Pego (Alicante), and has been carefully restored, maintaining all of its original charm so that you can celebrate your boho chic wedding in the most magical way.
In its gardens you can hold celebrate civil ceremonies and cocktails outdoors, as well as in the mulberryarea, where you can also hold the reception, under their natural shade, creating a romantic and unique atmosphere.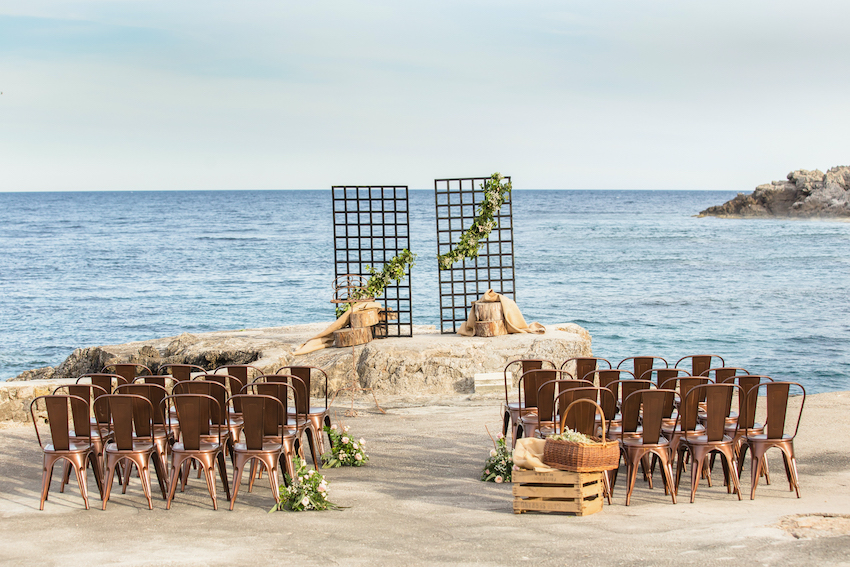 This venue is located in the Canyamel tourist centre, located in the municipality of Capdepera, in the Balearic Islands.
Sa Cala Rotja has both indoor and outdoor spaces that are perfect for carrying out the wedding or dinner outdoors. On one hand, it has a well-kept and impressive garden, and on the other hand, it has an attractive and elegant terrace.
The venue, with unbeatable accessibility and incredible views of the sea, is perfect for celebrating a boho chic wedding in Palma de Mallorca.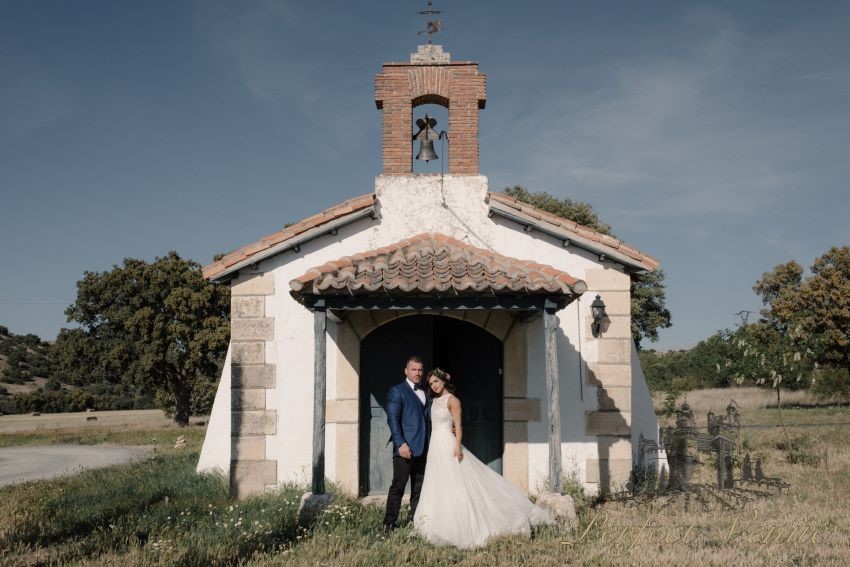 Located in Valdeprados, just 20km from Segovia and 75km from Madrid, this estate has a large garden areaideal for organising an outdoor lunch or cocktail with spectacular views of the surroundings.
It also has covered areas, such as its beautiful glass pavilion located among the oaks in its garden. 
In it you can preform both a civil wedding, in the gardens that surround the country house, full of romance; as a religious wedding, since it has the Santa Eulalia de Mérida Church, which is linked to the country house by an incredible rural road.
What about you? Are you going to celebrate a boho-chic wedding with Perfect Venue? 
Keep this guide handy and use out advice whenever you need it, we are waiting for you!