If you have come here looking for venues for weddings in Menorca, we already tell you something: Menorca never disappoints and it is not only us who say it, but also all those brides and grooms who are heading to the Balearic island to marry.
And as in Perfect Venue we want your day to be perfect, we have prepared this guide with everything that this paradise offers so that your wedding turns out like the one you have always dreamed of, and that is that this island, in addition to being unique, is one of the romantic walks to the altar.
Menorca has everything you need!
Virgin beaches and coves, inland villages with a lot of charm, rich gastronomy, historical monuments, dolmens, archaeological sites, the Mediterranean as a backdrop… is that not enough?
Keep reading because … this has only just begun!
It is a place of warm waters and sunny days
And it is that the Menorcan climate, in summer, has an average temperature of 25ºC, so yes, summer is the best time to get married! Since it allows you to enjoy the island in all its splendor.
A time that frees us from the rains, the cold, the humidity, and the winter wind, and that guarantees us a dip in its beaches, coves, and some dances in the parties and parades of the island.
There is nothing like the coves and beaches of Menorca
By excellence, these are the most requested spaces on the island, because after knowing them … few are the couples who get rid of saying yes to the sea!
Among the best coves, Macarella and Macarelleta stand out, thus considered by Menorcans and by everyone who visits them. These were formed as a consequence of the natural outlets of ravines, and are full of very fine and white sand.
Cala Mitjana and Mitjaneta are another small blue paradise, full of crystal clear waters and white sand that bathes a small natural bay. As well as Cala Es Talaier, the so-called hidden cove south of Ciutadella, and which is surrounded by pine trees.
As for beaches, the Son Bou beach is the largest beach, with almost two and a half kilometers of golden sand bathed by the Mediterranean, and on the beach itself, you will find ruins of an ancient early Christian basilica and a necropolis carved out of the rock. To marry between nature and history!
On the other hand, Cavalleria beach has a completely different charm, since it consists of thicker sand and a reddish tone, but with equally incredible waters and surrounded by wild nature.
A great landscape variety
Menorca makes up one of the landscapes with the highest ethnological and heritage value. Not everything was going to be the sea!
And it is that the Balearic island has ravines, dolmens, caves with stalactites and stalagmites, navetas, lagoons, vertigo ends, talayots, stone walls, and archaeological sites. For an authentic Roman or Islamic wedding.
But this is not all, because there are also a large number of agricultural farms and perfect land for agrotourism, as well as country corners for a most rural wedding.
And if what you are looking for is a high altitude wedding … Mount Toro! The highest on the island and ideal to say "yes I want" from the top and with spectacular views.
The gastronomy of Menorca
Being located in the heart of the Mediterranean, gastronomy can not be other than a true culinary oasis, since it gathers the soul of the sea and passes its dishes.
Did you know that the mayonnaise is originally from Mahón, a town in Menorca? And this is not all, because lobster has also been, for centuries, the most typical dish on the island, since to this day it continues to offer numerous ways of presentation, although the most popular is to eat it together with a sauce of vegetables and toasted bread: the stew, a must-have in island recipes.
To continue conquering your palate, we cannot leave without mentioning the partridge stew with cabbage, which consists of filling the partridge with bacon, sobrasada and black butifarra; baked stingray, accompanied with stewed potatoes and vegetables; nor the leg of lamb, a barbecue that includes 100% native suckling meat.
And for your banquet desserts, your guests will want nothing more than a table full of Menorca pastissets, cottage cheese and honey pudding, cocas, potato greixeras (potato sponge cake and almond flour), bitters (almond sweets), cuscussós (a Christmas sweet similar to marzipan), crespells (circular pasta), etc.
The venues for weddings in Menorca: unique and singular
Alcaufar Vell Rural Hotel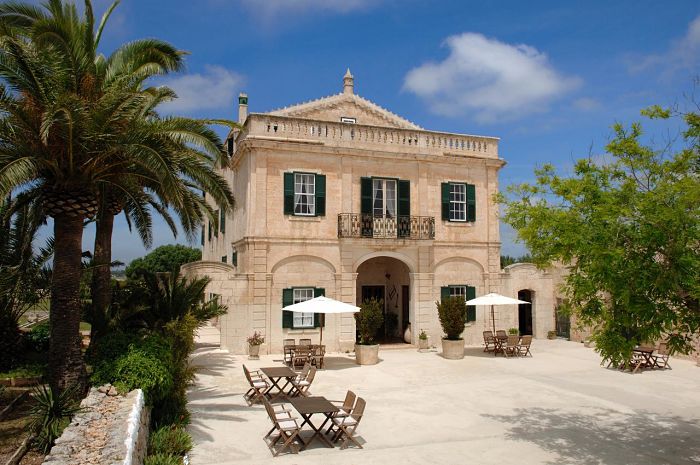 Open since 1998, this century-old house has been transformed into a cozy hotel located in a quiet place where the past and the present go hand in hand.
Alcaufar Vell was one of the most important agricultural and livestock farms in eastern Menorca, and whose old farmland and pasture today offer us pleasant walks through its idyllic gardens and forests on the estate.
Places such as the laundry and the stables are also preserved, which have been renovated into comfortable rooms.
The Quinta Menorca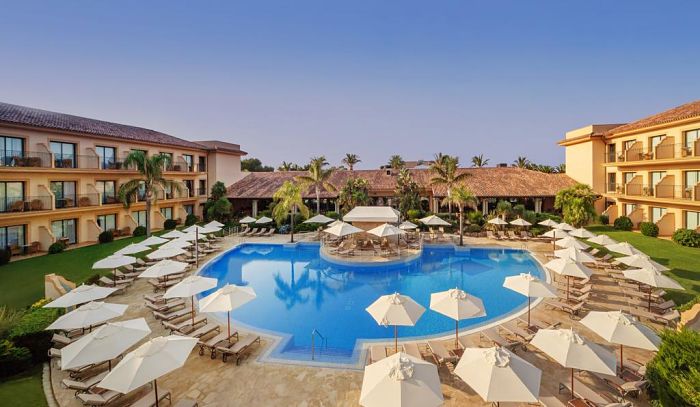 In a unique setting, between the beaches of Son Xoriguer and Cala'n Bosch, known for their fine sand, crystal clear waters and high waves, this 5-star boutique hotel is taken care of down to the smallest detail.
Its rooms have a very careful decoration, respecting the colonial architecture of the hotel, but with a modern and renewed touch. In addition, all the spaces are full of pictorial works by artists related to the island of Menorca. For some reason, it is considered one of the 25 best luxury hotels in Spain!
Cugó Gran Menorca
Do you love Agrotourism? This 5-star luxury villa will be yours. A complete gem located on a private estate with 250 acres and located just 15 minutes from Mahón.
Cugó Gran Menorca has undergone a thorough transformation. Originally it was a traditional Menorcan country house and today it is full of terraces and outdoor places perfect to celebrate your wedding with a dinner under the stars.
La Mola Fortress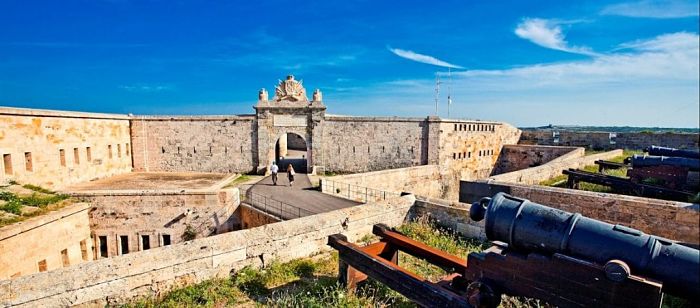 Located at the entrance to the Port of Mahón, this fortress of Isabel II offers numerous spaces where to celebrate both the wedding ceremony, as well as the welcome cocktail, the banquet, and even subsequent dance, since they have both exterior and interior spaces.
This is one of the largest European fortresses built in the 19th century and, with a magnificent layout and excellent conservation, it offers beautiful views of the bay and the coastline to swear eternal love in a magical place.
Torralbenc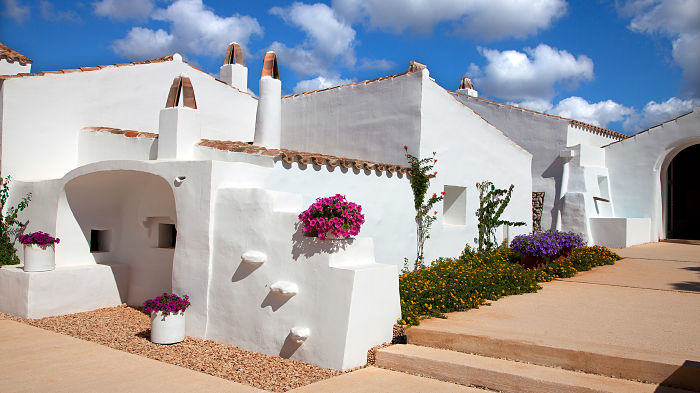 A traditional Menorcan farm that has been restored respecting the patrimonial and archaeological wealth of the area, until becoming today a luxury accommodation, recovering the essence of architecture and the natural environment that surrounds it.
Located in a privileged area surrounded by vineyards in the municipality of Alaior, 15 minutes from Mahón and overlooking the blue horizon of the Mediterranean Sea, this group of houses dating back to the 19th and early 20th centuries, dedicated to livestock and agriculture, they are the perfect space for all those bride and groom who want to marry between nature, luxury, and history.
Can Faustino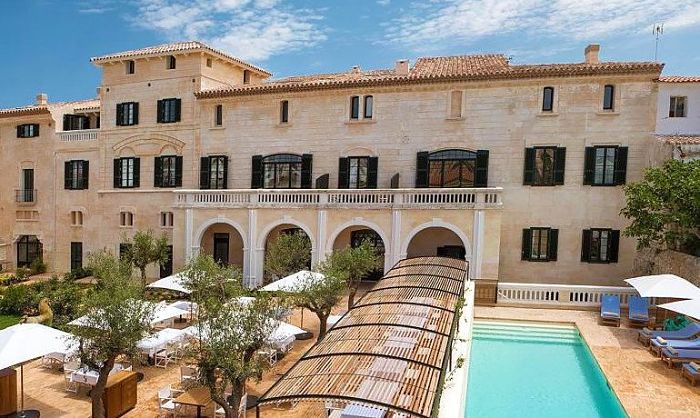 In the heart of the historic center of Ciutadella, we find this beautiful 16th century palace full of olive and bougainvillea trees, which has been remodeled over time to now open its doors and receive all the couples who want it .
All will have luxury in any of its spaces, including the 21 rooms, the 3 suites and the private villa with 4 bedrooms, kitchen and private pool.
In addition, a team of therapists will be at the disposal of its guests, as well as a spa located in the basement of the hotel, next to the pool, which includes 2 cabanas, a sublime indoor pool and a hammam under the arches of an ancient cave. .
We know that it is impossible to renounce the wonders of Menorca! Therefore, whether it is for your destination wedding, intimate, or with a lot of family … this island will not disappoint you! A word from Perfect Venue.
Now you just have to contact us so that we can get ready to prepare your dream wedding in the most magical corners of Menorca as soon as possible!