We travel to the Valencian Community, where between the precious city of Valence and El Puig de Santa Maria can be found a fantastic century-old monastery of the 18thcentury: Cartuja de Ara Christi,which was converted in an exclusive space for breathtaking events. It is a remarkable architectural complex which is surrounded by spectacular gardens, thus composing without any doubt the perfect setting for the celebration of a gorgeous wedding. 
The success of every event celebrated in Cartuja de Ara Christi bases itself on one hand in its location, in the east coast, with a wonderful climatology and environment and on the other hand in its incomparable architectural beauty, a site declared of cultural interest and a protected national monument. Last but not least, it is because of the large experience and professionalism of the company which manages this emblematic space: Gourmet Catering & Espacios which excellent care, passion, dedication and well cared gastronomy covers all the expectations and necessities of every couple.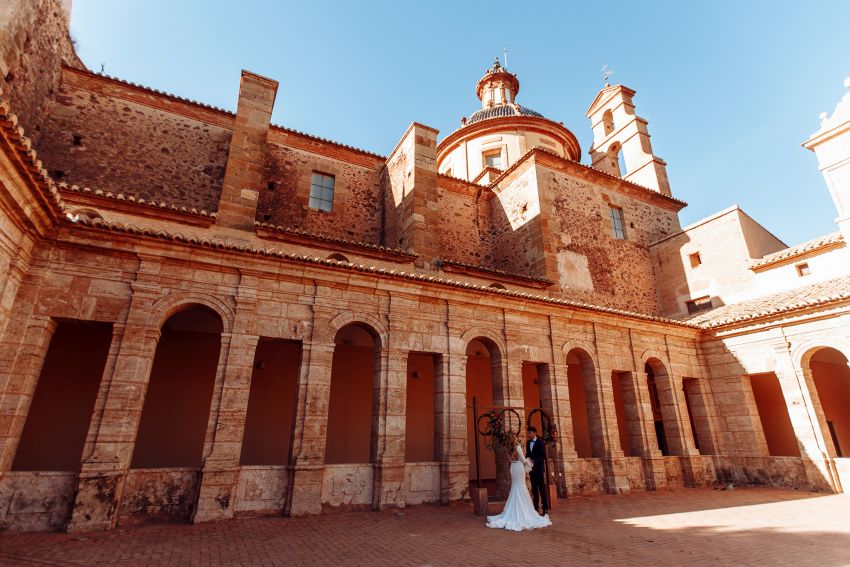 We are now entering in this space full of history and magic to get to know every corner and to discover absolutely everything that Cartuja de Ara Christi has to offer us in order to make of our "Yes I do" moment, a unique and unforgettable instant. 
We invite you to accompany us on this journey, from 1582 to nowadays through an enthralling interview… Are you following us? Strolling between olive trees, shrubs and century-old palm trees, we admire the majesty of the building: its vaults, its rock facades, its facing brick and its classical-designed front garden… It is a panorama that is at first sight simply mesmerizing…
However, this is only the prelude of what is waiting for us inside! Precious patios with rock vaults, old cloisters, church and dining room, perfectly adapted to host any type of event or ceremony, artful lighting, music… Without doubt, Cartuja de Ara Christi is an incomparable beautiful building that possesses an architectural value where you can carry out an unparalleled wedding.  
The responsible of the venue management of this surprising place is waiting for us in one of the pathways.
Good morning. We are totally amazed by Cartuja de Ara Christi, this is such a precious place…
Hello. Yes indeed!  The Cartuja de Ara Christi is surprising and impactful as it is a monumental space!
Cartuja de Ara Christi is a 18th century monastery which was a site declared of cultural interest and converted in one of the most exclusive places  of the Valencian Community. Could you tell us how many installations it counts and which type of celebrations can we carry out in each of them? 
What types of additional services do you offer to your clients for them to live the perfect wedding? 
 It divides itself in the following parts…A front garden: a magnificent garden with a classical style surrounded by turf with its century-old palms crowning the principal entrance. With an extension of 10.000 m², it allows to realize outdoors celebrations.  
Dining room/Refectory:An old canteen for the Cartujos' monks. It has a capacity of 250m2, with no columns and spotlights a big frame from Renaissance inspiration of the 18thcentury.  
A cloister with covered walkways: a place unparalleled for its extraordinary beauty and its rich architecture. It counts with 400 m2 in the interior cloister and 250m2 in its pathways. It still counts with one of its original wells.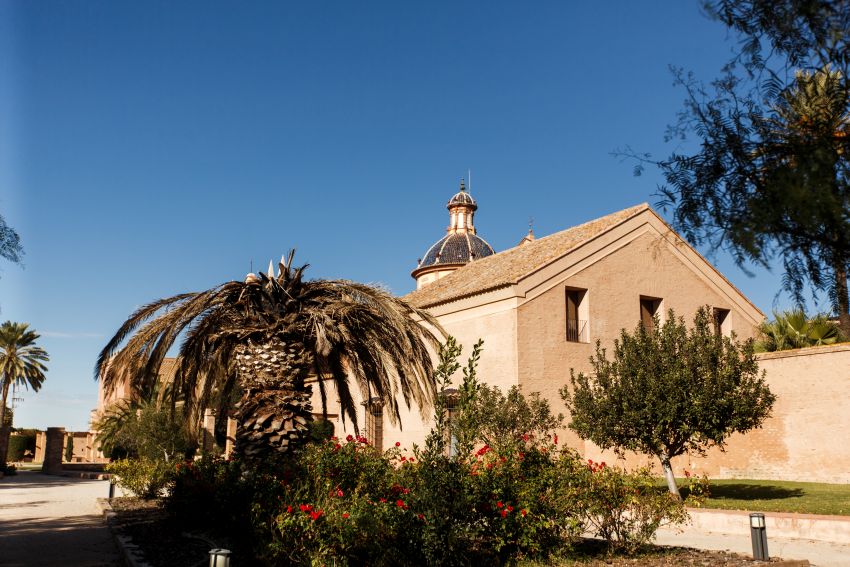 The hall of mirrors: an unique church of the Cartujos' monks, still in its state of origin but with a renowned esthetic that was transferred to a bigger exposition zone. With its 280m2, it allows the imagination of our clients to unfold when it comes to transform the place for their special event. 
An opened cloister : 2ndcloister of the same dimensions as the first one, crowned by the characteristically blue dome of the church, an ideal complement for the summer parties. The moonlight creates a beautiful shiny view on the facade.
The hotel garden and the Casa del Prior: It has an amazing design. The garden is the conjunction of the old individual gardens of traditional houses of the Cartujan Community. 
Moreover, we count with a small hotel in the old Casa del Prior for the future couple and their close guests to stay at. 
The venue is managed by Gourmet Catering & Espacios which counts with more than 42 years of experience in the sector. How do you arrange each wedding? Is there a specific profile in the type of clients that you have? 
We consider that each wedding is different as every client is unique and very special.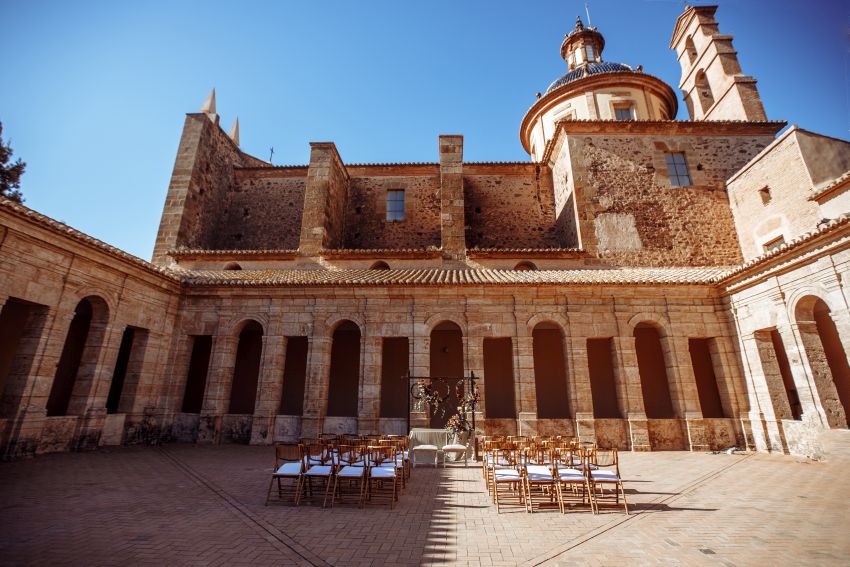 Let's imagine that you organize weddings with clients coming from different backgrounds, do you find a difference between the organization of the wedding for Spanish clients in comparison to foreign people? 
Of course… for instance : 
The timetable, the dinner, the speeches, they don't give desert except for a cake in the "American wedding cake" style and concerning the gastronomy, they like the food to be visually "cleaner", meaning that they want the raw material to be identified clearly (without sauces..). 
Concerning the culinary standing, Cartuja de Ara Christi features a gastronomical offer of the highest quality from Gourmet Catering & Espacios. We are characterized by our flexibility, creativity and we are constantly preoccupied by the client's necessities. We offer a guaranteed quality service of thoroughness. We always put the client first and strive to create the perfect wedding, always in keeping with the arrangements, the services, the gastronomy and we offer the most exclusive places in Valencia. 
Our kitchen team was formed by famous chefs, experts in the field and which source of inspiration are all-natural products and Mediterranean cuisine with fresh and high quality food. This is why we present to our clients the best gastronomical offers along with a traditional elaboration and an avant-garde presentation.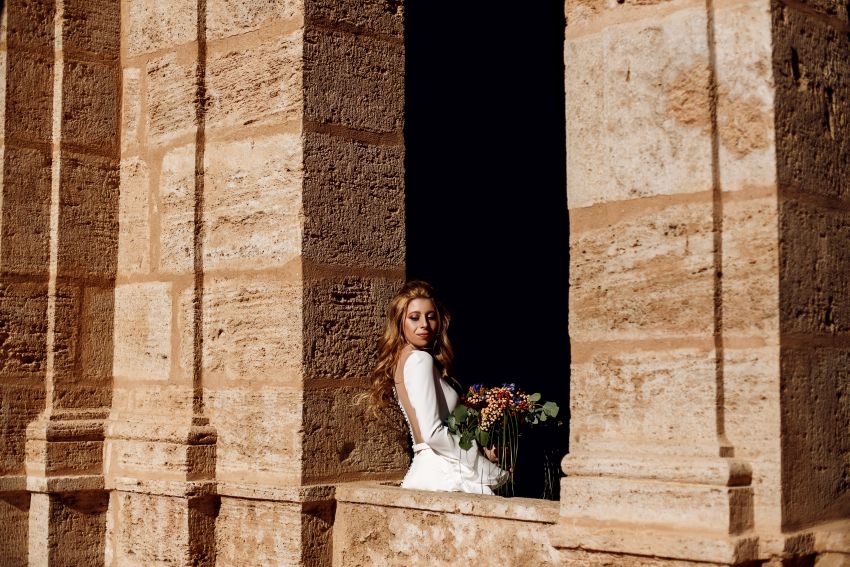 What is your star dish? 
We have lots of "star dishes"… they are always a success! From appetizers to starters, mains and deserts. 
Do you have set menus or do you adapt yourself to the taste and the client's necessities? 
We have various menus made to guide the clients. Nevertheless, we always adapt ourselves to different needs and nationalities.  
And do you count with a certain type of professional in charge of helping the bridegrooms with all the arrangements ? What is the process that the couple goes through from the day they first sign up with you until the day of their wedding? 
Our Events department is composed of professionals who provide guidance, advise, manage and coordinate the wedding from the beginning to the end, making sure that we take in account all the details and put at the service of the clients an all-inclusive service.    
A question that could be useful for the bridegrooms: With how much advance the couples who want to celebrate their wedding in Cartuja de Ara Christi should contact you? 
 If the wedding is celebrated at the end of the week, the couple usually needs to reserve one year before the event because of the peak season on Saturday's. Otherwise, if they wish to hold their wedding a day of the week, reserving a few months in advance is enough. 
Finally, tell me… What do you think that Cartuja de Ara Christi has of special that other venues who hold weddings do not offer?    
The space is unique, historically and architecturally speaking. Moreover, it counts with the management, service and gastronomy of Gourmet Catering & Espacios. 
Thank you very much for your time and for everything that you have shown us from this beautiful place. We love it ! 
Thanks to you for visiting our venue, we hope to see you soon ! 
If you liked the tour of this spectacular century-old Carthusian monastery and you have found inspiration for the happiest day of your life, we vividly encourage you to visit this space in Valencia and to get married in Cartuja de Ara Christi. It will be a historic wedding !