Although wearing the garter under the skirt of the wedding dress is an ancient tradition, the truth is that few people know its history and meaning.
Although wearing the garter under the skirt of the wedding dress is an ancient tradition, the truth is that few people know its history and meaning. Would you like to discover what it represents and choose the most suitable one for your wedding day?
For many brides, the garter is an essential accessory that they want to wear on the big day. Unusually hidden under the skirt of their beautiful wedding gown, this iconic element is found in many countries and surrounding it, there are many ancient traditions, but few people know what its history and meaning are. For example, did you know that there are different designs of garters for the brides? they come in different shapes and colors, so you will not have trouble finding one that best suits your style, wedding and personality. Find everything you need to know about garters and be sure to make the right choice- there are plenty of bridal garters waiting for you!
What was the meaning of the bride's garter in ancient times?
Hundreds of years ago there were countless superstitions and unfounded beliefs related to the wedding day. One of them was the legend that keeping a piece of the bride's dress brought good luck, so many guests harassed the bride on the big day to snatch some of her clothes. This prompted brides to come up with a solution: carry an item in their wardrobe meant to be given to guests for good luck. which one? Yes, you guessed it: the garter.
Another tradition was to use the white bridal garter as a symbol of virginity and purity. By handing it over, she was pledging to lose that innocence on her wedding night. It was a kind of proof that the marriage would be consummated.
The Bridal Garter: A Ritual in the 21st Century
What happens to the bride's garter? Whatever the bride and groom wish. In some celebrations, it is the couple who remove the blue bridal garter to give it later to one of the guests or even throw it, as is done with the bouquet. But there are also some brides who keep it to later give it to their sister or best friend. There is also the possibility of creating fun games surrounding the bride's garter, such as an auction or a treasure hunt. It is clear that there are endless ways to give away the bride's garter. Whichever you choose to do, don't hesitate to accompany with some of the best garter toss songs, to add even more excitement to the moment. 
What does it mean to give away a garter at a wedding?
Whoever wants to give it away tends to choose the next bride-to-be, similar to what happens with the bridal bouquet toss. However, there are also those who choose to give it to a friend or relative who has helped them a lot with all the preparations. The decision is yours. 
How many garters does a bride wear?
Again, this depends on personal preference and what each bride wants. Some brides choose to wear two or three garters and distribute them among the most intimate- usually before the end of the banquet or throughout the party- such as bridesmaids or a very close family member. There are also brides who prefer to keep their own or give replicas of their blue garter to their friends. At the same time, there are brides who choose to wear two: one for her partner to take off or give to the theme and the other to keep as a souvenir. Therefore there is total freedom in thinking about who to give the bridal garter to and in deciding how many to wear.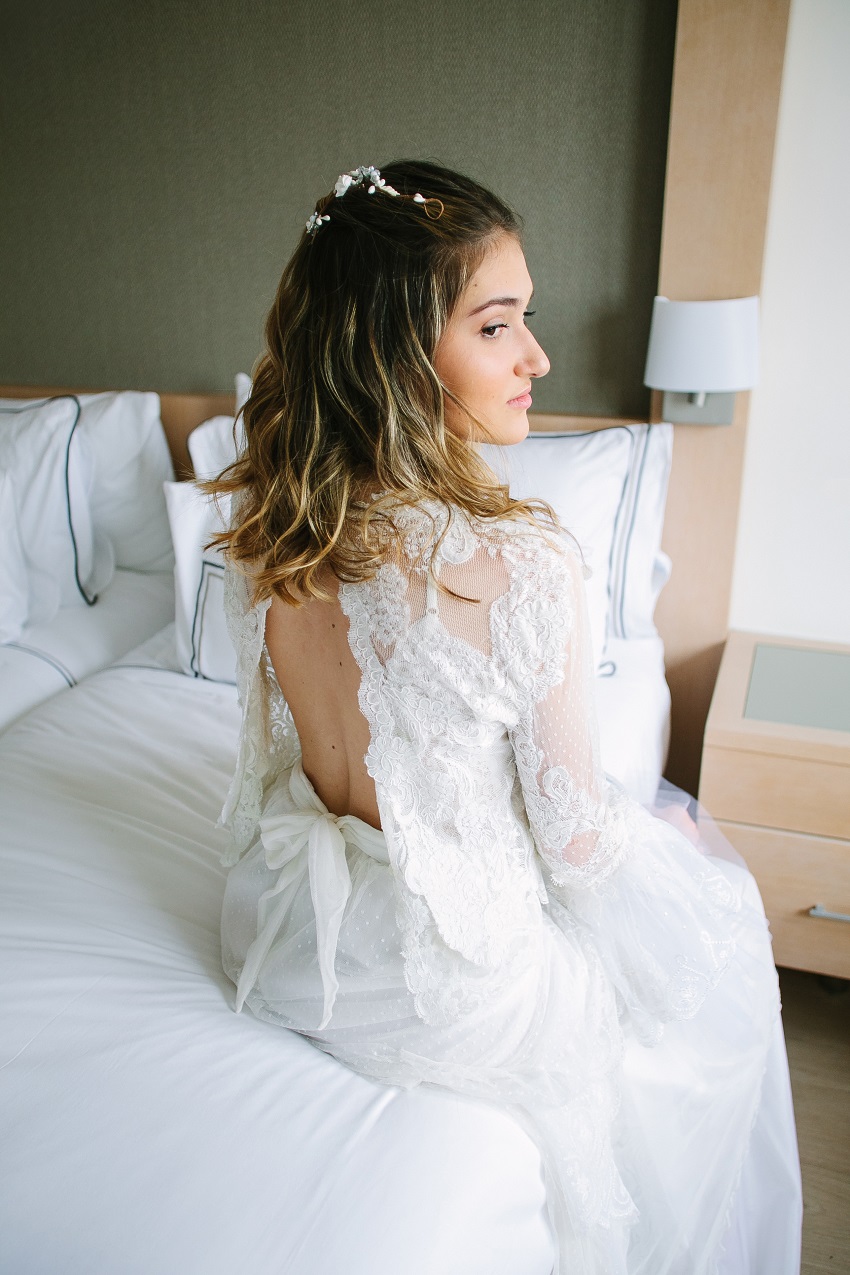 Where do you put the bridal garter?
Where does the bridal garter go? Usually, it is placed a little above the knee so that it doesn't squeeze or rub against the other leg. In any case, it is better if you try it on before the big day and decide what height is most comfortable for you, making sure that it will not move at any time or mark, even if you have opted for a very tight mermaid wedding gown. And do not worry about resorting to a belt garter, as it is elastic. It's good to keep in mind that the height may vary depending on the wedding dress length, therefore in the case of a short dress the garter should be placed higher up. On the other hand, if you are going to take pictures of you lifting up your skirt to showcase the garter, then wear it as low as possible. You will want to avoid showing more than necessary! 
Garter Designs: There are many styles.
Garters can vary in many ways. You can find some of the different thicknesses, simple or elaborate designs, with rhinestones, floral ornaments or all kinds of charms on them. As for the color, although white is the most traditional and popular, in reality, there are an array of colors to choose from such as, pink, yellow, red, brown…even black garters! However, for many brides, the garter is the perfect opportunity to wear that something blue, as tradition dictates. So, it is safe to say as far as designs go, you will have no problem finding a blue bridal garter or any other element with the color blue, such as a ribbon, bow or flower. 
Do you want more options? But of course! You will also find garters for modern brides, bridal garters in larger sizes, handmade bridal garters…Also bobbin lace bridal garters, embroidered bridal garters, traditional bridal garters, vintage bridal garters, or the newest personalised bridal garters. How? With your name, your initials, the date of the wedding…Will you have a themed wedding? Dont worry, there are also bridal garters to fit your theme, such as brightly colored ones or even including your favorite superhero face on it. 
Now that you know a little more about this beautiful tradition of the bride's garter, you might want to wear it on your magical wedding day, it is going to be a very fun and endearing moment! So make the most out of it.