Welcome to Madrid's top 25 terrace spaces! Elevate your events with dazzling rooftops, intimate hideaways, and unforgettable experiences. From enchanting green havens to chic urban venues, find the perfect backdrop for your private or corporate gatherings. Let Madrid's terrace spaces add magic to your celebrations and create cherished memories that last a lifetime.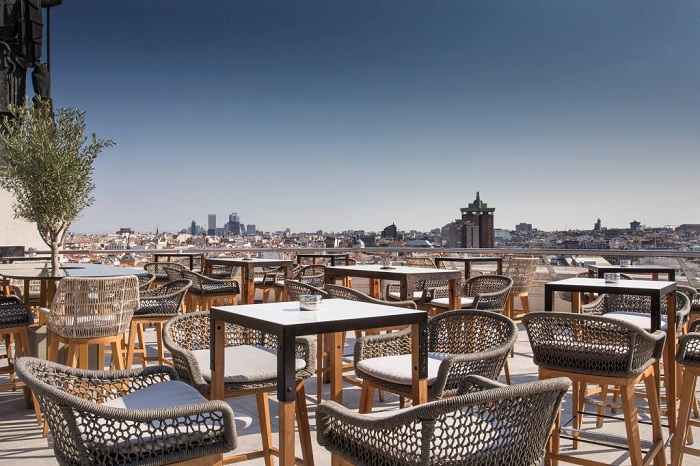 1.Rooftop Calle Alcalá
A charming rooftop perfect for intimate and smaller-scale events. This Terrance is perfectly located at the heart of Madrid overlooking the Ayuntamiento de Madrid (Madrid's City Hall), Cibeles and Puerta de Alcala.  
This terrace has the unique possibility of being booked for private and closed events at incredible pricing.
The space offers a divided space of both an outdoor area and a covered (heated) area
There is a sound system that can be plugged into an external device 
When holding an event or party, this patio is ideal because it offers a lot of flexibility.
Capacity: 60 guests
2. Rofftop Alcala- Retiro
A stunning patio with a mesmerizing 360-degree view of Madrid's most renowned Park, Retiro, and Arab House (Casa Arabe).  Furthermore, it includes an incredible plunge pool that overshadows the views.  Ideal for every event, from a business meeting in the morning with a coffee break or breakfast spread to a wedding reception with a breathtaking sunset view.
A genuinely lovely Rofftop with delectable and expertly designed Mediterranean and international cuisine, drawing inspiration from the tapas tradition to produce more innovative dishes.
It features interior areas that are just as charming as the terrace, ensuring that poor weather won't be an issue on the day of the event. Additionally, there is a lobby bar with a view of Alcalá Street through big windows.
Capacity: 200 guests
3.Rofftop Atocha
Fabulous retreat for highly exclusive and beloved gatherings in the heart of Madrid.
There exists a lovely Pool-Garden in which you may relish amazing signature cocktails, fine wines, and a thoughtful selection of premium spirits. A menu of light meals to enjoy during the day or at dusk.
Take pleasure in the pool, unwind on a lounger with an ice-cold drink in your hand, and/or celebrate the hippest occasions in the capital while having a fantastic evening to create lasting memories.
Capacity: 40 guests
4.Rofftop Avenida De Brasil
This Rofftopis situated in Avenida de Brasil, nearby Madrid's Santiago Bernabeu stadium. It is Ideal for hosting professional or personal occasions.
With over 25 years of expertise under its belt, it is no surprise that it has become one of the most popular spots in the capital. It is particularly great for beer enthusiasts since it offers a diverse range of brands and kinds, including gluten-free beer.
Given its huge area of coverage, it can accommodate a wide range of activities, from intimate gatherings to big celebrations.
Capacity: Cocktails for 500 guests / Seating for 220 guests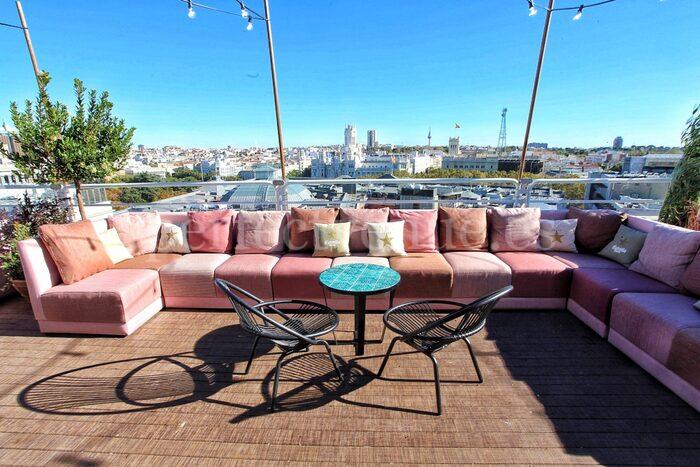 5. RofftopBanco de España
Spacious patio with views of the Banco de Espana, the Madrid City Hall, Los Jerónimos, and El Retiro. Terraza Bancol is  Madrid's most unique Roof Tops due to its decor, panoramic views, and sunsets.
The patio can be partially or completely closed off for private events.
Offering sound equipment which is able to be utilized for connecting an external device.
As the Rofftop recently became air-conditioned, you may enjoy it even in bad weather or throughout the winter. Additionally, it also provides magnificent inside areas for your event or celebration. Guests can also extend the festivities until 4.00 inside the spectacular "Bar Hemingway."
6.Rofftop Barrio de Las Letras 
A contemporary Rofftop is part of a complex of five historically significant buildings in Madrid. a flexible patio that offers a variety of possibilities for your event or party throughout the year.
This outdoor space utilised for parties or celebrations has undergone an inventive and distinctive renovation, featuring a variety of areas, including a restaurant, chill-out area, cafeteria area, and a cosmopolitan cocktail bar, all of which make this terrace a special spot to have fun.
It could be possible to prolong your celebration in one of the hotel's indoor lounges.
It has audio equipment that is capable of linking to an outside device.
Capacity: Consultation needed
7.Rofftop Barrio Salamanca 
Modest event outdoor space situated on Goya Street in the centre of Salamanca.
 Enjoy this area for your corporate function or celebration (birthdays, retirements, etc.) with complete exclusivity. To draw attention to the excellent catering provided.
 It has audio equipment which may be hooked up to an outside device.
Capacity: 35 guests
8.Rofftop Bravo Murillo 
Spacious event patio on the roof of a distinctive structure. 
It distinguishes itself due to its closing time, illumination, and virtually "Disco" sound (despite being completely audiovisually equipped).
This heated Rofftop transforms into a winter terrace where you may have an event or celebration in inclement weather.
Possibility of completing space privatization.
It features private jacuzzis for events or celebrations for small groups. Additionally, it includes interior spaces for conferences and business gatherings.
Capacity: 300 guests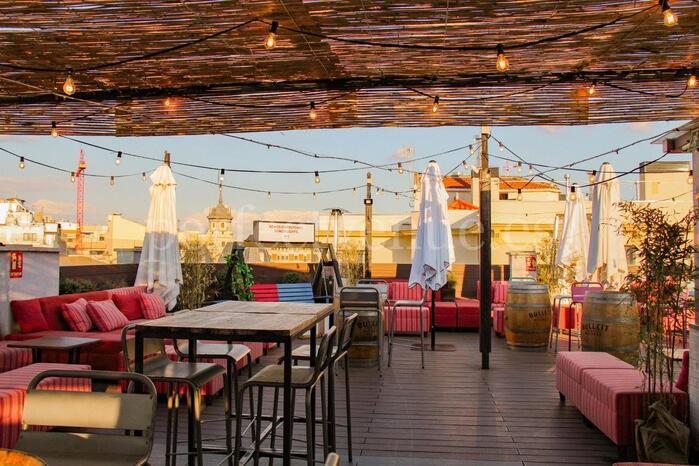 9.Rofftop Chamberí 
Breathtaking, comfortable and daring. With several atmospheres and a rooftop where you can take in the Madrid "of the cats" in the middle of the Chamberí district, this terrace for celebrations is the latest gathering place.
The most casual parties take place on a rooftop, where the new culinary concept of "destination" finds its way. An exceptional setting for an open terrace where you can let go of stereotypes and dare to develop without boundaries.
Possibility of partially or fully privatizing the patio for events.
Capacity: 200 guests
10.Rofftop El Viso 
This event space is located in the center of the El Viso area, in a secluded and serene setting. A haven in Madrid for any occasion (product launches, recordings, ceremonies, parties, etc.).
This 90 m2 outdoor garden area has the capacity to accommodate two pergolas, one at the entry and one next to the pool.
The house's rooms are arranged on a single story and are all connected to one another for convenience, fluidity, and ease of movement. It features an adjacent kitchen to make serving at your event easier.
Capacity: Cocktails for 60 guests
11.Rofftop Gran Vía 1, Madrid
A sizable and magnificent patio with views of the Gran Vía, the Royal Palace, and Madrid's northern region. Some of Madrid's most iconic sculptures, including one of the Phoenix birds that adorn the city's domes, may be seen from its rooftop.
It is a distinguished location for events because of its amazing fusion of harmony and magnificence.
Enjoy the sunsets on this party patio while hosting your gathering.
A variety of culinary options are available on this patio (finger foods, stations, cocktails, show food preparation, etc.).
There is the option of partially or fully privatizing the patio for events.
It has audio equipment that can connect to an outside device.
If the terrace is not available for your party, the hotel provides a sophisticated lounge where you may still celebrate your occasion.
Capacity: 150 guests
12.Rofftop Calle Gran Vía 2, Madrid
This venue for gatherings and celebrations is housed in an iconic "Art Deco" building in Madrid and includes a terrace with stunning views of the Madrid de los Austrias, Casa de Campo, and other landmarks.
You can make use of several gourmet stations and any kind of service you want on the patio. The restoration and servicing were of excellent quality.
It has audio equipment that can connect to an outside device.
It also features magnificent indoor rooms with views of the Gran Via that serve as an alternative so that, in the event of poor weather, you can still attend the event or celebration and nothing can ruin your celebration.
In one of the terraces with the best views of the capital, take in the sunsets of Madrid.
Possibility of partially or fully privatizing the patio for events.
Capacity terrace 1: 120 guests
Capacity terrace 2: 50 guests
13.Rofftop Gran Vía 3, Madrid
The food truck's original patio for gatherings offers delicacies prepared in the finest street food tradition. The area carries on the hotel's avant-garde design philosophy.
 The rooftop is intended to create a mellow, casual ambience that will make your celebration unique and intimate. Possibility of partially or fully privatizing the patio for events.
Along with its food truck, the stunning decoration of this building emphasizes wooden pieces, vibrant textiles, and various plants, including mint, which is impossible to miss.
Beautiful views of Madrid's north may be seen from the rooftop terrace. 
It has audio equipment that can connect to an outside device.
Capacity: 110 guests
14. RofftopGran Vía 4, Madrid
A terrace with a panoramic view. Stunning views of the Royal Palace, Casa de Campo, and Madrid de los Austrias. Additionally, the largest rooftop swimming pool in Madrid is housed on the summit of this event terrace.
The terrace has been rebuilt by architect Nacho Garcia de Vinuesa into a chic beach club for the mornings and a cocktail bar for the evenings and nights in the capital where you may successfully celebrate your event.
Take advantage of one of Madrid's best rooftops by renting out the terrace for special occasions all year long.
It has audio equipment that can connect to an outside device.
Capacity: 200 people
15. RofftopGran Vía 5, Madrid
To celebrate your event in Madrid, choose urban luxury in the city's center.
Unquestionably, the terrace for events of one of the chicest hotels in Madrid is the ideal location for the celebration of any kind of event.
A wonderful service for an event-related lovely terrace.
The patio could be made private for any party or occasion.
There is the ability to link your gadget with sound.
In the event of adverse conditions, plan B would be to hold the event in one of the most opulent locations in the city.
In addition, it has inside spaces that can accommodate 350 people for presentations, business gatherings, or any other kind of occasion.
Capacity: 200 guests
16. Rofftop Gran Vía 6, Madrid
This attractive terrace in Madrid is great for networking, private meetings, and product presentations.
This urban sanctuary in the middle of Madrid provides a distinctive setting and the broadest variety of services to guarantee the success of any event. Pergolas, standing heaters, ceiling heaters, and water fans allow you to have your event on the terrace at any time of the year.
The patio may be made private for occasions without extra costs.
The hotel includes inside areas where you may hold any kind of private or professional activity in addition to the patio.
Capacity: 120 guests
17.Rofftop Calle Gran Vía 7 
Little quaint patio for festivities with breathtaking views of Gran Vía, Madrid's most famous boulevard.
For your event (intimate weddings, birthday parties, business gatherings, etc.), this rooftop is entirely reserved, and it provides great catering at the height of the views.
It has audio equipment that can connect to an outside device.
Unquestionably, a little venue for events in the heart of Madrid in which you may relax peacefully.
Capacity: 40 guests
18.Rofftop Plaza De España
Unquestionably one of the Rooftops that will most impress you.
You will enjoy all of the alternatives available on this event terrace.
Two patios on the 21st floor offer stunning views of Madrid's north, Gran Vía, Madrid de los Austrias, and Casa de Campo. Additionally, one of these two terraces contains a pool. Up to 175 people can fit on these terraces.
Another patio with 360-degree views is located on the 27th level and can accommodate up to 375 guests. From here, you can see all of Madrid. Through the SKY CLUB, an enclosed interior area that resembles an "eighties disco" and from which you can also see Madrid, you may access this terrace. In case of severe weather, this location is also great for gatherings. 
For every kind of event or celebration, it provides a wide range of indoor and outdoor area possibilities.
A cocktail or banquet-style gathering with live music, food stations, a DJ, etc.
Capacity: 350 guests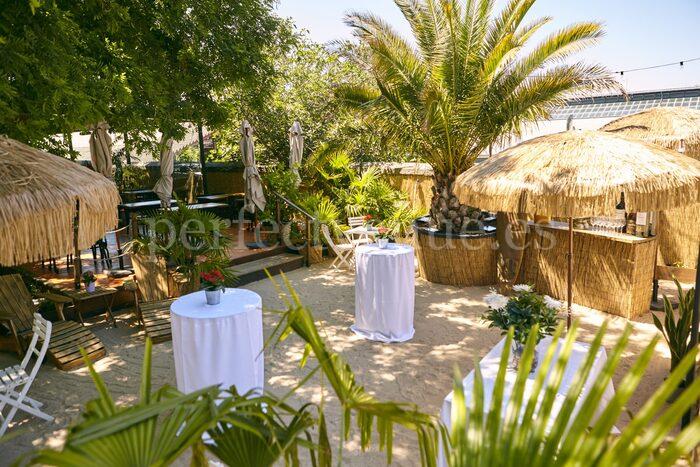 19.Rofftop Prícipe Pío
Unique patio with a variety of distinctive settings for parties. From a sleek, contemporary accommodation to a beach club where you may eat and drink al fresco, via a graceful glass terrace.
With one of the best menu selections and excellent product quality in Madrid.
One of Madrid's secret locations where your event will succeed.
Capacity: 250 guests
20.Rofftop Las Cortes
A rooftop is found in the center of Madrid, close to Puerta del Sol and the old Austrian Madrid.
Terrace for events that combine contemporary, avant-garde, fine dining, and luxury. An upscale atmosphere is brought to life in the heart of Madrid by the combination of charm and glitz. Unquestionably the best cuisine for any occasion or celebration in an opulent setting.  
In case of poor weather, there are a number of flexible rooms ranging in size from 20 to 300m2 that can accommodate up to 300 people for meetings and events. They are tastefully furnished, opulently adorned, and furnished with the most recent technology.
Capacity: 150 guests
21.Rofftop Puerta De Alcalá
Two separate terraces are available in the area at the base of the Puerta de Alcalá. A unique ambience is created by the Malvar terrace and a chill-out patio where harmony and quiet reign. In the event of severe weather, they have a plan B.
Any occasion, aperitifs, after-work, and, of course, lunches and dinners to feel a renewed gastronomic experience, whose strength rests in the quality and constant innovation. Possibility of preparing them both as a banquet and a cocktail format.
A restaurant that will exceed your expectations by enhancing the eating experience with music, stylish décor, and terraces.
Possibility of reserving a space or obtaining total exclusivity for your celebration or event.
Capacity: Cocktails for 90 guests
22.Rofftop Puerta del Sol 
A location outside of the city is close to the Sun.
You won't be bored while on this event patio. a distinctive rooftop decorated with Cartagena de Indias' hues, ornaments, and flavors.
A patio where you may watch the sunset while hosting a unique event or celebration with views of the Puerta de Sol.
It is possible to entirely private the terrace for any celebration or occasion.
It includes audio equipment.
Additionally, because this event terrace is properly climate-controlled, you can use it in the winter.
Capacity: 250 guests
23.Rofftop Ronda de Atocha 
Amazing event patio with a 360-degree view of Madrid. Any type of party, get-together, or corporate function would be ideal in this setting.
The potential for live music and the exclusive, full or partial usage of the area for events.
Using the support of a skilled catering crew in Madrid, you can create a custom menu. Highly trained event specialists will guarantee the success of your celebration or event.
You won't be bored at this terrace, which features musical accents, delectable meals, and exclusive drinks.
Capacity: Cocktails for 320 guests

Terraza Santo Domingo  Madrid
24.Rofftop Santo Domingo- Madrid
While maintaining high standards for customer service and product quality, This event terrace offers some of the most reasonable prices in the industry. It offers a large selection of distinctive cocktails that will dazzle everyone.
There are two unique event areas to choose from. The first can hold up to 200 people and may fit on the main terrace, and the second is a more intimate rooftop party space that can hold 50 people.
Both terraces can be used for private events, or the entire area can be reserved.
This terrace differs from others in that it offers live music, a jacuzzi, and a food truck.
Capacity: 240 guests
25.Rofftop Serrano – Madrid
Located in a prime location with views of Paseo de la Castellana, this event terrace has 600 m2 of fully renovated space. With enough for gatherings of 20 to 30 people, it is a flexible and ideal location for any kind of event.
This large terrace is perfect for banquets, cocktails, exhibitions, or weddings in the center of Madrid because it provides individualized service. A location that will unquestionably give guests and hosts wonderful recollections of their celebration or gathering.
Live music and exclusive usage of the area, either totally or in part, are also options.
At one of the best and most prestigious terraces in Madrid, savor first-rate catering.
Capacity: Cocktales for 350 guests