Cádiz is one of the most comprehensive places in Spain to say "I do" to your partner for many reasons, which is why more and more couples want to celebrate their beach wedding in Cádiz.
If you are searching for wedding venues near the sea in this province, that's why we're here, to tell you which are the best and most exclusive places to say "I do" with the sea breeze on your skin.
Did you know that Cádiz is one of the preferred provinces for celebrating a beach wedding in Andalusia? And no wonder! Tarifa, Zahara, El Palmar, Chiclana… the options are endless and all fantastic.
We won't make you wait any longer, if you already know the advantages and disadvantages of celebrating a beach wedding and know that your thing is to get married near the sea…
It's time for you to know the best beaches and the best luxury hotels on the coast of Cadiz to tie the knot!
But first…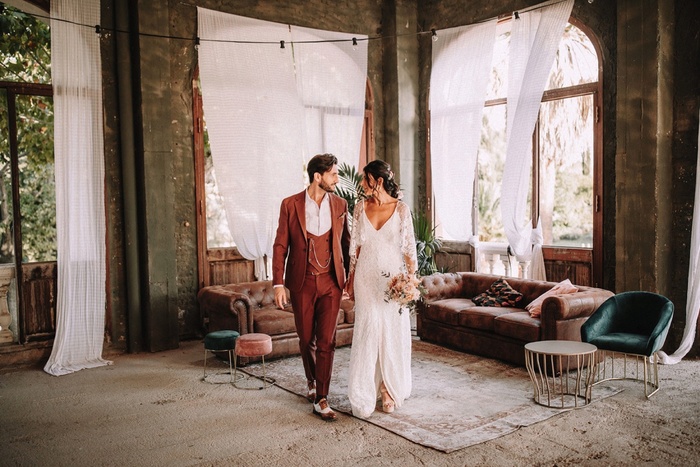 Why celebrate a beach wedding in Cádiz?
There are many reasons to celebrate a beach wedding in Cádiz, such as its kilometer-long white sand beaches and blue waters, with wonderful views and fascinating landscapes around them.
Also, its people, as one of the attractions of Cádiz are the locals who are so open, sociable, lively, and friendly. So celebrating a wedding here is synonymous with warmth, humor, fun, and joy.
In addition, in this southern province, there are majestic churches, monuments, castles, viewpoints, towers, beautiful cathedrals, beautiful chapels, fascinating houses… throughout the charming towns of the province and the mountains.
And… Did you know that the biggest party in Cádiz capital and one of the most popular parties in all of Spain is its carnival? The city is filled with music, party vibes, joy, energy, and color.
Also, for flamenco, since the province where this art was born is Cádiz, a paradise for lovers of this art. Its corners are full of great artists, such as dancers, guitarists, and singers.
In addition, its streets are full of steep and cobbled alleys, typical white houses, squares open to the sun, surrounded by beautiful buildings and churches. They are a spectacle for the eyes!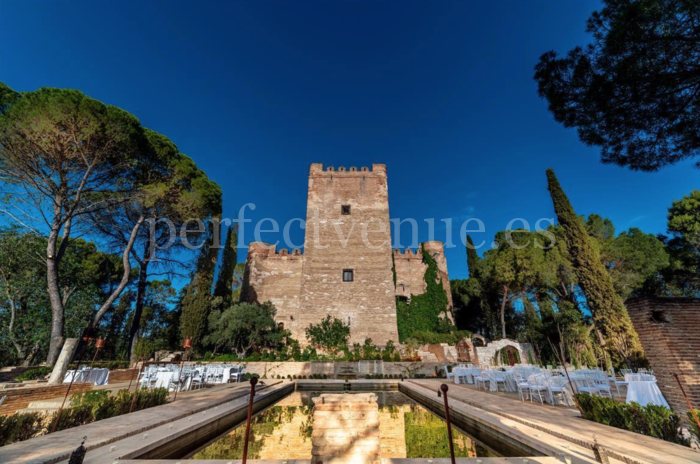 Now, these are the best venues for a beach wedding in Cádiz:
Nova Sunset Club
Located on the popular La Barrosa beach in Chiclana de la Frontera, the Nova Sunset Club beach bar is a modern, attractive and unique space to celebrate your wedding. The exclusivity of its facilities and its paradisiacal surroundings will be the perfect setting for an unforgettable 'I do'.
This Cadiz beach bar on the Costa de la Luz has different areas to accommodate the different moments of the big day. It has a spacious and cozy restaurant with views of the beach, a terrace with a bar and chill out area, and a zone of hammocks and Balinese beds perfect for relaxing.
The restaurant menu offers the best local and seasonal raw materials. Market cuisine made with care. The products of our sea (tuna, seafood, and fish), grilled meats and rice dishes are predominant, accompanied by vegetables and vegetables from their own garden.
You can also enjoy a live performance, their ambient music, or the sunset from one of their hammocks or Balinese beds.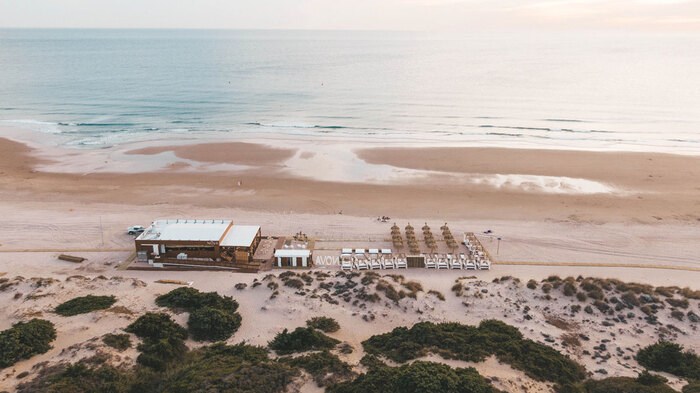 Royal Hideaway Sancti Petri
Royal Hideaway Sancti Petri, a luxury hotel on the Barceló chain's first line beach, is an exceptional hotel for your beach wedding in Cadiz.
Royal Hideaway Sancti Petri is located in the exclusive Cadiz urbanization of Novo Sancti Petri, on the first line of La Barrosa beach. The original design of its architectural forms, its 5 pools and natural lakes, its spectacular terraces, and its more than 35,000 m2 of lush tropical gardens make the hotel a unique complex that will never cease to surprise you.
To celebrate the civil ceremony, you can choose between an unmatched garden space with views of La Barrosa beach, a terrace with the best views of the sea and the hotel's gardens, or the original Roman amphitheater located in the same hotel.
For the cocktail and banquet, you can choose between two different environments, either their formal and elegant lounges or the Beach Club, outdoors, surrounded by gardens and pools, with a more casual atmosphere and views of a spectacular sunset that will make your special day an unforgettable event.
A restaurant full of 16th-century history, as it is located in what was once a almadraba tuna factory from that century. The factory received the tuna that had been caught through almadraba, a maze of nets located along the path of these fish. They were then processed, and salted fish and ronqueado tuna were obtained for sale and consumption.
Today, this old factory has been renovated and transformed into this restaurant, Nacarum, where you can still taste this almadraba tuna and an infinity of fresh fish, rice dishes, and local meats.
In this restaurant, you can have your beach wedding, with a feast with the sea breeze as the protagonist and unbeatable views.
At Nacarum, they combine their fortunate location, regional food, and years of experience, resulting in the best flavors and aromas for your event: the freshness of fish, almadraba tuna, delicacies from the garden, rice dishes with prawns…all the products typical of the south.
In addition, this venue has a series of accommodations close to the beach so that you can host your guests in: stone house, country house, cottage, beach houses and coral houses, all of them are independent and private houses.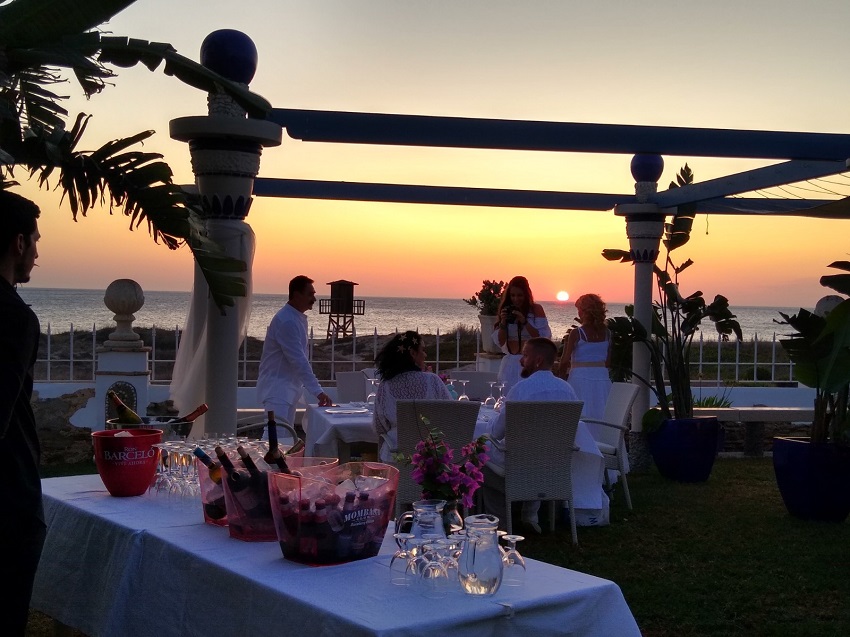 Casa La Siesta
Casa La Siesta is an exclusive venue to celebrate your wedding and surprise all of your guests. It is inspired by the style of an old hacienda, retaining some of its typical construction features but adding many modern elements. Its beautiful gardens have magical corners where you can enjoy a banquet tailored to your needs. Its location in the countryside near Parralejos offers unparalleled views, perfect to serve as a backdrop for your big day.
Casa La Siesta offers its beautiful gardens, with two pools, one of them measuring 11 meters, with a capacity for up to 120 guests. The house also has a private terrace overlooking the gardens and the pool. In these spaces, you can celebrate both the ceremony and the banquet, making it more comfortable and avoiding the need for transportation.
You will also have access to the house, which has all the necessary amenities for a pleasant stay. This way, your guests can enjoy their stay with total comfort and tranquility. The 9 rooms of the establishment are designed in a Cortijo environment, just like the entire guest house. Each one has been carefully decorated, from the wooden beam ceiling to the stone floor slabs, along with a wide range of European antiques.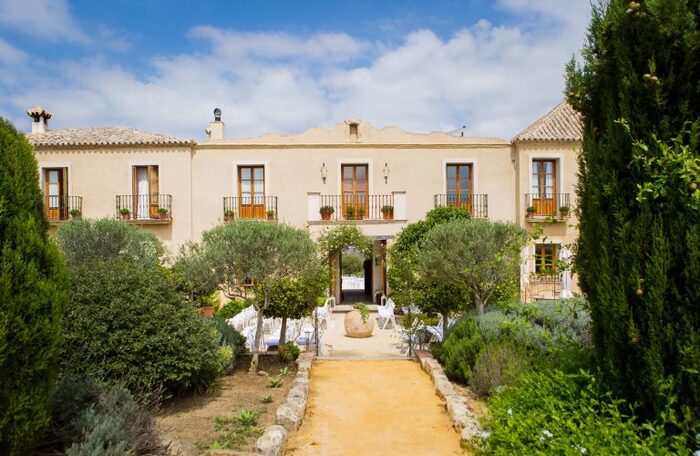 What is the best time to celebrate my beach wedding in Cadiz?
If you have already decided on the venue for your wedding celebration, a very important aspect to consider is the date of the event.
We advise you to avoid the months of July and August, as your big day may be shared with holidaymakers and curious onlookers who are likely to be in the area, obstructing the ceremony or appearing in the photos.
In our experience, the best months are May, June, September, and October, as there will not be as many tourists, and the weather is usually quite good. However, the weather varies depending on the date, and although it is somewhat unpredictable, you should take into account the area and its characteristics.
What is the best dress code for a beach wedding in Cadiz?
This is one of the big questions that guests ask when receiving an invitation to a beach wedding: Do I have to wear an Ibiza-style outfit? The same question also arises for the bride and groom.
In this case, we usually advise you to do what you really feel like, what makes you feel good, as there are no written rules. But it is recommended that you decide on a dress code beforehand, as many brides believe that, even though their wedding is on the beach, guests should not wear an Ibiza-style outfit to avoid wearing white.
If, despite being a beach wedding, it is your wedding. Therefore, it is best that you decide on the style of your wedding yourself.
If you need more information on this, don't miss this article: How to Dress for a Beach Wedding?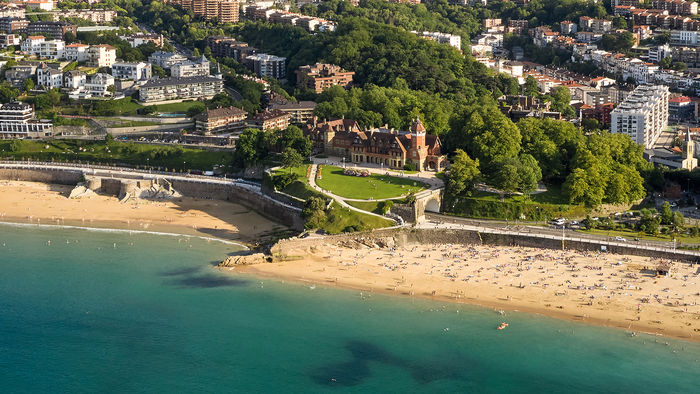 Can I rent a private beach for my beach wedding in Cadiz?
Unlike a public beach, a private beach offers greater privacy and allows you to celebrate your wedding away from prying eyes. This type of space will allow you to plan a cocktail or a dinner, which is not possible on public beaches where only a symbolic ceremony can be organized.
So… Can I rent a private beach for my beach wedding? Well, for example, in Spain there are no private beaches. This is because the Coastal Law in our country states that coasts are for public use, but there are private beaches in countries like Mexico and some areas of the Caribbean.
That's why our advice for getting married on the beach in Spain is to do it in one of the spectacular spaces we offer, near the sea, with stunning views, and breathing in the sea breeze and the scent of salt.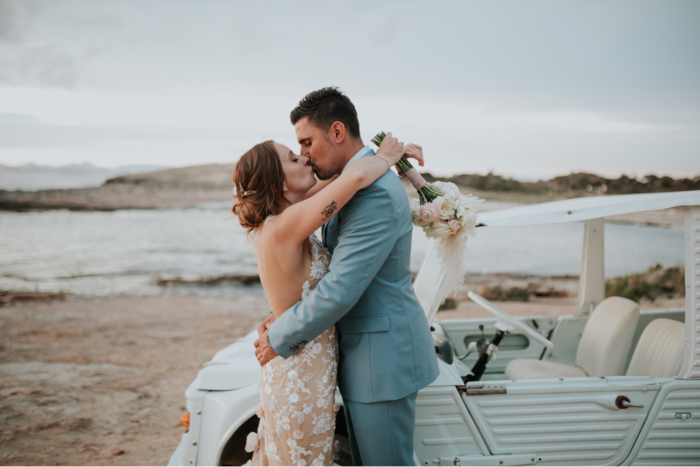 If you want more information, don't miss this article on the reasons to walk down the aisle in Cádiz and the most unique venues for it.
And if you want us to help you achieve a unique and stylish beach wedding, write to us at Perfect Venue.
We're waiting for you!