If you're looking for ideas for a marriage proposal, you can't miss the marriage proposal in a Madrid restaurant for a Portuguese couple. Initially, it was going to be in Retiro Park! But in the end… everything changed.
It was raining non-stop in Madrid, so we had to work quickly to change the location.
In the end, the groom managed to kneel down in a restaurant full of pink flowers, lights, wrought iron gazebos, arches, and even trees inside. (Yes, we know the most spectacular venues in the capital).
In this article, we'll tell you how this emotional marriage proposal unfolded and how we organized everything to set the scene.
It's time to get some ideas for yours!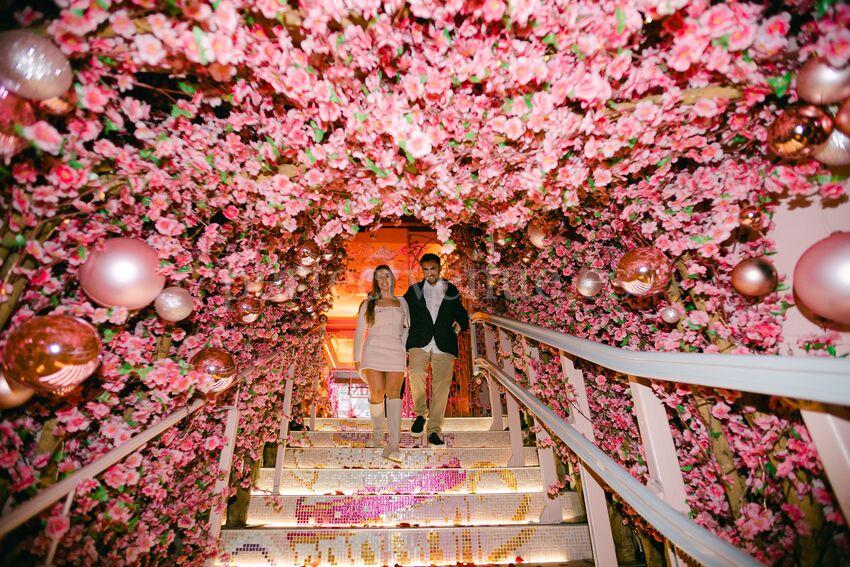 Madrid, the favorite city for marriage proposals
Today's groom proposed to his girlfriend in a Madrid restaurant, in the middle of their vacation in this country, so that the bride wouldn't suspect anything, since they would go to a restaurant like any other day. So that when she least expected it… he would propose to her!
And while we're on vacation, it's a perfect time to carry out the marriage proposal, as we're very relaxed and there are so many stimuli that it's very difficult to suspect anything.
A change of plans in record time
For this marriage proposal, we had everything prepared: it was going to be in Retiro Park, with a violin playing, rose petals, letters with MARRY ME written… But the weather didn't allow it!
It was raining so much in the capital every day of their vacation that we had to change plans at the last minute. The weather didn't give us a break!
We immediately contacted the groom to propose other indoor venues such as hotel rooms, restaurants, etc. Antonio, the groom, liked the restaurant we suggested so much that he didn't think twice and we got to work.
In the end, everything went perfectly and the couple was delighted, and no wonder, because the venue was full of pink flowers, lights, wrought iron gazebos, arches, and even trees inside. It was truly charming!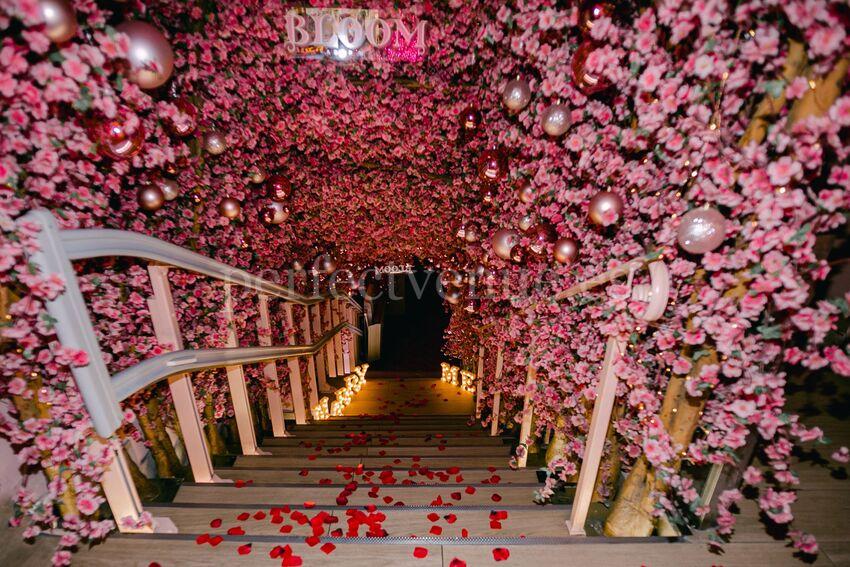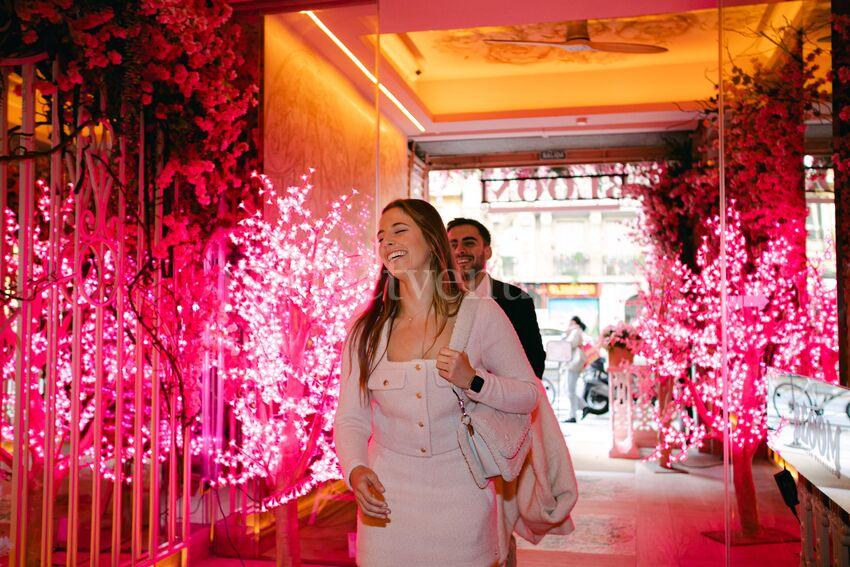 The time had come to propose
Upon entering the restaurant, the bride found many photos with emotional descriptions, and at that moment she understood what was happening. Antoniol proposed, she said yes, and they stayed for dinner at the same restaurant of the proposal.
And let's face it, what is a celebration without food? Nothing! So after the "I do," it was time to sit down and enjoy a succulent menu and an exquisite toast with wine.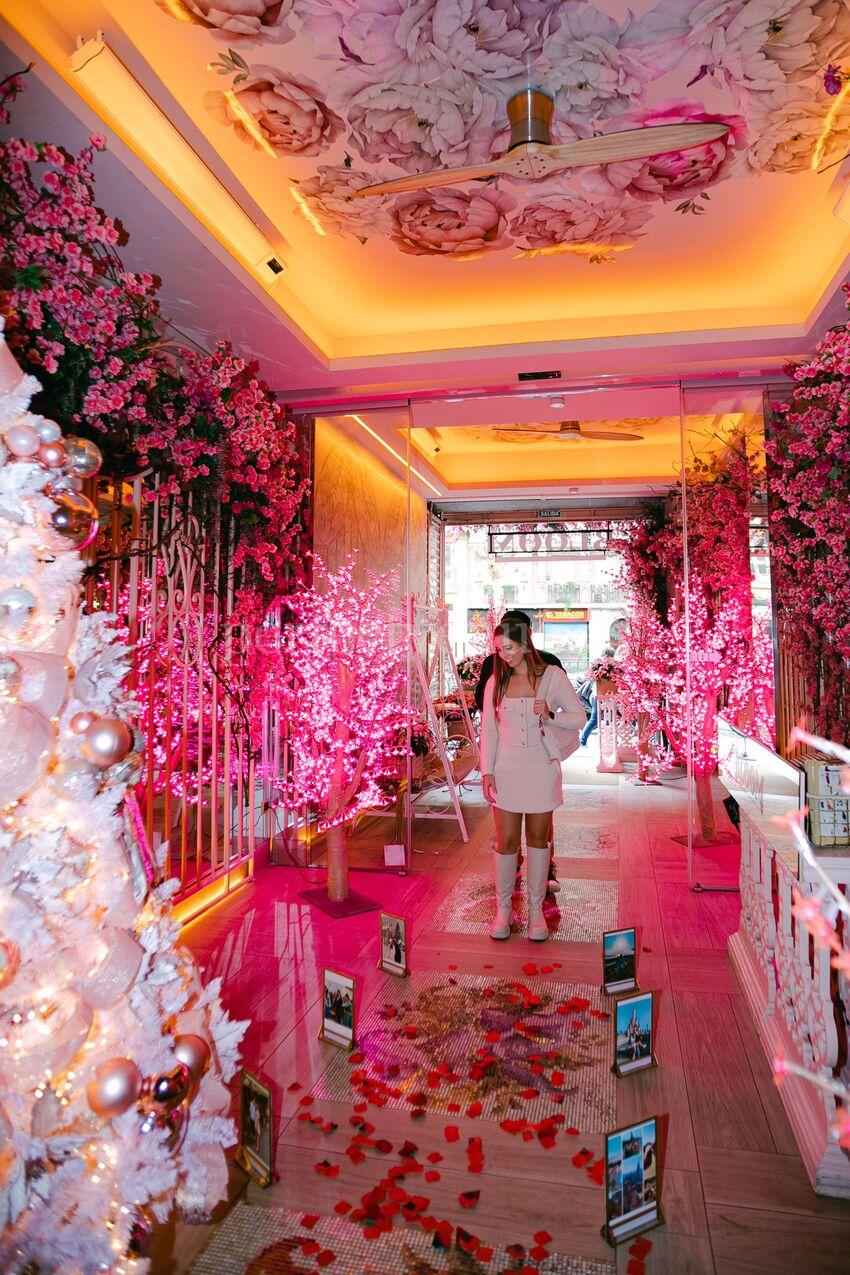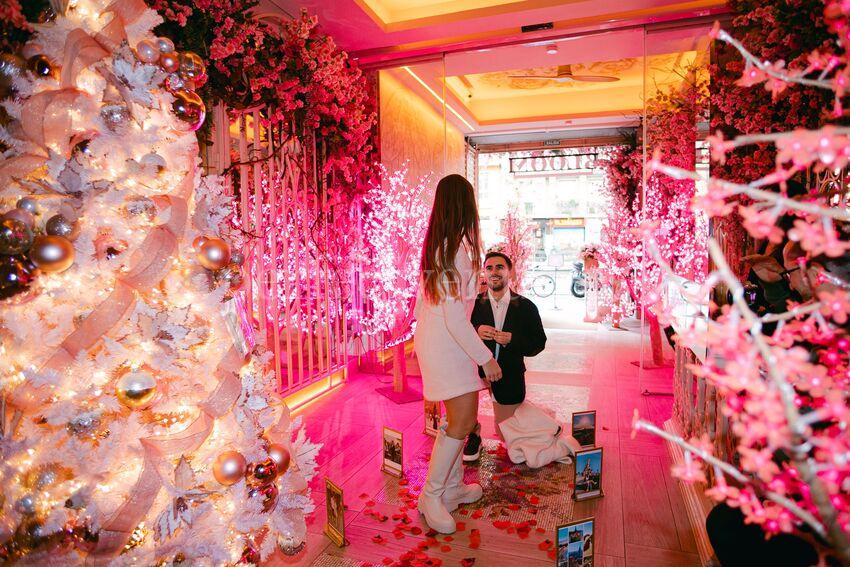 A decoration that left her speechless
When the bride entered the restaurant, she found a lot of red rose petals along the staircase of the restaurant, as well as letters that spelled out her boyfriend's desire to marry her: Marry me.
It should be noted that in this case, the violin could not play in the restaurant, but since the restaurant has its own music, they deducted the price of the violinist and prepared the songs that were going to play on the restaurant's sound system.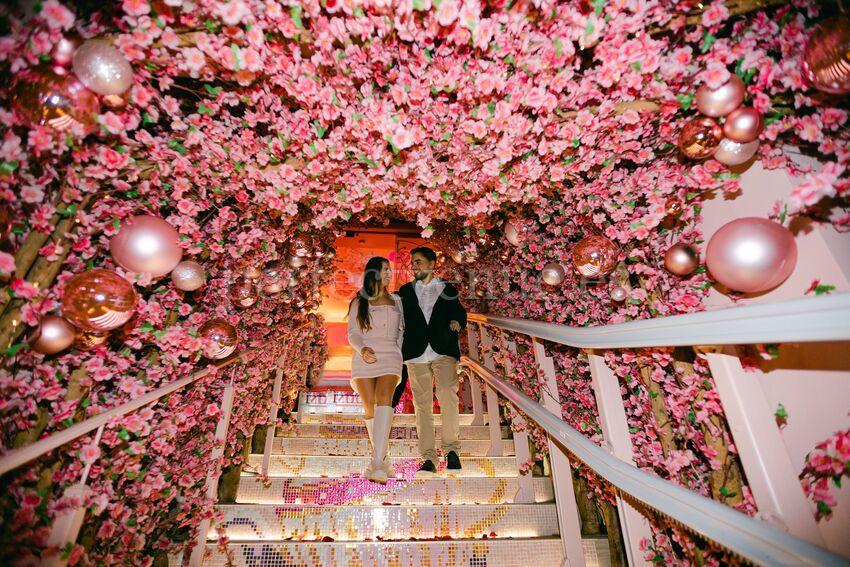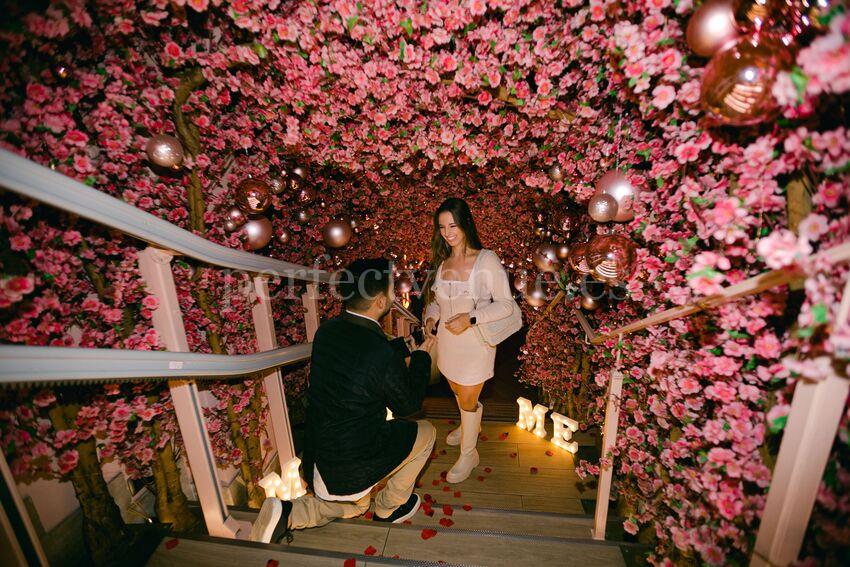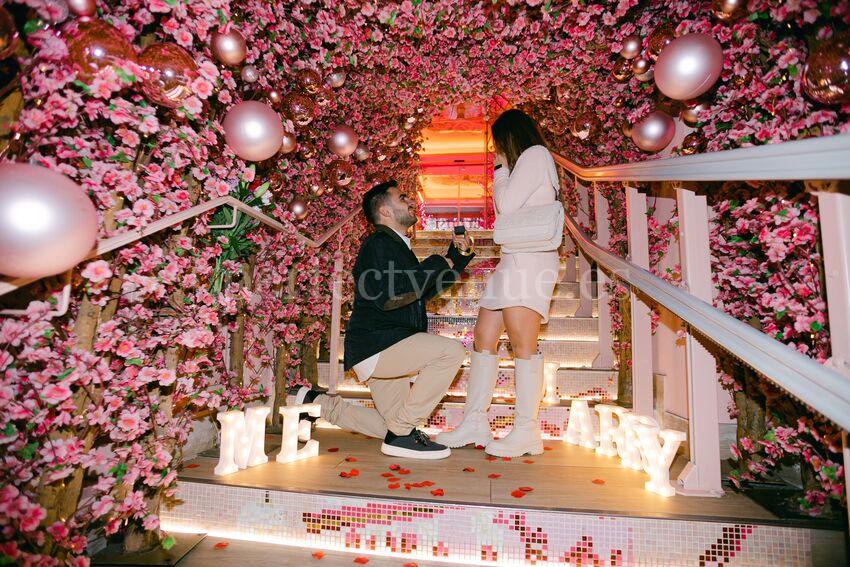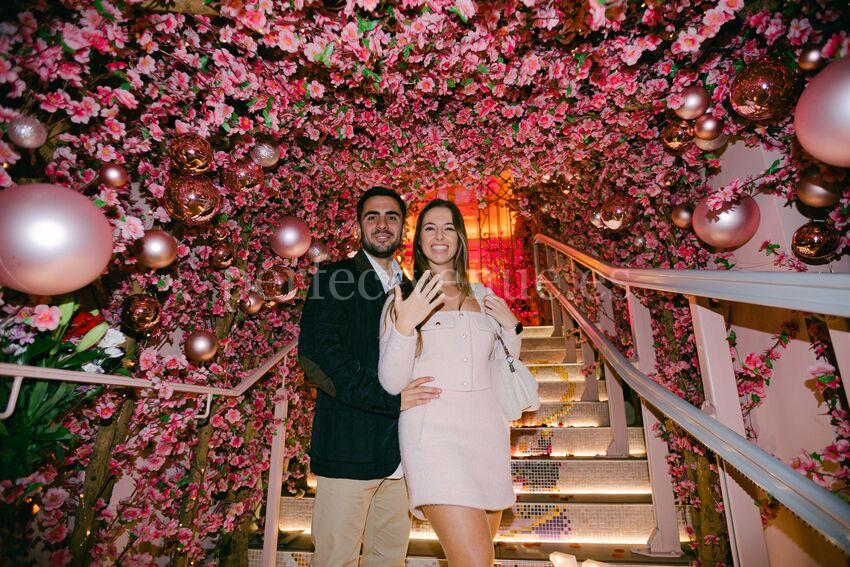 Great professionals took care of everything
As soon as the groom mentioned that he wanted to surprise his girlfriend, Natalia Ortiz, the organizer of the proposal, got to work with all the preparations to make the moment unique, and she certainly succeeded!
And you've already seen the photographic reportage that Tanya Vasiluk took care of! A true camera professional.
The couple couldn't be happier after experiencing everything and seeing how well everything turned out.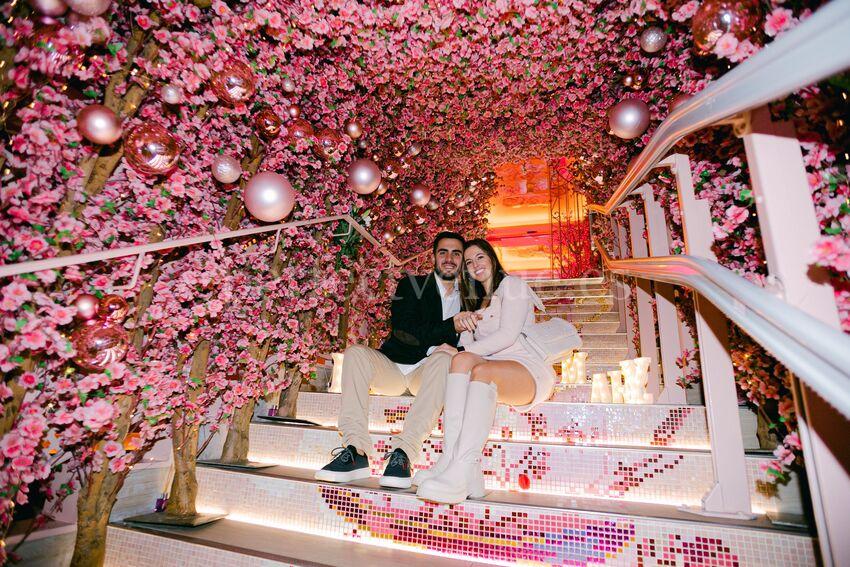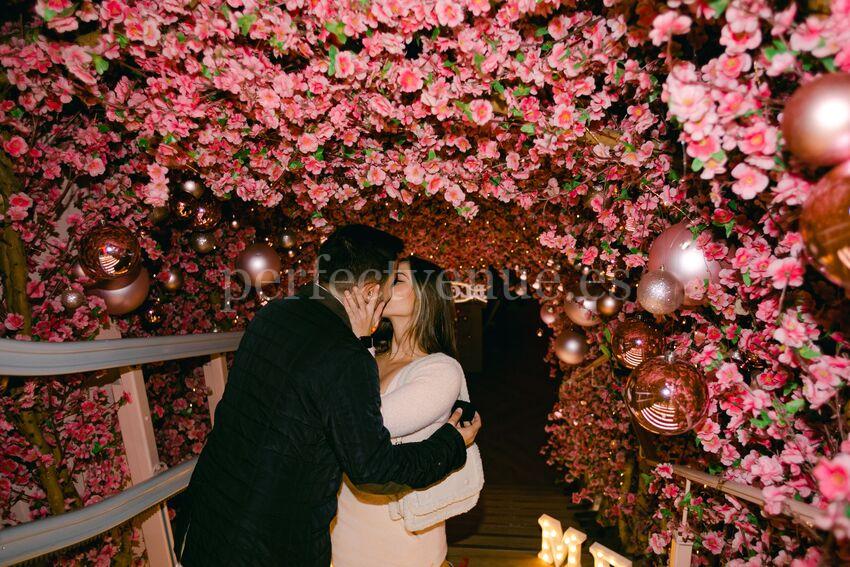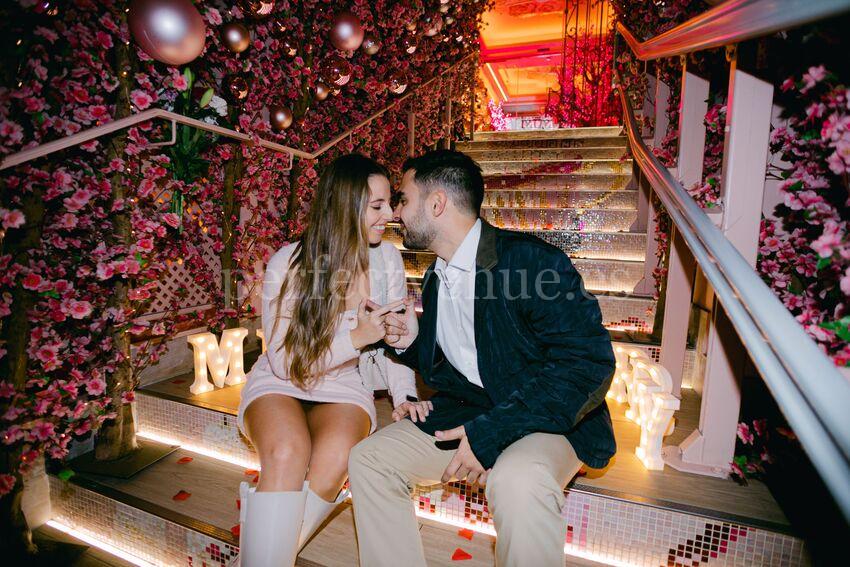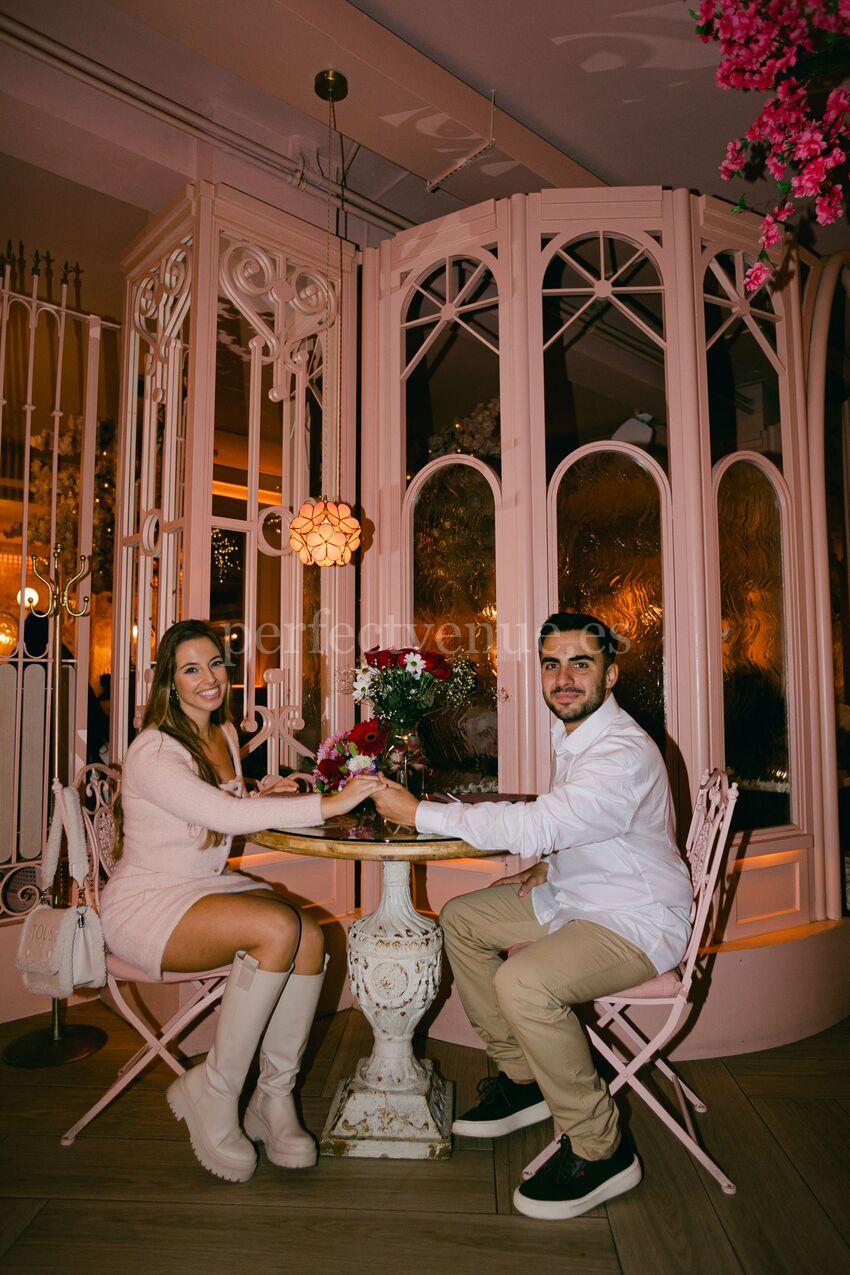 If you also want a movie-like proposal, don't miss these Perfect Plans: a marriage proposal with a private chef at home, a marriage proposal in a private castle, a marriage proposal with a flashmob, a marriage proposal in a winery with wine tasting, a marriage proposal with a show in the air, or a marriage proposal in Mallorca.
Contact us at Perfect Venue, and we will get started on your proposal! We are at your disposal to listen to your dreams and desires and try to offer you the most perfect plan to make your dream proposal come true.