Because there is nothing more special than getting all your loved ones together to celebrate the arrival of a new baby in the family, and even more so if it is in one of the best christening venues in Barcelona!
What is it about this provincial capital that makes it so appealing, its dream castles, its delicious restaurants, its luxurious hotels or its huge estates? We're sure it has something to do with it!
That's why, in this article, we've explored all the cardinal points of Barcelona to bring together this guide to the most unique places for you to celebrate a stylish christening. You won't know which one to choose!
But we guarantee that each and every one of them is luxurious, exclusive and unique, and your guests will never experience a christening like this one!
Stay until the end and tell us which ones are your favourites. Shall we start?
Best venues for christenings in the North of Barcelona
This stately home built in the 12th century is made up of more than 40 hectares and 30,000 m2 of beautifully manicured gardens. In addition, the estate boasts elegant decoration, charming corners, two heliports, a capacity for 500 guests and gastronomic proposals from all over the world.
Built on the site of an ancient Roman villa and restored in the 14th century, this castle retains many elements of its original construction. Its spacious central hall can seat 150 guests, while the garden can be used for an aperitif or cocktail party, where there is also a marquee for 250 diners.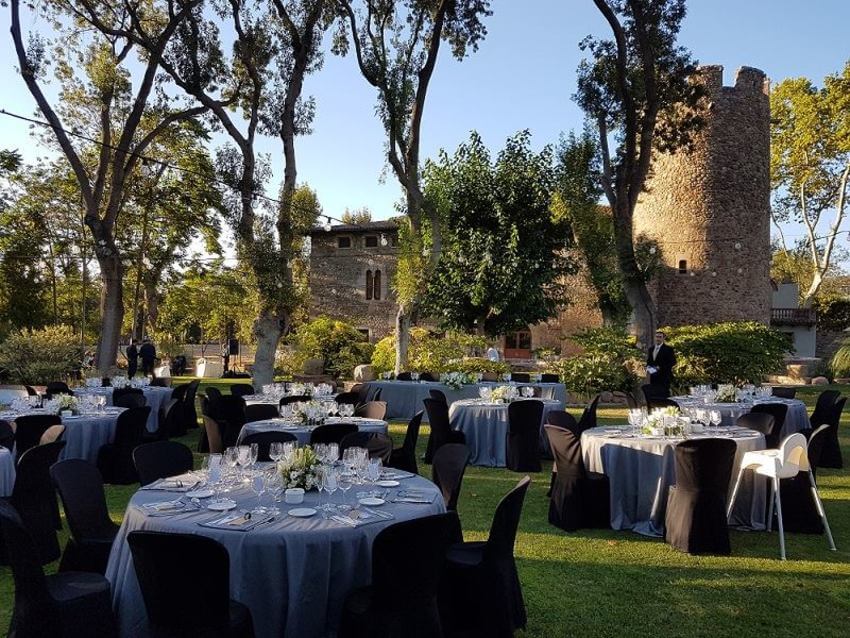 Cerdanyola Castle has beautiful gardens and an annex that has been renovated inspired by the French Orangeries, the annexes to French palaces and castles where large family celebrations were held. The castle has an old wine cellar that can be used for aperitifs, discotheque or as a space for smaller events such as a christening.
An incredible farmhouse with terraces and gardens perfect for open-air christenings in a natural setting. Inside this farmhouse you will find walls full of history and chandeliers that flood its six rooms with warmth, which can accommodate up to 200 diners.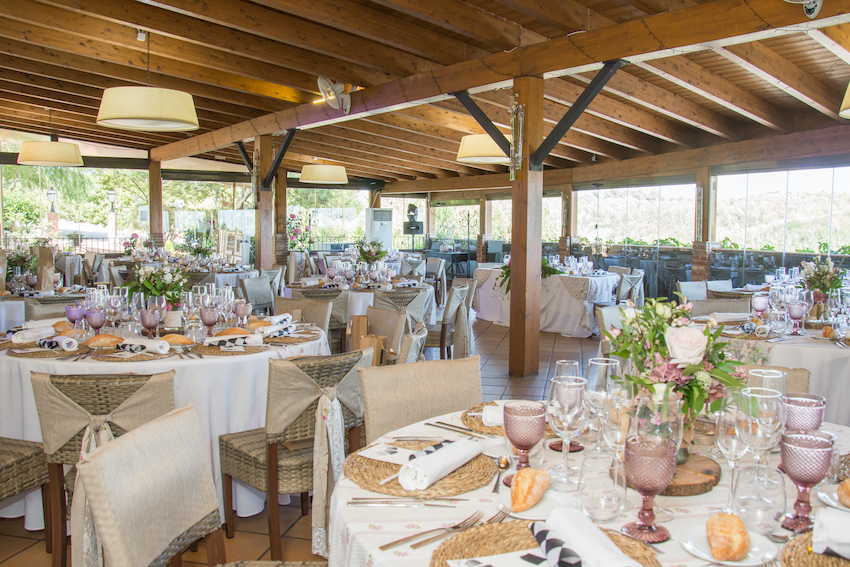 With privileged views of the Montserrat mountain range and surrounded by impressive vineyards and forests, this castle has incredible landscaped areas covered with vines and vegetation where you can celebrate your christening in the open air. It also has impressive indoor halls with a large capacity.
La Baronía Farmhouse
This farmhouse has large outdoor spaces with fabulous lighting. It is also a perfect place to take souvenir photographs. The building is surrounded by woods and nature and has magnificent views of the village of Sant Feliu de Codines and, on certain days, the Mediterranean Sea can be seen in the distance.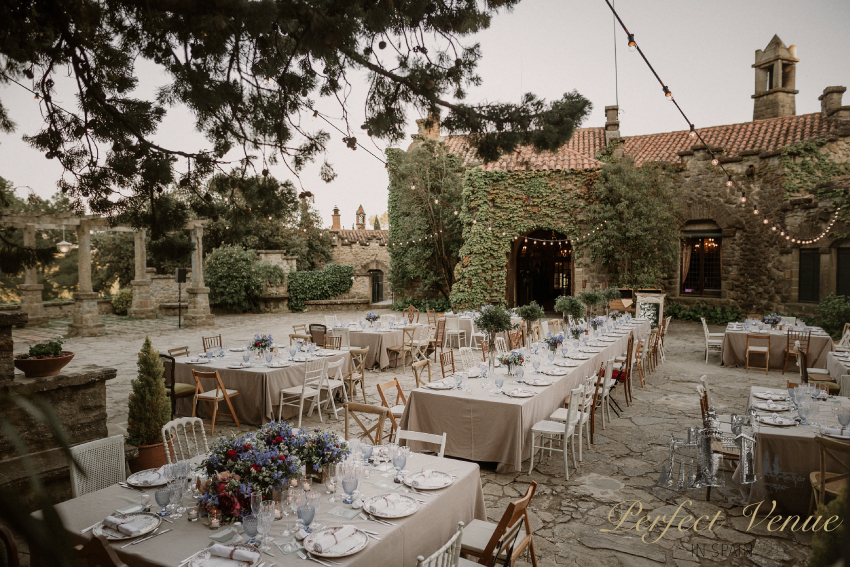 Best venues for christenings in the South of Barcelona
With Jordi Cruz at the helm, this restaurant with a glass pavilion with wooden latticework integrated into the garden, blends architecture and nature splendidly. The hotel offers personalised service and 15 luxurious, fully soundproofed rooms with avant-garde décor and the latest technical advances in comfort and technology.
Located at the end of the famous Tibidabo Avenue and with a large terrace with incredible panoramic views of Barcelona, this restaurant offers a spectacular setting in which to celebrate a christening, as it has great vegetation, a beautiful pond and a wide variety of menus that you can personalise and which are in charge of the prestigious Chef Joaquin Reg.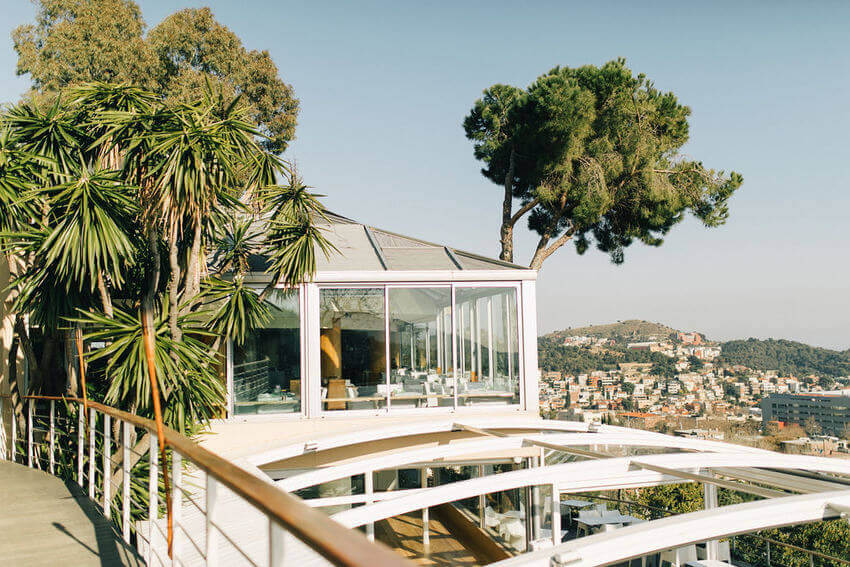 With a unique and very original façade, the Casa de la Seda features beautiful sgraffito pottery, spectacular mouldings, silk-lined walls and baroque-inspired balconies that complete a unique exterior. It has a main hall with capacity for 100 people in cocktail format and for 84 people if you prefer to celebrate a traditional meal.
The estate has indoor and elegant rooms available for christenings, although the gardens of the estate, known as the Monaco gardens, with more than 2,000m2, are the most special corner, which are located at the entrance of the estate and are perfect for holding an aperitif or setting up a marquee.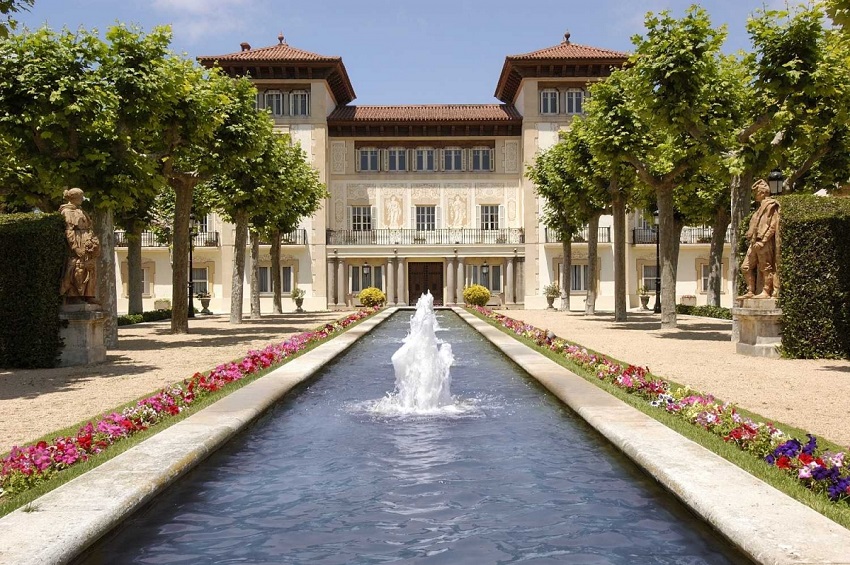 Best venues for christenings in the East of Barcelona
Castell Jalpí is a beautiful place to organise a christening, as the estate has beautiful facilities that are ideal for hosting this event. It has a restored interior and a large August Borràs hall with a capacity for up to 300 people. As for the gastronomy, it is based on Mediterranean cuisine and its dishes are made with the best quality ingredients.
Boo Restaurant & Beach Club
Located right on the beach of Nova Mar Bella, this restaurant offers exquisite Mediterranean cuisine prepared with fresh, quality products. The restaurant is a luminous space with spectacular sea views, chill out area, acclimatised and covered terrace, Beach Club, viewpoint, glassed-in dining room located on the highest part of the beach and adjoining terrace.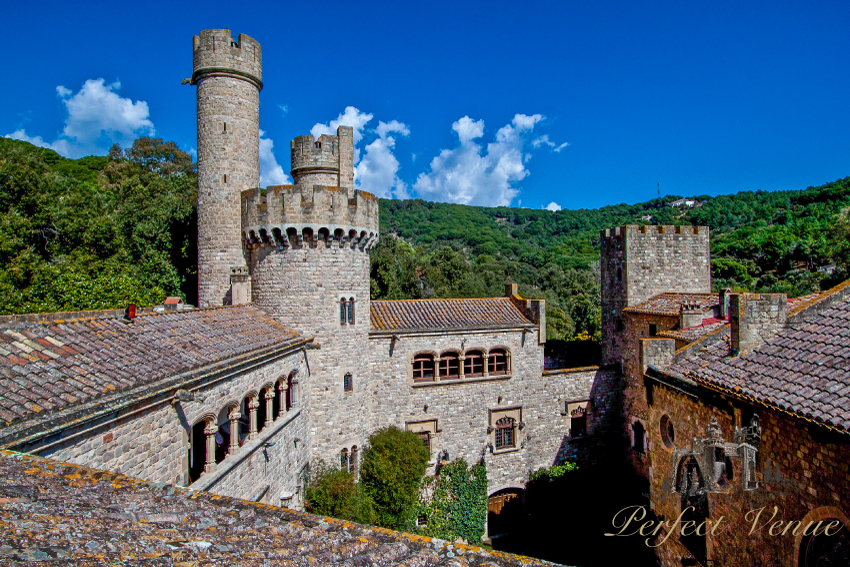 In the 3000 m2 of Santa Florentina, the religious symbols, the marble pieces on the floors, the carved wood on the ceiling, the wrought iron, the stained glass windows, the ceramics and the sculptures stand out. The castle also has a large hall decorated with antique furniture and great works of art as well as a wine cellar, a beautiful inner courtyard and a pleasant open-air porch.
Best venues for christenings in the West of Barcelona
An establishment that has large and spacious rooms to celebrate a large-scale banquet. It offers an incredible Mediterranean-style gastronomic offer, in which the variety and high quality of all the raw materials stand out. It also has 130 rooms and flats perfect for guests to spend the night.
Marcel Lounge – Baptisms in front of the sea 
Lounge with natural light located on the ground floor of the Hotel, with views of the sea and the golf club. It has a private outdoor terrace ideal for celebrating the christening of your son or daughter with all your loved ones in an intimate way.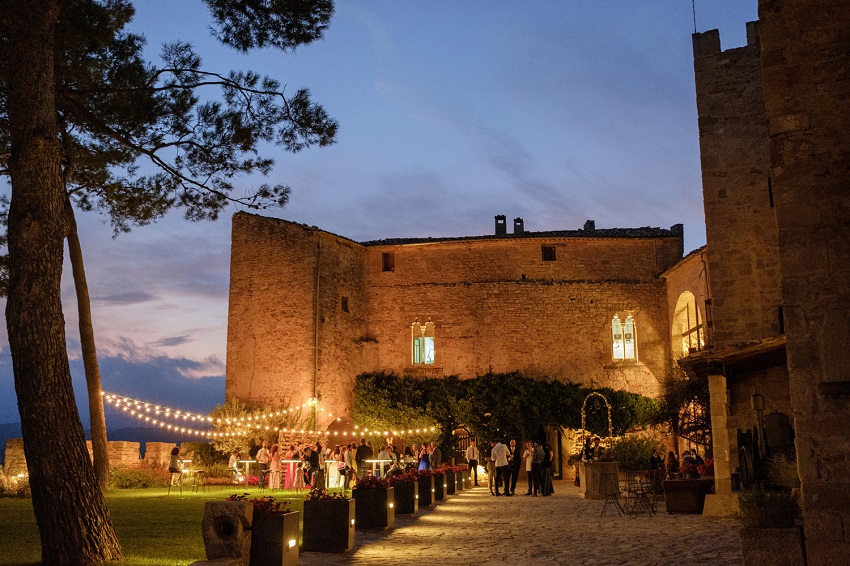 This typical Spanish house of 400 m2 with a capacity for 22 guests and 9 bedrooms is perfect to celebrate christenings with a unique charm, surrounded by nature and isolated from the noise of the city. It has beautiful interior areas decorated with exquisite taste, porches where you can celebrate a pleasant evening and a large garden with an infinity pool and tropical vegetation.
Castell de Tous
With a capacity for 200 people, this stately stone house, whose most outstanding feature is its impressive square tower, still maintains many of the most curious corners of the period. Such as the garden area, where you can hold your christening in the open air or in the completely restored interior space with spectacular views.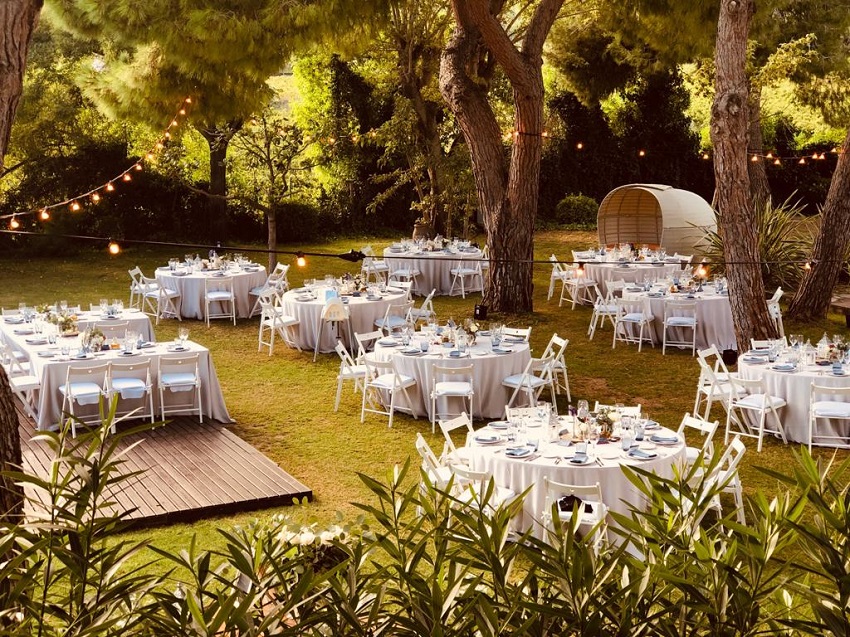 This old manor house still conserves the original elements of the period, specifically from the 16th century. It has a pleasant fireplace, a cosy library, large, high ceilings and its own decoration. But the garden, more than 20,000 m², is the best place to gather your guests and enjoy the ponds, the patios, the fountain and the barbecue.
With indoor and outdoor spaces where you can celebrate fairytale christenings, the Casa del Mar is a unique and well-connected setting in which the Aire Space stands out, where you will find a large infinity pool. A perfect place to enjoy an aperitif and a pleasant reception with unbeatable views.
Villa Catalina Farmhouse
This luxurious modern villa is located in a beautiful valley with 400 hectares of secluded grounds that provide the space with complete privacy. It has 15 fully renovated bedrooms and views over the vineyards of the Penedés region, making the farmhouse an ideal location for a christening in Barcelona.
Victoria Farmhouse
This authentic Spanish house from the 15th century, has 4 bedrooms, two patios connected by a wine cellar, an infinity pool, private areas, a dining room with capacity for 28 people, an exquisite decoration, wooden ceilings, a large garden and an incredible vegetation surrounding the house.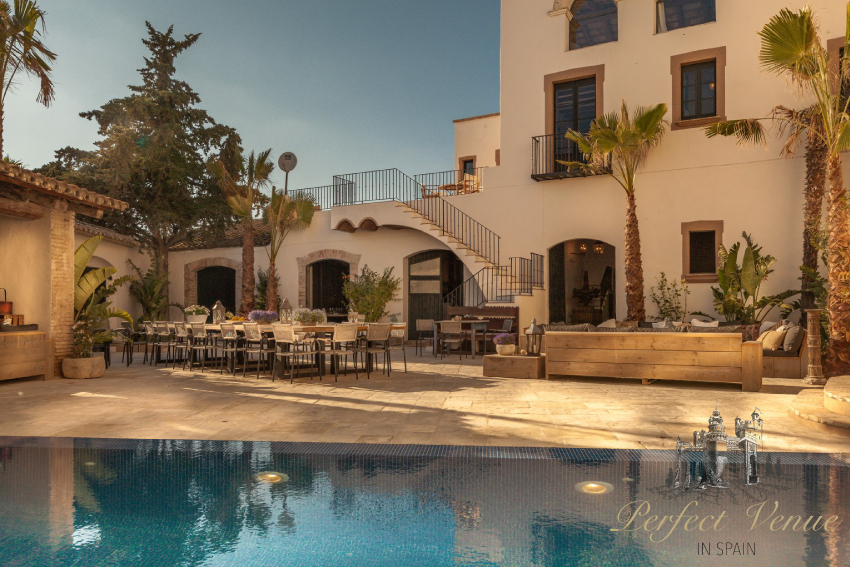 Now you know the best places for christenings in Barcelona! So, all you have to do is come to Perfect Venue so we can get started with all the preparations.
Did you know that we can get the original water that John the Baptist used to baptise Jesus of Nazareth? So that you too can baptise your baby with the Holy Water of the Jordan, with a numbered certificate of authenticity from the Catholic Church in Jordan.
Amazing, isn't it?