Full of fun, excitement and overflowing hope, this is what Elena and Felipe's Spanish wedding was like, who decided to start their new married life in beloved Extremadura.
Despite being one of the least explored areas of the country, it is a region of contrasts and history, of meadows and prairies that are merged with mountains and valleys, where its greenish and yellowish colours stand out and a place where magical sunsets happen.
That's why this bride and groom couldn't find a better place to say "I do", and we're sure that, from now on, neither will you.
Therefore, if you and your partner are also getting married soon, and you want a different wedding, surrounded by your loved ones and you need ideas and suppliers to get married on the border of Portugal…
Don't miss what's coming up below!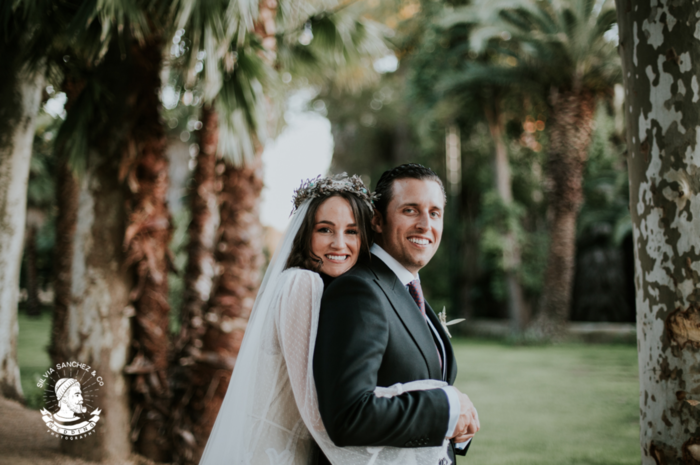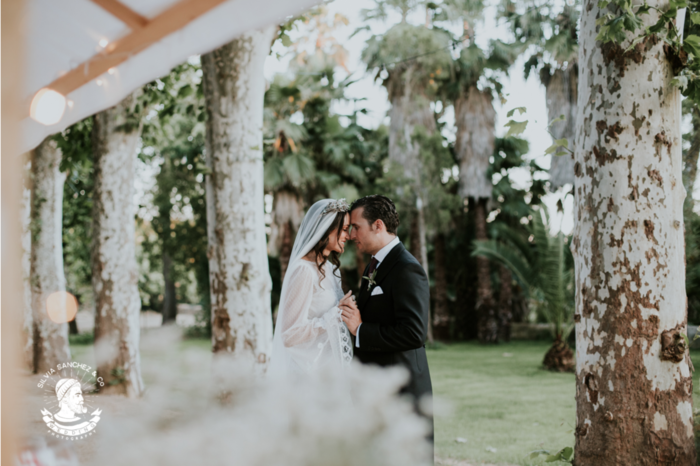 Outdoors and among palm trees
This is what the chosen venue, the Finca Los Fresnos, was like, located on the outskirts of Badajoz, on the road between Valverde de Leganés and Táliga.
This country house, a former aristocratic residence dating back to the 19th century, was owned by some of the couple's friends, Francisco, Marina and Fátima Cacho Terrón, the only heirs of their uncle Luis, to whom his grandfather Ramón gave these lands after having acquired them throughout his life.
Elena and Felipe couldn't have chosen a more idyllic venue for their wedding, in the middle of the countryside, with natural light and even a beautiful bullring with a perimeter hall!
This couple got married just outside the chapel that the estate has, the altar was placed at the doors and the ceremony was held outside.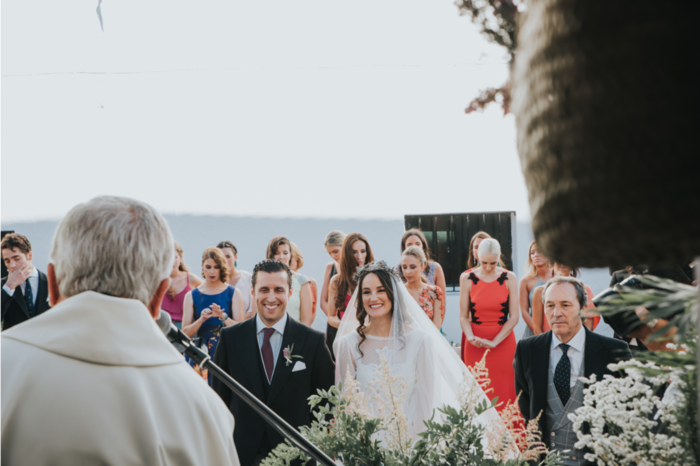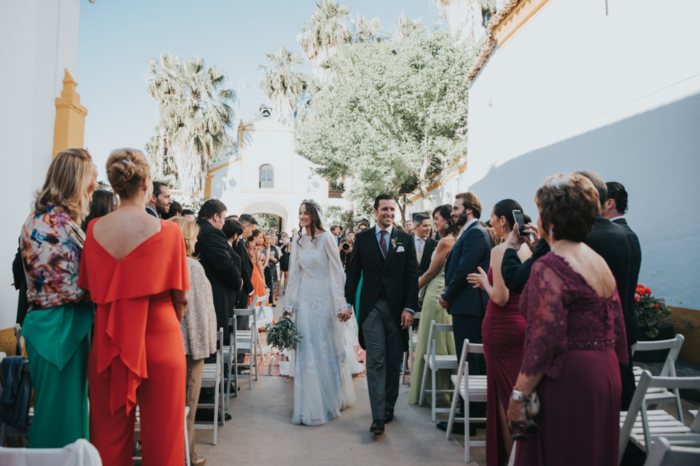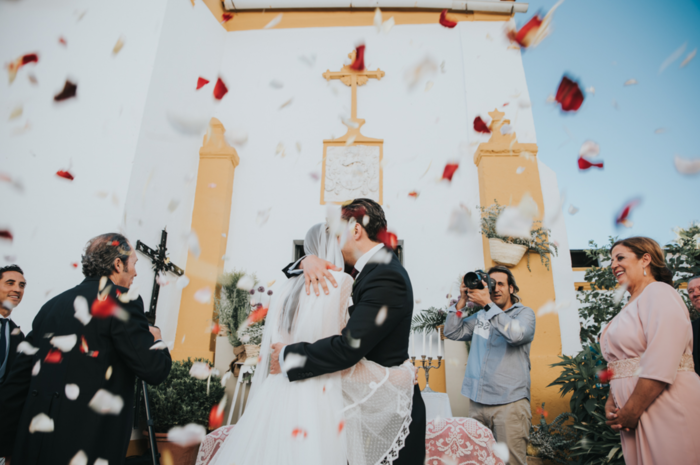 Olive tree leaves, sprigs and alliums to decorate
With a creation by Sally Hambleton, the bride showed off a country-style bouquet, consisting of small freeze-dried olive branches, small flowers and sprigs.
Hand in hand with the decoration of Mirka Eventos, the venue took shape
Like the venue of the ceremony, where white chairs and a large carpet were placed as a path, all of the venue was filled with olive branches and the flowers of the bouquet.
At the end of the ceremony, the bride and groom were sprinkled with white and red rose petals, an alternative to the traditional rice, and headed to the welcome cocktail, which was commissioned by Santa Teresa Catering.
Upon arriving at the cocktail venue, the first thing the guests noticed was the seating plan, which was placed on rustic wooden stairs, accompanied by flowers in galvanised pots and vases on the glass floor with ornamental garlic, also known as alliums.
Esparto baskets with more flowers were also placed on the ground giving a charming touch.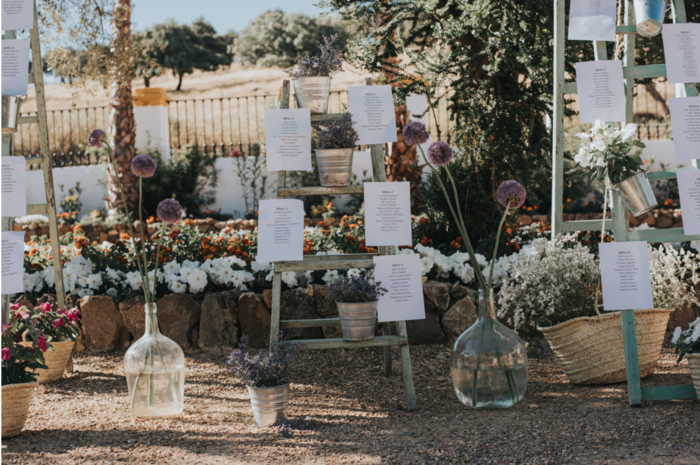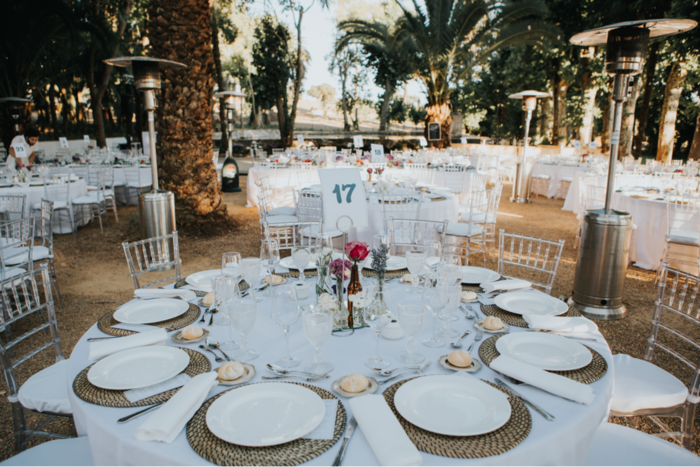 A feast to remember
As for the reception tables, they were round and on them were white tablecloths, wicker placemats, silver cutlery and simple centrepieces, simple for being made up of small bottles with some flowers.
But the greatest touch of romance and magic was provided by the light bulbs, which crossed between the trees of the venue like garlands.
Freshness and good taste in outfits
The bride chose a dress from El Atelier de Helena Mareque, and this bride, being so cheerful, friendly, spontaneous and fun, could not choose another brand except this one, since it has the most fresh, tender and casual dresses.
And that's what Elena's dress was like! A design full of illusion lace, embroidery and lace edging that gave a bohemian touch.
It is worth highlighting the long train, the open back and the romantic style materials, such as plumeti tulle.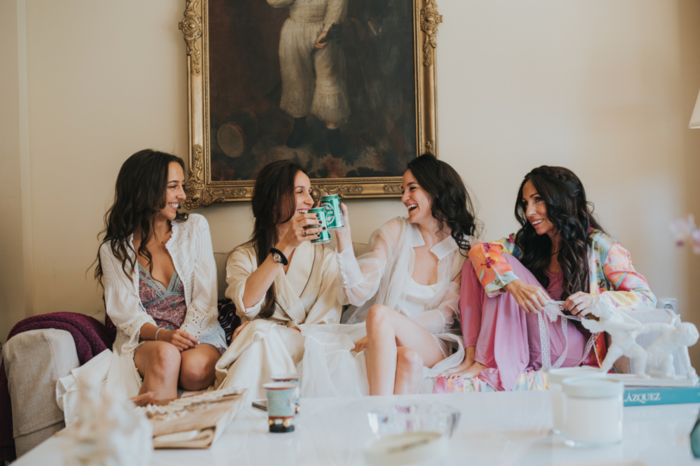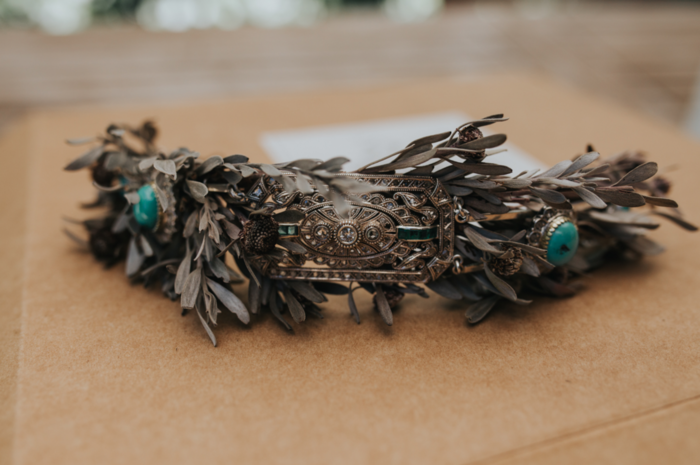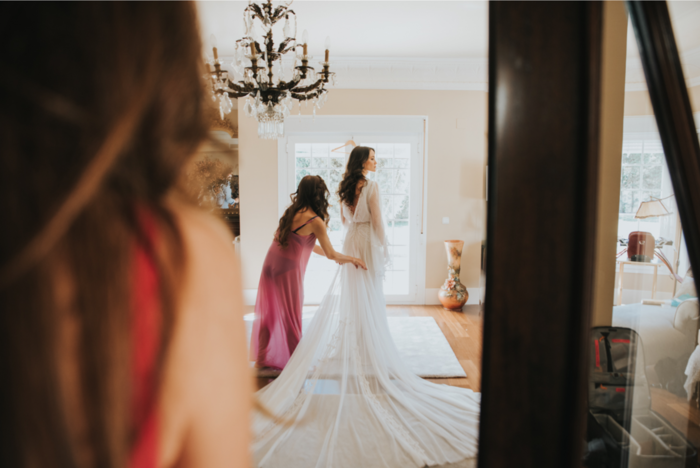 For footwear, the safe bet was to slip on some Miu Miu shoes
And that's what she did, she put on some black satin sandals tied at the ankle, with a platform heel to be able to wear them all night and show off a dazzling heel made up of crystal appliqués.
The hairstyle was simple, since it consisted of loose waves, but over this a veil and a movable tiara divided in three parts were placed, with turquoise, diamonds and an emerald in the centre. The tiara is a family heirloom that has been passed down from generation to generation and that will undoubtedly continue to do so!
We can't overlook the engagement ring, a Bárcena jewel that consisted of a rectangular vintage silver ring.
The groom also stood out
On the other hand, Felipe wore a black morning suit on top with a white shirt, matching the handkerchief, as well as an olive leaf brooch, just like the bride's bouquet,
He also chose to wear a navy-blue tie with red polka-dots, a waistcoat and to stand out he wore striped trousers.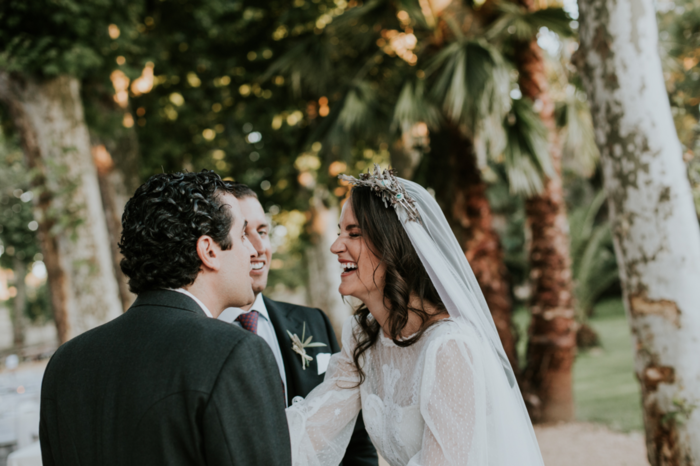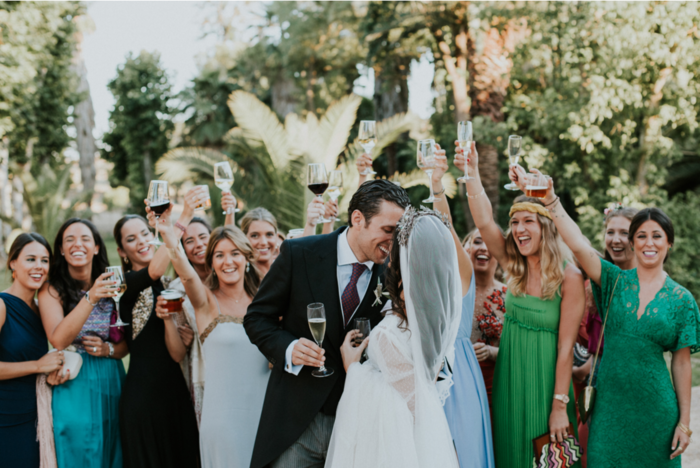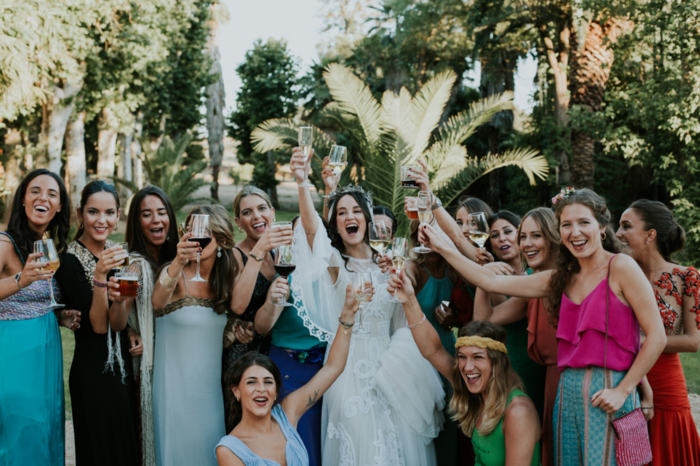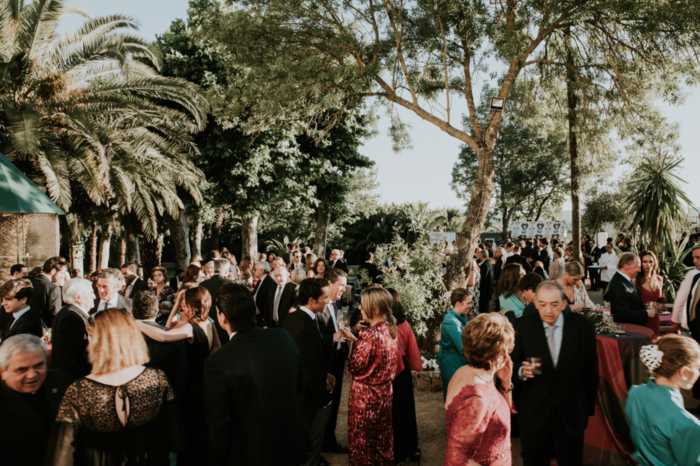 Drinks, music and a lot of dancing until dawn
Do you know someone who does not like a fun party? If the answer is yes, surely they were not among Elena and Felipe's guests!
Because everyone danced until dawn, toasted and celebrated the love and new life of the newlyweds.
Need ideas for the after-party? Then don't miss this other post!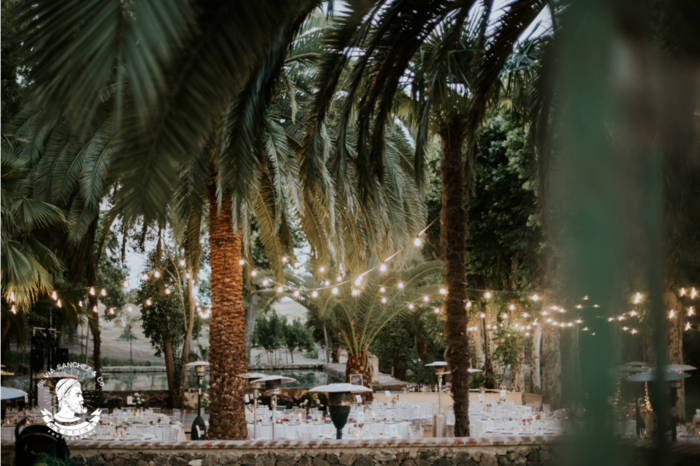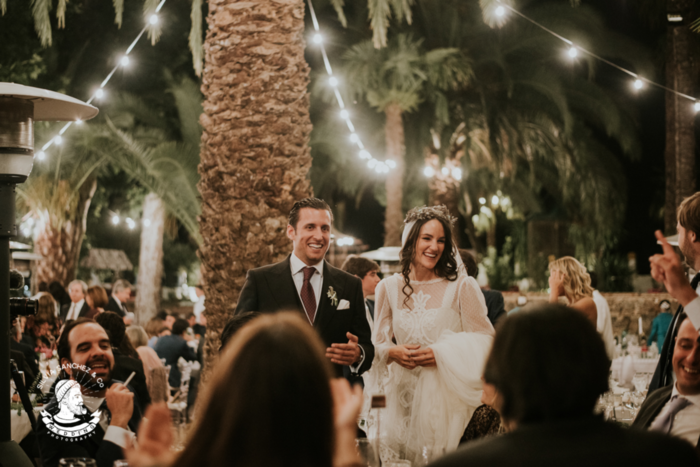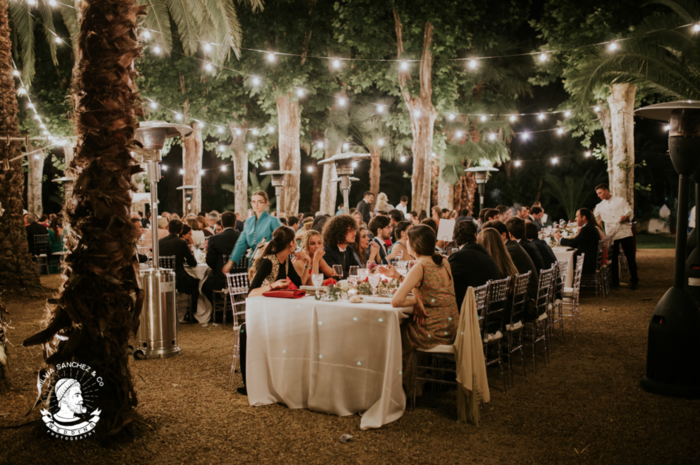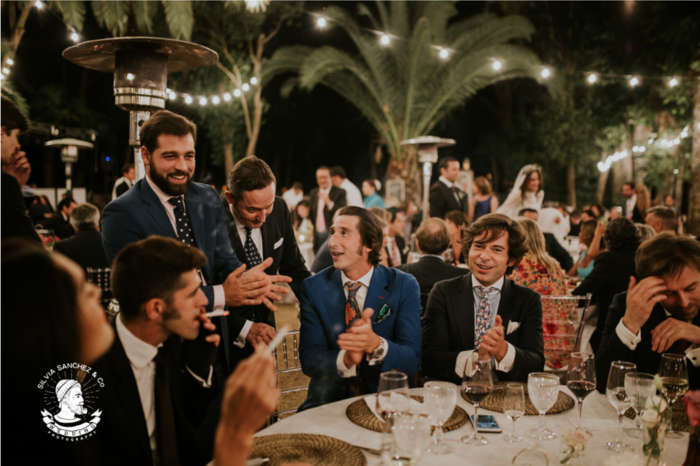 Photos full of feeling and spontaneity
All thanks to the photographer Silvia Sánchez, who made the photo and video collection putting all of the feeling that this wedding deserved. Have you seen what a spectacular result she achieved? 
At Perfect Venue we couldn't like them more! And, although we have already finished telling you what this wedding was like, on our website you can find many more to inspire you!
We're waiting for you!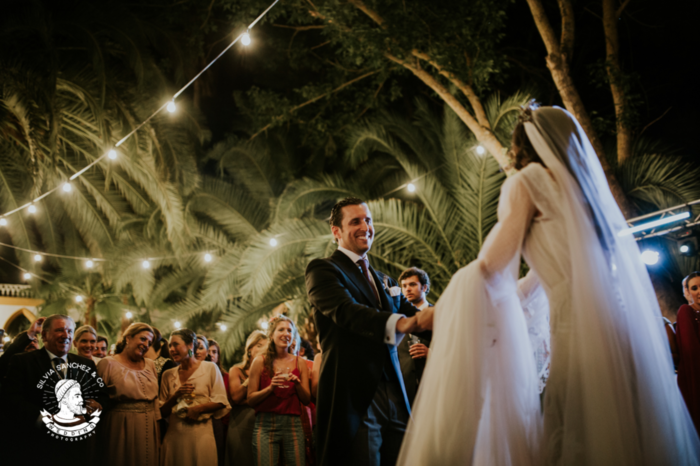 Wedding team:
Photo & Video: Silvia Sánchez // Venue: Finca Los Fresnos // Wedding dress: El Atelier de Helena Mareque // Shoes: Miu Miu // Catering: Santa Teresa // Flowers for bride: Sally Hambleton // Decor: Mirka Eventos