I'm getting married, great! But I couldn't do it without my bridesmaids!
Among the thousands of things that you need to think about for your wedding, almost every bride wishes to have bridesmaids, to the point where it has almost become a tradition.
You've already chosen the closest people in your life to be your bridesmaids, but now you face a new dilemma: What are they going to wear?
Thousands of ideas for the dresses and the colours that will suit your bridesmaids perfectly begin to come to mind.
As the new trends for wedding dresses, flower decorations and menus are evolving, so are those of bridesmaids' dresses. Do you know what they will be for 2023? That's what we are here for!
We have come to your rescue and present to you all the bridesmaids' dress trends of 2023 to reflect all of your friends' personalities and styles.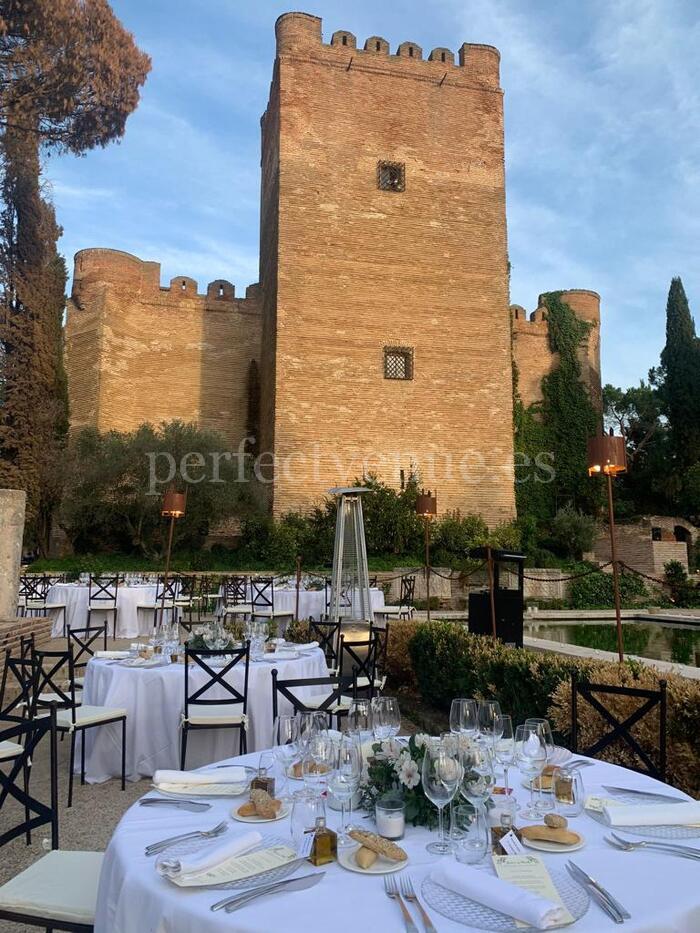 The brides are still in command
So, don't you worry, because in 2023 the brides will continue to be the ones who decide upon the best options for their bridesmaids.
As a general rule, you should choose the colour palette and the silhouettes that work best with the style of your wedding, and then the bridesmaids will be able to choose between them.
In 2023 there is so much freedom of choice! Meaning that everyone will be able to choose a dress that best matches their complexion, skin tone and aesthetic so that everyone feels comfortable and happy.  
A mixture of textures, why not?
Before now, we were accustomed to dresses made of just one material, but now the possibilities are endless and brides can choose dresses made from a range of textiles such as silks, mesh, tulle… a total mixture!
The new bridesmaids shine the brightest
Goodbye to the simple and the sensible, now your friends will shine bright with their sequins, crystals and jewels, whilst maintaining a subtlety so to not detract attention from their bride.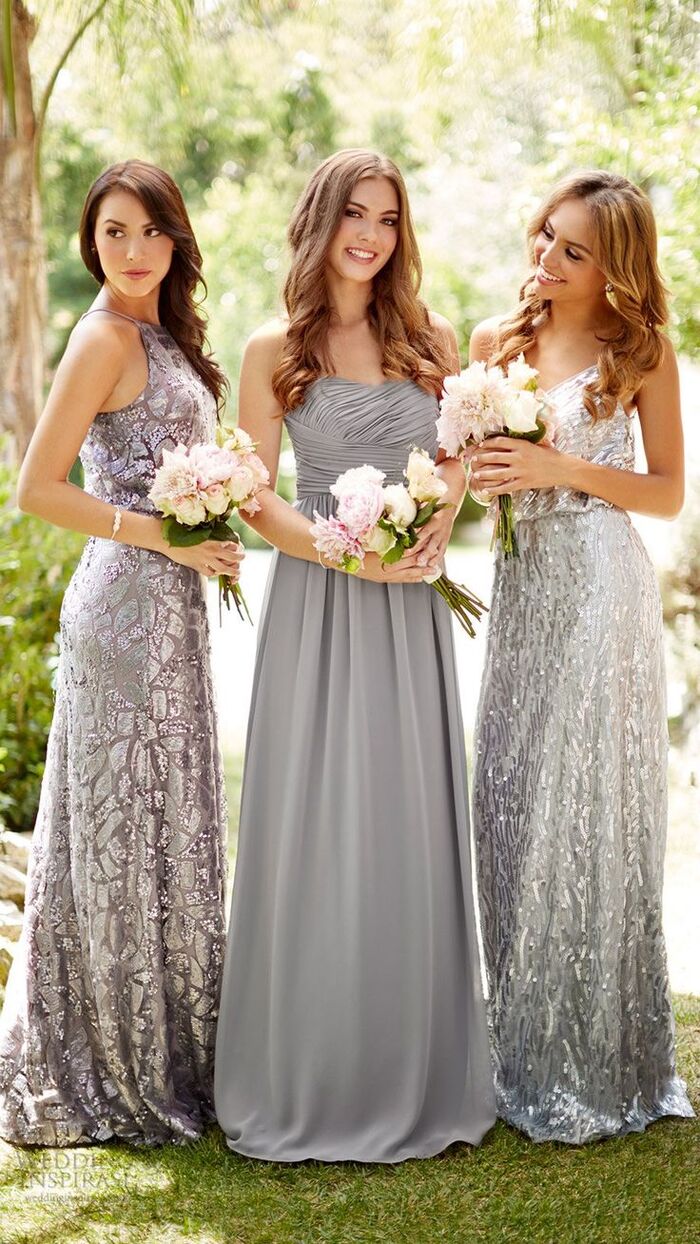 The wrap dress, the new design
With varying lengths and textures, the wrap dress has become by far one of the most fashionable styles, as whilst it is not only irresistible, it suits almost any figure beautifully and is slimming for every body type.
Co-ords
Among the newest styles we have the co-ord, such as a matching skirt and top that together look just like a dress. Skirts with a slit are a must!
This could be both of the same colour or each of the same colour palette. Do you dare to dress your bridesmaids in this way?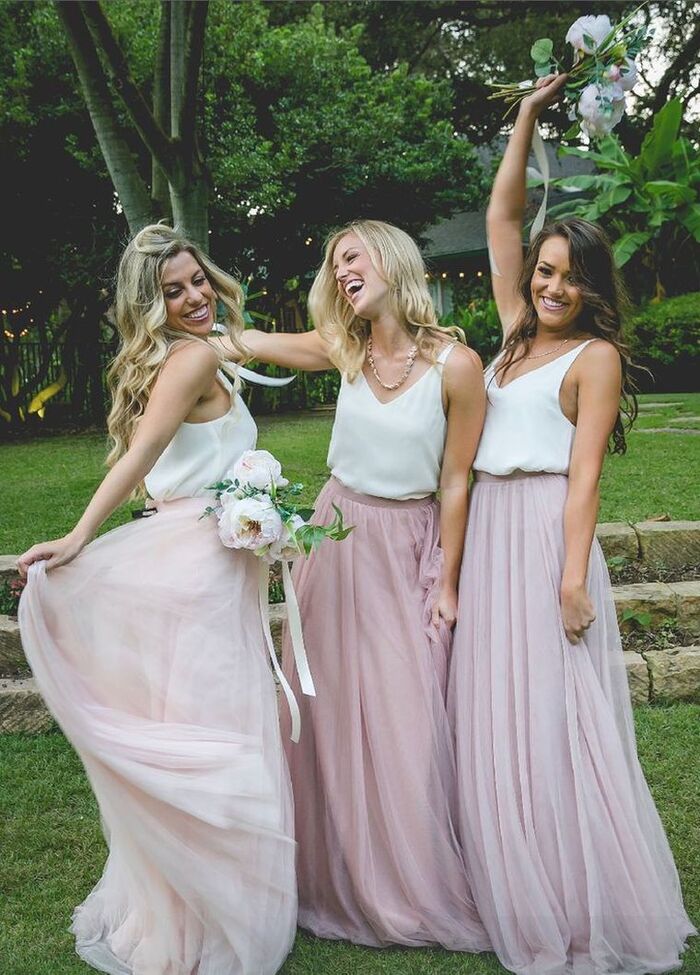 Halterneck and off the shoulder necklines
Asymmetric necklines are the new trend. Necklines that reveal the shoulder add a sensual effect, as well as halternecks that cross at the chest, giving an original and unique touch to the traditional style. These necklines suit all bust sizes!
Tribal Patterns
This 2023 isn't about being plain. This year we add patterns, including those that reflect a tribal style.  An ethnic, Aztec or Egyptian pattern that form symbols and meaning without a particular design.
So, what colours will the bridesmaids be wearing in 2023?
It is important to know which colours are in style according to your wedding, if it is at night or during the day. This year you can use different colours, mix tones, or simply follow the same colour range. Just make sure you think about which colours will match the theme of the wedding!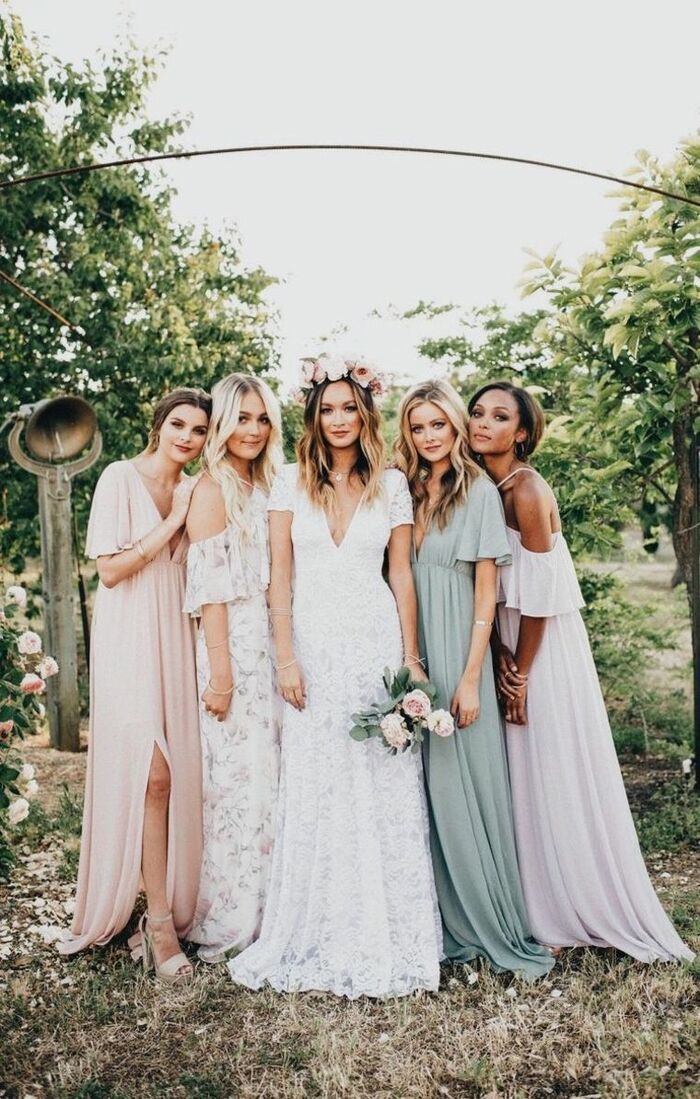 Passion wears red
If there is a sexy, striking, daring colour it without a doubt has to be red, a safe option for any woman as it works with any skin tone, neckline and style. No one says no to a passionate red!
Dressed mysteriously in black
Oh goodness…black? But yes! You've read that correctly; the darkest colour is a great choice in 2023. Extremely feminine, elegant and simple, it suits everybody in the world. It is a must in any wardrobe! This way all your bridesmaids will be pleased, since they can wear it again and again, and if you think about it, the bride will undoubtedly stand out the most.
Now yellows bring you good luck
If your wedding is in the spring or summer or 2023, yellow will become your favourite colour. In your colour scheme as well as the flowers. It will be boldest with gold, your bridesmaids will be akin to rays of sunshine. Happiness and colour are essential for a wedding!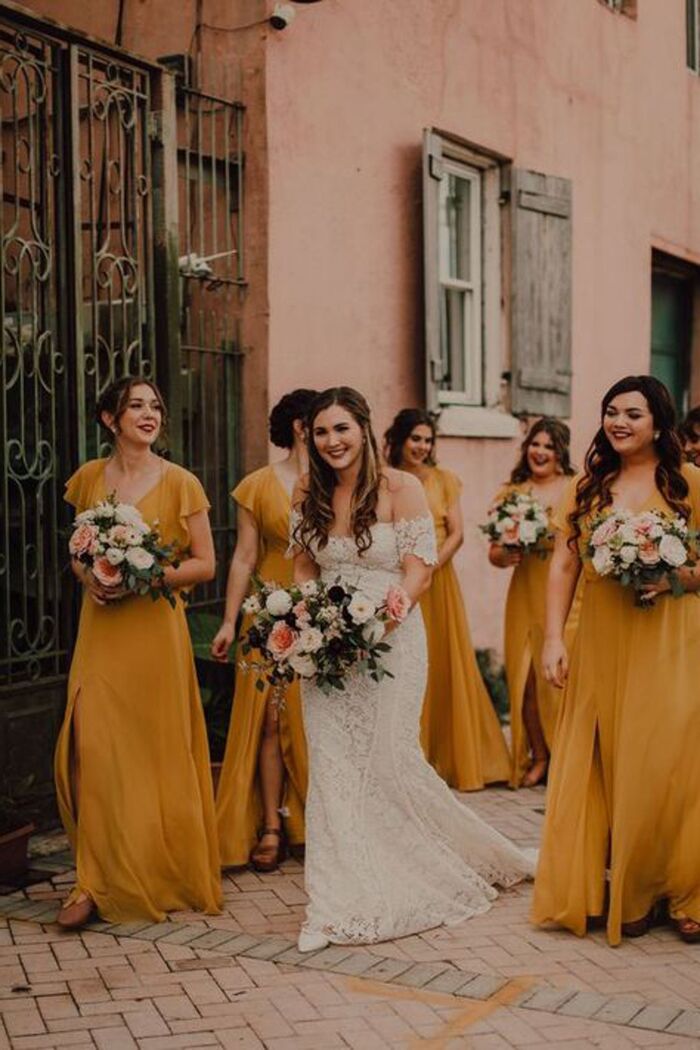 Clay and soil, not just for the scenery
Cinnamon, coffee, browns and earthy tones are returning, ideal for dark or lighter skin tones and giving a natural touch to any wedding in the countryside or mountains. The bride that chooses these tones will know that it will be perfect for her outdoor destination wedding.
Green, how much I love you
In an endless number of tones such as emerald, turquoise and aquamarine, greens become the freshest and most natural colour. And with colours such as grass green, with your bridesmaids you will be able to create a harmonious and elegant occasion for any night-time wedding. Although, if you opt for this colour for a day wedding, it should be with brighter colours and with lighter materials!
Grapes from the vineyard, on dresses too!
The colours that come back in style year after year will continue to make their mark in our 2023 weddings will be purples, lilacs and grape, which reflect the natural beauty of every woman and work perfectly with type of accessory. This of course, would look best for a night-time wedding, and even more so if you get married in a vineyard. Original, right?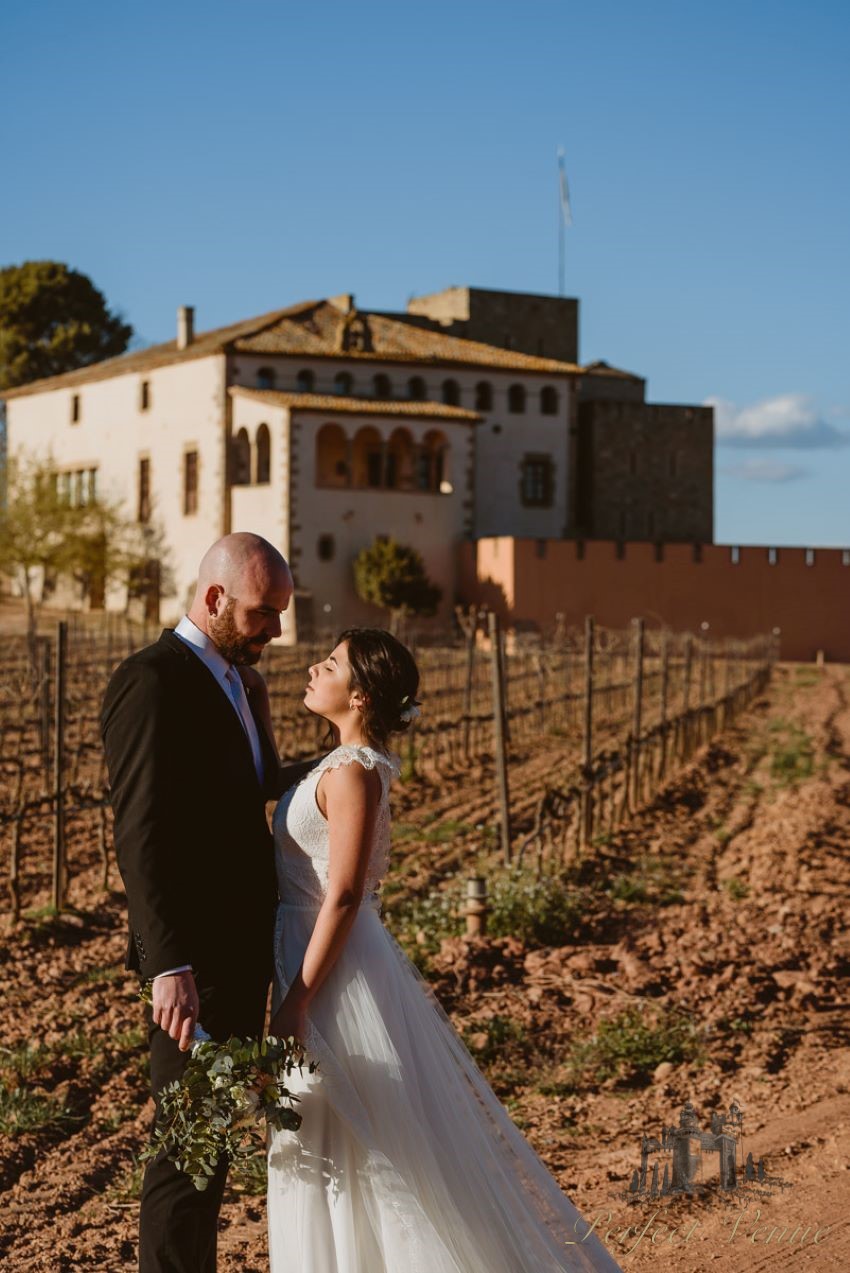 Living Coral, the survivor, refuses to disappear
Already common in skirts or dresses, the colour coral will draw attention in any type of wedding and at any time of day, as it is welcoming and warm for the day and elegant and glamorous for night. Even more so in an outdoor wedding!
The power of blue
This is the go-to colour if you're getting a headache, and this colour will always be your salvation because blue dresses will be in style for many years to come.
A very versatile and adaptable colour for any environment at any time of the day: outdoors, indoors, at night, during the day… It always looks great! And, if you didn't know, in 2023 we will be seeing cobalt blue everywhere.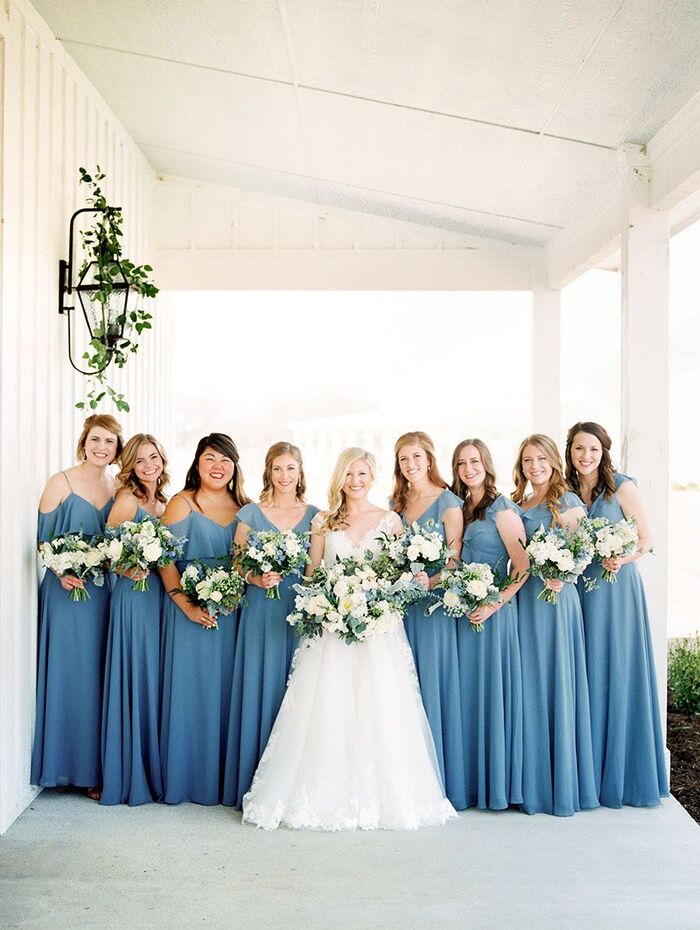 Pastels are also perfect for the colours
It is clear that when something works well, there is no need to change it, and for this reason pastel colours continue to feature in the best bridesmaids' dresses for 2023. A variety of the most romantic and elegant colours that will highlight both the bride and the wedding decorations.
Of course, after this post, you already have a much clearer idea of which trend you are going to adapt for your own bridesmaids for your wedding this year. Bright colours, asymmetric necklines or patterns? In cobalt blue, emerald green or bright yellow?
Tell us about your own ideas! At Perfect Venue, we are ready to help!