Are you looking for inspiration for your wedding in Ibiza? Well you are in the right place! Because here we will show you Cara and Tom's wedding at a restaurant in Ibiza with beautiful exteriors.
You already know that destination weddings are really popular, so these Londoners that love Spain and the Balearics chose Ibiza to celebrate their destination wedding.
Don't hesitate to find out more about Ibiza, what makes it so famous and which are the best places to get married in it?
Keep reading to find out how Cara and Tom's crazy and original wedding went: with fruit, animal heads, BBQs and refreshing baths…
Use these ideas!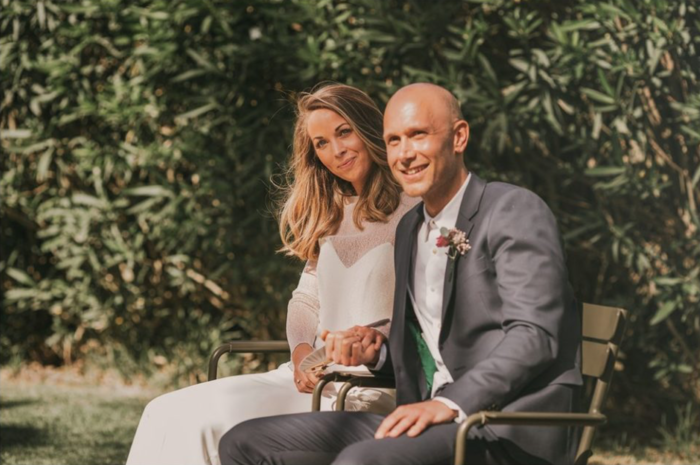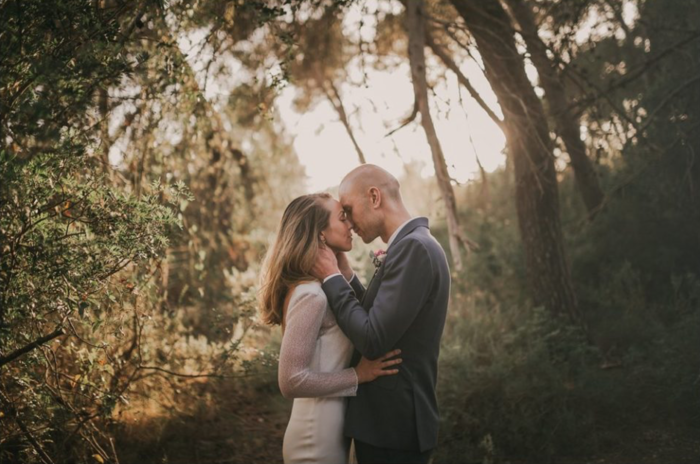 Ibiza, a safe bet for saying "I do"
Ever since ancient times, Ibiza has been one of the most popular places for weddings, and not only in Spain, but across the world! Yes, an infinity of tourists visit it to say "I do".
And that's what this couple did, making their dream a reality and getting married in crystal waters, magical sunsets, a mediterranean climate, sun rays that make your skin golden, mediterranean food, cultural heritage…
Ibiza has it all and Cara and Tom knew it!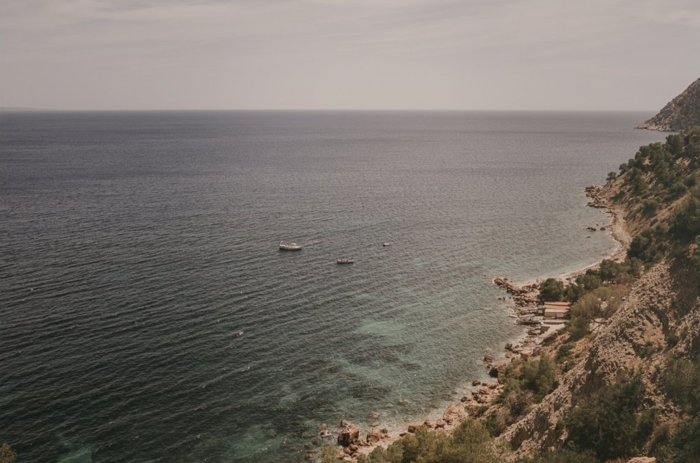 Pre-wedding plans
The couple couldn't do anything better at their wedding in Ibiza than enjoying the moments before the wedding day, relaxing with their guests bathing in a cove of the island.
Everyone enjoyed the fresh and crystal waters, creating memories together surrounded by boats, rocks, nature, sarongs, kimonos, bikinis and refreshments. Because fun, relaxation and leisure goes perfectly with weddings!
During this moment, the couple also had a small altar made from lots of golden balloons in the shape of a heart and two emmanuelle-style chairs.
Pre-party before the big day
They couldn't forget the party before the ceremony! So the best DJ was in charge of livening up the music and making everyone dance amongst beach umbrellas and cocktails.
We fell in love with the bride when we saw her dressed in a white Ibizan dress with lace and fringes, ideal for an Ibiza wedding, life is good at the beach!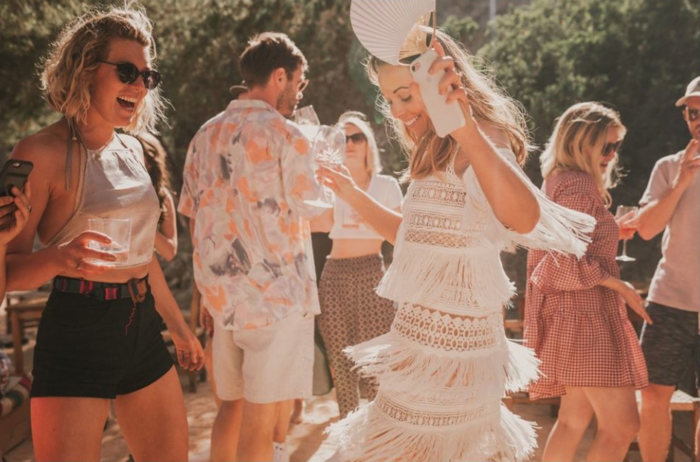 And, the big day arrived
Raco Ibiza in San Rafael was the chosen for the couple to become husband and wife, a restaurant with gardens, shades and a lot of charm.
Wooden chairs were placed around the venue underneath the shadows of the trees and rows of white flowers that went over the trunks for the ceremony, the place in which the guests could enjoy the beautiful words that the couple said.
The venue also has a pool of salty water ideal for resting, where the guests can enjoy tasty champagnes, wines, cocktails and natural fresh fruits, even having a fruit stall in the corner of the venue! Original, tasty and healthy.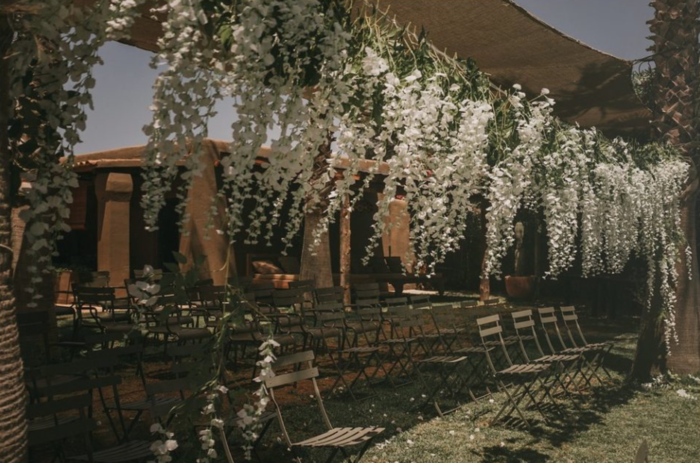 Guests participate in the decor
As you read it, the actual guests were in charge of decorating the banquet at this wedding in Ibiza. And we loved it because it is original! They were in charge of covering the tables in flowers that matched the bride's bouquet, which was made up of white roses with panicles and green leaves.
The banquet, available beside the pool on long tables, was formed by grilled food, since the chef was doing a BBQ to serve the guests, a typical Spanish cuisine like sausages, chicken thighs, etc. to the fire.   
The altar was very simple, since it had an open door with golden balloons in the shape of a heart on both sides, placed above two figurines of tigers.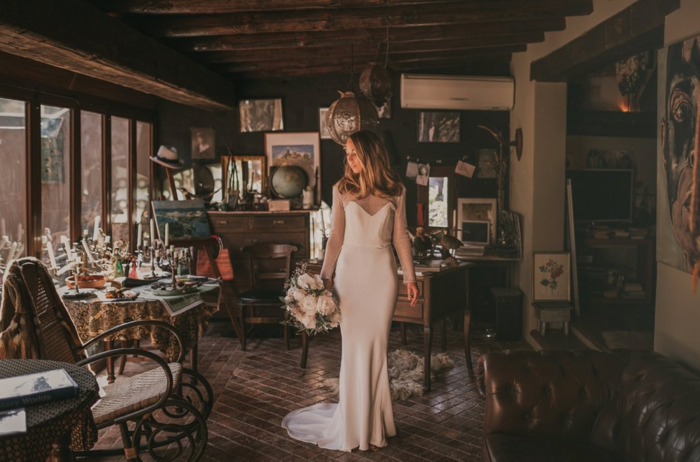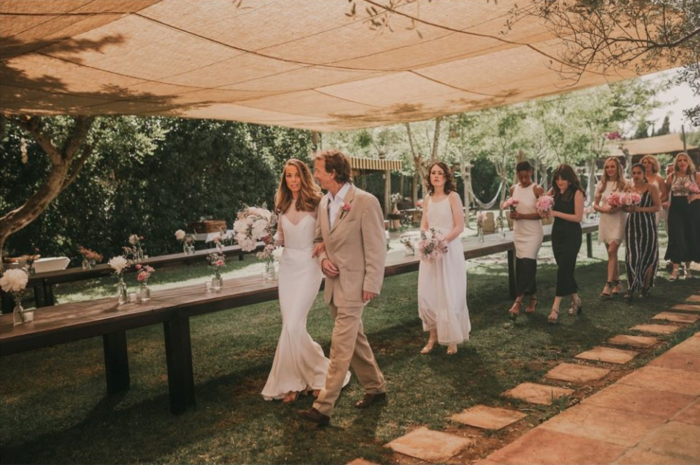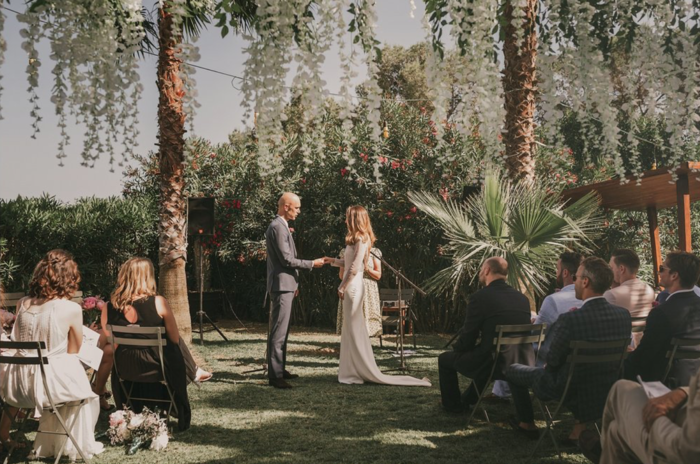 Preparation of the bride
The bride's dressing room was in one of our favourite parts of the venue, and Raco Ibiza has different areas for the couple that feel like home. 
One of these spaces, where she had her makeup and hair done, was full of animal skin carpets, wooden desks, animal heads, paintings, rocking chairs, a globe and easels with oil paintings. 
We love such original and different spaces!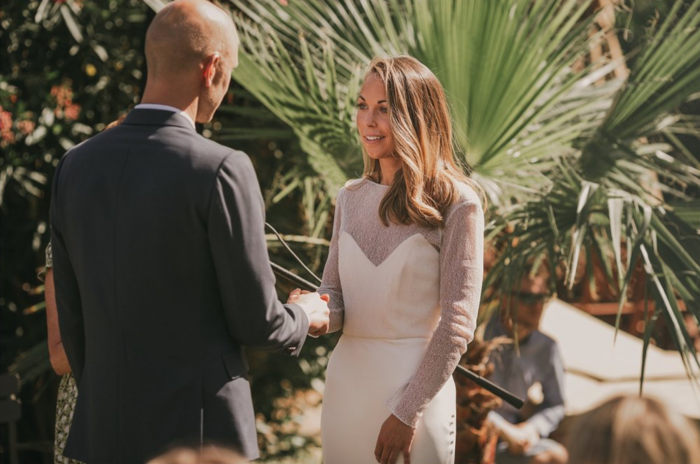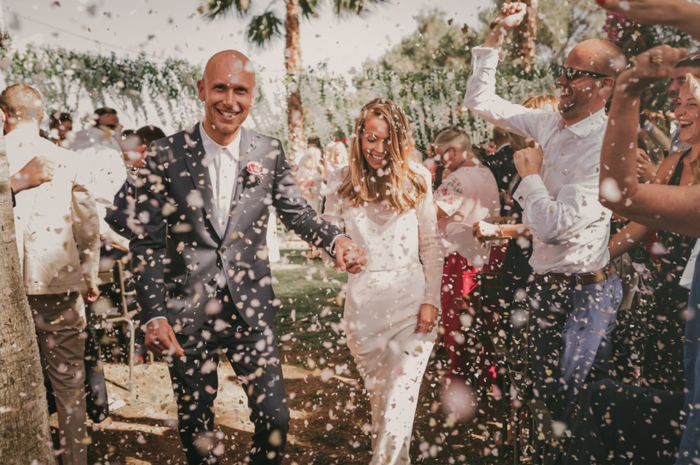 Sophisticated styles with Ibiza-style airs
The bride opted for a short mermaid-cut dress with a heart neckline and transparent sections formed by plumeti tulle, which covered the chest and arms and left her back open.
For her hair, she chose to leave it down and lightly curled, fresh and free for the Ibizan day.
The groom wore a carbon grey suit accompanied with a blue shirt, a brooch of wild flowers and dark brown suede loafers.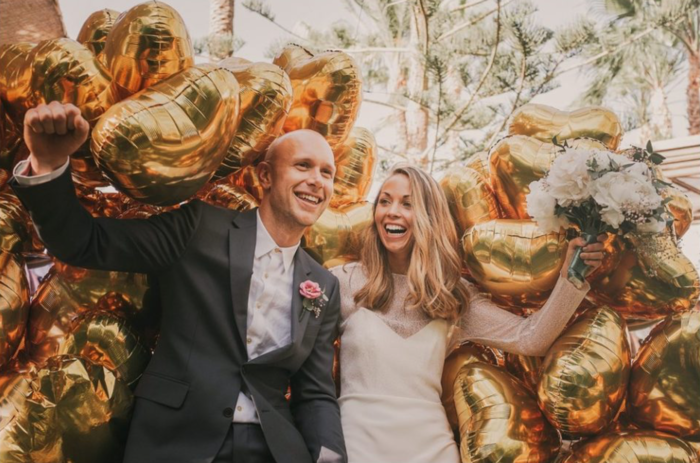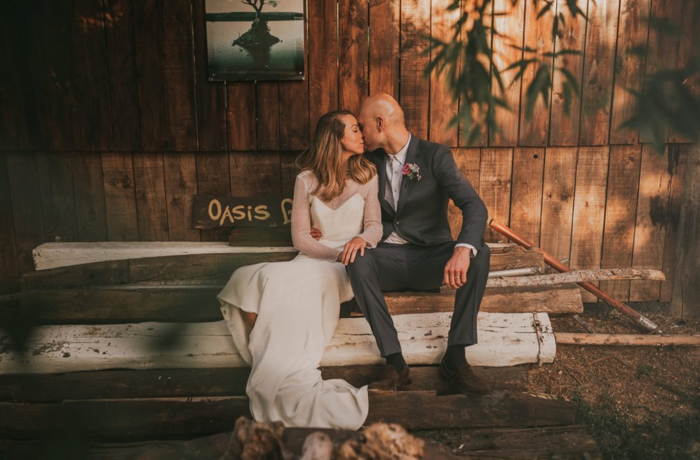 Fun was assured
What is Ibiza without music? Nothing! And even less so at a wedding in Ibiza… so at Cara and Tom's wedding, they couldn't miss out on the fun.
For this day, the DJ was in charge of playing all the hits under disco lights, and the guests could also enjoy playing darts and billiards.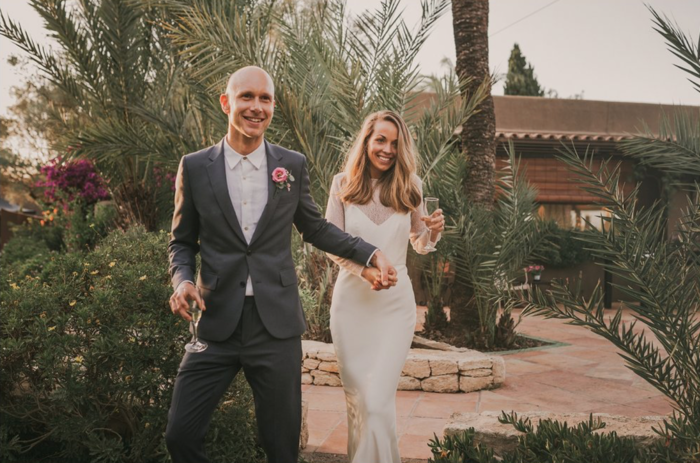 The best photographer
Since the wedding in Ibiza is a unique event and takes place in a magnificent venue, the result of the photos will be spectacular, fresh and vibrant.
The photographer in charge of capturing the moment was Pablo Laguia, Ana and Pablo, who together form a team while enjoying hearing beautiful wedding stories around the world.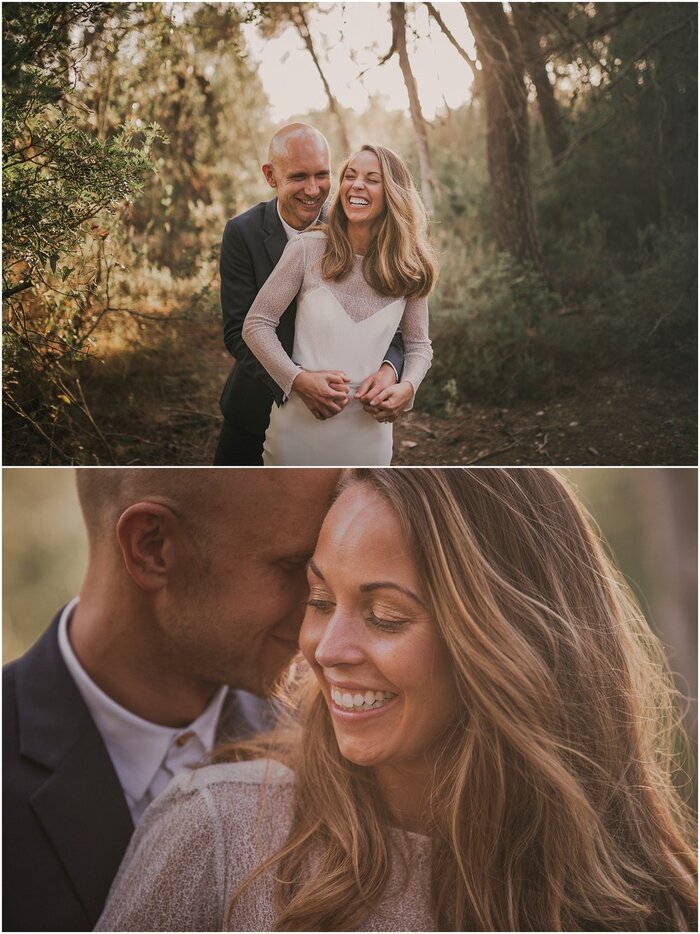 If you also want your wedding day to go perfectly and you want to celebrate it in such a romantic and popular place like Ibiza, we recommend that you leave it up to a team of highly qualified professionals with a great success rate. Like us!
So, if you need help with your wedding in Ibiza or with looking for a venue, at Perfect Venue we have what you're dreaming of.
Contact us: +34 722 476 027
Wedding team
Photographer: Pablo Laguia