We are sure that you have dreamt about getting down on one knee and proposing, and of course! Because despite it being a very old tradition, it hasn't stopped being a tradition that everyone wants to have, and it is SUCH a romantic moment… and even more so if we organise this proposal in Mallorca!
Did you know that this Balearic island is one of the best places to celebrate a proposal as well as a wedding? Yes, the climate, waters, light and everything that Mallorca has to offer means that it exudes love and romance.
Don't miss this article! Because it will show you how this proposal went for this fantastic couple and it will also inspire you, because proposals are definitely a must! Do you want to find out all the details? Yes? Well we won't keep you waiting any longer!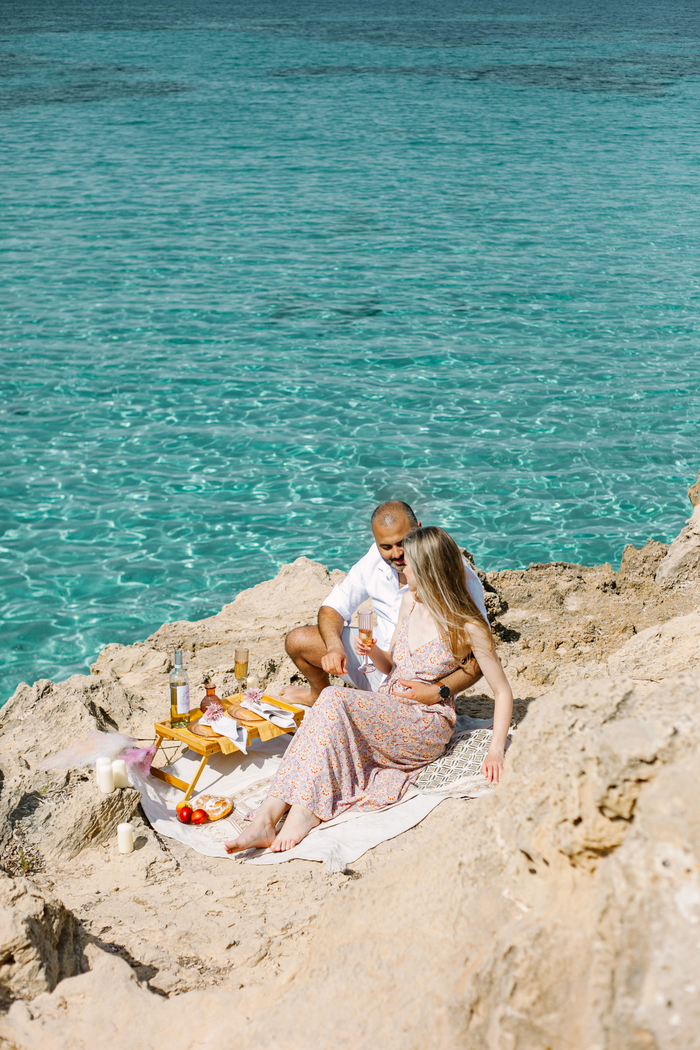 A proposal in Mallorca, the dream for many
The beach is always a magical place, ideal for a romantic date or to create a special ambience, and especially on the beautiful beaches with crystal waters on the Balearic Islands.
That's why so many couples choose Mallorca who travel to the beach to have a warm and romantic atmosphere to say "I do".
The couple here, Anna and Vinnicius, chose Mallorca for him to get down on one knee in front of his girlfriend and pull out a ring to ask the big question. And beach proposals are perfect for lovers of romance, feelings and emotions!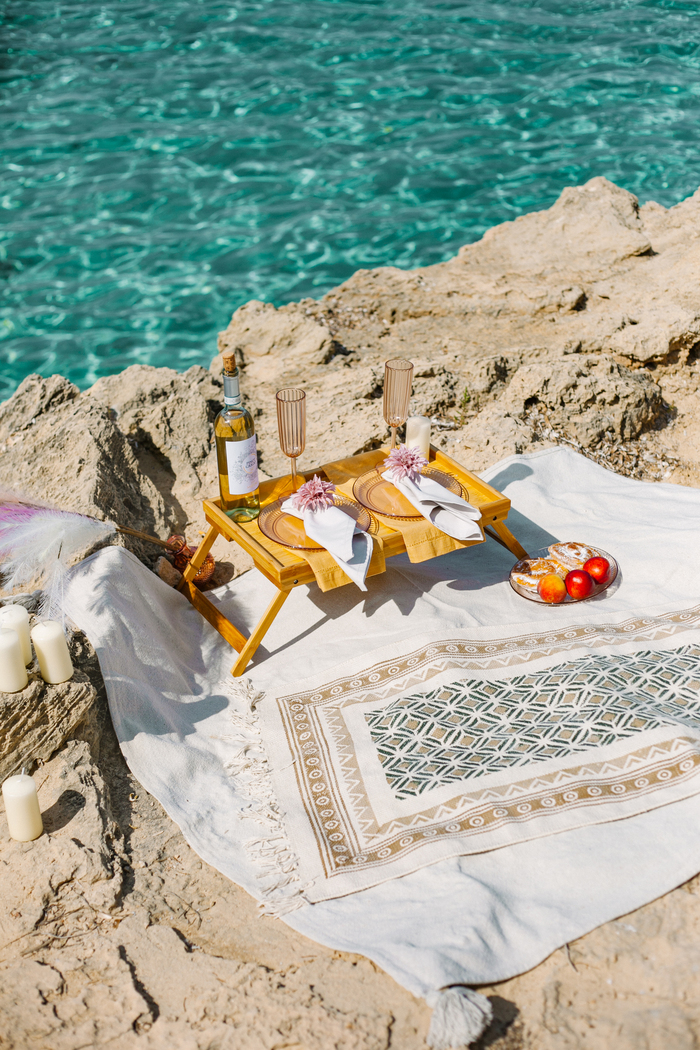 The setting, amongst rocks and crystal waters
It was one of the small coves of Mallorca where Vinnicius had thought about getting down on one knee in front of his girlfriend and pulling out the gorgeous ring, so of course, before this happened, we had to prepare a dreamy setting.
For the magical moment at this proposal in Mallorca, we laid out a white towel with geometric motifs over the rocks at the seashore so that the couple could sit down. On top of this, we placed a small wooden table with white wine, glasses, a candle and two plates so that they could taste the snacks available. 
After the snacks… the moment arrived!
After filling their stomachs, Vinnicius was ready to get down on one knee. And, with the surprise and emotion of his girlfriend, he asked the big question.
She, without doubting it for a second, said yes letting out a loud laugh and automatically giving him a big kiss and a warm hug. Anna just thought that she was going to have some food by the waves of the ocean, and she ended up being the main character of her own proposal in Mallorca!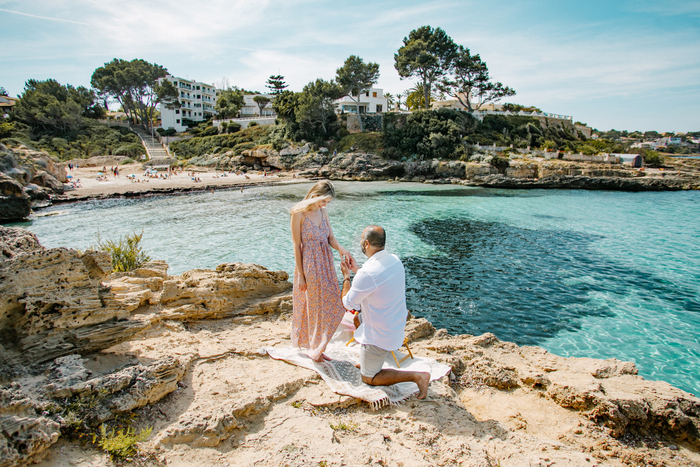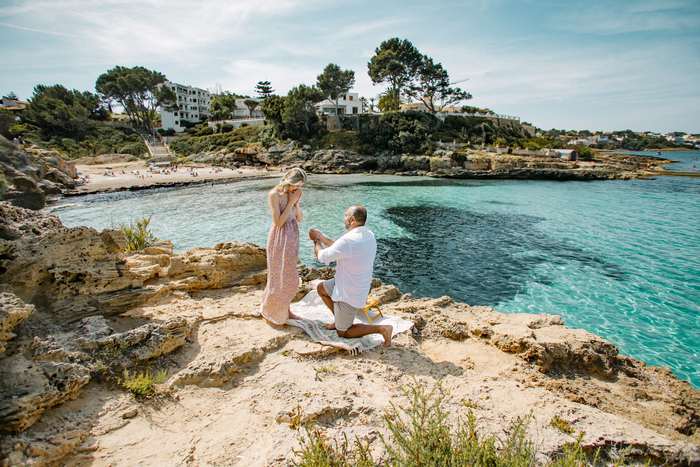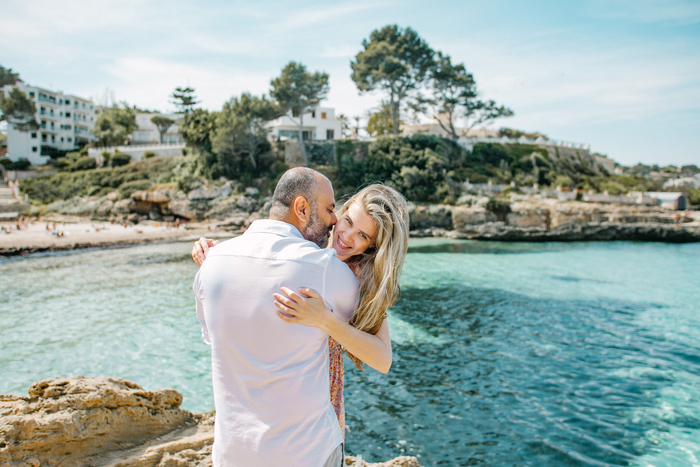 Styling according to the special moment
The styling selected for such a special day was, for Anna, a fresh, light, strappy dress covered with flowers, perfect for spring!
In terms of Vinnicius, he opted to wear a classic white shirt and light grey trousers. 
Both looked elegant, barefoot and very Mallorcan! Absolutely perfect for the occasion of a proposal in Mallorca!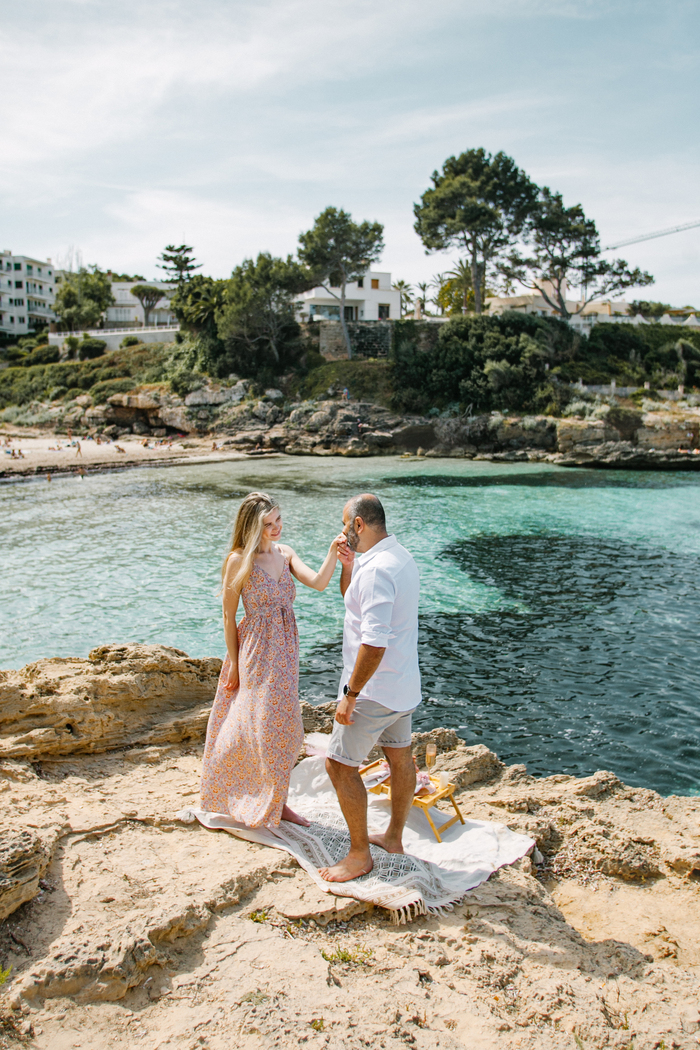 A moment to remember!
In this moment, which is very important because it is the beginning of a new life, the couple couldn't not remember this moment, so, Tanya Vasiliuk was in charge of looking through the lens to capture every moment.
Long live love and pretty proposals! And it wouldn't have gone so amazingly if it weren't for the Wedding Planner, Natalia Ortiz, who was in charge of organising the proposal.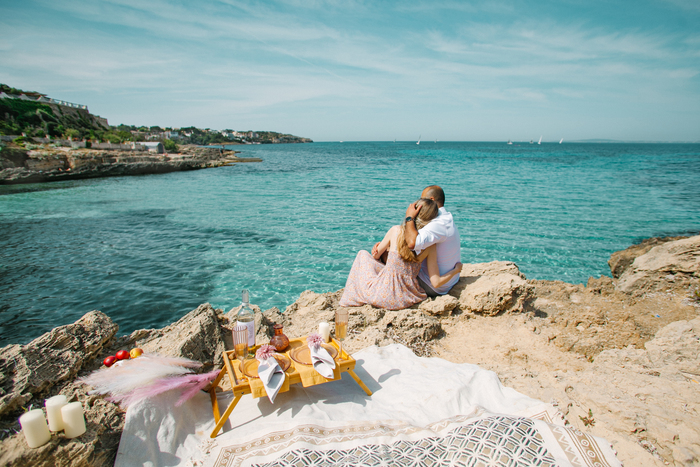 At Perfect Venue we are always willing to organise your proposal so that this moment is the best ever experienced. Lets begin with the preparations!
And if you are looking for more inspiration, you can't miss these fantastic ideas: a proposal in Retiro Park, a proposal in Castillo de Santa Bárbara or a proposal in Buen Amor Castle.