If you like unique proposals full of magic, surprises and emotions, you can't miss this proposal at Retiro Park in Madrid involving this Italian couple. 
Did you know that Spain is one of the preferred holiday destinations for Italians?
Well the dream of the groom-to-be was to return home from his holiday engaged to his girlfriend who carried a surprise inside, what? Keep reading to find out!
Coming up, we will tell you how this couple's proposal went and how we organised everything to set the perfect scene.
Let's begin!
A proposal on holiday in Spain
The boyfriend decided that it was the moment to take the next step, which is why he decided to invite his girlfriend to spend a weekend in Madrid and contacted us to organise his proposal during their stay. And we did it! Nothing better so as to not raise suspicions…
While they were walking through the famous Madrilenian park, without the girlfriend suspecting that anything was going to happen, at Weddings and Events by Natalia Ortiz we had taken charge of organising everything so that, at the least expected moment, the boyfriend got down on one knee like in a movie scene.
On holiday we are more relaxed and calm, which makes it the perfect moment to propose at Retiro Park in Madrid.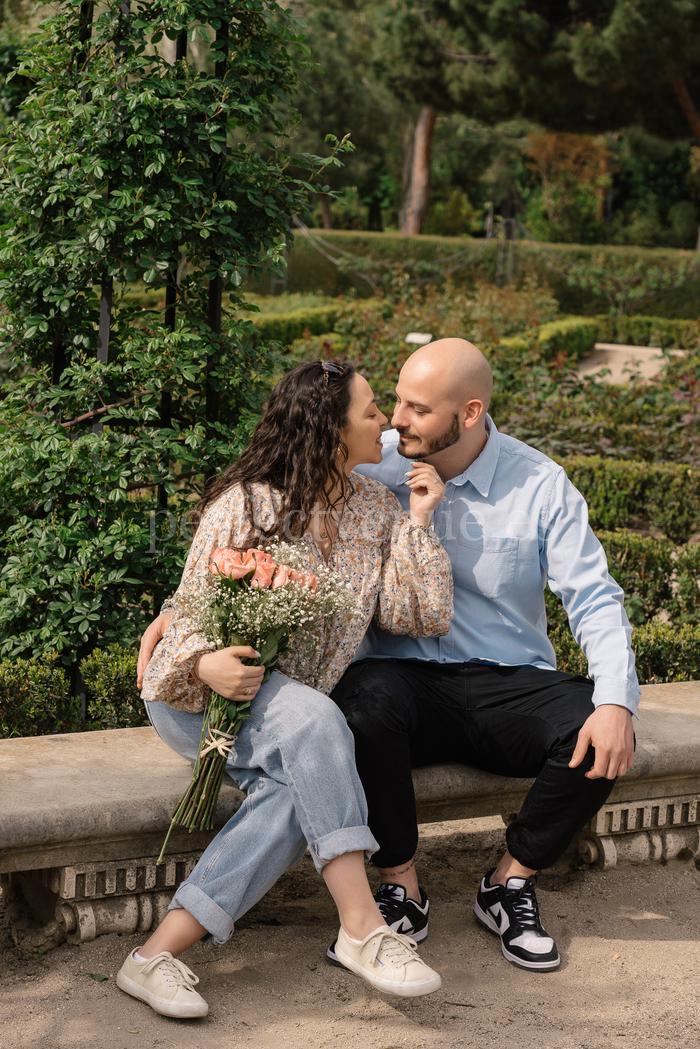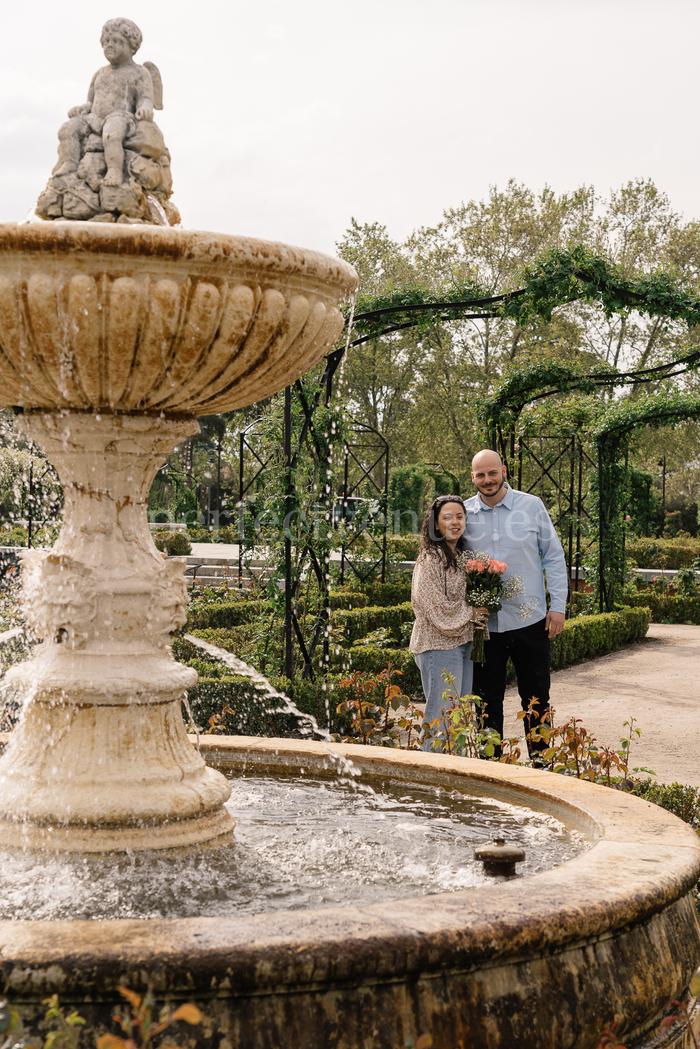 Retiro Park, every tourist's dream
In Madrid, right in the centre of the city, Retiro park can be found, which has already become a favourite for the majority of tourists that want to get down on one knee.
This is one of the prettiest and biggest parks in Madrid, so all couple's love it! Because it also has really picturesque areas for a marriage proposal. It has an endless amount of nature which makes the photos seem as if they had been taken straight out of a fairytale!
Inside there are different areas perfect for carrying out a proposal: balconies with views of the lake, a Crystal Palace, botanical gardens of la Rosaleda, bridges… and this couple had a majestic fountain bubbling with water as scenery.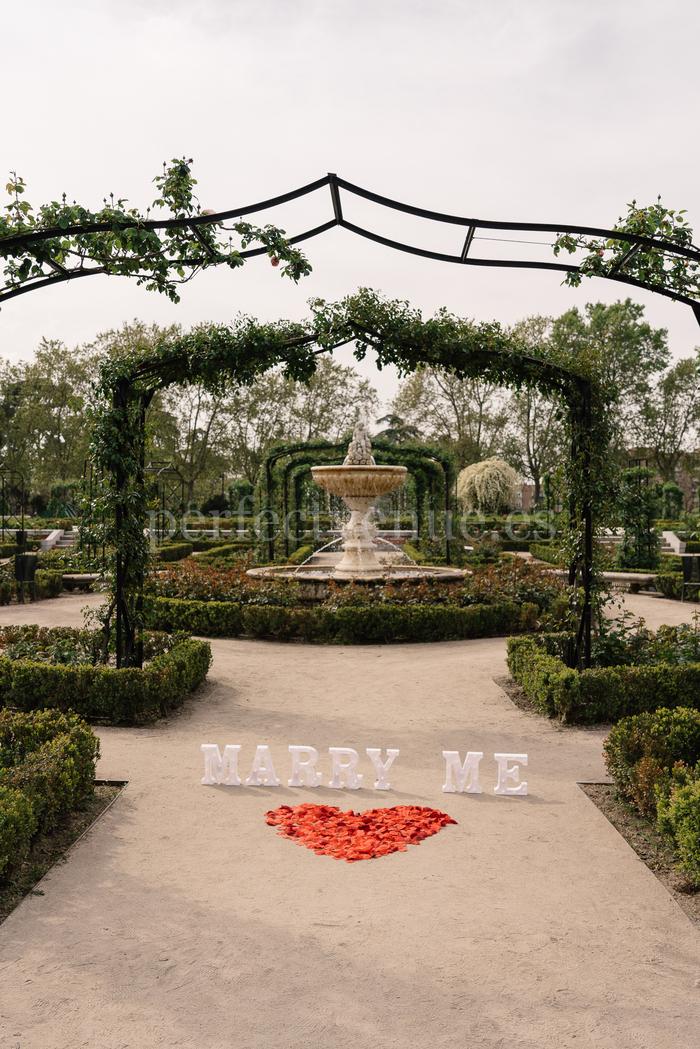 Simple and romantic decoration
For the proposal scene, in front of the precious fountain, we layed out mountains of red rose petals shaped in the form of a heart, as well as some illuminated letters that spelt out the boyfriend's big wish: Marry Me.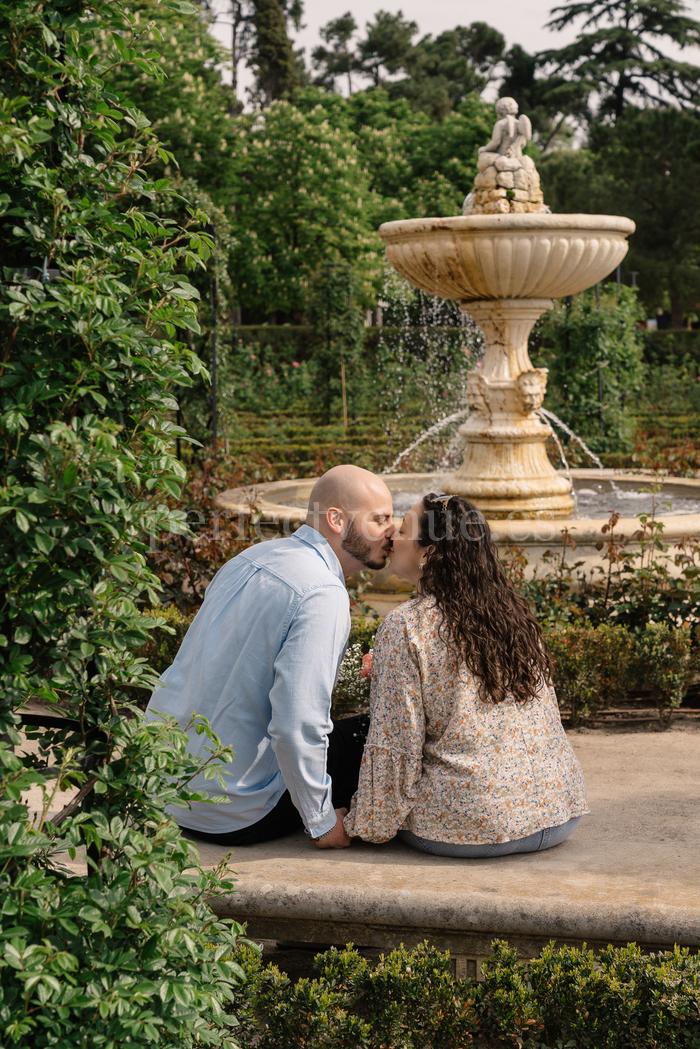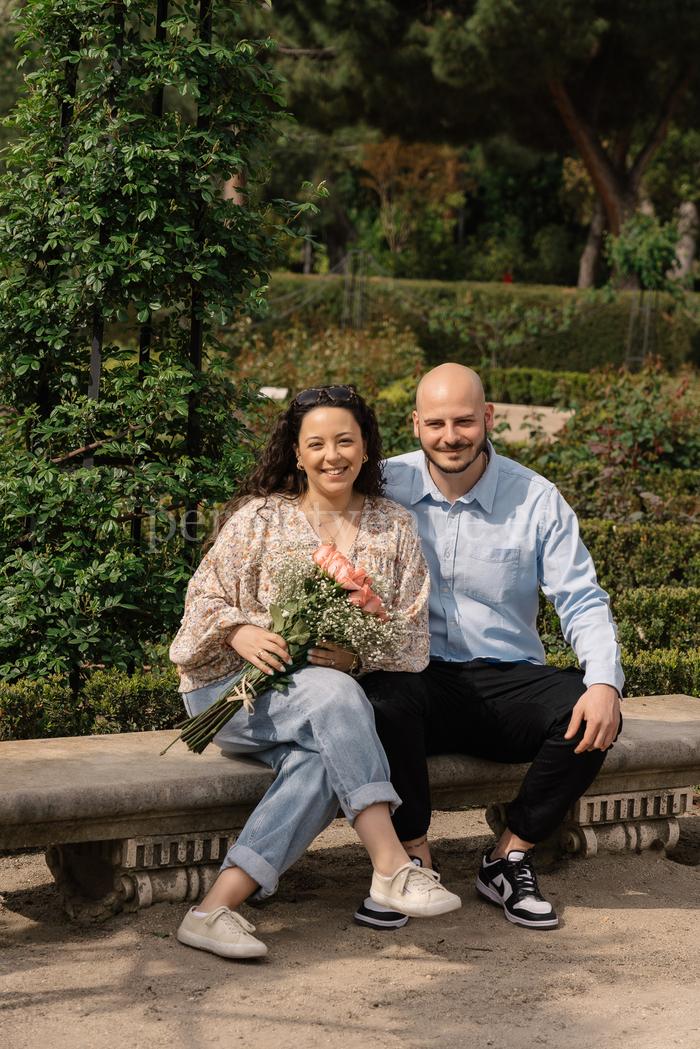 A bouquet after the "I do"
The girlfriend, emotional and happy to discover the ring that her boyfriend had presented to her, didn't doubt for one second in responding with "I do". But the romance still hadn't finished! Because the groom then gave her a huge bouquet of orange roses combined with white panicles. Beautiful!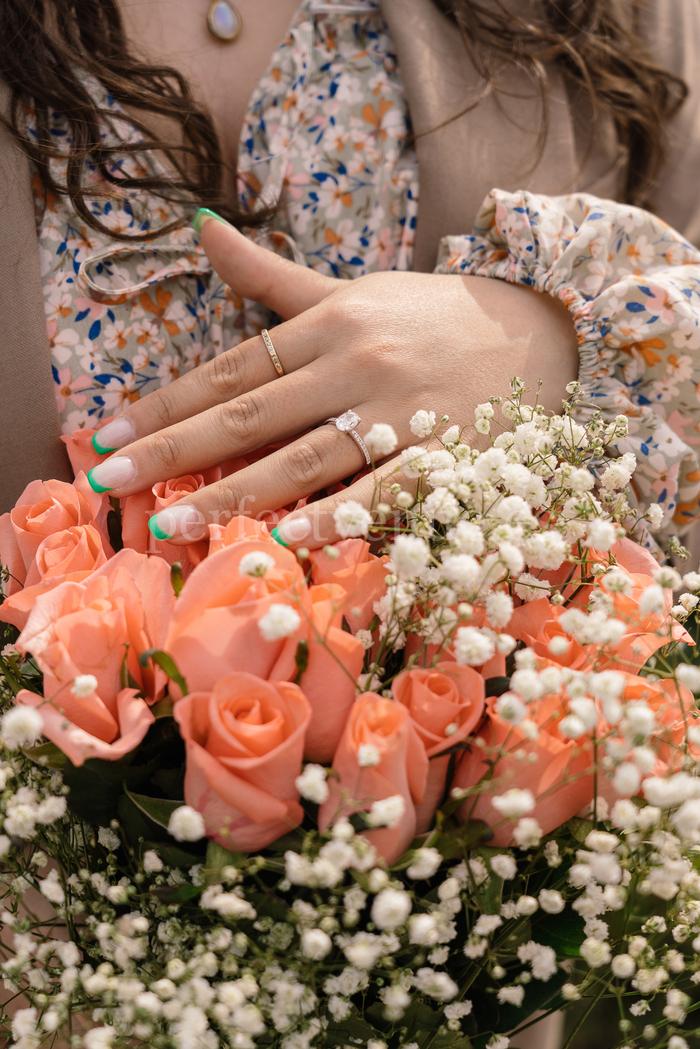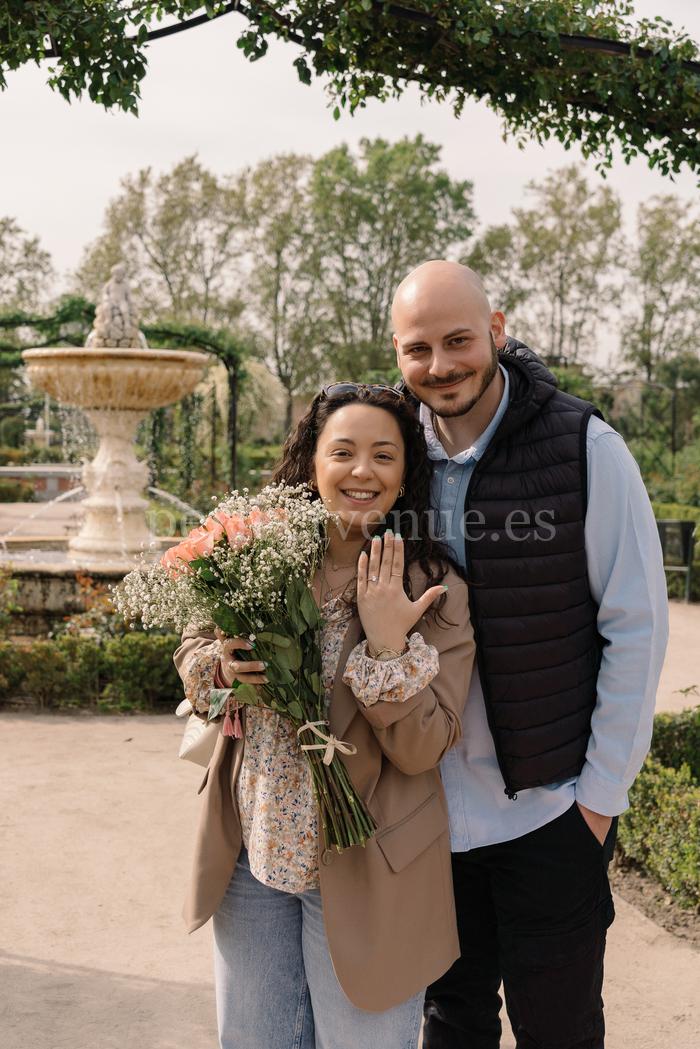 Elegant and informal styles
For this big moment, the couple were spot on when choosing their outfits for the proposal at Retiro Park in Madrid.
The groom-to-be opted to wear a light blue shirt and a navy blue feather coat, matching his trousers.
On the other hand, the bride-to-be wore a romantic shirt covered in flowers that she accompanied with a beige brown blazer.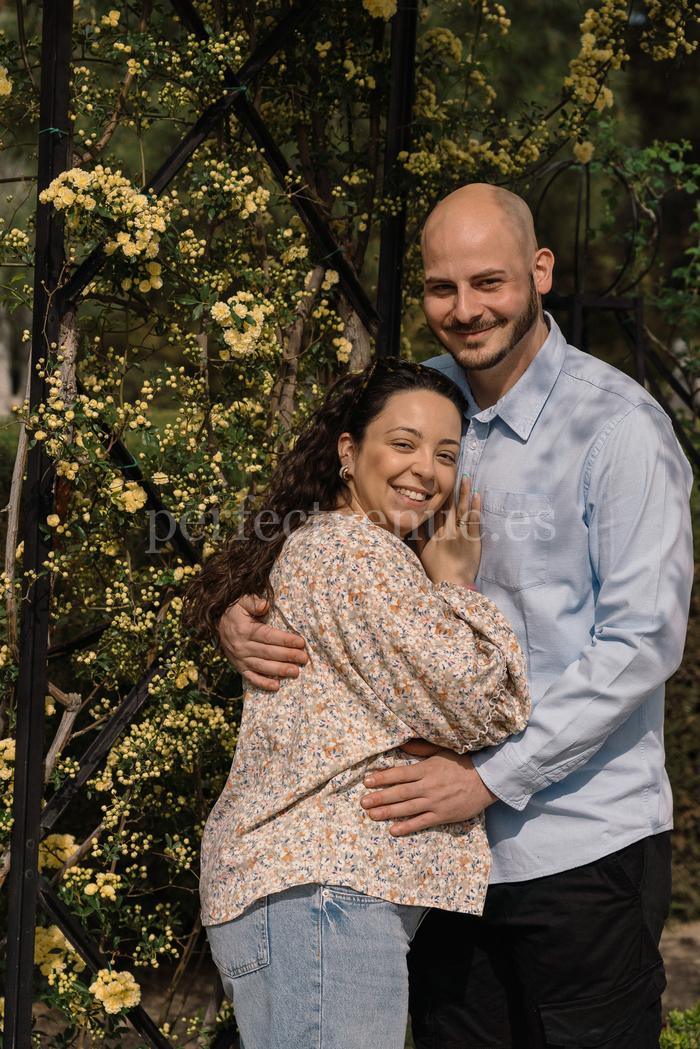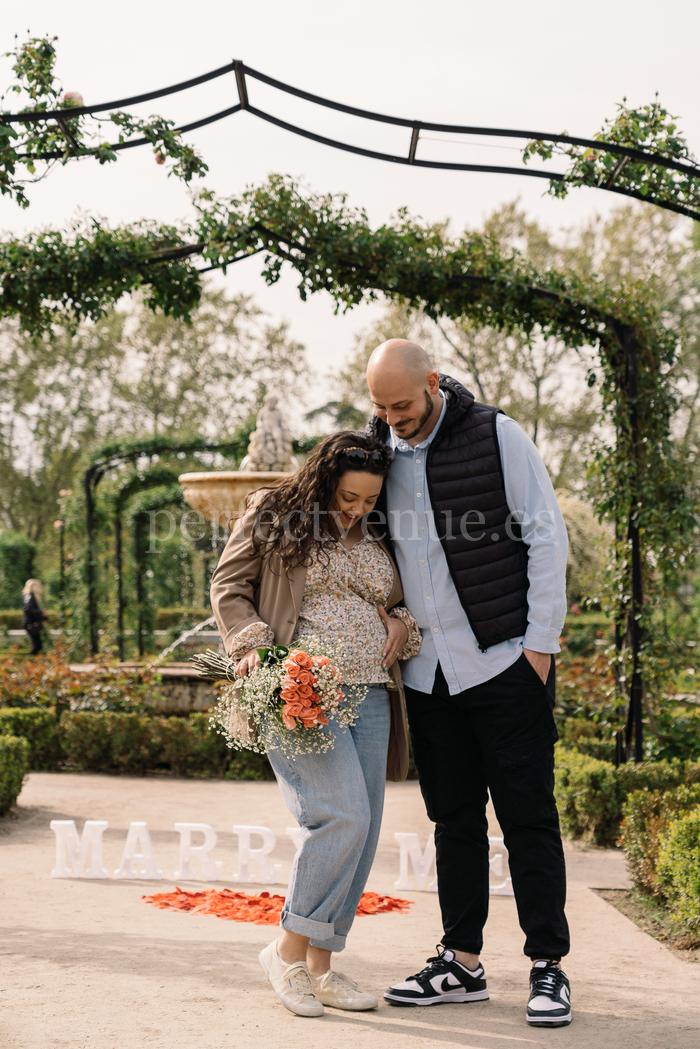 Baby on board!
If there is something more special and memorable, it is proposing to your partner whilst they are growing a human. Yes! At the time of the proposal his girlfriend was pregnant, imagine when they tell their little girl or boy that they were present in their parents' romantic moment!
Now we just have to wait and see if the bride will wear a dress that shows off her pregnant belly, or will their child be the ring bearer!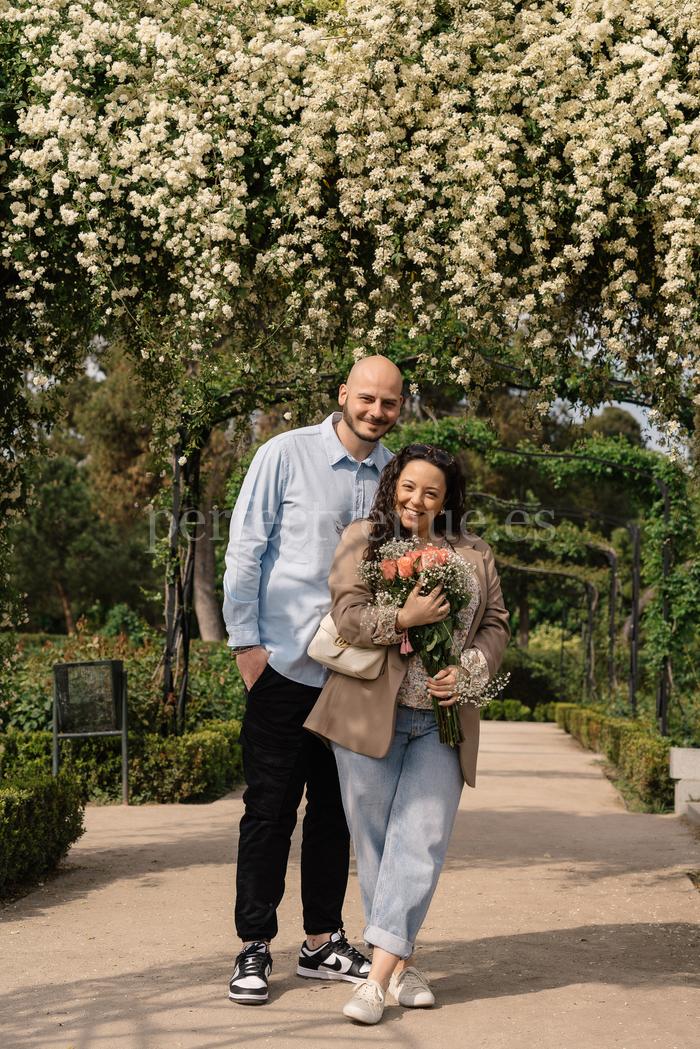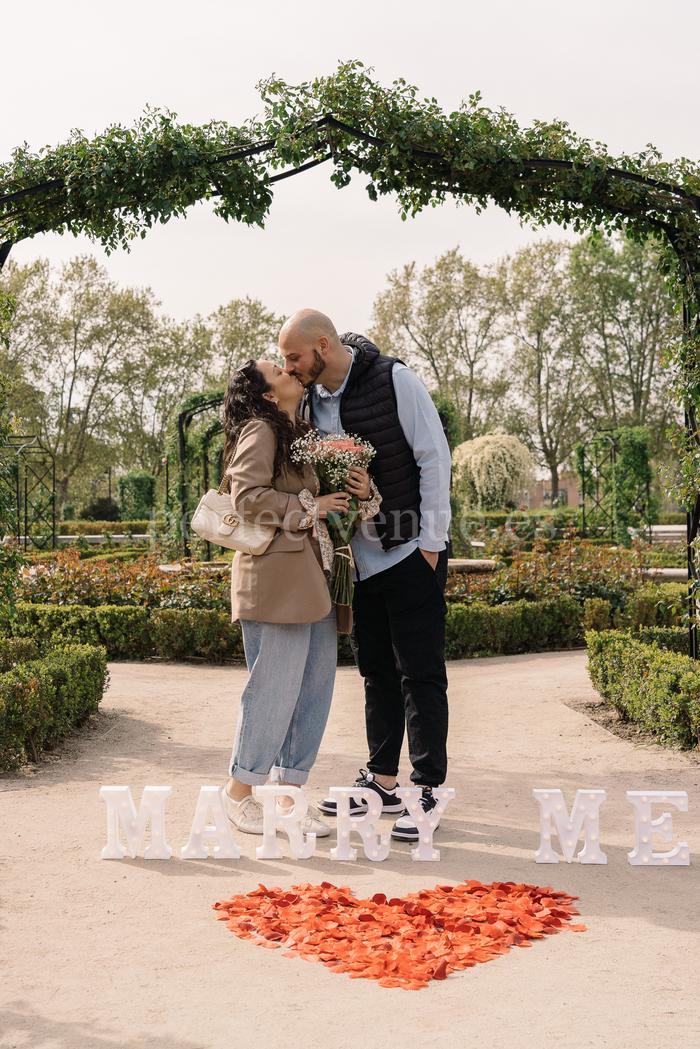 The best professionals
The wedding organiser at Weddings and Events by Natalia Ortiz was in charge of getting everything ready, with Tanya Vasiliuk, the professional photographer responsible for capturing every moment with her lens.
If you also want to have a proposal at Retiro Park in Madrid, you can reserve it right here, we have the full experience!
Do not miss the experience of a proposal at Retiro Park in Madrid
We can help you!