Kevin, Stuart, Bob… these small yellow creatures dressed in dungarees could not be more fun, crazy and adventurous. So that's why kids ask for a Minion themed birthday!
These little animated characters were created from a DNA mutation and crushed up bananas, and for the first time appeared in 'Gru: My favourite villain', and despite only making little sounds and little else, they have become a complete global sensation. They are easily recognised by everyone! 
The Minions are like a pet that all kids would love to have, so we are sure that nothing brings more excitement than having a birthday party with this theme. And that's why we're here!
Read on, and we will tell you 30 ideas to inspire you to organise a Minion birthday party successfully. 
Ba-ba-ba-ba-ba-na-na. Let's begin!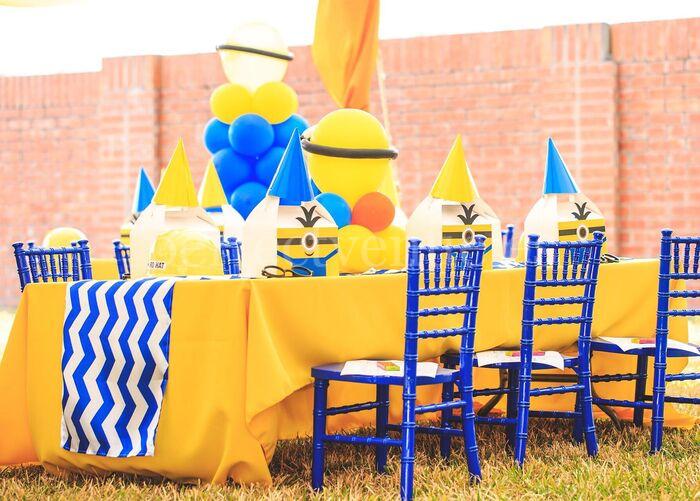 1. Home-made and downloadable invitations
You can draw these fun yellow cartoon characters, cut them out and stick them or find a never-ending amount of downloadable templates on google. 
2. Use a range of colours
The most used colours with this party theme are yellow and blue. You can also use other colours like orange or even purple, so… all decorative and edible aspects you have to follow this theme! 
3. Cover the entrance door
A great idea for decoration is covering the entrance door with yellow and blue paper or fabric with glasses and a pleasant smile. The little ones will be surprised to find a giant minion at the entrance and have to pass through it! 
4. Balloons everywhere
Decorate the whole party venue with yellow balloons or if possible, Minion balloons, which you will be able to get easily in many shops. You can decorate the yellow balloons with an eye and with the classic Minion glasses, which are so easy to do with paper stuck on the balloons. Very original!
5. A big photoshoot
A photoshoot is great for the little ones to pose together with the amusing Minions and to take away this memory forever. Full of balloons, black letters with the name of the birthday boy or girl, a large poster as a backdrop…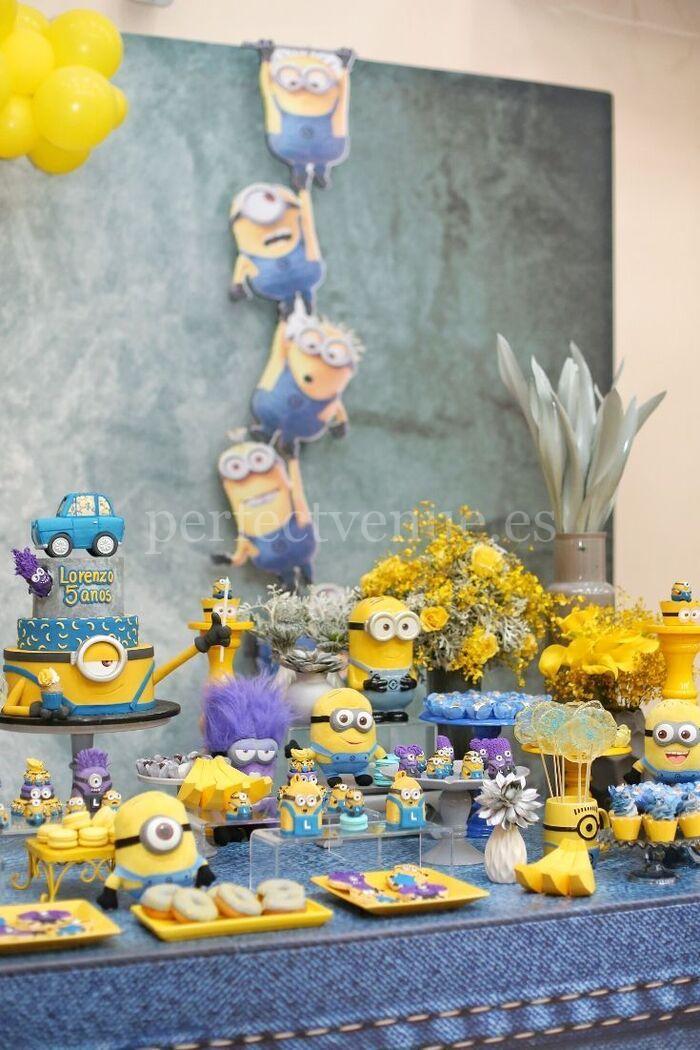 6. Accessories for the photoshoot
A photoshoot without accessories is not a photoshoot. Therefore, you can make some Minion style hats. You only need to make yourself a few yellow hats and add details to them as you wish such as glasses and hair. The kids will enjoy taking photos and later they will be able to take their hat home as a momento! 
7. Crazy entertainers
The fun is guaranteed during a party by hiring some entertainers. The kids will spend a lot of time running around together with the big Minions that are there and won't stop laughing at the pranks that'll happen. 
8. Tablecloths
Before putting the place setting and food down, make sure you put down a tablecloth that looks great with the table setup. In this case, choose yellow tablecloths and on top of these, across the whole table, place a long blue table runner.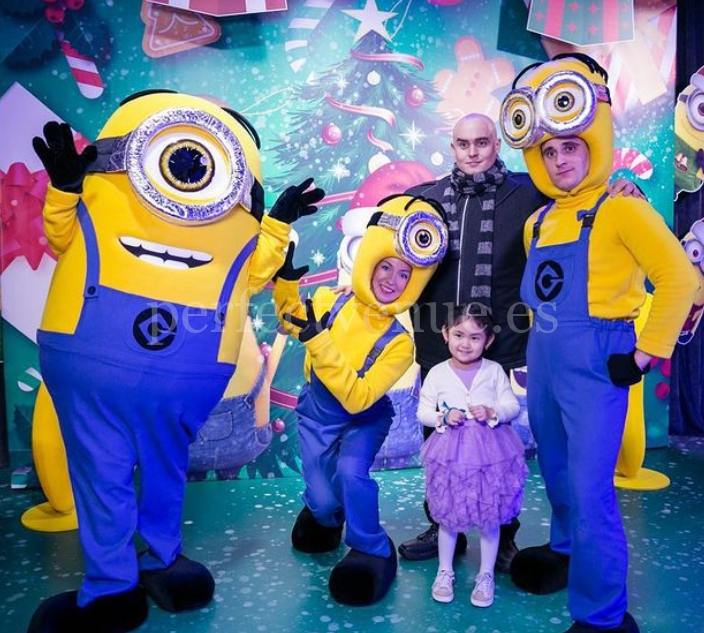 9. Create a wreath
Simple and original! For the 'Happy Birthday' message decorating the space we recommend using Eva Foam as well as cardboard. To make the Minions you can choose blue and yellow Eva Foam with black cardboard to emphasise the letters of the phrase. 
10. Handcrafted cups
The table will look fantastic with yellow cups, you only have to make them with a black permanent marker and googly eyes stuck on to make them look like Minions. We are sure that more than one kid will want to take these fun cups home as a momento!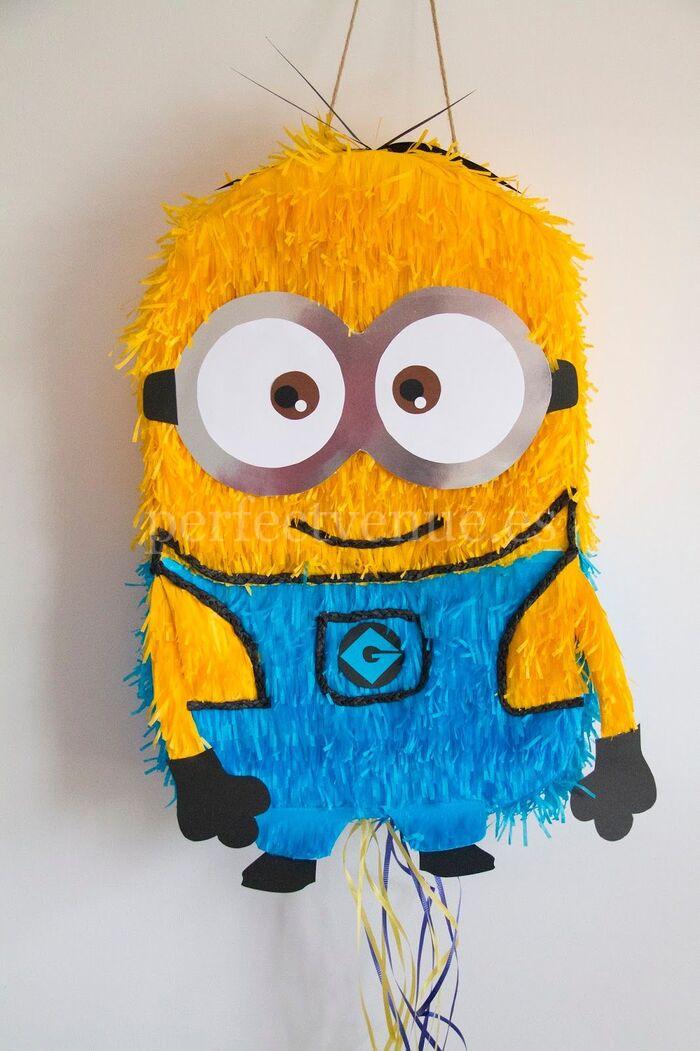 11. A Minion piñata
So that the kids have fun and take home some sweets and little toys, you can't forget to put in a Minion piñata before the end of the party. Imagine how great it will go when they have to hit it and pick up everything that drops to the floor. 
12. Homemade packaging for putting the food in
Some yellow cardboard cones decorated with the eyes and mouths of Minions can be practical and original when it comes to serving food like popcorn, french fries, snacks, etc. and they are super easy to make! 
13. Also have purple Minions
Yes, you can also recreate purple minions or 'anti-Minions'. You only need to use purple balloons and print the glasses and cut out the mouths and teeth. Remember to use different expressions so that they're more fun!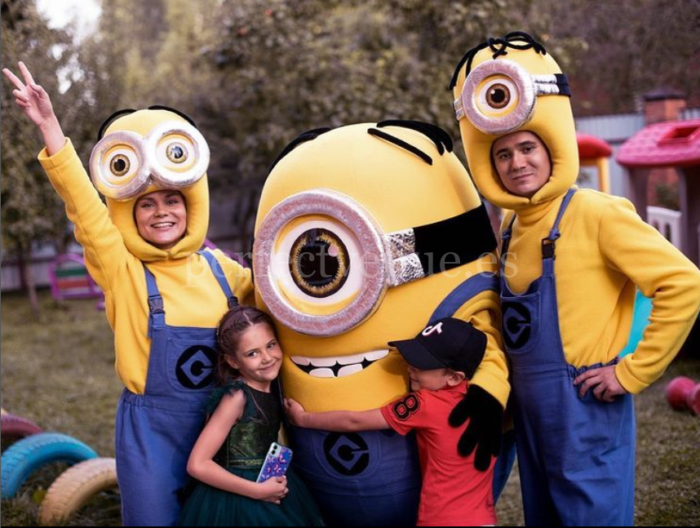 14. Minion sweets
Who doesn't like sweets?! And with Twinkies, having an elongated oval shape makes them perfect to simulate the body of a Minion – all you have to do is decorate them with icing!
15. Bananas, the ultimate food
Surprise your guests with a fun and healthy snack. It is so simple to present bananas dressed up as Minions.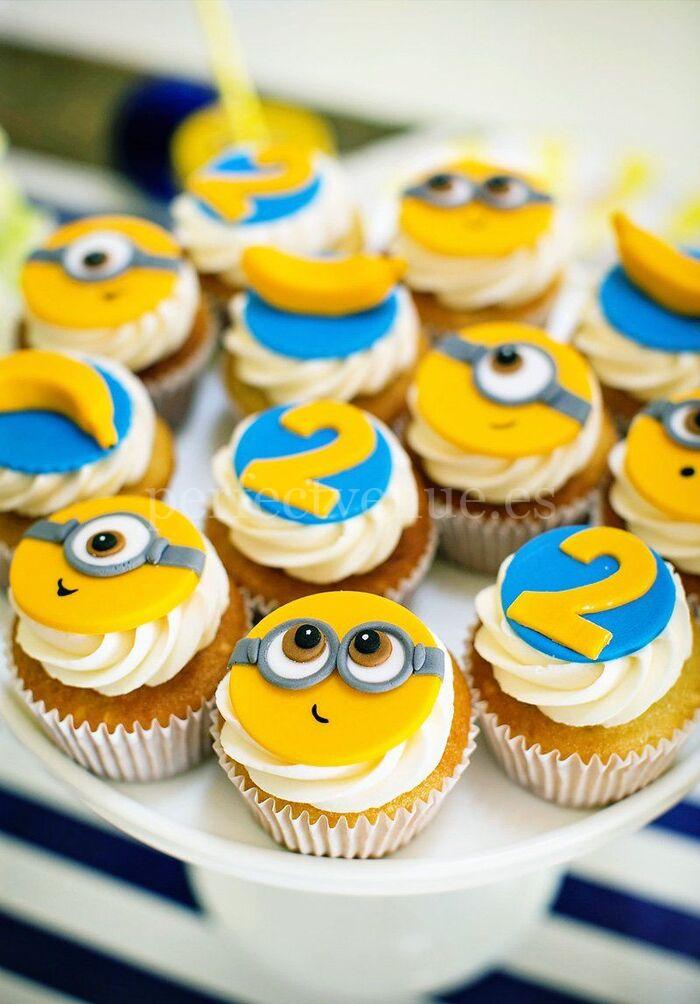 16. Minion cupcakes
We can't forget the decoration of cute and delicious Minion cupcakes. They are very easy to decorate with a bit of yellow icing and nothing is more delicious than a bit of melted chocolate to make the little eyes and smiles. 
17. Costumes for everyone
If the birthday boy or girl wants to dress up as a Minion… everyone can! It is as simple as filling a trunk with yellow T-shirts, dungarees, yellow hats, big round glasses and black gloves. What kid would not like to feel like a Minion for a day? 
18. Kinder Egg crafts
With the yellow kinder egg cartoon you can make funny Minions to decorate the birthday party. You can make the clothes out of blue duct tape and for the eyes you just need to get yourself some moveable doll eyes. Then, place them all over the room, you'll see that the kids won't stop looking for them!
19. Also decorate with cutlery
Yes, decorate with cutlery if possible, and in many places they sell yellow plastic cutlery, which can be placed inside a folded blue napkin. Decorative, original and practical! 
20. Face painting for everyone
Make this party much more fun for the little ones by painting their little faces as Minion characters. Make sure that the face paints are suitable for the skin. No child will say no!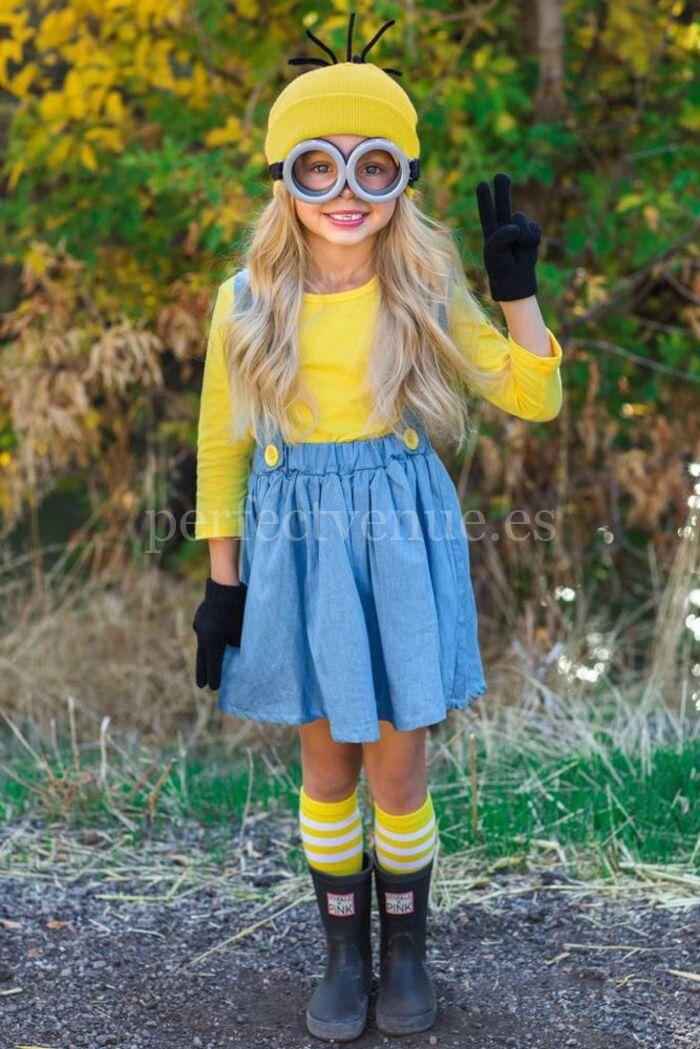 21. Suspended lights in the air
If you like lights then you are going to love this idea of hanging them up: get yourself various yellow lights and turn them into the heads of these amusing little characters. You only have to cut out different eyes from cardboard and put them on the ceiling. 
22. Little Minion faces to customise the food
Cupcakes, truffles, cookies, sweet nibbles… no plate can be without a Minion face. They are very easy to make: a circle of yellow icing, and two smaller black circles for the eyes and a surrounding grey ring, two black strips at the sides to finish the glasses… and then they're ready. 
23. Themed games
The fun is guaranteed if there are themed games. We can make a big Minion from cardboard, the idea being that the eyes of this cute character can be removed and re-stuck. The kids will start joining in one by one, while the others help them with clues as to where the right place is to put the eyes. What chaos!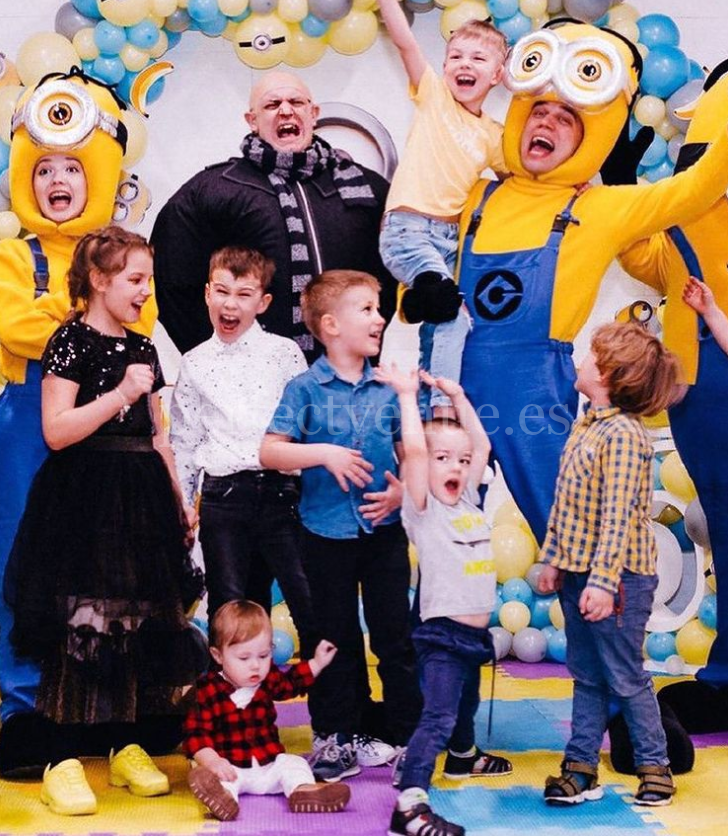 24. Themed drinks
You can use a punch bowl full of lemonade to recreate the Minions. Also, a big purple jar with a tap can be turned into the villainous version of these likeable characters. And if not, you can directly decorate yellow Fanta bottles or the blue water Solan de Cabras bottles.
25. Cake to blow out candles
At a birthday party, you can't forget a fantastic cake with candles to blow out while you make a wish. Opt for a cake made of yellow, blue, black and white icing, mmmm…  delicious!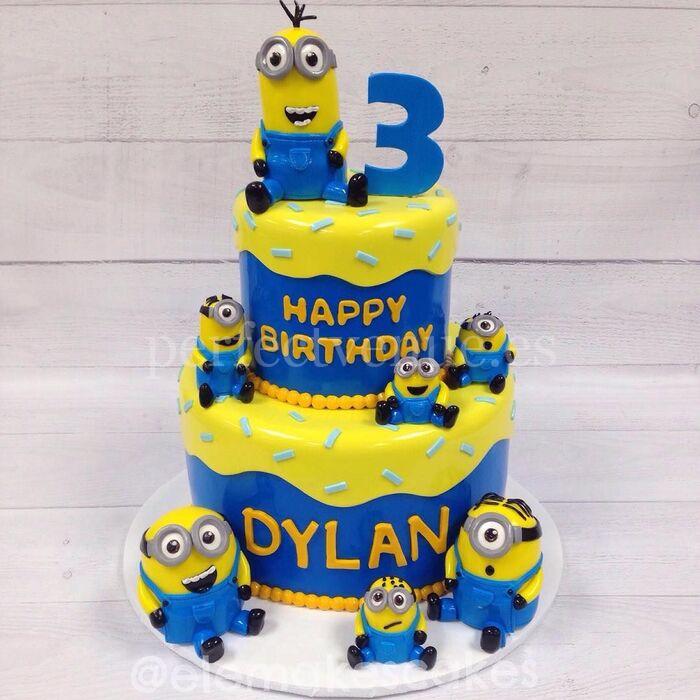 26. Bowling
You can entertain your little guests with a game of bowling with bottles. So original! You just have to paint bottles with the minions' funny facial expressions so that the little ones have a great time knocking them down.
27. Inundate the venue with soap bubbles
We can decorate some little yellow tubes to make bubble bottles with a strip of black cardboard and one or two googly eyes. Stick them on a little bottle and share them out so the little ones don't stop blowing and filling the room with bubbles. What child doesn't love them?
28. Desserts for a Minion party
Some yellow lemon or banana yoghurts, cream or jelly can make the perfect desserts for your Minion party. Decorate the jars with a felt-tip pen, some sticky googly eyes and finish them off with round pieces of cardboard to create the glasses.
29. Time for a film
After so many games, it is time to rest. You can invite the kids to have fun watching the film with Gru or the mythical Minions films. Their eyes will be glued to the screen!
30. A party gift bag
To finish off the party and say thank you to the children for coming, you can put together small gift bags which include a little book or notebook, pen, cards, puzzles and other things specially designed for the Minion characters.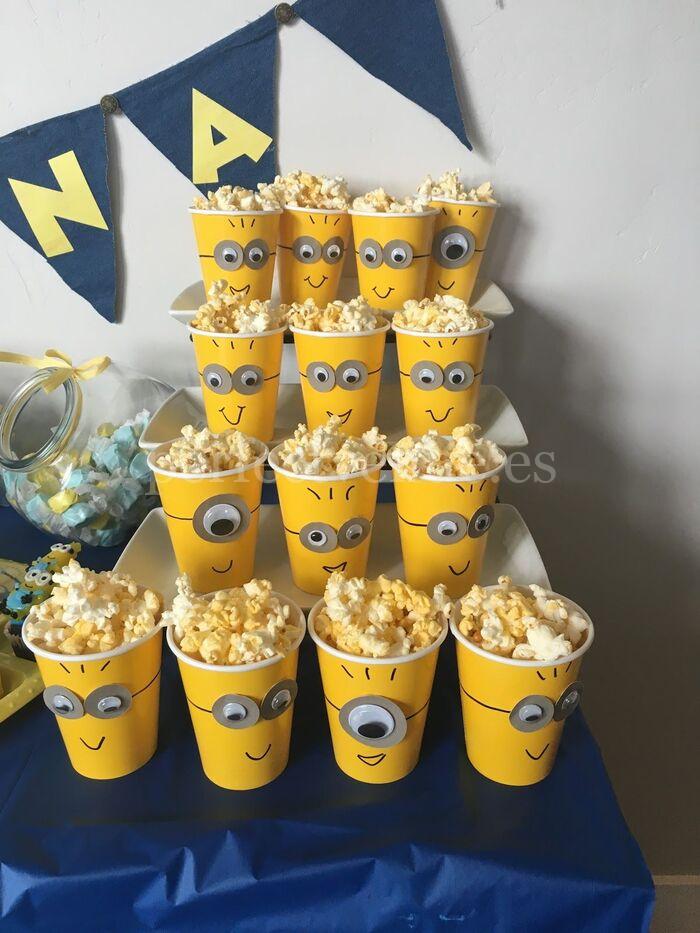 At Perfect Venue, we put on the best parties, from birthdays, communions, weddings… And themed parties are what we like the most!
For this reason, if you need help with the preparations for your child's themed party, we can help you so that the party is a success: +34 722476027