Who hasn't seen The Lion King? Both adults and children are true fans of this fun and emotional film, so it is normal for anyone to want a birthday party inspired by The Lion King. 
And that's why we're here! To give you lots of ideas to celebrate a birthday party inspired by one of the highest-grossing films in film history. 
Now your child will be able to become the king or queen of the jungle, among animals and plant life and have a great time on their big day. They will feel like they are with their friends in the middle of the jungle! 
Take note of everything we mention below and make sure you don't miss anything!
Start with the invitations
No one should go without an invitation, and it's even better if they are personalised.
Everybody should receive an invitation, what could be better than making personalised ones? Sit at the table with your child, grab a bunch of supplies and make some handmade invitations, it's really simple!
All you need to do is take some card, fold it in half and decorate it with wild designs, like pictures of lions! Take some orange and yellow paint and paint the lion and its mane and tail.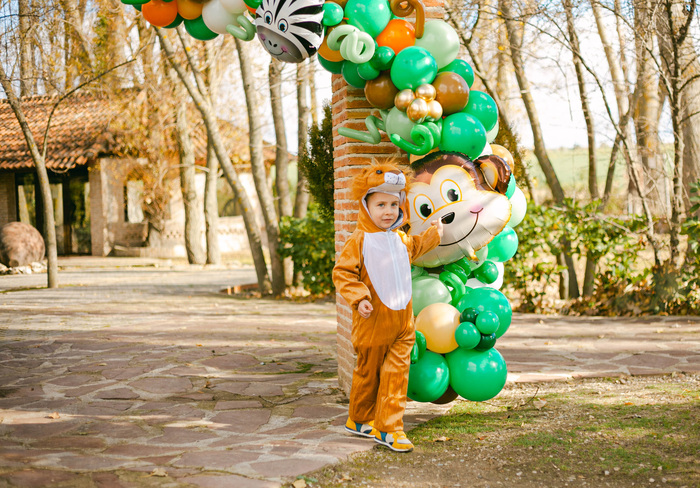 Decorate the venue with loads of little details
The scene that the birthday party takes place in is one of the most important things, so you should try not to miss any details.
To do this, we recommend using natural plant life and foliage, with trunks, branches, sticks, leaves, etc. to make it look like the African savanna.
Lots of stuffed animals are also perfect! Of course, remember to find ones of the characters in the film, including large stuffed versions of Simba, Mufasa, Nala, Timon, Pumba, Scar, Rafiki!
You can also add lots of balloons, but remember to use the colour palette from the film: oranges, greens, reds, yellows…
Don't forget the buffet table!
At the buffet table, you can also recreate the jungle environment by adding many touches of colour, and the stuffed animals! Additionally, you can add a large poster behind the table and a bunting over the food, as well as the odd stuffed animal around the plates. A super simple and fun idea!
Food inspired by the film
For kids, their first impressions are most important and you don't want them to go hungry, so the food should appeal to them. Try playing with it by making food that resembles characters from the movie, such as using crackers to make lion faces with olives as eyes. For the whiskers, use a few sprigs of coriander and carrot sticks or yellow and red pepper for the lion's mane. 
You can also make snake-shaped sandwiches using hot dog bread instead of white bread. Once filled, you only have to place some olives as the eyes and a tongue made with a piece of carrot.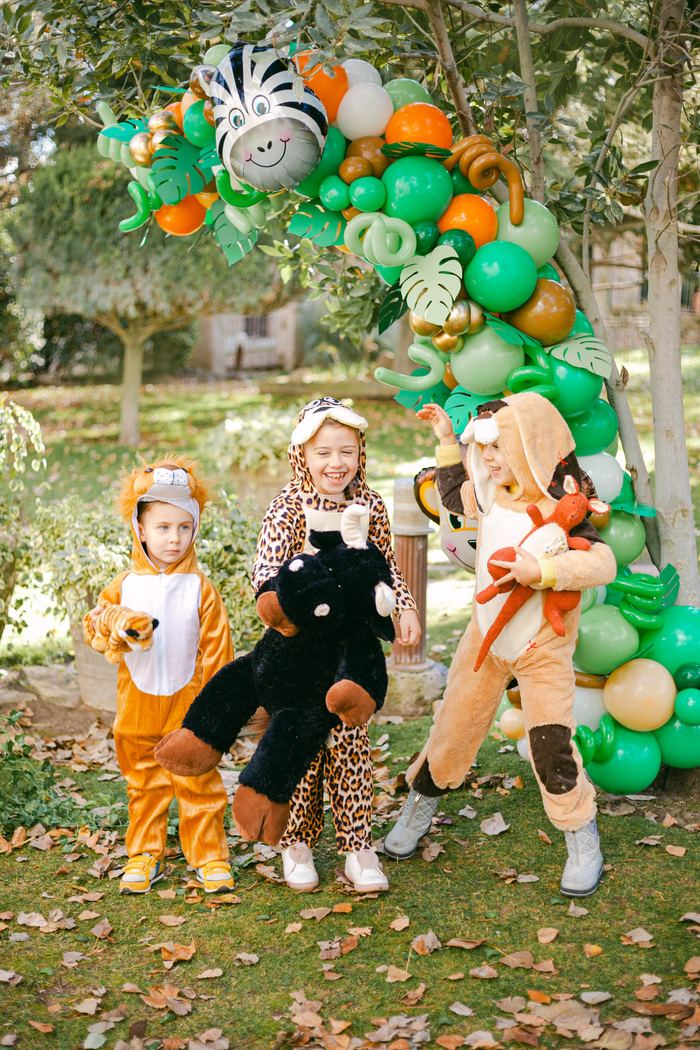 Play music from the film
Everybody knows and loves the soundtrack, and lots of people know the lyrics off by heart! So get hold of a loudspeaker and the Lion King playlist and watch everyone singing and dancing to I Just Can't Wait to Be King, Hakuna Matata, Be Prepared, Can You Feel the Love Tonight and Circle of Life.  
"Naaaaaaants ingonyama bagithi baba" surely you've also sung this legendary line!
Inspired games, guaranteed fun
All children love playing games, so start inventing some Lion King themed activities!
One example is to make your own skittles and place them in front of the jungle decorations. It's as simple as getting some old water bottles and filling them with a little soil so that they stand upright. Then, line them with some craft paper and decorated them with palm leaves made from green card.
You could also create a guessing game, where you begin by putting a few plastic jungle animal figures and putting them in a box. Next, cut a hole in the box and decorate it as if the hole were a lion's mouth. The children put their hand through the hole and guess what the animal is without looking! Whoever guesses the most right, wins.
So, what do you think of all these ideas? At Perfect Venue you can always contact us if you want a birthday party inspired by The Lion King or the theme that your son or daughter prefers, such as a birthday inspired by Misha and Masha!