Just off the coast of Bilbao, a small island is found called San Juan de Gaztelugatxe which is home to the famous Dragonstone from the infamous series, Game of Thrones. You don't need to be a GoT fan to visit this attraction, because its location is beautiful, and you get to explore more of the Basque Country.
This article will tell you exactly how to plan your trip to San Juan de Gaztelugatxe, so read on and get ready for your adventure!
The Island: How to Travel There
The island itself is situated 20km off the coast of Bilbao and you can actually drive there yourself. The best way to get there is to drive to Bikio which is right on the coast, and then continue to the car park. Don't worry if you don't have a car, as you can take a public bus there from the centre of Bilbao!
Once you have arrived at Bakio, you have to take a long hike down the cliff which is tiring but worth it! Then the final part is to go up 240 steps after you have crossed the bridge onto the island so that you reach the chapel where the stone is. It's a long way but it turns the adventure into a day trip experience so you can see a lot of the Basque landscapes and surroundings.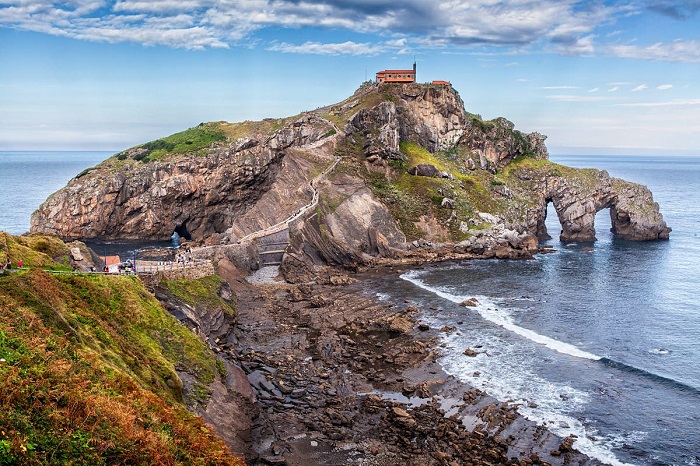 The Game of Thrones Dragonstone
As we already mentioned, you don't actually have to have seen Game of Thrones to appreciate this impressive place. It is surrounded by the forest green colours of the Basque landscape and is a place where you can escape from the city and breathe in the crisp fresh air of the countryside. Once you have reached the chapel, make sure to ring the church bell three times as it's reported to give you good luck!
The Journey to the Dragonstone: Is it Difficult?
Yes, to arrive at the Dragonstone you do have to hike quite a bit, but it's not as hard as it sounds. At some parts it can be a little steep and a lot of the paths aren't accessible for wheelchair / buggy access, but it's generally suitable for most people.
An important tip is to definitely choose the right shoes for the hike, because it can be slippery on rainy days and you don't want to fall down the steep rocks. It isn't necessary to go out and buy the most expensive walking shoes for the hike, but definitely wear a good pair of trainers or boots that provide lots of grip and support.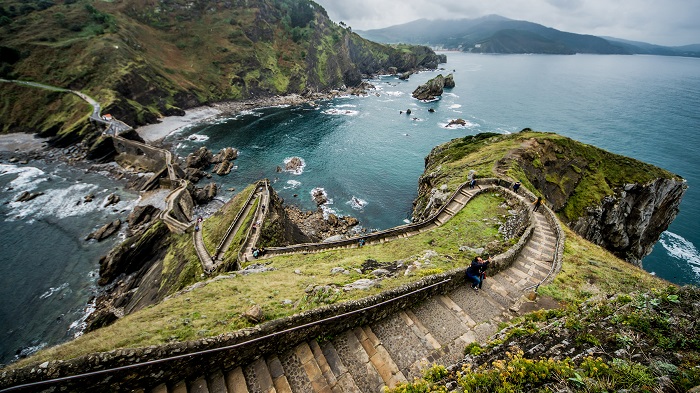 How to Buy Tickets
Game of Thrones has given San Juan de Gaztelugatxe lots more recognition, so its number of visitors has increased rapidly over the past few years. Although it is free to visit, you should definitely still book if you're going at a peak time of year as they limit the amount of walkers so that it doesn't get too busy.
Where to Eat
After the hike you will definitely be in need of a warm drink and a filling meal, and there are plenty of places nearby. One restaurant, Eneperi is located very close to the car park which sells tasty food and has a great courtyard for sitting outside in the sunny weather.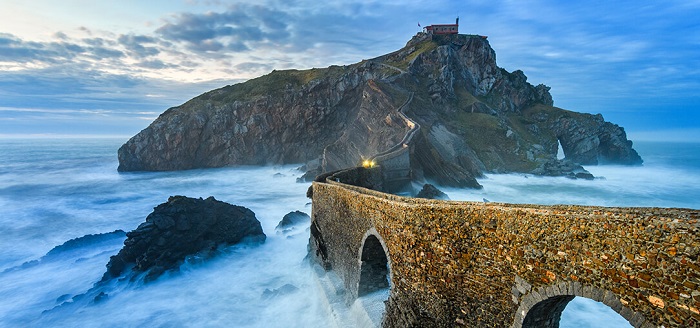 Accommodation Near the Island
You can choose to stay in Bakio or Bermeo if you want to get to the Dragonstone more easily, and there are numerous small hotels which provide a luxurious stay, such as Manuko Benta.
If you aren't such a dedicated fan, there are also the cities of Bilbao and San Sebastian which have hundreds of sophisticated hotels to stay in. For example, the Silken Amara Plaza is about an hour and a half away from the island by car, but it is a truly amazing hotel where you will really enjoy your stay.