Christmas carols, cold, snow, chimney, Christmas trees… is there a more magical time of year than Christmas? Of course not! So… What better time to celebrate your wedding than this? A Christmas wedding allows you to create a special atmosphere with a completely different flair to what we are used to seeing at weddings, with a different decoration and with the enthusiasm and spirit that overwhelms us during the most special days of December.
Can you imagine a wedding full of mistletoe, Christmas balls, wreaths of flowers, lights everywhere and Santa Claus hats, among many other things?
Then read on! Because right now we'll give you lots of ideas and tips for your Christmas wedding, from decoration to invitations, accessories for the bride and groom… An iconic wedding! After reading this article, we're sure you'll want to give the "yes I do" in a completely festive atmosphere.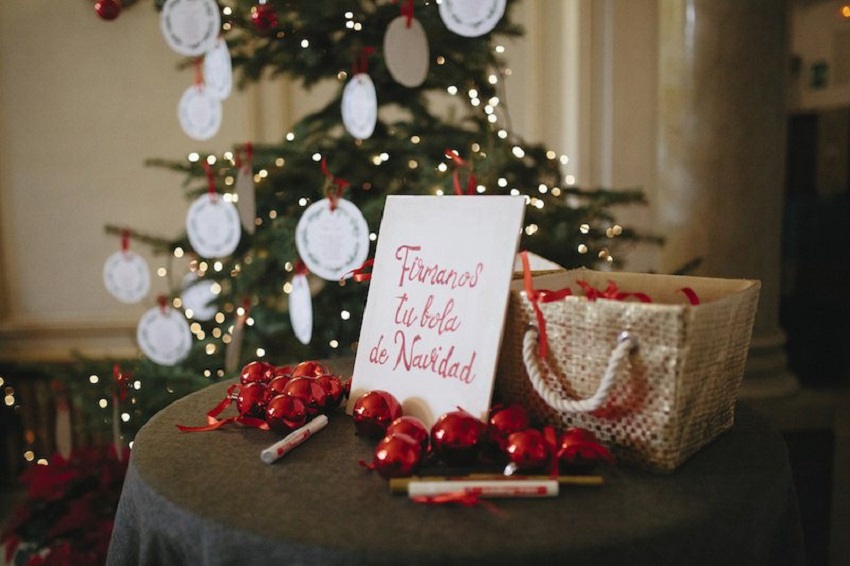 Decoration
We started with the Christmas tree! The element that represents Christmas par excellence, you can place it in a small corner of the banquet, where you can also leave the gifts of guests under it or use it as a seating plan. Original right?
You can place Christmas figurines, reindeer, Christmas crowns, snowmen all around you… always in the shades of Christmas: green, red, white, gold and silver.
For the banquet you can opt for a tartan or Scottish print tablecloth and crockery, cutlery and glassware in gold or silver tones in conjunction with napkins.  All combined with candles, pinecones, red fruits, holly branches… A most charming centerpiece!
Lights and lighting also play a key role in a Christmas environment to give even more magic and warmth, such as by using many candles or yellowish fairy lights to create a dim and therefore more romantic lighting.
All the decorative elements that you have used to decorate your house during those days will be your allies. Give free rein to your imagination because many of them can be DIY! Don't overdo it though!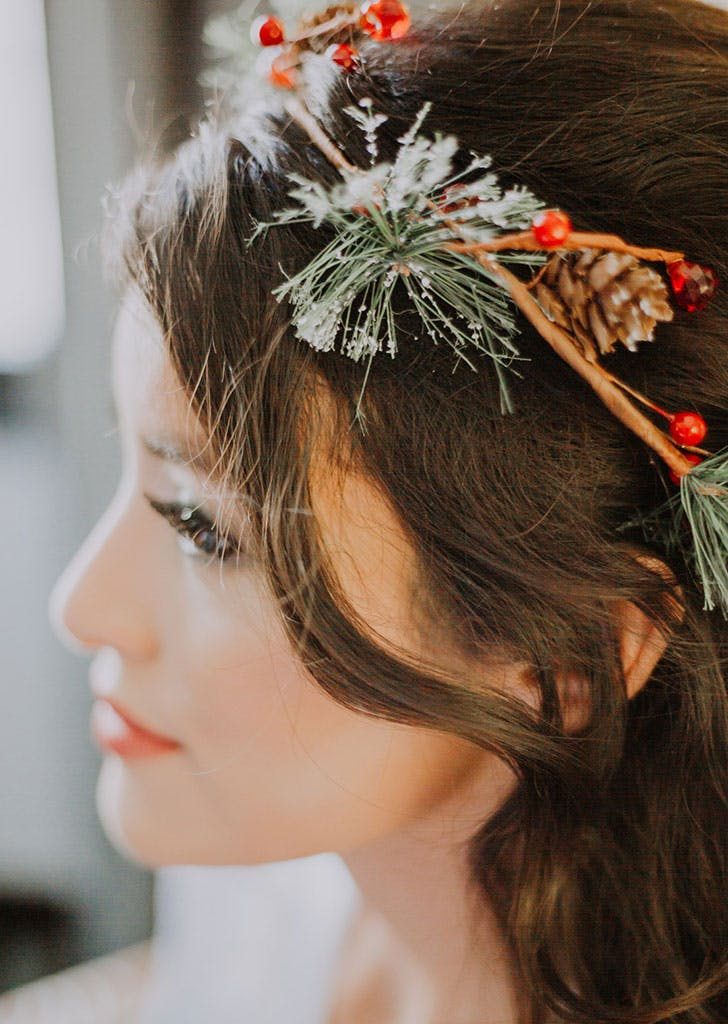 Flowers
Deciding for flowers is not complicated, because this time of year makes it very easy for you: poinsettias, mistletoe, holly, cotton flower, ivy… in the centerpieces, in the place of the ceremony or even in the bride's bouquet.
If you're still not convinced, you can always opt for traditional flowers and make your most winter bouquet, with Christmas colours such as red, white or green. Spread the bouquets with wide ribbons of red velvet! Kissing under mistletoe will never make more sense or be as special as on your wedding day!
Music
How could carols be missing during your wedding? There are a lot of tunes that can be played on your big day, from the most traditional to the most modern songs. Jazz or swing artists will be a hit, and even more so if they play live! Perfect to open the dance.
All I want for Christmas is you by Mariah Carey, Jingle Bell Rock by Bobby Helms, Let it snow by Jessica Simpson or Jingle Bells by Frank Sinatra Which one are you choosing?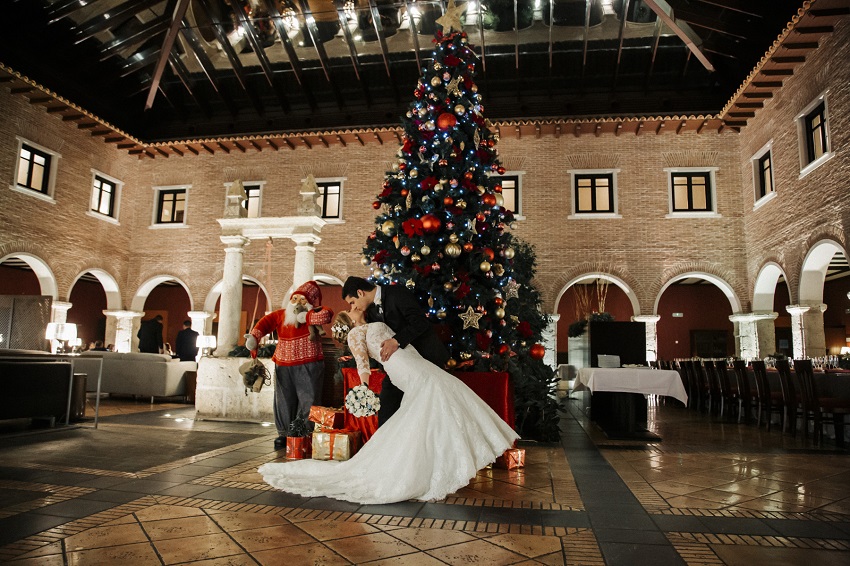 Environment
No doubt the environment will be essential to make your wedding space as Christmasy as possible, so a castle, a mountain house, a monastery, a rural farmhouse or a palace will be the most appropriate places, and more if they are in the mountains or anywhere where snow falls.
And if they have a chimney, even better! Add more of the Christmas spirit by decorating it with the typical red socks, candles or crowns. At Perfect Venue we offer you numerous luxury spaces for your Christmas wedding!
Invitation
The Christmas touch cannot be absent in the invitations for your guests. Handmade invitations are very fashionable, with ancient calligraphy and watercolor illustrations, just add red ribbons, Scottish prints, small branches of fir and close the envelope with a small branch of holly or a garnet velvet!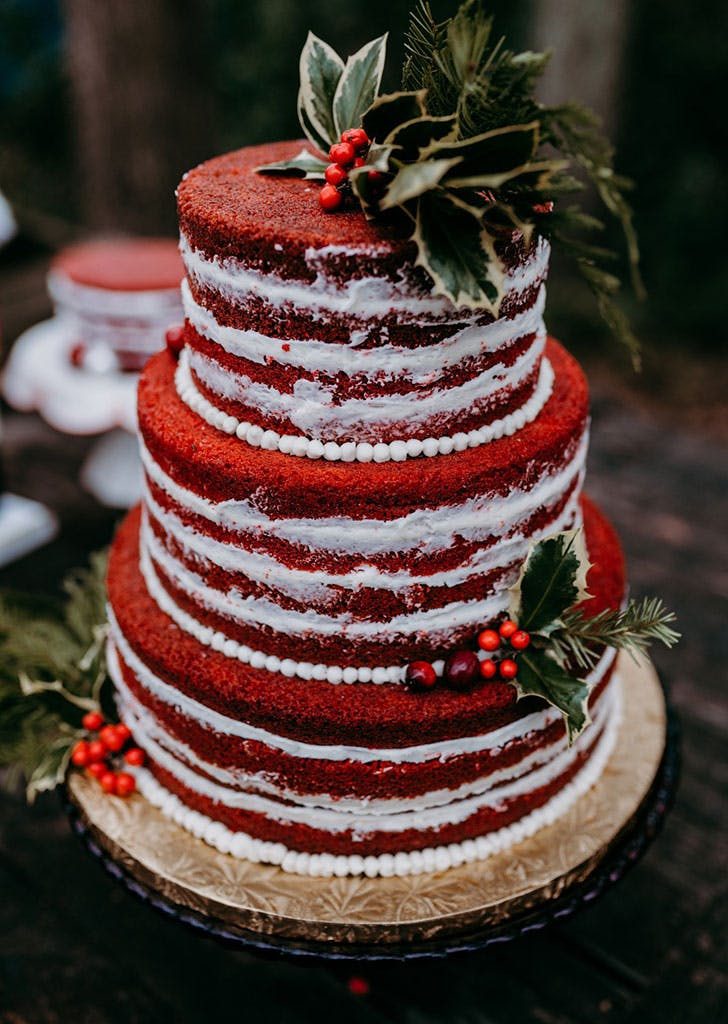 Menu
A wedding of this theme offers us a delicious menu: the traditional turkey, prawns, creams and hot soups, roasted meat, suckling pig, lamb stuffed with chestnuts … the options are endless.
You know you can't miss the Candy Bar, but this time it will be full of typical Christmas sweets such as marzipan, nougat, red fruits, ginger biscuits, chocolates, king rolls or even cups of hot chocolate!
Without forgetting the traditional wedding cake, at your Christmas wedding you can decorate it with cream in form of snow, with red fruits and edible elements such as reindeer, Santa Claus hats, snowmen or stockings.
Photoshoot
This part of the wedding is essential, so you can't miss out on accessories such as reindeer headbands, Christmas tree hats or Santa Claus hats, elf ears, whiskers and beards, cotillion, reindeer masks… An idea where fun is guaranteed!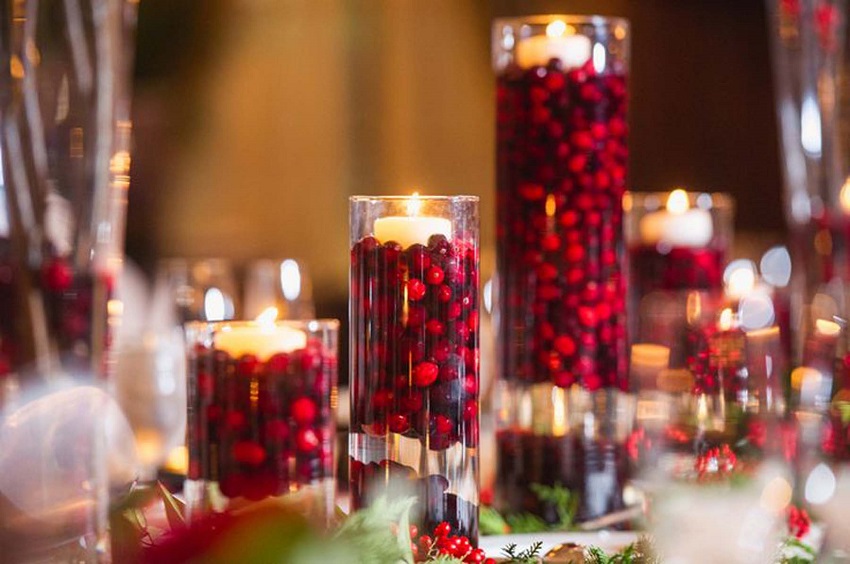 Clothing
Don't let the cold stop you, because this isn't a problem anymore. There are numerous options that can make you look just as shiny on your wedding day.
All you have to do is wear a long-sleeved bridal gown with lots of gems and accompany it with a stole, a hooded velvet, fur or down coats.
For the hairstyle you can always choose to accompany it with a crown of flowers in conjunction with the rest of the decoration and even with some red shoes. Do you dare? The bridesmaids could also wear red!
For the groom, a Scottish tie and print vest will fit perfectly, always in shades of green or red. But if it's too much, a small handkerchief on the jacket with a holly branch will do just as well. Isn't it true that after reading this article you want to give the "yes I do" in a completely Christmas atmosphere? We told you so!
If you decide to celebrate your wedding at Christmas, at Perfect Venue we are waiting for you to get down to work. Start the countdown!
_______________________________________________________________________________________
Photos via Pinteres.