If you decided to pull-off an outdoor wedding, then you have taken an amazing decision since it always bring a romantic and a very natural touch to the ceremony. However, those type of weddings are harder to organize than what they look like at the first sight. You can get trapped by many things and get extra setbacks, this is the reason why you should always be very careful. Nevertheless, if you follow our compilation of advices from Perfect Venue Manager, we guarantee you that you will shine more than ever for your big day. 
Comfort
First of all what you should keep in mind for this special day is the season and the month of the year when you are going to celebrate it. Is it sunny? Don't leave your guests melting under the sun, not feeling comfortable during the ceremony: if it is necessary, place some water bottles so that they can take them before sitting. You can also gift to everyone a little sunscreen bottle or a fan before the celebration.
If, on the contrary, it will be cold and humid, cover the outdoor space with perfectly conditioned tents or leave on each chair a blanket as a free gift to every participant.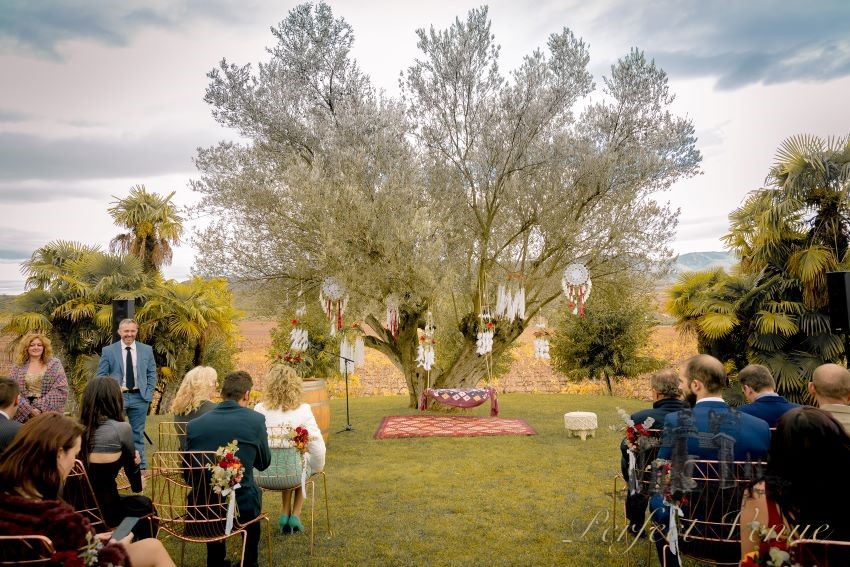 Plan B
What will you do if it rains ? The perfect place to celebrate an outdoor wedding always need to count with another interior space so that you can move the ceremony in case you need it. Many couples choose an outdoor ceremony and an inside wedding feast. 
That way the tables can always be pushed to the posterior part of the room during the ceremony. Setting up tents is another option, but they will only withstand drizzling rain, indeed if the rain is too strong, the floor will get full of mud or it will be slippery.  
The wind : a big danger
Many outdoor weddings turn into a nightmare because of the wind. Avoid lightweight fabric such as silk for the bride and bridesmaid's dresses and choose updo's hairstyles. 
For the men, use products that fix their hair very well. And make sure that the tent that you chose will resist to a strong wind or that you have a plan B in an inside place.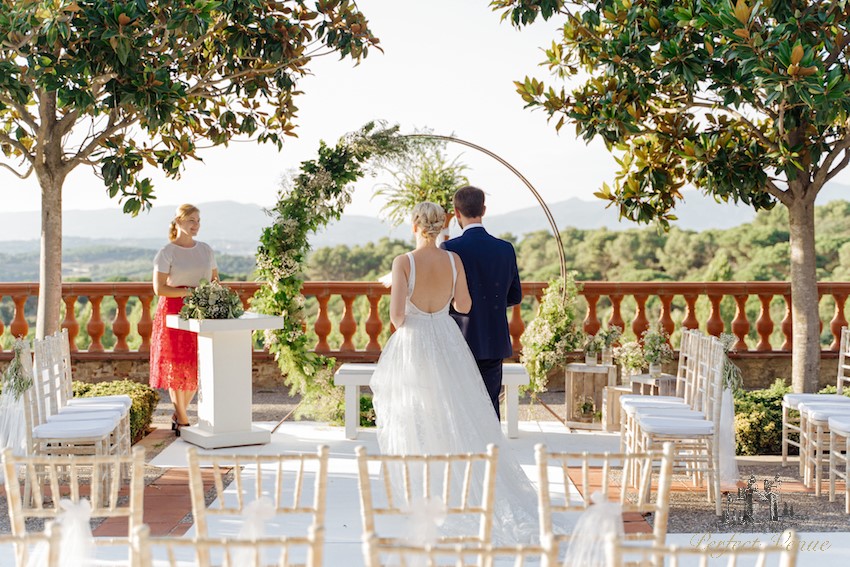 Will everyone be able to hear the ceremony?
When you imagine the wedding of your dreams on the beach, you probably didn't think of the noise of the waves, of the hasty wind or of kids running or shouting around you.  Therefore, consider the possibility to rent a sound system with remote-field microphones for the bride, the groom and the officiant.
Scenery
One of the advantages of an outdoor wedding is the natural beauty surrounding you, thus reducing the necessity for you to decorate a space. Nevertheless, you still need to do a bit of work. Visit the venue one week before your wedding to make sure that the grass is cut, that the place is raked and the flowers are in bloom. If your event takes place in a very cold season, you may need to add more flowers such as a few flowerpots. Other decorations that you can include are an archway or a lattice to bring everyone's attention on the ceremony while the bridegrooms say their vows along with lanterns or little lights to bring a romantic touch to the wedding. 
Insects and sun
Think about programing your outdoor wedding during the sunset where the guests will enjoy a wedding with the sun's warm glow. Also, keep in mind the heat and the quantity of insects that there can be at this time of the day.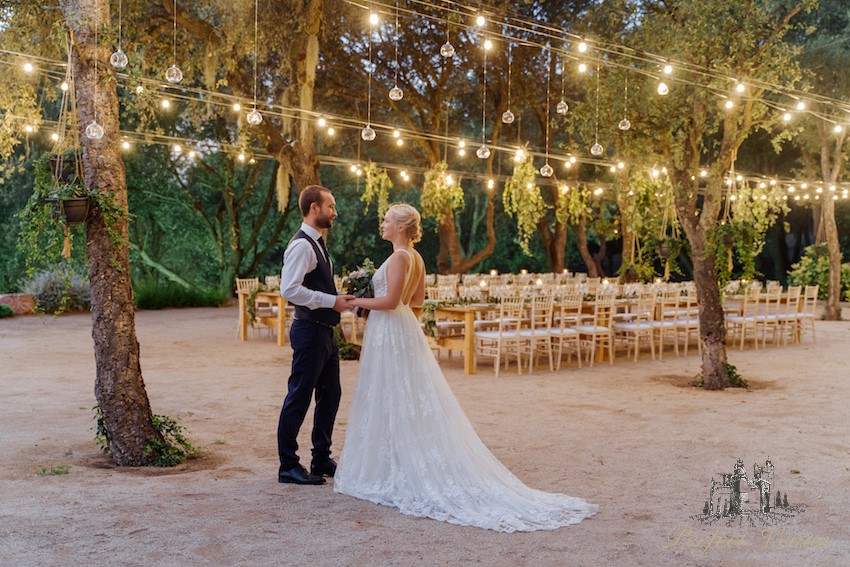 Authorizations
If you wish to celebrate your wedding in a park or in a public space, you will have to contact your city council or the local police of your town to get the required authorization. Make sure that you ask about every detail of the celebration such as the garbage collection or the illumination with candles and torches. 
Chose properly the venue
Choosing the place in which you will finally say "Yes I do" is a complicated task. You need to keep in mind a long list of factors and above all, a place that counts with an interior zone in case there is a complication, especially meteorological that can prevent you from celebrating your outdoor wedding. Hereunder, we will show you some of the most exclusive venues in Spain where you can celebrate an outdoor wedding: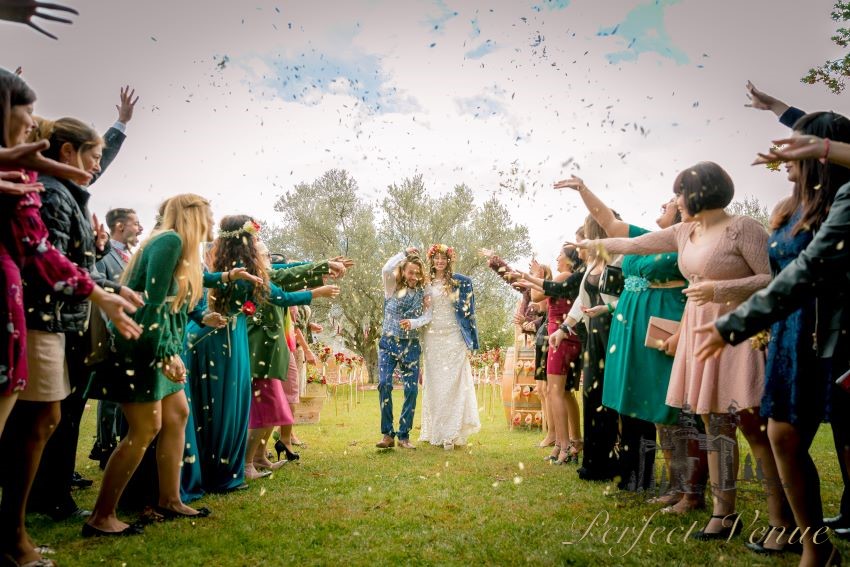 Bodegas Francisco Gómez is an estate in Alicante with more than 3.500 hectares of land where you can settle tents and organize high capacity outdoor celebrations. It also counts with its own catering and with an important variety of spaces, some of them being indoor in case there is a problem.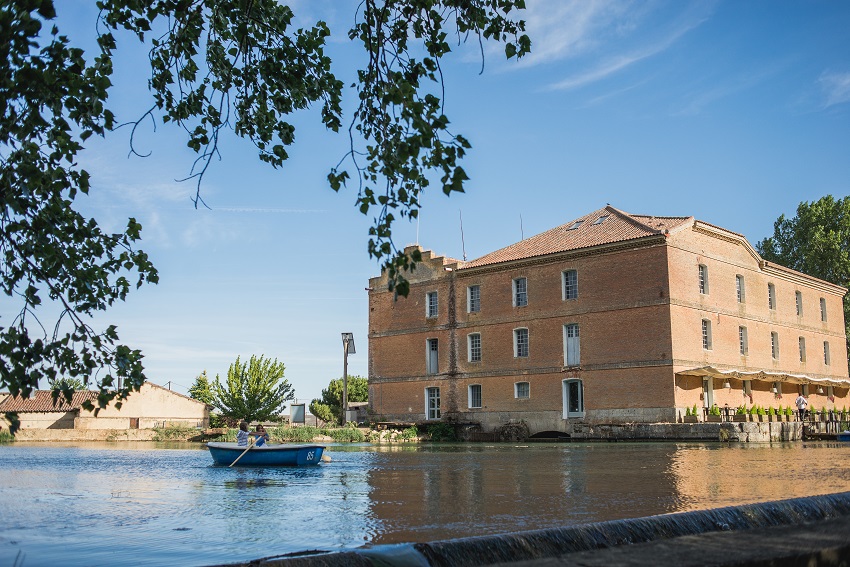 La Fábrica del Canal is located in Abarca de Campos in the Palencia's province. It was built in 1854 and was declared Property of Cultural Interest. It has a professional team which will help you any time to prepare your wedding arrangements. If you rather prefer to celebrate a civil ceremony then you can organize it in the garden, on the terrace, or in any indoor space of the complex. It has a capacity up to 350 persons. 
The castle, declared Property of Cultural Interest is composed of 8 acres which make it ideal to celebrate in its inside any type of event surrounded by history, nature but it also counts with many gardens where you can organize weddings as well as feasts or welcome cocktails. 
Are you planning to organize an outdoor wedding and you don't know where to start? If you need help when it comes to organize your big day, don't hesitate to write us at info@perfectvenue.es or to visit our webpage with the most exclusive venues in Spain.