All of us, at one point, have heard this song or melody that makes us immediately remember an emotion or an important moment in our lives.
On a day as special as our wedding day, it is important to know what soundtrack we want to play. A soundtrack that will make your wedding an exciting, unique and memorable experience.
Nobody puts more passion into their live performances than the Madrid group Viva Voz & Friends. This group of singers and professional musicians, with years of experience and training in the musical and scenic world, are able to connect with each emotion and convey feelings and messages in the most beautiful and intense way, making each moment an amazing musical experience.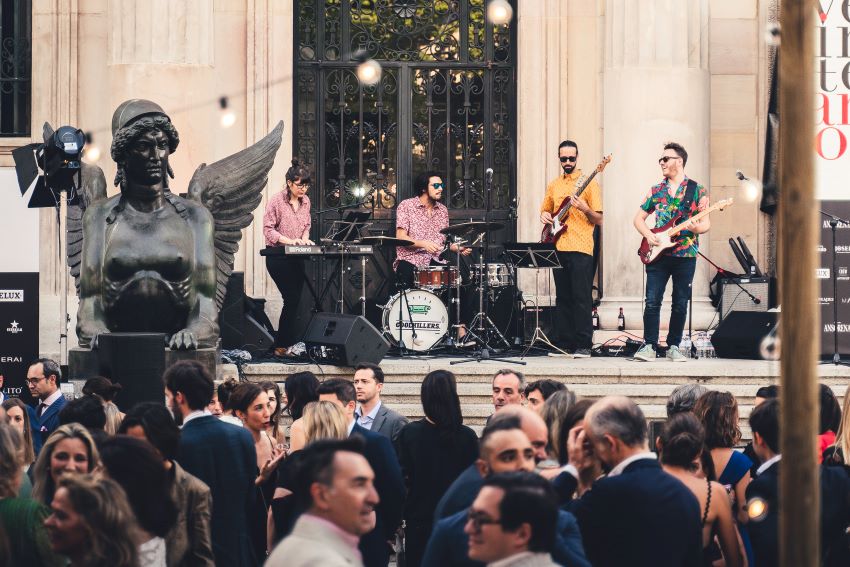 Not only does Viva Voz & Friends have exceptional musical skills, but they also offer a personalized and committed service to faithfully fulfill your wishes and make your wedding an unforgettable event for everyone, as you've always dreamed.
We are eager to meet and hear these musicians live and get to know their wide range of possibilities for their wedding days. If you also want to get carried away by this world of emotions, elegance and distinction, do not miss the following interview with Viva Voz & Friends…
We arrived at our meeting with Viva Voz & Friends. As we get closer to the rehearsal room, we can hear a beautiful song accompanied by a saxophone and a spectacular voice. Sitting, smiling, enjoying this sound creation, one of the musicians and singers of the group awaits us, ready to accompany us through this magical journey through music.
Good afternoon. What a beautiful song, it is very emotional!
– Good afternoon, I'm glad you like it, it's a song especially designed for a couple on their wedding day.
Yes, we love it. And we would love you to tell us more about everything that Viva Voz & Friends offers to couples for their wedding.
– Sure, what do you want to know?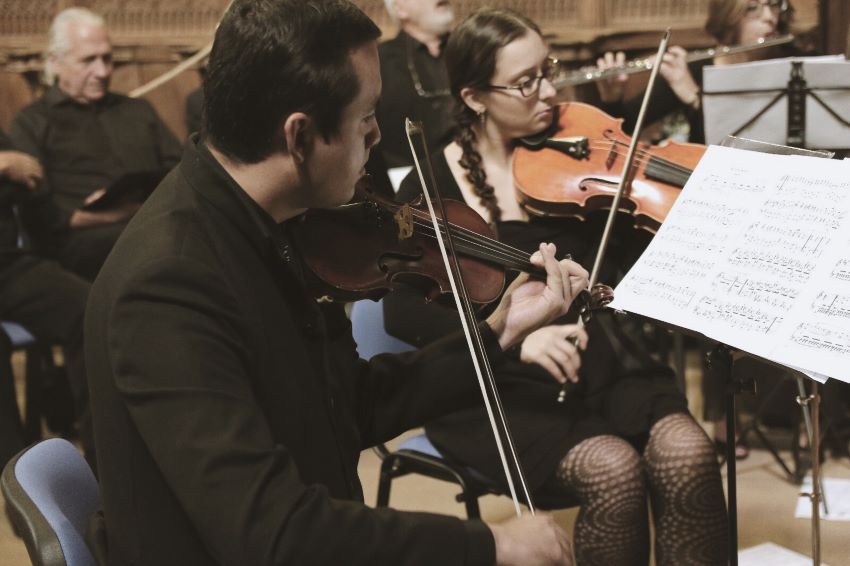 Viva Voz & Friends is made up of different musicians and singers from different backgrounds, genres and styles, WHow do you determine which repertoire is the most appropriate for each type of event? Do you have established playlists or do you let customers design their own songs, styles and themes?
– First is an interview with the couple. They tell us in the most concrete way possible their musical taste, their idea of a perfect playlist and what excites them and gives them goosebumps. Giving shape and musical coherence to that emotional project is our job but also extracting information to surprise them beyond their own expectations.
I heard that you also compose songs and are capable of satisfying any request, making each wedding a unique moment, what has been your biggest musical challenge in this regard, and the strangest request you have had?
– Hahaha, there really has been everything, from putting melody to a letter written by a groom and doing  playback in the ceremony with our singer singing in the background, to the creation of a thirty-minute musical with orchestra, singers and dancers based on the love story of the bride and groom.
There are religious and civil weddings, what kind of musical accompaniment can you offer for each of these two types of ceremonies?
– In religious ceremonies we have to take into account respect for the liturgy. Always in coordination with the officiant and depending on their permissiveness, we try to satisfy the requests of the bride and groom, giving them an acceptable format for the context. Instrumentation and classical vocals are usually the most common and our experience and versatility allows us to combine interests that are sometimes very different. The gospel or the music rociera are compatible and respectful alternatives. From an instrument and / or solo voice, to a symphony orchestra with a great choir.
As for the civil ceremonies there are no limits, personalization, the music of the bride and groom, which accompanies them on the emotional journey they will undertake. In outdoor ceremonies, we take great care of the sound with professional technicians so that everything is perfect.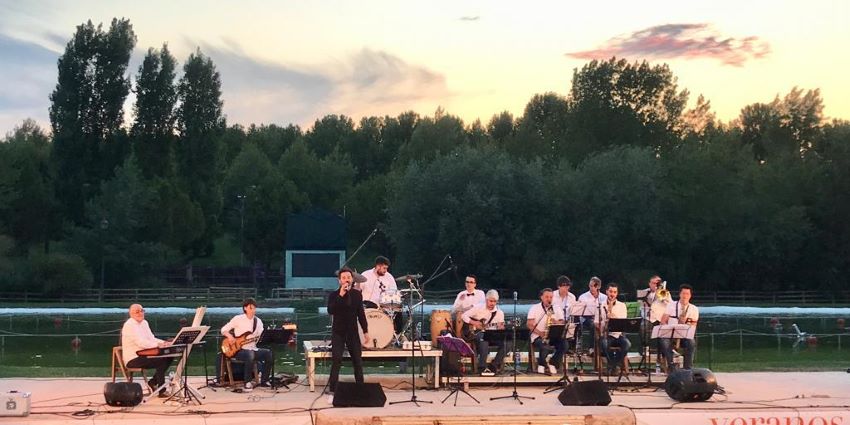 At what moments of the ceremony, banquet or cocktail do you consider that music is essential to emphasize the moment or message ? What kind of music is most suitable for them?
– From experience, the ceremony has to be done with live music, since it is a live act. Our musicians have the solvency to improvise finals when the bride and groom arrive at the altar, version the song to extend it in a longer than usual speech, make crescendos, diminuendos, incorporate or silence instruments according to the moment … Accompany the act in a natural way.
The cocktail is a time when people want to talk. They have not seen each other for a long time, or they have just met and there are presentations, they comment on the ceremony … The environment that is generated determines the future of the celebration. We always recommend ambient music: jazz, bossa nova, latin, soundtracks, classical music, boleros, tangos … Or current pop / rock versions in jazz key. So that we accompany the conversation and create the right environment for people to relax, talk and even move a little. Always with the style and instruments that the bride and groom choose. Of course it is important to enhance the arrival of the bride and groom in the cocktail.
During the banquet it would be a bit the same idea as in the cocktail but more quiet, so that people eat in a relaxed way: a piano and / or string instruments with a well-known soft and pleasant repertoire, once again personalizing the arrival of the couple. It also opens the possibility of surprises and small appearances with micro shows between dishes or desserts: opera, mariachi, the prickly pear, special dedications … The range of possibilities is endless.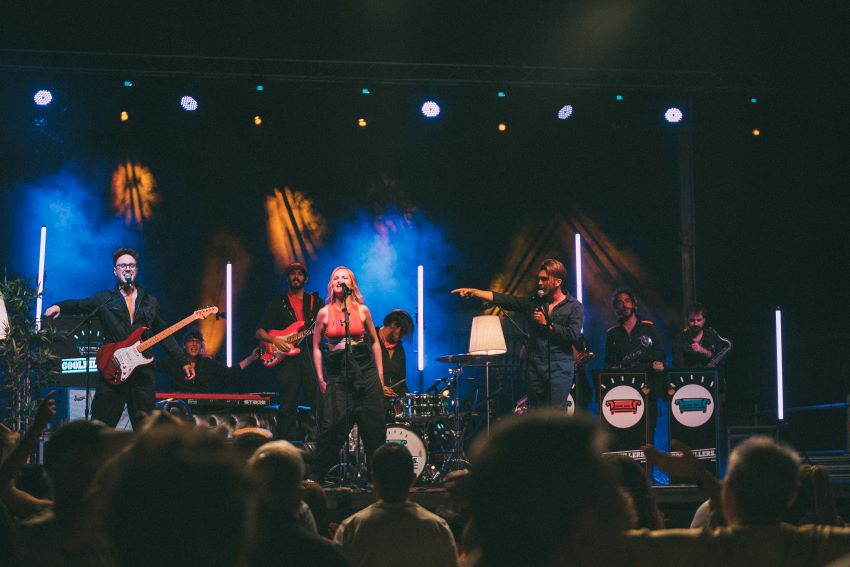 You have a wide range of music, appropriate for each occasion and adapted to each type of audience but, in general, what is the style of music most requested at a wedding?
– In ceremonies, both religious and civil, the most requested type of music is the violin and piano duo. Its musical versatility and the possibility that these same instruments give life to the cocktail, is a great advantage over less common formations.
Versions of current music combined with great classics, jazz and soundtracks are the most requested repertoire.
Viva Voz & Friends is characterized by its amazing client service, and for being interested in the type of event, space, public and tastes of the couple when designing both the musical repertoire and the training and staging. Tell us, how is the process from the moment a couple contacts you until the day of the event so that every detail comes out perfect ?
– We are very aware that we work with emotions, so generating an environment of trust from the first moment is essential. We will become the voice and soundtrack of the most important day of their lives and many times, the couple, come to us with the mentality of hiring a service that translates their emotions into music. We try to transcend that concept, which we have more than mastered, so that it becomes something very special in their lives. It makes everyone's experience in that event, including us as professionals, an emotional and transformative journey. Our experience and professionalism has allowed us to design and carry out events with very little time, but there is no doubt that having the time factor helps us create, visualize and improve everything.
One last question, do you have foreign clients? What do you think differentiates a wedding from other nationalities from a wedding between Spaniards at the musical level? Do they ask for a specific type of music?
– We have had Russian, North American, Venezuelan, Italian, British, French, Iranian clients … Almost everyone asks for some reference to their cultural origin, which we gladly attend, and if they don't, we like to investigate and surprise them.
There are also usually requests from our most native genre, flamenco.
Customs, such as toasts and dedications, differ according to nationality and of course we conform to the protocol.
But otherwise, the emotional factor is shared by all human beings, whatever their background, and music is a universal language, so we always play with that advantage.
Up to here our interview. Thank you very much for serving us so kindly and for this heady sound environment that has accompanied us at all times, a pleasure.
– The pleasure has been mine, come back whenever you want.
We leave this space excited and with extensive information about how important a good musical accompaniment is in events and weddings in Madrid and how Viva Voz & Friends can make your wedding an event worth remembering.