Your wedding with the capital city in the backround
As we walk down Gran Vía to Plaza de Cibeles, on a sunny day that makes the beauty of the fountain stand out even more than usual and, right next to it, the majestic and spectacular facade of the Cybele Palace.
This monumental building, from 1919, was the Palacio de Comunicaciones. Nowadays, it is the seat of the Madrid City Council and has one of the best restaurants in the capital, Cybele Palace Restaurant.
We go through its imposing door, climb its staircase, let ourselves be dazzled by the beauty of its interior, its arches, the marble, and enjoy this unique and privileged place in the historic center of Madrid.
We access the 6th floor, where we are accompanied to the Terrace Cibeles, place where the owners of this unique space awaits us and from where we can see the beautiful views of the capital.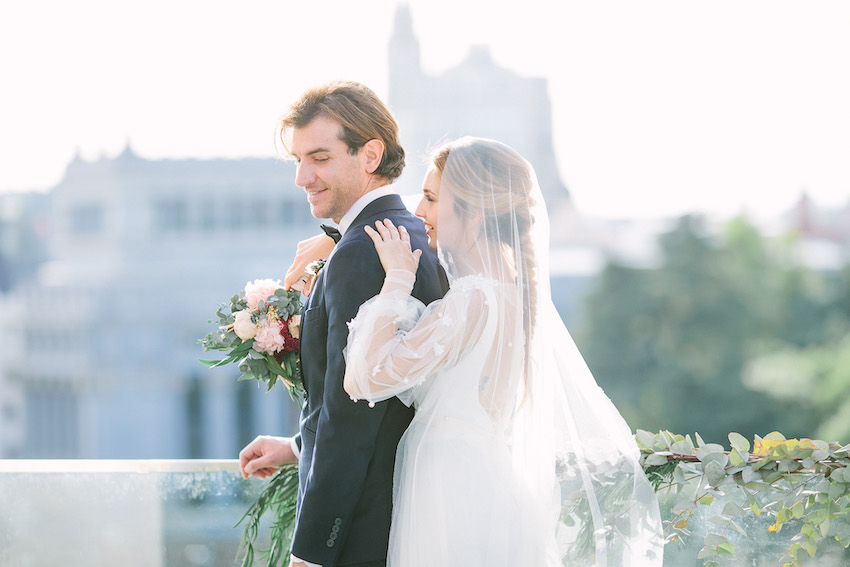 Good morning, incredible views … If you do not mind, we would like you to tell us a little more about Cybele Palace and everything it offers.
 Good morning, yes, it is a beautiful building, both inside and outside, and the views are spectacular … Tell me, what would you like to know about our restaurant and other spaces we have?
As we mentioned, the Cybele Palace is one of the most emblematic buildings in Madrid, what services do you offer to the couple how decides to have their wedding here?
An unforgettable gastronomic experience, with close attention to the couple and their guests. We are in a beautiful setting at the Cybele Palace, it is one of the most iconic buildings in the city of Madrid to celebrate a special moment like your wedding.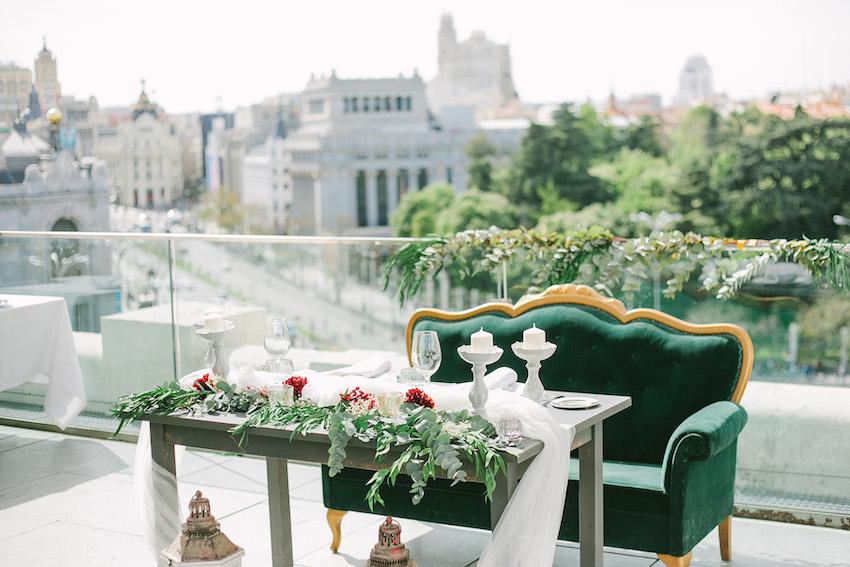 I agree, it's an iconic space. And, how do you manage each wedding? Do your clients have a certain profile?
Each wedding is different, giving a very personal treatment to each of the couples that visit us, the main thing for us is that they feel comfortable and confident that their day will be memorable. I am convinced that, at the Palacio de Cibeles Restaurant, the bride and groom choose us because they know that they will be taken care of in a completely exclusive way, and this makes us proud.
According to your experience, is there any difference between organizing a wedding for a couple here and with foreigners?
There is always a difference, even with the couple from here. But what we really want is that they feel like in their place of origin, be it from Spain or from abroad, that is our objective.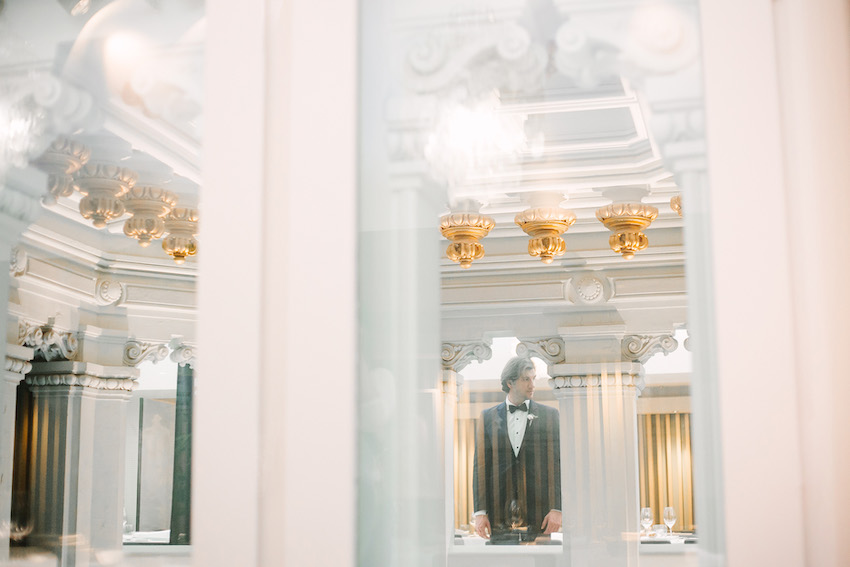 You have a haute cuisine restaurant that combines traditional food with the creativity of its dishes, what would you say is your specialty?
 Our specialty? If I have to answer something concrete, I would say that, when coming from Toledo, hunting and meats are dishes of our tradition, but with that being said, we must have the highest quality seafood product because of the Merca Madrid. We take advantage of the wealth of ingredients from the community of Madrid to develop dishes with a healthy line and at that are creative at the same time.
The kitchen is directed by Adolfo Muñoz, a recognized chef with a great professional career, having among his recognitions two Repsol soles and the National Gastronomy Award. What type of menus can you offer at weddings? Are they set or can they be customised?
Our Chef, Javier Muñoz, with the wisdom and experience of his father, Adolfo Muñoz, and with the inestimable help of his team, has developed a cuisine based on tradition and health.
About the menus we offer at weddings, let's just say that they have been studied and prepared for the satisfaction of all guests, both in quality and quantity, with products that set a trend towards Spanish cuisine. We have already established menus, but we are always open to developing menus for weddings with preferences such as Indian, Russian or buffet, we adapt to the needs of our customers.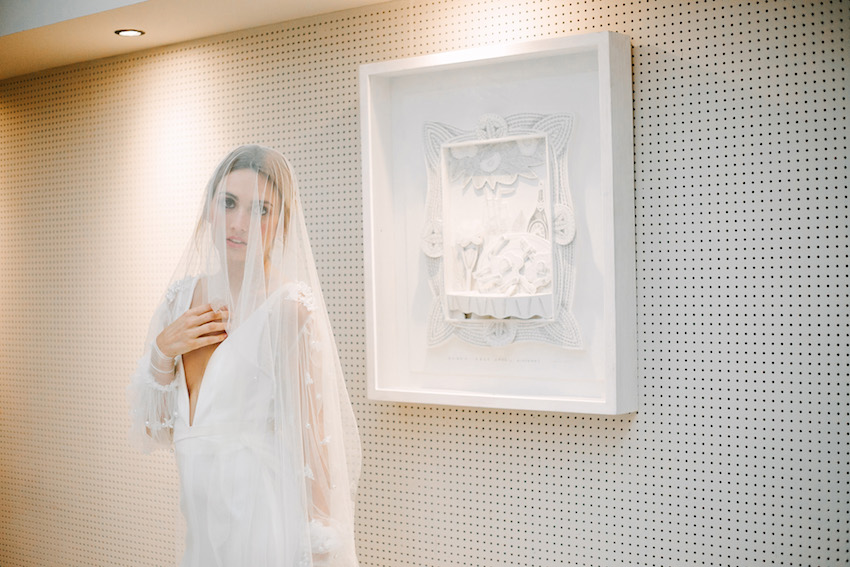 Let's talk about the necessary preparations so that everything goes perfectly on the day of the event. What are the tasks that the bride and groom delegate to you and that are taken care of by your team?
Mainly, the organization of the kitchen and the wedding service are our main tasks, and in some cases, we recommend groups of music, or floral decoration. We coordinate the other tasks with them in full mutual collaboration.
In the first place, we give great importance to our cuisine, it is a unique gastronomy. We want the experience to be like going to a luxury restaurant, where the service is formal and at the same time close to its clients, taking care of every detail. Therefore, celebrating the wedding with us is so special. Also, it must be added that the place is magical, don't you think?
Yes it is true … And, tell me, how is the process that you follow since the couple contacts you until the day of the celebration?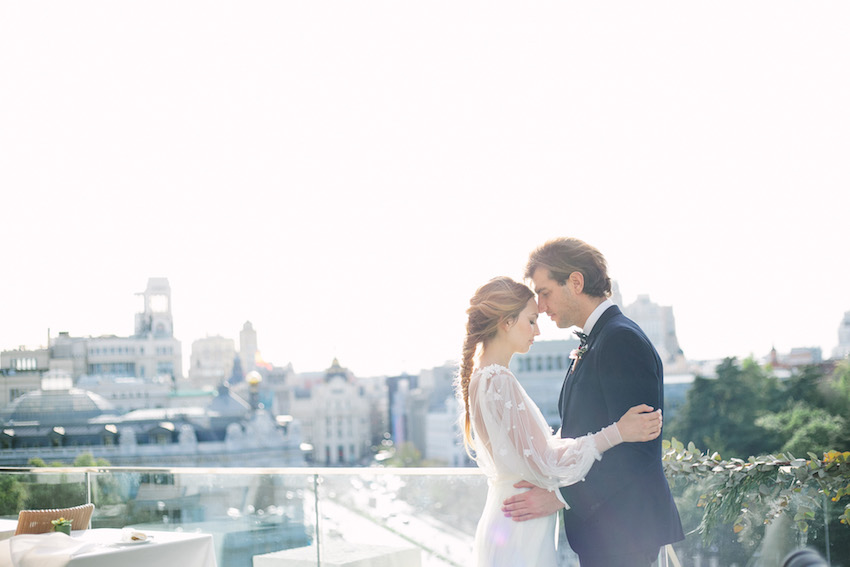 The process we follow is continuous, we are looking for everything they need, to provide them with most things so they can enjoy and relax during the whole process until the celebration. Trust is vital to make that day as special as possible.
Well, this is it for our interview. Thank you very much for your time and kindness and for showing us a little more in depth the benefits of this building and the Palacio de Cibeles Restaurant, a real pleasure.
I think we'll stay a little longer enjoying the views of your terrace and its exquisite cocktails.
Of course, enjoy it, make yourself at home.
If you want to say "yes, I do" in an exclusive palace in the center of Madrid, with unbeatable views and the best cuisine, Cybele Palace is your space. We'll wait for you, with the capital in the background.