Somnis Mediterranis is an exclusive weddings dress shop based in Mallorca, a unique place dedicated to to bridal fashion in the Balearic islands. Their designs are famous for the freshness and naturalness that they give off; in the designs they use very extraordinary materials such as tulle, crotchet, silk or macramé.
Somnis Mediterranis creates various signature gowns; all very highly regarded; custom-made and personalised. Because of this, we wanted to get a deeper look into the different designs of this balearic shop through a passionate interview about their experience, trajectory and style.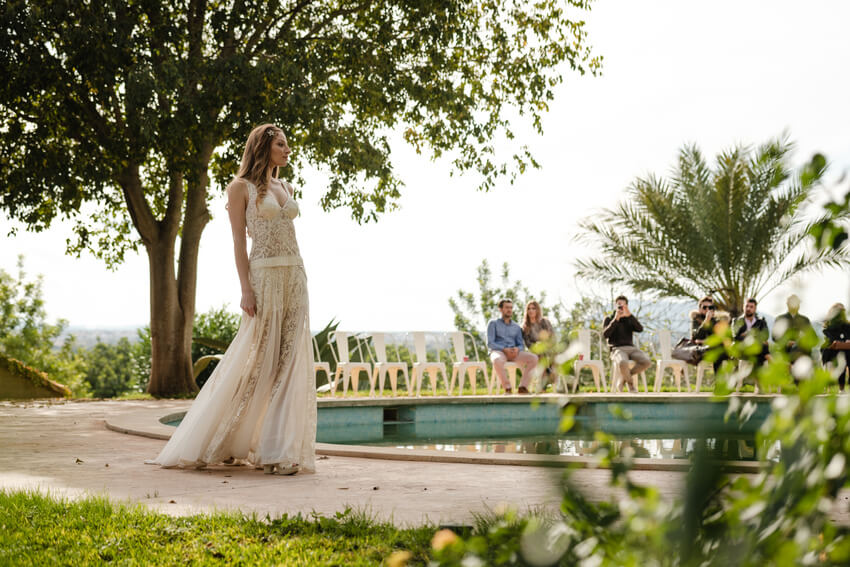 How did you come up with idea of Somnis Mediterranis? What is your story?
The idea came about when I was organising my wedding and choosing all the details that I wanted for it. I remember the search for the dress as one of the best moments, out of all of the preparations for the wedding, that was my favourite.
For that reason, I decided to start Somnis Mediterranis, I like to pass on and share with future brides that come to the shop all the things involved in a wedding; emotions, laughs, tears of happiness and above all, the most anticipated moment, advising them about their dream wedding dress. This is the main reason I was drawn to the bridal world, working in a sector where happiness and enthusiasm is breathed at all times.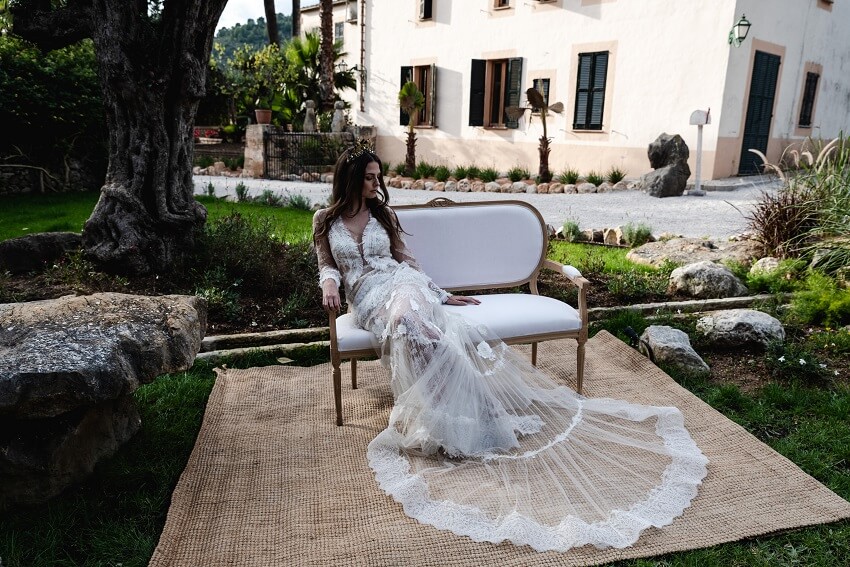 What is the essence of Somnis Mediterranis?
There are many elements that inspire and form a part of our essence; but the sea, pristine beaches, forests, rustic fincas, mountains… those are probably some of the main landscapes.
We have a big variety of dresses inspired by open and natural spaces, here is where we believe the brides will start to feel more free and connect with their bohemian side.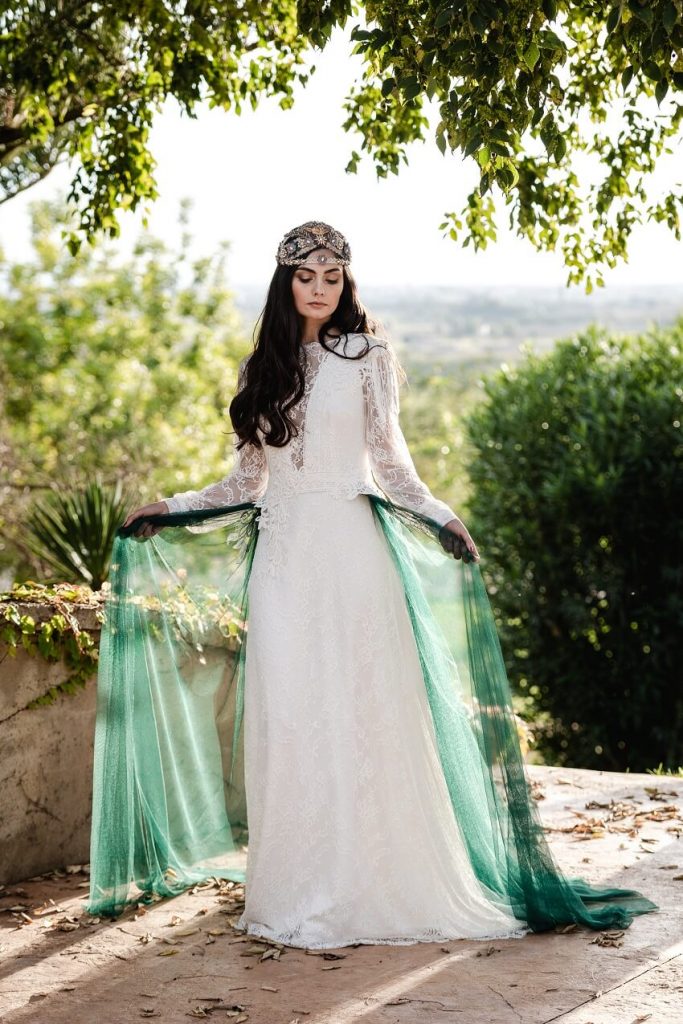 What designs could you find in your shop? Do you have a specific style?
We start with bohemian and daring designs; we have great designers such as Yolancris and Jordi Dalamu, two very well-known and respected people in the world of wedding fashion. Through these designs we try to play with the colours, from a simple aquamarine or a pale pink, to a dress composed of black details or even denim. Our priority is the quality of fabric and their perfect combination.
We also have designs that have very particular details like chains. Perfectly positioned chains that enhance the figure and create a look with a touch of elegance. We also use chains on vintage dresses – these form a part of the Rock Vintage line.
Another very surprising style of dress that we can find in the shop is one which, under its original large and thin skirt, hides a small mini-skirt brining a sexy and romantic touch at the same time. Short dresses with underskirts which allow you to wear two looks in one night, a unique and exclusive style.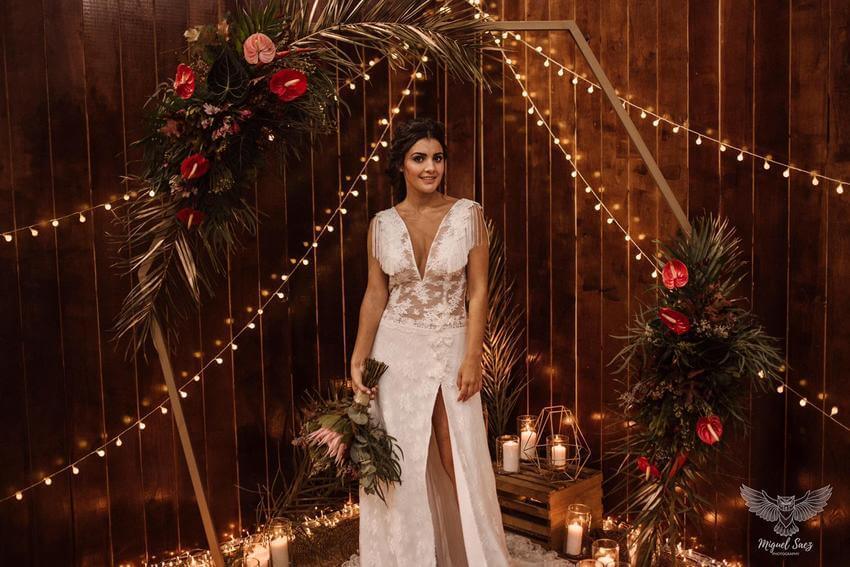 In you designs you use natural fabrics, crotchet, tulle… What importance do those materials have in your collections?
They are essential fabrics for us, since all of them were very widely used in the hippy movement. Easily remembered for their way of being, free and very close to nature. We love to work with these fabrics because they can pass on a feeling of freedom and simplicity at the same time, perfect for a day as special and unique as your wedding day.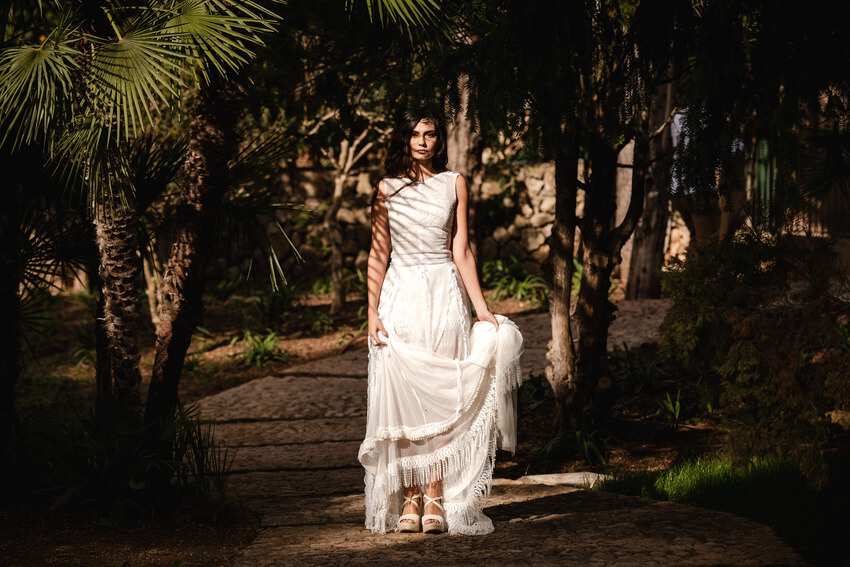 Do you have a specific type of bride that looks for your dresses?
We don't have a specific client profile, we simply start with a bride that wants to feel totally different from the tradition, to be herself on a such a special day and be seen in a different way to a classic bride.
The majority of the brides that come to Somnis Mediterranis look to personalise their dress, tinto something completely different to everyone else's. Our brides are very sophisticated and bold at times, they want very strong garments that show who they really are, without masks or disguises.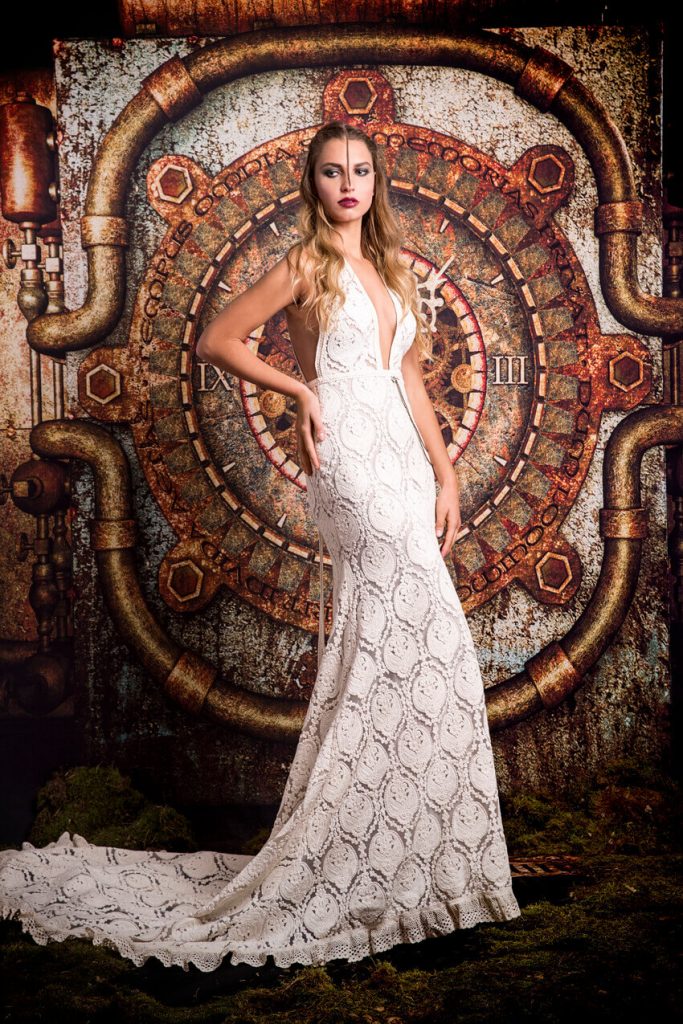 How would you describe the handling of each of the clients?
Our handlings are very intimate and above all friendly, it is essential that they feel as comfortable as possible and have the freedom to give their opinion. The fundamental thing for us is that the bride enjoys the moment accompanied by her close family. Starting a good relationship with them is something very beautiful and would be an unforgettable memory.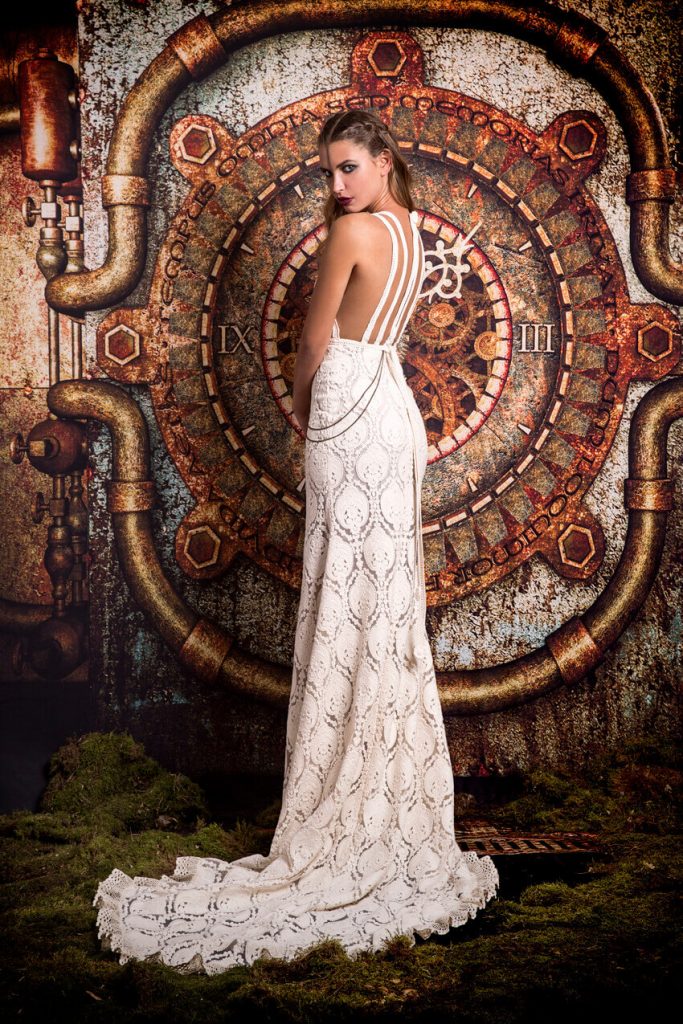 For many brides it is very important to have the possibility of a personalised dress. How would you achieve this? And what relevance does it have for you?
This shop has a big variety of dresses but it is possible that a bride would want to make a contribution to be able to personalise the design further. So, we have an option where we can mix the top of a dress with the skirt of another and, at the same time, choose a different back.
We change fabrics, and if the bride has thought of any colour in particular, we can can also personalise it without a problem. We are passionate about creating different and creative designs, dresses that are unique pieces for every one of our brides. So they can always be themselves.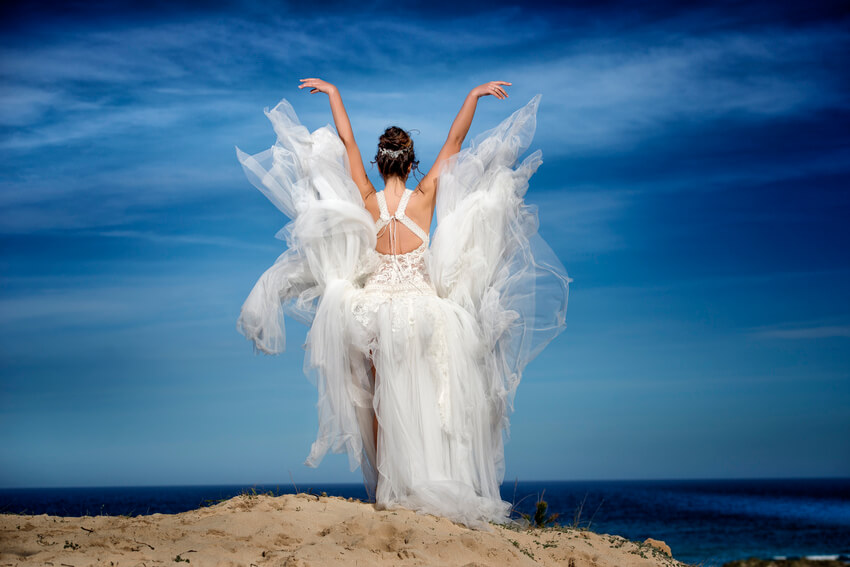 You take care of every detail to perfection. What is the process for a bride that first comes into Somnis Mediterranis, from the selection of the dress to the choice of the accessories?
The first step is to get every little detail about the event. The date of the wedding, venue, number of guests, any detail that could help us. It is essential to know everything about our couple, to know their likes and ideas will help us to be able to offer them the best advice.
Then comes the time to start trying dresses; we start with the list of them selected by the bride, and depending on what they look for and our collection we will be alternating other designs that we think can fit your idea. Once we have found a definite dress, if the bride makes a contribution, personalise it or change it in any way, we will request a budget. In the case that it is a fully tailored dress, we will request a sketch beforehand.
After we confirm the budget we start the search for the accessories. All the headdresses in our shop are custom made so that they go with the dress. From preserved flowers to tiaras, we have a large variety. As always, the brie choses, while attended to by a specialist.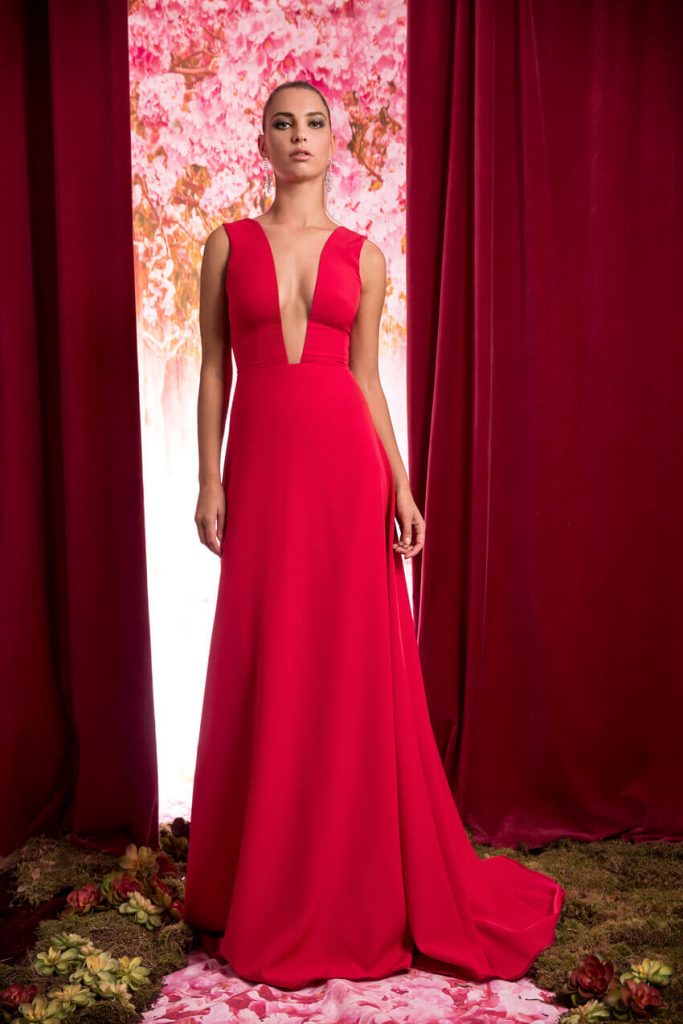 What differentiates you from all the other wedding dress shops?
Our distinguishable style that is outside of the traditional bride. We work with Yolancris – world renowned designers and, with daring designer Jordi Dalmau – both exclusive to the Balearics.
At Somnis Mediterranis we have dresses that are risky, brave, bohemian, boho and of different colours; and in a line that mixes all this with exquisite high-quality fabrics, silks, pleated tulles, guipures and above all, the guarantee that they are unique since you can completely personalise them. And completely made to measure!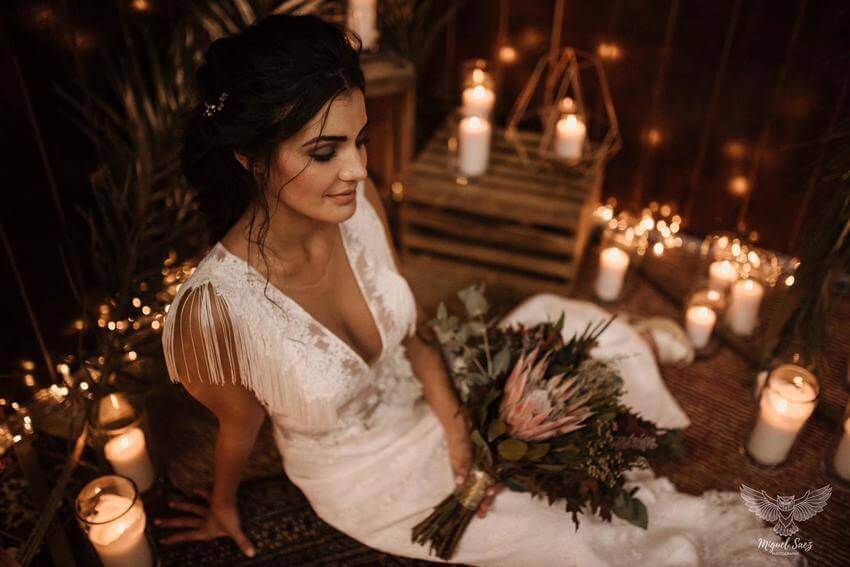 –
If you are looking for a wedding dress for your big day, we recommend that you continue exploring the incredible designs of Somnis Mediterranis through their website or contacting them on info@somnismediterranis.com. Thanks for your time and professionalism!