Spain is the perfect country to celebrate a yacht wedding thanks to its approximately 5km of beautiful coastline providing several locations for a boat wedding, and the ideal climate to match, with some regions seeing more than 320 sunny days per year. In this article, we have put together 15 reasons to get married on a yacht in Spain to help you consider whether it is an option for your wedding.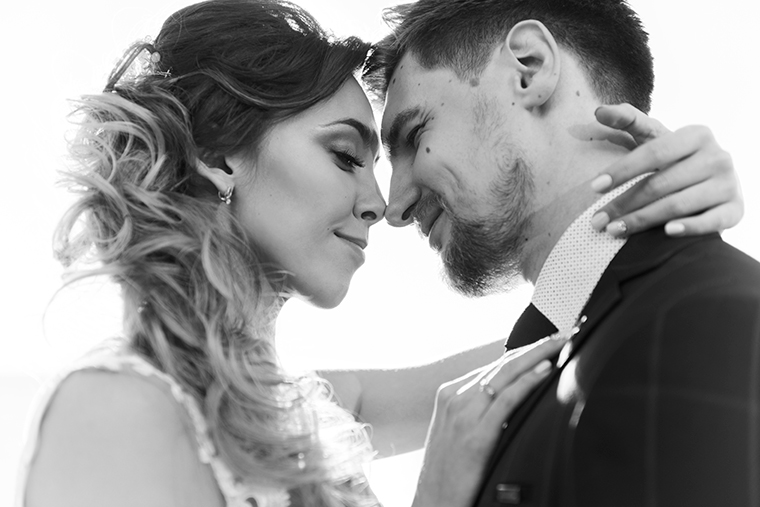 Photography: Alekse / Organisation: Svadba maks with Natalia Ortiz

Convenience
Yachts provide you with the option to celebrate every part of your wedding in the same place. You can have a beautiful ceremony on the deck, followed by a fun meal and reception, and if your boat allows you can even accommodate your guests on it. This is extremely convenient and saves a lot of time as well as money.

Privacy
If you are looking to celebrate an intimate wedding with no one but your friends and family around, where better than the sea? You will be completely private on the sea in your yacht without having to worry about outsiders or unwelcome traffic noise, or other hotel guests watching your big day unfold.
Uniqueness
Marrying on a boat is a very unique way of celebrating your wedding, so if you and your partner want to step away from the norm and do something different for your wedding, a yacht is both a unique and unforgettable choice of venue!
Mobility
On a boat you can travel wherever you like, so why not have it drop you off at different points in beautiful Spain to make the most of the country? You could choose to vacate the boat in a magical location for your wedding photo, or to have your post-wedding party in a different place if you want a change of scene!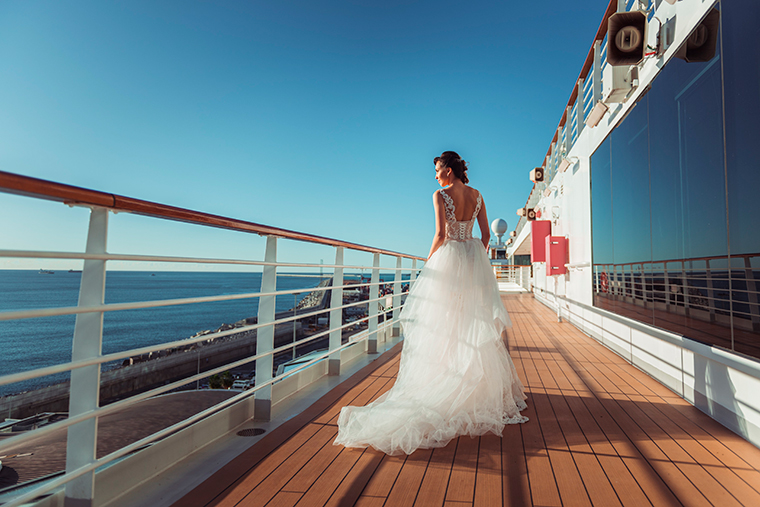 Photography: Alekse / Organisation: Svadba maks with Natalia Ortiz
Picturesque
The ocean provides a stunning backdrop for your wedding, and the views you can see from different points in the sea are often extremely picturesque. Your guests certainly won't forget how beautiful your day was!
Flexibility for your budget
There are many different options of boats to choose from depending on your budget. If luxury is calling you for your wedding day, you can hire superyachts equipped with everything you could possibly need for your big day. If less is more for you, you could hire a smaller, more basic boat to fit your budget.
Spanish weather
Spain provides the perfect climate to celebrate a yacht wedding. As well as sunshine and warmth, the calm climate means smooth seas which are necessary for a wedding on a boat.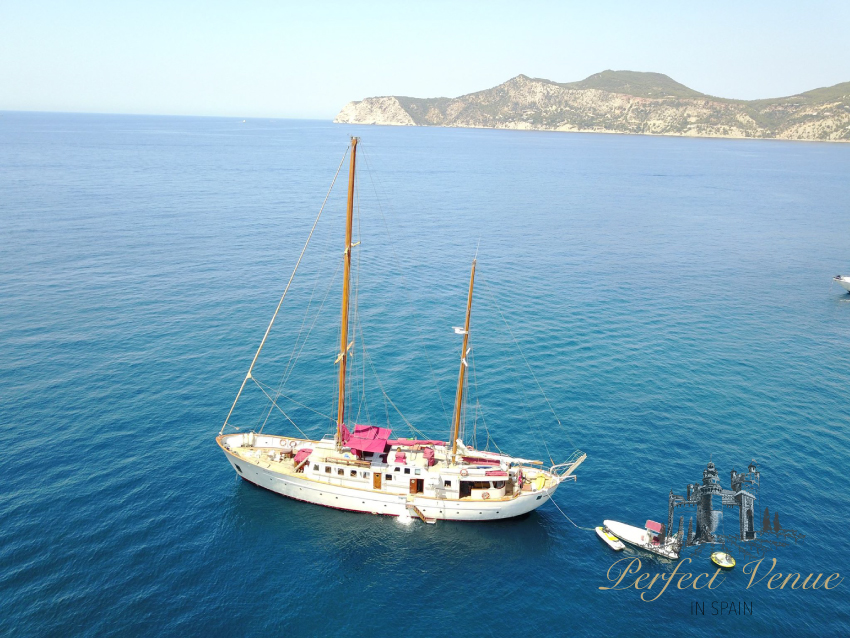 Fun
A yacht wedding gives you the opportunity to plan countless fun activities for your guests to ensure that everyone has an enjoyable day. Why not plan some fun water sport activity such as kayaking or snorkelling? This would make your special day truly unforgettable!
Options
There are so many options when it comes to yachts so you can be sure that it will fit your style requests as well as your budget. If you're looking for rustic and traditional, or new and modern you can be sure to find the perfect yacht for you.
No mess
If you and your partner have dreamed of marrying by the sea, but the thought of getting sand or pebble dust everywhere puts you off, a yacht wedding is the perfect choice for you. You will be able to enjoy the sea and coast without having to worry about mess!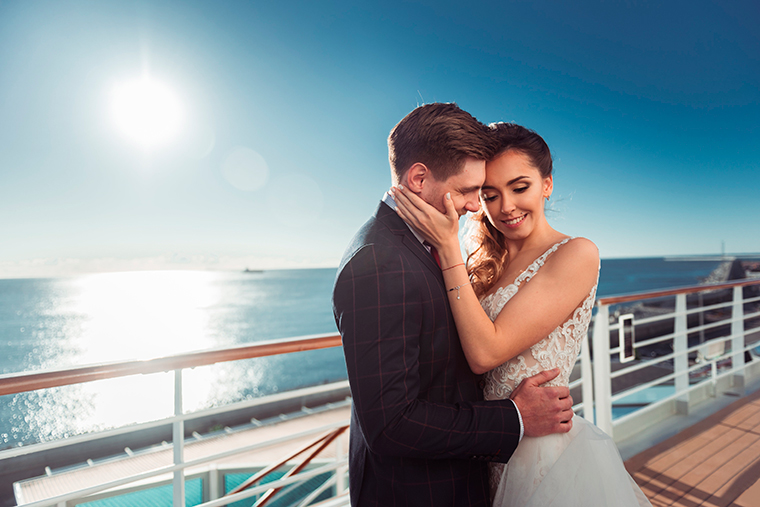 Photography: Alekse / Organisation: Svadba maks with Natalia Ortiz
Romance
Weddings are always a romantic occasion, after all it is a celebration of love! And what could be more romantic than celebrating a wedding in total privacy surrounded by the serene blue sea?
Honeymoon
Another huge advantage of celebrating your wedding on a yacht in spain is that you and your partner can go straight to your honeymoon  without needing to arrange extra transport! Or you can even spend it on the same yacht as they often have fantastic accommodation.
No neighbours
If you and your guests are party lovers and wish to stay up partying until the early hours, having your reception on a yacht means that you don't have to think about keeping your neighbours up! Privacy is bliss.
Peaceful
Water and the ocean are very peaceful and having your wedding on the sea in a yacht can make you feel at one with nature.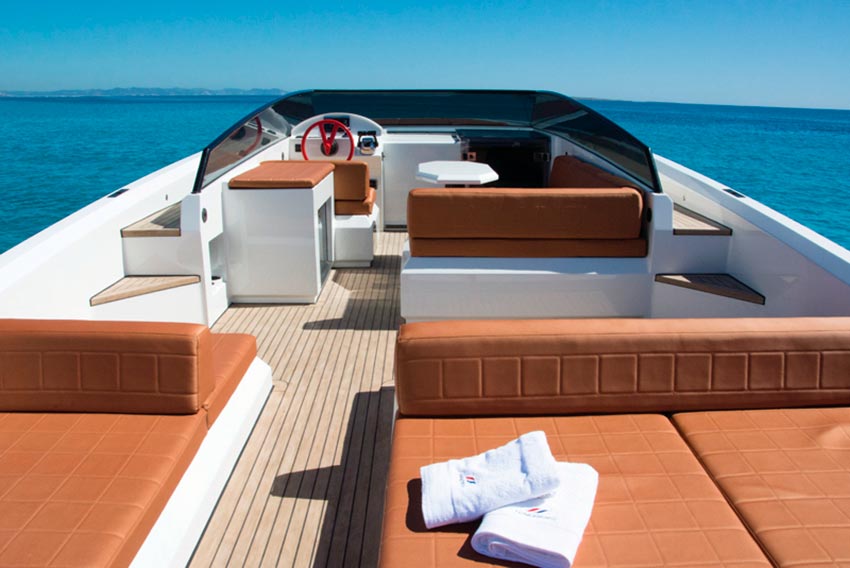 Personal
It is difficult to have a huge wedding with hundreds of guests on a yacht, therefore you do not have to feel obliged to invite people you are not close to. As a result you can be sure that you will celebrate your wedding just with the people closest to you.
–
If you need help to organize a wedding on a yacht in Spain, do not hesitate to write us at info@perfectvenue.es. We will be happy to help you find the perfect yacht!