If you're going to have a destination wedding in Spain, one of the most important factors to consider is finding the perfect wedding officiant to be the speaker of your wedding. This is especially important if you're a couple of mixed nationalities and your guests don't all speak the same language. It is essential that they are also participating at all times and enjoy the day, so we always advise to celebrate the ceremony in both languages.
We recommend choosing one or a few professionals who have experience with these type of weddings. You need people who can fluently speak the necessary languages and who can equally make everyone feel comfortable. At the end of the day, it will be a key part of your day!
All these qualities are brought together by the company that we're speaking to today, Maestros Oficiantes de Ceremonias (Wedding Officiants in Spain). If you are looking for a wedding officiant in Spain, don't miss out on everything they have to tell us about their work, the languages they can offer and their trajectory. Thanks for sharing it with us!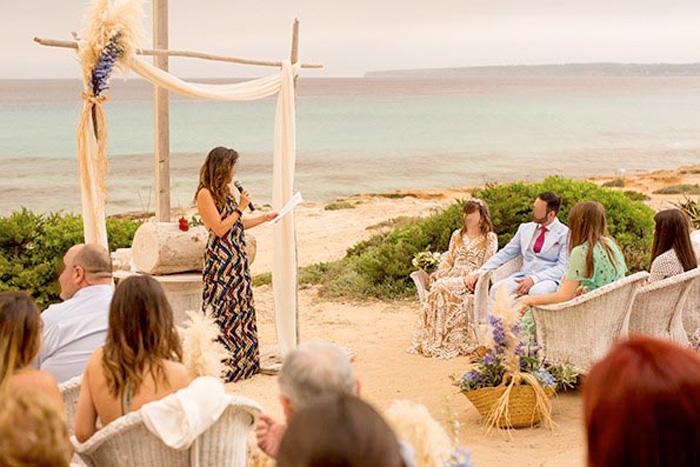 How did you come up with the idea of creating a company of Wedding Officiants in Spain, and what is your history?
Humans need to celebrate every important moment in life. Until now, in Spain, the church was in charge of making and materialising wedding ceremonies and celebrations. Times and society have changed now. The Catholic Church does not marry people who have already been married, or homosexuals, and almost 70% of marriages are civil. However, solely participating in the legal act does not offer the emotional factor and the opportunity to celebrate such an important moment. In addition to the limitations placed on time, location and content, it can only be held at the time they want and in the civil registry, the Town Hall, the dependencies that they provide for this purpose, or by a notary who it can be very difficult to convince to go to a farm or a restaurant outside working hours. Because of this, over 10 years ago we started offering a professional service that gives couples the option to celebrate their marriage in the place, time, and with the script that they want.
Which languages can you officiate a language in?
We officiate in all the official languages of Spain: Castilian, Catalan, Basque, Galician, Valencian, and even in Bable and also in most of the main foreign languages. So far, we have officiated ceremonies in English, Russian, Swedish, Norwegian, German, Hebrew, Arabic, Finnish, Italian, French, Portuguese, Romanian, Greek, Mandarin Chinese and Dutch. We do not put limits on what our clients need. Usually, the professional closest to the venue goes and speaks in the language that they need, but we can transfer our professionals to our clients if and when it's necessary.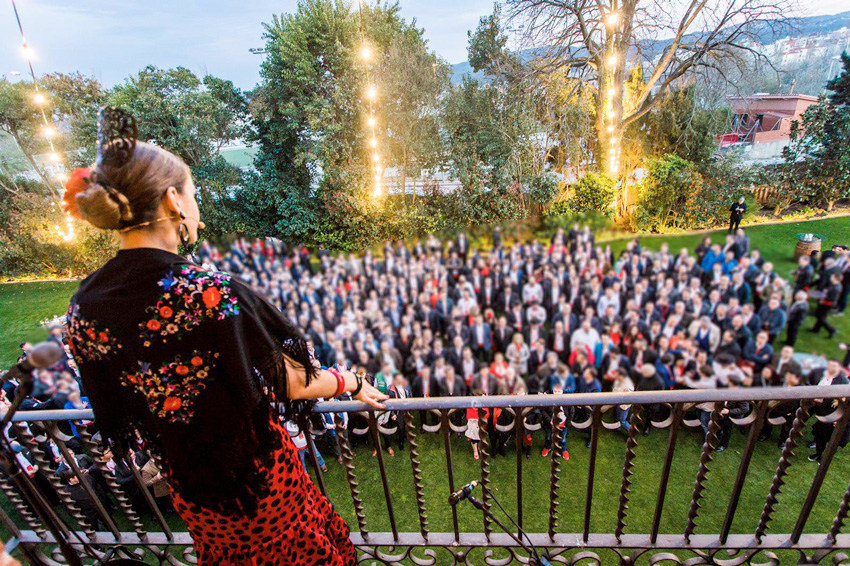 If the woman is from one country and the man is from another, are you able to hold the ceremony in both languages?
A large majority of the weddings we celebrate are bilingual. This is because in Spain, a lot of people leave the country, fall in love in their destination countries and then return to celebrate their wedding alongside family and friends. Because of this, we need to be able to hold ceremonies in both languages.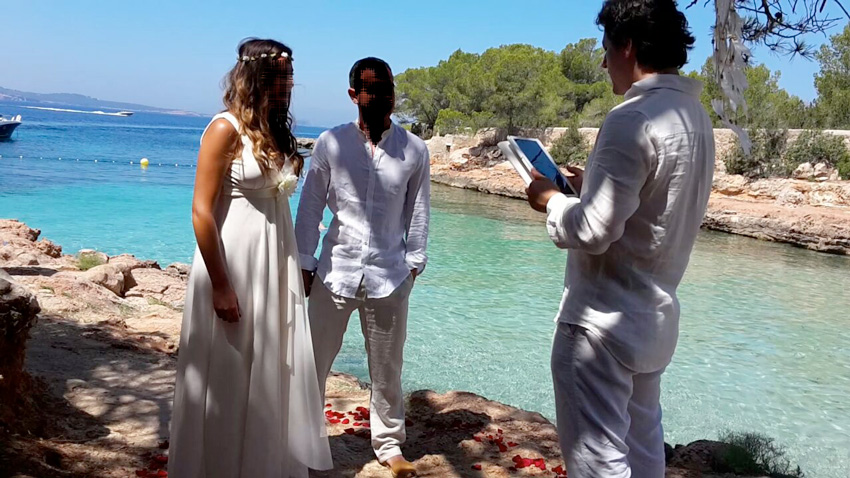 What about when you have guests of different nationalities, are you able to hold a ceremony in three languages?
It can certainly be done in three languages, in fact, it has been done. However, it is not particularly common and we advise against translating the whole ceremony. We tend to just translate the most important parts so that everyone feels involved and everyone can follow the ceremony without extending the duration too much.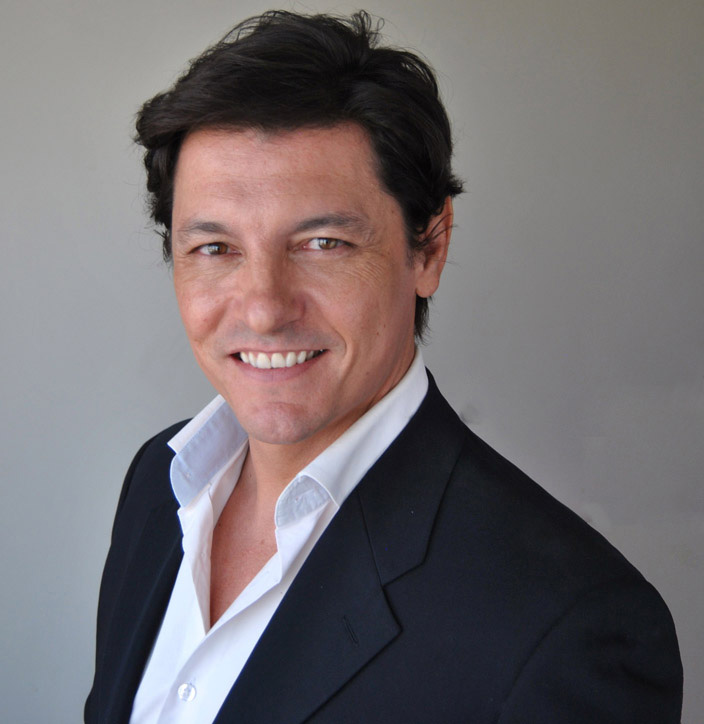 How do you prepare for every ceremony? Do you write a personalised script every time?
Since we work with many foreign clients and people who live abroad, we have developed a system where we don't waste any time in lengthy meetings, but we still manage to personalise a script that is 100% made to the taste of the clients.
You do weddings in Marbella, weddings in Barcelona, in Madrid… Do you travel all around Spain officiating weddings?
We offer ceremonies in all languages and in all parts of Spain, we go wherever our clients need us to go.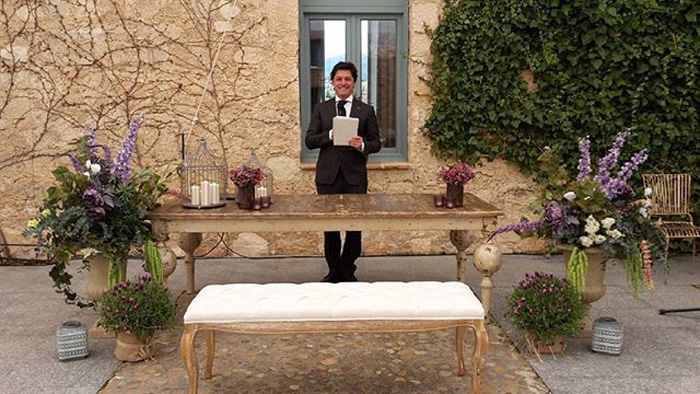 Where do your clients usually come from?
From all over the Spain and the rest of the world.
You also offer animated films for the most original weddings. We would love you to tell us more about this service, and everything else that you offer to the bride and groom.
It's your party, it's your day and we want to personalise both the ceremony and wedding officiator to your tastes. Sometimes they ask us to add a few touches of humor, sometimes it's a bit of fantasy and they want characters like Elvis, or King Diamond, or the Marquis de Sade to marry them. We bring these characters to life so that the couple and their guests can enjoy themselves to the fullest.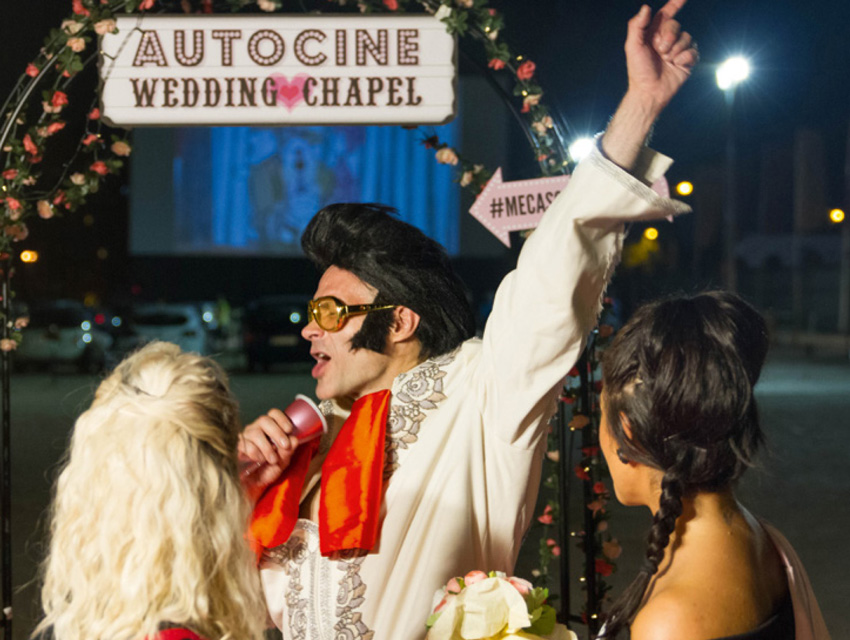 Tell us about an original wedding you have done lately.
A couple recently asked us for two ceremonies. One was for the family and their most serious work colleagues, and another one the next day in which their idol married them, Death Metal King Diamond, with a background of very heavy music.
Do you do any events different types of events other than weddings?
Yes, we do other work such as officiating graduation ceremonies, renewal of marriage vows (silver and gold anniversaries), 'welcome to the world' parties (baptisms), funerals, retirement parties. We also do tributes! We work closely with corporate spheres for companies of all sizes, presenting galas of all kinds (openings, awards, commemorations, anniversaires, Christmas dinners, product presentations…). We officiate art and real estate auctions, sports events with clients like UEFA, team building animations, custom comedy monologues, motivational talks, competition presentations, company videos and training in executive skills. Finally, we do presentations for symposiums, congresses, shareholders meetings for multinationals, international fairs and all kinds of talks.
How far in advance should couples contact you?
We recommend a minimum of two months. However, we have been known to prepare ceremonies in just two days in a situation where a couple hire someone but then they get let down. We always try to solve everything so that the couple can have a smooth ceremony.
–
If you'd like to know more about Maestros oficiantes de ceremonias (Wedding Officiants in Spain), you can write to info@perfectvenue.es.
We are sure that you'll find the perfect wedding officiant for your big day. Your guests will enjoy every second!