A recent poll looking into wedding planning and its relation to stress found that a mighty 52 per cent of British married couples found the process of planning their wedding a stressful experience. In fact, specialists have said that the process of planning a wedding can generate more stress than that of losing a job. 
With that being said, the main reason why people find wedding planning such a hassle to organize is often tied to the external pressure to conform to the rigorous traditions and etiquette surrounding weddings. Luckily, more and more couples have strayed away from traditions and have chosen to make their wedding unique to the theme, therefore allowing for more freedom and originality during the planning process, which in fact does not take away from the meaningful ceremonial details, but just adding a more personal touch. 
If traditional is not your cup of tea and what to resort to something more you, then here are a few unique ceremony ideas to inspire you and your partner!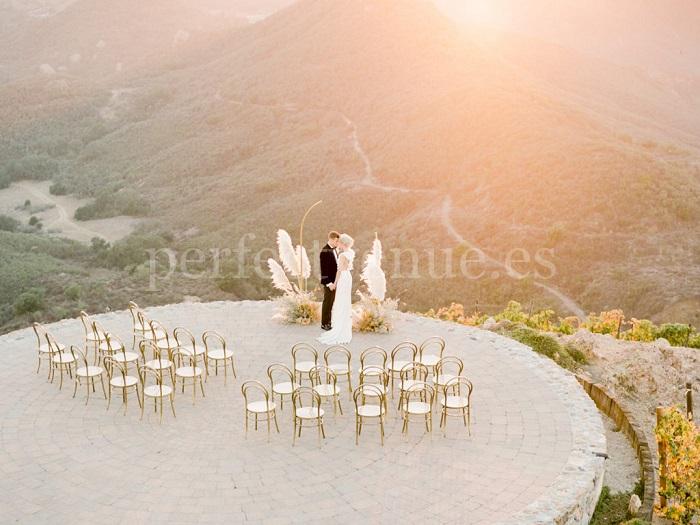 A circular seating arrangement
When asking anyone to describe a wedding ceremony, more often than not they will say a row of seats divided by an aisle. But there is no rule saying that this must be followed, not everyone has to have the same layout at their wedding. A wedding is mainly sold on the idea that it's unique to you, so why conform to the same layout over and over again? 
A unique way to set up your guests is to have them seated in a circle around you, this not only ensures that everyone has the perfect view of the moment but its the perfect set-up for intimate ceremonies. 
Why limit to a circle, why not a spiral, where you can wind your way through the guest?  Where guests can capture every angle from the couple during the processional and when walking out. 
Handfasting
Originating from Celtic traditions, this non-conventional ceremony idea is based on the symbolic gesture of taking the newlywed's hands and trying them together. Usually, couples use a string or a ribbon, but you can opt for a scarf, pieces of wool or even a jewellery piece, it's all up to you. This beautiful act is very much linked to the notion of unity and togetherness. 
Taking your roots or story as a couple into account, you may want to select a tying piece that has a strong meaning, possibly through a fabric, material or color. For example, if you met at school a nice idea would be to use your school tie as a way to symbolise where you met, this is unique yet personal to you as a couple.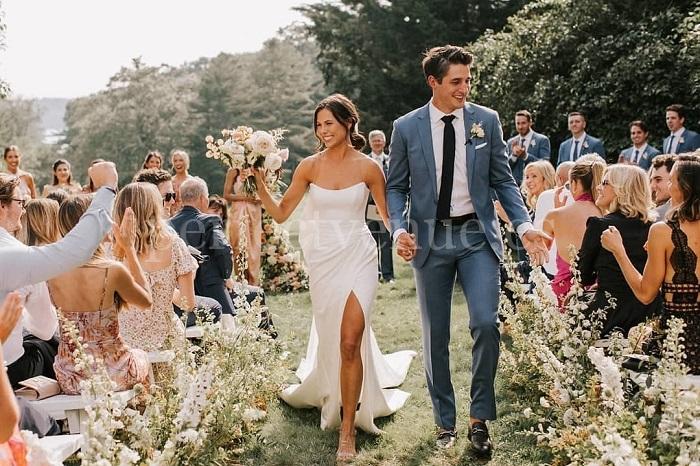 Walking down the aisle together
Traditionally, the guest looks over to watch the bride as she/they makes her way down the aisle, some might say this is the pinnacle moment of the ceremony. Some love this and others dread it. If you are someone who falls under the latter, why not go down the aisle as a couple? 
This choice of entering the ceremony space has become very popular with LGBTQIA+ couples who dont want to feel forced to comply with traditional gender roles. This new and refreshing twist on the tradition can become not only special for the bride but for the couple as a whole, regardless of gender or sexual orientation. As a bonus, walking together will ensure a surprise for your guests and make for some memorable ceremony photos. 
Include a String quartet
If you label yourself as a hopeless romantic, why not have a string quarter play while you walk up and down the aisle? In both traditional and unique ceremonies, music is a good element to add, that being a live classical piece or a modern and contemporary version. All adding to the beautiful fairytale ceremony of your dreams. Take our word for it, tissues will be needed.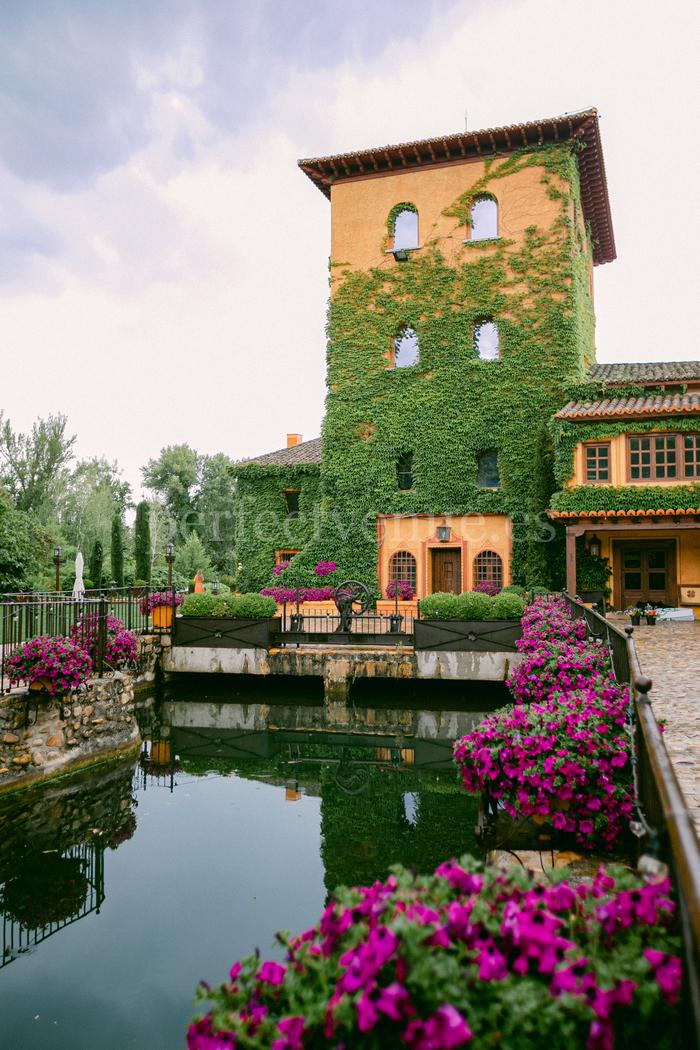 If you want to switch things up while still keeping the elements of a classic ceremony, a good solution is choosing a non-traditional location that will showcase originality and personality. 
Lucky for us that in these times you can practically get married anywhere you want! You just have to ask…Some of the options included, your childhood back garden, by the sandy beach, an exciting theme park, a luxurious Airbnb villa, or even at your team's football stadium. Or why think small, destination weddings are all the rage now!!
Wedding ceremony musicians
Searching for the best-fitting wedding ceremony musicians? There are lots of options for you, from harpists, and string quartets to wedding singers. Whatever sort of music you want we will find it.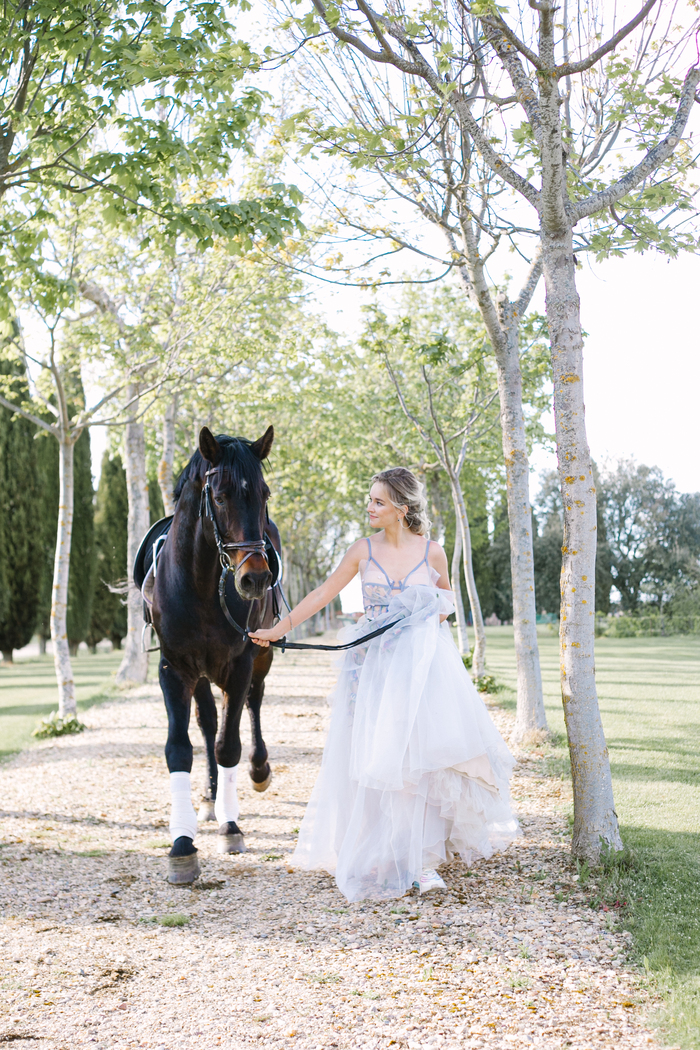 Ride in on a Horse
Want to have an unforgettable entrance, riding a horse will for sure achieve that. If you are hosting a wedding in the countryside or in a wooded/forested area, having a horse will ensure that emerging from the forest atop your stallion will be a happily forever after fairytale moment…dont event get me started on the photos! 
Pre-ceremony cocktail hour
Instead of a traditional ceremony first and then socializing, why not have your guests mix and mingle before the ceremony with some cocktails or non-alcoholic refreshers to get the celebration started before the main show? Although a non-traditional approach, this option allows guests to get to know one another and break the ice barrier before having to celebrate together for the next couple of hours. No one wants an awkward social setting so why not loosen things up a bit from the start? There is even the idea of including a music accompaniment fitting to your theme as a way to create a more inviting and comfortable social environment. 
Plant a tree
Definitely an idea appealing to all nature-loving couples. What could signify growth as one more than planting a tree as a part of your ceremony to represent your evergrowing love and commitment? You even get plus points for helping the environment. 
Keep in mind that wherever you choose to get married, you will need to plant the tree in a pot that can later be transferred to your garden or that of a family member or friend…Regardless of where you decide to plant it, this tree will forever remind you of your love for one another as well as mark that special day…just dont forget to water it with love and water.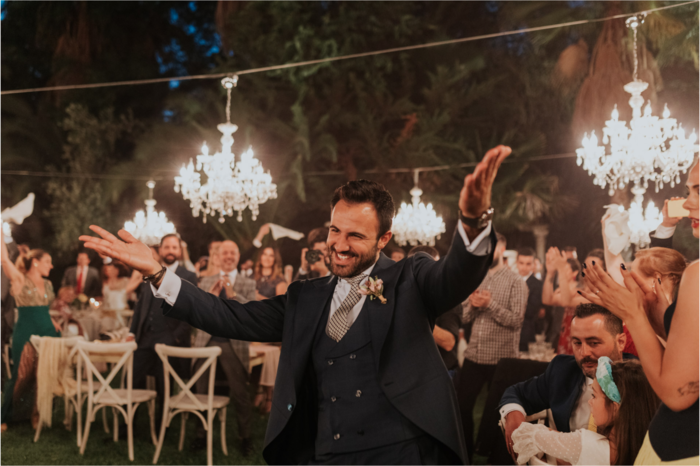 Hire a Wedding singer
There is no doubt that selecting the right song for your wedding can make a special day a little more memorable. However, hiring a professional singer to sing your song live will take your ceremony to a new level of special. Since it is sung live, you have complete flexibility in how you want the song to be performed, such as incorporating your name or story into the lyrics, making it a more heartfelt and personal momement. 
Writing your own vows is not anything new. However it does not fail to bring a unique touch to your ceremony, that will make not only your partner feel special but also move your guests to tears. 
Being a talented writer here comes in handy, but what truly matters is speaking from the heart and being true to yourself. And contrary to belief, being funny is not the best approach. So maybe save the jokes for the speeches and express how you feel from the heart in your vows. 
If you like the conscience, bring in a third party to read over both vows. This will ensure that both vows are similar in length and tone.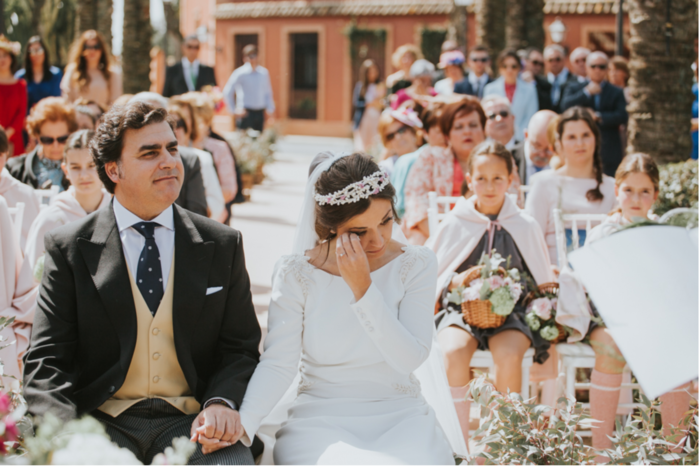 Why not have a friend or beloved family member officiate your ceremony? There is no guarantee that someone like Adele will be able to officiate your wedding as she did for Alan Carr. But a friend or family member is close enough…This is a fun and moving gesture to include someone special in the ceremony. 
Just keep in mind that  in some countries to be legally married you need an official registrar and religious representative. Officiating the wedding is a different story, a friend or family member is allowed to do so. Therefore, in order to make it legal and recognised by the state of your marriage you need to take the proper legal steps. Couples often resolve this minor hiccup by giving a quick show to the registry office either the day of the wedding or the day before. 
Device-free zone
In our now very technological world, no one wants to see a sea of iPhones and iPads up at the altar capturing this special moment. So why not opt for saying no to devices during the ceremony, and have everyone's undivided attention? Let alone the photos that result from everyone trying to catch a shot during the ceremony…not great. 
So why not make your life, the guests and the photographer's life easier by 'unplugging' everyone? You can arrange a device 'basket' as they enter the venue, but not to worry they can be kept away safely and be returned after the ceremony.
A parade to the reception
What could be more creative and unique than having a parade? If you are looking for a memorable ceremony exit and transition into the reception, have your guests accompanied by a roaming band to join you and your partner to the next part of the celebration. Anyone who wasn't invited will be envious. 
Mans best friends
This is the perfect opportunity to include your furry best friend in the mix, after all, they are family. Being given the responsibility of ring bearer or just being cute in photos is a job they will love. And contrary to belief, involving your beloved pet is easier than you think. Moreover, dont worry about who is going to look after them during the ceremony or party, pet-sitters nowadays offer this service or even a friend won't mind…pet lovers are everywhere!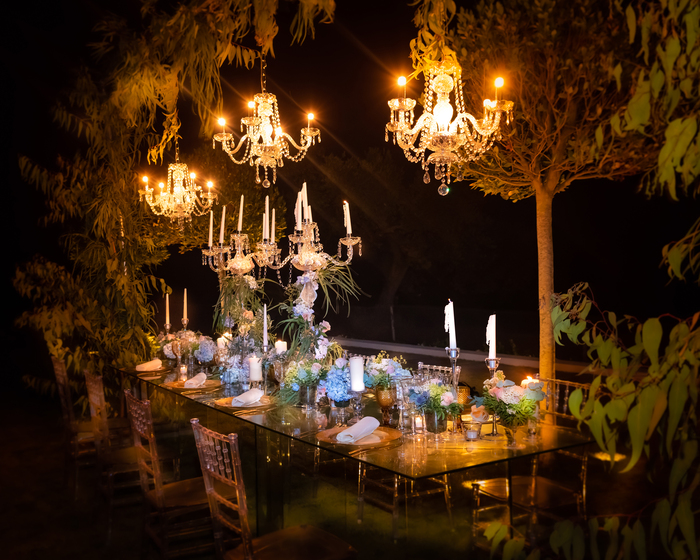 Candlelight
Traditionally the act of lighting a candle is a symbolic feature of many religious ceremonies. However, the meaning can change to symbolise unity in a non-religious ceremony. 
In the traditional process, each partner holds a lit candle and together they light up a bigger candle.  Here you could easily involve your guests by having all of them light a candle or have everyone join together at the end to light a long line of candles. No matter what you decide, using candles will ensure a magical touch to your ceremony not to mention the photos afterwards. 
Hire a Gospel Choir
Are you looking for a memorable, gleeful and compelling element, having a gospel choir perform while walking down the aisle, leaving the ceremony or both is a good option. Religious ceremony or not, nothing beats a gospel choir angelically singing a funky tune. Without a doubt a way to amaze your guests but also a clever way to revive and prepare the crowd for a night of fun ahead.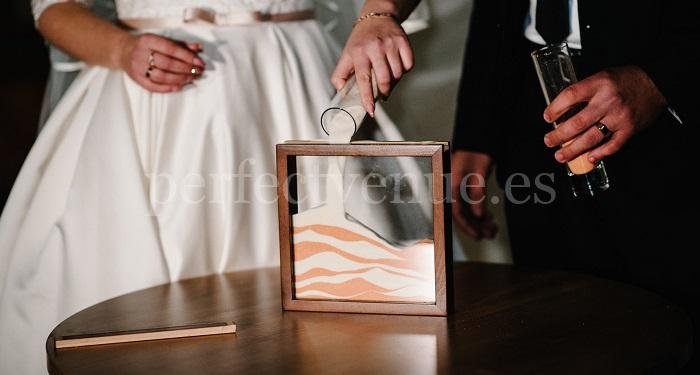 A sandy ceremony
If you are looking for another symbolic way to represent unity and coming together as one, having each couple hold two types of sand to later be mixed is a modern twist to the candle lighting act. 
The idea is that each couple holds a glass jar or vase filled with sand that is then poured and mixed into a larger jar. The ideas can range from different coloured sands or using sand from the respective partner's countries. This can later be displayed at your home to always remind you of the unification of your souls… romantic without a doubt!
Servers that break into song
If you like the element of surprise this is the option for you. Hiring waiters who suddenly break into song to surprise your guests is a fun element that could make your wedding both entertaining and unique.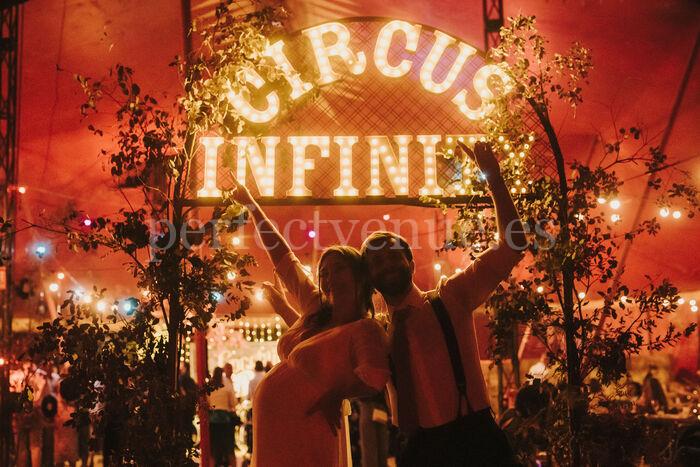 The element of surprise
How about tricking everyone into thinking they are coming to an engagement party only to have you and your partner show up all dressed up and ready to get married? A surprise that will leave your guests both shocked and delighted. Dont forget the photographer; to capture the faces of pure surprise!
Bubbles Blubble Blubbles
Say goodbye to the stale rice and hello to BUBBLES… not only easier to clean up but this will make for fun photos.
Simple to have someone hand out a small bottle of bubbles to each guest and even have a few bubble shooters placed strategically. And once the officiant is done, they can instruct everyone to get ready, set and blow! Truly a fun and interactive way to celebrate the new happy couple…have you ever seen a sad moment where bubbles are involved, I haven't.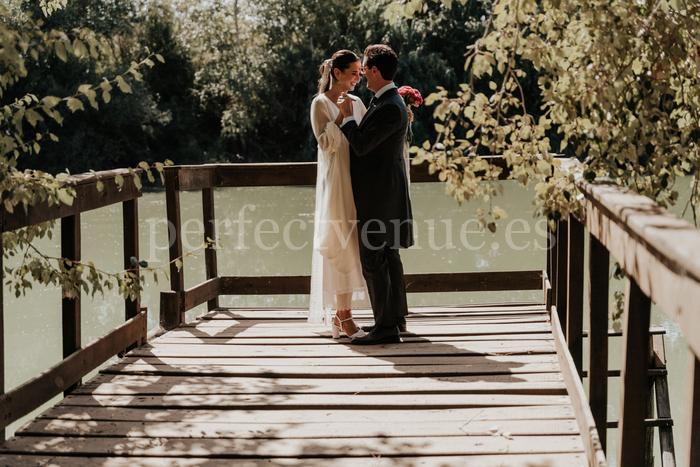 A ceremony dance
Why do we save the first dance for the reception, why not have it during the ceremony? To solidify those beautiful vows, sharing and intimate dance is a good way to cheer up the ceremony. This can also be a fun way to transition from ceremony to reception as you and your partner dance your way down the aisle to a fun song. 
Put together a time capsule
A marriage time capsule is the idea of placing items from both the wedding and the relationship into a box to be buried somewhere (back garden usually) to later be undug on a very special anniversary. Items that can placed into the box could be coins from the places you visited together, photos from earlier in the relationship, your wedding programme, a newspaper clipping from your wedding day, the receipt/menu from your first date spot or even a handwritten copy of your vows. This will for sure be a special moment for you and your partner to have later on and look forward to…even a fun family activity if you have little ones running around!
Exit in Style
Ditch the rice and roses, why not have sparklers of cheerleading pom-poms for your guest to use when you exit the ceremony? You could also put tambourines, party blowers or maracas on your guests' seats so when the time comes they are ready to make the noise of a lifetime commemorating your unity.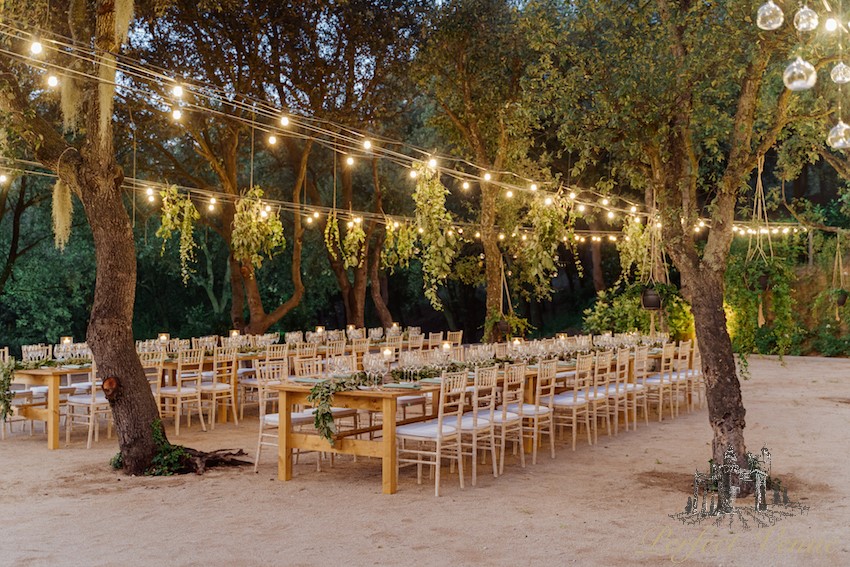 Unique wedding ceremony ideas
If planning your wedding has proven to be a stressful process, we hope that the unique ideas presented to you have alleviated that a little and possibly even awakened a more creative side in you. 
Your ceremony should be unique to you as a couple. Either in a traditional matter, completely original or a little of both, it's totally up to you! Dont feel the need to fit into a box if you dont want to, it's your special day. 
Regardless of how out of the box or traditional you choose to go, just remember, it's your wedding…the sky is the limit. We encourage you to check out our wedding and events blog for more inspiring ideas or simply contact us at Perfect Venue for further information on how to plan for your big day!