If you have lived through the proposal of dreams and have already saved the date…now its the time to choose the space to host the big day. Hence in this article, you will show 30 of the best venues for an intimate wedding in Madrid. 
Choosing the most suitable venue for you is one of the first and most important things to do since it is where everything will happen and what will make, to a great extent, the event more or less successful.
And because we want everything to go perfectly, to leave your guests speechless and to say "I do" in the picture-perfect setting, with Perfect Venus we will tell which of the 30 best farms are for hosting an intimate wedding in Madrid.
They are all enchanting, cared to the smallest detail, surrounded by nature and filled with glamour. Take note and tell us which is your favourite! If you are able to choose, of course…
Let's begin!
1. The old Flour Factory (La Antigua Fabrica de Harinas)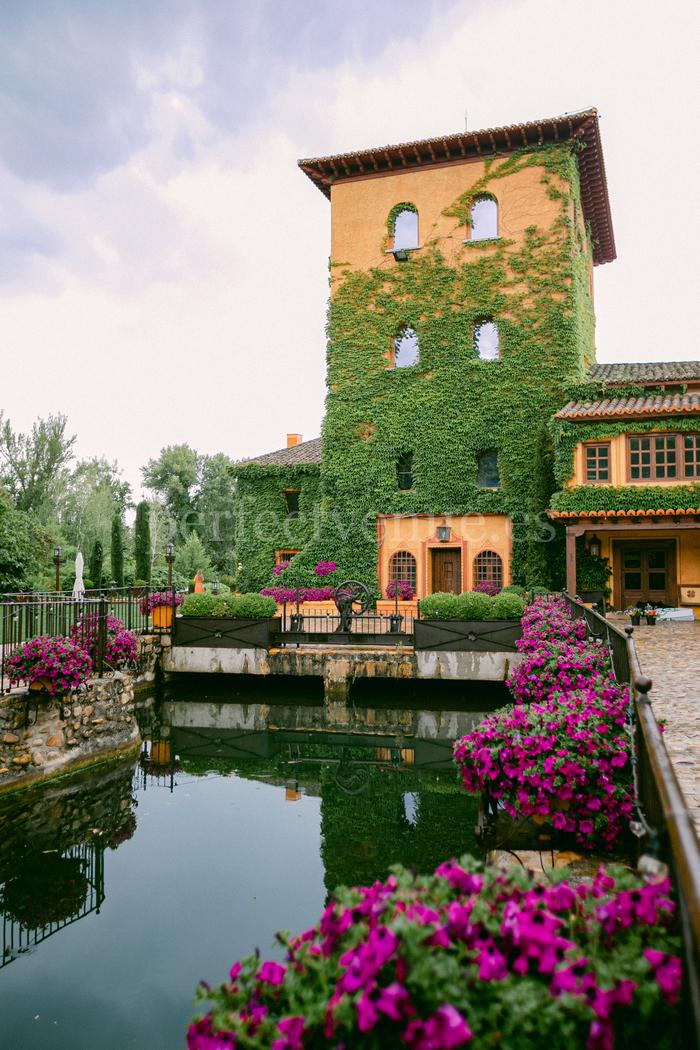 Do you want your guests to enjoy an amazing wedding with trees and flowers? The Old Flour Facoturs is a farm surrounded by gardens and natural canals in which a villa built in the early 13th century stands within the greenery. In the 80s of the last century, it was recovered to convert into an emblematic space to celebrate and host weddings. 
Villa Laureana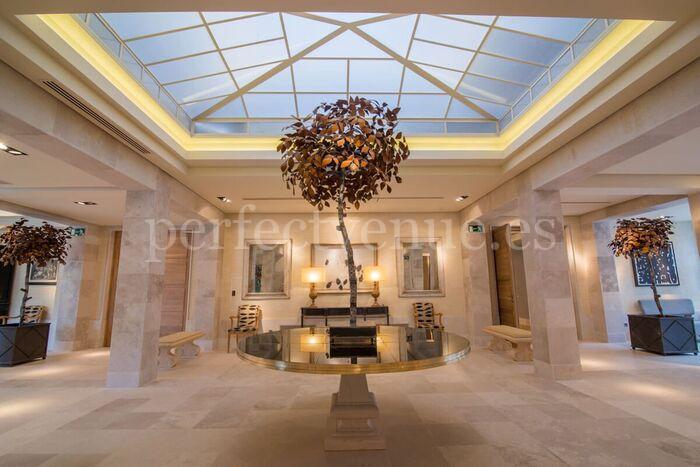 Classifies as one of the best farms for an intimate wedding in the North of Madrid. This villa has a couple of gardens, ideal for celebrating your wedding in the open air during spring and summer. This venue is distinguished by its exclusivity allowing you to be present with nature and enjoy a unique atmosphere, filled with lights and elegant flower decorations. In its terraces, you can celebrate both the cocktail and the banquet itself. In interior spaces provide big windows allowing for light to spill in.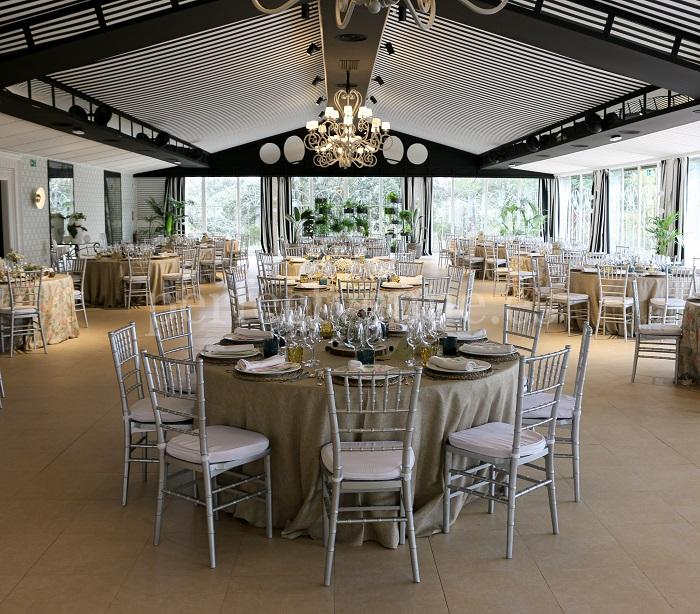 Found on Monte de El Pardo, only five minutes from the center of Madrid, this venue is surrounded by forest and has one of the most well-kept environments in Europe. This farm relies on various charming spaces, renovated and modernised, surrounded by spectacular gardens. Club Tiro has two differentiated areas, Colonial and Invernadero, each with its own entrance and independent gardens.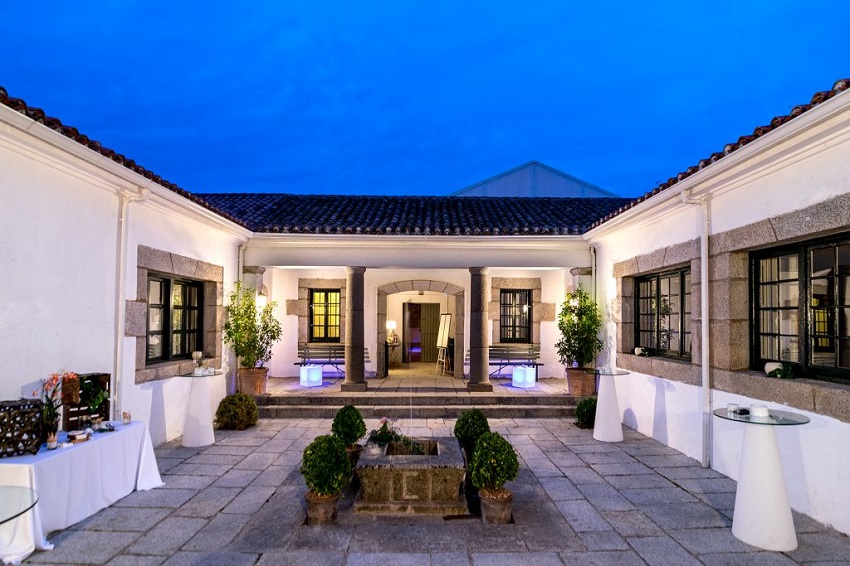 This venue is located in Torrelodones, in the North of Madrid. They exclusively work with Cortes de Moraga for both catering and decoration. They have ample and open spaces. With a combination of rustic and chic details, giving an enhancing effect at every corner. They have a stately home from the early twentieth century with which you will surprise your guests. Not to mention the access stairs that are incredibly beautiful.
Finca Casa Burgos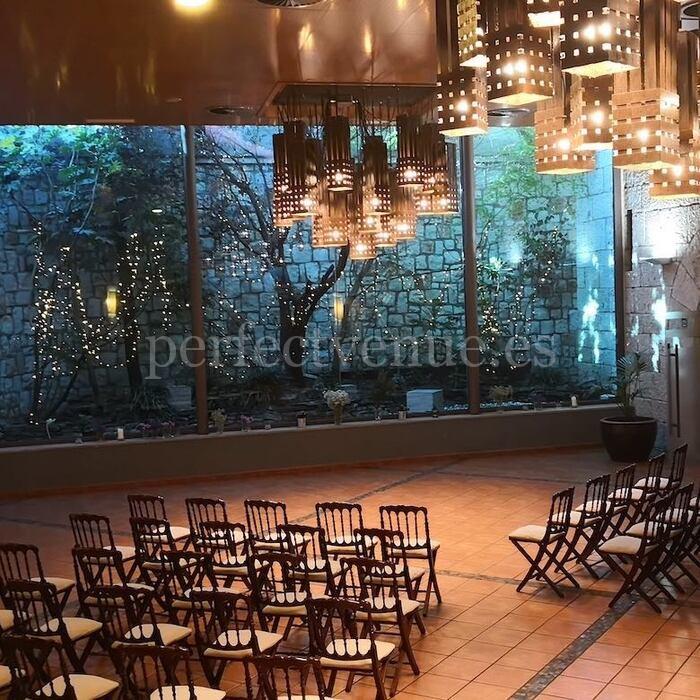 This property is located in a privileged environment, in the Casa de Campo, in the heart of Madrid. Offering various spaces for celebrating your wedding, such as a garden with a view of the Royal Palace and the Cathedral of La Almudena. Here the combination of nature and elegance is found, along with various private salons perfect for small weddings. Here you can celebrate your intimate wedding in a cosy and pleasant atmosphere.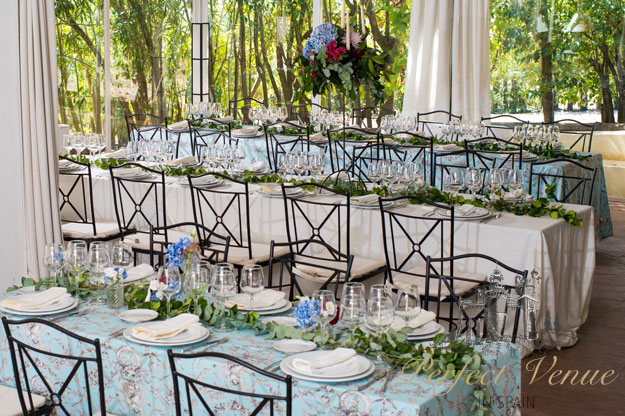 Have you thought about getting married surrounded by olive trees and vineyards? Well at the Regajal this is possible. This venue, located only 35 minutes from Madrid, offers a wonderful view of the countryside and the historic and palatial city of Aranjuez from its extensive gardens. Moreover, at the Regajal the spectacular sunsets are the perfect backdrop for a cocktail hour or for an open-air dinner. Without a doubt a plus point to host a romantic wedding.
Aal Cachucho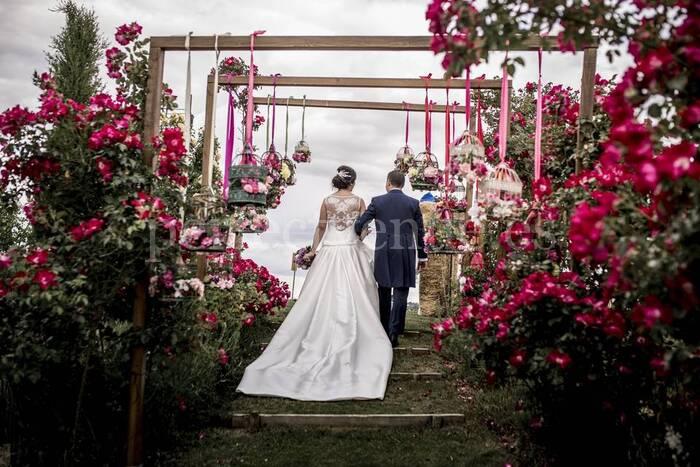 This venue is perfect if looking for something different and special. Aal Cachucho is only located 30 minutes from Madrid, where you will find a dream place in the middle of nature. Surrounded by gardens and colorful corners. It is a place with special enchantment for your most intimate and familiar wedding. And let's not forget that it offers accommodations for you and your closest family members.  
Villa Julieta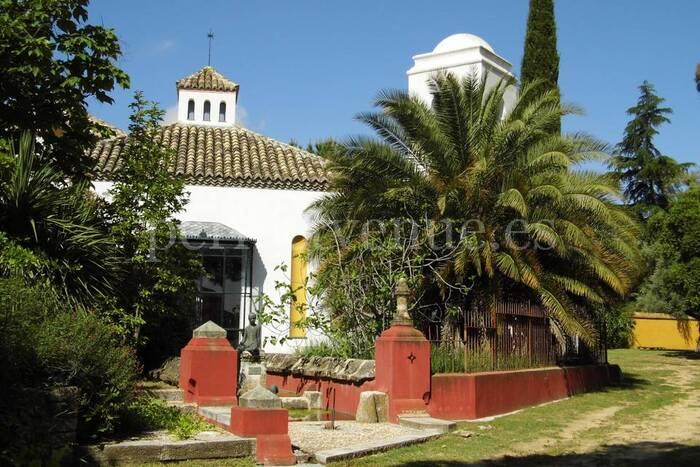 Villa Julieta is in our top 10 places for an intimate wedding in Madrid. With its charming corners, a nature-filled and stately villa that gives flavor to the place makes it the perfect wedding setting. In fact, the courtyard of Villa Julieta will catch you without remedy. Located in Griñón, 20 minutes from Madrid, in this estate you will find all the spaces you need to celebrate an idyllic wedding.
Finca Los Ángeles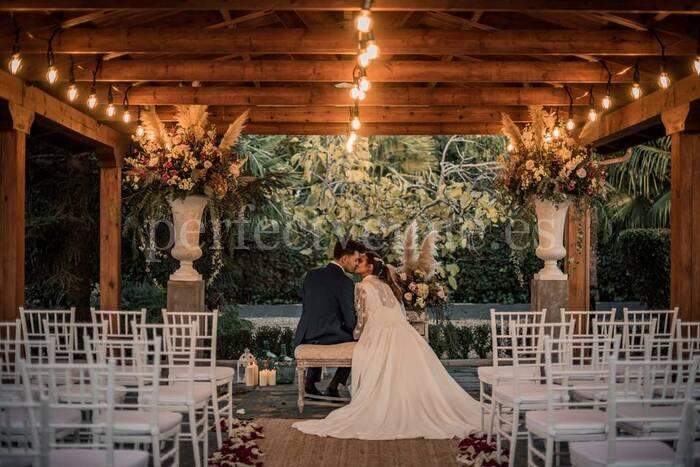 The farm of Los Angeles is one of the best options for all couples looking for a unique and magical space. Situated in Valdetorres de Jarama, Madrid, it is environment its the biggest selling point, where you can enjoy an outdoor area, with a lounge overlooking the lake, and gardens that look like an oasis… In its individual rooms, you will be able to accommodate from 30 to 180 guests.
La Borda de El Mentidero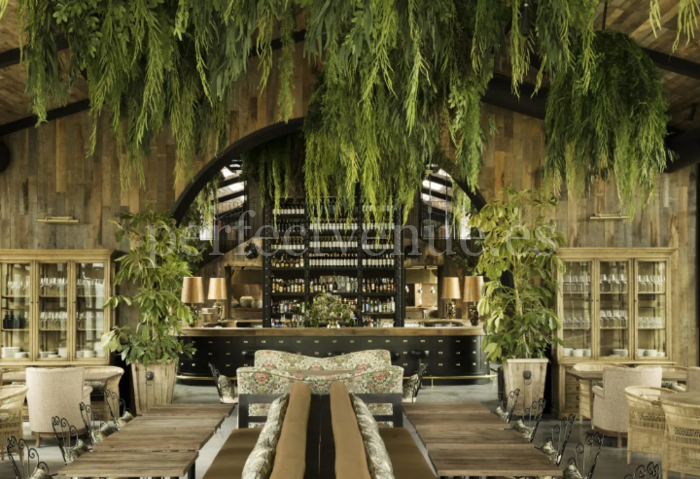 If anything is to stand out from this location, it is for being an elegant mountain haystack with a contemporary and urban touch where Spanish cuisine and the product of origin are combined with the embers, that being the natural wood and light being the main protagonists. The Mentidero's philosophy is based on personalized service, attentive service and professional waiters.
Finca Prados Rivero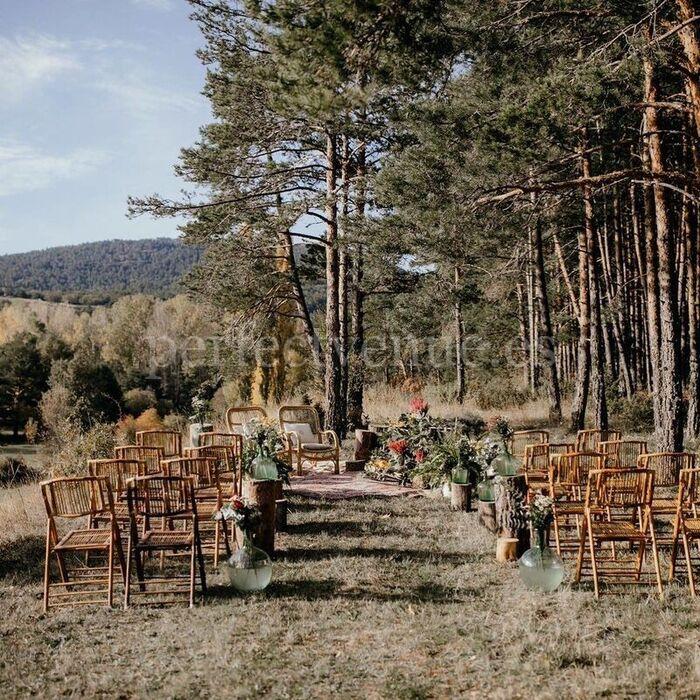 For couples looking for a charming and picturesque wedding in the heart of a forest, finca Prados Rivero is the ideal place for the wedding of your dreams. This Finca is found inside the national park of the Sierra de Guadarrama, with 12 hectares in which you can find meadows, pine and oak forests. And to make your stay there even more comfortable, the farm has a high-quality rural mountain house with 7 rooms accommodating between 16 and 20 people.
El Jardín el Botero
This finca is found 50 minutes from Madrid. Here you will find a garden with characters, many different space and environments and a unique place for any time of the year. The Botero garden has a pavilion for civil ceremonies and several gardens around it, which are ideal for an intimate wedding since it has two very distinguishable spaces. You can find one smaller space surrounded by a garden for your cocktail party, or a greenhouse for the banquet with a 1920s setting.
Finca El Campillo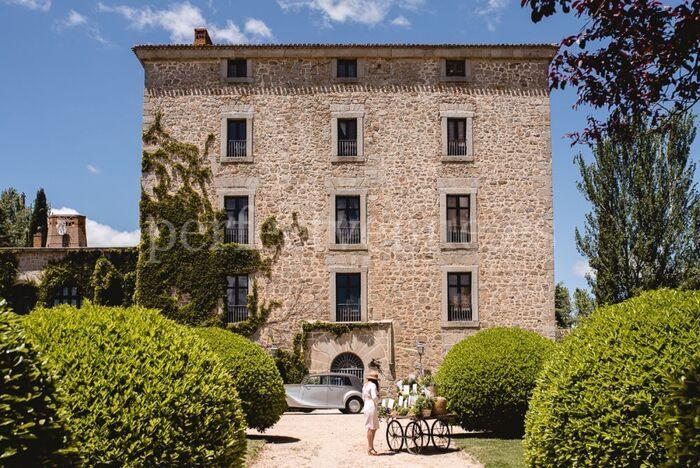 In the heart of the mountains of Madrid, near the Escorial, we find one of the more breathtaking fincas in all of Madrid; the Campillo. A beautiful estate full of history where you can enjoy an impressive fortress house that has been linked to royalty and a charming 15th-century hermitage in Gothic style. The gardens deserve a special mention, thanks to its two large ponds surrounded by centennial paths and a varied and lush vegetation.
14. Finca Prados Moros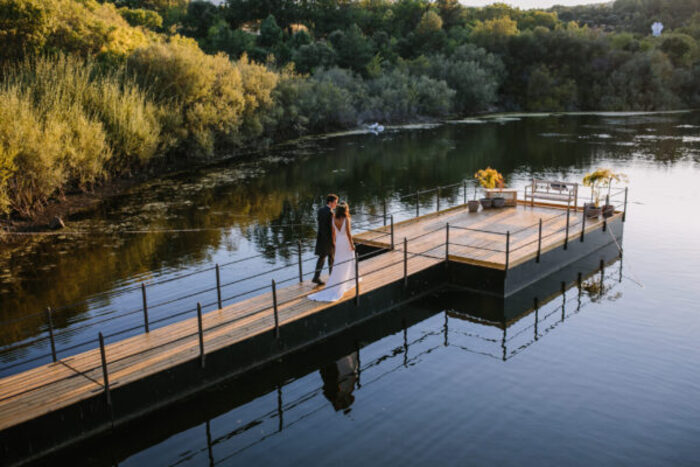 For couples looking for an idyllic space filled with nature, the Prados Moros Finca is the perfect place. Located in the mountains between Guadarrama and Escorial, this venue relies on its rustic lake ideal for taking pictures or even getting married on the pier. Not to mention the spacious garden areas and different glassed-in spaces with views of the Sierra, such as the romantic greenhouse, or El Zaguán, an industrial-style space that is perfect for cocktail parties.
Finca La Alquería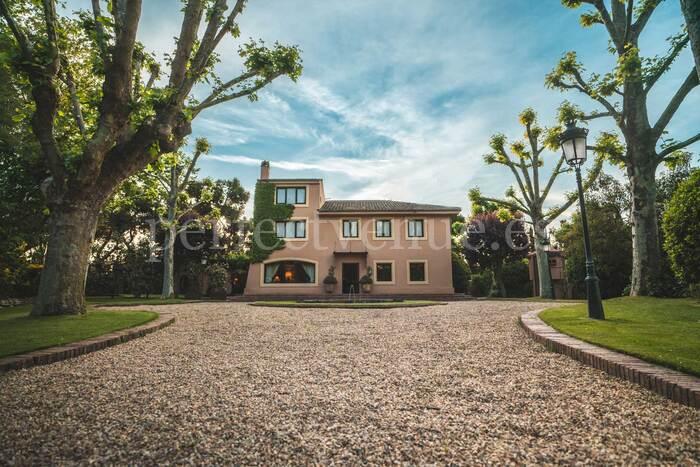 This beautiful structure surrounded by nature situated in Madrid, is specialised in celebrating exclusive weddings and other events. The total capacity of its facilities is 23.00m2 including spaces such as gardens, fountains and ample private parking. It has large spaces with gardens for the enjoyment of your guests. In addition, this property has a large garden area, ideal for the aperitif as well as for civil ceremonies.
Hacienda Jacaranda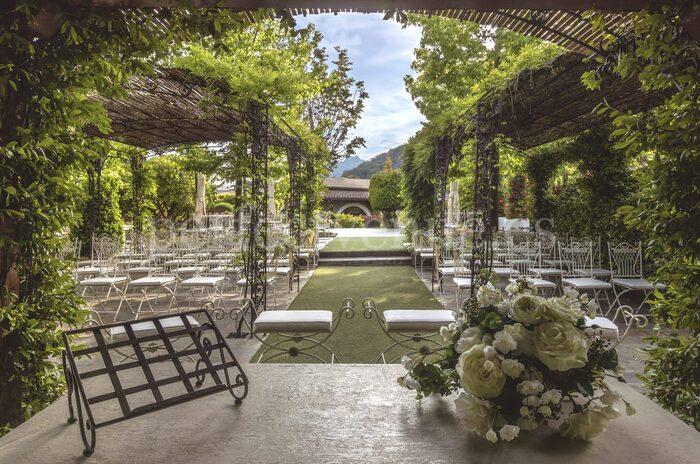 This is a wedding farm in a privileged enclave, just 30 minutes from Madrid. Located at the heart of the national park of Guadarrama, it is perfect for celebration gyour wedding among nature. You can just as much enjoy the wonderful gardens as the interior spaces adapted for a wedding at any point of the year. With its on kitchen, a gastronomic experience like no other with fresh and prime quality ingredients. You are also able to host your civil ceremony with legal validity in this venue.
Soto de Mozanaque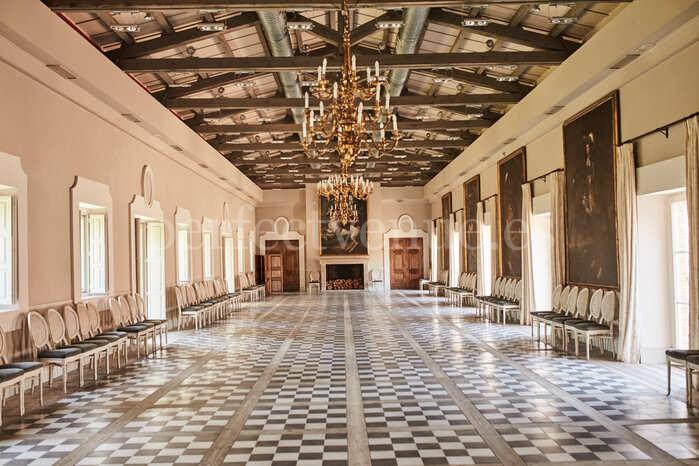 The Soto of Mozanaque is a precious finca and palace-house that is owned by the Dukes of Alburquerque, Juan Ososio and Blanca Suelves. It was Blanca Suelves who, several decades ago, wanted to use it for weddings. And with the help of interior designer Pascua Ortega, they transformed the place into the perfect space for celebrating a wedding, preserving the original atmosphere, and even recovering elements that had been hidden in the successive renovations.
La Granjilla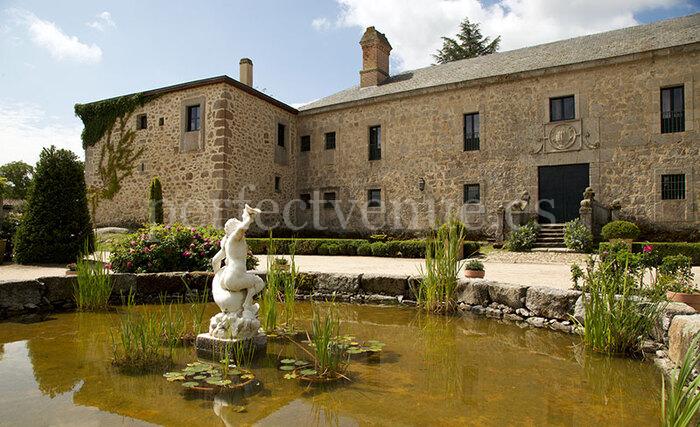 A 40 minutos del centro de Madrid, la Finca de la Granjilla alberga el Parque y el Palacio de la Fresneda. La Granjilla fue construida por el rey Felipe II en el siglo XVI como quinta de recreo y jardín familiar junto al monasterio de El Escorial. La Casa de los Frailes, su claustro renacentista, y los jardines con sus estanques son un marco espectacular para celebrar una boda de ensueño.
Finca La Muñoza – La Cococha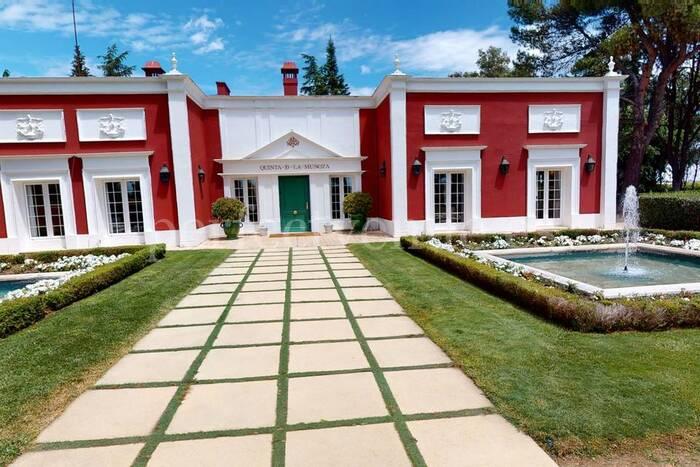 The Muñoza is an amazing finca with a neoclasical style historic palace dominating the space. It has a total area of 28,000 square meters with spectacular landscaped gardens that will fill your day with magic. In them you can celebrate from the civil ceremony, the cocktail and dinner.
Las Tenadas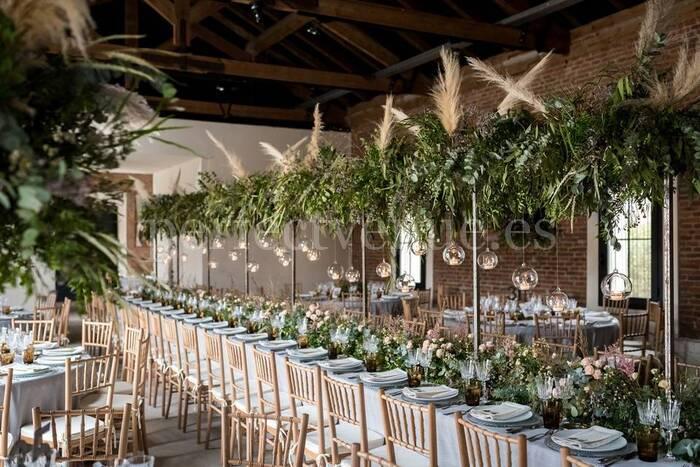 Love at first sight…this is what you feel once getting to know this charming finc and its english gardens filled with century-old trees and its old cattle sheds, built more than 100 years ago, it has become beautiful adapted for the wedding of your dreams. This finca is only 15 minutes away from Madrid, where you can find charm and a rustic chic style present at every corner. In Las Tenada you will find La Blonda, a catering that never fails to perform due to its wonderful gastronomy that fuses both traditional and international cousine all at the highest quality with impecable service.
La Casa Verde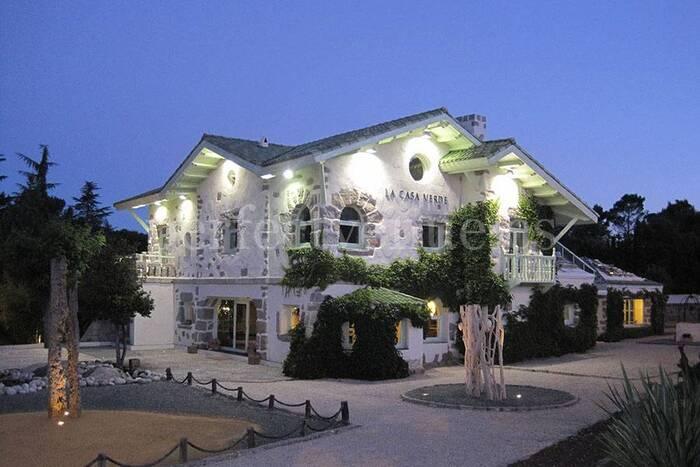 The Green House is a charming space located in Torrelodones, about 20 minutes from the center. It is a unique house, with an original yet modern vibe that is so enchanting, and not to mention surrounded by nature. It is the perfec place to celebrate an intimate and special wedding, this bright and spacious space surrounded by greenery will for sure make the top of your list. The house is distributed on three floors, and has gardens and outdoor areas. An ideal environment to represent that cozy atmosphere that small weddings usually have.
Finca San Isidro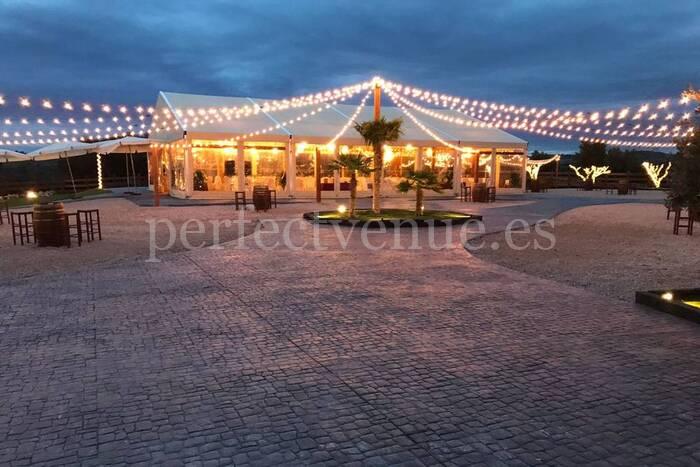 Located in the village of Salvanés, the finca San isidro has a beautiful  Castilian patio, known as the "Patio de los Geranios", filled with tress, it is the perfect place for a cocktail party or wedding reception. There is also a barbeque area and a fire wood oven as well as a totally equipped kitchen ready to offer a restaurant style service both in the interior salon or the patio.
Finca El Cañal
Only being 30 minutes away from Madrid, the finca El Cañal is a magical place where you can design the wedding that you always dreamed off. This venue has a total space of 2.500 square meters, in which a beautiful Dutch-style colonial house is located, surrounded by large gardens. On the gastronomic side, the kitchen depends on Quilicuá Catering & Deco, a safe bet in which Mediterranean cuisine with nods to international cuisine is the protagonist.
Finca

Sierra de Guadarrama
If you like the diea of an intimate wedding in the mountains of Madrid, you will fall in love with this place. It is one of the best intimate wedding venues in Madrid. Located at the hear of the national pack or the Sierra Guadarrama, only an hour form Madrid. This private finca has a mountain house perfectly equipped for hosting 16-20 guests. The wonderful views, the surrounding pines and oaks make it a unique and cozy environment to celebrate the wedding you imagine.
El Pendolero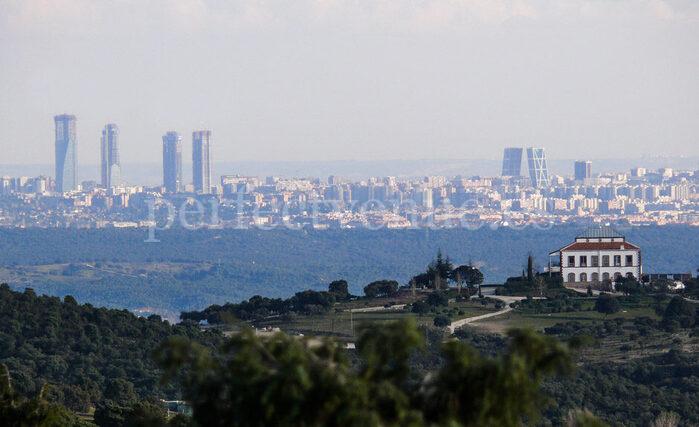 When looking through all the fincas for you intimate wedding in Madrid, El Pendolero is one of the ones you wont resists. It has one of the most breathtaking views in all of Madrid. From its viewpoint, you can appreciate the skyline of the capital. If you want to celebrate your wedding in the countryside and in an amazing setting, this is your farm. In addition, it is located less than 30 minutes from the center of Madrid. It has a rustic country style,  with a certain vintage air where many hunting parties have been held, so if you are a lover of hunting and the countryside, you will love this space.
Finca El Chaparral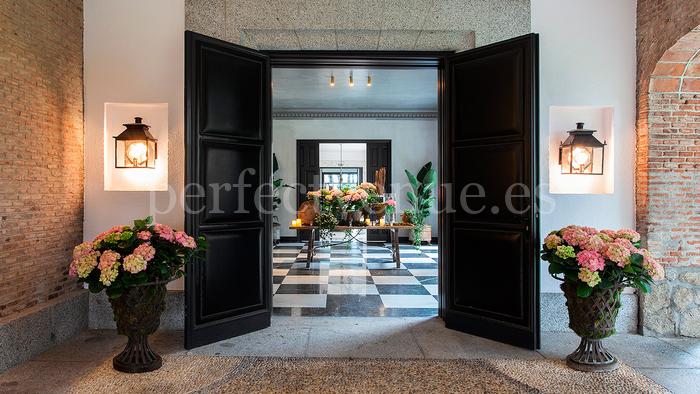 If you are looking to host your wedding out in a unique open air environment and only 10 minutes from Madrid, El Chaparral is a fantastic option. Located in the Finca de la Escorzonera, hidden in a forest of ancient trees, it is an old residence from the early nineteenth century that has been renovated to not lose its history and charm. In El Chaparral you will enjoy the cuisine of Ciboulette catering, ideal to surprise your most foodie guests.
Palacio de Galápagos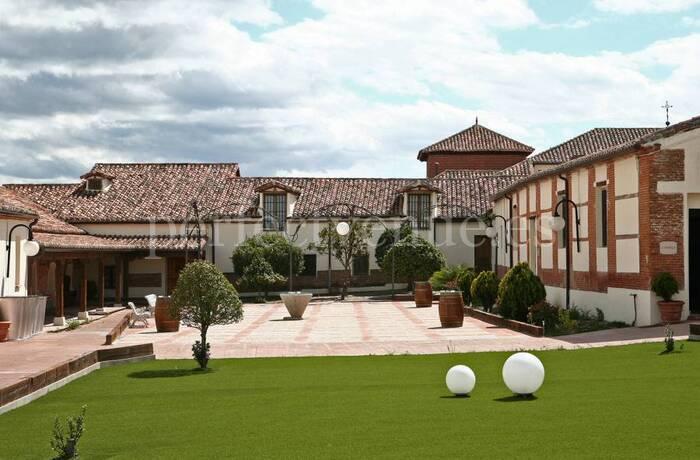 This sixteen century finca in known for its charm and ideal space for a wedding celebration that transport you to the past. It has been transformed into the ideal space for celebrating events, found inthe north of Madrid and Guadalajara. It is a privileged place like few others, forty-five minutes from Madrid and twenty from Guadalajara. In addition, it has 3 spaces totally independent of each other.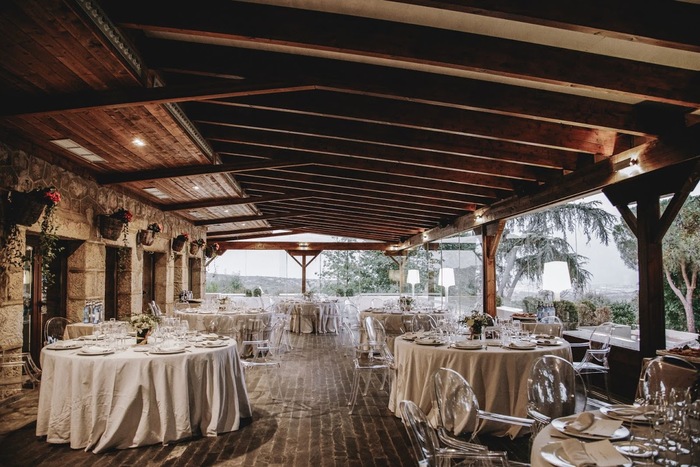 A beautiful Finca from the late 19th century is found in the Hoyo de Manzanares characterestised by its exclusivity, charm and various unique spaces ready for a civil ceremony, aperitivo, banquete and dance party for a wedding. In the Palacete you can enjoy a unique panoramic view in the area with spectacular views, being able to see the mountains of Hoyo de Manzanares, the mountain of El Pardo and the entire city of Madrid.
Finca El Olivar
A family business that originated in 1975 and has since then established itself over the years as a leader in its sector thanks to its a highly qualified team, always keeping up with the high quality cuisine and excellent service as a hallmark and one of the cornerstones in their events. Nowadays they offer a traditional cuisine with avant-garde touches by brothers Iván and Mikel Bermejo.
Finca la Caprichosa
In Villa del Prado, Madrid, you can find Finca la Caprichosa; a magical venue celebrating your wedding, where you will feel in the middle of nature, surrounded by the mountains and landscapes of the Sierra Oeste de Madrid. It is an exclusive and unique space with unparalleled views and its gardens will be a dream come true as it has oak, rockrose and olive trees. In the house of the estate, a modern stone construction, the glazed rooms overlooking the mountains will be a great option for an autumn wedding or as a plan B.
We hope that this article has served the purpose of helping you choose between the best intimate wendding fincas Madid has to offer. Although we could spend much more time telling you about beautiful estates in the capital!
Do not hesitate to contact us at Perfect Venues, and we will tell you about every corner of the biggest city in the country and help you organize a successful wedding day.
We will find the space you dream of for your intimate wedding in Madrid!