If you and your partner are wine and La Rioja lovers, or you still don't know why you should get married in the most wine region of the country, you are in luck because you have come to the right place. Below you will find the best wedding venues in La Rioja.
Design hotels, wineries, country estates… you won't know which venue to choose! And they all have something in common: they are unique and exclusive.
Places like Logroño, Lardero, Calahorra and Nájera offer amazing and unique wedding venues, we could not choose just one place! Each and every corner of this community exudes a different charm.
It's time for you to get to know the wedding venues in La Rioja to set the bar high on your big day!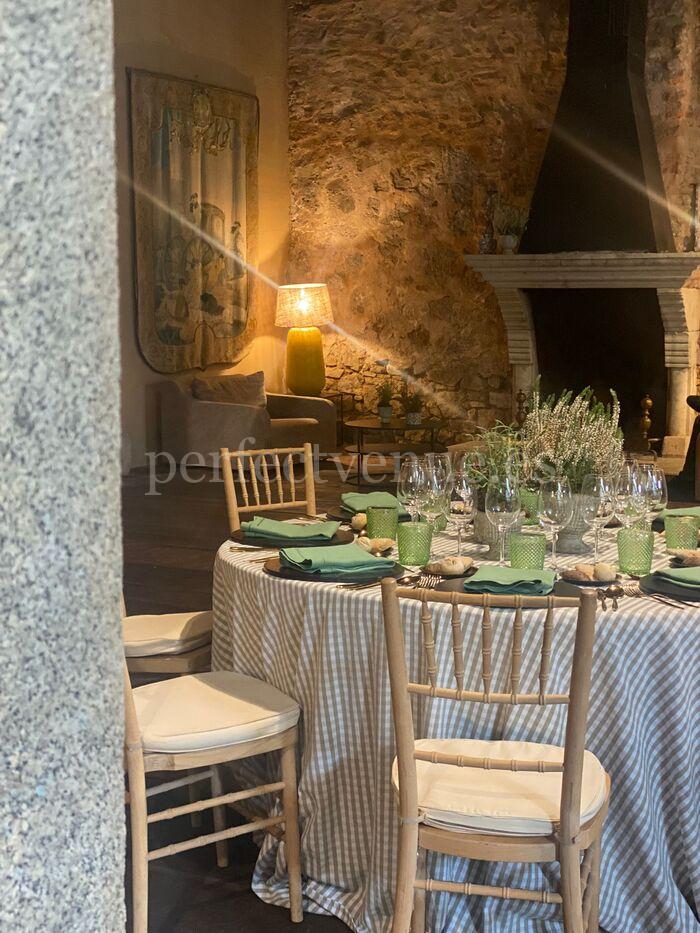 But first… Why choose La Rioja for my wedding?
To think of La Rioja is to think of wine and gastronomy, but also of cathedrals and monasteries, World Heritage Sites, protected green spaces, streets full of life and centuries of history?
Almost 40% of the territory of La Rioja is protected natural space, which makes La Rioja one of the greenest communities in Spain, and its landscapes will make you feel you are in the heart of Ireland!
Among hundreds of wineries, you are sure to find the perfect wine for your banquet. In addition, you can take the opportunity to participate in tastings, wine pairing and discover a whole world related to oenology.
La Rioja is populated by rivers that irrigate its rich orchards and offer the best ingredients for its star dishes of vegetables, meat and fish. This simple, delicious gastronomy, based on local products, can be enjoyed in the restaurants of La Rioja, from tasty daily menus to elaborate signature dishes renowned with Michelin stars; but it can also be tasted in the most typical way: going out for tapas in the most famous areas of each locality.
Autumn in La Rioja is synonymous with grape harvest and colour. So if you celebrate your wedding in this season of the year you will find a wide range of warm colours ranging from yellow to orange and deep red to burgundy tinges at the vineyards. The visual spectacle is so fascinating that it is proposed to be considered a World Heritage Site!
With these scenarios, what couple wouldn't want to look for wedding venues in La Rioja?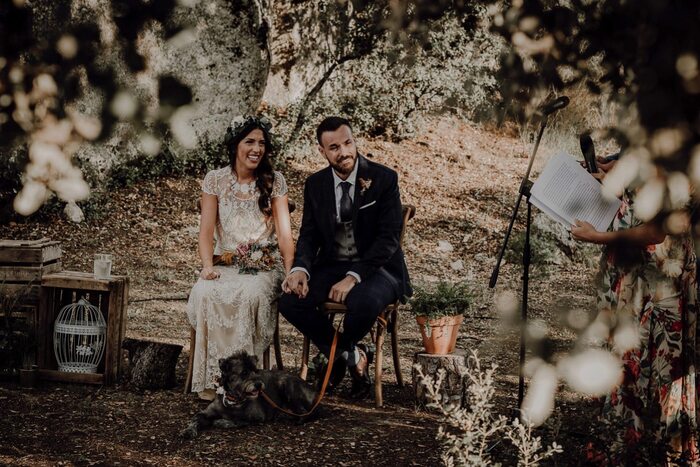 Intimate wedding venues in La Rioja
More and more couples prefer to avoid traditional and formal weddings and have only the most important people to share this unique moment in a more intimate and cosy way.
The cost of the wedding is much more economical, since with fewer guests you can invest the money that you would spend on more guests in an intimate wedding venue in La Rioja, for example:
1. Finca San Camilo
Finca San Camilo in Navarrete, La Rioja, offers its magnificent facilities to celebrate your wedding and surprise your guests.
Located 5 minutes from Logroño, the hotel has gardens where you can create different atmospheres and celebrate your civil ceremony or cocktail hour outdoors while your guests wait for your arrival to continue with the celebration.
In its interior rooms, you can celebrate your intimate wedding with the help of the chef, Nuria Marijuan, who will help you to create a menu to your liking and to surprise all your guests.
They will take care of every detail to make it a success!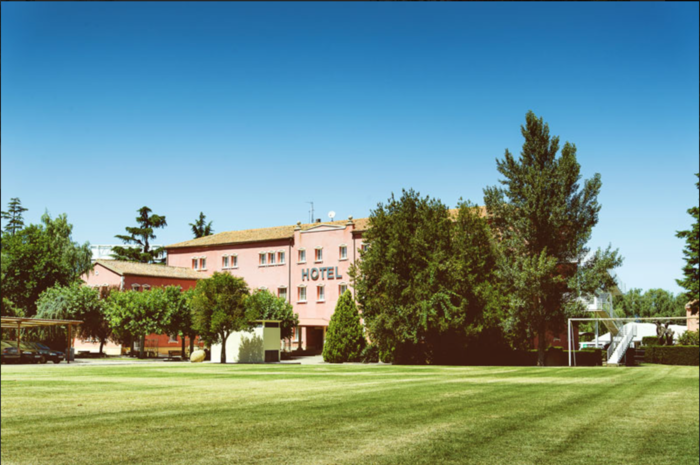 2. La Tapiada
The restaurant La Tapiada and its cosy and elegant atmosphere can host your wedding since it has two rooms delightfully decorated with mirrors, large windows overlooking the gardens and glass domes, where you can also celebrate your wedding outdoors or have a cocktail.
All the details have been carefully taken care of so that you don't have to worry about anything on your special day, just enjoy yourself.
The food combines Riojan traditions with the best raw materials and the freshest products, resulting in an exceptional flavour to make your celebration a special moment that your guests and loved ones will remember.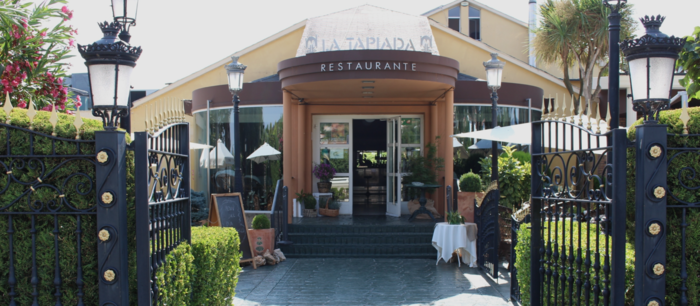 Historic venues for a wedding in La Rioja
If you want to be part of the history of exceptional places, you can say "I do" in a historic space.
In La Rioja you will find historic buildings of unparalleled beauty and impressionable architecture. These venues are a great option because they are home to history, culture, art and mystery.
If you want to organise your wedding in a historic venue, you will have an unforgettable experience while contributing to the preservation of the heritage of La Rioja.
1. Hotel Hostería de San Millán
In a wing of the monastery of Yuso in San Millán de la Cogolla, declared a World Heritage Site by UNESCO, you will find the Hostería del Monasterio de San Millán. Right in the heart of the centre of La Rioja's culture and history, you will find a relaxed atmosphere that will take you back to the 17th century.
The hotel building is decorated in an elegant and simple style with classic wooden furniture in light tones. It was reopened under new management in 2014, with a focus towards culture, gastronomy and enology.
Its facilities also include its gourmet restaurant specialising in traditional local cuisine and wines of La Rioja appellation of origin.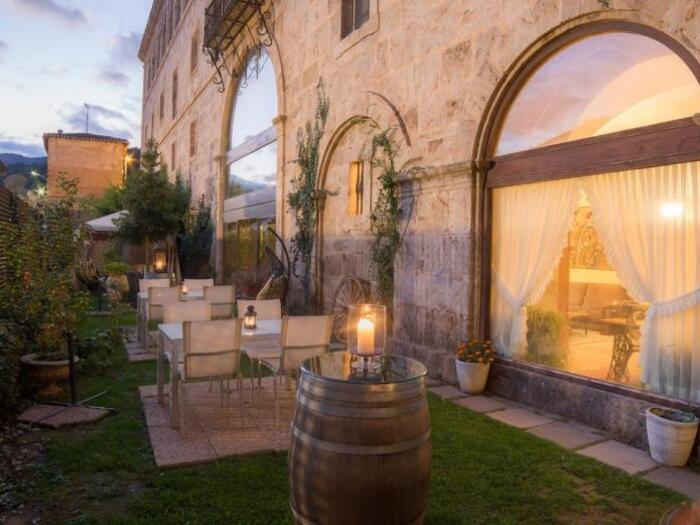 This palace, dating from the sixteenth century, is the ideal place to celebrate one of the most special days of your lives. It combines history and tradition, as well as innovation and sustainability. Undoubtedly, a mix of experiences that you will not be able to miss.
The space has different spaces to celebrate your wedding banquet, both indoors and outdoors under a big marquee, depending on your tastes and preferences. The outdoor lighting surrounded by its wonderful scenery will be something that will definitely leave you totally impressed.
In addition, Palacio Tondón has 33 rooms in which style, elegance and comfort are combined to give you and your guests the greatest possible comfort on such a special day.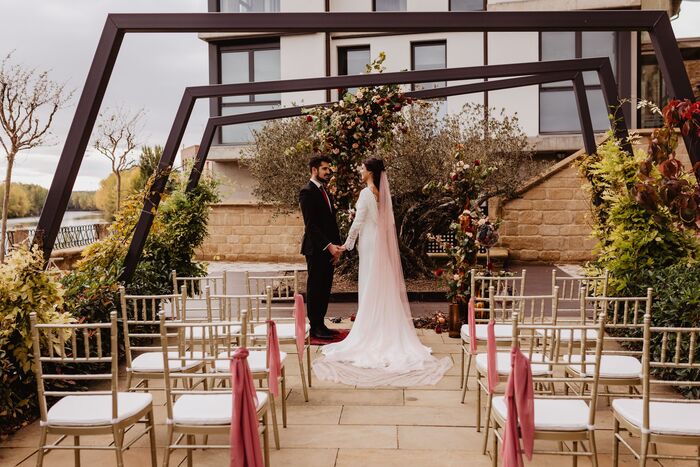 Charming venues for a wedding in La Rioja
Many couples are looking for a special location for their wedding day, with a unique charm that makes the difference.
Luxury hotels, rural estates, castles, classic and stately spaces are surprising, original and full of personality, perfect for celebrating a wedding with charm in La Rioja.
And the best thing is that in the La Rioja region there are endless possibilities for a dream wedding!
1. Real Casona de las Amas
This charming hotel in La Rioja has been refurbished into a 17th century mansion, considered a historical asset of cultural interest. It preserves the warmth of another time without renouncing modern facilities in accordance with the present day.
Its exquisite decoration is reflected in the mixture of different styles, which gives it an exclusive atmosphere of comfort, evoking the senses and sensations of another age.
Outside, the bride and groom can enjoy the swimming pool with a waterfall from the rockery and a natural stream of water. The hotel has a complete spa, with a circuit of baths, Jacuzzi, Scottish shower and thermal baths, as well as a massage service.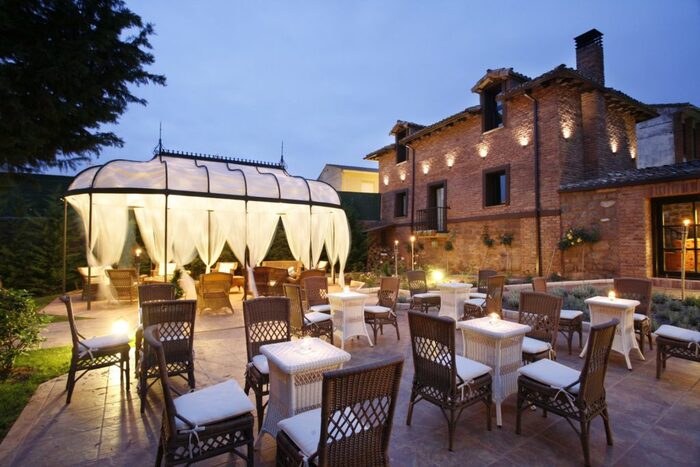 2. Azcarate Palace
The Azcarate Palace is a beautiful building that hosts the most select weddings within its walls. With a restoration carried out, the original structure has been maintained, but the building has been refurbished in order to offer the comforts of modern hotels.
If you wish to celebrate your wedding in a historic location in La Rioja, at the Palacio Azcarate there will always be a person responsible for the event so that everything goes perfectly. The quality and modernity of the facilities make the palace an ideal place for a wedding.
They have a private lounge and garden, where you can have an aperitif and enter through the spectacular old wrought iron gate. They also have a space with a dance floor, music and open bar.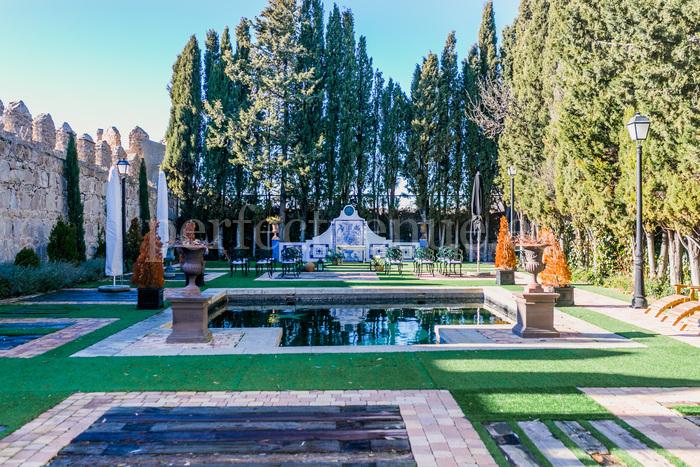 Venues with wineries for a wedding in La Rioja
Wine is like love, as it has accompanied human beings since ancient times. Its raw material is natural, and requires patience and dedication. As well as being intoxicating and a source of pleasure.
So yes, each wine, like each couple, is unique and genuine, with the nuances that each detail and each experience has given it. So… there is nothing better than celebrating your wedding in a winery in La Rioja! This is the most important region in the country in terms of wine.
Celebrating your wedding in a winery is pure magic, it is charming and has a huge potential to generate in your guests the fascination you are looking for.
1. Viñedos del Contino
A cosy manor house from which you can enjoy the sunset over the vineyards. Trees, vegetation and a vineyard of more than 60 hectares on the banks of the Ebro River in Laserna, in the Laguardia area.
The atmosphere of this winery could not be more romantic: can you imagine saying "I do" in a cobbled inner courtyard, with a magical light falling over the landscape?
Its gastronomic offer is backed by the chef Francis Paniego, the most renowned chef in La Rioja, National Gastronomy Award and two Michelin stars. You will have more than a hundred possibilities for a personalised wedding menu.
2. Hacienda el Ternero
This winery has 250 hectares of land that make it an island in the middle of nature, just 15 minutes from Haro.
Its centuries-old buildings are guarded by forests of orange, fir, spruce, oak, chestnut and sequoia trees, among others, as well as vineyards. The estate has its own chapel and the wines are made within the stone walls of a monastery with centuries of history.
The natural environment and the forests that surround the estate are truly incomparable, no other winery can offer something like this, it is an authentic oasis of ancestral and wild beauty.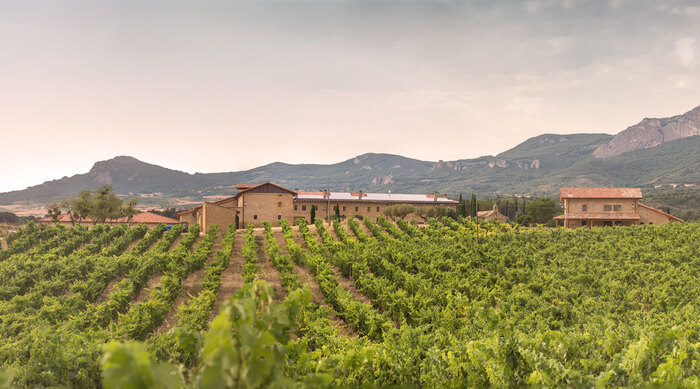 In this case we see a somewhat different winery, as it is more modern than the previous ones and has an avant-garde touch, it is also a 4-star hotel so you can stay here. It is located in the Sierra de Moncalvillo, in Entrena.
As we have already mentioned before, you can stay in it. It has 14 rooms designed by a great artist David Delfin, on the other hand it has a spa and all the services that a new and modern space needs.
This venue has its own restaurant, called Tierra, run by the wonderful chef Diego Rodriguez. This cuisine is oriented towards local products and seasonal foods, which are reflected in its more traditional Riojan dishes.
It has some of the best views of the wineries of La Rioja, from its terrace you can see the beautiful mountains and vineyards. If an outdoor wedding is one of your options, you will be able to offer your guests an incredible experience.
Capacity: 90 guests, can be increased if you choose to place a marquee outside.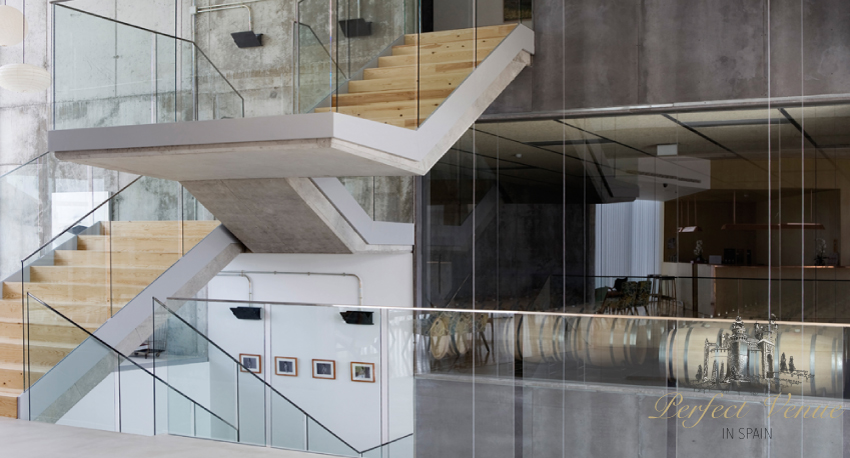 We know that deciding on a venue is not easy, so while you think about it, we would like to recommend you this article: Wine tourism in La Rioja: the most original activities to enjoy wine as a couple, with family or friends. Because… who says that celebrating a wedding and spending a few days at leisure are incompatible?
Whatever the area in which you want to celebrate your wedding, at Perfect Venue we will be happy to advise you and help you with the search for wedding venues in La Rioja.
Just give us a call and we'll get to work with all the preparations!