More and more brides want to take on their wedding dress and to have a shooting before the wedding, and it's normal! Because it's a unique, magical, and incomparable moment that you wouldn't forget. 
So, we are sure that after reading this article, you will also want to take photos in a hotel before the ceremony. Here we are ready to tell you all the most interesting details of this spectacular reportage.
This day our bride put on her incredible dress and she had a morning shooting among many flowers and plenty of glamour. By the way, she didn't miss the accessory that has been with us all last year. Do you know which one we're talking about? Keep reading and find out!
Don't miss any detail!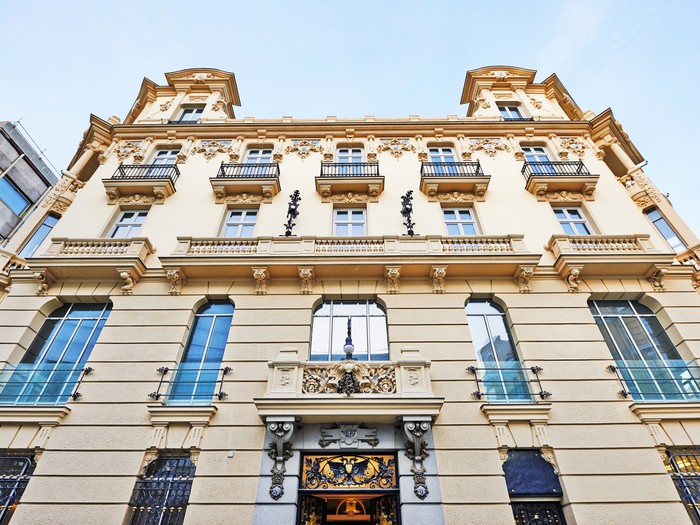 The space of the utmost neoclassical elegance
Hotel Urso was chosen as a location for the morning shooting. This historic hotel is located in the privileged central neighbourhoods of Chamberí, Tribunal, and Chueca. In its design combines the stately character of the bourgeois architecture of 20th century Madrid with the modernity and comfort of a modern luxury hotel. 
Its colourful stained glass windows, decorative tiles, library, marble floors, and wood-panelled walls will make any bride and groom fall in love with this neoclassical wedding style!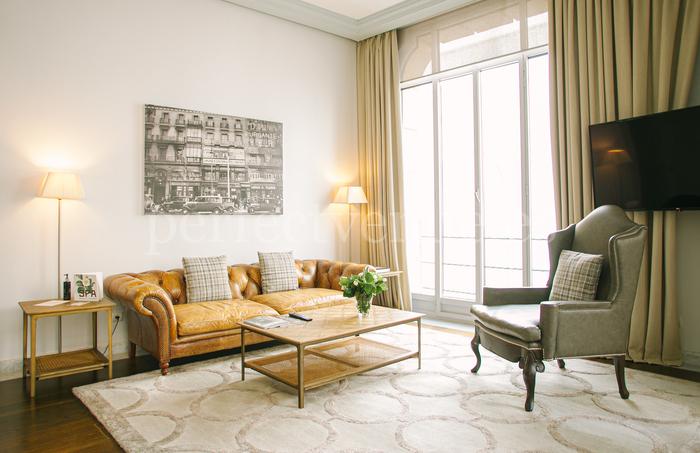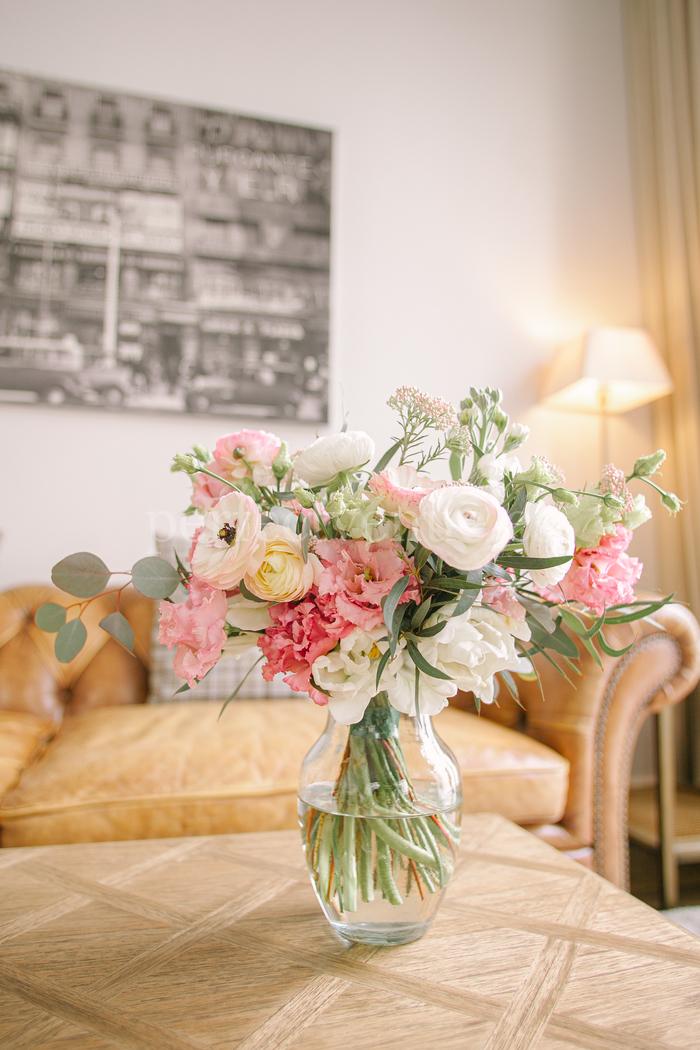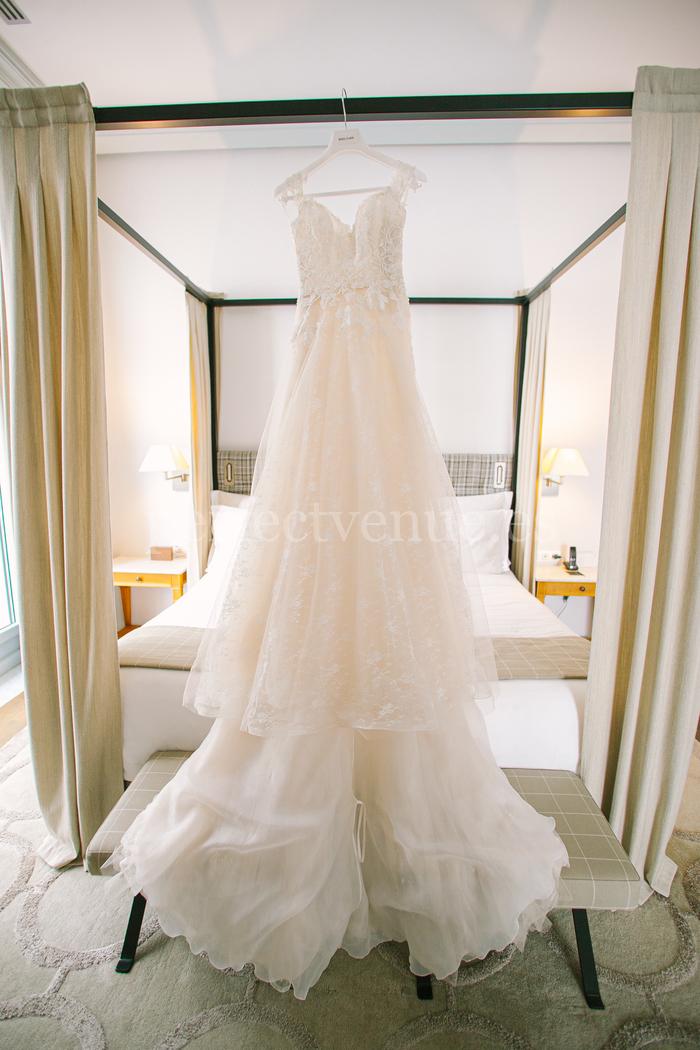 A stylish shooting with glitter
An excellent dress
The bride stood out for an incredible dress designed by the renowned firm Rosa Clará, a reference brand with exclusive designs that always use materials of absolute quality, providing an impeccable and elegant finish.
Our model could feel the movement of her dress model HAYEN with every step she took. Its tulle skirt seduced her in an instant and its princess silhouette made her feel like a star of the show. The heavenly texture was achieved with a lace bodice and a romantic heart-shaped bateau neckline, embroidered with floral motifs. 
In addition, the pleasing embellishments were flowing down the sleeves, revealing the shoulders with sheer lace and complemented beautifully the spectacular voluminous skirt. 
Our bride was shining brightly in her light gown.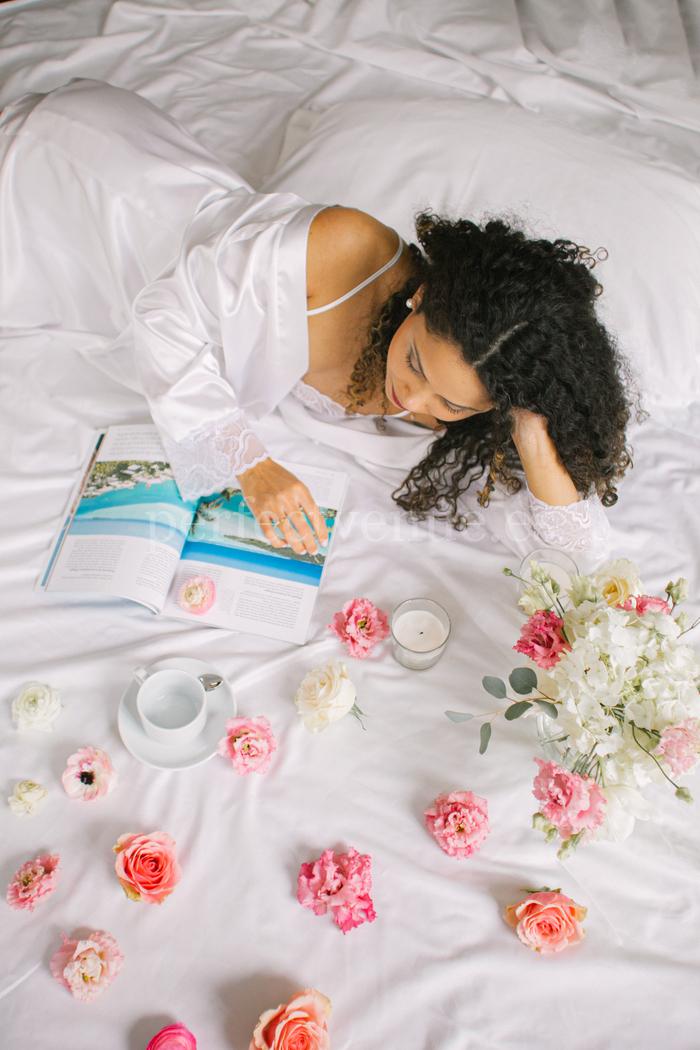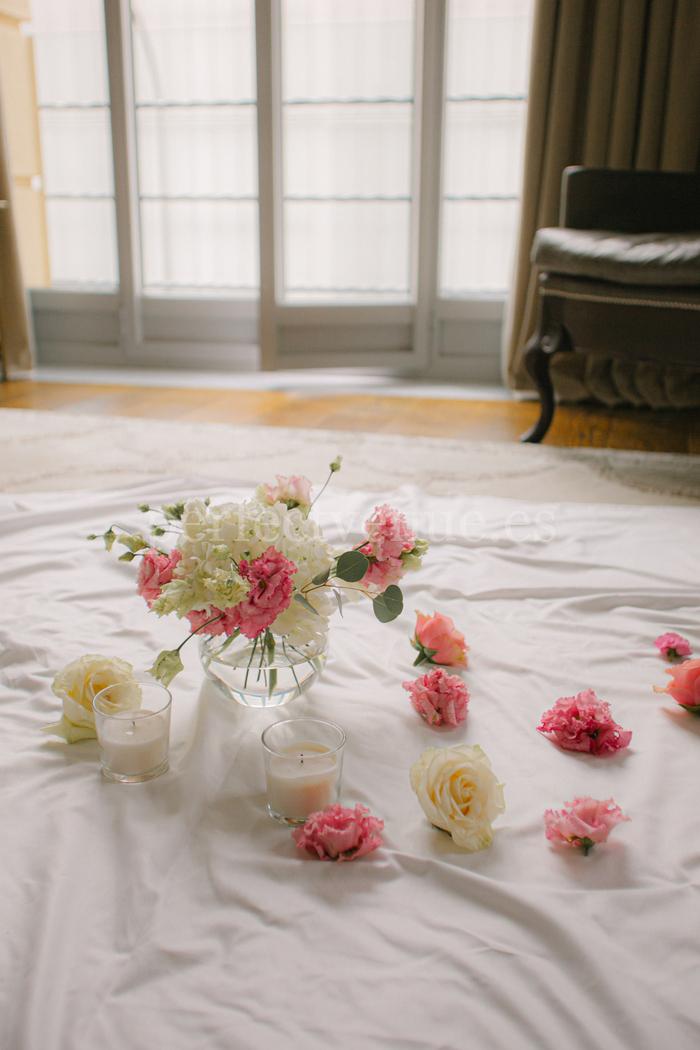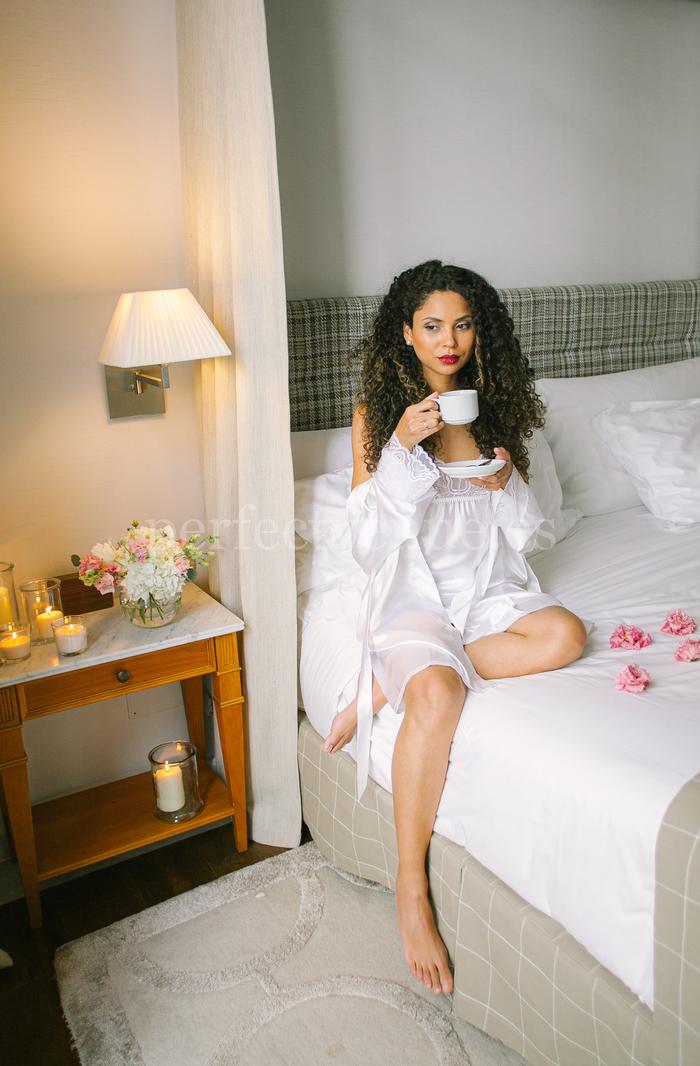 Lingerie in attendance 
Eme de mariposa is a specialised lingerie shop situated in the north of Madrid. There is an infinite number of options for brides and they also wanted to be present on this day, and what a success!
During the preparations, the bride wore a long-sleeved silk gown finished with the same lace as the neckline of the matching nightdress. Specifically, the model she wore was the la Bata Elis Terés. Would you also like to be photographed wearing one?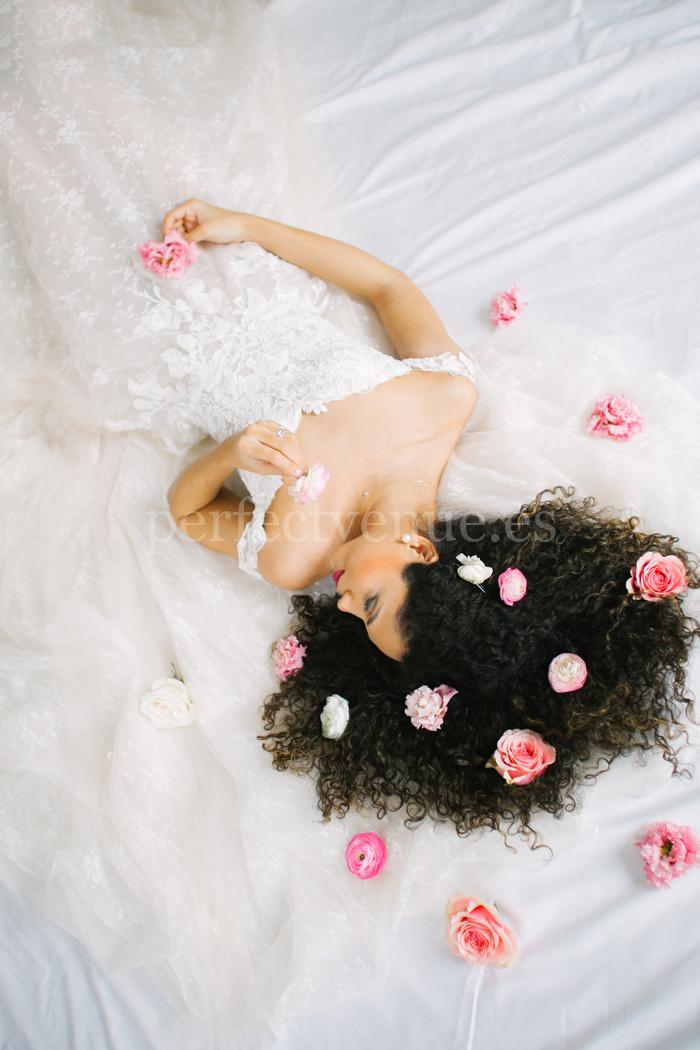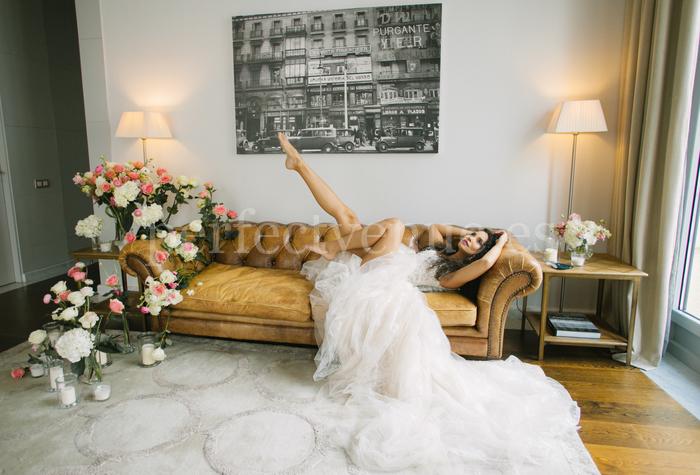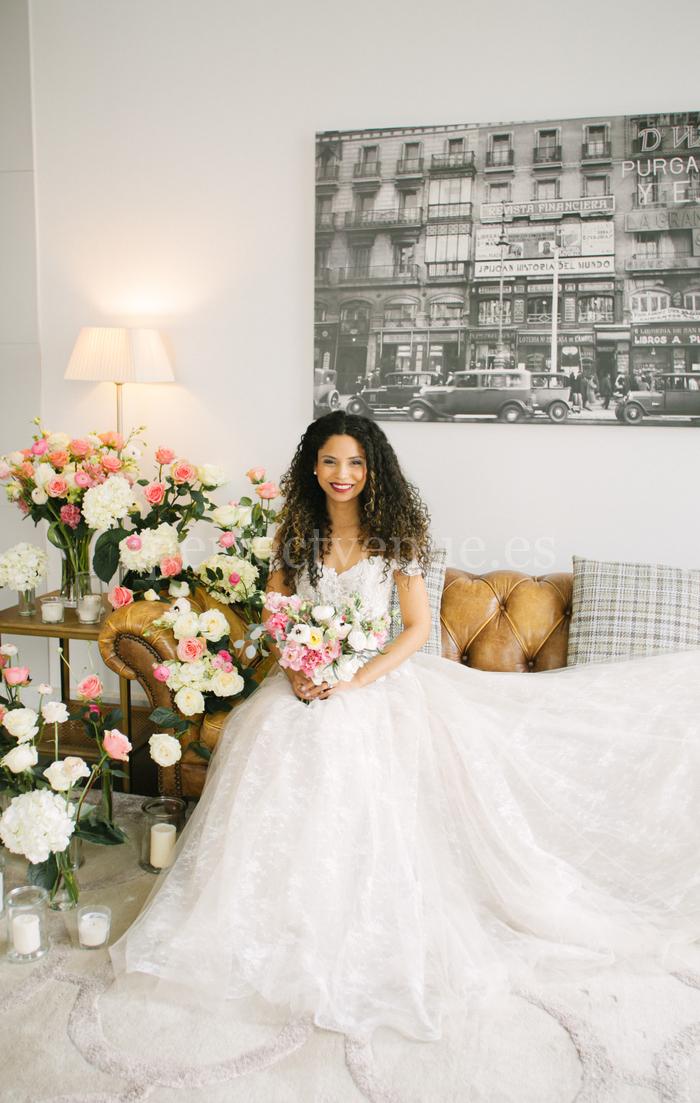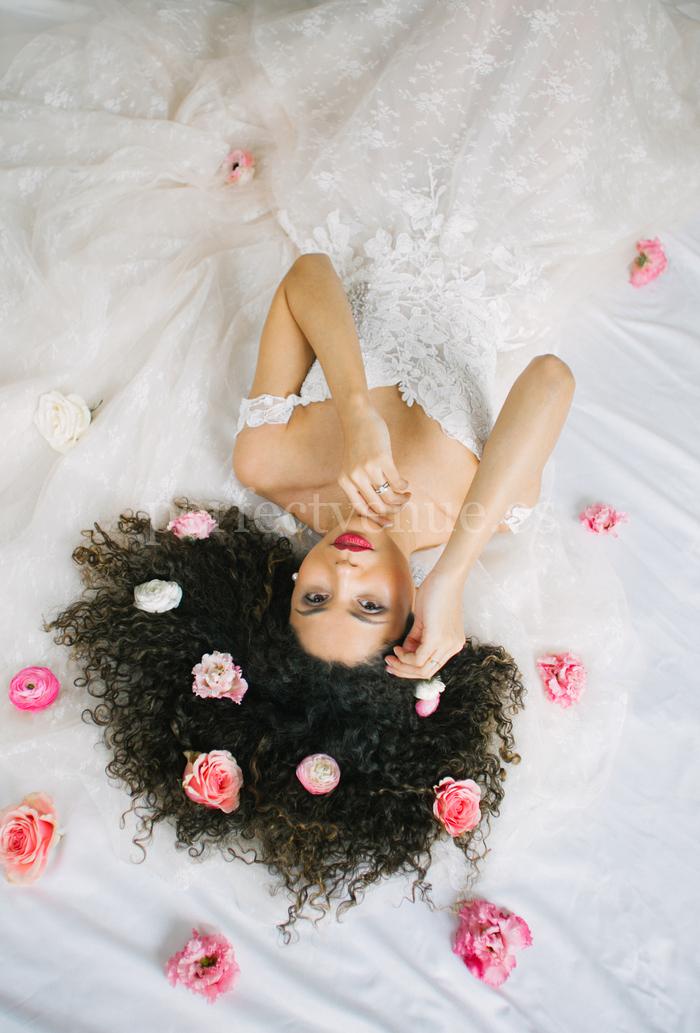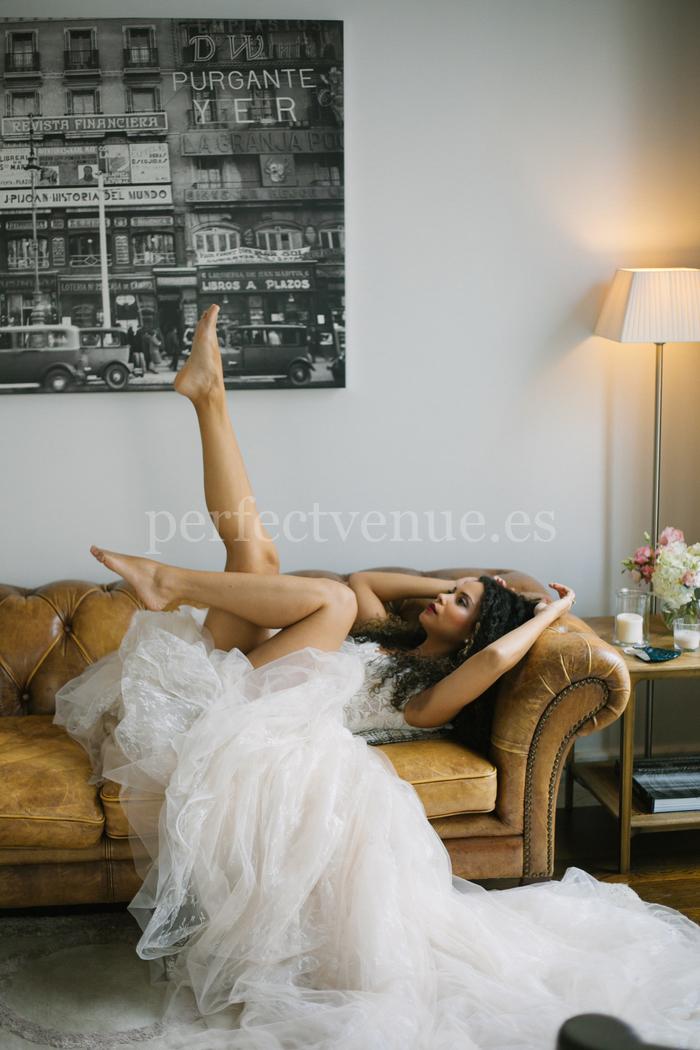 The star accessory…
It was a face mask! This detail that has been with us for more than a year looks set to stay for another long time, but that doesn't stop us! Just look at our bride, who got a reusable, approved, hygienic fabric mask for her photo shoot.
El Jardín Del Deseo was the company in charge of fitting the bride with this accessory, who opted for a navy blue with lace fabric and TNT filter.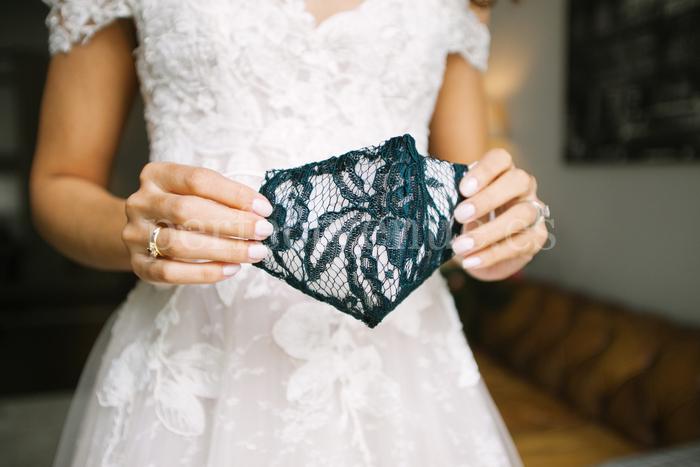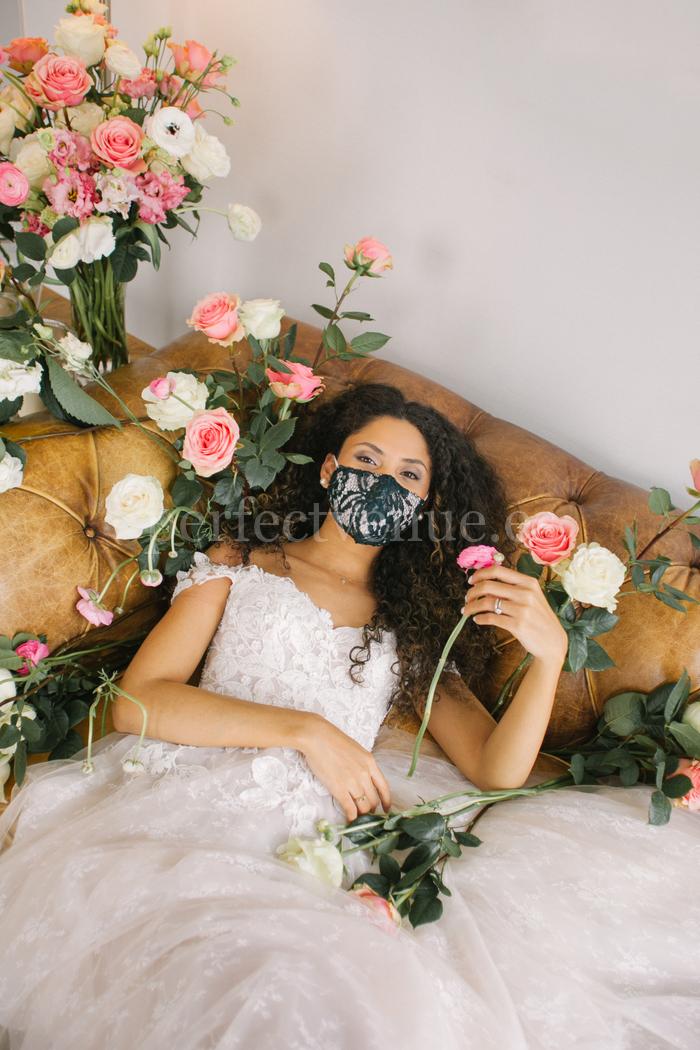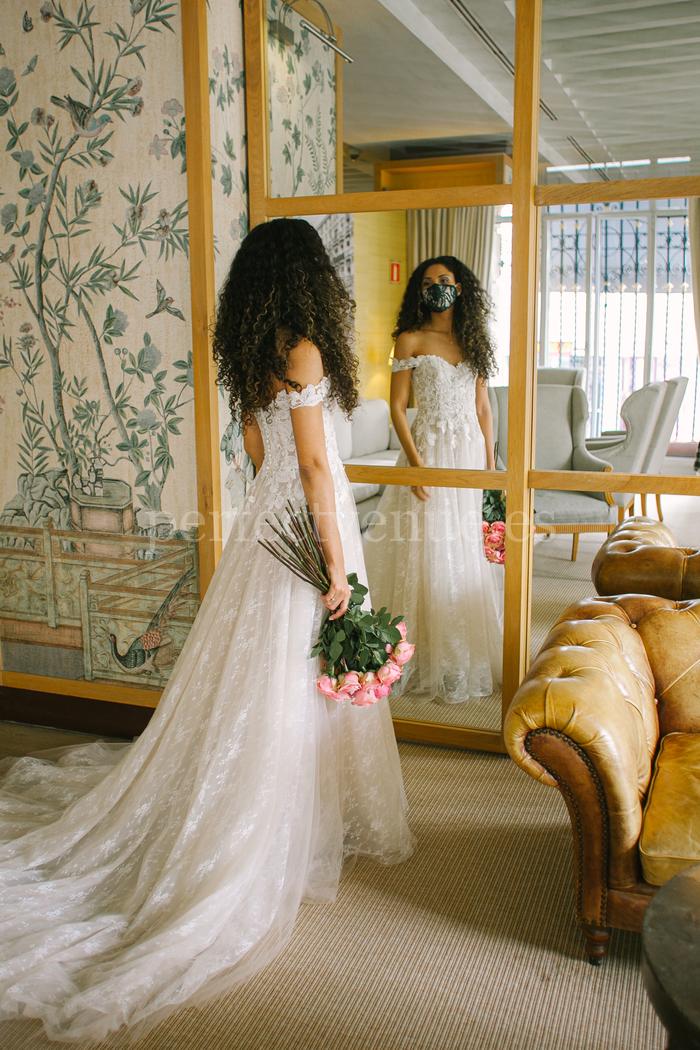 Hair Styling 
The Madroom stylists looked for the best option for the bride's hair and carried out a luxurious treatment too.
They decided to leave her hair loose and curly, taking advantage of her natural and wild curls that give her so much personality.
As for the make-up, it was very simple, although the pinkish colour of the lips stood out.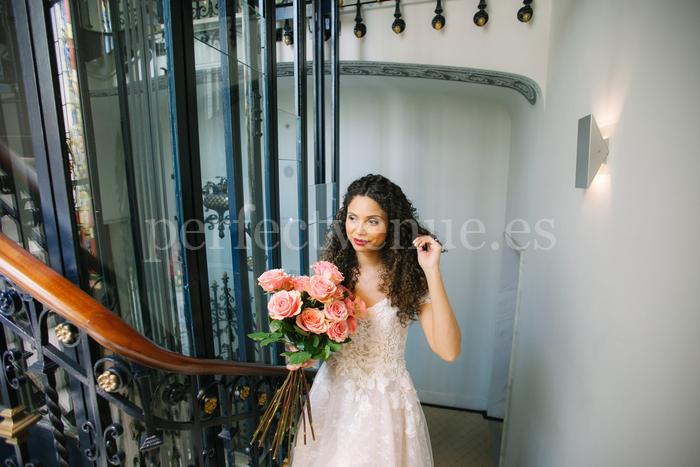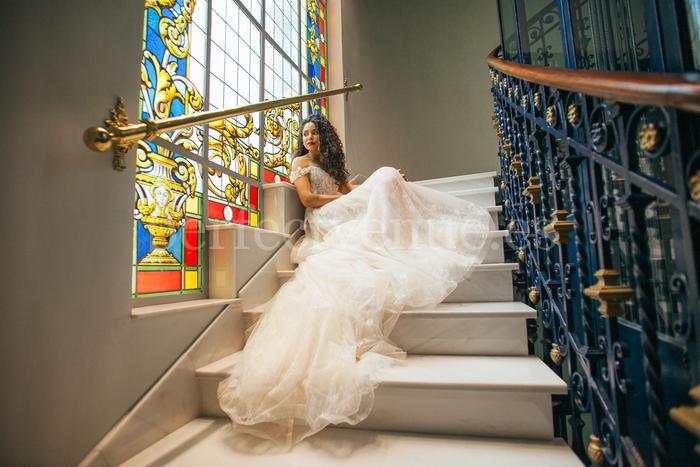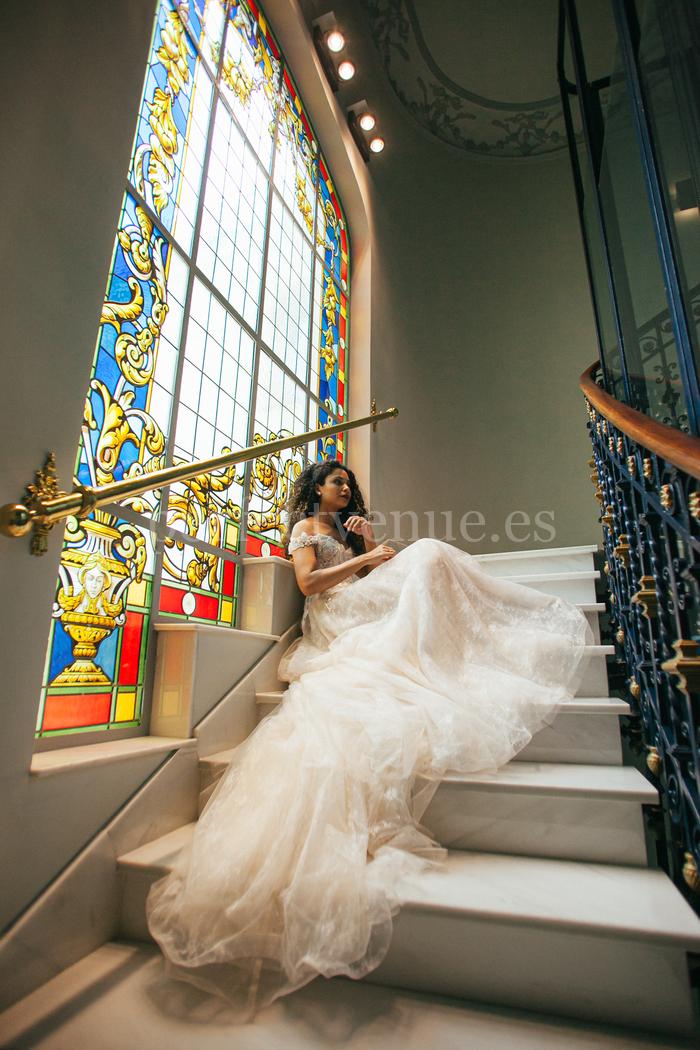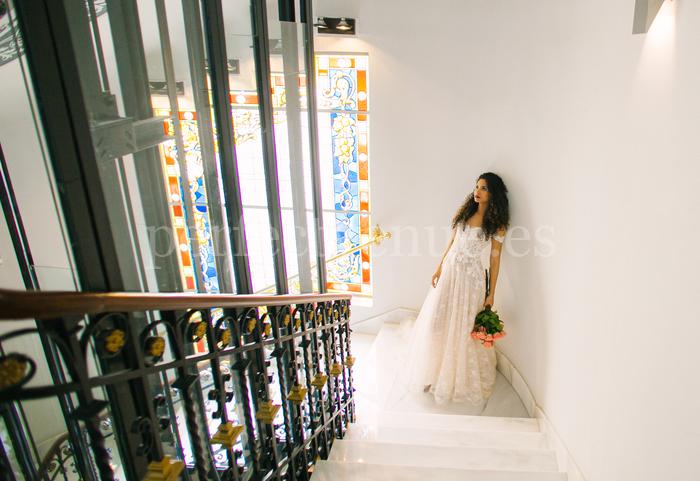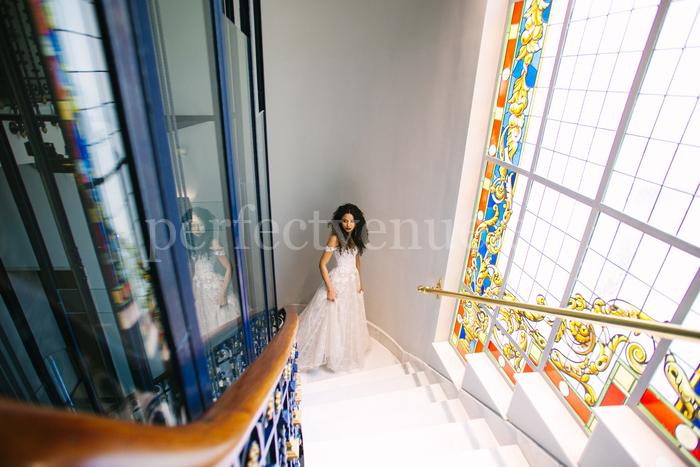 Flowers by Arbolande 
Arbolande is a floral design and decoration studio. Their professionals work for spaces and events where they create atmospheres for every moment, always with professional and personalised advice, to offer their clients the wellbeing and happiness that nature gives them through flowers. 
At Arbolande will listen to all your ideas to decorate every moment of your wedding or your bridal shooting with flowers, filling your day with emotions and personality. Here they always know all the details of the project they are preparing for you: the colours, the flowers they will use, etc.
And the best thing is a fixed price without any surprises! Whether you are looking for a bridal bouquet of fresh or preserved flowers.
That's why, on your long-awaited day, you won't have to worry about anything but enjoying yourself – they take care of everything from the beginning to the end!
What's more, at Arbolande they can make not only bouquets, but you can also find crowns, headdresses, belts, brooches, bracelets… Whatever you need, you'll find the perfect accessory!  
The bride in our today's shoot opted for fresh seasonal flowers in a glass bowl and posed with lisianthus, roses, and branched roses accompanied by other flowers in a wilder style. 
Absolutely stunning! 
Good organisation and great memories 
The photos were taken by Tanya Vasiliuk, who managed to capture the bride in her morning, capturing the spontaneity and naturalness of the moment. 
The wedding planning was carried out by Natalia Ortiz, from Weddings and Events by Natalia Ortiz, who put all her love to reach this spectacular result. 
Would you like to contact us to look at you through the lens?
Wedding team:
Venue: Hotel Urso  // Event planner: @nataliaortizwed // Photography: @tanyavasiliuk // Bridal dress: @rosa_clara // MUAH: @themadroom // Flowers: @arbolande // Lingerie: @emedemaripos // Bride: @dicurlyhair // Mask: @eljardindeldeseo