After a romantic courtship, many couples decide to take the most important step of their lives and get married. This year will be the boom of these moments. Yes, the proposal of marriage in 2022 is coming soon!
Once you have decided that you want to share your life with that person, a whole host of doubts invade your mind: when to ask the big question, and when would be the best place to do it? Well… during a trip!
And where? Well, in 2022 the streets and corners of Spain will be the scene of numerous proposals because it is an enchanting country full of unique and memorable places!
So, read on to find out more about next year's wedding proposals.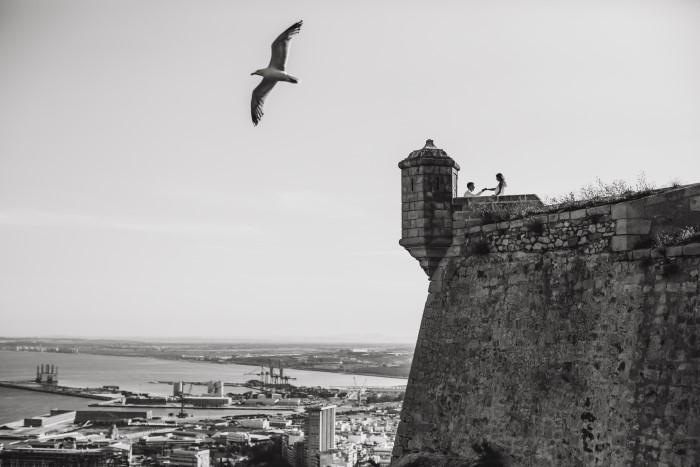 Why is it better to propose during a trip?
For sure, it will be one of the most special things you have ever experienced. Travelling is always something unusual and memorable, you find yourself out of your usual surroundings, and such a special moment adds a special twist to your adventure.
The place you travel to is up to you, but we definitely recommend Spain, as it's a country with plenty of romantic and movie-worthy places to declare your eternal love.
Besides, you can always go back to the place where you first met and propose right there. So lovely!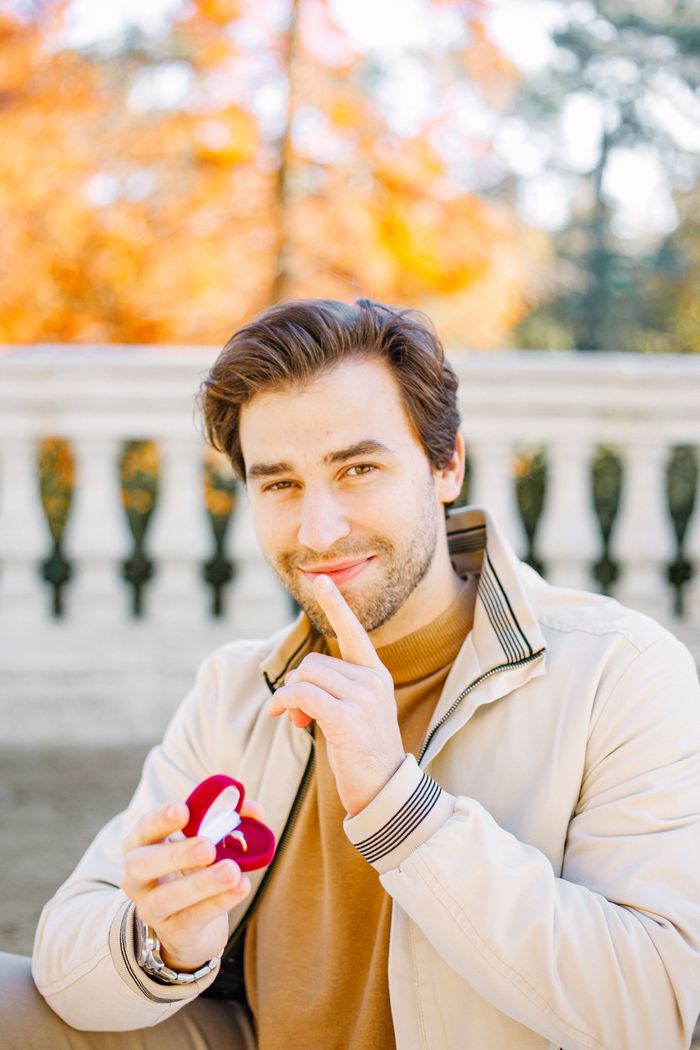 The professionals will be there
One of our favourite parts of the proposal is to see how the bride has no idea what is about to happen. There also will be the photographer and the organiser hidden and unnoticed.
It is very important to take a picture of this magical moment! The professionals will be able to capture images worthy of envy on Instagram, and the best thing is that they will be hidden so as not to spoil the surprise! Afterward, you can show all your friends and family how you lived this great moment.
Fresh and full of energy!
If you are planning to propose during your trip, we always recommend not proposing right away on the first day. As a rule, a long journey and a few hours by car, train or plane is exhausting, so it's always better to take some time off. Two days or at least one night for rest will make everything go much better.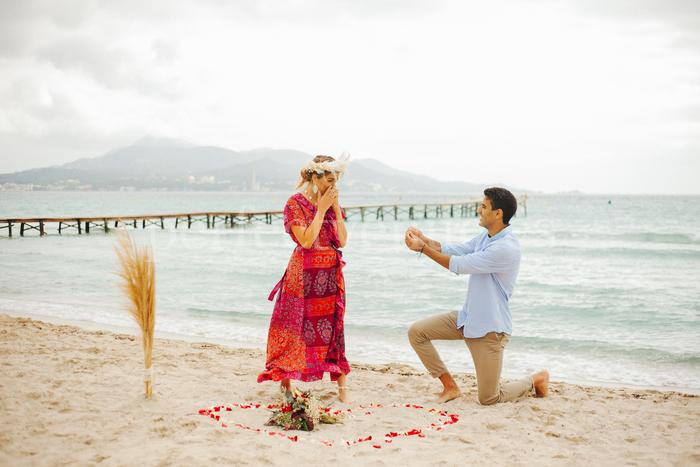 When can I do it during my trip?
Whenever you're feeling most relaxed, whether it's strolling down a beautiful street in the city you're visiting, in any famous local park, on a mountaintop, near a stunning vineyard or lake, even at dinner in a fancy restaurant. Whether in public or in private, it's your choice!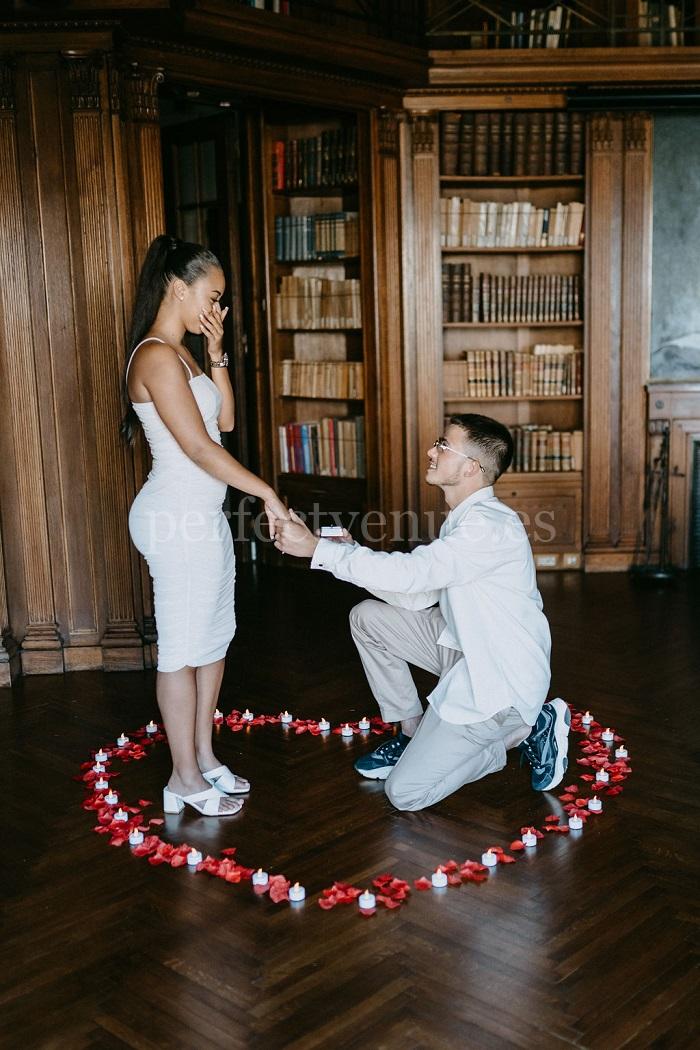 Spain is a perfect country to make a proposal
If we think about marriage proposals, the most common places that come to mind are Paris, Florence, Rome or New York, but perhaps a trip to Spain could be perfect for you, travel that goes out of the traditional way! 
The corners of this country will surprise you with their beauty and exceptional character and you will feel that time has stopped because in Spain you will find everything: extremely diverse landscapes, good weather, a majestic cultural and historical heritage…
Spain is an attractive and enigmatic country for a marriage proposal and there's nothing that can go wrong!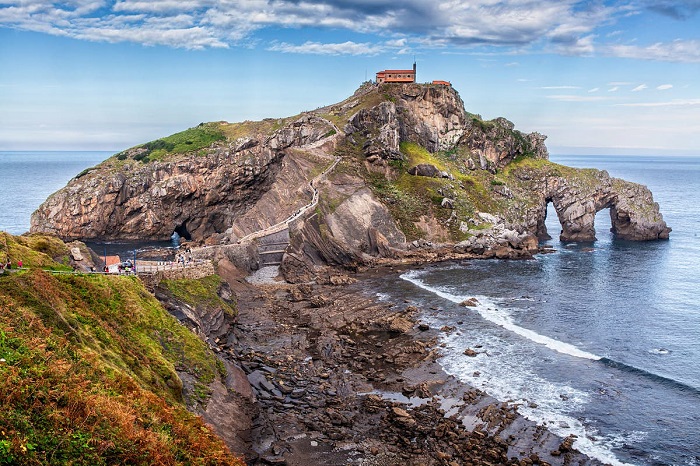 Best places to propose in Spain:
– Skiing in Granada. With a lot of adrenaline and snow, your partner won't be expected you to get down on one knee after an intense descent.
– Mallorca's beaches. Enjoy the white sand and crystal-clear water!
– Retiro Park, between the greenery of its nature, listening to the sounds of the violins…
– If you are fans of the Game of Thrones series, San Juan de Gaztelugatxe, where were setting the series, will leave you speechless.
– With views of the lakes of Covadonga, lakes of glacial origin to propose marriage in a National Park!
–  Sunset and the magical rays of the sun at one of the most beautiful squares in Spain, Seville's Plaza de España.
– The Alhambra in Granada and the Mosque of Cordoba are some of the most majestic heritage sites in Spain.
– During a cruise to the incredible Cíes Islands in Galicia.
– During the sunset at the Temple of Debod in Madrid you will also be left speechless.
– If Catalonia is your place of destination, Park Güell in Barcelona will impress you without a doubt.
– The Irati forest, there is nothing better than asking for marriage there!
– How about the edge of the world, better known as Cape Finisterre, where the beauty of the Atlantic opens up? Another reason to reach the most westerly point of the country and make a proposal!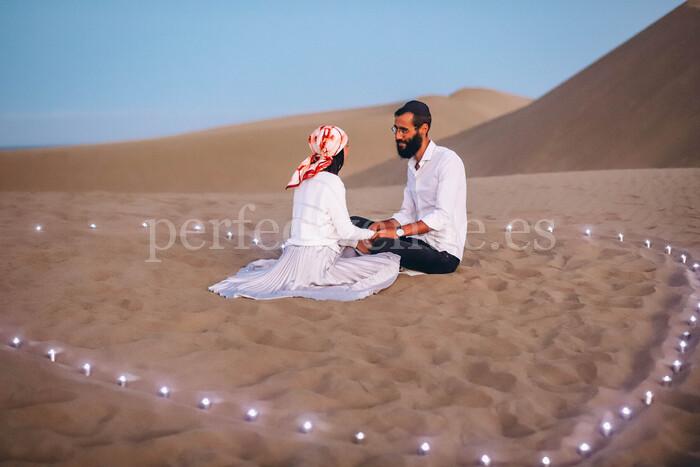 Decoration even in remote places
Yes, we professionals go everywhere you can imagine, because such a special moment cannot be left without decoration, and in 2022 the decoration of engagement parties is going to promise a lot!
The stage will be filled with elaborate floral arrangements, picnics with blankets, colourful balloons, rose petals, decorations will always be present wherever in the world you ask for marriage!
Wedding planners ready to do their best
Just as there are wedding planners, there are also marriage proposal planners, thanks to the increase in the number of proposals and the rise of precious photos to remember, more and more brides and grooms want to make this moment perfect.
Hiring a planner will make a big difference! You will have all the services you need to make sure that everything turns out just as you have imagined it, photographer, cameraman, florist, musicians…
And everyone will be there! To make sure that you enjoy the moment, that it goes perfectly.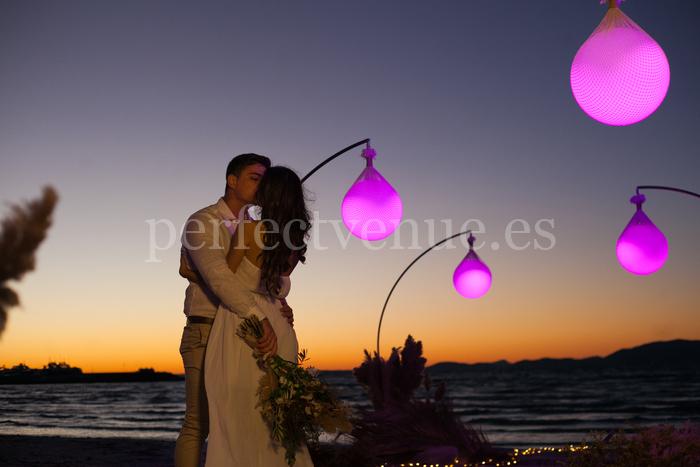 At Perfect Venue we help you to prepare your proposal in Spain, we will make sure that during your trip to our country your partner doesn't suspect anything and you will return home being engaged.
Contact us and tell us your idea, we will help you to make everything perfect!