If you are already starting with the preparations for your wedding, undeniably one of the first things you will have thought about is the makeup and the hairstyle that will make you look radiant on your big day.
But we are also sure that, apart from looking everywhere for inspiration to achieve the style you have always dreamed of, you also have a lot of doubts about the effects that COVID has had on weddings and in the beauty sector.
But, as at Perfect Venue we always want to help you with everything you need so that your wedding is as you've always dreamed it and put aside the fear and uncertainty caused by the COVID situation…we have contacted three great professionals in the sector and we have asked the questions that most interest brides today!
The professionals, who we admire for their work and ability to create unique hairstyles and makeup, and who tell us all about weddings are: Peluqueros RV and Oui Novias. 
You can't miss it! Because you will stay much calmer and trust that finding the perfect style for your wedding in times of COVID is nothing to worry about.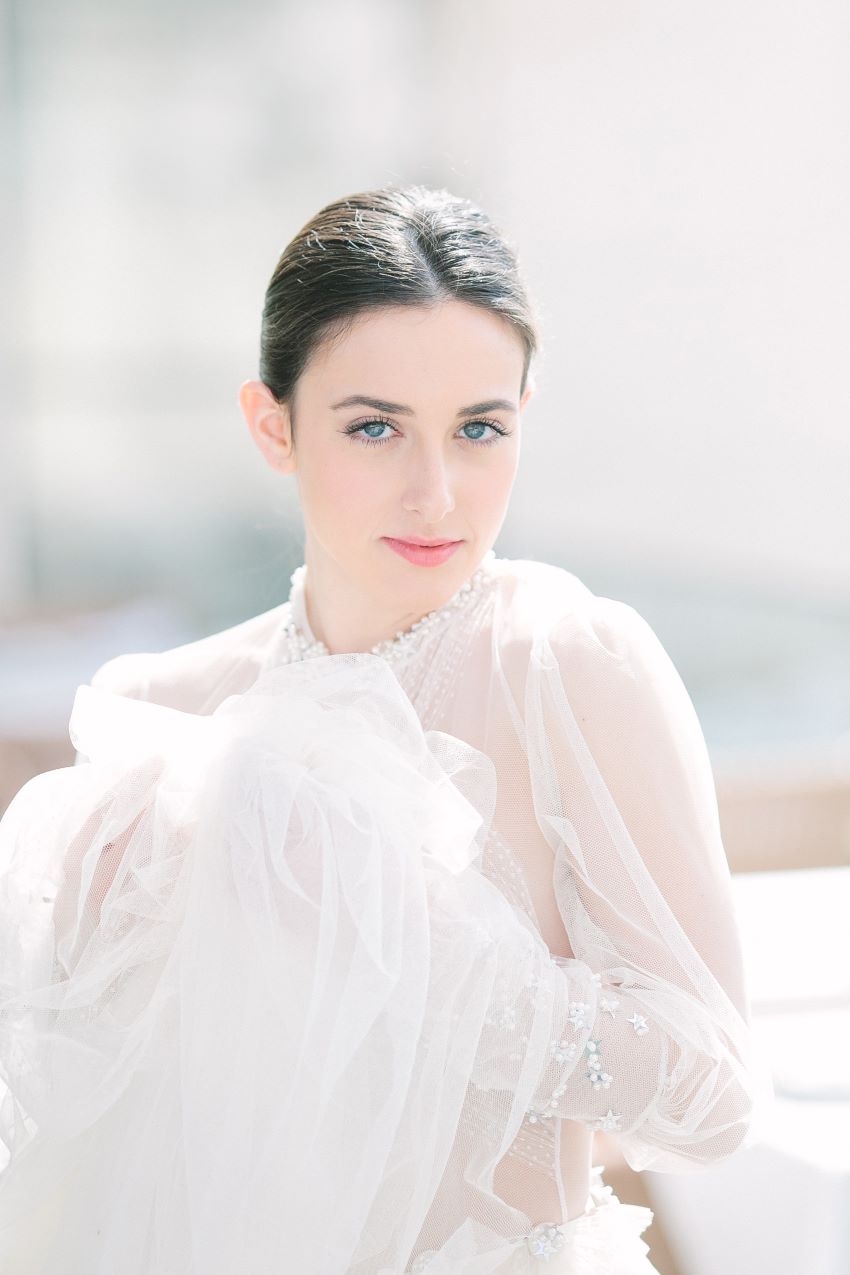 1. In the midst of this pandemic, how is the business currently doing?
Peluqueros RV: We are in a more difficult situation than before, but this pushes us to do more things, such as offering new services and adapting to measures for the safety of clients and staff.
Oui Novias: Like all companies in the sector, we have been able to celebrate 20% of the weddings that we had planned, having to postpone 80%. This has caused significant billing losses, reaching up to 70% less monthly. Currently we see an uncertainty caused by the lack of awareness of dates and times in which this situation will normalise and we are affected by the scarce reservations for the next weddings in 2021. We are hopeful in a vaccine that will ensure that we can celebrate weddings soon and we can correspond with all those brides who are waiting for their big day to come. 
Irene Amayuelas: The company's turnover has been seriously affected by the pandemic, especially by the bridal sector, but we continue to work in the make-up sectors that are still active, such as training make-up artists and some marketing photo sessions.
 2.
What has been most difficult for you to cope with during the pandemic?
Peluqueros RV: The hardest thing was to pay the expenses, as the volume of clients has decreased, since the expenses remain the same or even more, because the prices of material rose, for example.
Oui Brides: Maintaining the expense of an infrastructure with minimum billing. Our work has increased by managing so many expenses. Also the impossibility of being able to work as a team, which for us is essential.
Irene Amayuelas: The most complicated part has been managing dates and postponements, which have sometimes had to be postponed several times due to the uncertainty of not knowing when this situation will end and the constant changing of regulations.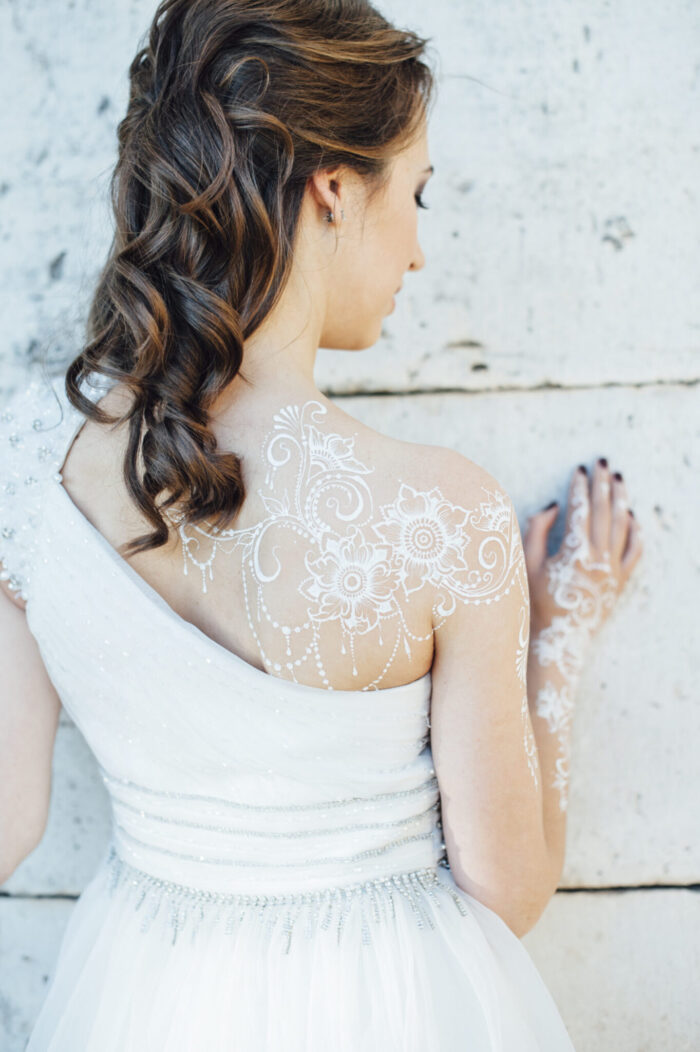 3. 
How has the business adapted to the new normal?
Peluqueros RV: As we are foreigners, we adapt to everything, now we do many marketing campaigns on social networks, we are also finishing creating a salon website, a lot of publicity, all professionals are training more and this gives us a great advantage in this sector.
Oui Novias: At an economic level, we have reduced expenses by 50% to be able to remain standing, at a professional level we have had to increase all of the distancing and hygiene measure to be able to attend our clients in the safest way possible.
Irene Amayuelas: Whilst working we have added more hygiene measures such as hand disinfection and cleaning products that contain alcohol. In addition to the usual cleaning, we have incorporated disposable lip applicators and single use masks, fp2 masks for the professional and a protective screen. This is all whilst making date changes flexible at no additional cost to our clients.
4. What are the steps that are followed to do makeup and hair without any risk regarding COVID-19?
Peluqueros RV: As always, with or without COVID-19, all tools are disinfected as always, it is first and foremost in this job.
Oui Novias: The use of masks by the professional and all the necessary disinfection and hygiene measures, such as disinfection of material and brushes.
Irene Amayuelas: The professional is required to use an fp2 mask and a screen, whilst adhering to hand hygiene rules. As clients do not wear a mask whilst having their makeup done, it is important that all tools and brushes are perfectly cleaned and disinfected. When using a  product, spatulas and palettes should be used so that the brush does not have to come into contact with the product once it has touched the client. We also use single-use disposables for lipstick, spoolie brushes and mascara wands. One disposable mascara wand is used for each eye, without putting it back into the mascara once it has been in contact with the client.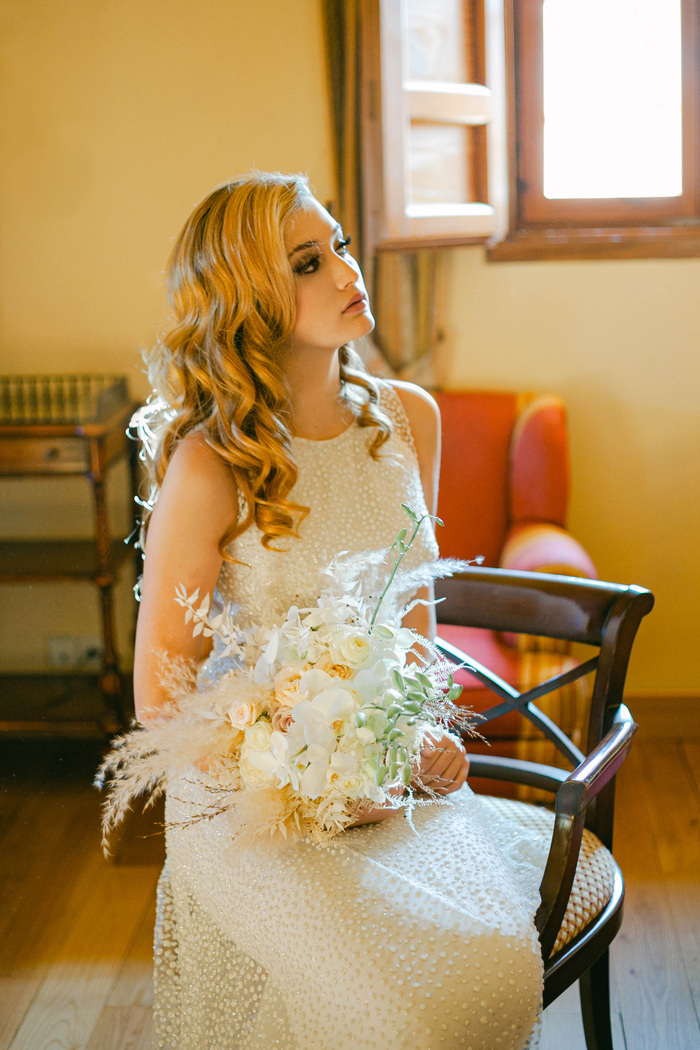 5. It is time for brides to wear masks. What is it like to create makeup for a person who is going to use this accessory? Do you use special products? Have you put different techniques into practice?
Peluqueros RV: We have not developed different techniques because in bridal makeup the concentration is always on the eyes. The measures are to try to make sure that the client and professional are alone in their work area, and of course the professional with a mask.
Oui Novias: All brides who have had to wear a mask have chosen to intensify their gaze to bring attention to their eyes. We have also been placing special emphasis on very resistant and fixed products so that they resist the friction of the mask.
Irene Amayuelas: Wedding makeup always needs to use long-lasting products. For the face makeup, after the translucent setting powder is applied, a setting spray can be used which is like a light finish. For the lips, we use permanent lipsticks; once these are applied, you can add moisturiser or translucent lip gloss to hydrate the client's lips without the mask getting stained. As always for the eyes, we recommend using eyeliner gel and waterproof mascara. For the eyeshadow, powdered makeup can be set using a pre-base eyeshadow. The only difficulty we have is using permanent lipsticks, although some brides already requested this before masks were being used. With the bridal packs we offer, we have also incorporated a makeup retouch kit so that brides can retouch their skin and lips as many times as they would like with their chosen colours.
6. Will hair and makeup trends change for next year's weddings or will they remain the same as in 2020? 
Peluqueros RV: Every year trends change and not because of COVID-19 but because fashion continues to evolve.
Oui Novias: Trends change constantly in brides because they are influenced by fashion in general, we see that by not celebrating brides, trends change slowly, but I am sure that in early 2021 we will see very inspiring new ideas for brides who will celebrate their wedding this year.
Irene Amayuelas: Every year new trends are incorporated into our techniques. For example, right now the trend is to contour to enhance the model of the face by creating depth in her cheekbones and enhancing areas where the light is caught using a highlighter. We also trends vary with colours, creating different styles depending on the time of year, for example this winter we are seeing mauve or forest fruit tones and for spring, roses and chocolate brown or even greens will predominate.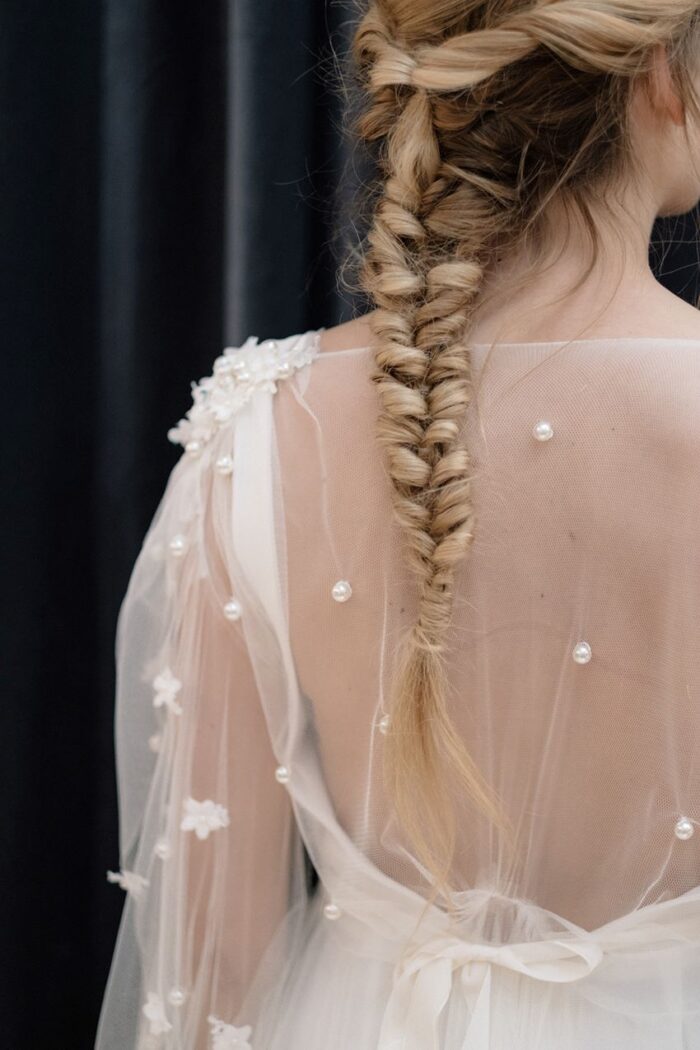 7.
What volume of brides do you expect in the business next year? 
Peluqueros RV: We hope it will increase and thus be able to return to normal life.
Oui Novias: We expect 80% of weddings that have not been possible, in addition to 50% of weddings planned for 2021.
Irene Amayuelas: A large number of weddings are expected in 2021 and 2022, as many of the 2020 weddings that had to be postponed will be carried out. It is therefore advisable to start booking the desired date with all the professionals and suppliers in the sector that you wish to be part of your event.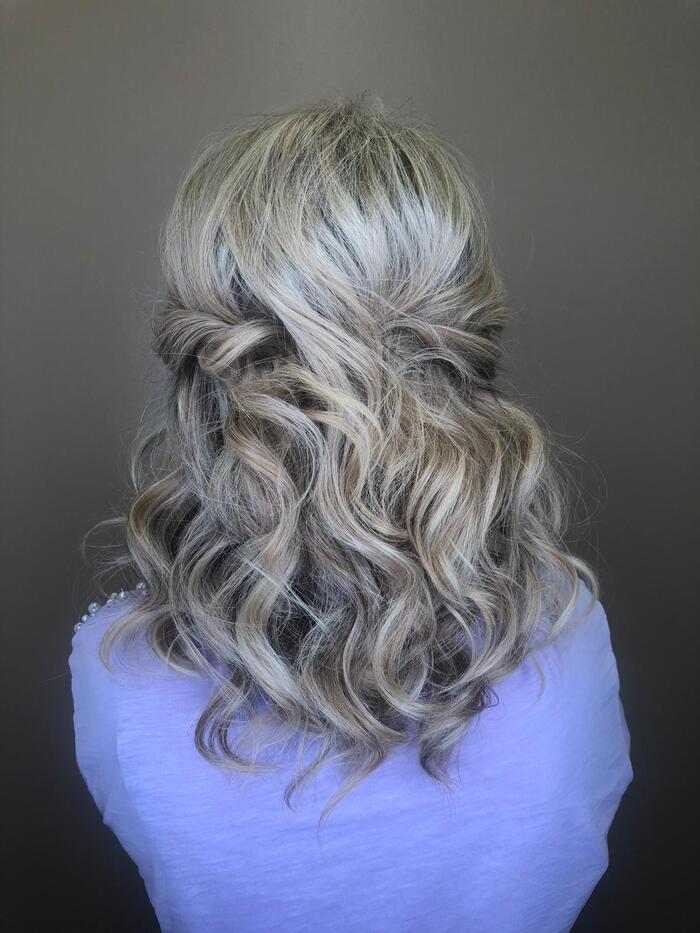 8. What would you say to brides who want to start hair and makeup trials for their wedding?
Peluqueros RV: Welcome back!
Oui Novias: I would advise them to do the trial as close to the wedding as possible. We have had some cases of brides who have had to change their wedding after the trial. This means that the bride will have to wait a long time and may have a change of opinion or even have to have another professional due to agenda issues.
Irene Amayuelas: Make-up and hair practise runs are usually done one to three months before the wedding day, but it is important to choose the professional much earlier to ensure that the date is reserved. For this it is recommended to have an interview and choose the professional that fits your style and taste. 
Many thanks to the stylists of Peluqueros RV, Irene Amayuelas and Oui Novias for your time and disposition!
Don't hesitate to go to Perfect Venue to start with your wedding preparations, get in touch with any of these professionals and find the style that best suits you as soon as possible.
We're waiting for you!