In this article you will not only find a special color, but also incredible venues for weddings in Seville! In addition, you will discover that, if or if, you will want to get married in the capital of Andalusia.
Luxury hotels, farmhouses full of art, haciendas with legends, museums full of art, restaurants with a delicious cuisine … and with an accompanying time!
Take your partner and discover for yourself what it is to celebrate a wedding in Seville, whether civil or religious, because, did you know that Seville is the 2nd city in the world with the largest number of churches?
Since we know that celebrating a wedding in Seville nobody can regret, in Perfect Venue we have prepared a mini guide with everything you need to know to get married in the city of Gustavo Adolfo Bécquer, one of the most romantic you will ever know.
Shall we start? Let's start!
Seville has a lot to offer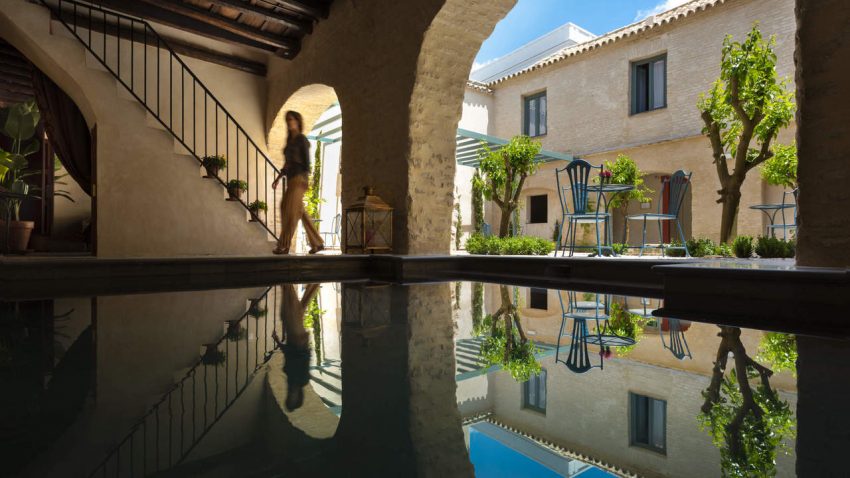 A spectacular time, what is the weather going to be like in a city where the sun stays in the sky for 300 days a year? Well incredible for any couple who decides to get married in the city!
Because for your big day, surely you want a warm and light-filled environment.
Myths, legends and history, because getting married in a simple space is not the same as getting married in a singular and unique enclave, like the ones that Seville has, which also house countless legends and history.
Some examples are the Reales Alcázares, the Cathedral, the María Luisa park, the house of the dark swallows of Bécquer (the Casa Bucarelli, the Plaza de España, the Santa Cruz neighborhood, the Guadalquivir river or the Triana bridge.
Art and tradition, yes, Seville also offers Baroque tradition and art, and not only for its monuments and its spaces for weddings, but also for its museums (Museum of Art and Customs or the Museum of Fine Arts), music (it is the birthplace of flamenco), galleries, festivals and crafts (embroidery and shawls, ceramics and pottery).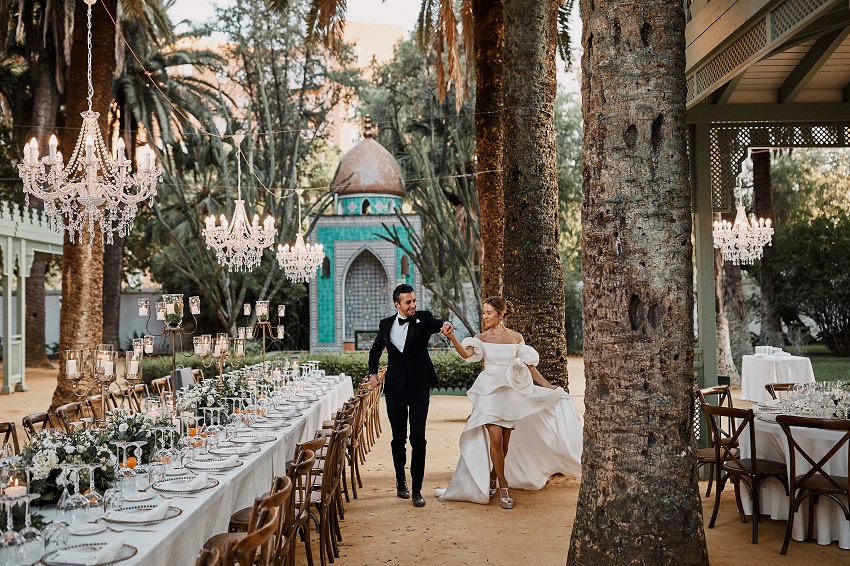 Activities and plans, because nobody wants to leave a city without making a typical plan in it. And Seville has them!
Your guests and you will have a great time with a cruise through the Guadalquivir, a boat trip, doing the tapas route, visiting the Casa de Velázquez, leaving the night party, taking excursions to Córdoba, Granada or the Doñana Natural Park , Among a thousand other things!
Gastronomy, one of the strong points of Andalusia is its cuisine !, especially Seville, where dishes such as fried foods, fish, seafood, vegetables and meat stand out.
So, without a doubt, in your banquet you can not miss gazpacho, fried fish, adobo dogfish, flamenco eggs, cod with tomato, typical Andalusian stew, grilled squid or oxtail.
And for the dessert table … pestiños, torrijas, oil cakes, English cake from Carmona and cut citron!
And the best, its spaces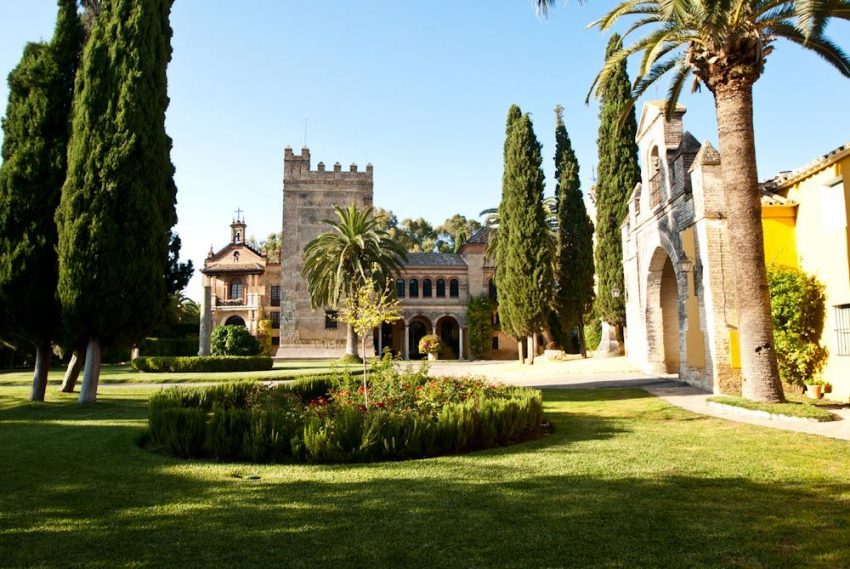 Monclova Castle
This castle, original from the 14th century, has managed to preserve some of its originals combining tradition and modern comforts, thus creating a fairytale place. It has the Tapestry and Canvas Halls, the old mill, the mill courtyard, a garden area, tent, chapel, etc.
Cortijo Torre de la Reina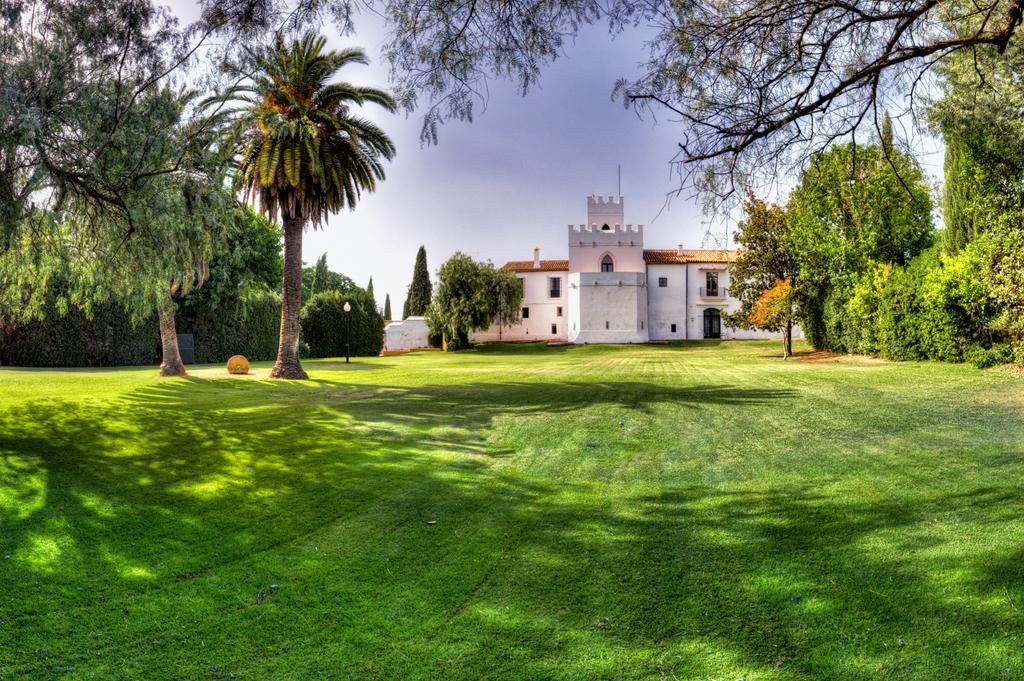 Just 12 kilometers from Seville is the Cortijo Torre de la Reina, the only Cortijo that is a National Monument in all of Spain. With 800 years of art, architecture and wonderful gardens of 15,000m2, the farmhouse opens its doors so that you can celebrate your link.
Hotel Alfonso XIII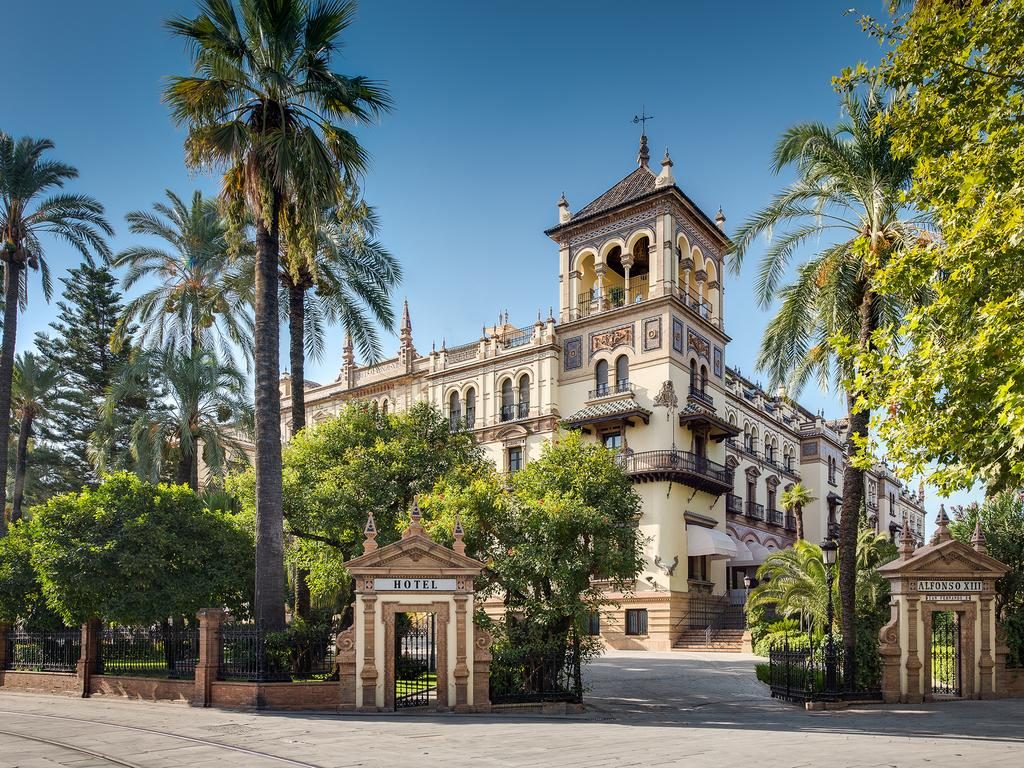 The Hotel Alfonso XIII is a magnificent environment with a very careful and sumptuous decoration in the heart of the city of Seville. A magical place to celebrate a magical wedding while surrounded by wealth, luxury and lush architecture. For more intimate weddings there is also the Piazza Martini and its fantastic gardens.
Hotel Las Casas de La Judería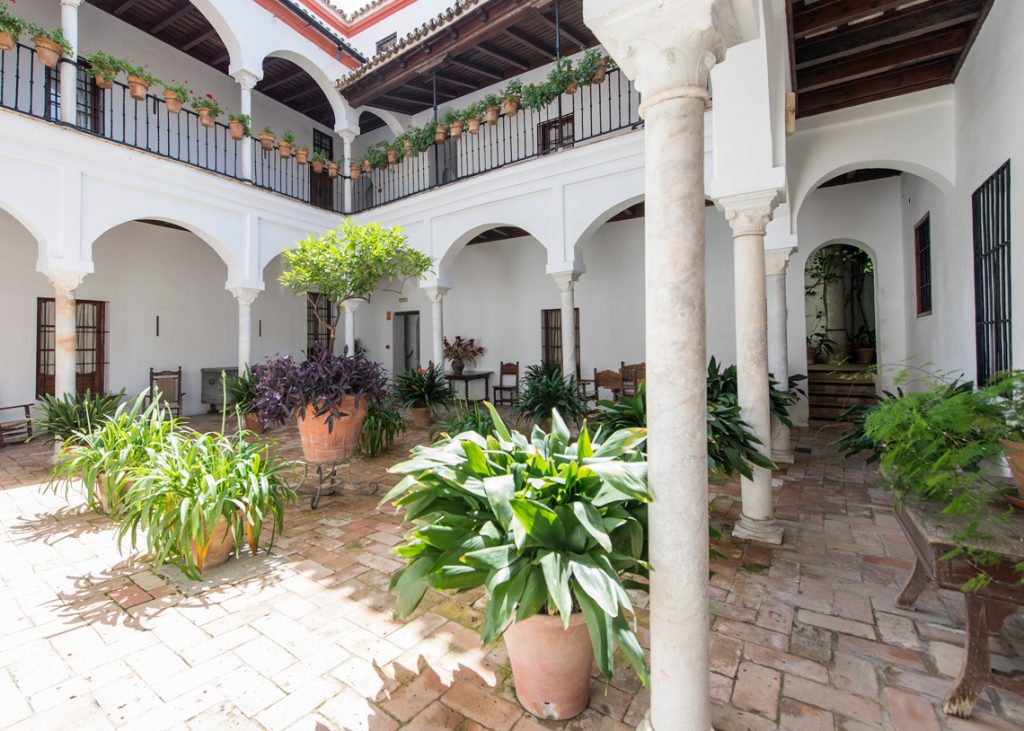 In the old Jewish quarter, a few meters from the main monuments of Seville, is this space with more than 40 patios, gardens, tunnels and labyrinthine inner alleys. An authentic wedding between fountains, statues, pedestals, columns, flooring, amphoras, jugs, old walls, etc.
Hospes Las Casas Del Rey De Baeza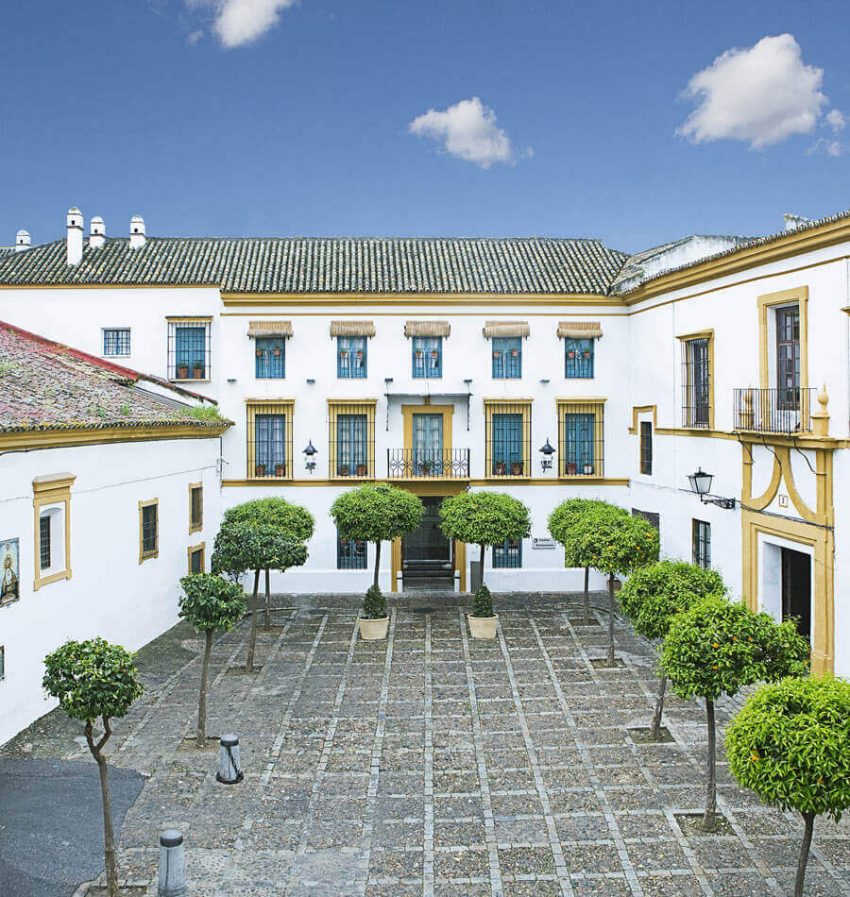 The restoration of Las casas del Rey de Baeza recovers the typical flavors of Andalusia and Seville, so the most demanding palates will yield their taste to the most authentic quality. The rooms feature columns, ceramics, jugs and ornaments from other times that are mixed with a set of colonial-style furniture.
Boutique Hotel Corral Del Rey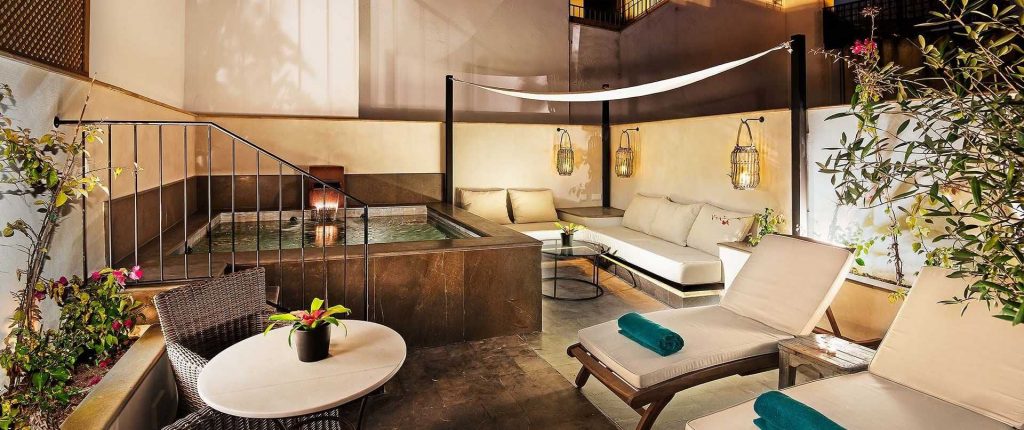 Located in the old town of Seville, in the Alfalfa neighborhood and just 5 minutes from the cathedral, this restored 17th-century hotel features state-of-the-art lighting, a courtyard atrium, Roman-style marble columns, and wooden beams. carved. In addition, you can find a swimming pool on the roof terrace and incredible views of the city.
Hotel Silken Al Andalus Palace Seville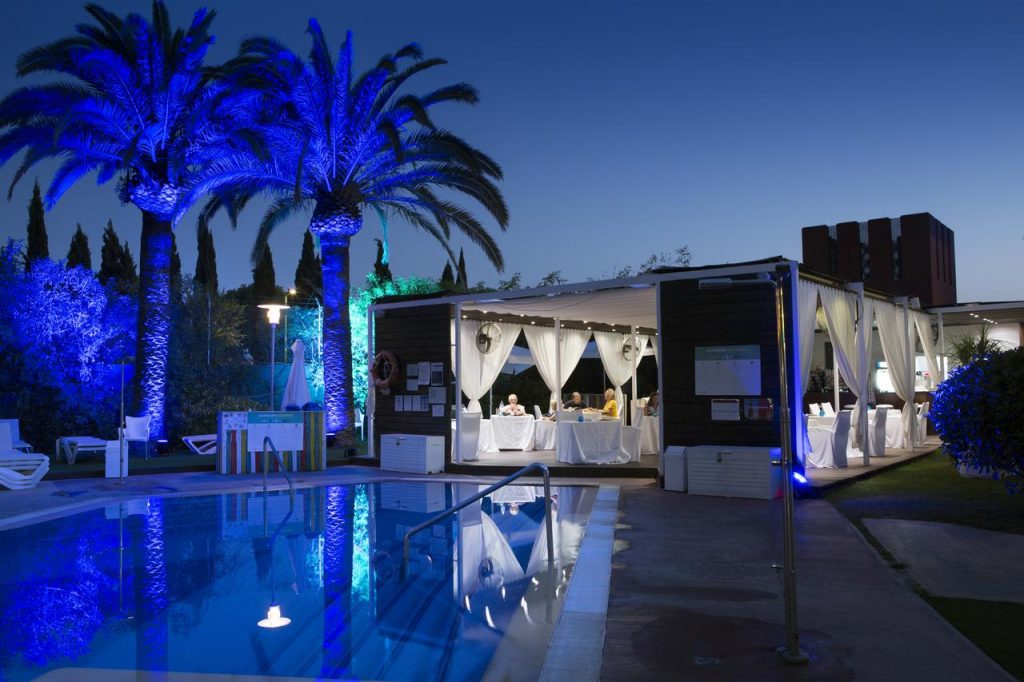 Ten minutes from the city center is the Hotel Silken Al Andalus Palace Seville, with more than 15,000 square meters of garden and numerous charming corners, such as its spectacular swimming pool, the garden fountains or the piano-bar, where Live music can be enjoyed.
Hacienda Azahares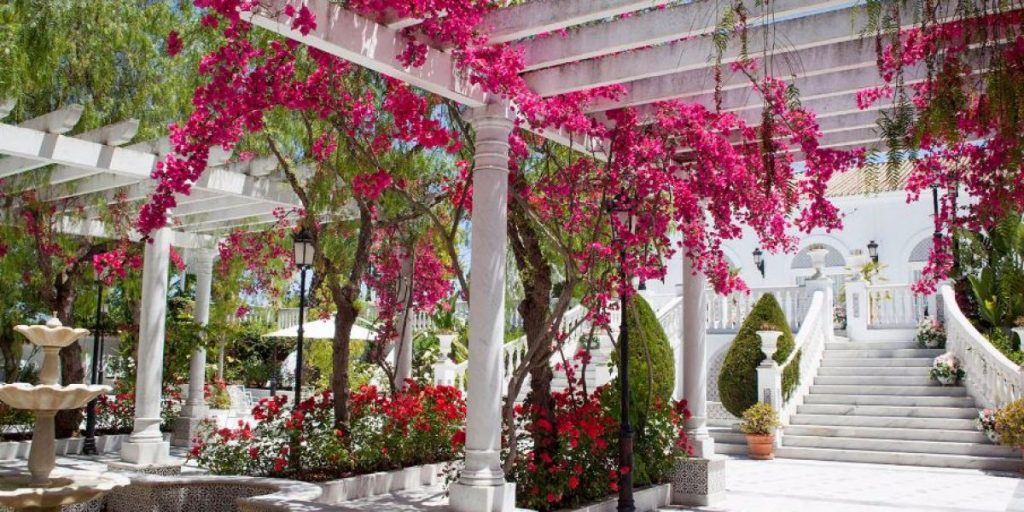 With an imperial style and Mozarabic and Roman influences, this hacienda offers the bride and groom a beautiful patio with gardens full of flowers, plants and trees combined with fountains and windowsills, to taste a hearty and varied aperitif in them while listening to the water fall from the sources.
Seville Carriage Museum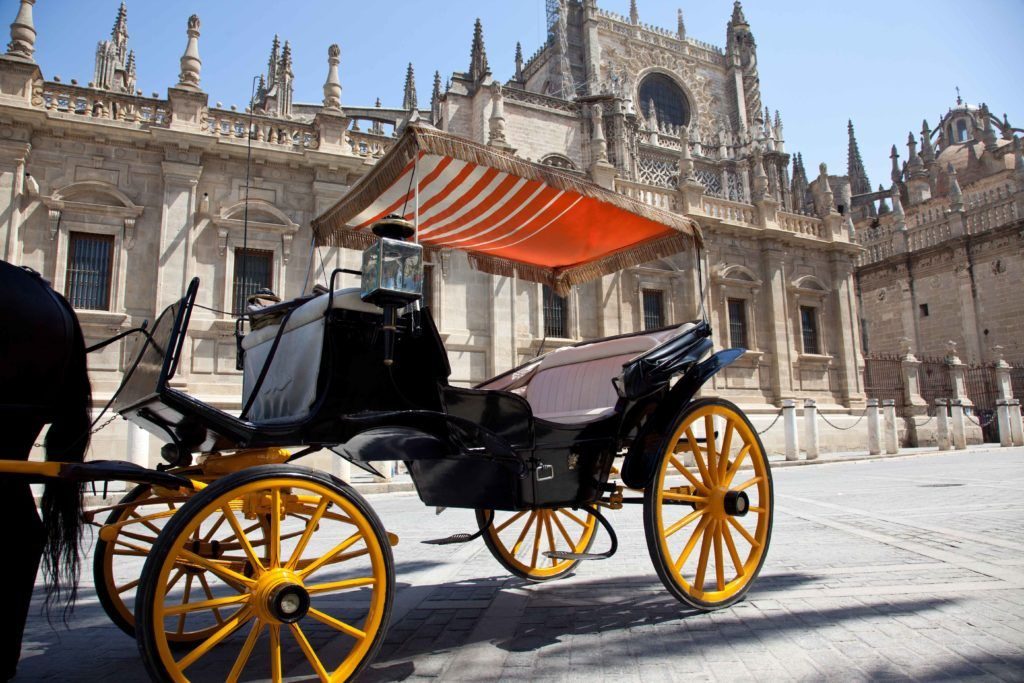 The perfect place for a historic wedding? Without a doubt, a museum. Like the Seville Carriage Museum, located in a historic building from the 16th century: the Old Convent of Los Remedios. This space has a magnificent collection of carriages to get married among a lot of history.
Hacienda Los Molinos de Maestre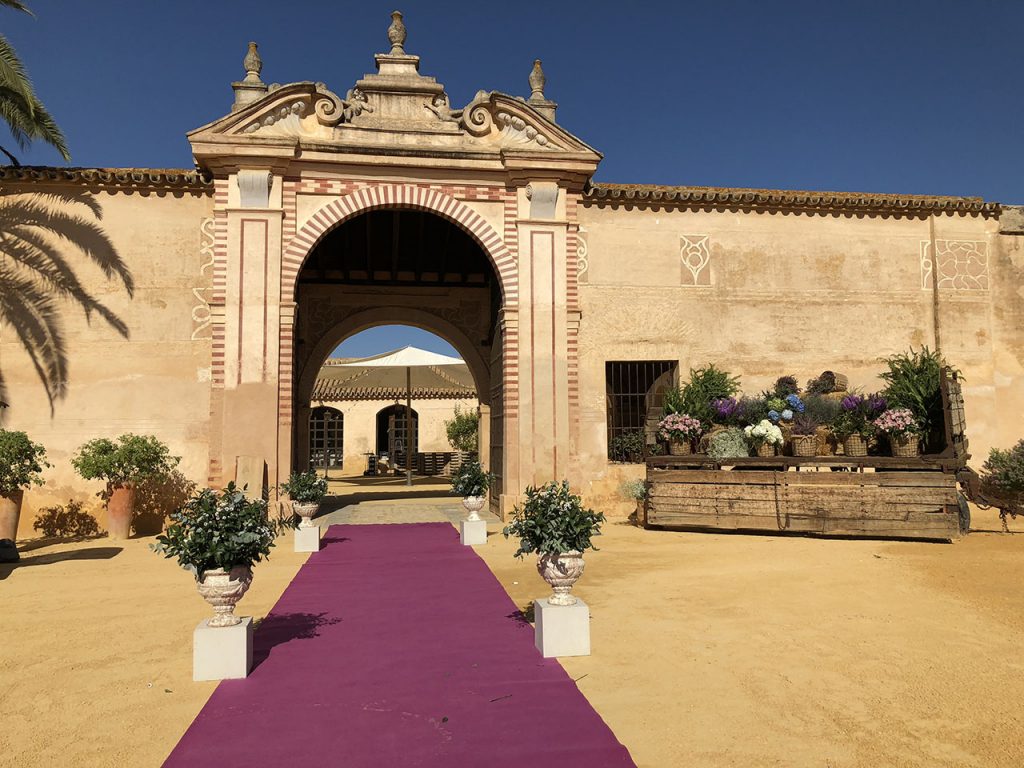 In Dos Hermanas is this typical Andalusian hacienda, full of works of art within its walls. They are two bodies of buildings separated by two spectacular courtyards, where you can organize both your ceremony and the welcome snacks. They also have a chapel in which to perform the religious ceremony.
Hotel Palacio Villapanés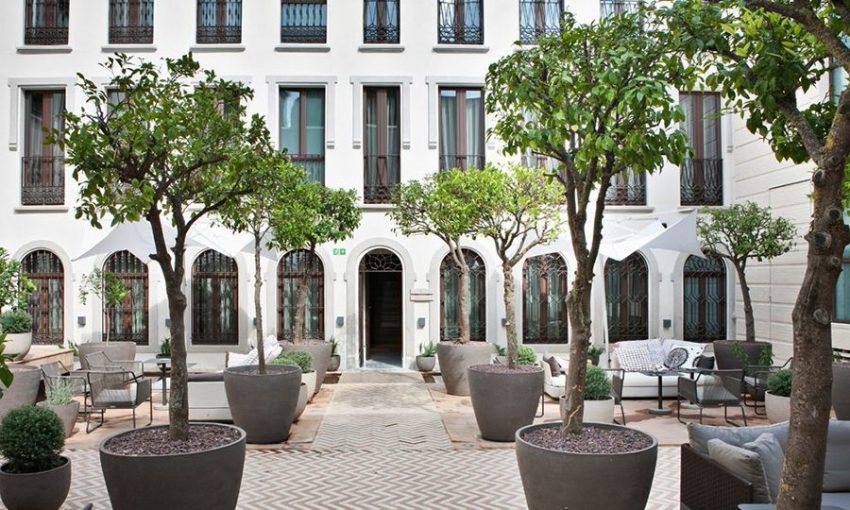 For your wedding, let the luxury of the 18th century Villapanés Palace surprise you, especially when staying in any of its suites or rooms. That yes, always with a treatment and exquisite attention in this enclave of dreams.
Hacienda Molinillos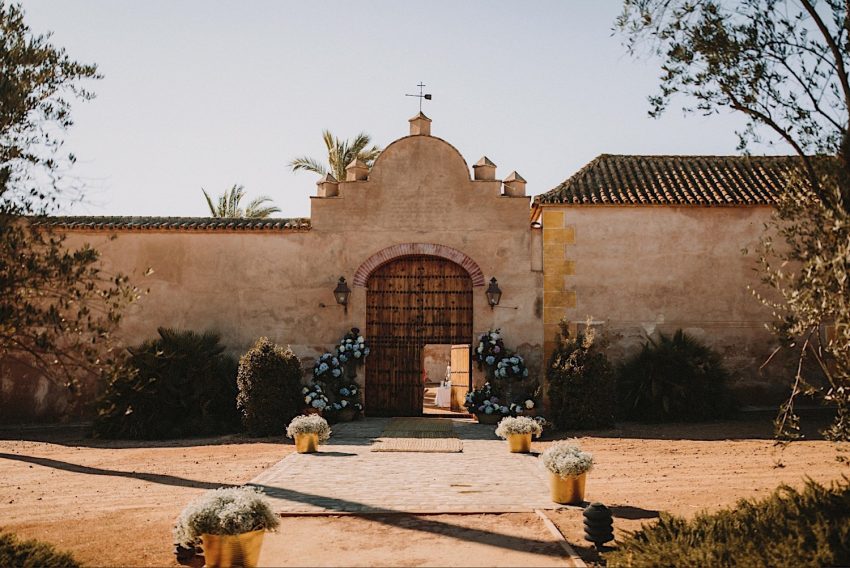 The Hacienda, from the 17th century, is located in the Carmona district, and its thousand square meters of patio, the serigraphs on the façade of the courtyard of the estate, the arches of its naves, the covered arches nave, the pavilion and the different constructions guarantee you resounding success on the most wonderful day of your lives.
Hacienda el Vizir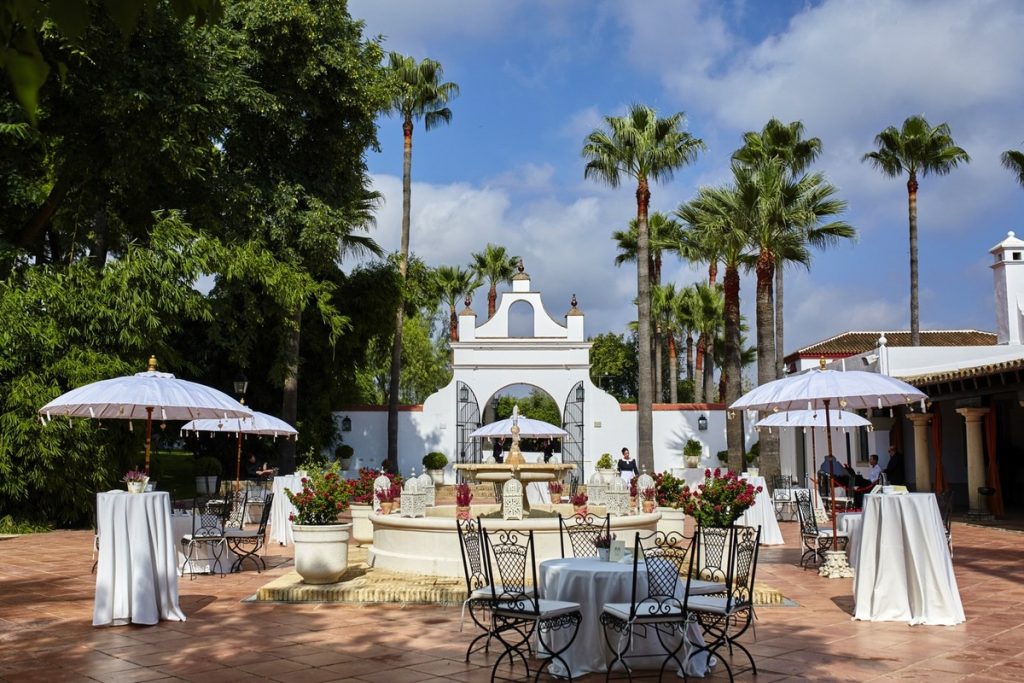 A typical Andalusian-style building with Arab influences surrounded by gardens and groves in which themed dinners (Goyesque, Medieval or Arab) can be held to give a fun and different touch to the banquet. There is also a wide variety of furniture, tablecloths, decorations and even clothing for the waiters so that the bride and groom choose what defines them the most.
Villa Luisa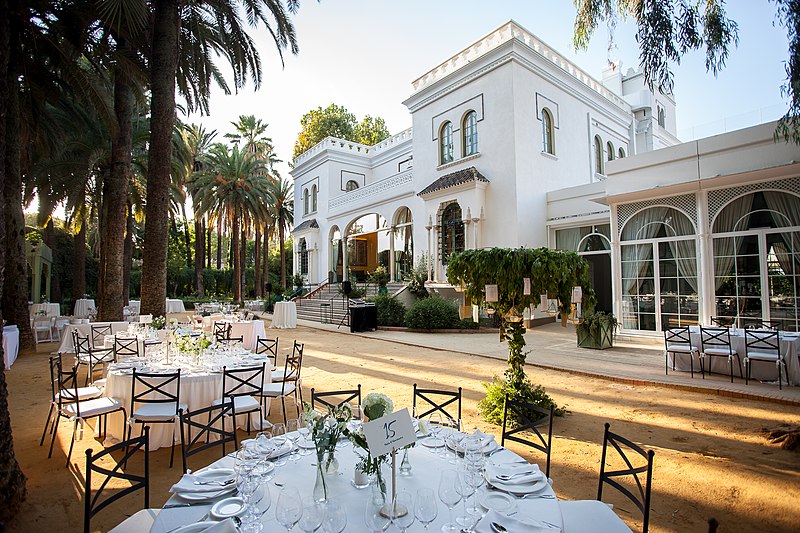 This is a palace house with more than five spaces and halls of different dimensions and Neo-Mudejar style decoration. Villa Luisa has a beautiful well-kept garden with palm trees and an Arabian-style shrine.
Vera Cruz farm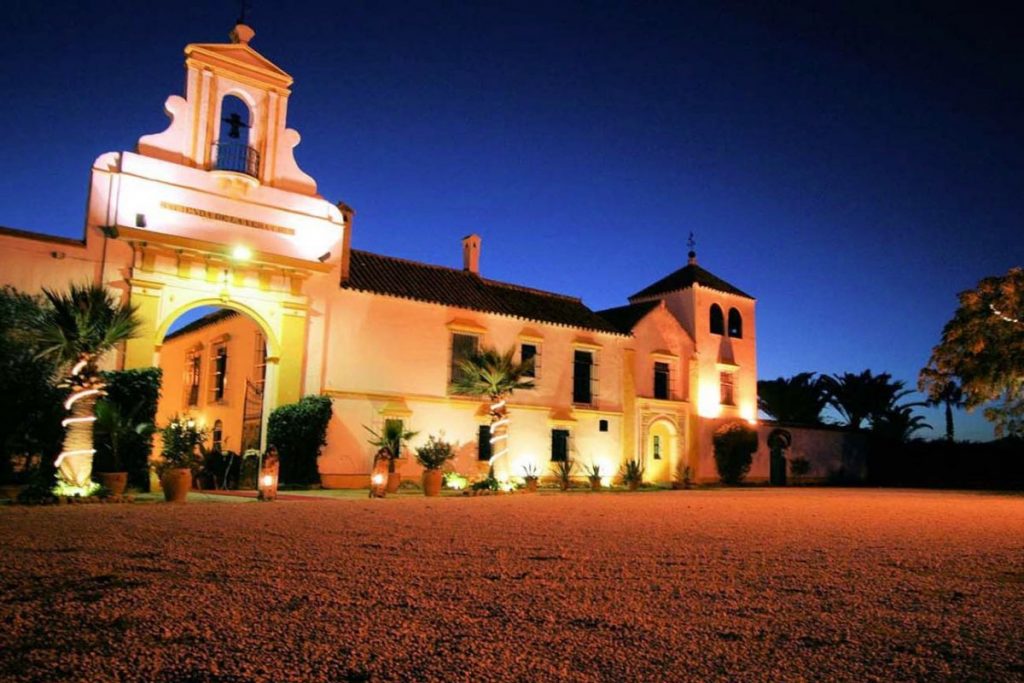 A seventeenth-century complex full of charming corners, such as the Main Hall, with a warm atmosphere thanks to its wooden ceilings and large windows, which also communicates with a typical Andalusian patio with porch, terrace, fountain and well. , or like the Winter Lounge, which houses large arcades overlooking a garden with a poolside snack bar and fountain.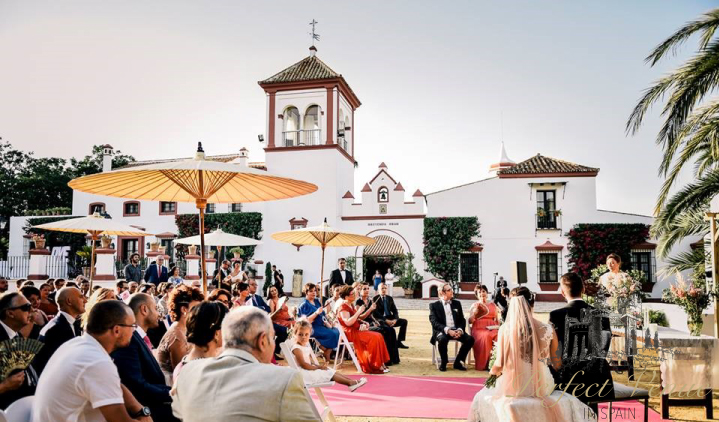 This olive farm is located in the beautiful Seville countryside and very close to the city of Seville. It was built in the 17th century in order to cultivate olive trees and make oil, but since 1998 and after a great restoration process it became a perfect space to celebrate your wedding.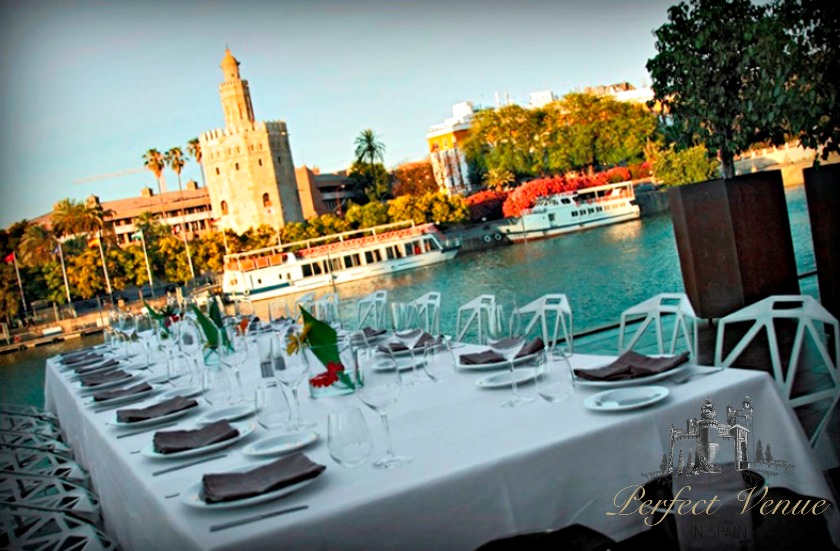 This restaurant is marked by an avant-garde decoration, since it shows large windows and peculiar lounges, such as the smaller room, called "El Cubo", which is fully glazed, offering a unique postcard as it is suspended over the Guadalquivir river.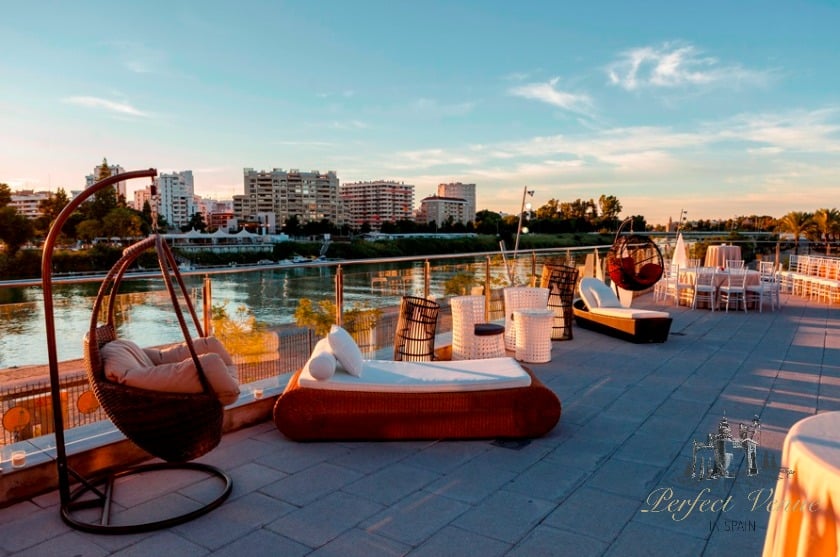 Nothing better than Pier 21 to live an unforgettable day with your loved ones on a spectacular terrace with its wonderful views over the city of Seville. In addition, the rooms, spacious and warm, have a fantastic natural light perfect for your banquet.
Palácio Bucarelli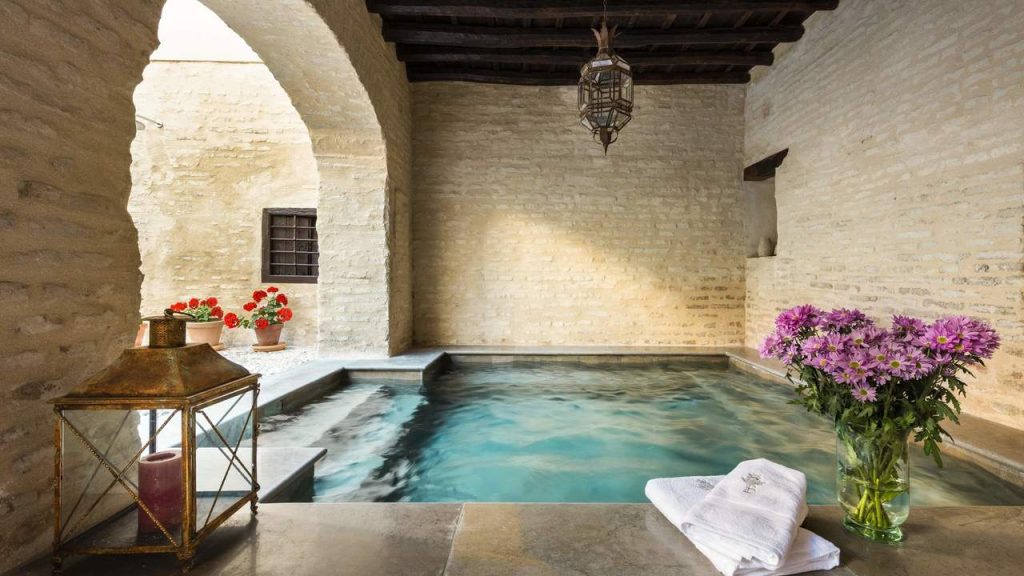 This is one of the most important palace houses of the 17th century and a valuable example of Andalusian civil baroque architecture. It breathes a baroque palace atmosphere, which has eight interconnected rooms and a Seville-inspired Spanish-Italian garden full of colorful flowers, orange, lemon, Moorish jasmine and birds.
Cortijo El Esparragal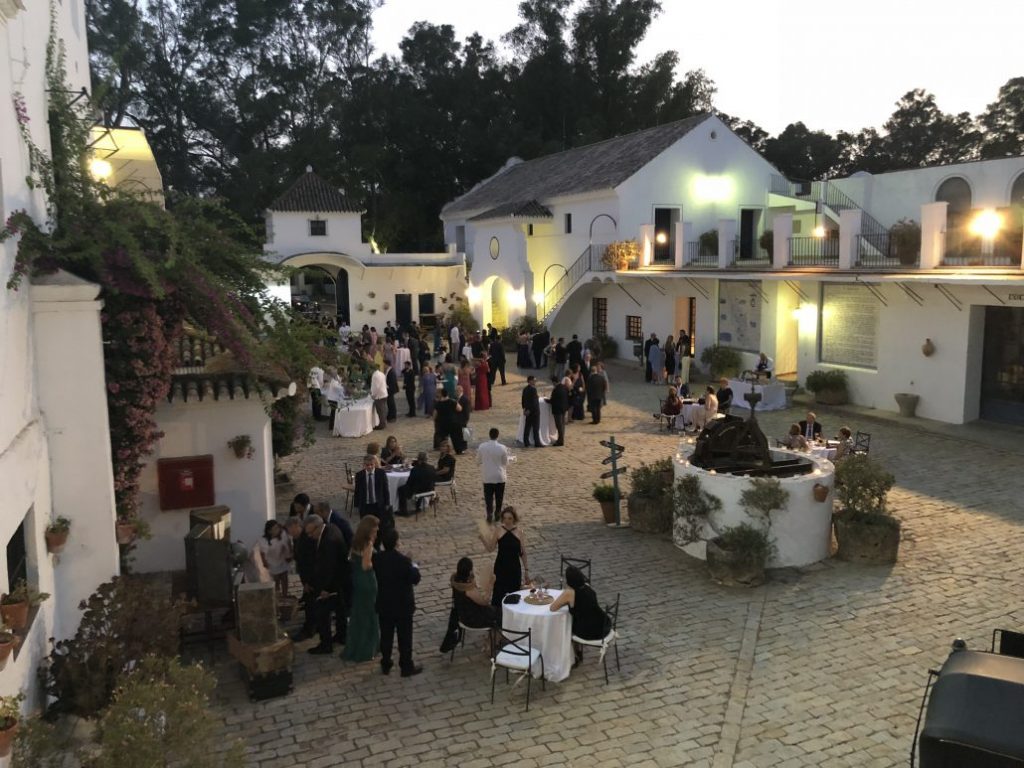 A unique space full of Andalusian tradition that has more than 400 years of history, diverse and trained facilities to celebrate your wedding just 15 minutes from Seville. In addition, it has a typical farmhouse, with antiques, noble woods, arcaded patios, etc.
Guardiola House

Built in 1889 and inhabited in the 19th century by the Counts of Aguia, this historic house, today, has undergone an expansion to adapt its spaces, such as the bathrooms, the garage, the stable and the interior rooms so you can celebrate your dream wedding in it.
Sturgeon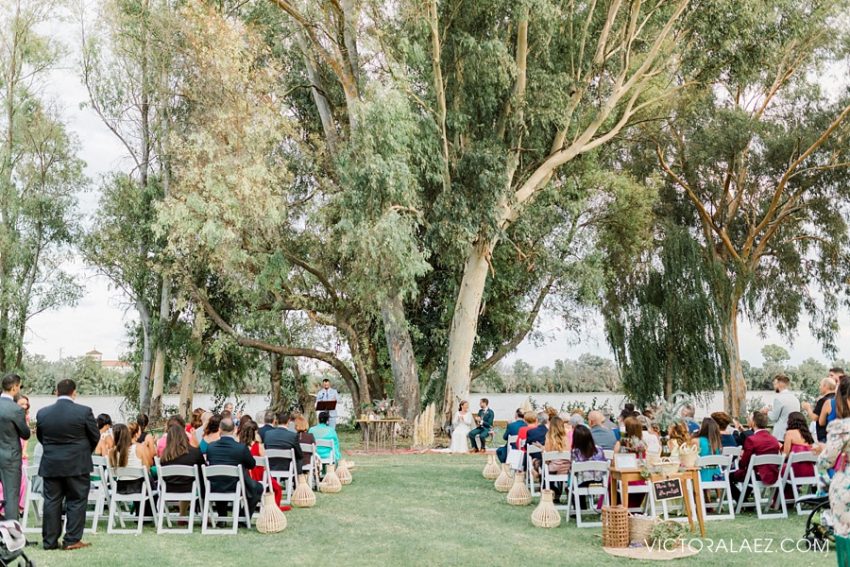 On the banks of the Guadalquivir is Esturión, in the middle of the natural landscape. Its large rooms can be decorated to suit the bride and groom, including the tent space, which has large windows that will delight you with beautiful and unique views of the Guadalquivir River.
If you celebrate your wedding in Seville you have already seen that nothing, absolutely nothing, will be missing on the most important day of your life. And it is that if you dream it can come true!
So, now at Perfect Venue, we just want you to come and visit us so that we can organize the wedding you are thinking of in any of these unique spaces, we don't want to miss your big day!