Don't give into panic! Because if you have come here, it's because your wedding has been caught up in the middle of the hysteria. But don't worry, because although you are now facing the complete unexpected, your wedding doesn't have to disappear! You simply have to change the date of the wedding, and wait a little longer for the day that we are all longing for!
There are times in life where many weddings are affected by circumstances that no one could expect, such as a natural disaster or a global pandemic, like what is happening now.
Stay calm, as over the last few weeks many weddings have been postponed, you aren't alone! You just have to set a new date and alert your guests, but if you don't have one yet, simply tell them that the wedding has been postponed and that you will announce the date once it has been decided.
However you want to tell your guests about the postponement of your big day, we are going to demonstrate the most appropriate etiquette so that you don't miss out a single detail in a situation like this!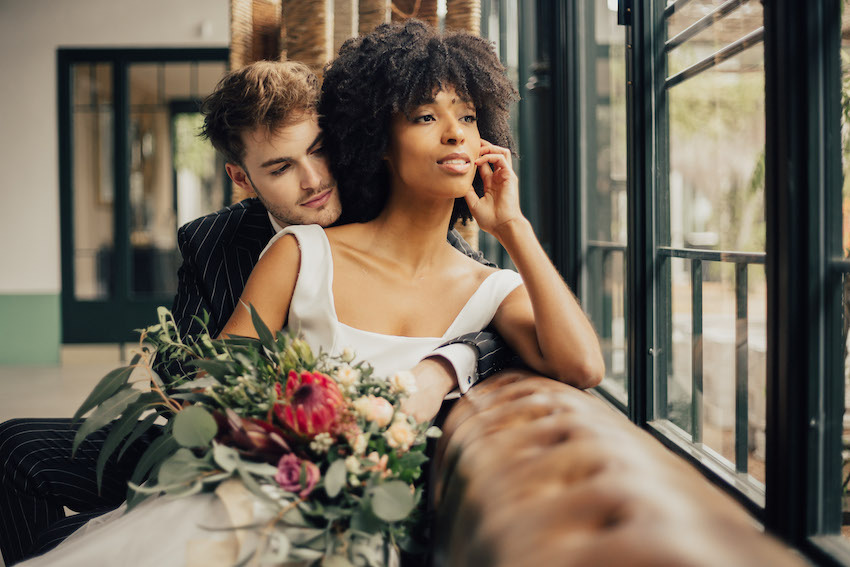 It is time to set a new date
Changing the date is nothing more than moving the day and month (and in some cases, the year), even if you have already sent out the wedding invitations. It won't be necessary to create new invitations, just a little notice will do, on paper or digitally. It's very simple!
On this little notice card, you should include the basic information, such as the names of the couple, the new date, and a reminder of the dress code or web page for the wedding. It's short and sweet!
How to notify your guests
You need to inform the guests as quickly as possible, even more so if the former wedding date was fast approaching! Everyone has to know as soon as possible.
How? With a series of gestures such as: Updating the wedding web page, calling your guests by telephone to tell them in person, sending everyone a text message or email, sending a personalised digital announcement…
Also consider sending a second notice, as a kind of reminder, or follow up with each guest to ensure that all of your loved ones are informed of the change of plan.
A suggestion for alerting your guests of the change of date due to Covid-19
Due to the current health emergency of COVID-19, the wedding of Amanda Gagnon y Justin Clark unfortunately will not take place on the 24th of April 2020 as originally planned. The new date is the 24th of October 2020. We sincerely apologise for any inconvenience caused.
If your new wedding date hasn't been set yet, you could change the penultimate line to: The new date will be announced as soon as possible.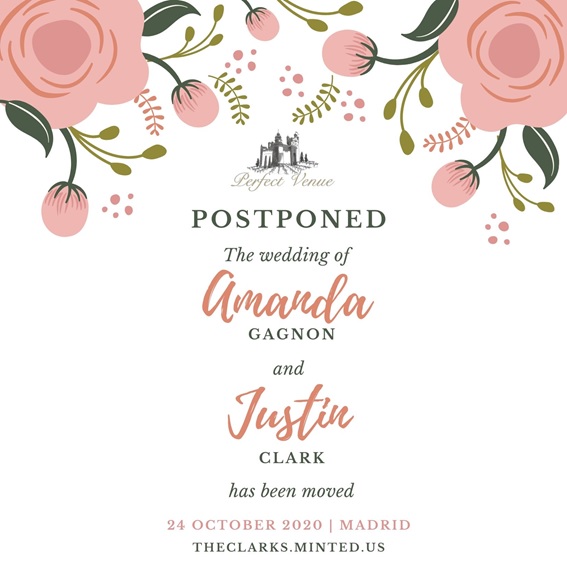 What happens to the web page for the wedding?
Nothing bad! You simply have to update the important information: the new date, as well as deleting the former information for the event and changing it in accordance with the new one. Furthermore, you should also put up information about cancelling any accommodation booked for the wedding, refund policies and any other additional information that you consider to be important.
And, above all, don't forget to keep sharing updates and giving frequent information to your guests about the situation and the possible changes of plan caused by the coronavirus.
Your guests will appreciate it!
And what if I want to put my new wedding date on paper?
Of course, you can always go one step further than just a digital announcement of the change in date, as you could print out your announcement as new invitations with the new details for the event.
For this, we recommend that, if you are happy with the service, you use the same person or supplier that designed your original invitations, so that they are keeping with the same style and theme of the wedding, with the same decorations, fonts, handwriting etc.
And remember, it is time to look after yourselves, be responsible, and comply with this situation that has affected us all. It is time to be patient and remember that your big day, in the end, will arrive. At Perfect Venue we will be waiting with you.
_______________________________________________________________________________________
Cover photo by Aljosa Petric, Photo1: Aye Mattaini fotografía