Mallorca, this famous island full of natural landscapes, culture, gastronomy, history and surrounded by the Mediterranean Sea. 
Luxury hotels in Mallorca have kept booming and growing on the island for their great quality and reputation, especially since the economy and luxury are not necessarily contradictory. 
Each of the hotels we offer you includes up to the slightest detail; they provide a personalized and exclusive service including all the elegant elements that will make your stay the one you have always dreamt of. You will definitely find a hotel which will make you want to fly over to the island straight away. 
From sleeping right next to the beach to having a private access to it, to enjoying spas, art, gourmet gastronomy, breathing tranquility with luxury decorations, impressive views and personalized and familiar attention, do not miss anything on the best luxury accommodations in Mallorca we will tell you about below!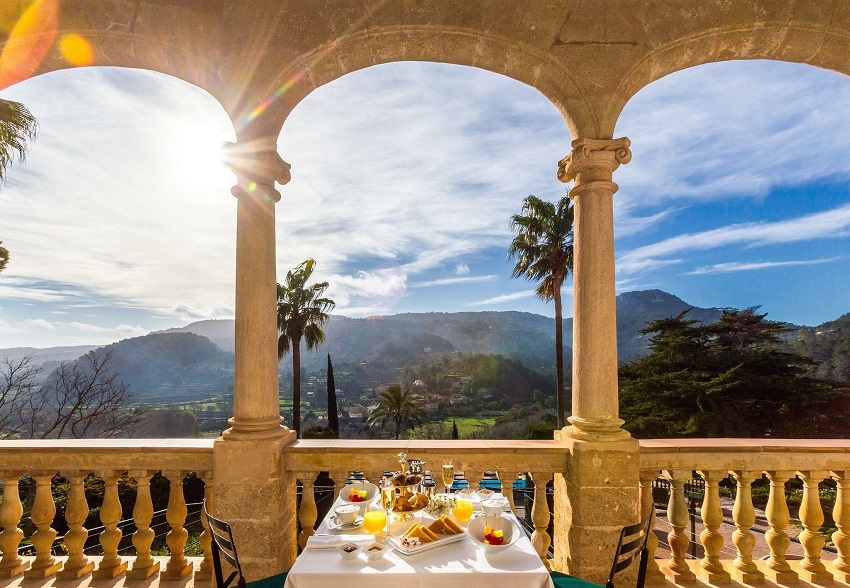 An old mansion restored three centuries later to become a boutique hotel preserving its original antique and historical rooms, its high ceilings and its marble floors. An elegant sanctuary located in the heart of the Sierra de Tramontana in an old country house of the seventeenth century. 
In the Gran Hotel Son Net, you will benefit from a big pool surrounded by private huts, a beauty center to treat yourself with all the pampering you want, two elegant restaurants and an impressive contemporary art collection. You will also be able to enjoymajestic gardens, a charming courtyard embedded in the mountainside and even an incredible house in a tree. 
A hotel which also offers you many leisure activities such as hiking, climbing, biking or horseback riding in order to lose yourself into this natural reserve.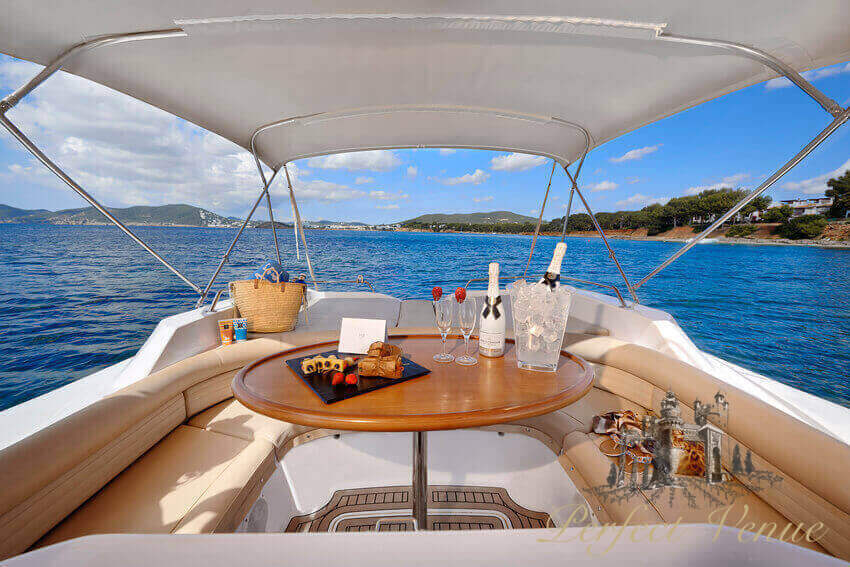 Located in the capital of the island, Santa Eulalia del Río, and in the middle of a beautiful bay, this resort offers you tranquility and calmness in front of the crystal-clear waters. 
Also including luxury treats and yoga programs with spectacular views on the rooftop and a nap in the Balinese beds on the poolside, this place will offer you an absolute dream break. 
You will savor an avant-garde style gastronomy with typical island savors thanks to a varied cuisine which results in very healthy recipes. 
In addition, this hotel also includes a music and urban art stage and that will make you vibrate with the best talents of the local art scene. 
 3. Cap Rocat: Cala Blava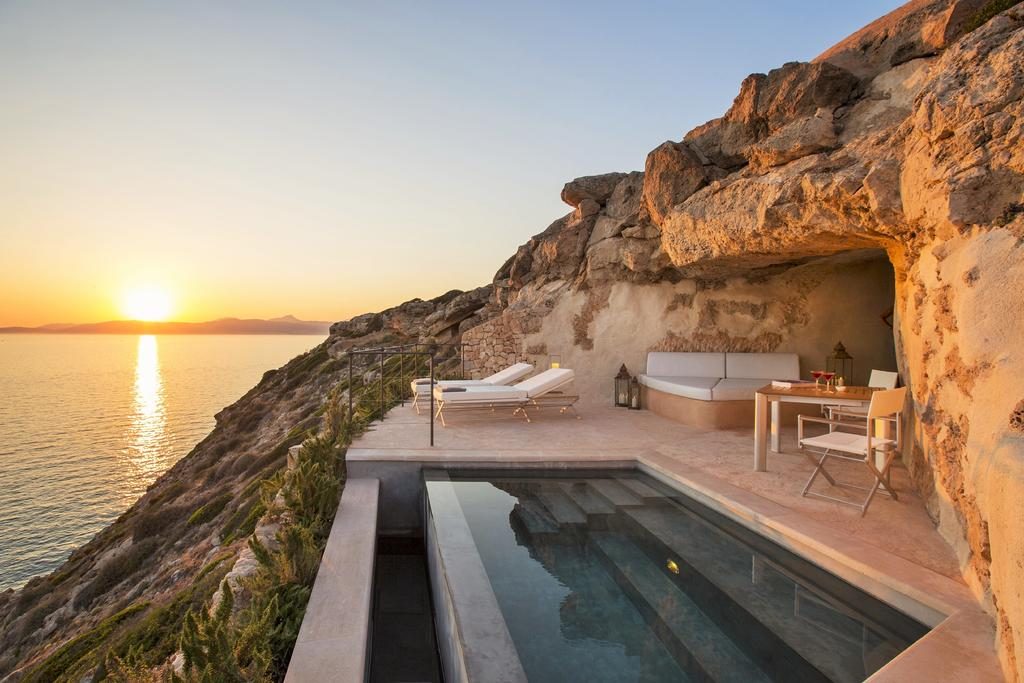 One of the most unusual hotels in Mallorca since it was built in a former military fortress and in deep nature, guaranteeing tranquility thanks to its isolated location. In addition, it has also been declared a National Monument of Cultural Interest. 
The guests will benefit from a private access to the beach and to a pool with sea views, spa treatments as well as a renown cuisine. 
It is worth noting the impressive building of the hotel, an excavated sandstone structure which turns into one of the most impressive and luxury spaces of the island when it illuminates at night. 
 4. The St. Regis Mardavall Mallorca resort: Costa d'en Blanes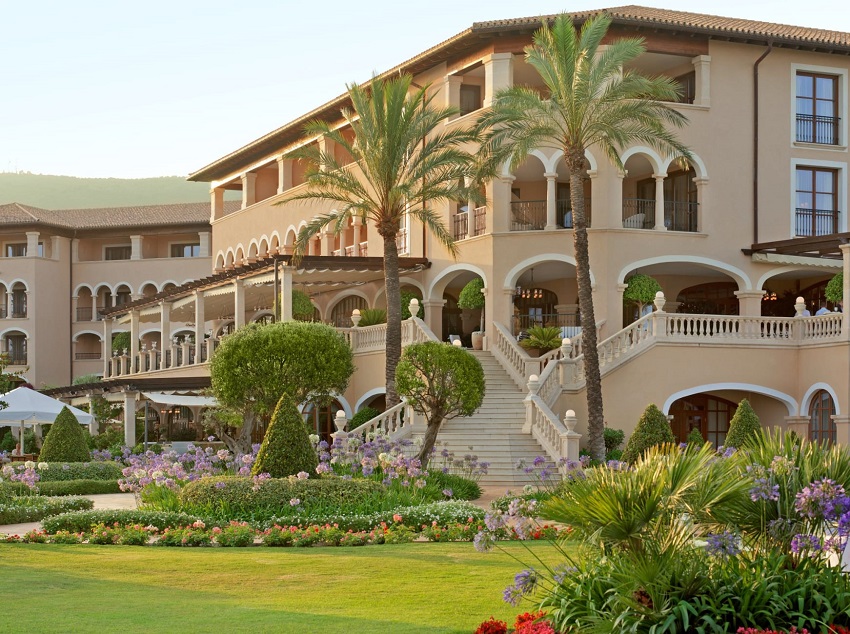 An exceptional retreat in this Mediterranean sanctuary, composed of four terracotta buildings divided into 125 rooms and suites with private terraces and a distinctive view on the turquoise waters of the Mediterranean Sea. 
It features a great category restaurant with a Michelin star whose food is thought to live up to different styles based on the season and local ingredients. 
The venue's spa, qualified as one of the best ones of the island, is also one of the biggest in Europe, offering more than 60 different treatments to relax mind and body. In addition, it also features a gym as well as four gold fields and an academy to perfect the hand technique for professional golfers. 
It has a very luxurious decoration to the colors of the earth and the sea, creating a unique environment. 
 5. Belmond La residencia: Deia
An authentic rustic artistic beauty oasis located in a small village deep in the island's mountains, this hotel is one of the most luxurious in the area. Surrounded by incomparable views full of vegetation such as old olive trees and lemon trees. 
With different suites, rooms and villas, none of them is identical since every one of them is decorated in a different way to create a different environment. 
You can also enjoy a walk in the art gallery with more than 750 works of local painters, where you could also learn in one of their art and structure classes or practice sports in the full gym, their tennis courts or swim in one of the two pools. 
It is also possible to discover new paths by riding on the back of a donkey, go on trips in vespa or sit in one of the bars and restaurants and refuel with exquisite food. 
6. Sheraton Mallorca Arabella Golf Hotel: Palma de Mallorca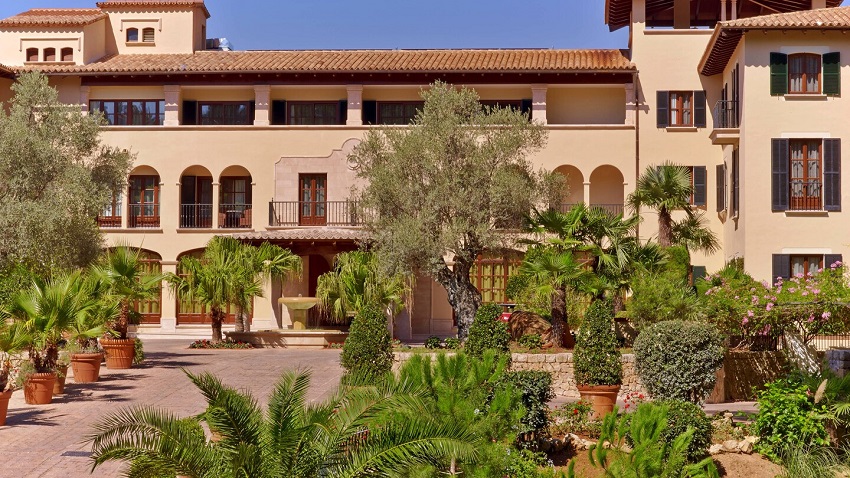 The favorite destination for golf lovers since it is the best golf resort on the island. This field is located in the center of the hotel and all the guests can play gold unlimitedly, even if the resort also offers other alternatives, such as luxury spa treatments, tennis and volleyball courts, bike ride as well as two pools where you could dive in and refresh yourself. 
This luxury hotel also features "La bodega del Green", a tapas restaurant which presents Spanish gastronomy and enables you to savor the best wines in its welcoming terrace. 
An environment far from the city's hustle-bustle and overcrowding in a green and calm environment. 
 7. Jumeirah Port Soller Hotel & Spa: Sóller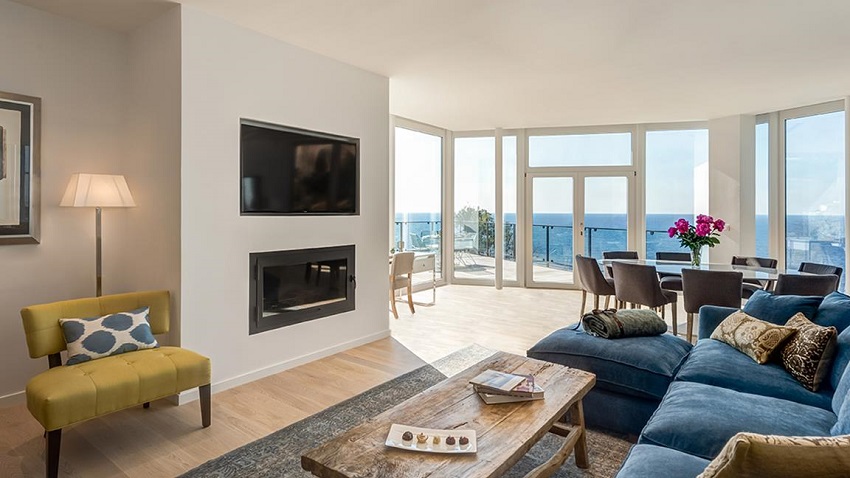 An exclusive 5-star-luxury corner with rooms and suites where you can enjoy both sea views and mountain views from their private terraces, especially at sunset. 
This venue features 11 buildings linked together by spectacular gardens. It also has three heated pools, one of them being thermal waters. 
The Jumeirah Port Soller Hotel & Spa provides you with local activities, a gym, a children's club and an awarded spa. 
In its restaurant, you will be able to savor a Spanish cuisine as well as Asian aperitifs such as succulent sushi and snacks in the pool. All of this whilst you are enjoying the best views on the Mediterranean Sea. 
 8. 

Boutique Hotel Can Alomar: Palma de Mallorca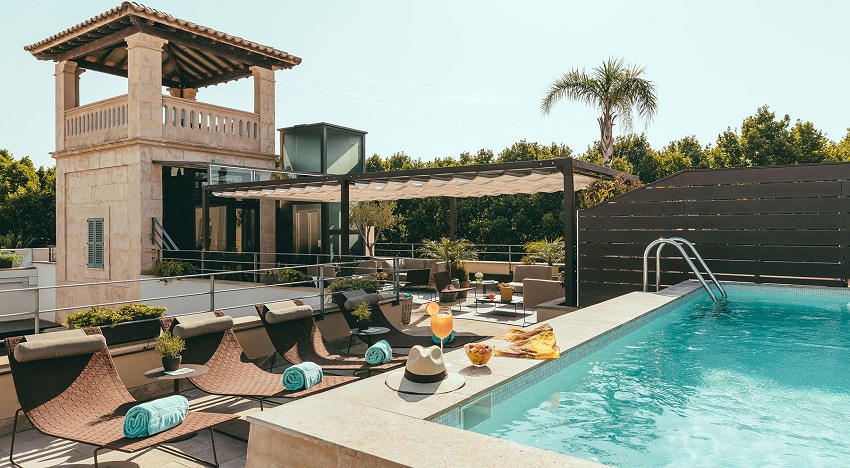 An exceptional personal experience in this boutique hotel marks the difference in its style, offering sensations full of art, design and details. This hotel is located in the center of Palma, and thus has a full cultural and commercial offer. 
This hotel features 16 rooms of modern design with three Suites, Junior Suites and Deluxe with views to the main streets or to the spectacular interior gardens. 
It also proposes you to taste a mix of Japanese, Peruvian and Mediterranean cuisine where quality and personalized attention are the most important, in the restaurant "De Tokio a Lima".
The combinations of actual design with time furniture create a very welcoming, comfortable, luminous and spacious environment where the airport transfers are made in an elegant Class S Mercedes. 
Here are various options to have the most unforgettable stay on this paradise island. 
And you, which luxury hotel would you choose for you stay in Mallorca?