Interview this Olivar de Santa Teresa
In a beautiful plain in La Mancha, between the rivers Alberche and Tajo, and within walking distance of the amazing architectural ensemble of the town of Torrijos, we find this wonderful venue in Toledo, Olivar de Santa Teresa.
In the immensity of its 50,000 square meters, this unique property, located in the middle of the countryside and in the tranquility of nature, has a typical and spacious Castilian house, with its gable roofs and arcaded terraces, which make this space a special and idyllic place to have the celebration of your dreams and spend a magical moment.
Another of its main charms is its well-tended gardens and the beautiful olive grove that gives its name to the estate, making Olivar de Santa Teresa a unique and ideal setting to have a dream wedding.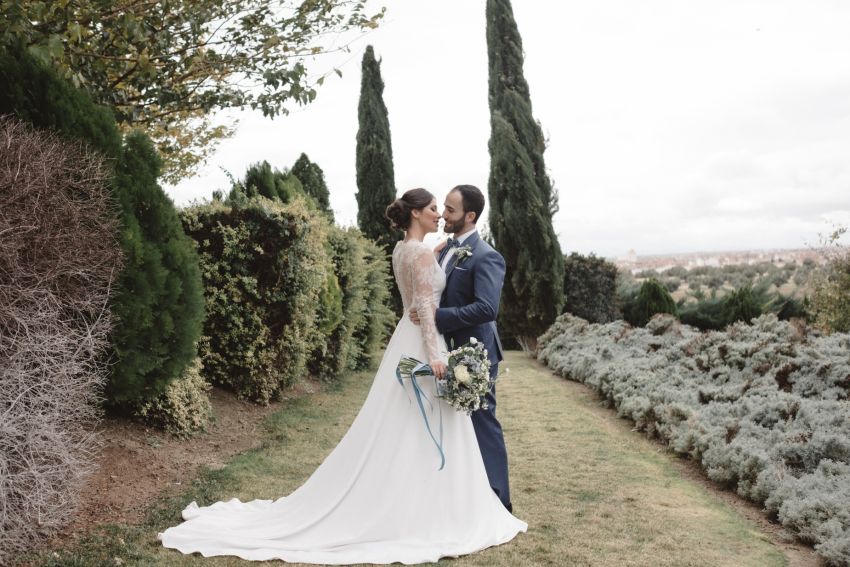 As usual, we wanted to get to know, personally, this elegant space and have them tell us everything they can offer a couple that decided to say "Yes, I do" in this perfect and unforgettable venue.
After going through the vast fields of La Mancha under a bright blue sky, we arrive to Olivar de Santa Teresa. We are received by an imposing main arch that gives access to the gardens. A path bordered by stones and vegetation, meticulously maintained, forming arches and series of shrubs, flowers and plants offer a truly pleasant atmosphere upon arrival.
We hear the water, coming from a small lake in the garden, and the horses of a beautiful carriage that comes and picks us up.
We continue our ride on this horse carriage, from here we can see the beautiful views of the town of Torrijos, with its towers, and the beauty of the landscape that surrounds the rest of Olivar de Santa Teresa facilities.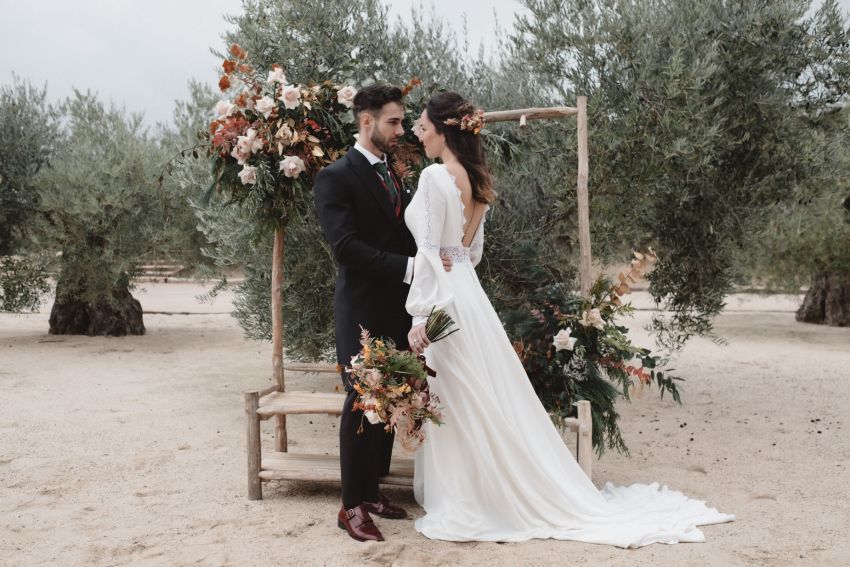 We finally arrive on one of the patios where we can enjoy the typical decoration from La Mancha. The facade of the house, the lampposts, the barrels, the wooden pergolas and the arcaded corridors make this space, a perfect place for any ceremony, appetizer or banquet.
In one of its glass porches, behind its large windows, the responsible of the venue awaits us, ready to tell us all the benefits of this privileged place.
If you also want to know a bit more about Olivar de Santa Teresa and why your special day would be a success, continue reading our interview, surely this place will captivate you as much as us.
Good morning, thank you for receiving us this way, in the carriage. These gardens are beautiful. The interiors as well, lots of light comes in … And the brick arches and the wooden ceilings are a real wonder.
– Thank you very much, I am glad that you like our space, we have done it with all of our love and effort.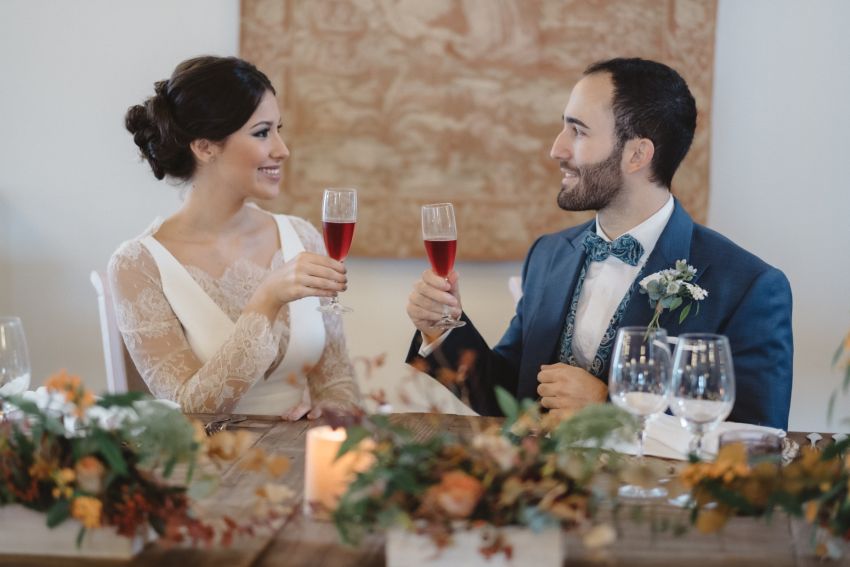 We would like you to tell us a bit more about Olivar de Santa Teresa. I think your venue can hold up to 500 people, is that correct? What are your different spaces and facilities here, and how will they make each wedding a unique moment?
– The approximate capacity in our main hall is of about 600 seated guests, with the possibility of a central mediating division, depending on the needs of the banquet and on the number of attendees. There are two glass porches, with a capacity of 100 guests. In the front part of the building there is another room with the capacity for another 100 seated guests.
In total, we would be talking about a maximum capacity of around 900 seated guests.
Olivar de Santa Teresa has a lot of experience with weddings as they have organised more than 1000 celebrations. What complementary services can you offer to our couples who want to get married in your venue so that the event is unique and special?
– Today, weddings have become something more than a banquet. The amount of possibilities and complements that we can offer to the couple is not infinite, but almost … First, we start with a cocktail, in that cocktail we offer all kinds of cuisine: from the classic ham cutter, to a pulpeiro, zamburiñas, razor clams and all kinds of seafood that comes from the best of the coastal markets, cheeses, oysters with their bloody-mary, sushiman live, cocktails of all kinds, buffet of breads, etc ….
And once the event finished, we still have the free bar with its corresponding complements: chocolate fountain, dessert buffet, candy-bar, sweet-food truck of donuts, waffles, crêperie, night cocktails, popcorn stands, animations, orchestras, dj's live, etc …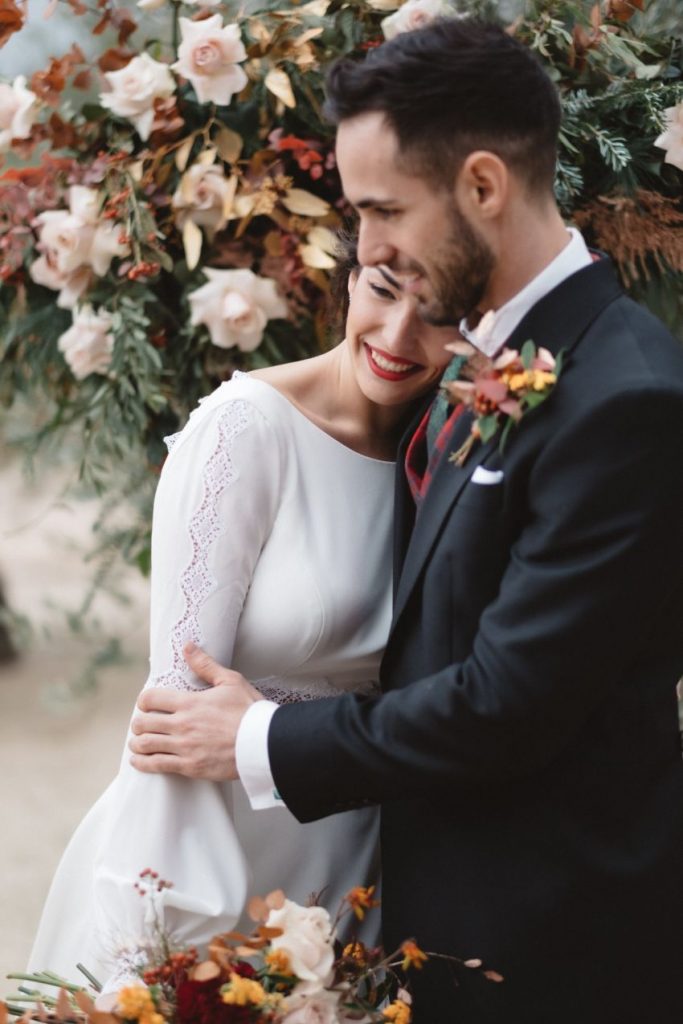 I also understand that one of your strengths is your food service, offering a careful, modern cuisine with personality, always with the best products and the best taste. You have your own catering, right? What is your food based on and what would you say is your specialty?
– Our cuisine is rather traditional, we look for quality products and we also do more fusion cuisine with new trends during the cocktail, always with our own twist.
As for our specialty … we want it to always be our attempt to keep up with our guests and their tastes and requests.
We saw that you take great care of the details, paying special attention to the decoration of the venue and the presentation of the food. Do you take into account the opinion of the couple when choosing the theme of the event or the menus? Are the menus set or could they be customized according to the clients' taste and needs?
– Of course, we customise menus, in the end it is our job, to try and guide our clients as best as possible, but without forgetting that the opinion of the couple is the most important. In fact, we always try to offer them the widest range of possibilities and thus it is they who find the most adapted menu to what they were looking for.
In Olivar de Santa Teresa you can organise any type of wedding, both religious and civil, How do you manage these two types of wedding?

 
– Our best way to organise any event will always be to understand our clients and help them in the preparation of their day, whether it be a civil or religious ceremony. In the civil ceremony we give them a space and we help them arrange it: floral decoration, chairs, red carpet…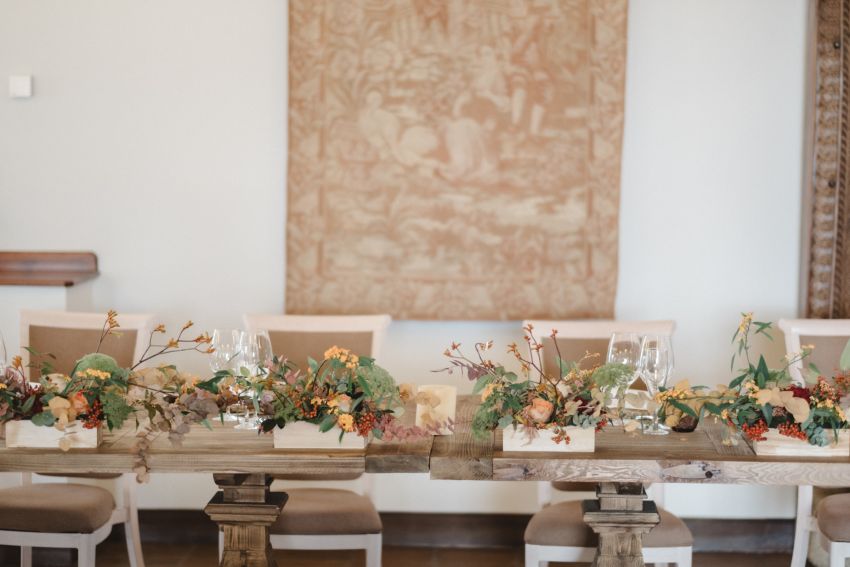 And, tell me, do you have any professionals who are in charge of the wedding preparations? How far in advance should those couples who are interested in celebrating their special day in Olivar de Santa Teresa contact you ?
– Of course we have professionals for it! It is our best value, our people, our staff, without them all this would not be possible. We are very proud of the team, we have formed this great little family.
For those who are interested in celebrating their wedding with us, we recommend that you make a reservation at least one and a half years – two years in advance.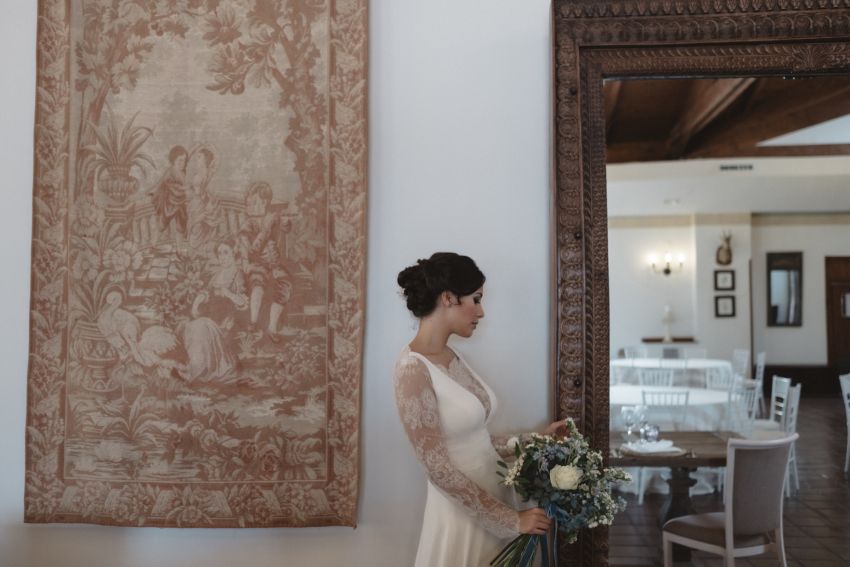 According to your experience, what is the best time of year to celebrate a wedding in Olivar de Santa Teresa?
– Every season has its charm. Of course the months of June, July and September are very popular, but we have been celebrating Christmas for two years now and, with the right decoration, they have an even better character. If you want to do something different, the month of December is a very nice month.
And, just one more question, what do you think differentiates Olivar from Santa Teresa from the rest of the venues for this type of events?
– Every space, each venue, has its charm. I believe that all the venues strive to be the best. In our case, our greatest concern and occupation is in the happiness of our staff, without their training, without their worth, no matter how great the venue is, we would not achieve what we achieve right now. It is clear that our investment in the care and image of our rooms is continuous, but for me, our strength will always be in our teamwork, their happiness is reflected on our couples.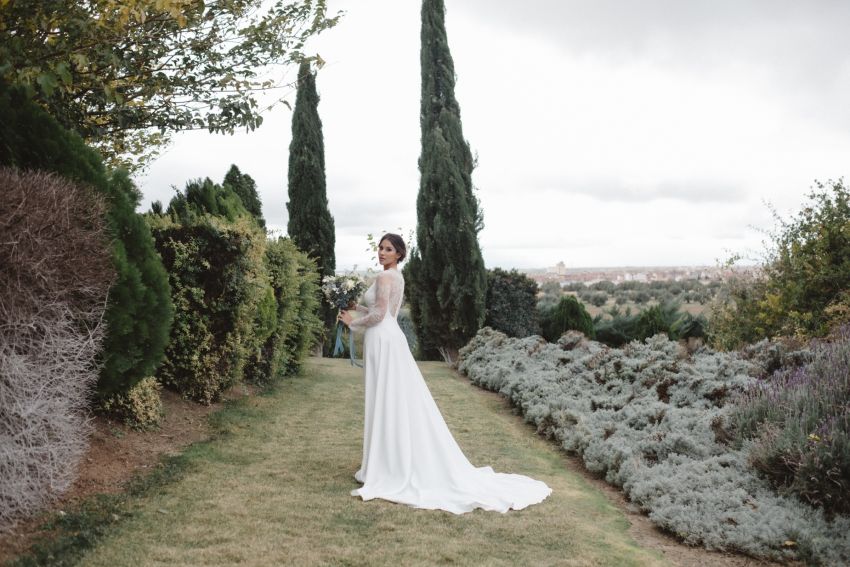 Thank you very much for your time and attention, we have loved to get to know your venue, the walk through the olive grove has been sensational.
-Thank you for coming. The carriage awaits you to take you back to the exit of our facilities. Enjoy the ride.
Our walk through Olivar de Santa Teresa was great. We hope you enjoyed it. Our personal recommendation is that you come to know and enjoy the pleasures of this place yourselves. You will for sure find the place of your dream wedding here, in Olivar de Santa Teresa.
_______________________________________________________________________________________
Photography: Kaleidos wedding