Proposals are one of our favourite events, and even more so if it's a proposal in Mallorca, because we love the Balearic Islands as much as we love to make many couples happy, and a proposal is nothing but happiness!
Did you know that Mallorca is one of the best places to get down on one knee, as well as to get married? Because the atmosphere there is full of romanticism and the light shines are especially bright, that is why the groom chose it as his destination to get engaged!
In this article, we'll tell you all the details of this couple's proposal in Mallorca so you can get inspired for yours because proposals are never going out of fashion!
Make yourself comfortable, let's get started.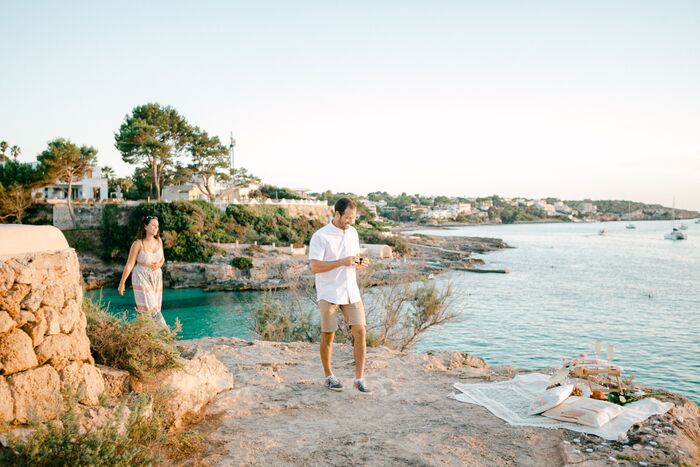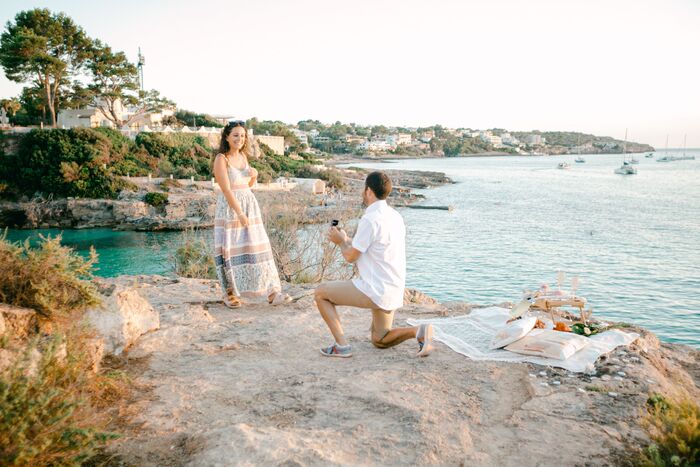 Engagement in Mallorca is a dream of all girls
There are beaches, crystal waters, rocks and fine sand, it is always a magical place, and is ideal for a romantic date or to create a special atmosphere, especially if we are talking about the paradisiacal beaches of the Balearic Islands!
That's why this place attracts a lot of couples, who go to a beach to have that warm and romantic atmosphere to get engaged.
Our groom today chose to go to Mallorca, one of the Balearic Islands, to get down on one knee in front of his girl, take out the ring and ask the big question.
And the fact is that proposals in places like these are perfect for those who love romanticism, feelings and emotions!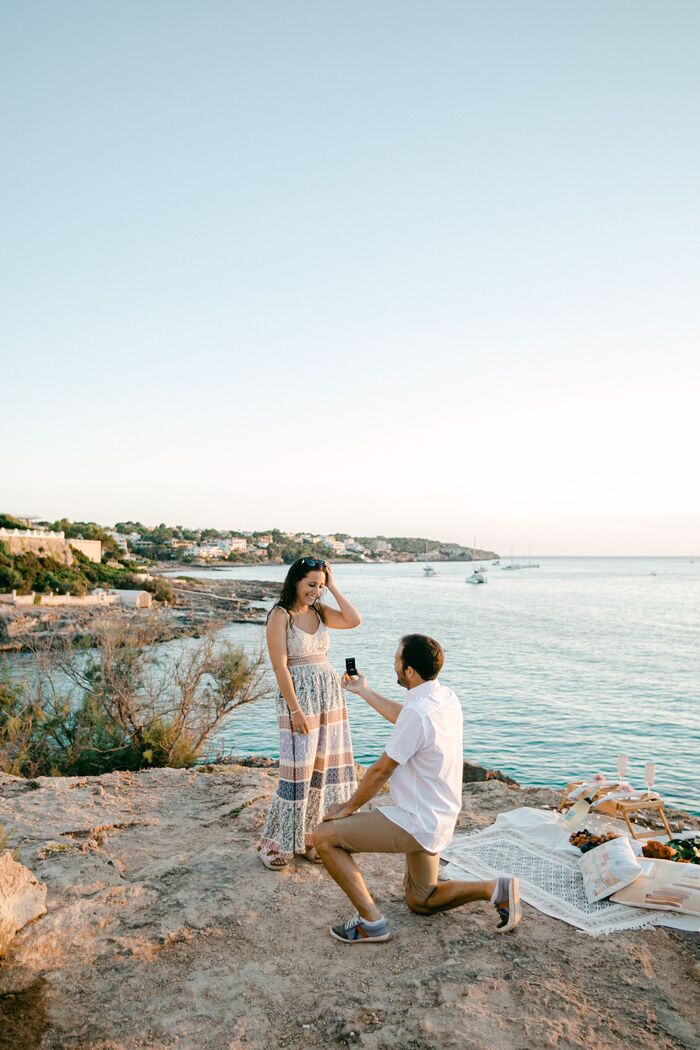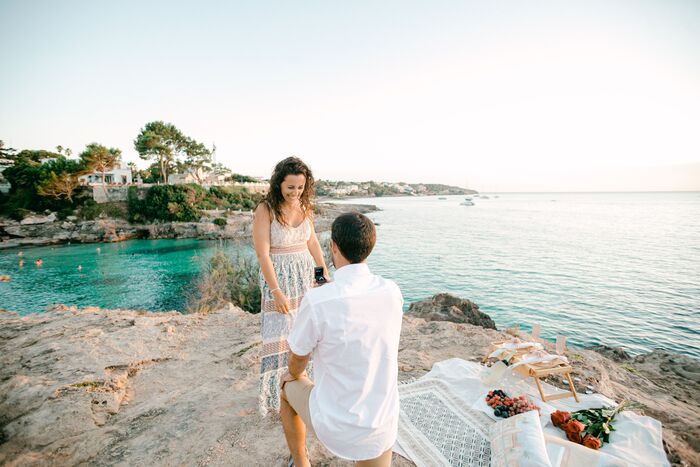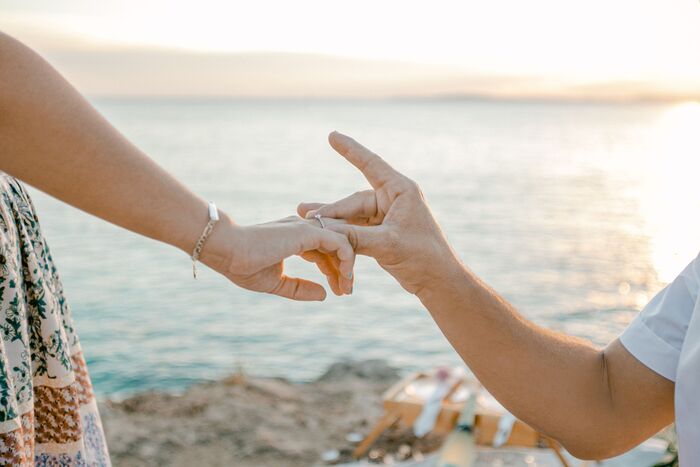 Backdrop: sunset and crystal-clear water
It happened in one of the coves of Mallorca where the groom wanted to get down on one knee in front of his bride and take out the precious ring, but… First, we had to prepare a dreamlike scenery!
For the great moment of this proposal in Mallorca, we prepared a large white towel with geometric motifs and some cushions, we put it on the rocks by the sea so that the couple could sit comfortably.
On the towel, we placed a small wooden table where we put champagne, glasses and two plates for them to enjoy the grapes that we also placed on it.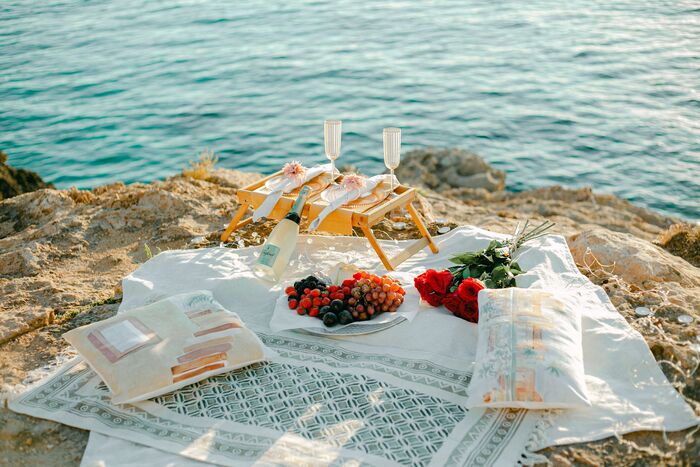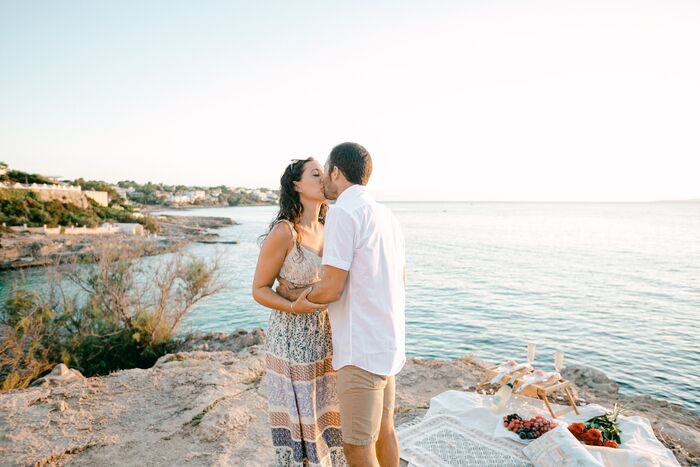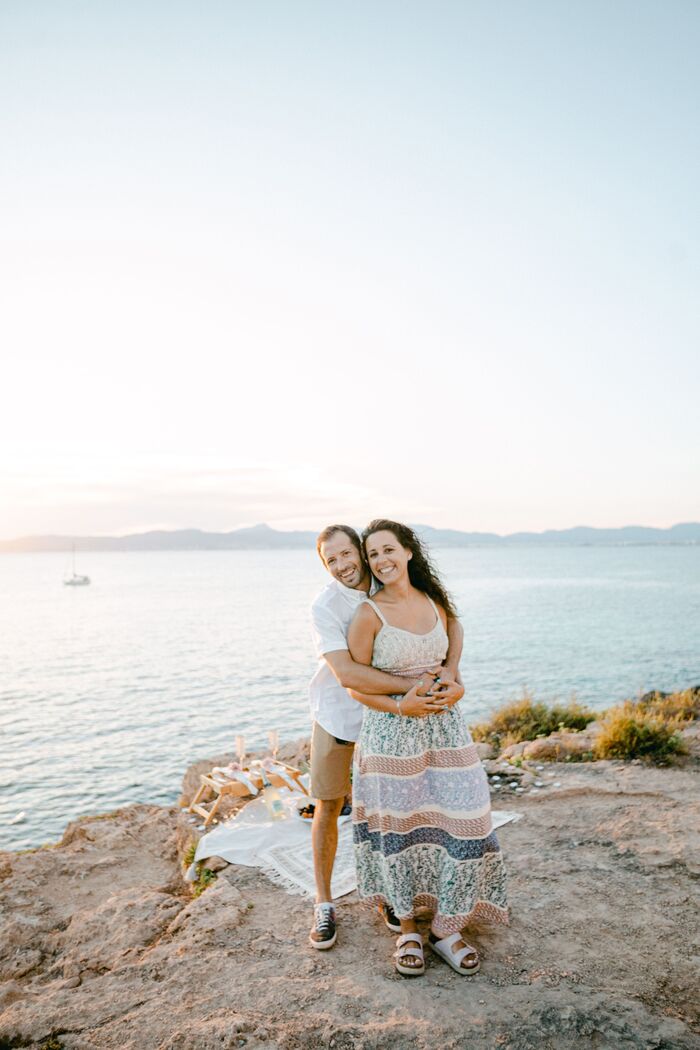 She said "I do" and then… a picnic!
Before having filled their stomachs, the groom had it clear: it was time to get down on one knee. He asked her the big question; she was so surprised and excited!
Without a second's hesitation, she said yes amid tears of emotion and then they embraced and kissed.
The moment was filled with emotion and happiness, and then it was time to fill the stomach and to enjoy and celebrate the fact that they were already engaged. The bride only thought she was going to have a snack by the sea and ended up being the protagonist of a proposal of marriage in Mallorca!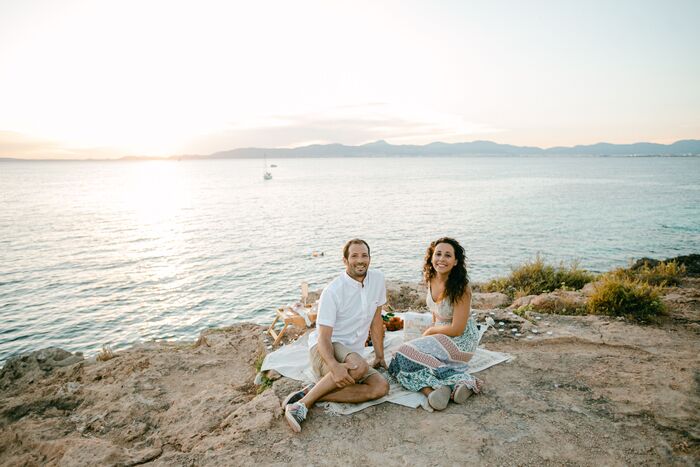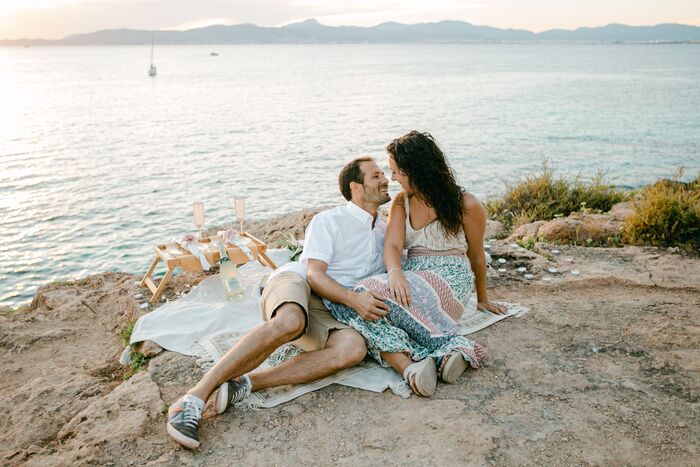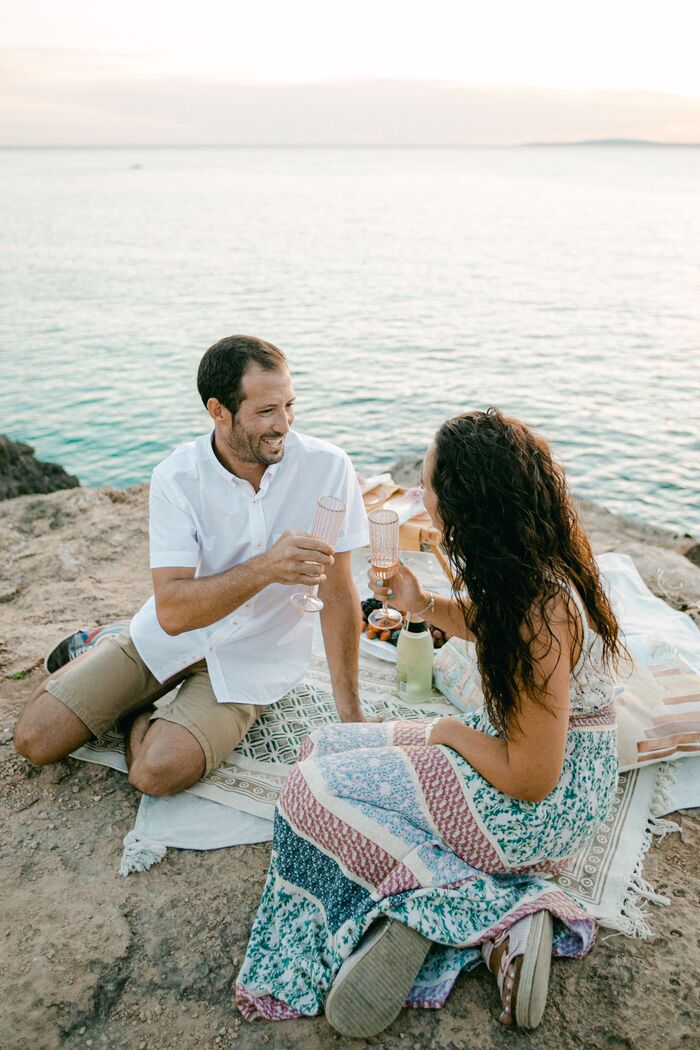 Outfits were perfect for this occasion
Bride's outfit for this special day was a fresh, light and flowing long dress with straps full of geometric shapes, very summery!
As for the groom, he chose to wear a classic white shirt and beige shorts.
Both looked very elegant, wearing trainers. Totally appropriate for the occasion of a proposal of marriage in Mallorca!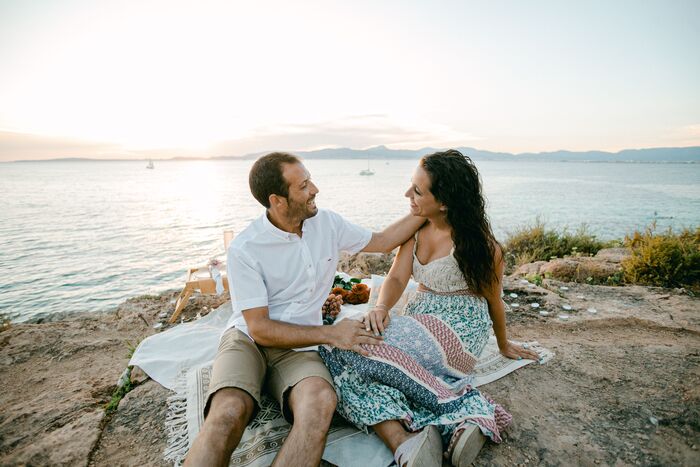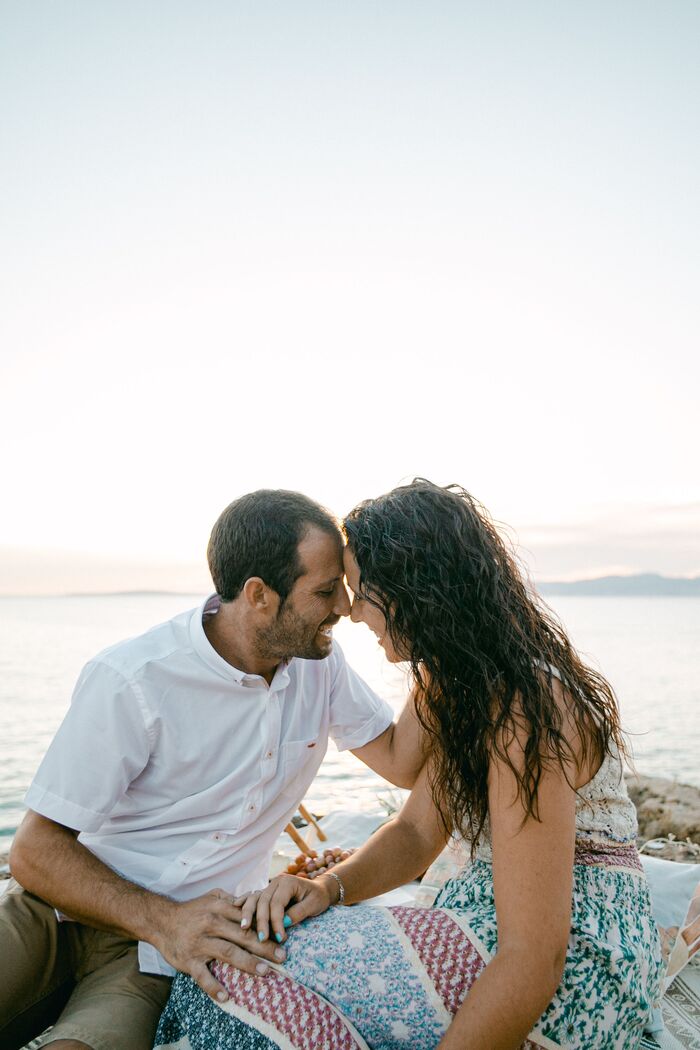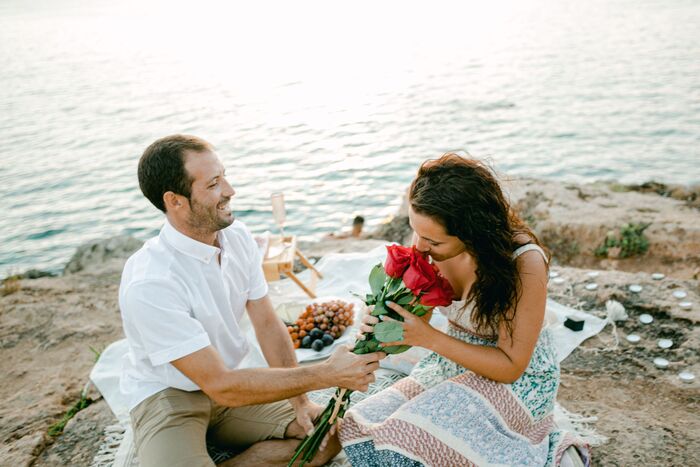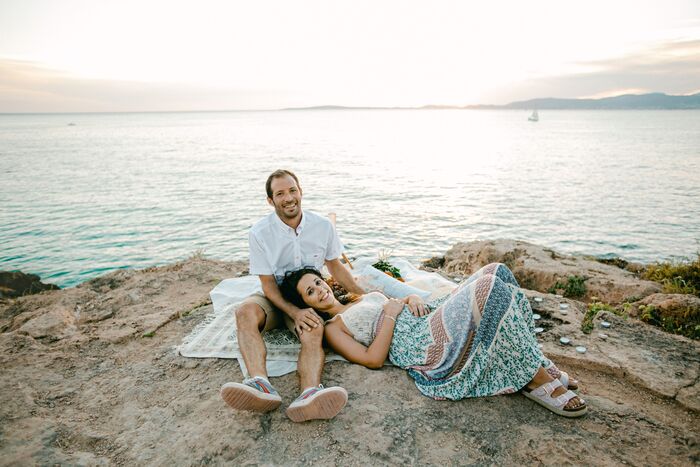 A bouquet of lovely flowers 
The groom wanted to gift his bride with a bouquet of flowers after asking her to marry him. He told us about the bride's favourite flowers and we went to find a bouquet that she would love.
We made her a perfect bouquet of red roses and she was blown away!
A moment to remember!
This moment is so important because it is the beginning of a new life, the couple had to have this memory in their minds, and that's why Tanya Vasiluk was in charge to capture every second of it.
Long live love and beautiful proposals of marriage! And the result could not be any other if the Wedding Planner who organised this proposal was Natalia Ortiz.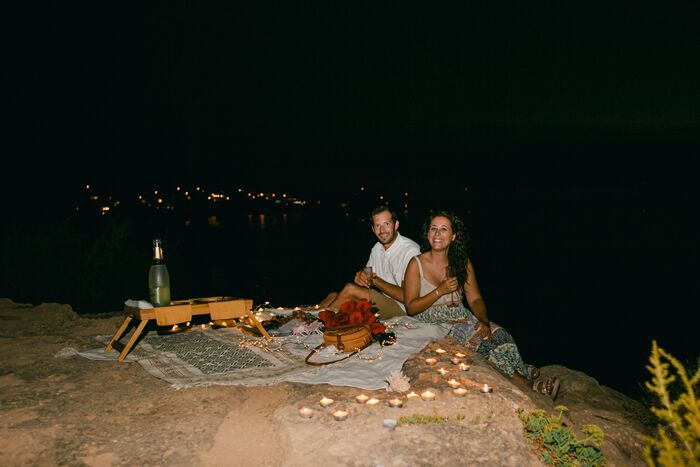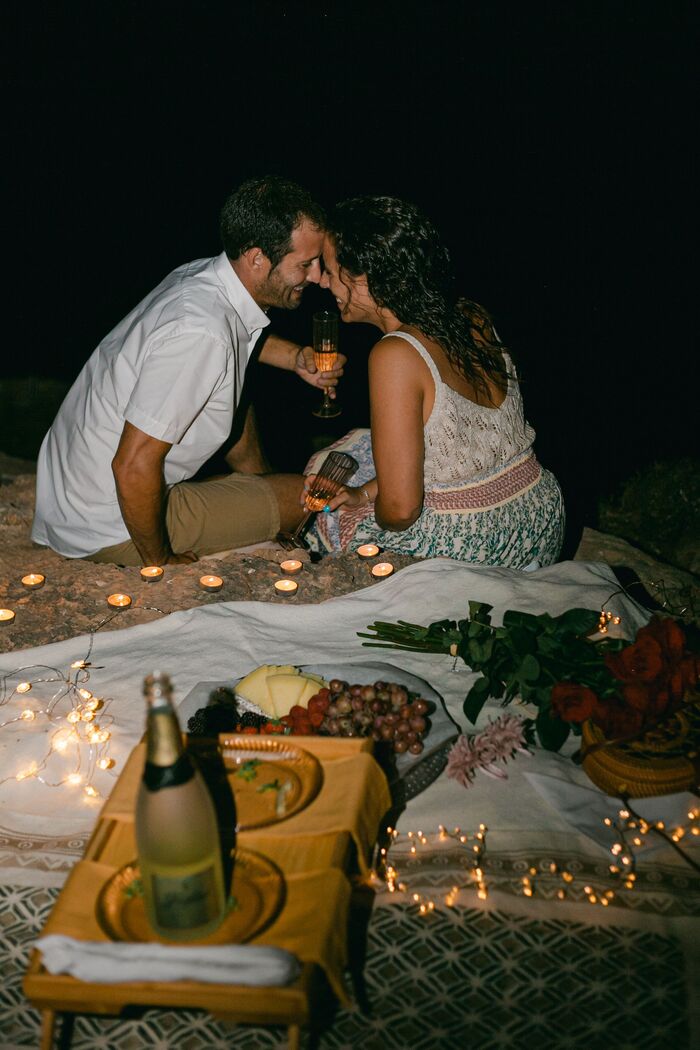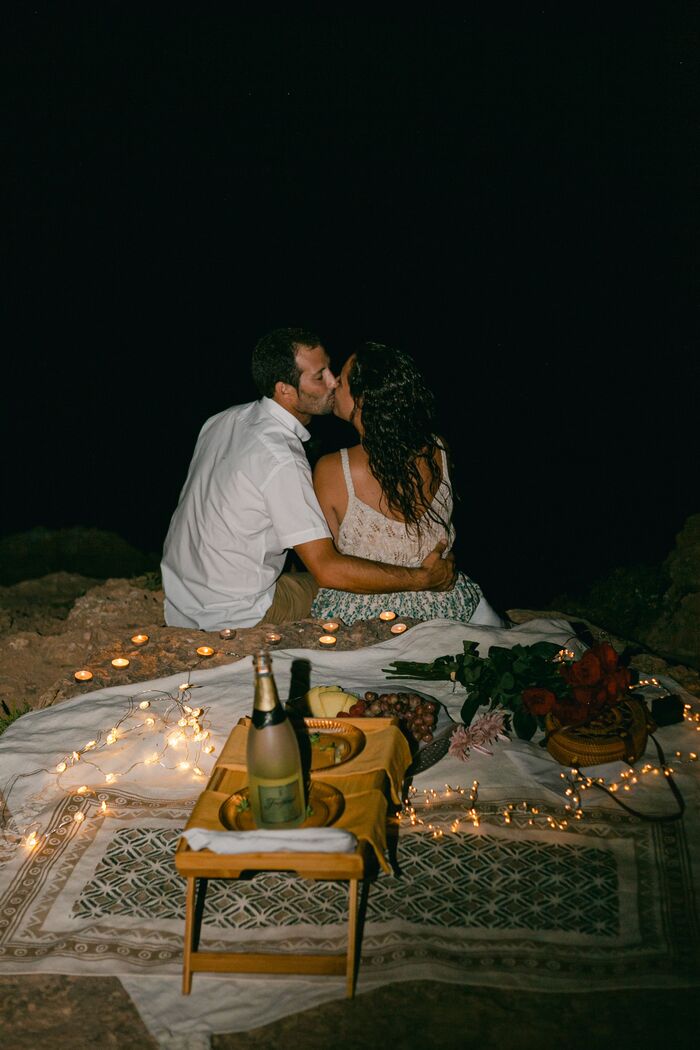 At Perfect Venue we are always ready to organise your proposal so that the scene of your life will be the best one. Let's get started with preparations! 
And if you are looking for more inspiration, don't miss these fantastic ideas: a proposal in Retiro Park, proposal in Alicante in the Castle of Santa Barbara and proposal in the Castle of Buen Amor.