Malaga city and all its surrounding cities have everything in their favour to become the perfect province to hold any type of congress, as congress numbers continue to increase, causing the capital to receive more and more visits from companies, agencies and societies.
In the last month, Malaga has held more than 14 congresses with an attendance of more than 4000 participants, numbers that continue to grow as more and more international applications are received to hold a congress in this province.
The province has a good base
What does this mean? It means that Malaga is well prepared to host MICE tourism: numerous venues, accommodation, good communications and specialised agencies. The best thing is that all these advantages are shared by all the most important cities in this province of Malaga.
And at Perfect Venue we leave you with this practical guide to make it easier for you to choose when it comes to holding your congress in Malaga!
In Marbella
Marbella Adolfo Suárez Congress and Exhibition Centre (Palacio de Congresos y Exposiciones de Marbella Adolfo Suárez)
Covering an area of more than 10,000 m2, this venue has an auditorium, restaurants, meeting rooms, exhibition pavilion… All under the same roof! Everything at your fingertips.
Another great attraction of this venue is its location, being right in the centre of the city of Marbella, as well as its infrastructure designed exclusively for conventions, congresses, exhibitions… On a national and international level!
Its modern and high-quality infrastructure makes this Conference and Exhibition Centre your best option.
Take a look at this article where we tell you all the virtues of Marbella, the Pearl of the Mediterranean!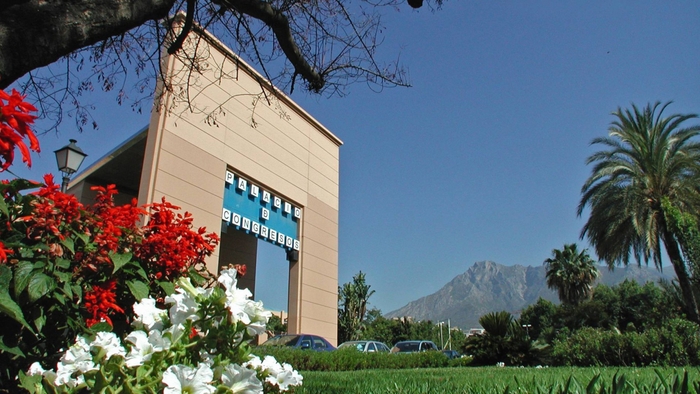 In Estepona
Exhibition and Conference Centre (Palacio de Exposiciones y Congresos)
This venue is located only ten minutes from Marbella and one hour from Malaga International Airport.
The venue is 21,000 m2, it includes a large pavilion and a conference hall. The pavilion can accommodate up to 1600 people, while the conference room can accommodate a total of 100 people.
In addition, there is an annex building, where you can find complementary services such as a restaurant, car park, offices or cafeterias, where all meals are served throughout the day.
A complex for congresses, fairs or events of the most versatile, and even more so if we tell you that the beach is just 300 metres away. Here is everything we want!
In Ronda
Conference Centre (Palacio de Congresos)
Holding a congress in a historic venue is possible. Take a look at the Palacio de Congresos, located in the former Convent of Santo Domingo, which is more than 500 years old. This venue has been completely refurbished for meetings with a maximum capacity of 200 people.
It is located on the banks of the river Tajo, on the other side of the New Bridge, and at the same time very close to the commercial area. There are halls perfectly equipped to adapt to all the needs of your attendees, as well as your events.
Undoubtedly this is an option that gives a very special touch to your congress.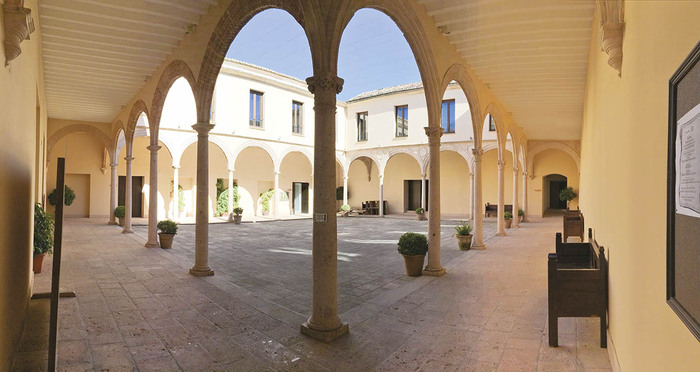 In Torremolinos
Congress and Exhibition Centre of the Costa del Sol (Palacio de Congresos y Exposiciones de la Costa del Sol)
VIP lounges, presidential tables, translation booths, screens, offices… Exclusive indeed!
All this and more can be found in the Torremolinos Conference Centre, just 17 kilometres from Malaga and a stone's throw from the airport (4 kilometres). A multinational building with an avant-garde and modern design in the heart of the city.
Its main function is the holding of fairs and exhibitions. In the 14 rooms distributed over two floors, including auditoriums, committee rooms, boardrooms, meeting rooms, conference rooms and two secretariats, there is also room for dinners, parades, congresses… for a maximum of 2000 people.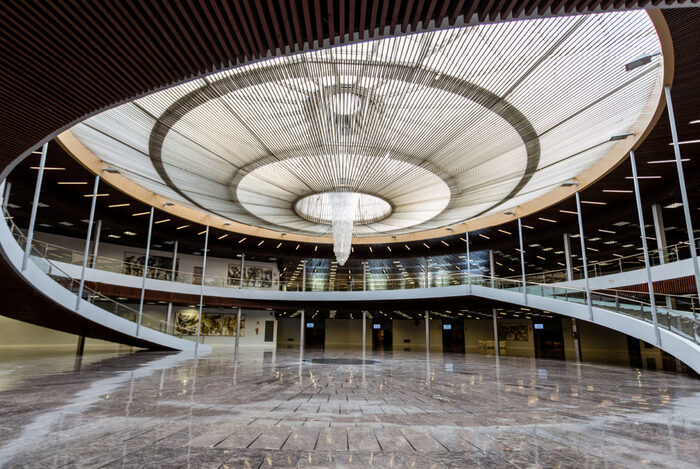 And in Malaga city
Trade Fair and Congress Centre (Palacio de Ferias y Congresos)
It is one of the architectural symbols par excellence of the city thanks to its avant-garde and eye-catching design, where every event that takes place is a success.
Just 9 kilometres from the airport and 5 kilometres from the city, this Trade Fair and Congress Centre has made Malaga the business headquarters for the whole of Andalusia.
A building of 16,800 m2 full of technological equipment, dynamism and modernity for national and international events, with a maximum capacity of 3,018 people, with 1,200 parking spaces, restaurants and cafeterias.
One of the main attractions of this venue is its direct connection to the city and its close location to the city's main points of interest.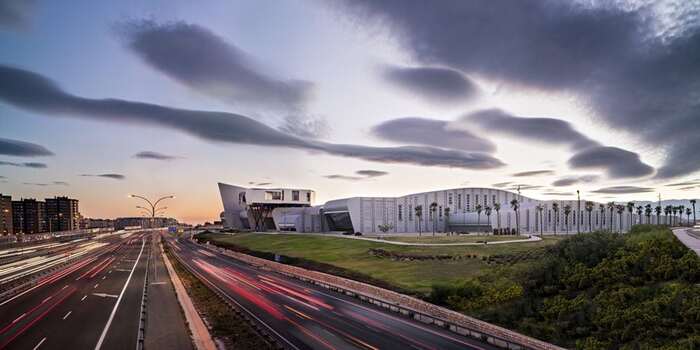 Success is guaranteed in Malaga! Whatever space you most want to set up your congress, just contact Perfect Venue and let us do everything for you.