At the time of choosing a wedding venue, you will find all types of options, but, if you have arrived here it is because the idea of celebrating your wedding on the beach appeals to you.
And of course! Because everyone loves beaches: their magic sunsets, crystal waters, the sound of the waves, the sun rays, white sand…
This is why there are many couples that choose a beach to say "I do", and having a beach wedding comes with an infinity of advantages! Although there are also some disadvantages.
And for this, we are here to tell you all the pros and cons and clarify your ideas before deciding the location of your big day.
Are you prepared? Well, let's begin!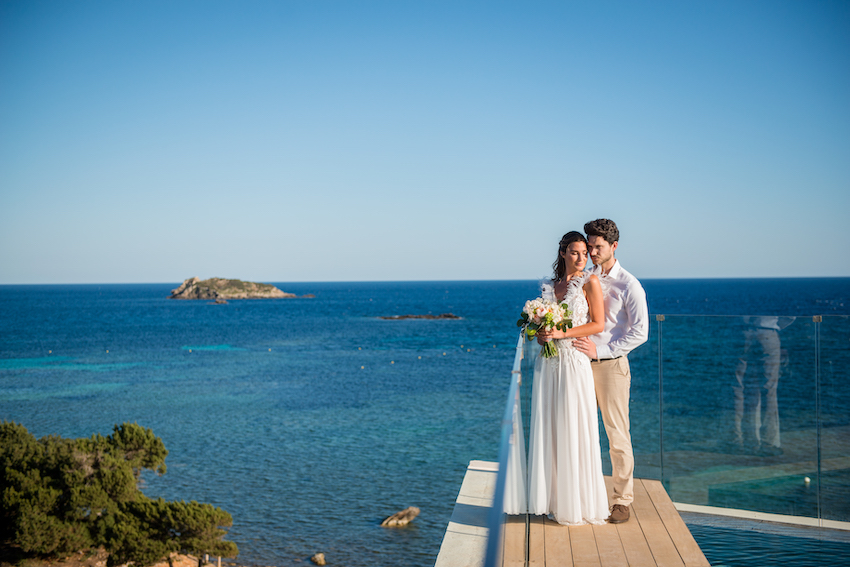 Advantages of celebrating a wedding on the beach
A splendid background
The beach offers a natural and unique background for such a special event like your wedding. The dazzling water and the sandy setting together with the colours of the sunset and the good climate are enough to captivate all the guests and take their breath away. How could getting married in this movie-like, romantic setting not be an advantage?
Atmosphere of calm and peace
This environment gives off a less formal and more relaxed ambience, which is totally necessary after all the hustle and bustle of preparing for the big day. A ceremony on the beach and a reception provide this very necessary calm on a day of nerves and emotions. The sound of the waves and the breeze of the salty air will take away all your nerves!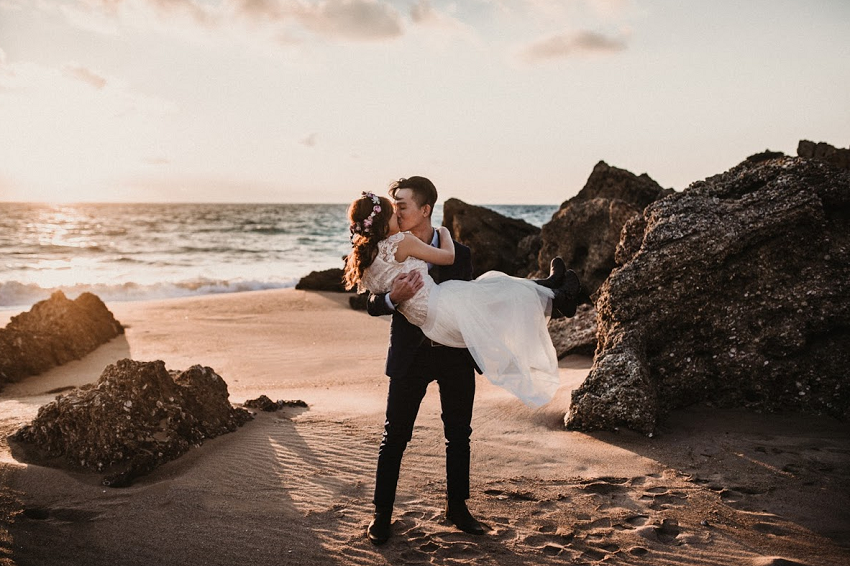 More comfortable outfits
The comfort of a space like a beach provides the advantage of dressing in a more relaxed way. From linen suits for men to maxi flower dresses for the women, this makes it a comfortable day that allows for risky dance moves and happy guests everywhere! The female guests will also feel super comfortable by not wearing heels (including the bride) and can wear comfortable sandals or simply go barefoot.
Photographs from the movies
On the day of your wedding, almost everyone wants to move away from the typical couple photos that pose against a tree. Now moving, dynamic and documentary photos are wanted, and there is nothing better than a beach background to achieve a film-style result. Your photos will also be versatile, since you can pose on the seashore, close to the vegetation that borders the beach and with the changing colours of the sun as the day turns to night.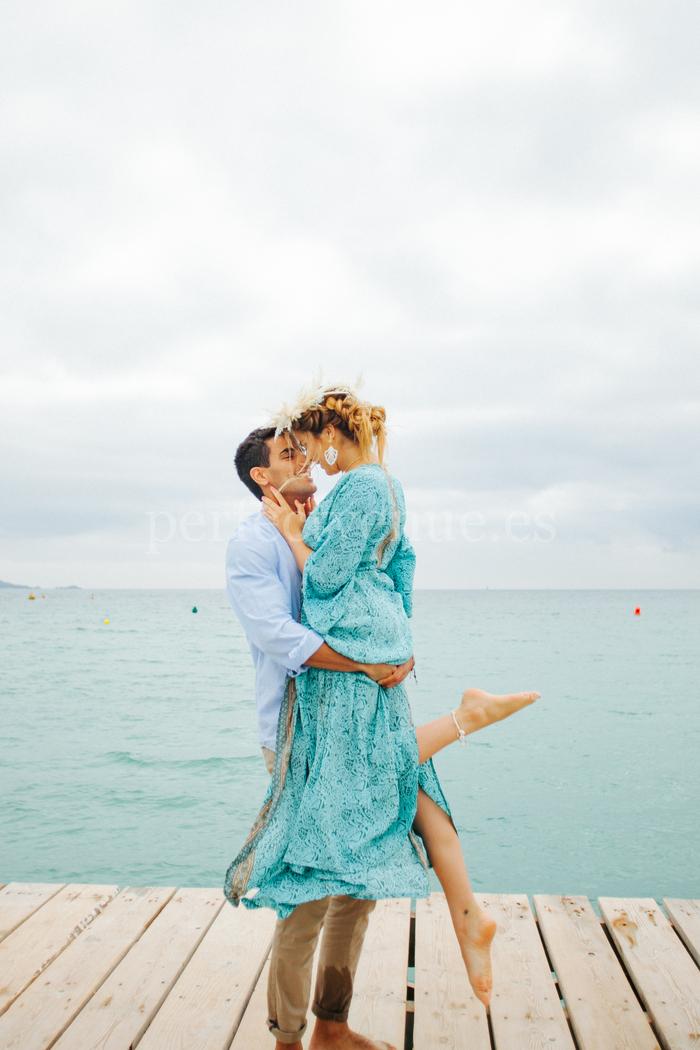 The decor is practically included
The couples and guests will be surrounded by natural elements and views that are difficult to recreate in interior venues. Is there anything more unique and special than having a beach sunset as witness to your exchange of rings? For this reason, for such a special venue like this, not much decor is needed since the venue shines by itself.
An incredible light
Natural light not only embellishes the landscape, but also the photos, the perfect main memory of the big day. This, along with the bride and her white dress and the beautiful views that will be found in the photo album will add a touch of authenticity and difference. Even if it is a very sunny or very cloudy day, the photographer will be able to find the precise location for getting the necessary illumination, especially if it is early in the morning or just after sunset.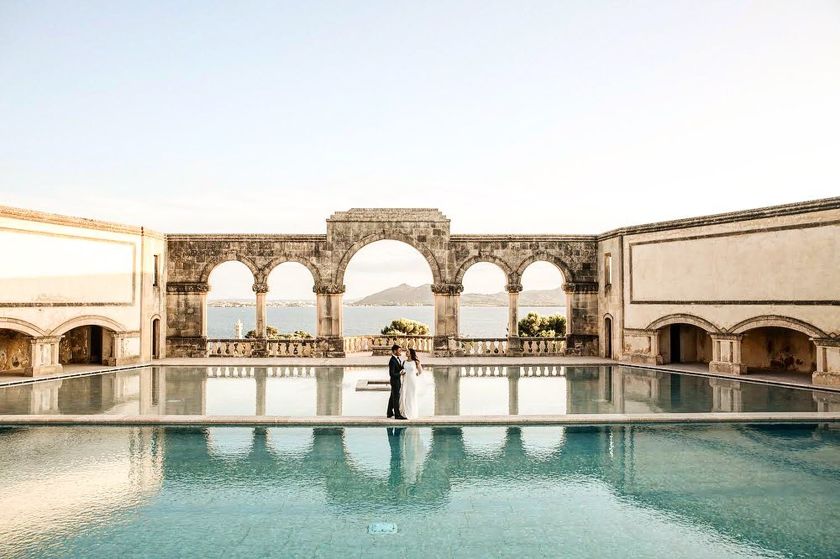 You can personalise the aesthetic
Beach weddings can be adapted to everyone's tastes. Whilst a couple might opt for a nautical and preppy theme with an anchor motif and blue and white colours, another couple might have a more bohemian themed beach wedding, using white as their main colour. The options for beach weddings are endless, which means that it is an excellent way for couples to make their event special.  
The capacity that you want
You won't have a problem with capacity for inviting your guests at a beach venue, so if your dream is to celebrate an intimate wedding or you want to bring together a large number of guests, it is the perfect place. In comparison to indoor weddings, where the capacity is limited, open air venues can be adapted to any requirements and are ideal for a wedding with a large number of guests.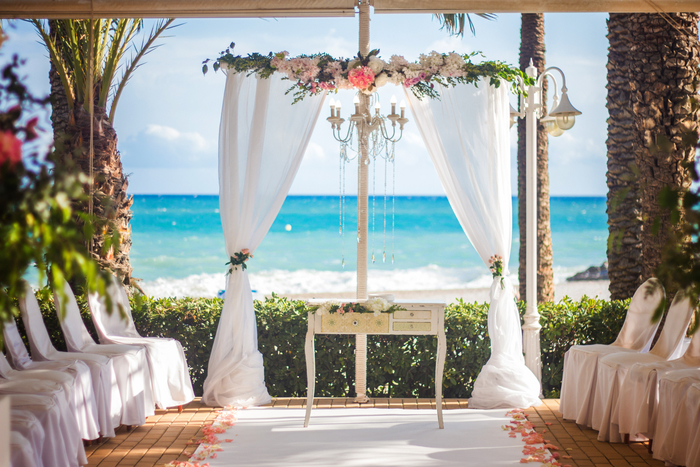 Beach wedding and honeymoon, 2 in 1!
Another advantage of having a beach wedding is that you can also optimise the expenses. If you plan on having a honeymoon in the same palace, it is possible to get cheaper prices if you buy a package deal. Generally, destination wedding organisers have that benefit.
Difference
Guests are used to going to weddings celebrated in hotels, in some garden or in a country house, but we are sure that few have attended a beach wedding, for this reason an advantage is its uniqueness in comparison with conventional weddings. Because your wedding is unique!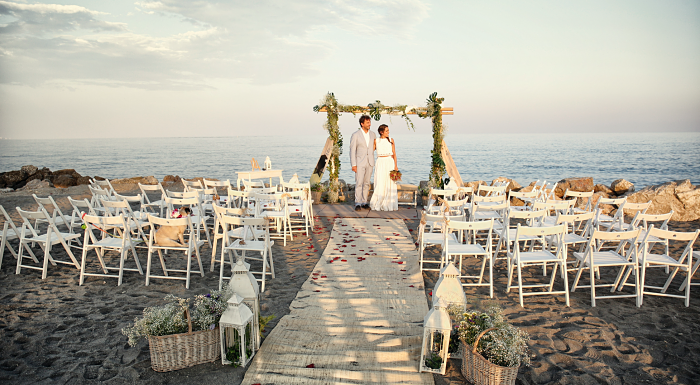 Disadvantages of celebrating a wedding on the beach
You may have an audience
You probably expect to have some kind of audience at your wedding, yes, but only guests. However, beaches generally have members of the public as well as those that have an invite. This means that you will have to consider if you are willing to allow for a slightly less private event, since it is possible that some spectators will enjoy watching you exchange vows whilst in the water. And we don't want swimmers or umbrellas in the back of the photos!
The weather can change
The main worry associated with beach weddings is, without a doubt, the weather on your big day. If it rains or is colder than normal on your wedding day, you will have to have a plan B prepared in case of severe weather.
Additionally, you have to take into account the time of celebrating the beach wedding, the sunset and the tides. Since you don't want to have darkness at your ceremony, you can't forget to think about the daylight hours and the tide times.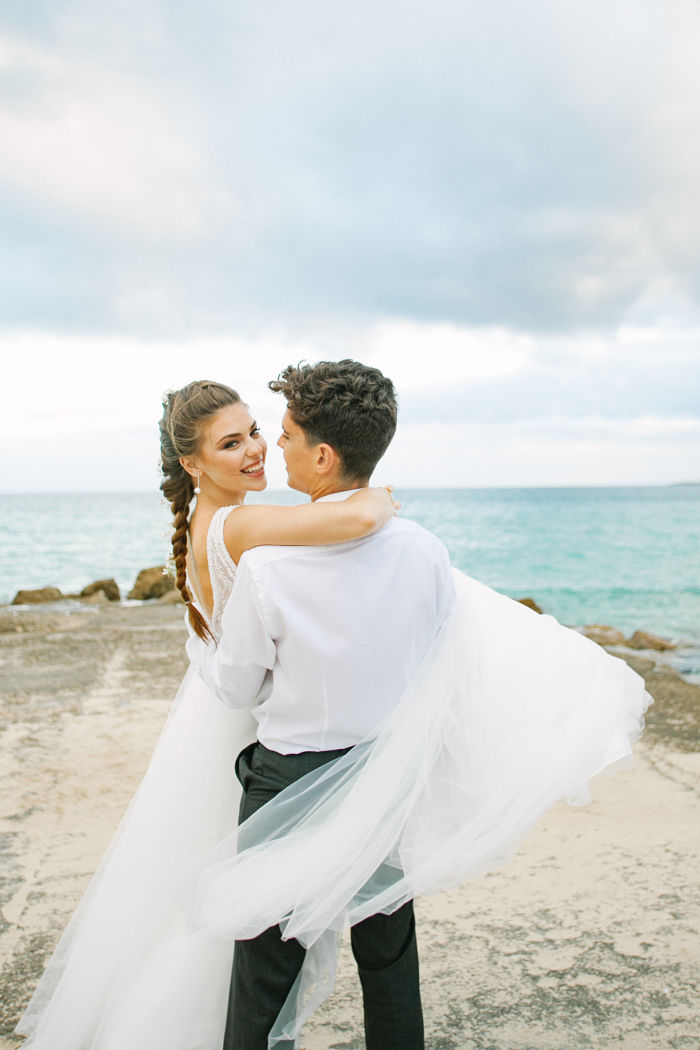 Difficult access
If you have older people or some with mobility limitations that will attend your wedding, you have to take into account if they can manoeuvre on the sand before going with this type of venue. Although the wedding obviously centres around the bride and groom, you will surely want your guests to feel comfortable and to make sure that everyone is able to attend.
Necessary permissions
Outdoor wedding venues are usually public scapes. For this reason, ensuring availability is complicated because it is a space for everyone and its care depends on third parties. If you hire a venue, it is likely to be somewhat expensive or there may be low availability, which is why you should research the municipality that the beach belongs to and contact the local government so that they can tell you all the information, always respecting the Coastal law, otherwise you can be sanctioned or even have your event cancelled.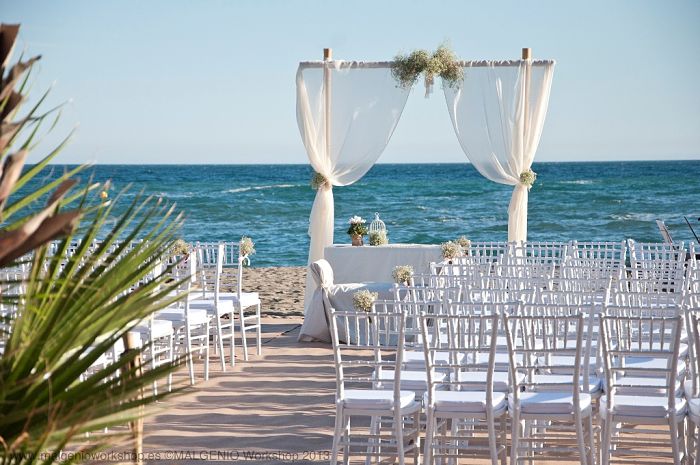 As you can see, there are more advantages than disadvantages, so this is why we encourage you to celebrate your wedding on the beach and leave all your guests gobsmacked by the experience they are going to have. 
The huge offer of hotels on the Perfect Venue Finder portal will allow you to choose venues close to the beach that you like the best in your preferred Autonomous Community in a very simple way: Catalonia, Valencia Canarias, Baleares, Andalucía… you will find many venues close to the beach with views and a lot of glamour.
Celebrating a beach wedding will never go out of fashion! What are you waiting for? Contact us at Perfect Venue!