If you already have it clear, and you want to have a food truck at your wedding, but you don't really know how it works, where you can put it, at which moments to enjoy it, or what kind of food to serve, this post is for you.
More and more couples are choosing to have a food truck at their wedding. Yes, it is a trend that is on the rise, and also it is a rather distinctive, original, and exciting option.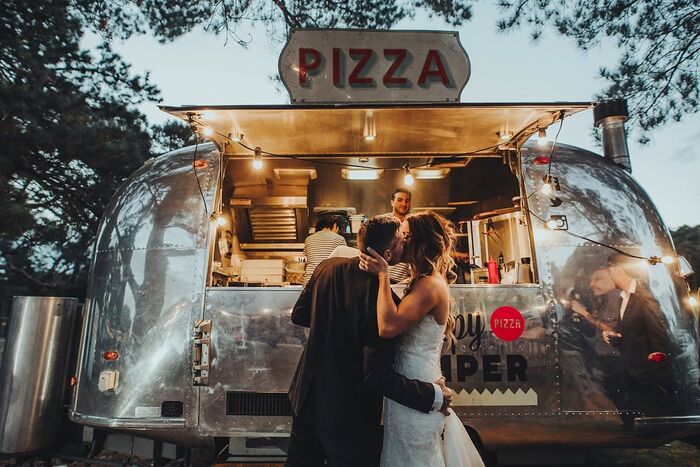 All your guests will love it! Food truck creates an informal and relaxed atmosphere so that everyone can interact with each other.
Here's all you need to know:
First of all, what exactly is a food truck?
A food truck is a van, caravan, or pick-up truck. It usually has an antique, retro, or vintage style, which also has a very special and neat aesthetic. In addition, there you can take some of the prepared food, it is served inside.
Inside it, there are all the requirements and adaptations needed to make the dishes, such as utensils, machinery, etc.
In short, they are food stalls on wheels, but not just fast food! But a mix of gourmet food and fast food.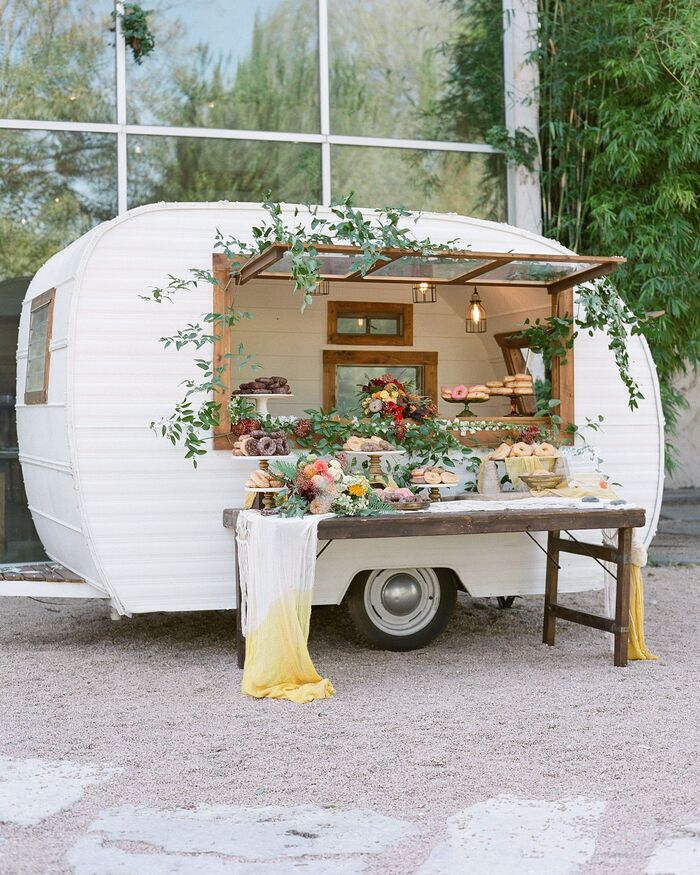 Ideal snack
After a crazy night of dancing, everyone wants to recuperate because… Who would finish the party and go to bed without eating something tasty? No one! Well, with a food truck you can please all your guests at the end of the day. There you can offer them some hot dogs, hamburgers, sandwiches… That's a perfect solution!
For your original welcome cocktail
If your wedding is one of those crazy and fun weddings, you can use the van to set up the welcome cocktail. The bar will be full of croquettes, tapas, mini burgers, cheese, and everything you would like to try!
​​Perfect for the photocall
If you like this element, but you don't feel like putting food on it, you can always use it as part of the decoration and photocall, and take great photos to remember! You can also fill it with flowers, garlands of lights and lots of other things.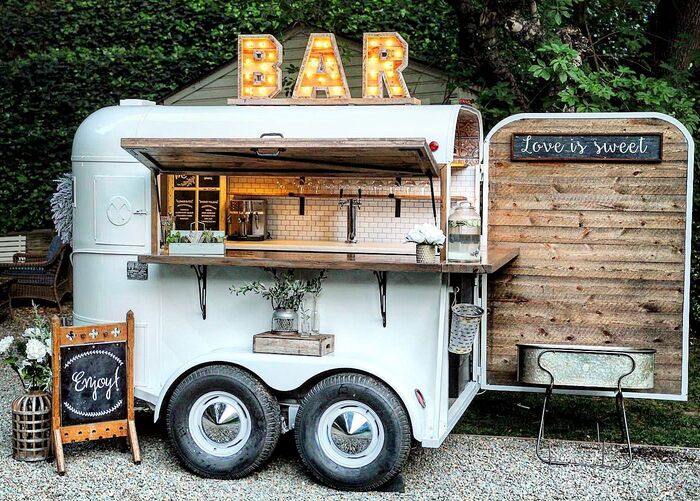 What types of meals can I serve in my food truck?
Nowadays you can find endless food options that would be ideal for your guests – for every taste!
Cocktail bar
Yes, it doesn't need to be food, the food truck is a perfect place for drinks such as milkshakes, vermouths, assorted cocktails, mojitos, smoothies, cuba libre… Your 'proper' drink corner!
Fast food
It's not the healthiest meal in the world, but it's what we'll always want, and besides… It doesn't hurt once a year! Reward your guests with a pick-up truck serving gourmet burgers, hot dogs, delicious sandwiches, burritos… they'll lick their fingers!
Pancakes
It could be a perfect snack time is in the middle of your wedding. Nutella, white chocolate, dulce de leche, cream… No one will be able to resist this dessert!
The coffee corner
What's a snack without coffee? This is a great option to serve in the middle of the afternoon. A wide range of coffees is very fashionable and everyone wants it. You know how to surprise your guests with a dose of energy!
Beer corner
So, we know, we love beer, and you know your friends and family do too, so… don't hesitate to fill your food truck with craft beers, local beers, and all your favorite flavours!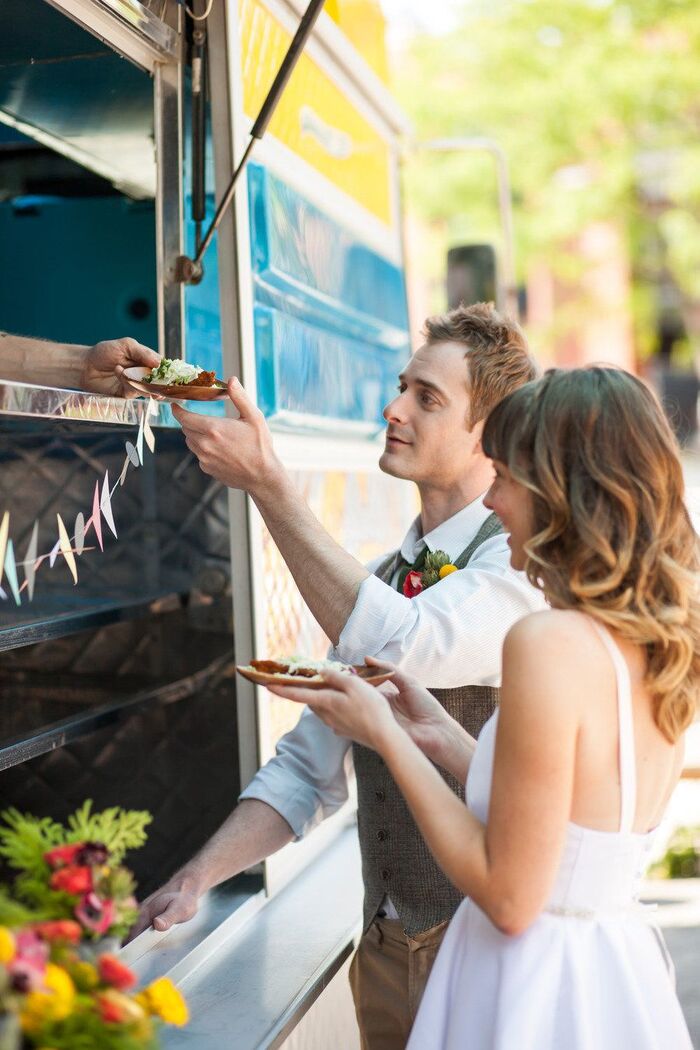 What advantages does it offer to have a food truck at my wedding?
It will make your wedding more original and fun. Your guests will be able to interact in an informal way. Foodtruck will give that casual air to your weddings, which are looking for many couples nowadays.
Guests can create their own dishes, removing ingredients or adding them as they like.
It is a unique decoration for weddings. Everyone will for in love with its aesthetics, style, and colours. All guests would like to have their photo with your food truck!
Everyone loves it, children and adults.
It is so new and different, without a doubt, everyone will be surprised and remember
Factors to take into account for hiring a food truck:
A food truck is a great option for outdoor weddings or for very large sites where you can fit a caravan or truck. For this reason, you need to make sure beforehand that the vehicle can access the area where you plan to locate it.
If your food truck is going to be the only catering service you are planning to have, consider having more than one food truck to offer a variety of different food and menus. You don't want your guests to stand in line for a long time!
If you have vegan, vegetarian, intolerant, or allergic guests, don't forget about it when you're choosing the food.
Although you are looking to have an informal wedding, you also have to look for the comfort of all the guests. That is why we must think about points where your guests can sit down to eat.
A food truck is not recommended for large weddings, except as a point to try a snack or drink, but not to be the main food service.

Photo via Pintere
Do you want to have a food truck? Well, at Perfect Venue we can help you to have one at your wedding, full of food that will please everyone's taste!
Let us know what your favourite option is! We'll work it right now.