Navascués has become one of the most demanded bridal brands in Spain. Cristina Martínez-Pardo Cobián, its founder, never imagined that the company that began 35 years ago would become a benchmark in the world of fashion and one of the favorite choices for brides. The key, perseverance and dedication, together with its particular style-characteristic for its fabrics and needlework, have made Navascués a brand with its own personality.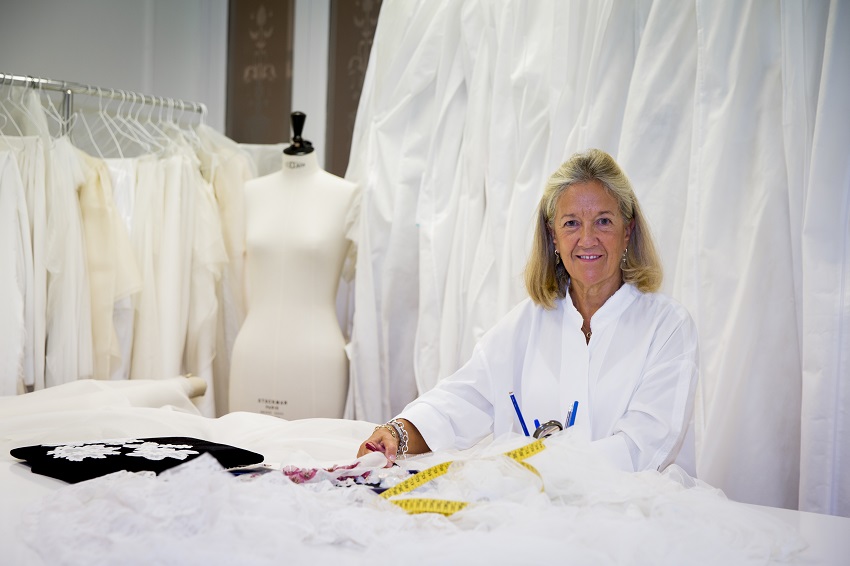 We can find Navascués being part of the exclusive Círculo Fortuny, an association created to unify different sectors and promote the Spanish brand abroad. Being one of the main objectives of the Círculo Fortuny, to give impulse and knowledge to all the associated luxury brands. Navascués has always had very present throughout its trajectory.
To choose the wedding dress it is necessary to know perfectly the work of the professionals who are going to make it. Therefore, in Perfect Venue we wanted to deepen Cristina´s career through a very personal interview about her own experience and vision in the world of weddings.
Navascués started 35 years ago. How the idea of creating a company dedicated to the design of wedding dresses born?
I have to say that it was casual. After a car accident for which I had to be at rest, I started designing vests. At one point we had many orders and my house began to remain small. It was time to move forward, so I decided to go a step further and hire their first clothes designer. I would never have imagined that this business would last for 35 years. As I always say, I do not believe in coincidences but in causality.
The inflection point came when designing my first wedding dress for one of my friends, who could not see reflected the idea with which I had traveled to Spain. That dress was followed by many more, and all thanks to word of mouth. The demand was increasing, so I started to form my own team. Many of those people have been with me all their lives until the day of their retirement.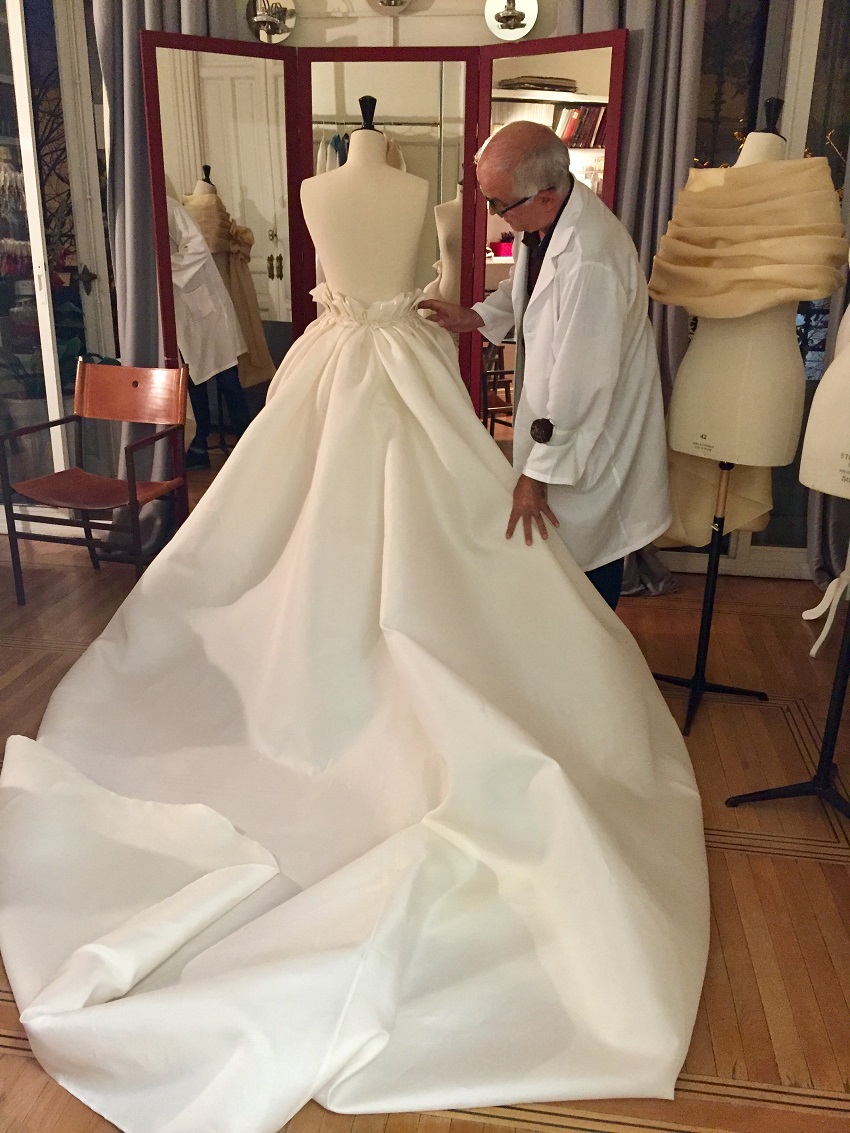 You are one of the most important workshops dedicated to sewing in Madrid. What is your philosophy based?
The correct word is probably not exclusive, but personalized. We must be aware that a single dress is not made with one fabric, but several, although each design is different, the fabric remains the same. Unfortunately, many of the fabric stores have disappeared in Madrid; currently there are very few of our own factory.
We have managed to differentiate ourselves from the rest because we make each dress personal; our dealings with brides are direct. Brides know that here we work to make their ideas come true. We create the dream dress of brides, always trying to reflect their personality. This makes the final result different in each of the dresses.
What inspires you when designing a dress?
What inspire me the most when it comes to designing a dress Is the bride; who reflects the Navascués  brand, but also its essence, what makes it unique. The first step is to meet with the whole team and convey my idea. Once the main lines are marked, we begin to work with the fabrics, the necklines, the sleeves, and this is how step by step the initial idea is transformed. There are people in our team with a lot of creativity; each one brings different point of views. In Navascués we mix the experience with the innovation and vision of the youngest people.
In the workshop we do not work through a collection, but with designs that emerged in the process. It may be easier to develop a certain number of models, but direct and personal contact with the bride become our maximum inspiration.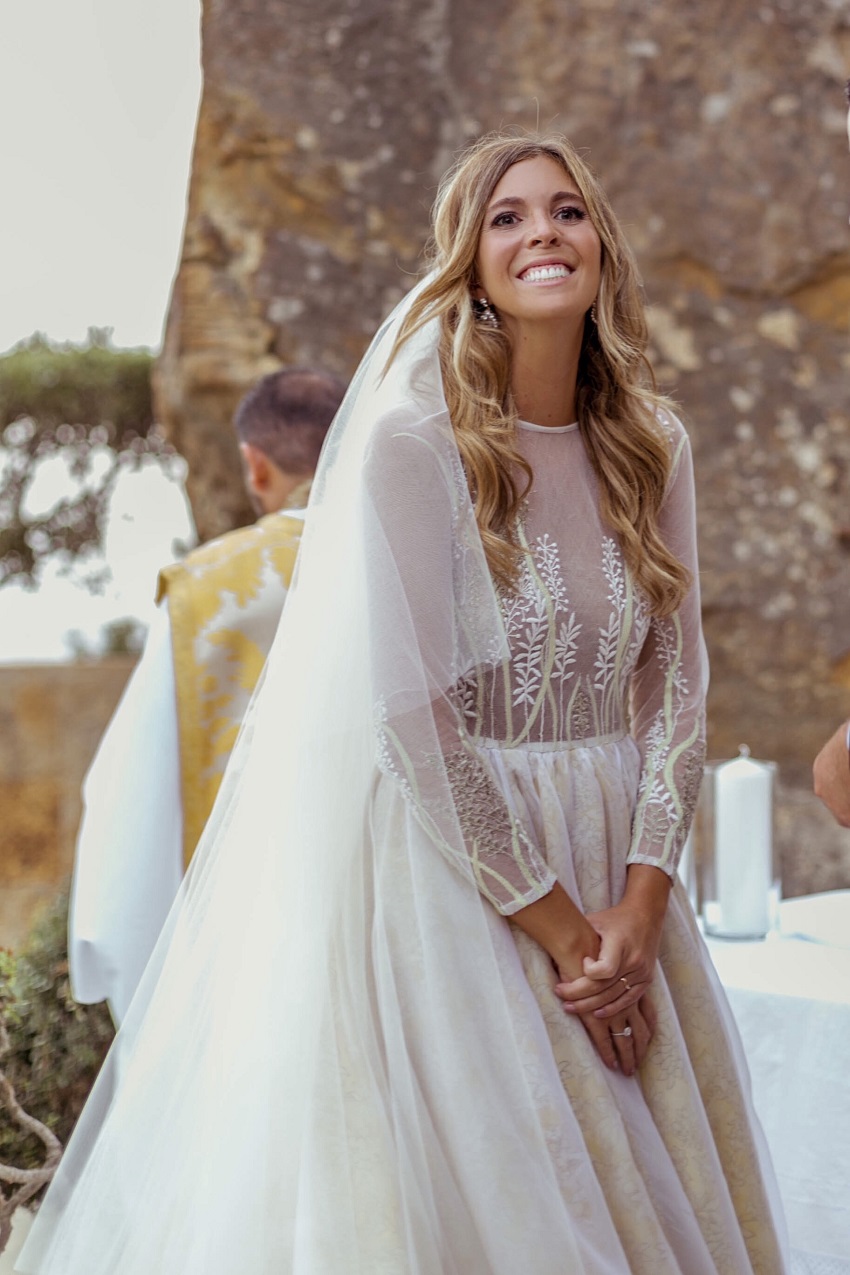 What style of dress do brides request?
It is usually cyclical; Years ago they wore skirts with a lot of flight and volume. A moment of change was the nightgown dress of Caroline Bessette. From then the trend of the long dresses and lingerie began, which continue to succeed today. Grace Kelly´s dress was also a key turn point.
Currently, we see designs with flight but without volume; although it is true that this trend could change anytime. On the catwalks we can see this style of dress. Today any fashion movement is susceptible to change, but it is still complicated, all this takes time.
Are you present with your team during the making of the dress?
Yes, the whole team contributes ideas and is involved in the process. Although I am in charge of supervising the final work, they all are part of the design and manufacture of the dress.
Each one contributes with their opinion and vision, always respecting the ideas of the others. I am present in the creative part, but also in all the further development. It is wonderful to work with this team. I think the basis for a company to work is that there is a good atmosphere, and in Navascués we are a family.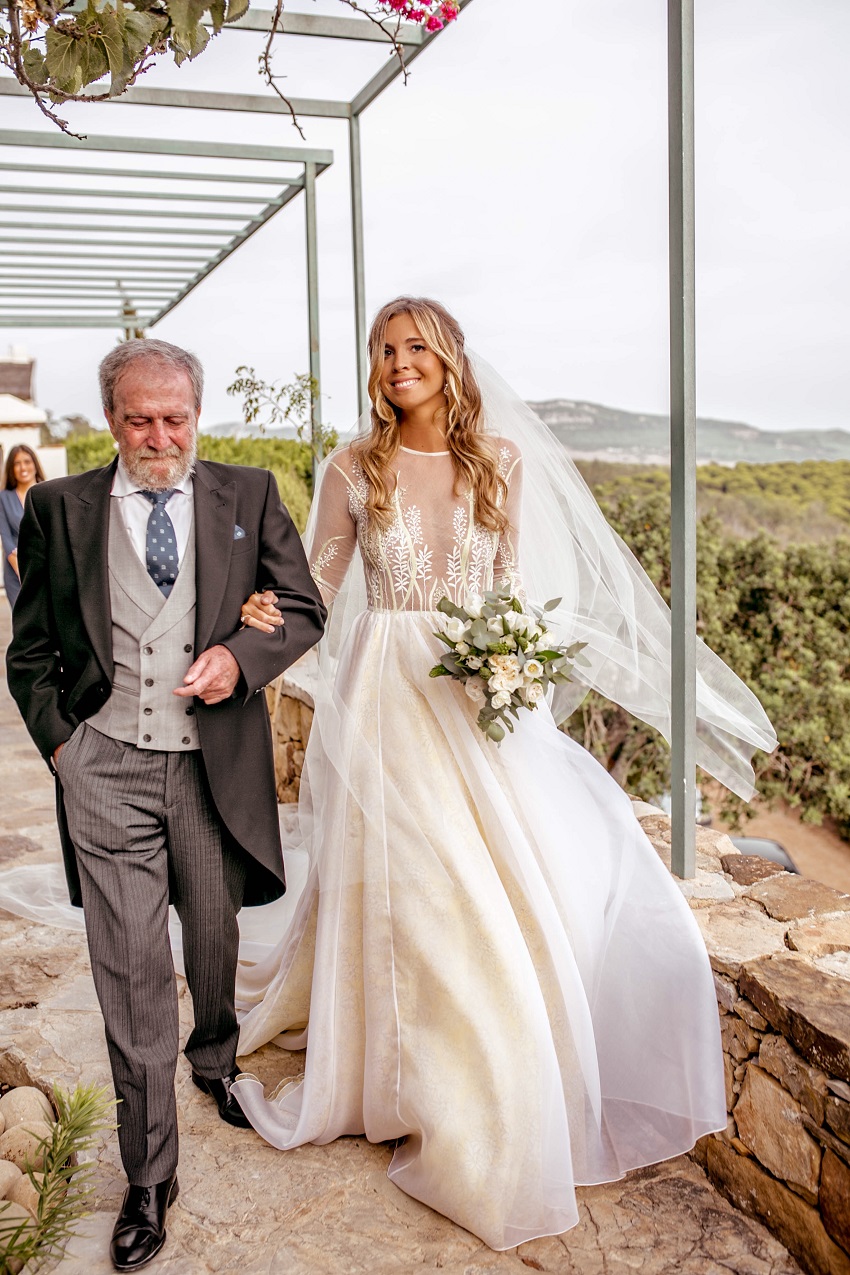 What differentiates you from the rest?
The deal with brides. For us, sewing is very important; it is the basis of everything. If a bride is not convinced by any detail of the dress, we have the opportunity to change it. The seamstresses take care of everything about the dress and transform it at that moment; we take care and pamper every design. We make each dress unique. For us, the most important thing is that the bride is satisfied with the final result.
The team is made up of a variety of professionals. On the one hand there is the creative part, on the other hand the dress and design makers. Each one stands out in something different, always trying to complement and help some of the others; that is what makes my team special, unequaled.
Navascués is part of the Fortuny Circle. Do you feel that you have a commitment or responsibility when promoting the Spanish brand?
Definitely. For us it is an honor and at the same time a lot of responsibility to be part of the Fortuny Circle; it is an amazing experience where to be able to share that space together with so many other exclusive and world reference brands. This helps us and encourages us to continue taking care of our brides, and give the best of us day by day. Belonging to the Fortuny Circle means that you never can lower your guard, always you want to offer the best of your work, it gives you prestige, and at the same time it forces you to live up to the circumstances.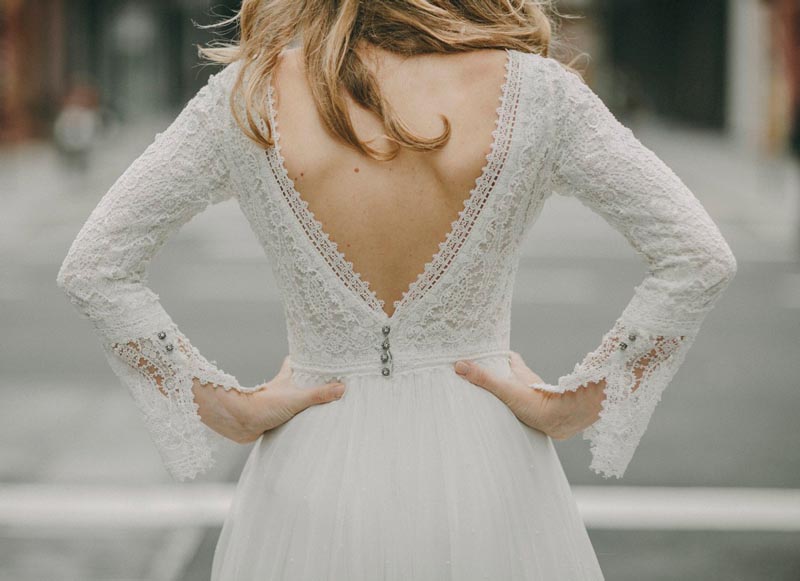 You have dressed women from all over Europe, Mexico and even the United Arab Emirates. One of your biggest objectives is to expand your brand all over the world?
We have dressed brides from different parts of the world, but the highest percentage is Spanish. We would love to be in more countries, but the essence of Navascués is that it is a workshop; it is a unique business model that you cannot move it to other places. However, contacting brides from all over the world is another way to expand the brand.
In Spain our clients almost come from Madrid, País Vasco, Andalucía and Levante. Thanks to Instagram, which today is the most efficient tool to open up to the world,  many of our Spanish brides who have started a life abroad can follow our work closely, and in the same way make it known to their friends in those countries. Before it was more difficult to cross borders, but now with Internet, everything is different.  
Finally, which part of the process do you enjoy the most when designing?
We enjoy during the whole process. The part of starting to design and meet brides is perhaps the most interesting part of all. The process of creation is the one that helps us to know more about the dress that we are going to elaborate.
If I had to choose a specific moment, I would probably keep the first meeting; develop that first idea and share everything  you have imagined and what you have inspired, is exciting. All this after passes into the hands of the dressmakers. Another special moment for me is the last day; when the brides come to the workshop, they pick up their dress, and they thank me again and again for the final result. It is wonderful to see them full of illusion. In fact, we do not stop receiving photographs that they send us during their wedding day.
If you are looking for the wedding dress that you have always dreamed of, we recommend you to get in touch and continue to get to know more about Navascués´ work through their website https://nnavascues.com and Instagram account @nnavascues or put in contact via email to info@nnavascues.com
Thank you very much Cristina for your time and dedication!