Description
An extraordinary plan for a couple who wants to escape from a traditional wedding day celebration… A trip to the magic island with incredible landscapes, in an intimate place next to a secret pool where you can say to your partner: "I do!" in Gran Canaria is your Perfect Plan! 
Surely you know few couples who would dare to celebrate their wedding in this way… because in the wake of the pandemic, more and more couples are choosing to celebrate an elopement wedding. A new version of celebrating your wedding in a relaxed way and living this unique experience in the most intimate way. 
Therefore, in this article we will tell you all about this Perfect Plan so that you can have a wedding for just the two of you, so easy to book with just one click! 
Read on to find out what's included in your elopement wedding on Gran Canaria!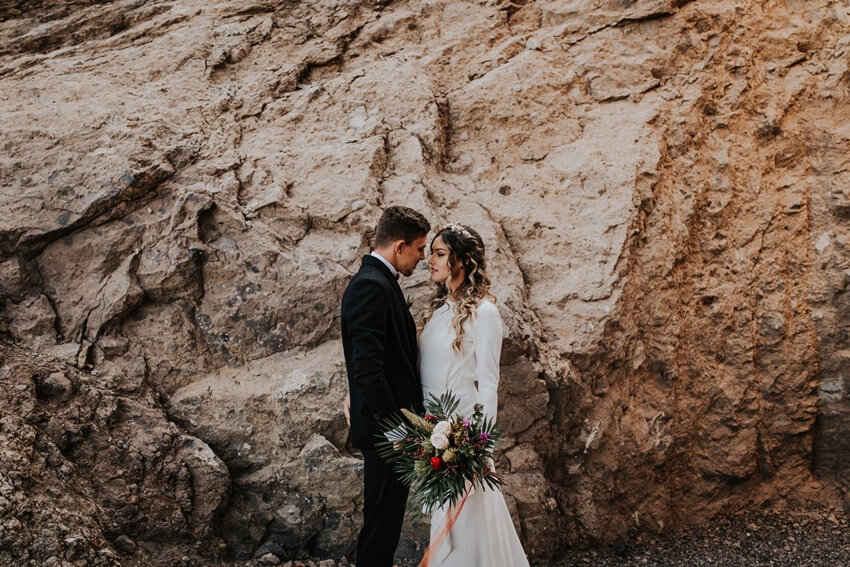 Elopement on the island of Gran Canaria
Gran Canaria is an island that belongs to the Canary Islands group. Gran Canaria has so many diverse flora and fauna and such a wide variety of geographical and climatic zones that it has been christened the "miniature continent". It is also famous for its black and white volcanic sand beaches. It is one of the best places in Spain to organise your elopement wedding by the sea. Also on the island are located many modern hotels with all necessary services where you can stay in comfort after a day full of emotions.
Decoration of the elopement ceremony according to your taste
The decoration is an addition that always helps to enjoy the moment and to remember it for life, so we can not leave aside the romanticism in your big day. 
In your elopement wedding in Gran Canaria we have a very romantic decorative proposal, we have it all thought out! Of course, the bride and groom can personalise the decoration to their own taste: removing, adding or changing anything, because the most important thing is that the decoration is to your liking.
A beautiful ceremony with views
Your ceremony deserves a place as unique as the landscapes of this beautiful island: the mountains, palm trees, green valleys, cactus, black sand beaches, elegant swimming pools, the sea, the bright colours of the sunset… 
And all this in one of the best hotels of the island where we propose you to celebrate a romantic ceremony with views of natural landscapes of the island, the Maspalomas, mountains, and all this next to a secret pool that invites you to enjoy its intimate and romantic atmosphere.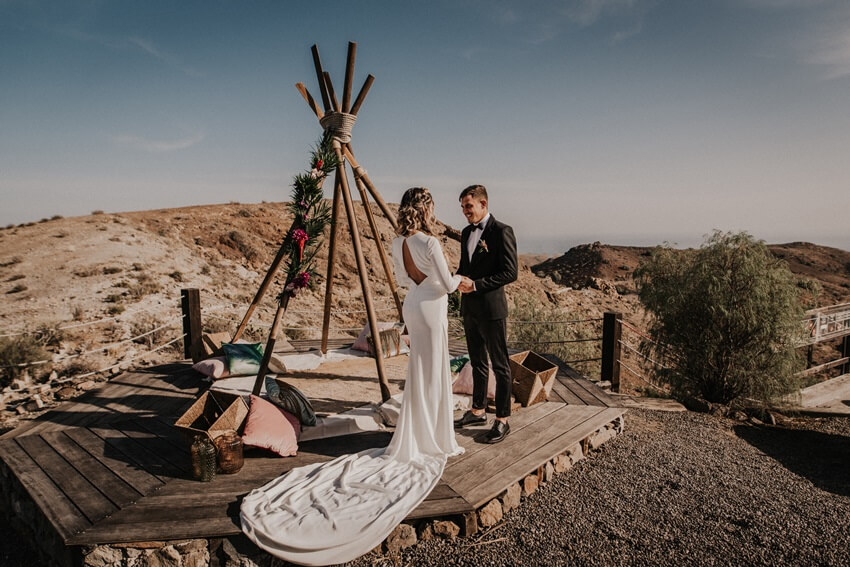 You will also have your own ceremony master!
As it is a civil wedding, we don't forget to have a professional to conduct your wedding.
This will bring touches of humour and sympathy if necessary and if the bride and groom so wish to give freshness to the ceremony.
And the best thing is that depending on where you are from, you will have a master of ceremony according to your language! We have ceremony masters who speak English, French, German, Spanish, Russian… 
After the ceremony, a mini cocktail party
No wedding can be complete without this moment before the dinner where you toast and celebrate that the couple is finally married. A refreshing moment that you can't miss to liven up your elopement wedding in Gran Canaria.
And we all love cocktails! Because of their flavour and colours, they are a hit with everyone's taste buds. 
Therefore, with this fantastic plan you will have the most exotic and sumptuous cocktails to whet your appetite before the intimate dinner. 
A magical session in Gran Canaria
To remember the moments lived, you will have a photo session around the different places of the island. And the professionals will record every important moment of this day so that you can relive it all over again. 
This is also your unique opportunity to make a photo session together with all the wonderful landscapes that this magical island, Gran Canaria, has to offer, which is why they call it a "miniature continent"!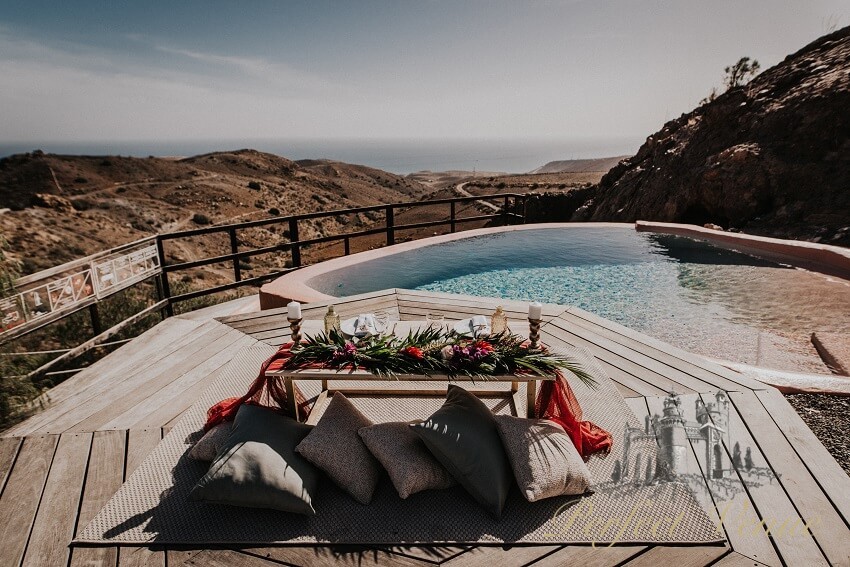 Elopement Wedding Pack in Gran Canaria in a secret pool includes:
Venue hire

Decoration for ceremony

Photographer

Dinner for two

Wedding day organisation and coordination
Price on request
At Perfect Venue we have your Perfect Plan, so if you want to experience your elopement wedding on the island of Gran Canaria, we can organise it all for you. 
All you have to do is book with just one click, then take care of the fun. 
We are waiting for you!