Description
If you're wondering how to propose to your girl, and you're both wine lovers… We've got it! You can make your marriage proposal in a wine cellar that you can even close for just the two of you.
Yes, this idea of marriage proposal is not for everyone, only for good wine lovers who know how to appreciate aromas, textures and flavours! So, if this is your case and you are coming to Spain on holiday… It's time to take a knee!
In Spain, yes, because it is a land of wine and because there are countless beautiful and luxurious wineries that make up a unique setting for you to ask the most important question of your life.
Ask her to marry you while you taste the best wines enjoying the sunset and a beautiful vineyard as a backdrop!
Your wedding proposal in a winery, anywhere in Spain
There are no borders between Autonomous Communities! We travel all over the country. It doesn't matter in which region of Spain you want to carry out your declaration of love, as we have unique wineries all over the country.
The whole team moves to work in any region where you need us, wherever you want to carry out your proposal in a winery: La Rioja, Castilla La Mancha, Extremadura, the Valencian Community, Madrid, Andalusia… There are no limits!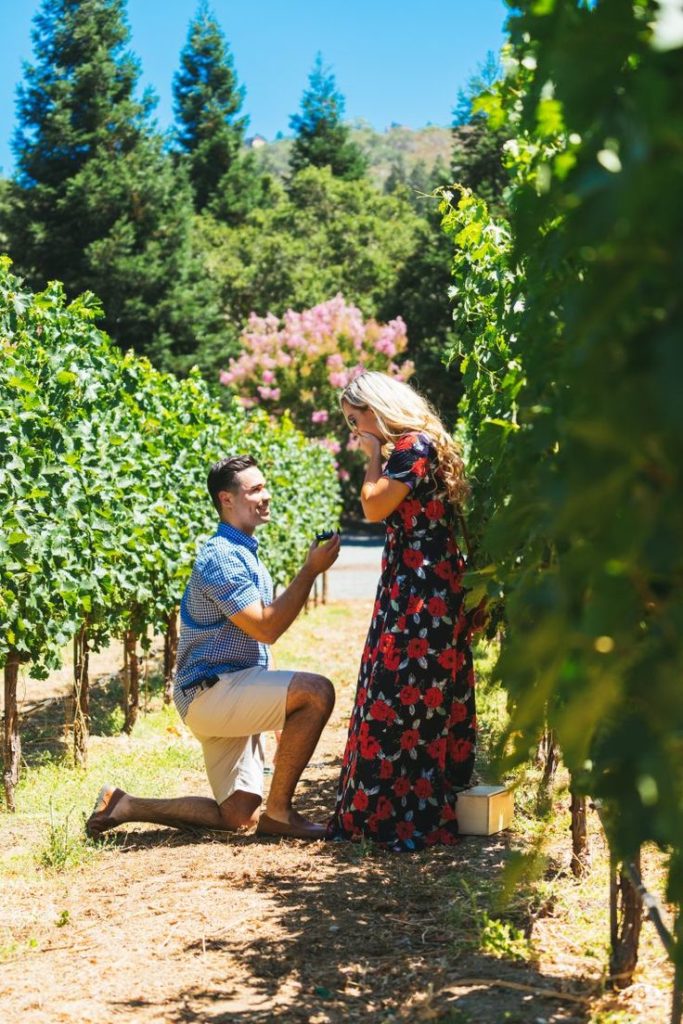 The winery can be closed for you
Yes, you read that right, in this Perfect Plan you have included a closed cellar just for the two of you, so that you can do the private tasting and get down on one knee in absolute privacy. Exclusivity and luxury!
However, you also have the option of not closing the wine cellar so you can make your marriage proposal more economical.
Unique spaces for your proposal
Your proposal deserves unique spaces such as the ones in the wineries, and the best thing is that you can use all the spaces of the winery that you choose because, as we mentioned before, you can close the winery just for you to spend it yourselves.
In the barrel room, among the vineyards… There are even cellars with a library and museum, so you can choose where you want to get down on one knee!
The most authentic idea that we propose is to have a romantic proposal in the vineyards and with the winery in the background, which is a fairytale space with the sunset. We love proposals at sunset!
What about adding an aerial show to your marriage proposal?
Visit the winery in an original way
Yes, depending on the winery you choose to propose, you and your partner can visit it on horseback, on foot, in a jeep or on a segway. To whet your appetite before tasting some good wines!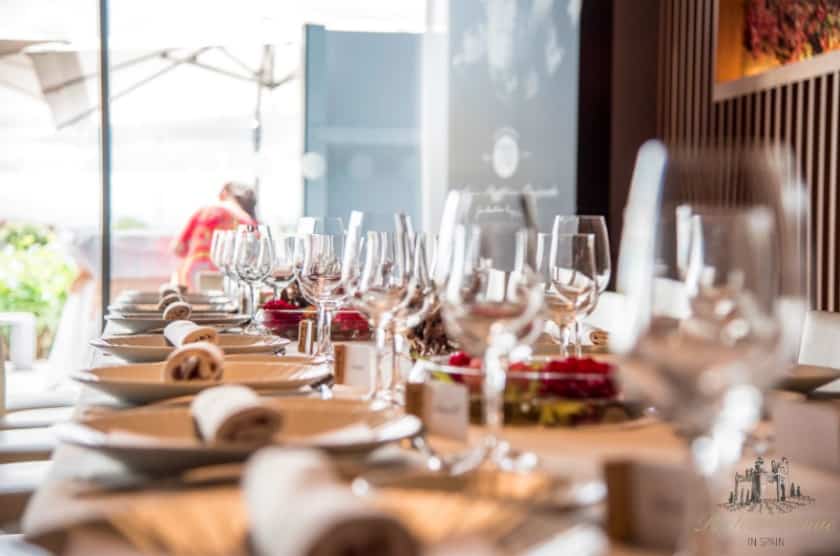 A wine tasting is a must!
Surrounded by barrels where the wines mature, in rooms overlooking vineyards or outside, on the banks of a river or next to the vineyards where they come from, a wine tasting is an essential experience for your marriage proposal in a winery.
If you and your girl are wine lovers, this is the best marriage proposal you can do.
After the wine tasting, a degustation menu
If you like the idea of eating after the "I do" and the wine tasting, in Spain we have different wineries where you can enjoy a tasting menu too.
And what better way to accompany the wine? Well, the best is ham, pork loin, cheese, veal, lamb, pasta…
A perfect plan for your proposal in a winery without missing a detail: wine, tasty food, learning about oenology, a tour of the winery, and a spectacular ring.
Your partner will be delighted and your proposal will be more memorable than ever!
The decoration for the scene
The decoration is an added element that always helps to enjoy the moment and to remember it for a lifetime, that's why we can't leave aside the romanticism and use decorative elements for your proposal in a winery.
Rose petals to form a heart, red balloons, natural flowers, giant letters, chalkboards, paintings…
If you wish, you can even propose your own idea of decoration.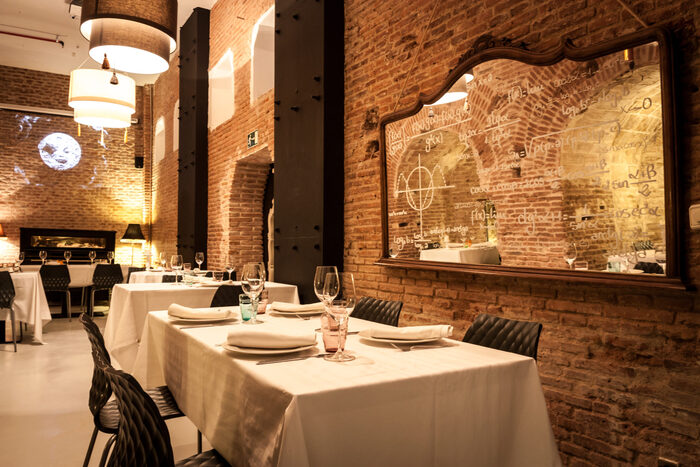 Flowers for your bride
A bouquet of flowers makes the moment much more romantic and magical, that's why we take care of getting the freshest flowers for you to give to the bride during your marriage proposal in a winery.
We will put together a bouquet full of daisies, roses, lavender, eucalyptus leaves, sunflowers, lilies, tulips… anything you can imagine! But, even better if they are the bride's favourites, so that you can give them to her when you have finished your wine tasting and you have already put the ring on!
Photographer and videographer to capture the moment
It is of utmost importance that a photographer and videographer are present for the moment of the proposal, as it is a moment worth remembering for a lifetime.
Therefore, it is important to have a professional photographer in charge of capturing every moment, as well as a videographer responsible for filming each scene to have a unique video, so that you will never forget what that great moment was like.
You will be able to have photos taken in different parts of the winery, as it offers many options of spaces: bottle room, vineyards, barrel room, library, beautiful halls, museum… It all depends on the chosen winery!
Live music
What is a special moment without music? Nothing! That's why the violin, the guitar, the saxophonist or whatever instrument you like the most can be live to liven up the evening.
And, as we all know, there is nothing better than music to enliven emotions and make moments unique, memorable and meaningful, especially if it is the music of your choice! Surely you have a favourite song?
If you're not sure what songs you want to play, we've got a few ideas for you: This is the top 40 best songs for a proposal of marriage.
Sleep in the cellar
After living one of the most important days of your life, it's time to relax, and what better way to do it than in one of the rooms that many wineries have and thus create memories that will remain in your memory for a lifetime? And there are many winery-hotels.
It's a great option so that after a day full of emotions you don't have to go back home. To stay for a night in a winery on the day of your proposal is priceless! An extra that, without a doubt, is worth it.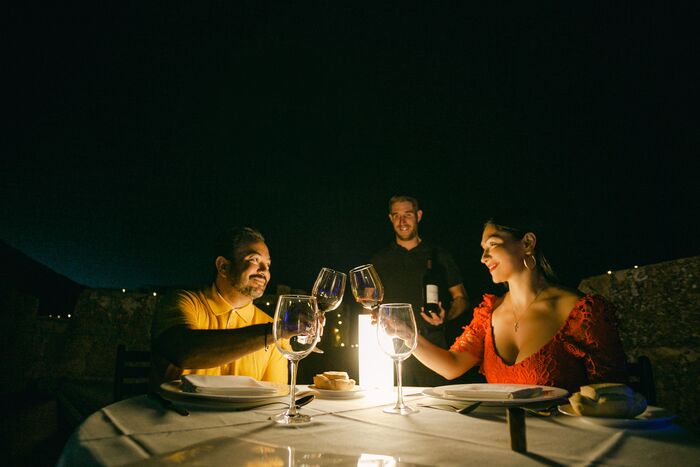 Organisation and coordination
Yes, we like everything to be perfect, that's why we are part of your proposal in a winery, organising everything in advance and coordinating the whole day.
We will get everything ready so that the decoration will be as you imagine, that the wine will be uncorked at the perfect moment, that the photographer will capture all important moments… We are attentive to every detail!
We will prepare everything to your specifications, you only have to ask us for everything that is essential for your day, and your wishes will be our orders!
Prices on request
The price of a marriage proposal in a winery depends on different factors such as, for example, the location of the winery, the date on which it is going to be prepared and the elements that you exactly need to count on: food, transport, air show, bouquet of flowers, accommodation…
This experience will make you forget the stress of organising everything and doing it all without making your girlfriend suspicious. Very difficult!
We are at your full disposal to listen to your wishes and desires and try to offer you the most perfect plan to make all your dreams come true.
Contact us at Perfect Venue so that we can get started with your proposal in a winery!
And if this proposal in a wine cellar doesn't convince you, don't miss these other original proposal ideas: a marriage proposal with a private chef at home, a marriage proposal with an air show, a marriage proposal in a private castle, a marriage proposal with a flashmob or a marriage proposal in Mallorca.