Description
If you are one of the bride and groom who prefer to elope and get married alone rather than with many guests, an elopement wedding in a castle is surely what you are looking for, the magic is guaranteed!
You probably know of few couples who dare to celebrate their wedding in this way… but in the wake of the pandemic, more and more couples are opting for an elopement wedding. A new version of celebrating your wedding in a relaxed way and living this unique experience in the most intimate way.
Therefore, in this article we tell you all about this Perfect Plan so that you can have a wedding for just the two of you, so easy to book with just one click!
Read on to find out everything included in your elopement wedding at the Castillo del Buen Amor!
The Castillo del Buen Amor, a privileged place
This castle is located in Salamanca, a fabulous setting that invites you to stroll through its French labyrinth, have a glass of wine in the Torre del Homenaje, spend a night in a room with a private terrace with vaulted ceilings and enjoy a relaxing bath accompanied by flowers and champagne.
Outside the castle, the landscape is full of gardens and vineyards, with thousands of trees, its own wine cellar, majestic towers… An idyllic space!
Decoration included, to suit your taste
The decoration is an add-on that always helps you to enjoy the moment and remember it for a lifetime, that's why we can't forget about romance on your big day.
In your elopement wedding in a castle we have a very romantic decorative proposal, we have it all thought out! Of course, the bride and groom can personalise the decoration to their own taste: removing, adding or changing anything, because the most important thing is that the decoration is to your liking.
A ceremony with gorgeous views
Your ceremony deserves a place as unique as the exterior of this beautiful castle, and the best thing is that you have at your disposal all the inside spaces of this, as well as its gardens, so that you can choose where you want to say "I do".
You have spaces such as the Patio de Armas, the Guard's Passage, the well-kept gardens full of greenery…
The most authentic idea we propose is to hold a romantic ceremony with views of the church dome and incredible views of the castle, a setting in which there is a labyrinth of vegetation and vineyards.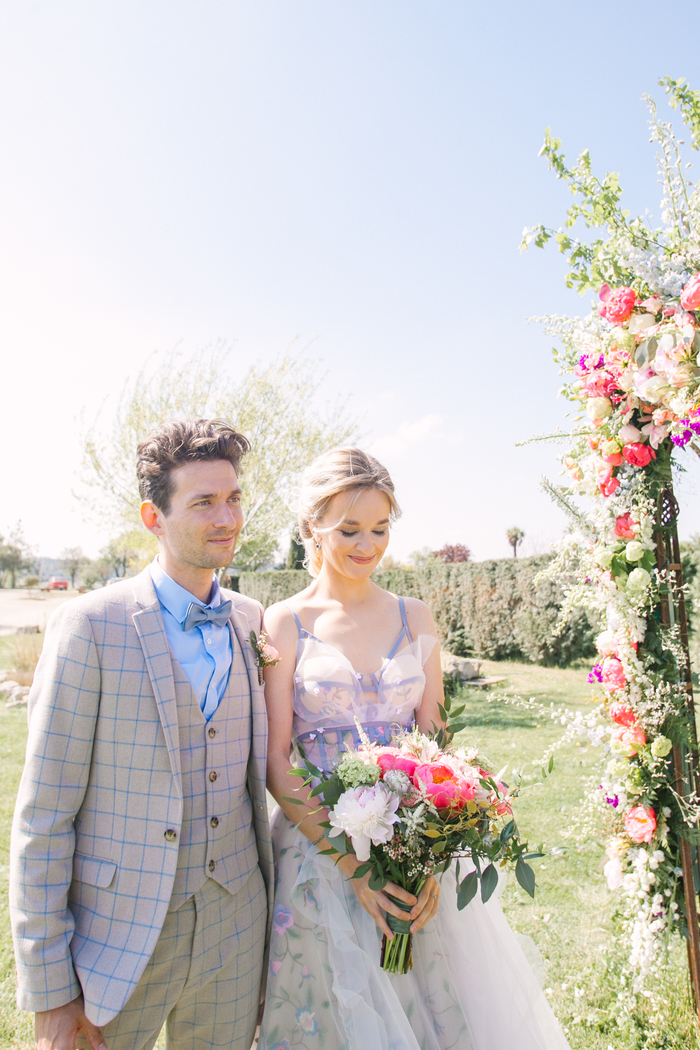 You will also have your master of ceremonies
As it is a civil wedding, we do not forget to count on a professional to direct your wedding.
They will provide touches of humour and sympathy if necessary and if the bride and groom so wish, which will give freshness to the ceremony.
And the best thing is that depending on where you are from, you will have a master of ceremony according to your language! We have masters of ceremonies who speak English, French, German, Spanish, Russian…
After the ceremony, a mini cocktail
No wedding is complete without that moment before dinner when the couple toasts and celebrates the fact that they are finally married. A refreshing moment that you can't miss to liven up your elopement wedding in a castle.
And we all love cocktails! Their flavour and colours make them a hit with everyone's taste buds.
That's why, with this fantastic plan, you'll have the most exotic and sumptuous cocktails to whet your appetite before the intimate dinner.
A photoshoot in all corners of the castle
To remember these moments, you will have a photoshoot across different parts of the castle, because it offers many options: stately halls with an original 15th century Mudejar-style fireplace, coffered ceilings decorated with coats of arms, a library, a beautiful cloister, as well as a swimming pool and a romantic little terrace.
It is worth noting that in May the environment becomes rustic thanks to the fact that this is the season when the surrounding flowers are in bloom. On the other hand, the labyrinth is perfect for taking photos at any time of the year, as it is always very green.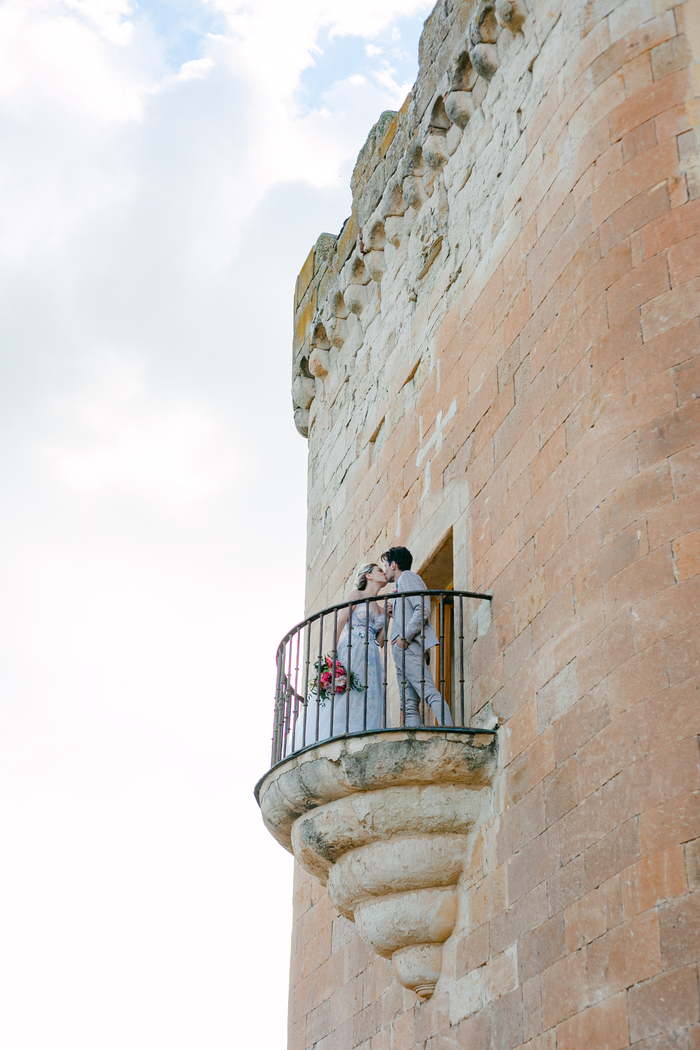 An addition for a couple who love horses
You also have the option of taking original photos on the back of a horse, if you know how to ride don't hesitate to ride them and if you are not into horse riding, but you love these animals you can take some photos next to them.  
It is a spectacular and unique equestrian space for horse lovers to have a wedding feature that will be talked about, as you will have photos in movement, dynamic, spontaneous and very expressive.
Did you know that horses are one of the most photogenic and playful animals that exist? 
A wedding dinner like royalty
For the dinner after your elopement wedding in a castle, the Castle of Buen Amor, you will have a private butler service, read on!
You will enjoy a desirable and intimate dinner on the terrace of a turret suite just for the two of you, talking about your perfect day with a view of the castle.
Typical Castilian gastronomy dishes are the main attraction for food at the venue, which are cooked on the premises, prepared at the time and with the highest quality of regional products. Always with products of the highest quality, highlighting all the flavours.
Undoubtedly, this is a great opportunity to taste star dishes such as delicious suckling pig, lamb, goat and a variety of desserts offered to finish your dinner with a good taste in your mouth.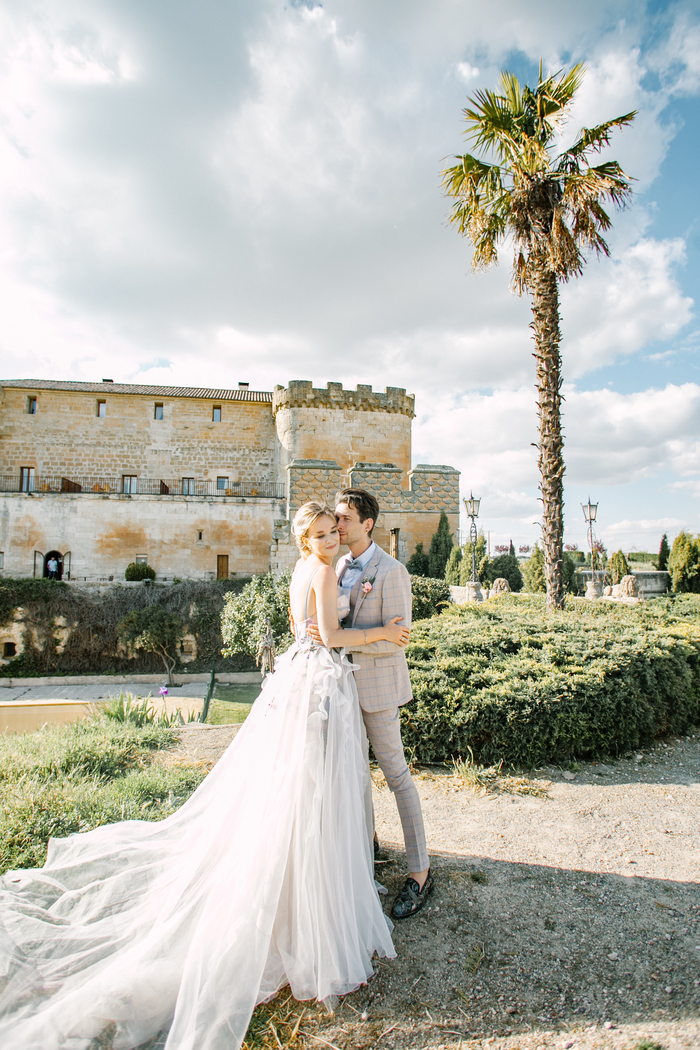 A wedding night in the castle
After experiencing the most important day of your life, it is time to retire to your rooms and sleep in one of the medieval suites available in the castle to spend your wedding night and create memories that will remain in your memory for a lifetime.
When you get to your room you will find everything already prepared: rose petals, a bottle of cava, candles… and the next day… breakfast included!
At Perfect Venue we have your Perfect plan, so, if you want to experience celebrating your elopement wedding in a castle, at Perfect Venue we organise all of this for you. 
You only have to book in one click, then just take care of enjoying yourself. 
We are waiting for you!