Description
If you want to celebrate a truly different, fun, and original birthday for children, you've come to the right place, the Perfect Plan to celebrate a birthday with Virtual Reality.
Did you know that this birthday option is becoming increasingly popular? And rightly so! Because it immerses guests for a while in a parallel world.
And that's where we come in! To organize it for you and make you the coolest parents in school by creating an amazing experience that both kids and parents love.
Next, we'll tell you everything that this fun, social, and inspiring experience includes for everyone. It's the best birthday experience! However, it is only available for children aged 7 and above.
If you like the idea… keep reading!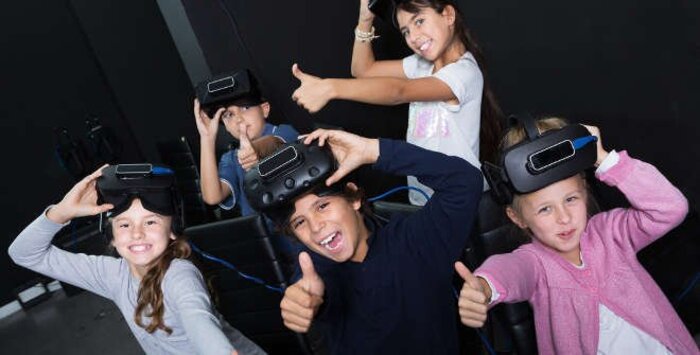 Your birthday with virtual reality, anywhere in Spain
There are no borders between Autonomous Communities! And that's because we travel throughout the country. No matter which region of Spain your child is going to blow out the candles, as we have unique spaces throughout the country.
Our entire team will travel to work in any region where you need us, no matter where you want to celebrate your birthday:
Virtual Reality Birthday in Mallorca

Virtual Reality Birthday in Barcelona

Virtual Reality Birthday in Madrid

Virtual Reality Birthday in Alicante
There are no limits!
We'll find the most appropriate space for you
The place is a key factor to consider when celebrating a birthday with virtual reality, as it must be a space prepared for it. Although it can also be at your home!
The important thing about the space to celebrate this type of birthday is that it should not be outdoors, but it should have some shade or be closed so that children can see the virtual reality well. It should also not have many things around so that they do not bump into anything while moving around the space.
In addition, to make the event a huge success and for everyone to remember, we will find the best space for your child's party, as we know the best ones in the country to organize your child's long-awaited birthday!
Two hours in a parallel world
We'll talk to you to find out if your child is more into adventure and adrenaline, attractions, the marine world, if they love horror themes, jumping non-stop… This way, we can adapt the virtual reality games to their preferred theme.
After that, we'll propose different games to choose from, to carry out 2 games in 2 hours. Kids can participate in team competitions, a big trivia… the options are endless.
In addition, the kids won't be alone, as they'll have a dedicated team to help everyone have fun, and we'll guide them in an activity they'll always remember.
The organization is always perfect
Yes, we take care of getting the best space, the best virtual reality glasses, the most fun games, and making sure everyone has a great time, but we also take care of much more to make your Perfect Plan a success.
Keep reading and discover everything we offer!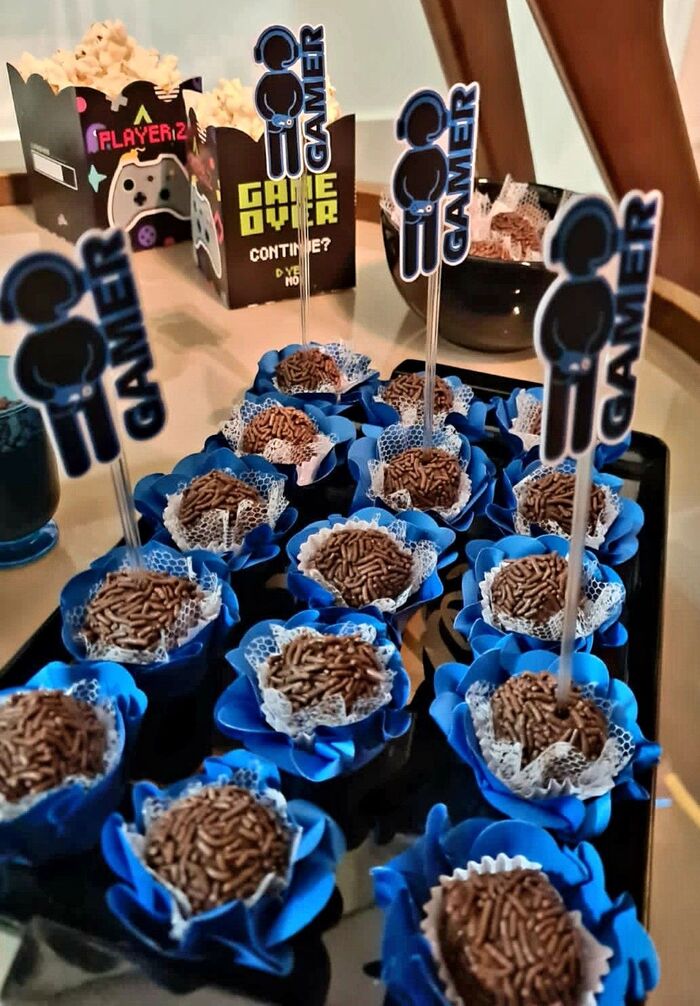 After playing, it's time to recharge
Sitting down to eat after playing is a must at any birthday party, so after so much fun, we take care of the kids by providing a delicious catering service to replenish their energy.
In addition to food, we'll also make sure there are no sweets missing: cookies, macarons, Kinder eggs, M&Ms, gummies, a sweet food station that will fascinate everyone!
Cake and piñata… Count on it!
The cake is also super important at any party, and the best thing is that we know the best bakeries so that no one misses a slice of cake at your little one's birthday party.
That's why we'll get you a cake tailored to your tastes, with fondant, chocolate, cream, cartoons… and, above all, candles so that your little one can make a wish.
The piñata is also something that kids usually love, so if you want, we can also place it at your virtual reality birthday party. Fun is guaranteed!
Decoration included for an unforgettable day
Decoration is an added touch that always helps to enjoy the moment and remember it for a lifetime, which is why we can't leave out decoration that matches the theme of your little one's big day.
The decoration is what will have the most impact when the kids enter the space, so we'll fill the space with columns of balloons, bright and pastel colors, food tables full of decorative and edible objects, teepee tents, food carts with lights, boxes that decorate but store sweets, large Hollywood-style letters…
If your child's virtual reality birthday party has a theme, we'll make sure the tables, photocall, games, animation, etc. are decorated with this theme. We'll take care of every detail!
It's worth noting that the amount of decoration and elements will vary depending on what you need. We'll adapt to you!
A photographer for the virtual reality birthday party
No one leaves an event without taking a lot of photos for memories, and for the virtual reality birthday party, we'll hire a professional photographer for you.
Photos are a must at both children's and adult events, so nothing better than having a photographer to professionally capture the smiles and poses of the children while they are immersed in a parallel world.
Nothing like photos to remember one of the happiest days of their lives!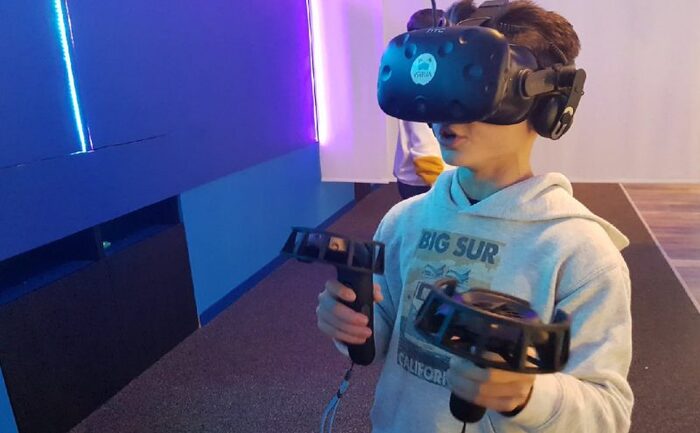 Easy payment and reservation
Yes! And it's not necessary to pay the full amount of your virtual reality birthday party at once. You just have to reserve by clicking and make the reservation with only 50% of the amount, and the rest on the day of the event.
Convenience for you!
Parents who are up for the adventure of organizing a virtual reality birthday party for their little one surely don't want to miss any details when organizing it.
That's why, at Perfect Venue, we love children's parties and will do everything for you. Don't hesitate to contact us! We're already waiting to get to work on the preparations.